Home Donate New Search Gallery Reviews How-To Books Links Workshops About Contact

Recommended Cameras
© 2013 KenRockwell.com

Serious DSLR Camera People Camera Pocket Cameras
Nikon Lenses Canon Lenses Flash Tripods Bags
Costlier Cameras Real Cameras Gifts
Filters Straps Flashlights Labs
How to Spend $2,000 Best Camera under $50
Carry Less Assembling a System All Reviews
Christmas 2013 more equipment reviews
The Best Camera for Most Things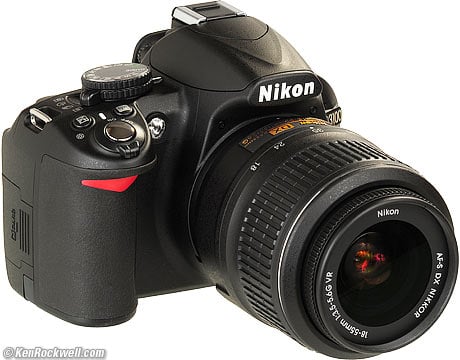 The Nikon D3100 and included 18-55mm VR.
What camera do I suggest for my friends and family when they ask? What's the best camera that can handle every kind of photo situation, but still at a reasonable price?
The Nikon D3100.
You can pay a lot more, but no camera does anything significantly better than the D3100 for most people's photography. Especially if you have kids in sports, a DSLR like the D3100 is a huge step up from a point-and-shoot or your iPhone because it can zoom-in (especially with a telephoto lens) and focus fast enough to track the action.
The Nikon D3100 is essentially the same as the newer Nikon D3200, and sells for only $427 with lens as shown, or refurbished for only $349 with lens as shown, or $497 brand-new with 18-55mm and 55-200mm (non-VR) lenses. (VR, Vibration Reduction, helps replace a tripod in low light.)
You can pay more for fancier cameras, but no camera takes better pictures than a D3100. It sold for $700 when first announced. The reason guys like me pay more for fancier cameras isn't for better pictures; it's for more controls and options that let those few people who actually know how to use all the controls to get to them faster. The D3100 has all the same adjustments, just that you'll more often have to use a menu instead of a knob in the D3100 if you use them. If you shoot all day every day as I do, it's worth it, otherwise, there's no reason to pay more.
The D3100 is far superior to any mirrorless, superzoom or compact camera because it's a real DSLR, meaning you view and the camera focuses live directly through the lens optically, not via an electronic screen. The D3100 focuses fast enough to catch people and kids doing anything in any light, while other kinds of cameras get lost hunting.
Sure, you can buy fancier DSLRs, but you don't need to unless you want to. The D3100 is the most basic DSLR sold today, and is all I'd ever need. The extra pixels of the newer D3200 or other cameras are meaningless. Sure, feel free to pay more as I'll expand below, but you're only buying more durability or convenience, not better pictures. Better pictures come from knowing how to take better pictures, not from a better camera.
The Rest of My Recommendations Below
I start with normal camera recommendations for normal people who just want great pictures, then get to suggestions for dedicated photographers, and end with great gift suggestions.
Click the links (or photos) for detailed individual reviews.
If you find this page helpful, you can help me keep helping you by using the links I've provided to Adorama, Amazon, B&H Photo Video and J&R when you get anything, regardless of the country in which you live. Most of these places ship internationally, and if you are outside the USA, B&H Photo Video even has a calculator which shows the final, total cost to-your-door including taxes, shipping and duties before you complete the order.
I've been buying my own gear from Adorama and B&H Photo Video since the mid-1970s and have had nothing but great service and the lowest prices, which is why I recommend them so highly. Using these links costs you nothing (and probably saves you money), gets you the same great service I've enjoyed myself, and most importantly, is what helps me keep adding to this website for everyone's benefit.
Cameras have nothing to do with taking great pictures. To take great pictures, you have to know How to Take Great Pictures. If you know what you're doing, all a better camera does is make it easier, faster and more convenient to take great pictures.
The pictures you take depend on you, not on your camera. Just as your signature is uniquely your own no matter what sort of pen you use, it's the same with pictures and cameras. If you want to take better pictures, your efforts are better spent learning how to take better pictures, not in buying new cameras.
Forget Resolution and ISO
Resolution and ISO are silly numbers used to try to sell you more expensive cameras.
Resolution, expressed in megapixels, hasn't been relevant since the 1990s. I've made great 12 x 18" (30 x 45cm) prints from a 3MP camera, and 40x60" (100 x 150cm) prints from a 6MP camera. 6 Megapixels is all anyone needs for anything, and every camera here has two or three times that today.
Resolution is nothing more than a sales pitch to get you to pay more.
Now that every camera has double-digit megapixels, camera makers invented another meaningless number they use to extract more money from the innocent, called ISO (pronounced eye-ess-oh).
ISO is a rough measure of low-light sensitivity. It only matters if you shoot in the dark, and then shoot without flash. As soon as your flash pops up, the higher ISOs aren't used anyway. Even if you learn how to use the higher ISO settings (few people do), there isn't much difference between cameras of the same type and era, regardless of cost! All the higher ISO settings do is make the picture look grainier, and the cameras that sport the highest ISO settings look horrible at those settings!
This said, DSLRs are a zillion times better in the dark than point-and shoots, and the newest point-and-shoots like the Canon S95 and Canon S100 are superb for use at night without flash as well.
Don't buy a camera because a salesman tries to smoke you with gibberish like megapixels or ISOs. In fact, don't even bother shopping at retail, which is a complete waste of time and gas. ISO and megapixels have nothing more to do with a camera's quality than the number of spot-welds used to assemble your car.
Best Serious Cameras (DSLRs) top
DSLRs, Digital Single-Lens-Reflex cameras, are the best camera for shooting action and motion. For news, sports and action, it's always an SLR.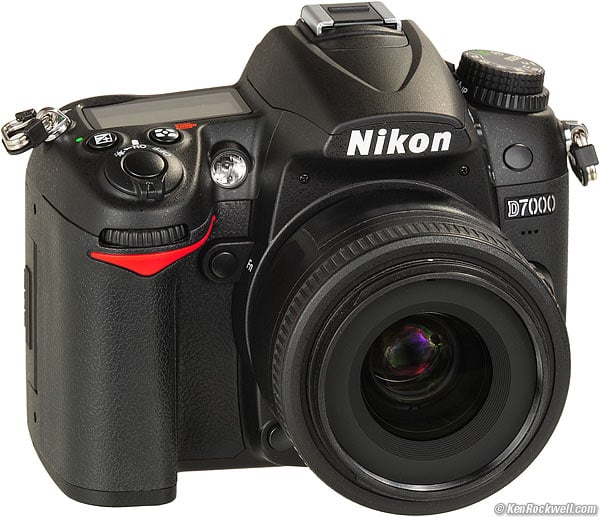 The Nikon D7000 and optional 35mm f/1.8 DX, which I usually use myself, is even better, but twice as expensive.
If you're the sort of person who's an accomplished photographer and reads this site everyday, then you'll appreciate the many extra features of the Nikon D7000. Then again, if that was you, you wouldn't be reading this page.
The Nikon D7000 is better than anything else if you really know what you're doing, but just bigger, more confusing and more expensive if you're not an expert. The photos are the same.
See Is It Worth It, which says that if you have the money, sure, go for the D7000, but if you don't, then don't worry and you'll LOVE the less expensive cameras. The biggest differences among these cameras is not technical picture quality (the pictures from these three cameras are indistinguishable from each other), but how many knobs and buttons they have to allow skilled and experienced photographers to adjust the things that most people don't even understand. A more expensive camera does not take better pictures!
If you have the money, then the benefit of the D7000 is that it does everything just a little bit better. It is more pleasant to use because it has a bigger, brighter viewfinder, and everything works a little faster and more smoothly.
Yes, the D7000 has slightly better ability to shoot in low-light without flash, but again, few people actually do this.
The pictures will be the same. The difference between the D7000 and less expensive cameras is mostly in how pleasant it is to hold, to own, to use and to shoot.
As of 2013, the D7100 is a newer model of the D7000. The features and pictures are the same; the D7100 just costs more.
I cover the larger Nikon D610 and other DSLRs under more costly cameras. These are for special purposes; the D7000 is the best you can get overall, and the less expensive Nikon DSLRs are no slouch either.
Flash more flash suggestions
While you're saving all this money over more expensive cameras, I suggest getting the Nikon SB-400 miniature external flash ($120). The D3100 and D7000 have built-in flashes, but this tiny external flash gives a lot more range, and most importantly, saves the camera's batteries and lets you shoot a lot faster because it recharges almost instantly after each shot. In-camera flashes drain the camera's battery and can take a long time to recycle after each shot.
Lenses more lens suggestions
For most use, the 18-55mm VR lens included with the D3100 is all you'll ever need.
For low-light, no-flash shooting, I use the Nikon 35mm f1.8 lens (about $197) instead. It's what I use most of the time. I zoom with my feet, and prefer its low-light abilities compared to a zoom.
The best telephoto lens for general photography and portraits is your choice of the inexpensive Nikon 55-200mm VR (about $250 or less) or the Nikon 55-300mm VR (about $400 or less). For action and sports, get the 70-300mm VR (about $587 or less), which focuses much faster. Full-time pros use the big and heavy 70-200mm f/2.8 VR II (about $2,400) mostly because it can take more of a beating, and it lets them shoot in dimmer light than the other lenses.
While not cheap, if you need wider than the excellent 18-55mm VR lens lens, the Nikon 10-24mm (about $810) is the one to get.
Hint: The Tokina 11-16mm f/2.8 II (about $720) is a better lens than Nikon's ultrawide DX lenses, and costs less. Tokina's 100mm f/2.8 Macro (about $490) is better than Nikon's current 105mm VR Macro (about $900). The catch with the Tokina macro won't autofocus on the less expensive DSLRs (the wide will focus on everything). If you want to save money with the Tokina lenses instead of Nikon, that could pay the difference in price between the D7000 and the D3100. See each review for details.
Best People/Travel/Family Camera top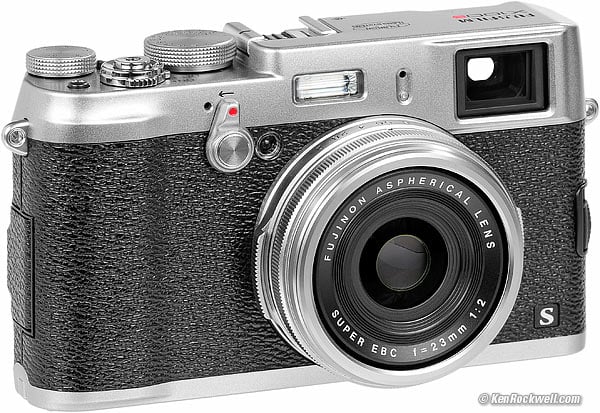 For carrying everywhere, and for photographing people under any and every available lighting condition, there is no camera that compares with the Fuji X100S. It's what I carry everywhere with my family.
It's the smallest and lightest serious camera available (half the weight of a LEICA and a fraction of the size and weight of a pro DSLR), and also gives the best results for people pictures under every sort of crazy light you'll find people being people. It's low-light, auto fill-flash, auto ISO, auto WB and color rendition under difficult conditions is far better than any of my Canons, Nikons or LEICAs. Yes, I can get the same results as the light changes after fiddling with my Nikon or Canon or LEICA for half an hour, but the Fuji X100S always nails the first shot in difficult light all by itself without me having to fiddle, when means the Fuji gets the shot while I'd still be fiddling with one of the other cameras.
No camera captures life like the Fuji X100S, and it's so easy to carry everywhere around your neck.
When you get yours, after getting used to it for a couple of days, all the pros I've talked to prefer it to the LEICAs they used to use for reportage photography. The Fuji X100S is 60 years ahead of the LEICA M9. The M9 is great for nature and landscapes as I suggest below, but for the people shots that LEICA used to do best, today it's Fuji.
Last year's Fuji X100 is 99% the same thing as far as photography goes, just slower. If money matters, sure, get a leftover or used X100.
Best Pocket Cameras top
No compact camera, at any price, is fast enough for photos of people, pets, news and sports. If your friends stop to pose for your photos, pocket cameras are great, but if they're moving, you really want a true SLR like the Nikon D3100 above.
I always have a compact camera in my pocket to catch whatever happens around me. I use compact cameras for scenic photos, travel and landscapes, which hold still.
Hint: I get the wilder colors I prefer by setting all my Canon compact cameras to their "Vivid" modes. To do this, hit FUNC/SET, go down a couple of clicks to OFF, and click one to the right to VIVID. I usually prefer the look of outdoor photos when I set the +/- control to -2/3, which is also in the same set of controls depending on model. (details? ask at (800) OK-CANON.)
World's Best Digital Pocket Camera: $350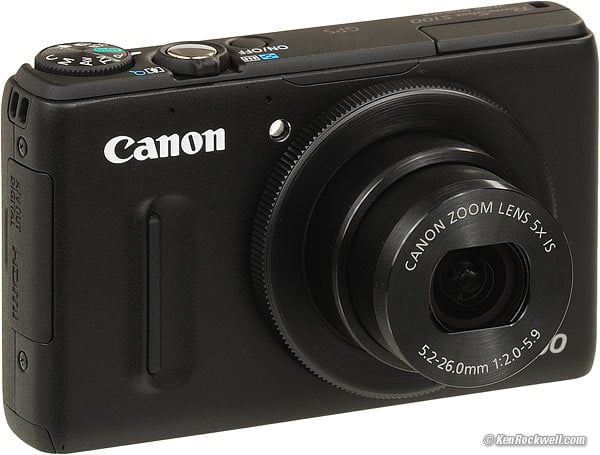 Canon S100 IS. Dial controls, 3" full-height LCD, 24-120mm f/2 lens.
The Canon S100 IS is the best pocket digital camera ever made. It has a super-fast f/2 lens, for nice, clean images in any light.
The S100 also has direct-control dials which let you adjust it for perfect photos every time. These dials are much easier and faster than the menus of other cameras.
The S100 makes much better, sharper video than a DSLR, and has a built-in dual microphone system for full wrap-around s-t-e-r-e-o sound!
The S100 fits in a pocket and has unbeaten image quality for a compact.
I love the S100's $30 PSC-900 deluxe leather holster case. My belt slips through it, and then the case holds the S100 on my waist. It's very well made and a custom fit for the S100, with a magnetic catch. It's designed so it's fast and easy to get the camera in and out from the top.
See also my Canon S100 sample images.
The older Canon S95 is about the same thing, and the Canon S110 is newer and about the same, but costs $400 instead. You could argue that either of these three is "best."
Posh Portable: $575 top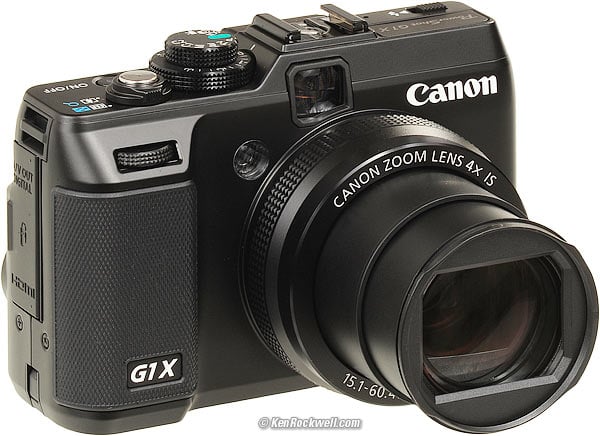 Canon G1 X. 3" flippy LCD, 28-112mm equiv. lens.
The Canon G1 X is a superb compact camera for landscapes, nature, outdoors and travel photography. Like all compacts, it's not fast enough for chasing moving subjects like sports and kids.
The G1 X has an extra-large sensor as large as a DSLR, and with its superb lens, gives technical quality the same as DSLRs — but it cannot focus anywhere near as fast.
An inexpensive DSLR like the Nikon D3100 costs less and works better for action, but if you're loaded and want a smaller camera, the Canon G1 X is it.
Flash top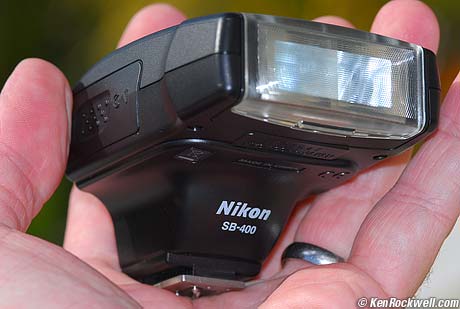 Nikon SB-400, about $120.
Built-in flashes are excellent, but can't be pointed to bounce off the ceiling to improve your indoor photos. I own more expensive flashes, but I almost always have my SB-400 on even my Nikon D3 when I run out the door.
Even if you don't bounce it, the SB-400 lets you shoot faster since it recharges much faster than the built-in flash. I use my SB-400 even on my more expensive Nikons. It's that good.
If you want a larger flash to get more range or to bounce sideways, the Nikon SB-600 is my favorite. It's smaller and easier-to-use than Nikon's bigger flashes. The SB-900 is mostly fluff as far as I'm concerned; I wouldn't buy one unless I was a full-time journalist.
For Canon, my favorite is my used Canon 220EX.
Straps top
I never use the strap that comes with the camera.
See Straps for strap suggestions.
Tripods top
With a digital camera with Image Stabilization or VR, there's no need for a tripod. I only use a tripod for very long time exposures made at low ISOs.
My recommendation on tripods is not to bother with one, or if you must, get something so small and light that you won't mind carrying it. Even if it seems wiggly, it's still good enough to hold your camera so long as you're not trying to wiggle it while you're taking the picture. So long as it's strong enough to hold up your camera, it's strong enough. A tripod left behind because you don't want to carry it is just getting in the way.
When I do use a tripod, I use the lightest one I can find, a $40 Dolica AX620B100 which I always carry in my trunk. It's all-metal, and lighter than any of the far more expensive brands that advertise like crazy, only 2.5 pounds total for head and legs. Companies that spend money on advertising and sponsoring big-name photographers aren't spending that money on making me a better tripod, so I'll stick with Dolica where we get a much better tripod for less money. (When looking at more expensive tripods, remember that the dollar and weight specifications are usually only for a head or for the legs sold separately.)
The Dolica AX620B100 has padded, adjustable-angle legs with rubber feet and or spikes, and includes a ball-head with a quick-release, a compass, a level, a center column with hook, and a nice padded shoulder-strap case in its low price!
The $40 Dolica AX620B100 is a premium product, complete with loads of nice extras (like the case) usually sold separately with more heavily-advertised brands.
If you want a bigger, stronger and even nicer tripod (I don't), the amazing $125 Dolica ZX600B300 is carbon-fibre is also a steal, weighing 3.8 pounds with padded non-rotating adjustable-angle legs, a ball-head with a quick-release, non-rotating center column with hook, and a nice padded case with shoulder strap. It's super light and super solid.
My Dolica ZX600B300 carbon-fibre has more features and advanced design than my other two real Gitzo tripods. (Gitzo of France no longer exists, even though the name survives for marketing; they got bought out by tripod conglomerate Vinten and now are merely just another Vinten brand made in some other factory.)
I bought my original Gitzo 1228 carbon-fibre in 1995 and a smaller metal G106 Gitzo in 1997 for travel, both of which have legs that rotate making them harder to lock. My new Dolica ZX600B300 has legs that don't rotate so it's much faster to open and close them.
My Dolica ZX600B300 has a spring-loaded center-column hook that retracts automatically (my $500 Gitzo carbon-fibre hook doesn't retract, and is broken anyway), and the Dolica is extremely solid, much more steady than my smaller metal Gitzo G106 that weighs more!
Not a bargain, but I use my existing Novoflex Mini Magic Ball I used to use on my Gitzo G106 on my Dolica ZX600B300. Quick releases are a pain; I prefer the instant access and simplicity of my MagicBall. I use it for travel, and I use a huge Bogen Manfrotto 3275 410 Geared Head on my big Gitzo 1228 in the studio sometimes.
All in all, my $40 Dolica AX620B100 is all I carry with me, and I use it with its included head. No, it's not the sturdiest if I'm going to bang on it during exposure, but I don't jiggle the camera while shooting and this way I need not lug a heavier tripod. Done.
The key is to have a tripod light enough and in a convenient case so that we'll actually take it out and use it. Heavier tripods left back in your trunk are useless.
For you guys who use tripods a lot, the $125 Dolica ZX600B300 carbon-fibre is the new standard for nice triploids done right at the right price. It's bigger and tougher than the $40 Dolica AX620B100, but also a bit heavier and more expensive, too.
For $5.95, the Aiptek ZAC-STL-5 Tripod is a bargain for a spare emergency tripod/ I wouldn't expect it to hold up under regular use, but as an inexpensive tripod to hide away for when you need it or one light enough to take everywhere in case you need it, for less than $6 you can't go wrong.
Filters top
I prefer to leave a Hoya UV filter on every lens to protect it from damage.
I'll also always carry a graduated neutral-density filter only for shooting into a sunrise or sunset.
I rarely use a polarizer, and when I do, it's to cut through long-distance haze. The best polarizers on Earth are the Hoya HD Polarizers. They are expensive, but you'll be using your polarizing filter on many lenses in the future; filters don't go obsolete. I'm still using the previous model Hoya polarizer I got back in the 1990s!
I prefer the Tiffen HT graduated filters. They are also expensive, but I'm still using the Tiffen grads I bought back in the 1990s as well.
Filters last forever; don't be cheap.
More at Filters.
Advanced Lenses top
Low-Light Far-Away Wide-Angles Do-It-All
You can stop here. You don't need any more lenses. The lens that came with your camera is all you really need.
The Nikon D3100, its kit lens, and maybe a separate flash, are all anyone really needs for anything. If you want to go whole-hog, I see no reason ever to need to buy anything other than the DX Dream Team lenses.
I go on vacations for a week at a time with my D7000, one lens and an SB-400 flash, and never miss anything. In fact, I love not having to carry more gear!
If you have special needs, or need a lens for a camera which sells without a lens, keep reading.
Long term, it's always better to spend money on lenses instead of digital cameras. Any of these lenses will work great on any fancier camera. Cameras drop in price and go obsolete every year, while lenses can stay current for decades, and their prices usually go up.
Low-Light without Flash top
Nikon 35mm f/1.8 AF-S (52mm filters, 6.95 oz./197.0g, about $197).
The fast f/1.8 aperture of this $197 lens lets it capture three times as much light as any $1,800 f/2.8 zoom, and five to ten times as much light as any other more reasonable zoom lens. Not bad for $197!
I usually use just this lens all day instead of a zoom because it lets me shoot indoors without flash, without a problem! If I need to shoot closer or father away, I simply move forward or back.
Because it gathers so much more light than zoom lenses, my cameras don't have to shoot at such a high ISO or slow shutter speed, so I can take great photos in bad light.
I'd suggest everyone who shoots indoors or in dim light get one of these lenses, since its a wonderful lens with a wonderful price. It works on all DX cameras.
Far-Away Things top
An 18-55mm VR lens and imagination is all anyone needs to make great portraits. Imagination is the important part, with which any lens will do, and without imagination, any lens will make awful portraits.
The only reason for longer lenses is if you can't get close enough, like to kids on stage or playing sports on the field.
For wildlife photography, the best pictures aren't made with expensive telephotos; they are made by carefully sneaking up on the animals.
It's always better to get closer and use the regular lens, but if you can't, here are my suggestions. All of these lenses are super sharp and zoom and focus well, the difference is in what you want to do with them not just today, but tomorrow, too.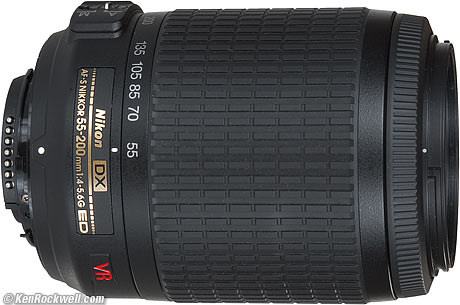 Nikon 55-200mm VR (52mm filters, 11.805 oz./334.6g, about $250).
This is my favorite telephoto for DX cameras. It's inexpensive, high performance and light weight.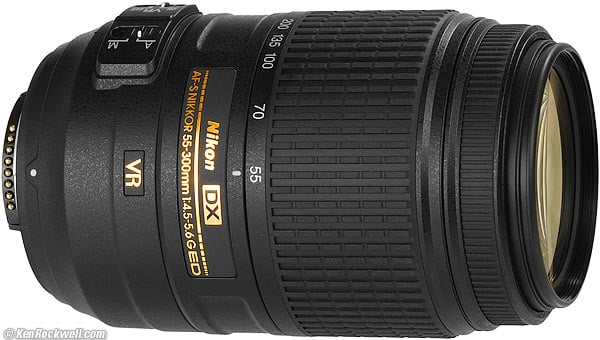 Nikon 55-300mm VR (58mm filters, 18.6 oz./529g, about $400).
If you prefer, you can spend more for the 55-300mm VR to get longer range and a metal lens mount. Otherwise, it's the same as the 55-200mm VR.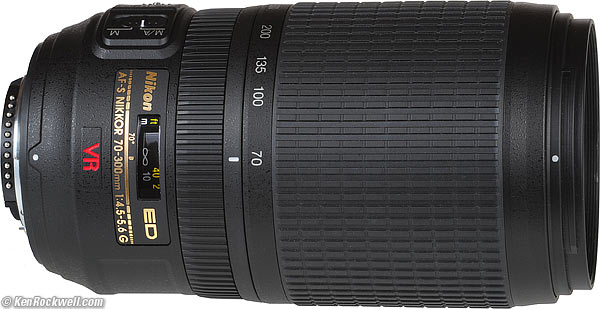 Nikon 70-300mm VR (67mm filters, 26.3oz/745g, about $590).
If you want to get serious shooting sports, get the bigger, longer more serious Nikon 70-300mm VR lens which autofocuses much faster than the two above.
If you want this 70-300mm VR lens, don't balk at the price. Unlike cameras, lenses stay current for ten years at a time. Unlike the 55-200mm VR, which only works with DX cameras, the 70-300mm VR also works on professional FX and film cameras if you upgrade later.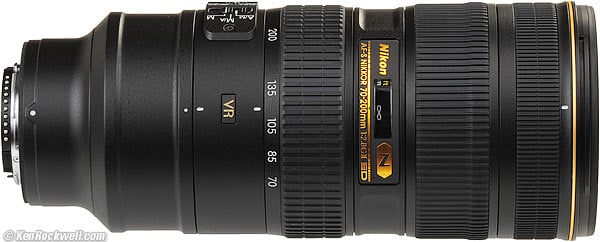 Nikon 70-200mm f/2.8 VR II (77mm filters, 54.3 oz./1,540g, about $2,400).
If you really want to get serious for indoor sports and theater, the world's standard professional telephoto zoom is the Nikon 70-200mm f/2.8 VR II. It works in much lower light than the 70-300mm VR above. It works flawlessly on less expensive cameras.
You're paying much more because this lens is ideal for shooting sports at night and stage indoors, and also because it's a heavy metal professional beast.
Personally, I carry the 70-300mm VR for my FX or film cameras, and the Nikon 55-200mm VR if I'm carrying a DX camera.
Wide Angles: Getting Closer top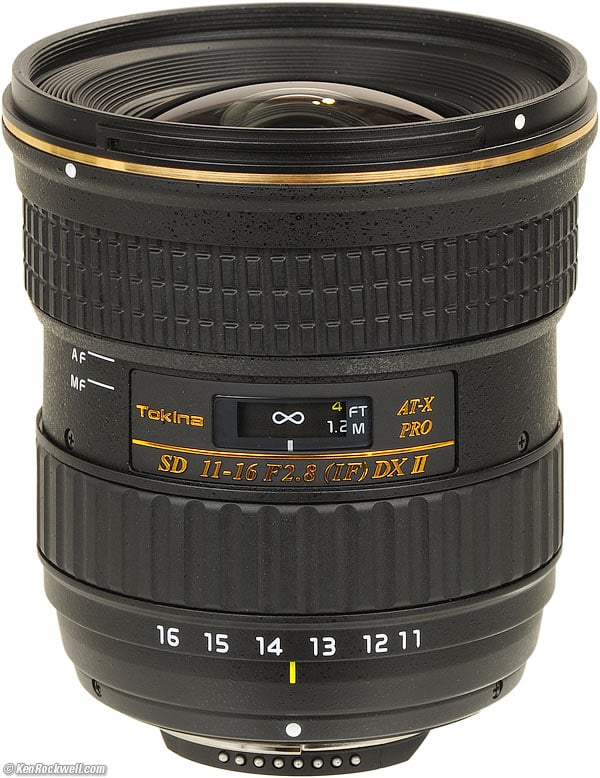 Tokina 11-16mm f/2.8 DX II (77mm filters, 19.3 oz./548g, about $720).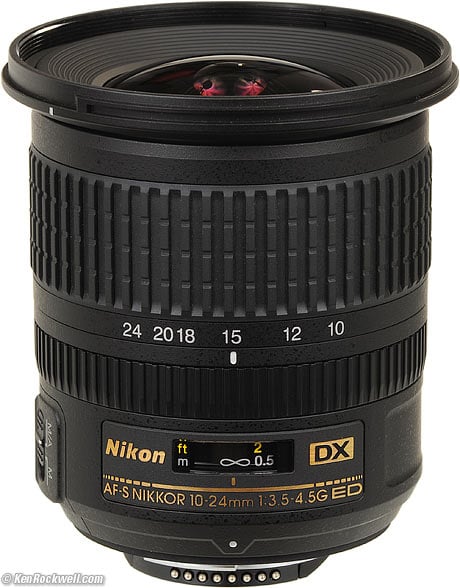 Nikon 10-24mm DX (77mm filters, 16.3 oz./463g, about $820).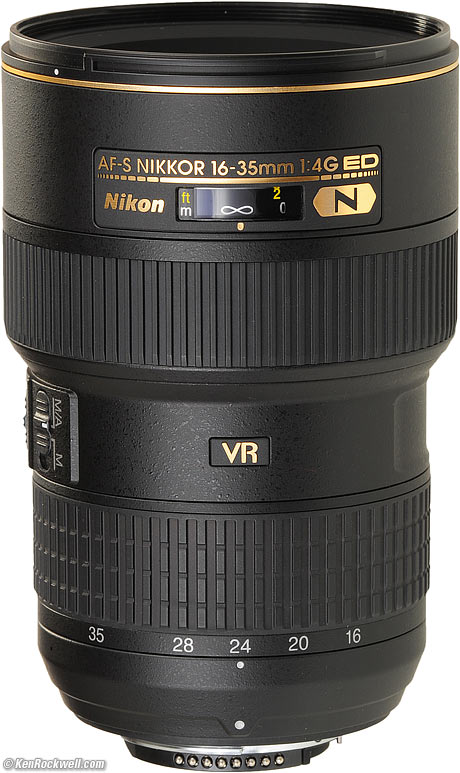 Nikon 16-35mm FX (77mm filters, 23.9 oz./678g, about $1,135).
I'm a sucker for ultra-wide lenses, but they take a lot of skill to use properly.
Ultra-wide lenses are not for "getting it all in." They are for letting you get closer and therefore creating stronger images.
If an 18-55mm lens isn't wide enough, my favorite for all Nikon DX camera is Nikon's new 10-24mm DX. For $200 less, the Tokina 11-16mm II is as good or better.
For FX and film cameras, the Nikon 16-35mm is the world standard for ultrawide performance.
Do-Everything Lenses top
For day-to-day use, I prefer the 50mm f/1.8 for my 35mm and FX cameras, and either that or the 35mm f/1.8 DX lens for my DX cameras. I move a few steps to frame my photo, and Voilà, perfect pictures. I carry these small lenses when I'm spending more time carrying my camera than using it.
For people who want to carry just one lens, and don't mind the extra weight, slower speed and much higher cost, the lenses I often use when I'm out on a serious photo trips are: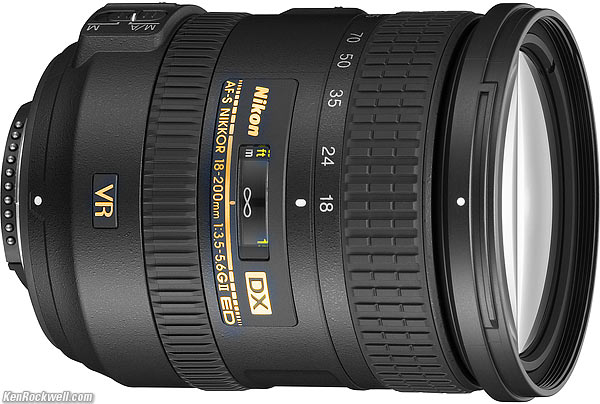 Nikon 18-200mm VR II DX (72mm filters, 19.9oz/565g, about $850).
For DX cameras, Nikon's 18-200mm VR II has been the top do-it-all lens since it came out in 2005. Except for low-light action or crazy-wide angles, the 18-200mm does everything I need in DX. It covers every reasonable focal length, has vibration-reduction so you can forget the tripod, and you can get instant manual-focus override just by flipping the focus ring.
Today's -II version is the same as the original, with a zoom lock at 18mm I never use anyway.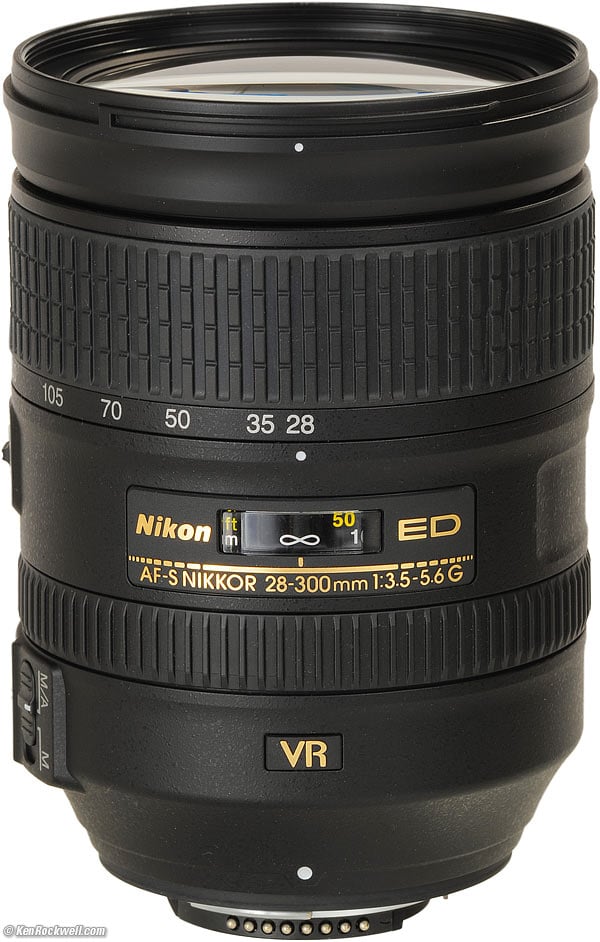 Nikon 28-300mm VR (77mm filters, 28.1 oz./796g, about $940).
For FX and 35mm cameras, Nikon's 28-300mm VR does everything except for action in low-light or crazy-wide angles. The 28-300 also covers every reasonable focal length, has vibration-reduction so you can forget the tripod, and you can get instant manual-focus override just by flipping the focus ring. It is about 25% bigger in every dimension from the 18-200mm; I'm showing them at the same size for detail.
With the 28-300mm VR, I can dump all my other lenses into the lake; the 28-300 is perfect for 99% of what I do on serious photo outings. The tiny 50mm f/1.8 is what I prefer to carry day-to-day, and the 28-300 is the ticket for serious all-day shooting.
More Nikon Lenses top
I have pages and pages devoted to Nikon lens reviews and suggestions.
For FX and film, Nikon has made fantastic lenses ever since the 1950s, many of which are available for almost free, used.
See Recommended Nikon FX lenses, the Nikon FX Dream Team, Nikon D3 Lens Suggestions, and Nikon FX Cheapskate Lenses for suggestions.
Canon Lenses top
Canon makes a zillion lenses, but I only use a couple for my full-frame Canon cameras. (I prefer the Nikons for small-format (DX) digital.)
When photographing my family, I use a 50mm f/1.8 II (or 50mm f/1.2 L), and that's it: just one lens, period.
If out on a dedicated photo trip, I also bring one wide lens and one tele zoom:
My favorite wides for Canon are either the 17-40mm L (for light weight and bargain price) or 16-35mm L II (wider and faster). For lighter weight or lower price, just get the Canon EF 20mm f/2.8 USM and you're done. The fixed 20mm is as sharp or sharper than the "L" zooms, but Canon doesn't want you to know that.
My favorite Canon tele is the Canon 70-200mm f/4 L IS. It's ultra sharp, extremely well made, has image stabilization for hand-held shots in the dark, and it's small and light. The f/2.8 Canon teles are for 35mm film; the higher ISO speeds of digital make carrying all that weight for one extra stop foolish.
That's it. I put the camera around my neck, and if I'm on a dedicated photo trip, maybe have a bag with me with just two more lenses. See also Carry Less.
If it's very dark, and/or if I grab my Canon EF 20mm f/2.8 USM instead of a wide zoom, I look for excuses to bring my beloved Canon EF 35mm f/1.4 L. The Canon 35/1.4 is so good you've got to get one while you still can. If I bring the 35/1.4 with me, I usually only pull it out for walking around at night, and leave the rest elsewhere. See also Assembling a System.
Costlier options top
No one, not even me who uses his cameras all day long, needs anything better than a D3100.
I own fancier cameras because they make it even easier to do fringe-element things, like burn away at 10 frames per second for sports. No one needs this, but if you have the cash or use cameras so much that even little improvements are appreciated, go for it. See also Is It Worth It.
Canon 5D Mark III: $3,500 top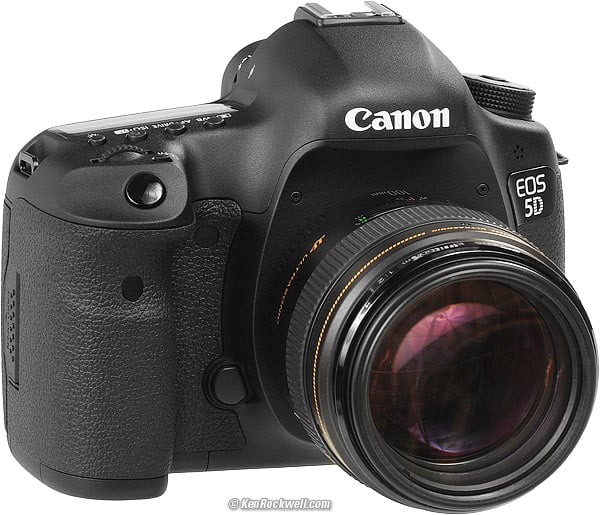 The Canon 5D Mark III is the world's best DSLR. I report on every camera, and when I actually need great photos, I always grab my 5D Mk III first.
I love my 5D Mk III over all my Nikons and LEICAs because it handles and feels so much better. My images always look great, and the 5D MK III always feels fantastic in my hands. Not only does the 5D Mk III feel better, it always takes fewer clicks to set what I want, it shoots more quietly, and while its LCD seems the same on paper, in reality it's actually much bigger than on my Nikons — and the Auto Brightness control of my 5D Mk III works great, unlike all my other DSLRs.
The 5D Mark III replaces the 5D Mark II which replaced the old 5D, which was introduced in 2005. The old 5D was also the king of landscape and nature photography, and to be honest, if you can find a deal on an old 5D, it's a bigger pain to use with a dreadful LCD, but also gives spectacular results.
Nikon D610: $2,000 top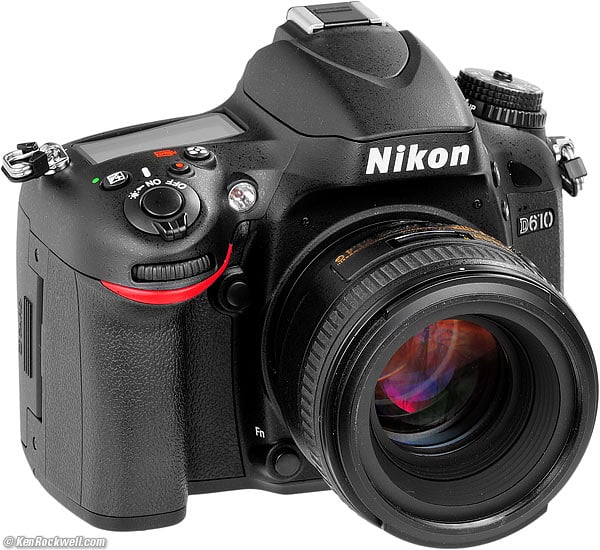 New as of November 2013, the Nikon D610 the best Nikon for most people. It's is the best DSLR ever made by Nikon at any price, although the D7100 is almost the same thing, just with a smaller viewfinder.
I prefer the D610 or D7100 to the more expensive D800, D800E and D4 because the D610's and D7100's ergonomics are far superior, and the images are the same or better.
The world knows me for my Nikon reviews, but as of Spring 2012 with the introduction of the Canon 5D Mark III, I've gone to Canon for my real work.
The Best Way to Spend $2,000 top
A reader asks how I'd spend two thousand dollars on a camera.
My response is honestly:
LEICA M3 and dedicated LEICAMETER MR-4.
50mm f/2 SUMMICRON mit close-focus range.
All this sells for under $1,000 if you know How to Win at Ebay.
Spend $30 of what's left on a copy of The Art of Photography, and give the rest away to the needy. The M3 may need a trip to Gus for an overhaul, but that still leave lots of money left over.
If you want digital, then I'd spend the two grand on:
Nikon D7000 ($639, refurbished body only)
35/1.8 DX ($199)
SB-400 ($160)
I never use other lenses with my D7000. If I did, we've got $783 left, so I'd get a 55-200 VR for $250 (or $160 refurbished.) Spend $30 of what's left on a copy of The Art of Photography, and give the rest away to the needy.
The Best Camera for under $50 top
See my separate The Best Digital Camera for under $50 page.
Real Cameras top
Digital is fun, but photographers shoot film, also known as the real raw format.
With RealRaw, you both have the actual image captured on film forever, and it's easy to get digital files if you want them, too.
Here are some of my favorites.
Prices are without lenses.
Nikon F6 $2,450 top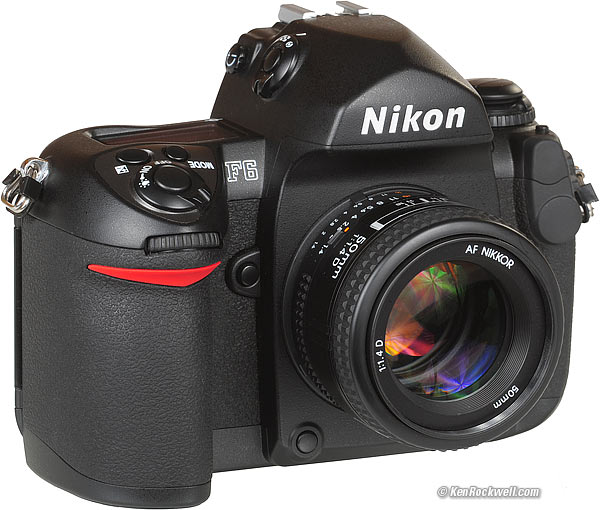 Nikon F6 (2004-today) with Nikon 50mm f/1.4 AF-D.
Shot on 35mm film, the F6 gives digital images of equal 24MP resolution to the D3X, with better color and dynamic range.
It also weighs and costs much less than a D3x.
Other favorite Nikon 35mm cameras available used are the Nikon FA, the indomitable Nikon F4 and Nikon F5. The Nikon N75 is a fly-weight, high performance AF camera.
LEICA M3: $1,000 top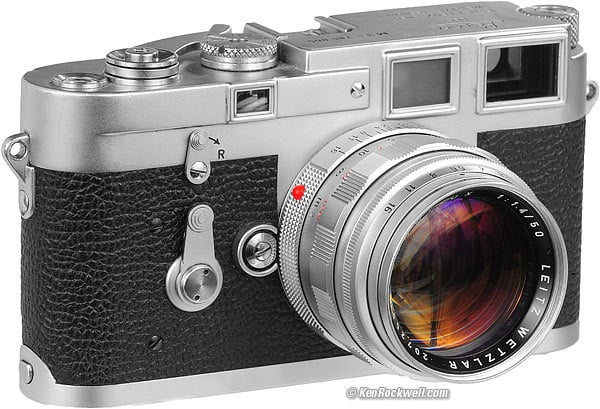 LEICA M3 (1954-1967) with LEICA SUMMICRON 50mm f/1.4.
As of 2011, the LEICA M3 is still the world's best 35mm camera.
Nikon FM3a: $600 top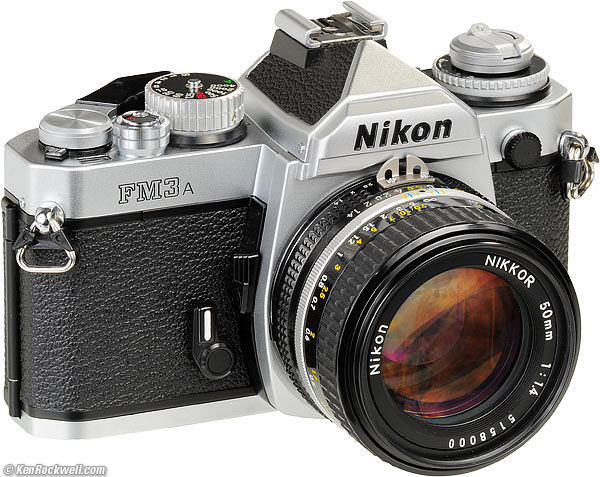 Nikon FM3a (2001-2006) with Nikon 50mm f/1.4 AI-s.
Nikon's FM3a is an absolutely brilliant camera.
It just shoots, with no backtalk.
Nikon FE: $95 top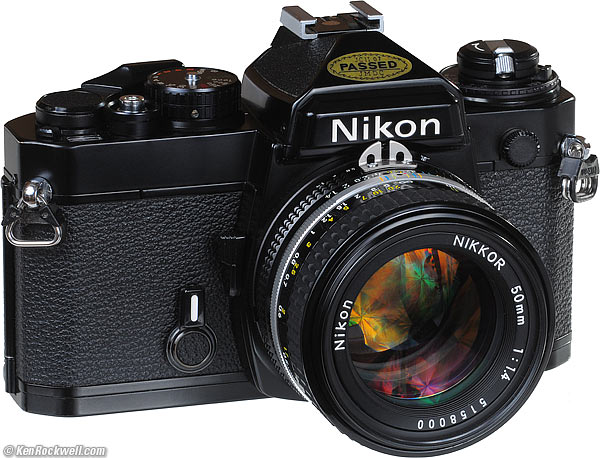 Nikon FE (1978-1983) with Nikon 50mm f/1.4 AI-s.
The Nikon FE is 99% the same as the FM3a, for a lot less money.
Canon AE-1 Program: $75 top
Canon AE-1 Program (1981-) and Canon FD 50mm f/1.8.
The Canon AE-1 Program is one of my very favorite manual-focus Canon FD cameras, and it sells used for next to nothing. Everything on it just works, as opposed to more expensive Canons, like the New F-1, that cost a lot more and do a lot less.
LEICA M7: $5,000 top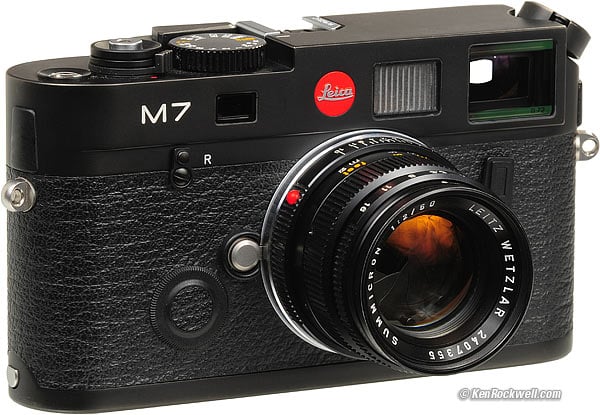 LEICA M7 ($5,000 new, $2,000 used) with 50mm f/2 SUMMICRON.
The LEICA M7 (2002-today) is a rangefinder version of the Nikon FE that uses Leica's superior lenses. These superior LEICA lenses let it make sharper images than from SLR cameras.
Another reason to use the LEICA is that it and its lenses are much smaller and lighter than SLRs. For instance, most Leica lenses take tiny 39mm filters!
Mamiya 7: $2,400 top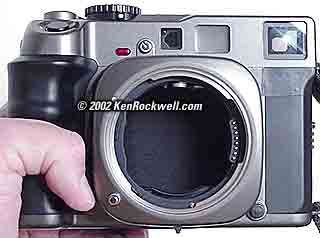 Mamiya 7 body (shot with an FD-88)
The Mamiya 7, along with its sister the Mamiya 6, is the world's best camera, period.
It is super-easy to hold, shoot, and carry the complete system in the field.
It also offers the world's highest hand-holdable technical image quality. Shooting 6x7cm medium-format film, this lightweight interchangeable-lens rangefinder camera is the same or smaller in size and weight than 35mm SLRs and DSLRs, while offering far superior image quality and more convenient size and weight.
Its 70 x 56mm images are over double the area of the largest medium-format digital sensors.
The Mamiya 7's lenses are spectacular and beyond comparison. They are as good as LEICA, but for a format with over four times the image area of full-frame 35mm.
All this, and easy to carry and shoot hand-held = the world's best camera.
Tachihara 4x5:" $700 top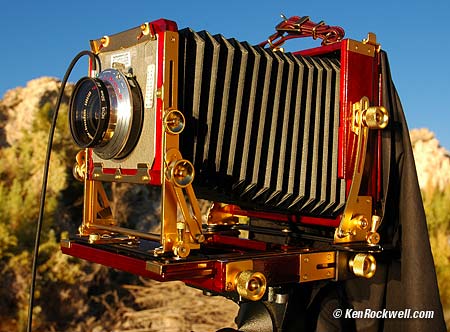 The Tachihara is a lightweight wooden 4x5" camera.
It has been one of the most popular cameras for decades for serious landscape and outdoor photography because of its ultra light weight, ability to fold up about as big as a book, its ample set of movements, and great screen.
It has recently been discontinued; I need to test some newer cameras to give personal recommendations, however I suspect that the $900 Toyo Field 45CF is also excellent, and built a lot tougher out of metal. The Tachihara usually doesn't survive falling off a tripod in the wind.
Of course you can go whole-hog and buy the classic of classics, the timeless Linhof Master Technika, for $7,500. I also use a 1956 Linhof Technika IV which is the same thing, but I grew tired of carrying the weight. Even though the light Tachihara feels flimsy, its results are what get published every month in your landscape calendars and seen on gallery walls.
Gift Ideas top
Amazon sells everything, so you don't need me to suggest them specifically for photographers, but don't forget about them, either.
$22: Galen Rowell Photo Book
Galen Rowell's "Inner Game of Outdoor Photography" is an eye-openingly clear book that explains many of the reasons most people don't get the photos they want, and what then to do about it.
Galen says more in a few pages than most photo books say, period.
Everyone should read this, and if you need a gift idea, here you go.
$32: World's Best Pocket-sized Battery Tester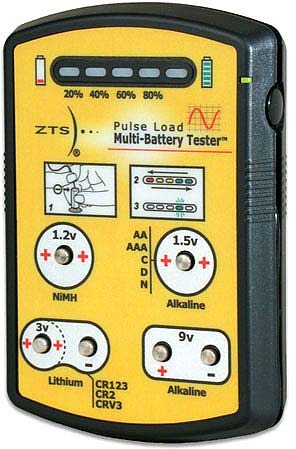 The ZTS-Mini MBT
The ZTS Mini-MBT is the same thing as the big professional ZTS MBT-1 tester I use at my desk. The only difference is that this small one fits in your camera bag (or pocket), and still tests all the batteries used by digital photographers.
I keep one of these mini testers in my bag any time I'm in the field to test AAs and the lithium batteries used by most of my film cameras.
It tests NiMH, lithium and alkaline batteries. In alkaline, it tests, 9V, N, AAA, AA, C, and D cells. It tests 3V lithium cells, like the CR123, CR2 and CRV3, and all single-cell Ni-MH. This small tester won't test odder and smaller size batteries used by older film cameras; for that you need the bigger tester.
Unlike most testers, it scientifically reads the amount of electricity or charge left in the cell, and reads it out directly in percent, not merely "OK" or "bad."
$120: Great Bluetooth Speaker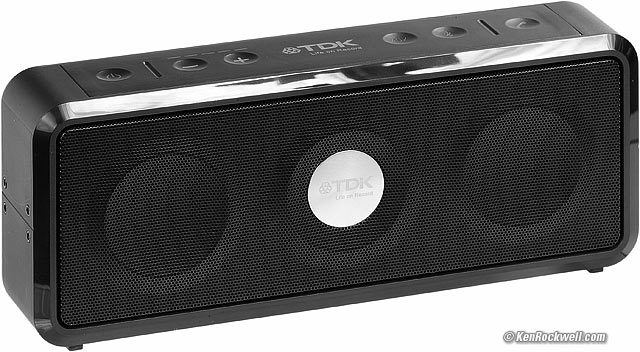 It's better than other speakers that cost two or three times as much!
$1,299: Fuji X100S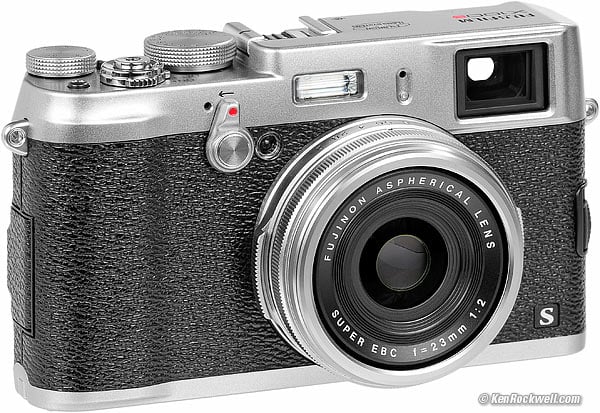 See also my suggestions from the top of this page, however the Fuji X100S is a great gift for any photographer. Every photographer wants one, even if they don't know it yet.
Hint: if giving a camera as a gift, be sure to charge its battery and pop in a memory card so it will be ready to use!
Help me help you top
I support my growing family through this website, as crazy as it might seem.
The biggest help is when you use any of these links when you get anything. It costs you nothing, and is this site's, and thus my family's, biggest source of support. eBay is always a gamble, but all the other places always have the best prices and service, which is why I've used them since before this website existed. I recommend them all personally.
If you find this page as helpful as a book you might have had to buy or a workshop you may have had to take, feel free to help me continue helping everyone.
If you've gotten your gear through one of my links or helped otherwise, you're family. It's great people like you who allow me to keep adding to this site full-time. Thanks!
If you haven't helped yet, please do, and consider helping me with a gift of $5.00.
As this page is copyrighted and formally registered, it is unlawful to make copies, especially in the form of printouts for personal use. If you wish to make a printout for personal use, you are granted one-time permission only if you PayPal me $5.00 per printout or part thereof. Thank you!
Thanks for reading!
Mr. & Mrs. Ken Rockwell, Ryan and Katie.
Home Donate New Search Gallery Reviews How-To Books Links Workshops About Contact