Lumintop AAA
Overall Specifications   Recommendations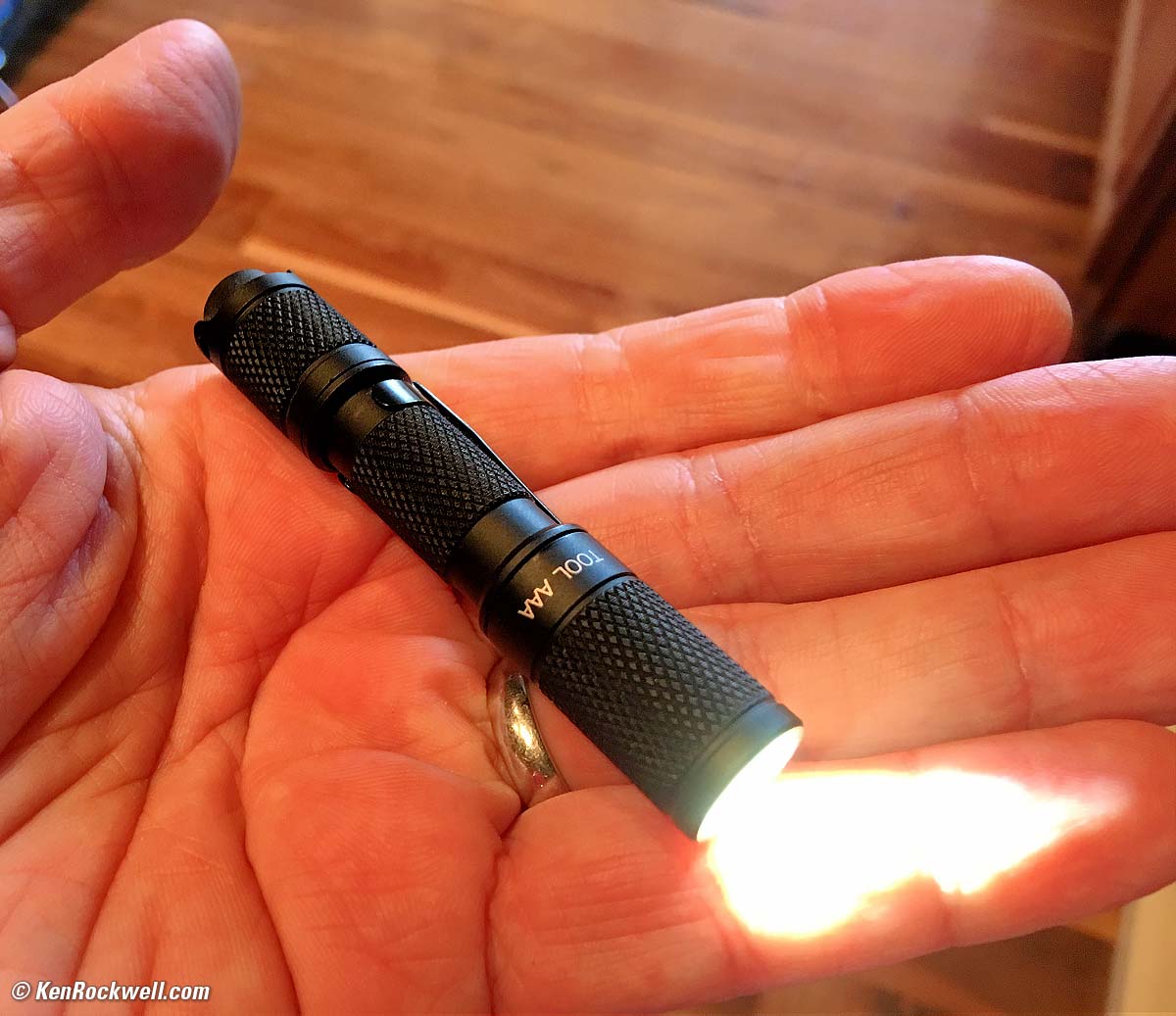 Lumintop Tool AAA (5/32/110 lumens for 36/4/½ hours, 0.9 oz./24g with one alkaline AAA, about $20). bigger. I'd get it at Amazon.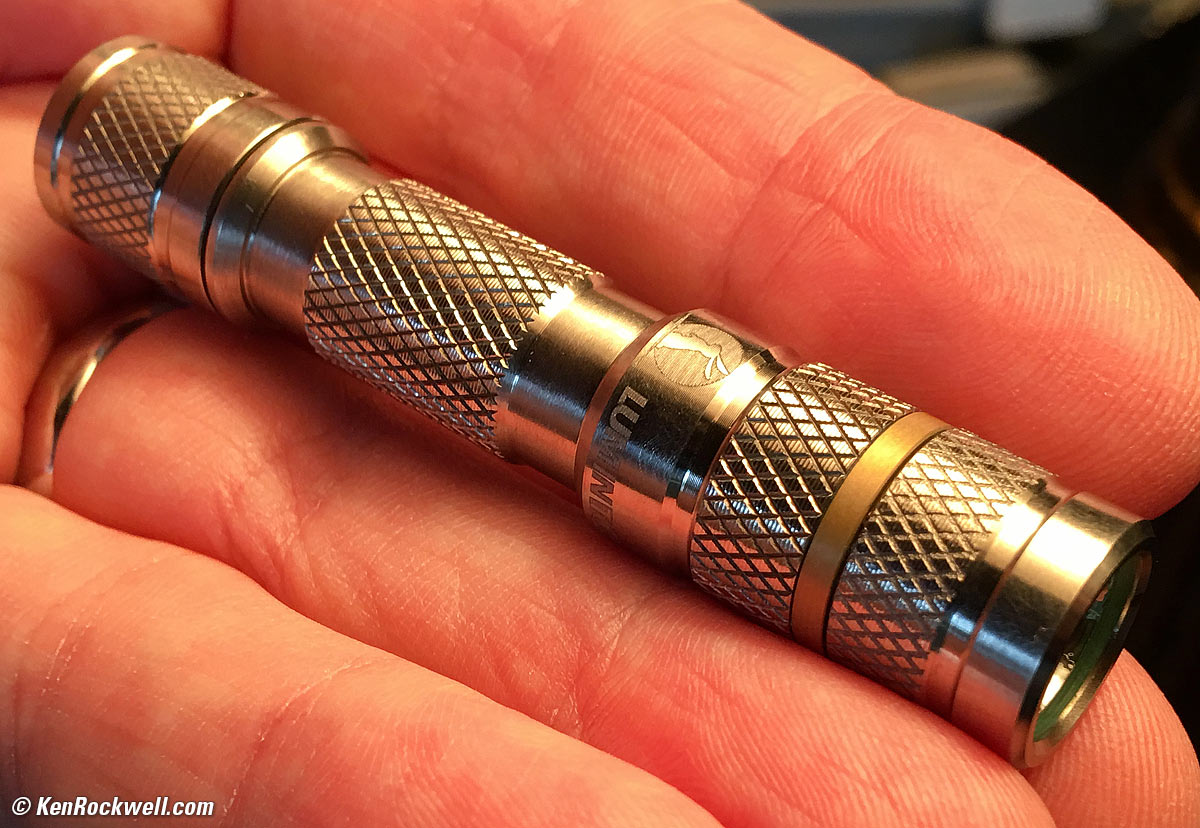 Tool Ti version. It's the same thing in solid titanium alloy with a flush push switch in the back for about $70. It comes in a fancier box, too. bigger.
This ad-free website's biggest source of support is when you use those or any of these links to my personally-approved sources when you get anything, regardless of the country in which you live. Buy only from the approved sources I use myself for the best prices, service, return policies and selection. Thanks for helping me help you! Ken.
September 2016    Lupine reviews Fenix reviews d.light reviews  all reviews
Overall
Top Overall Specifications   Recommendations
The Lumintop Tool AAA and Tool Ti are tiny, super-bright one-cell aluminum penlights perfect to pop in a pocket, glove-box, center console or camera bag. As you can gather by its odd English names, it's 100% designed and made in China.
Click it on and it lights at medium brightness (32 lumens), which is ideal for just about everything.
Tap the switch again (or untwist the front for a moment), and it goes to low (5 lumens), and tap again for bright (110 lumens). Easy!
The Tool AAA is anodized aluminium and comes with a click switch as shown, as well as a second switchless rear cap; you can unscrew the front as a switch. It also comes with a clip, also not shown.
Your choice: click switch or twist the front. I prefer the click switch.
The Tool Ti has the same optics and electronics, instead made of CNC-machined Ti-6Al-4V titanium alloy with diamond-cut knurling. It has the same specifications, with 110/32/5 lumens with ½/4/36 hours rated life from an AAA cell.
It's tail switch has a patented (Patent No. 201520922098.6) anti-abrasion feature. The switch is flat, so it can stand upright on a table.
Their beams have a nice, diffuse and evenly-lit core with a smooth border and properly dim 180º surround.
The beam is reasonably neutral; I don't notice any particular color tinge to it.
They are both very well made: their glass lenses are anti-reflection-coated to make them even brighter and more efficient, and their reflectors are precision affairs with just the right shape and texture to make the beam as well-formed as it is for general use.
I keep one or the other in my pocket with my pens. The front isn't sharp, so it doesn't wear through my pants. It has holes in the click switch housing to attach it to a key ring with a small split ring.
They have a glow-in-the-dark ring inside the reflector to help find it in the dark, but it doesn't glow bright enough long enough to be much use.
These are extremely convenient flashlights. They are far easier to use than most; just pick up and tap.
They are just the right brightness for anything: Normal is great for most things. Dim is perfect for reading menus in restaurants or seeing camera settings in the dark, and Bright is great for lighting up large areas.
They use all the power in a battery at full brightness. Even with an AAA cell that reads 0% on my ZTS MBT-1, it still works fine. You won't be throwing away batteries that have any life left in them; in fact, it will usually work with AAA cells you remove from other devices that stop running!
Specifications
Top Overall Specifications   Recommendations
Power
One AAA cell.
Any type except 10440. I use throw-away alkaline.
Regulated power supply for constant brightness regardless of battery state, works swell down to a cell cutoff of 0.9 V.
Beam
CREE XP-G2 R5 LED.
Low

Medium

High

Brightness

5 lumens

25 candelas

32 lumens

161 candelas

110 lumens

553 candelas

Distance

47 meters/150'

Battery Life

36 hours

4 hours

½ hour
Size
Tool AAA: 14.46mm (0.569") diameter × 82.65mm (3.254") long, actual measured, with click switch.
Tool Ti rated 74mm long.
Weight
Tool AAA: 0.869 oz. (24.4 g) with alkaline AAA, actual measured.
Tool Ti rated 22g empty. I measure 1.135 oz. (32.2g) with an AAA alkaline cell.
Quality
Made in China.
Tool AAA: Anodized aluminum..
Tool Ti: Ti-6Al-4V titanium alloy.
Rated IPX-8 waterproof to 6.5 feet (2 meters).
Rated for 5 foot (1.5 meters) drop.
Recommendations
Top Overall Specifications   Recommendations
These are much nicer than the twist-grip Fenix E05 I used until it broke. These default to the same brightness as the E05, but also offer Dim and Bright modes, and I find the Tool AAA's and Ti's click switches much faster to use than the twist-only switch of the E05. I'm surprised to see that the E05 still sells for as much as it does; this Tool AAA and Tool Ti are much better.
More Information: Lumintop.com.
I'd get the Tool AAA at Amazon and the Tool Ti at Amazon.
© Ken Rockwell. All rights reserved. Tous droits réservés. Alle Rechte vorbehalten.
Help Me Help You
I support my growing family through this website, as crazy as it might seem.
The biggest help is when you use any of these links when you get anything. It costs you nothing, and is this site's, and thus my family's, biggest source of support. eBay is always a gamble, but all the other places always have the best prices and service, which is why I've used them since before this website existed. I recommend them all personally.
If you find this page as helpful as a book you might have had to buy or a workshop you may have had to take, feel free to help me continue helping everyone.
If you've gotten your gear through one of my links or helped otherwise, you're family. It's great people like you who allow me to keep adding to this site full-time. Thanks!
If you haven't helped yet, please do, and consider helping me with a gift of $5.00.
As this page is copyrighted and formally registered, it is unlawful to make copies, especially in the form of printouts for personal use. If you wish to make a printout for personal use, you are granted one-time permission only if you PayPal me $5.00 per printout or part thereof. Thank you!
Thanks for reading!
Mr. & Mrs. Ken Rockwell, Ryan and Katie.