Home New Search Gallery How-To Books Links Workshops About Contact
Tiffen HT Filters
© 2009 KenRockwell.com. All rights reserved.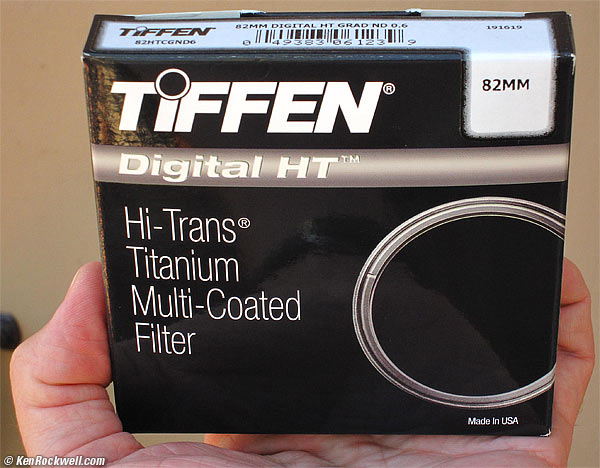 You can get the Tiffen 0.6 ND grads here. They also come in many other types. It helps me me keep adding to this site when you use these links, as well as these links to Adorama, Amazon, B&H, Calumet, Ritz, J&R and eBay to get your goodies. Thanks! Ken.
March 2009 How to Use Filters
Tiffen's new HT filters are the new standard in ND Grads. Tiffen's HT line of filters includes many other colors, but my favorites are the ND grads. I always carry a polarizer and a grad with me for shooting digital. (I use a lot of other colored filters with film.)
"ND grad" is short for a graduated neutral-density filter. Grads are used to give far better results in one shot than the results from tedious, and usually ugly, HDR.
Grad NDs are dark at the top, and clear at the bottom. They are used to darken bright areas while leaving the dark areas alone.
Some people like to make it complicated by using rectangular filters in complex mounts, but for decades I've used simple screw-in rotating grad filters for all my cameras, including rangefinders.
HT stands for High Trans, which stands for High Transmission, referring to the multicoating. This new multicoating is claimed to be magic, like some other new multicoatings, which repel dirt and fingerprints.
More important than transmission, multicoating reduces reflections, which reduce problems that happened with the uncoated grads of the past. Almost by definition, when you're shooting with a grad, you're shooting into a bright source of light and don't want any reflections popping up in your shadows. I've had uncoated grads, used in those rectangular Cokin mounts, show reflections off the filter from behind the camera! Don't do that.
The Tiffens are superior not just because they greatly reduce unwanted reflections, but also because they really are neutral. Plastic grads, like the Cokins, are rarely neutral and give strong color casts you may or may not like in the darkened areas.
These are also much nicer than other current filters because the markings are laser-engraved, not just painted on. If you actually use filters, as I do, the paint wears off and you can't read what they are after a while. Engraved filters are better.
The only weird thing is that these are finished in faux titanium (silver). This makes the engraved silver-on-silver markings hard to read, but they won't rub off. Also oddly its more difficult to see the angle of orientation by looking at the front of the filter (as you'd do on a rangefinder camera) than with the uncoated filters.
The retaining rings are black, but the front and rear of the rotating mounts are silver on the inside, too. I doubt this will cause any flare, but black would be more elegant.
Need any more reason to buy these? These are made on Long Island, New York, USA; not Japan, not China, not India, and nowhere else other than the good old USA.
Specifications
Colors
Clear Protector (aka "Digital Ultra Clear")
UV Haze (aka "Haze 86," with 86% UV absorption)
Circular Polarizer
812 Warming Filter
ND 0.6 (2 stops/8x) and ND 1.2 (4 stops/32x)
Soft/FX 3
Star 4 Point 2
Graduated Neutral Density 0.6 (2 stops/4x, aka "Color-Grad")
Sizes
52mm through 82mm.
PLUG
I support my growing family through this website.
If you find this as helpful as a book you might have had to buy or a workshop you may have had to take, feel free to help me continue helping everyone.
If you've gotten your gear through one of my links or helped otherwise, you're family. It's great people like you who allow me to keep adding to this site full-time. Thanks!
If you haven't helped yet, please do, and consider helping me with a gift of $5.00.
The biggest help is to use these links to Adorama, Amazon, B&H, Calumet, Ritz and J&R when you get your goodies. It costs you nothing and is a huge help. These places have the best prices and service, which is why I've used them since before this website existed. I recommend them all personally.
Thanks for reading!
Ken
Home New Search Gallery How-To Books Links Workshops About Contact