Home Donate New Search Gallery Reviews How-To Books Links Workshops About Contact
Nikon 50mm f/1.4
AF and AF-D NIKKOR (1986-today)
© 2008-2012 KenRockwell.com. All rights reserved.
Intro Specifications Performance Recommendations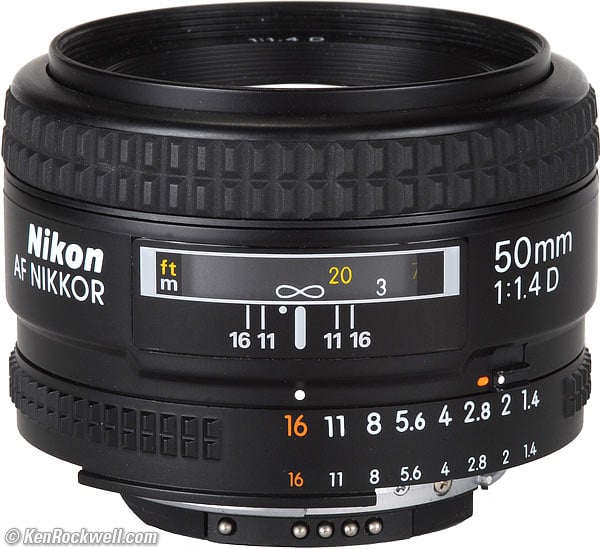 Nikon 50mm f/1.4 AF D (FX, DX and 35mm coverage, 52mm filters, 8.1 oz./229g, 1.5'/0.45 m close focus, about $330). enlarge. My biggest source of support for this free website is when you use any of these links, especially this link directly to it at Adorama or directly to it at Amazon, when you get anything, regardless of the country in which you live. Thank you! Ken.
August 2012 Nikon Reviews Nikon Lenses All Reviews
NEW: Nikon 50mm f/1.4 AF-S, which is the same thing, just more expensive, made in China with more distoriton, instant manual-focus override, and much worse sunstars.
Nikon High-Speed 50mm Lens Sharpness Comparison 09 Sep 2010
Introduction top
Intro Specifications Performance Recommendations
The Nikon 50mm f/1.4 is a secret weapon for low-light photography. Far more important than a fast ISO speed is the ability to gather light, which this lens does extremely well. In low light, this f/1.4 lens on a D80 should perform about as well as an exotic f/2.8 zoom will on a D3.
At less than $300 brand-new, this 50mm f/1.4 Nikon's fastest and least expensive super-speed lens. The next closest f/1.4 AF lens is the $1,000 85mm f/1.4 AF, or the discontinued 28mm f/1.4,which sold for $1,700 when you could get it new, and now sells for over $4,000 used since it's been discontinued.
I love this 50mm f/1.4 lens on my Nikon D3. It's fast f/stop makes it child's play to photograph just about anything hand-held. For casual people photography it's wonderful, since I can shoot at about 1/125 in dim indoors light at a reasonable ISO on my D3.
I just broke down and bought one for myself in October 2007, and with my D3, appreciate it much more than I ever did previously.
I have access to just about every lens made by Nikon, even the $1,700 24-70mm f/2.8 AF-S, and this 50mm f/1.4 AF-D is the lens most often on my camera for photographing my baby and family.
Why? Easy: it just works. The fast f/1.4 speed lets me shoot action, hand-held, in any light, and AF is super fast and accurate so that even at f/1.4 I get sharp photos. The $1,700 24-70mm f/2.8 AF-S doesn't seem to focus as fast, and it's two stops (four times!) less sensitive in low light.
I've hated 50mm lenses since the 1970s, but now that I have a D3 and a kid or two, there is nothing like it. I also have an 85mm f/1.4, but it doesn't focus as fast. The 50mm f/1.4 is not that expensive, and it's better than many lenses costing far more for the things I photograph with it.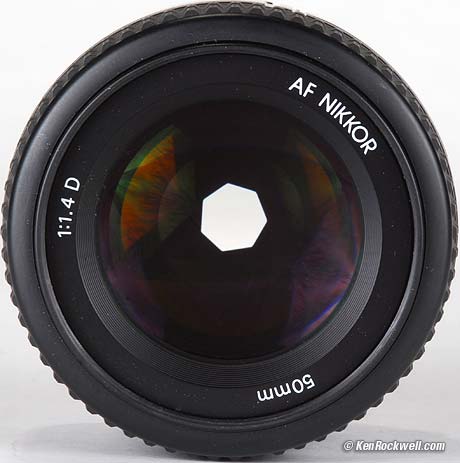 Nikon 50mm f/1.4 D at f/5.6.
Compatibility
As a traditional AF lens, the Nikon AF-D 50mm f/1.4 works on a broader range of Nikon cameras than any other. Except that it won't autofocus on the D40, D40x, or D60 and that you'll have to have an AI coupling prong to the aperture ring for coupled metering with antediluvian Nikons made before 1977, this lens works perfectly with every Nikon ever made over the past 30 years.
See Nikon Lens Compatibility for details on your camera. Read down the "AF, AF-D (screw)" column for this lens.
Production History
All Nikon 50mm f/1.4 lenses have always been at least single-coated and have had seven element designs. Except as noted, they have their 7 elements in 6 groups.
1950-1962
The world's fastest lens in 35mm photography, Nikon made their first 50mm (5cm) f/1.4 lens for their rangefinder cameras in S mount. THese aren't compatible with any popular camera made in the past 50 years. THe 7 elements were were in 3 groups. Nikon made about 100,000 of these.
1959-1962
Nikon made a 58mm f/1.4 manual focus lens, Nikon's first for SLR cameras. Nikon made about 40,000 of these.
1962-1976
Nikon's non-AI 50mm f/1.4 had its 7 elements in 5 groups. It came in several cosmetic variations and became multicoated in 1973. Nikon made about 1-1/3 million of these.
1977-today
Nikon's AI and AI-s manual-focus 50mm f/1.4 lenses are all multicoated. The current AI-s version brags that "all air surfaces are multicoated." Nikon has made almost 2 million of these, and is still making them.
1986-1991
Nikon's first AF 50mm f/1.4 had a nasty, thin, hard plastic focus ring. Nikon only made about 80,000 of these before they improved it. Photographers hated the focus ring.
1991-1995
Nikon's 50mm f/1.4 AF-n returned to a rubber focus ring. Nikon made only about 65,000 of these. AF was not yet used professionally, and amateurs preferred zoom lenses.
1995 - Today
The current AF-D version added coupling electronic distance information to the camera for more consistent exposure metering, especially with flash. Nikon has made about 300,000 of these, and still makes them.
Specifications top
Intro Specifications Performance Recommendations
Name
Nikon calls this the Nikon AF Nikkor 50mm f/1.4 D.
Optics
7 seven elements in 6 groups. Traditional spherical design, multicoated.
Diaphragm
7 straight blades stopping down to f/16.
Close Focus
1.5 feet (0.45 meters).
Hard Infinity-Focus Stop
Yes.
Depth of Field Scale
Yes, for f/11 and f/16.
Infra-red Focus Index
Yes.
Filter Thread
52mm, plastic, Nikon's standard for small lenses since 1959.
Size
1.658" extension from flange by 2.542" diameter (42.13 x 64.58mm) when focused at infinity, as measured by me.
It extends an additional 0.287" (7.30mm) when focused at 1.5 feet (0.45m).
Nikon specifies 1.7 x 2.5" (43 x 63mm).
Weight
8.080 oz. (229.1g) as measured by me.
Nikon specifies 9 oz (260g).
Hood
Nikon HR-2 folding rubber hood, optional.
Nikon Product Number
1902.
Made in
China since about the year 2000.
Made in Japan, 1986-2000.
Pricing, USA (/gray)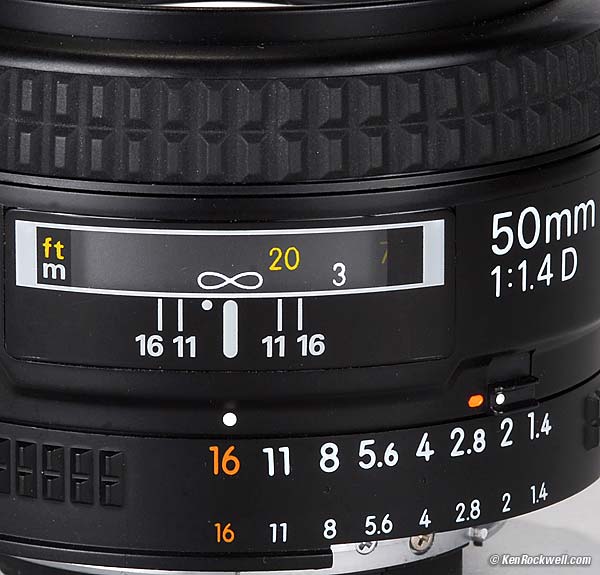 Control Surfaces, Nikon Nikkor 50mm f/1.4 D.
Performance top
Intro Specifications Performance Recommendations
Overall
This is a great lens at a bargain price. It just works!
Focusing
AF action is fast! One full turn of the AF screw focuses the lens from infinity to 6.'
Distortion
It has the typical mild to moderate barrel distortion of all Nikon's 50mm f/1.4 lenses.
Plug these figures into Photoshop CS2's lens distortion filter to correct the distortion. These aren't facts or specifications, they are the results of my research that requires a lot of data collection and computation.
| | | |
| --- | --- | --- |
| | | |
| at infinity | +1.4 | +0.5 |
© 2008 KenRockwell.com
Lateral Color Fringes
The 50/1.4 D has no lateral color fringes on the D3.
Mechanics and Construction
Barrel
Plastic.
Filter Threads
Plastic.
Focus Ring
Plastic covered in ribbed rubber.
Focus Window
Plastic.
Aperture Ring
Plastic.
Markings
Paint.
Internals
I can't see, I presume plenty of metal.
Mount
Metal.
Serial Number
Laser engraved into bottom of aperture ring. US versions are prefixed with "US" with no space between US and the digits.
Made in
China since about the year 2000.
Made in Japan, 1986-2000.
Sharpness (on a D3 FX Digital Camera)
As with most 50mm lenses, this is one of Nikon's sharpest lenses.
The 50/1.4 D is sharp at every aperture. It loses a little local contrast at f/1.4, but by f/2 it's great in the center. The full-frame corners have some coma and softness at f/1.4, and they are also perfect by f/4, even on test charts.
The softness wide-open comes from the spherical aberration common to all conventional 50mm f/1.4 lenses, including the Zeiss. Stop it down a little, and all that's left is perfection.
Sunstars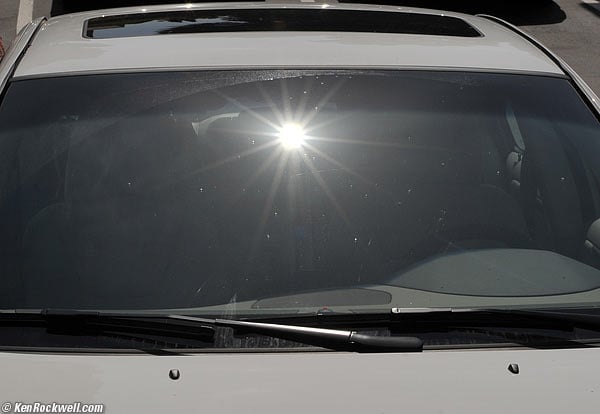 Sunstar, 50mm f/1.4 at f/16.
Nikon's standard 7-bladed diaphragm begets Nikon's trademark 14-point stars on bright points of light. They become more obvious as the points of light get brighter, like this sun glaring off a windshield, and as you stop down towards f/16.
This shot is a crop from the middle quarter of an FX frame.
Recommendations top
Intro Specifications Performance Recommendations
This is a great lens. It's one of the sharpest and fastest lenses made by Nikon, and it's reasonably priced. I shoot it all the time on my D3 for family and baby photos.
I keep a 52mm Nikon NC filter and Nikon HR-2 rubber hood on it for protection.
If you want an ultra-sharp, ultra-portable lens for use in daylight and are on a budget, the 50mm f/1.8 AF-D has the same image quality when stopped down an extra stop. Unlike the 85mm f/1.8 vs. f/1.4 question (where the f/1.4 costs three times as much and is made three times as solidly) I see no such difference in mechanical quality between these 50mm lenses.
If you want to shoot in available light on a $5,000 camera, of course get this f/1.4 version. If you're on a budget, the 50mm f/1.8 AF-D is just about as good for one-third the price.
More Information: Written review in Popular Photography, February 1999, page 68.
Help me help you top
I support my growing family through this website, as crazy as it might seem.
The biggest help is when you use any of these links when you get anything, regardless of the country in which you live. It costs you nothing, and is this site's, and thus my family's, biggest source of support. These places have the best prices and service, which is why I've used them since before this website existed. I recommend them all personally.
If you find this page as helpful as a book you might have had to buy or a workshop you may have had to take, feel free to help me continue helping everyone.
If you've gotten your gear through one of my links or helped otherwise, you're family. It's great people like you who allow me to keep adding to this site full-time. Thanks!
If you haven't helped yet, please do, and consider helping me with a gift of $5.00.
As this page is copyrighted and formally registered, it is unlawful to make copies, especially in the form of printouts for personal use. If you wish to make a printout for personal use, you are granted one-time permission only if you PayPal me $5.00 per printout or part thereof. Thank you!
Thanks for reading!
Mr. & Mrs. Ken Rockwell, Ryan and Katie.
Home Donate New Search Gallery Reviews How-To Books Links Workshops About Contact