Home Donate Search Gallery Reviews How-To Books Links Workshops About Contact

Today's Updates Hot Deals
RSS: daily (continuous live updates)
all © 2012-2013 KenRockwell.com. All rights reserved.

Nikon: D800 D600 Canon: 5D Mk III 6D Fuji LEICA All random Ryan Katie
Recommended Cameras How to Take Better Pictures
Twitter Facebook Video Tutorials
Amazon's Dads and Grads Camera Sale
Amazon Prime Instant Video: 30-day free trial (restrictions apply)
23 May 2013, Thursday
NEW: AKG K702 Review.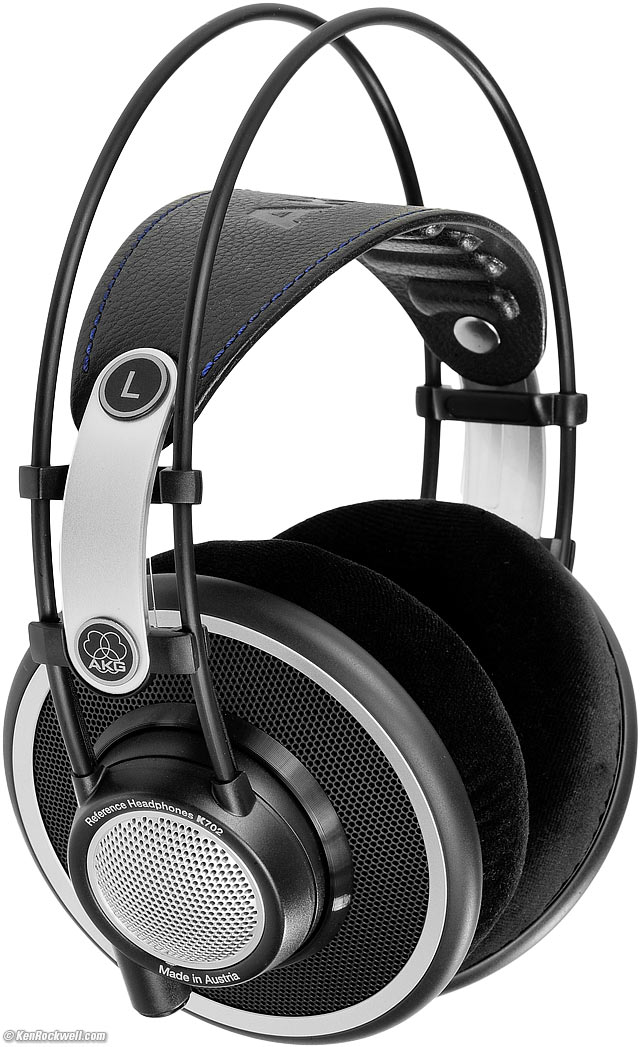 AKG K702.
21 May 2013, Tuesday
Best DX Ultrawide
A friend asks which ultrawide lens is best for their DX camera.
My reply:
Nikon 12-24 - best built lens mechanically and most expensive
Nikon 10-24 - widest range, least expensive and most cheaply made (made in China). The ultrawide I usually use on DX for its wider range.
Tokina 11-16mm f/2.8 - least expensive, great performance and built tougher than the 10-24 - for less money.
Think Tank Retrospective Test Drives
Think Tank is offering free 30-day test drives of their Retrospective bags.
With the Test Drive, you get to try out a Retrospective bag for 30 days. If you keep the Retrospective, they charge your card — or just return the Retrospective and nothing gets charged.
For those who carry a lot
Not for me, but Think Tank is also releasing a new version of their largest rolling camera bag, the gigantic Logistics Manager 30.
20 May 2013, Monday
Updated: Tripod Recommendations.
X-Rated Films
A reader writes that his rights to hand-inspection of film were denied at a US airport, and wonders if his X-rated Velvia is now worthless.
No worries, it's fine.
20 years ago coming back from a trip, I had some extra Velvia. I had 4x5 Quick-Loads, and ran some through the X-ray machine at Heathrow about 10 times, and kept the rest of the film as reference.
It was pretty funny, the London screeners kept taking the bin with the film from one end of the machine and sticking it in the other. As it went around and around again, one screener joked "you're going to make us ruin our bin!"
Anyway, with the 4x5" film home, I later shot the same thing on the X-rated film as well as with the untouched film, obviously all from the same batch. This is easy with 4x5," each sheet loads separately.
There was no difference between the films. My ASA 50 Velvia was unaffected by ten or more passes through Heathrow's carry-on scanner.
Therefore, if you lack the diplomatic skills to have your film hand-checked, don't worry. Don't send it with your luggage — those scanners will expose you film — but don't worry if it gets nailed once at the carry-on aisle. Just avoid any more scans; they all add up, just like any other exposure, but ten or more scans at ASA 50 were fine.
17 May 2013, Friday
NEW: Sony 50mm f/1.4 Review.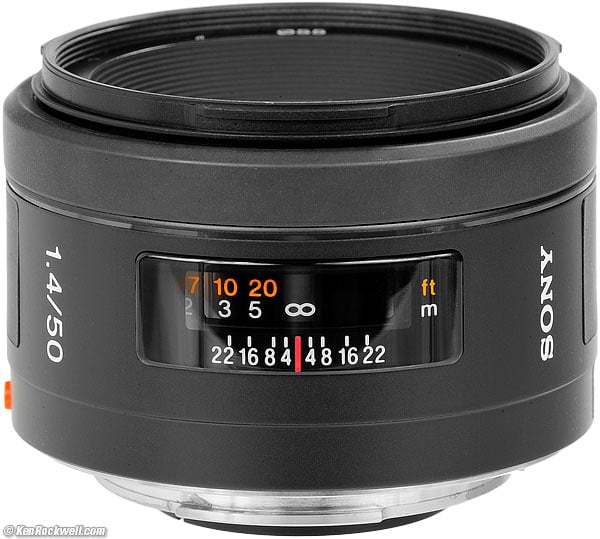 Sony 50mm f/1.4.
15 May 2013, Wednesday
AF Fine Tune?
You don't need it; don't buy a new camera because you think it will get you sharper pictures.
I never use the AF Fine Tune feature on any of my cameras — it's not needed.
The only time I need AF Fine Tune is with the occasional off-brand lens, or the very odd sample of older AF lens from the 1980s.
So long as you stick to real (Nikon, Canon or LEICA) lenses and are buying reasonably new products from the past 10 years or so, DSLRs have all the proper corrections already in their firmware.
AF Fine tune is only needed for one in twenty BAD old lenses. Modern lenses almost never need any tuning, it's only for old ones from the 1980s you already have in your collection if you're an old-timer like me — or maybe if you have some junk from Sigma or Tamron or whoever you're still trying to use with your new camera.
If you're buying new lenses for your new cameras, AF Fine Tune will only make your photos worse by screwing with it. Sure, if you have a bad lens AF fine tune might help, but why use bad lenses, and why buy a new camera if it's a lens that needs to be replaced?
So, as always, stick to name-brand lenses, and don't go telling anyone I told you you needed a new camera to get sharper pictures.
DEAL: 2-Day Sale on 8mm Fisheye lenses for Nikon, Canon, MAXXUM and Sony.
They are usually $269.00, but use secret coupon code S0511113 on checkout and you'll get it for only $229.00 - with free shipping!
This deal expires on 16 May 2013.
NEW: Minolta MAXXUM 7000 Review.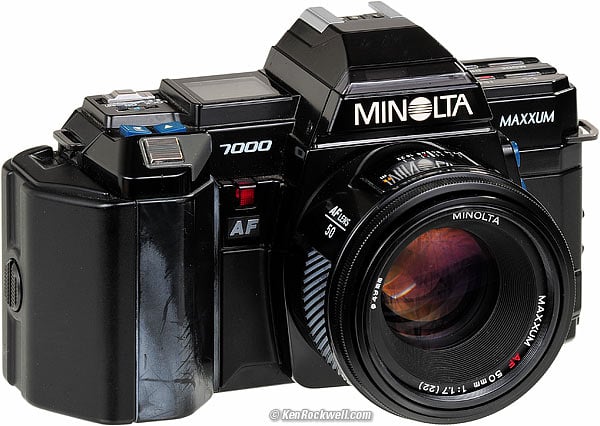 Minolta MAXXUM 7000 with 50mm f/1.7.
World's first autofocus SLR.
14 May 2013, Tuesday
NEW: Canon 200-400mm f/4 IS.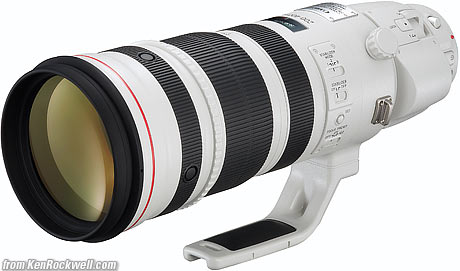 Canon 200-400mm f/4 IS with built-in 1.4x extender.
First announced over two years ago, now available for sale.
What's neat is that you can flip-in the extender without taking your eye from the finder.
NEW: Nikon 1 32mm f/1.2.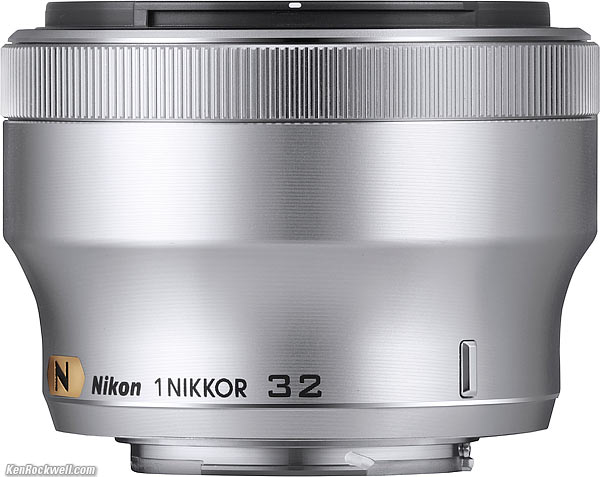 Nikon 1 32mm f/1.2.
13 May 2013, Monday
Which bag did I get for my X100S?
With the new Mirrorless Mover bags announced last week, a reader asks which I got for my Fuji X100S.
NONE! That's the whole point of the X100S; you don;t need a bag because there's nothing else to carry.
Für meine LEICA, I did order a Mirrorless Mover 30i. We'll see how it stacks up to my other favorite, a Pinestone Retrospective 5 I was using this weekend with my Minolta Maxxum 7000, Maxxum 28-85, Maxxum 50/1.7 and Maxxum 70-210/4.
10 May 2013, Friday
HALLELUJAH: Think Tank finally introduces new reasonably sized bags for intelligent people.
I'm not a fan of backpacks, and my favorite bags so far have been the small Think Tank Retrospective and Think Tank Speed Demon bags.
P.S.: Think Tank is also giving away free shipping on all orders (and also a 15" laptop bag if you're getting one of their roller bags), all through the end of May.
DEALS: Canon's Newest Rebates.
NWF Photo Contest!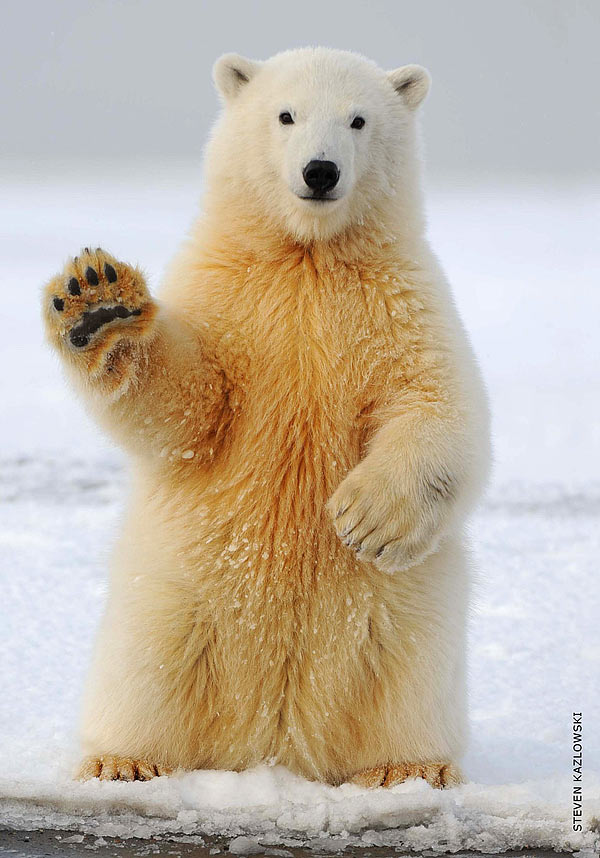 Win and come see me!
The National Wildlife Federation is having a photo contest.
Time to get on it; early-bird offers end 15 May 2013 (Wednesday).
Each year they have the world's most astounding wildlife shots submitted, and have some great prizes.
Sure, they are awarding iPads, and Grand Prize is an expense-paid trip for two to see and photograph polar bears in the wild in northern Canada, eh!
Free Photo Enhancement Offer
SlickPic is having a Mother's Day Special: get some of your photos enhanced by professionals for FREE. (Just click on sign up or Plans and pricing - it will be there.)
Offer expires on Tuesday, May 14.
09 May 2013, Thursday
SALE: Canon 800mm f/5.6 L IS now includes a $1,000 Gift Card!
You bird shooters know who you are; get it while you can, and get a $1,000 gift card in the process. Hint: use the $1,000 gift card as a bribe to your wife! Don't tell her what the lens costs, just say its for the kid's soccer games, and that she'll be getting a $1,000 gift card in the process. Adorama has iPads, TVs and Jill-e bags, too!
08 May 2013, Wednesday
NEW: Fuji X100S Film Simulation Sample Images.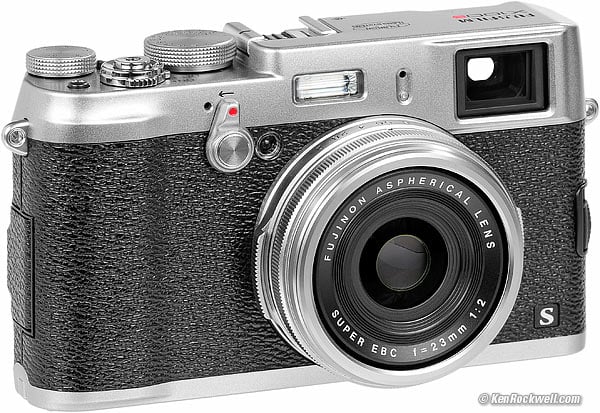 Fujifilm X100S.
DEAL: Refurbished Nikon 55-200mm VRs are on sale for a meager $134.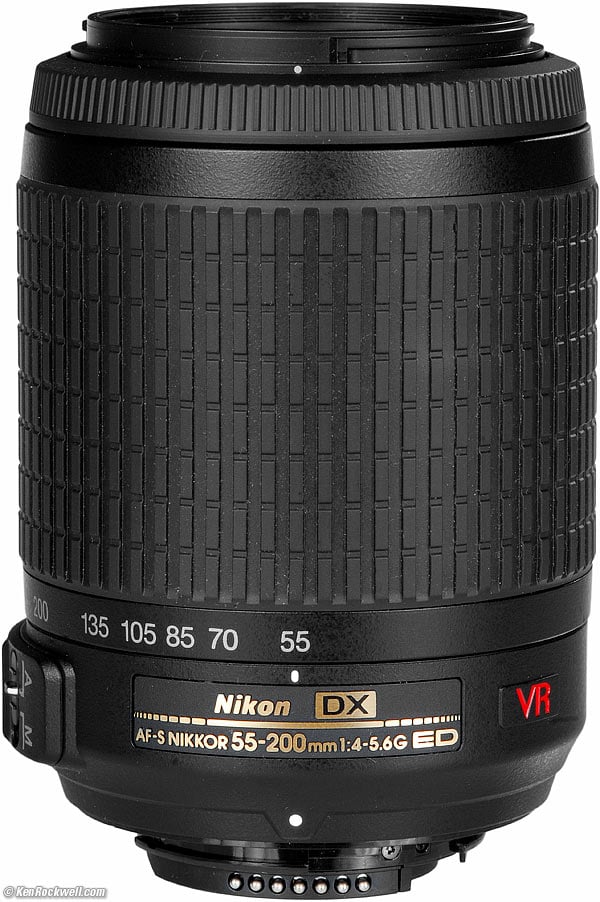 Nikon 55-200mm VR DX.
All you need for a tele on DX; no need to pay more.
DEAL: Nikon D3100 + 18-55mm and 55-200mm are on sale for a paltry $497. That's only half what people paid in 2010. Noite that this kit has the non-VR lens; but so what; get the 55-200 VR above and throw away (or Adorama) the non-VR one.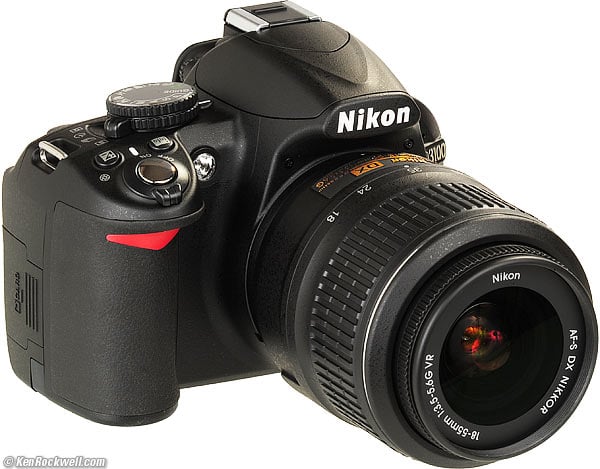 Nikon D3100 and 18-55mm VR.
Get that? Get a great new DSLR and two new lenses for under $500? You can't even get change back from a dollar from McDonalds anymore. See all D3100 kit options and Nikon D3100 review.
Goodness, the D3100 with 18-55mm VR is only $349, refurbished! That's half what it sold for new in 2010. Pay $7.95 for Adorama's VIP club, and they'll throw in a full year's extra warranty as well.
More is Better: See Apple's ad for the iPhone camera.
I had no idea; more photos are taken every day with the iPhone than any other camera.
It makes sense; the iPhone 5 has a camera that gives better color at its default settings than any other camera I've used. As some readers have asked, "How do I set up my Canon or Nikon to give great color, exposure and white balance like my iPhone?," and the answer is that you can't. The iPhone is better than any camera I've used at getting better color more of the time than anything else at its defaults.
Sure, I can jack-up my Nikon or Canon for great people or thing photos, but I need different settings for each.
My LEICA, Casio and Sony digital cameras never measure up. Their color rendiotion is never as good as the iPhone 5.
The Fuji X100S is the best at shooting in any possible light, and it's fantastic for people photos, but again, I set mine to enhance color and its colors aren't as good for photos of things as are Nikon or Canon when they're jacked up on color.
People also ask for a digital Nikon FE, Contax G2 or a digital camera that just takes the picture without all the menus. My answer: The iPhone 5.
I've never used the iPhone 4. My iPhone 3GS' camera isn't that great, while the iPhone 5 is fantastic; and when I shoot on iPhone, it's trivial to edit and publish the photos at the same time. Done.
I've been telling marketing people for the past ten years that compact point-and-shoot cameras' days were numbered until people finally learn how to use their phone cameras. It looks like now that we have iPhone, people have. Hooray!
07 May 2013, Tuesday
Fuji X100S
I rarely bother shooting my X100S at its full 16MP resolution because I don't need it, but if I do, just look at the pixel-to-pixel sharpness: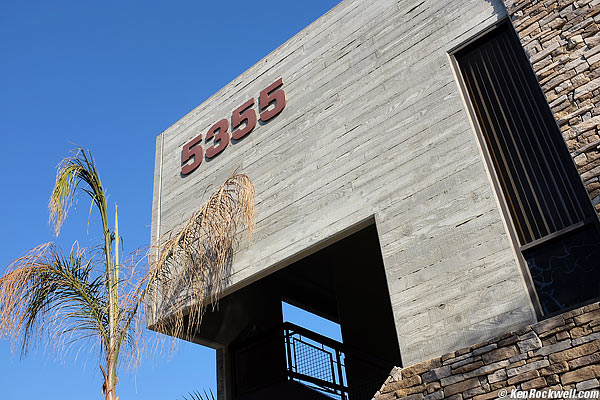 Sharp enough for you? 5355 at 16 MP. X100S, ISO 200, f/5.6 at 1/680, +2 saturation. © full-resolution NORMAL LARGE (16MP L 3:2 N) file. (run through Perfectly Clear at defaults.)
Golly, it's sharper than my Nikon and Canon DSLRs from pixel-to-pixel, because of the superior 23mm f/2 ASPH lens and the Fuji's magic sensor with an innovative color matrix that eliminates the need for an anti-alias filter — and this shot is a NORMAL JPG, not Fine and certainly not RAW.
Creativity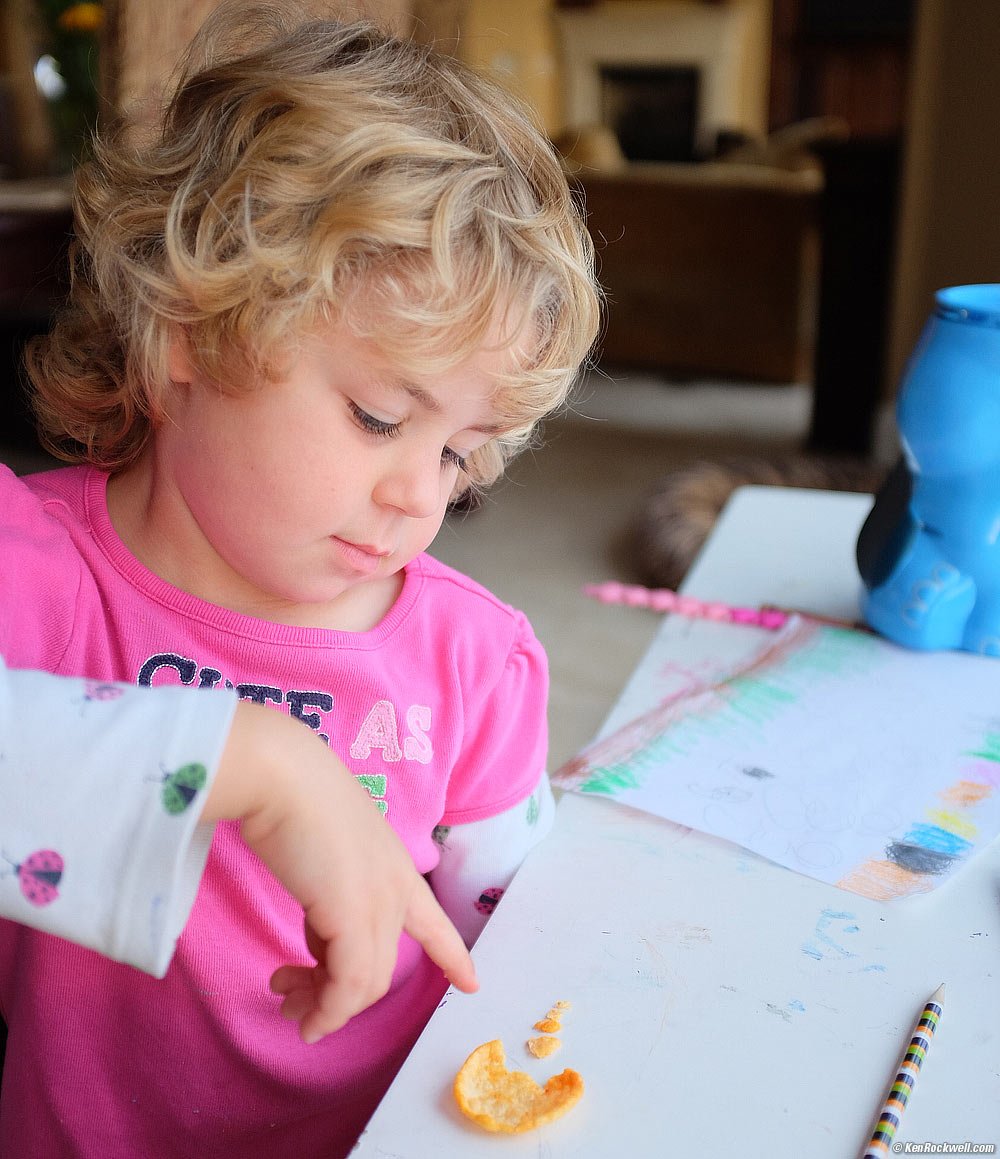 Katie makes a Pac-Man out of a PopChip at her art table. (Fuji X100S, +2 color, ISO 800, f/2 at 1/150, no flash.) bigger.
Four-year-old Katie got me again yesterday.
She insisted I sit down and do arts and crafts with her.
She had me take a piece of white paper out of mom's printer, sit down at her art table, and start to do arts and crafts.
I sat staring at the blank sheet, and asked her what I was supposed to draw.
"It's arts and crafts. Draw whatever you want!"
Duh!
It's all about filling a blank canvas with whatever hits our imagination; whatever's fun. It's never about having a theme or a required subject; it's all about drawing whatever we want to.
It's exactly the same in photography. The best work comes from keeping an open mind and seeing what pops into it.
D7000 Deals
I'm loving my D7100 and X100S— so much I haven't wanted to stop shooting to stop and write about them!
The D7100 is magnificent, but if money matters to you, the D7000 is 95% the same thing, and as a previous model, can be had for about 60% of the price of the new D7100.
Check Adorama for all the different ways to order it; my favorite is the refurbished version at $744.
Hee hee, while some people try to tell your wives that I made you buy a new camera, even though I spend more time trying to enlighten everyone that no one needs a new camera, it's all you people's fault that I have to buy the newest cameras when they first come out at full price!
Given my cheapskate druthers, I'd wait to buy them as factory refurbished at half price if I could. See the hardship I endure buying all the new stuff to test out? Someone has to take one for the team.
Oh oh: my 4-year-old can outshoot most of us
While most photo enthusiasts worry themselves senseless about camera gear and therefore don't have the time to think about their pictures, Katie already has shown more creativity than most photo equipment enthusiasts ever do.
While drive-by shooting, Katie had me stop and move our car back and fourth to get her into the right position, and then very carefully Dutched (tilted) her camera to force another parked car into a diagonal across her image.
I was impressed and curious, since I rarely see such thought put into images people shoot and send me, and asked her why she did that. She said "to make the car look cool."
That's 99% of photography right there: make it look the way you want it to look. You have to move around (me driving our car to order), and then her very carefully composing her work to get what she wanted. The camera had nothing to do with it.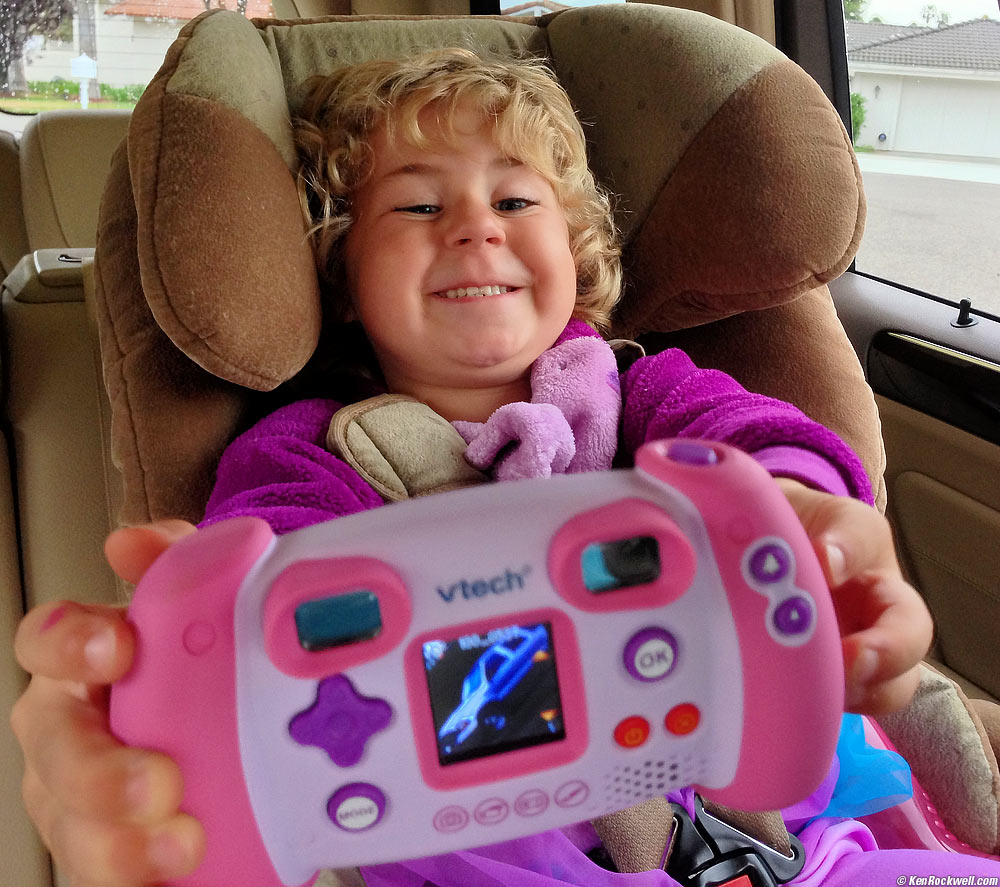 Katie showing her photo of a car. Note how she made it "cool," to use her words, by Dutching (tilting) the camera. (iPhone 5, ISO 125, f/2.4 at 1/20.) bigger.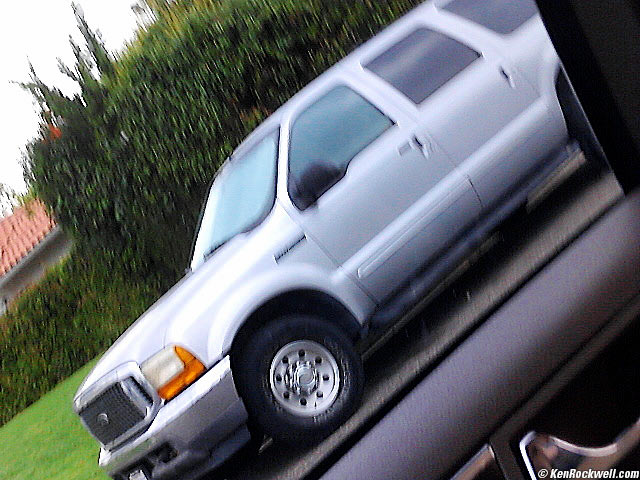 Katie's photo of a car, making it look "cool." (VTech 1227, whose LCD shows only the square center-crop of the full image shown here.)
Photo hobbyists never display this freedom of composition, while we see it all the time in professional car images in print and TV ads.
I'm not calling my kid smart; I'm entreating all the gear-heads out there to outgrow their hardware and software fetishes and start thinking about making better images before this little blonde noisemaker starts outshooting all of us when I finally teach her to squeeze the trigger instead of jerking it. Make all the fun you want of her toy camera, but it got the highlights and shadows all right where they need to be, far better and faster than I used to be able to print black-and-white in the darkroom.
Today with our digital cameras, tech knowledge is largely as obsolete a knowing how to calculate logarithms in your head; any idiot today can make technically perfect images at the touch of a button (or find logarithms with the iPhone calculator app), but what's in our images will only come from our own imaginations and creativity.
06 May 2013, Monday
Talk into my camera?
A reader was perplexed as to why a pro shooter was having people talk into his Nikon at an event.
All professional digital cameras have voice recorders. The Nikon D2, D3 and D4 and Canon 1DX all have this; it's one of the things that defines a professional camera today.
With the press of one dedicated button, it records an audio file with the same file name, but different suffix, as the picture (DSC_1234.JPG and DSC_1234.WAV, for instance).
Why do we care? Simple: it can take all sorts of notes whispered into its mic, which is on the back of the camera next to our lips, so we can record which guy is what or who is who quietly as we shoot.
Maybe we want to get the subject giving us a verbal model release (check in your locality), or even record what's going on around us, like when Katie was born (WAV file from my D3). Maybe someone wants to buy a picture, and you can record his name and mailing address right with the file.
Newsmen are always taking notes, and this today is one of the ways it's done. No one-button recorder, and it's not a pro camera.
These recorders are for note-taking; it is illegal in many places to record conversations without their knowledge. Newsmen know the rules, know your own, too.
More deals? Geesh...
Sigma 70-300mm f/4-5.6 VR/IS Reg. $359.00, Rebate Price $259.00. (Starts Tuesday, 07 May 2013 and ends 15 May 2013; currently there is an $50 rebate but starting tomorrow it will increase to $100 off!)
Save up to $100 on Elinchrom BRX moonlights and kits.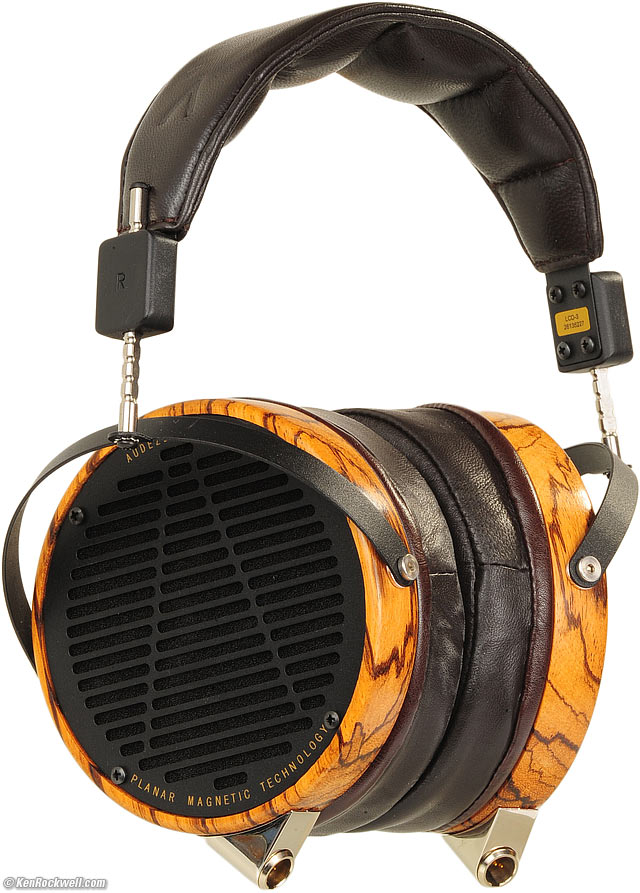 Audeze LCD-3.
NEW: Audeze LCD-3 Review.
05 May 1961, Sunday
FIRST AMERICAN IN SPACE: Alan Shepard.
Today in 1961 Alan Shepard was the first American to fly into space. It was a huge deal, and more than one-third of America watched the flight live. In February, 1971, Alan Shepard became the fifth man ever to walk on the moon.
What people may not realize today is how important was this first flight. We had no idea if he was going to live; no free human had ever be stuffed into a rocket before and blasted off. For all we knew, and as we were going to find out, he could have been killed from the acceleration on takeoff, or more likely on hitting the Earth on return, or by the temperatures, lack of air, or any of a zillion factors we hadn't considered.
He flew this entirely on instruments — there was not a single window in the rocket!
How crazy are we Americans? Charles Lindbergh's first flight from Long Island, New York to Europe was also made in a craft with no front window! Lindbergh preferred that the huge fuel tank was put in front of him, not behind, for better weight and balance.
I hadn't realized that today was so important until I just happened to be watching "When We Left Earth" with my 6-year-old. When We Left Earth is a great documentary loaded with film showing even what was going on in the capsule the whole time, live. It's so much better for Ryan to learn this by seeing the real thing. Men didn't simply get in a ship and hit GO; everything was one huge life-risking first-time-ever experiment, and plenty of Americans died in the ten years it took us to get to the moon. It never stopped us.
It's sad today that the real US space program all went top-secret by the mid-1970s, so the only thing Ryan knows about is to tell me how he saw similar space flight on his cartoons today. I'd be sad if all the US was doing in space today was what we saw on cartoons; the real projects we've been building have all gone up shrouded in the highest levels of secrecy. There's a very good reason no other nation has been able to follow us to the moon, much less even fire a trans-lunar injection burn.
03 May 2013, Friday
FREE: Bruce Percy e-Book.
Scroll down almost to the bottom and look for "Simplifying Visualization. It's FREE until 31 May 2013.
Enjoy!
6x12 cm Panoramic Camera
Scope out the new Lomography Belair 6x12 folding 120-format camera. It comes with two lenses included — for only $299!
New Sigma Lenses
Sigma 60mm f/2.8 for micro 4/3, black $239.00
Sigma 60mm f/2.8 for micro 4/3, silver $239.00
Sigma 60mm f/2.8 for Sony NEX, black $239.95
Sigma 60mm f/2.8 for Sony NEX, silver $239.95
Voigtländer Lens Specials
Voigtländer 25mm f/0.95 for micro 4/3. Reg. $1,199.00; Special: $999.00.
Voigtländer 17.5mm f/0.95 for micro 4/3. Reg. $1,249.00; Special: $1,149.00.
Voigtländer 75mm f/1.8 für LEICA M. Reg. $715, Special $649.00. (Voigtlander 75mm f/1.8 review.)
All with free shipping. Expires 15 May 2013.
Tripod Deals
My usual favorites went away, but today, an even better deal for a tripod is this Sunpak with a grip ballhead, for only $24.95 — with free shipping!
Another deal is the Dolica AX570B001 for $29.99. It includes an excellent case, which the Sunpak does not.
Sure, you rich folk will buy your big Gitzo carbon fibres and Really Right Stuffs and leave them in your Bentley's trunk most of the time so they stay clean, but a tripod only works if it's light enough for you to want to take it with you and use it. It doesn't have to be very sturdy — unless you plan on banging it as you shoot.
I never use a tripod with the new "digital" cameras and VR lenses, but when I shoot real cameras with ASA 50 film and filters giving me effective ASAs of 10 and want depth of field in dim light without VR, I will use a tripod once every couple months, so I like having a cheap, light tripod in my trunk. (The wife gets the good car; my car is 12 years old and has 104,000 miles on it. Such are these difficult times.)
Digital Cinematography Deals
Adorama's offering free 24-month financing on some real digital cinema equipment.
Here's an example of what I meant when I explain that when you buy an inexpensive Canon, Leica or Nikon that you're taking advantage of their knowledge in making much higher-level optics — optics that junk brands just don't make. Here's a $45,000 Canon EF-mount lens for cinema, for instance, and Canon makes lenses far more expensive than that for television sportscasting.
Sure, sometimes junk brands will make a one-off lens for show to impress the impressionable, but Nikon, Canon and Zeiss make — and actually sell in quantity — million-dollar IC wafer fab stepper lenses, too.
More Deals
02 May 2013, Thursday
Zeiss finally gets a round touit!
Zeiss Touit 12mm f/2.8.
NEW: Zeiss 12mm f/2.8 for Fuji and Sony.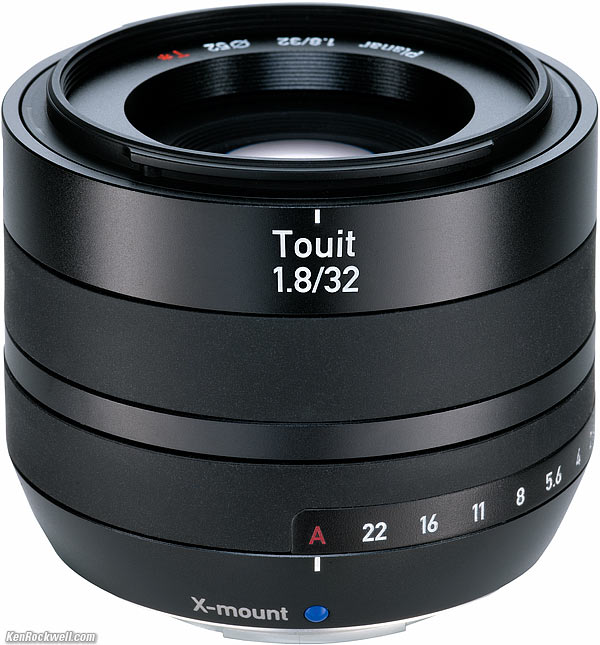 Zeiss Touit 32mm f/1.8.
NEW: Zeiss 32mm f/1.8 for Fuji and Sony.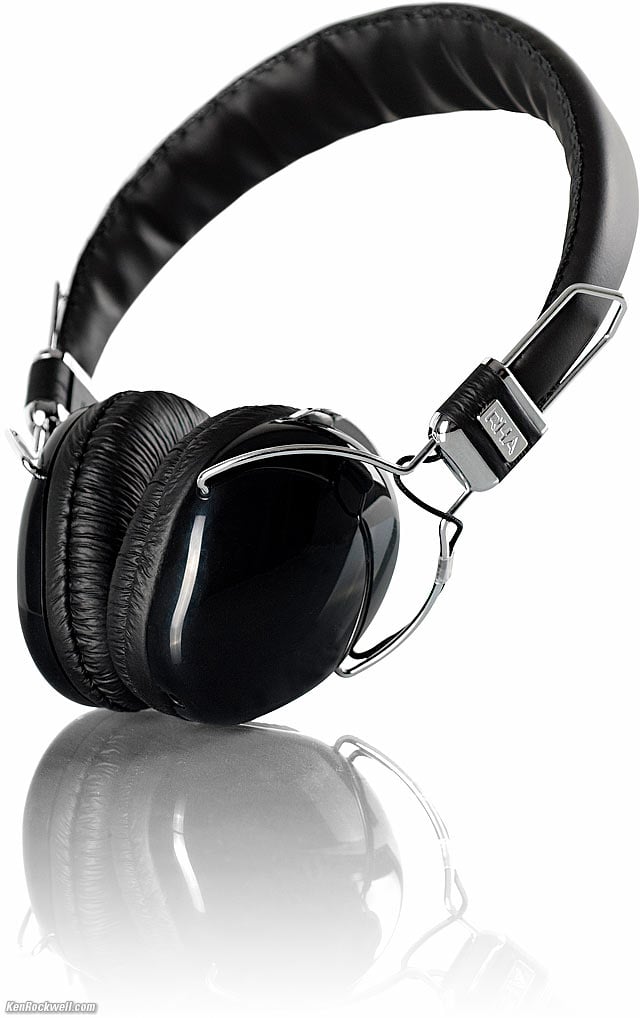 RHA SA950i.
NEW: RHA SA950i Headphones Review.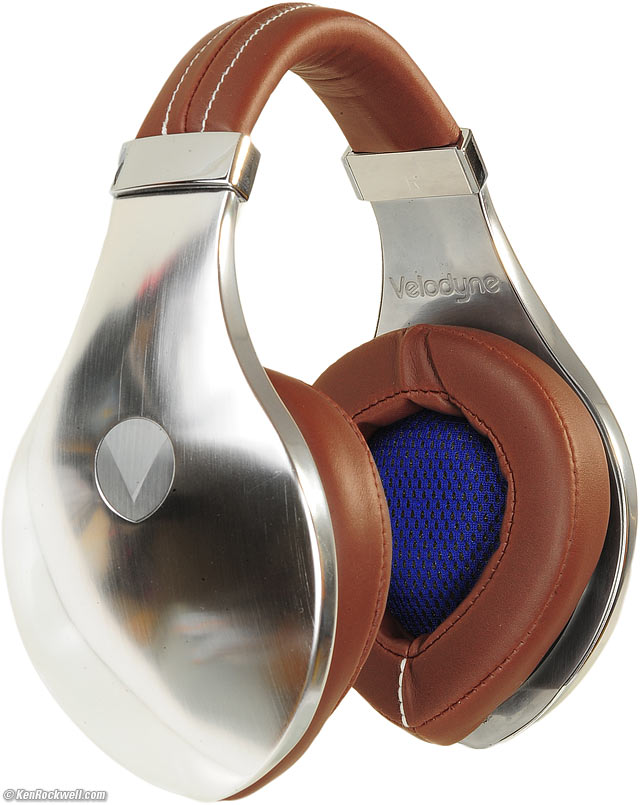 Velodyne vTrue.
NEW: Velodyne vTrue Headphones Review.
Amazon's Mother's Day Camera Sale.
SlickPic Spring Savings
Get $30 off the first year of your PRO subscription. Offer expires at the end of the day on Monday, May 6.
01 May 2013, Wednesday
Photo Camp!
I hope to be teaching at the Sierra Photo Club's Photo Camp, Saturday, 11 May 2013, in the woods outside San Diego.
The price is almost free because we're all donating our time.
I hope to see you there!
Deals
Save up to $50 with Tokina lens rebates.
This deal is for 2 days only: G-Technology 500GB G-CONNECT Wireless Storage for iPad/iPhone. Reg. $189.95, Coupon Price $99.95. Use Coupon Code S0502131. Expires 02 May 2013.
What Was New in:
Help me help you
I support my growing family through this website, as crazy as it might seem.
If you find this as helpful as a book you might have had to buy or a workshop you may have had to take, feel free to help me continue helping everyone.
If you've gotten your gear through one of my links or helped otherwise, you're family. It's great people like you who allow me to keep adding to this site full-time. Thanks!
If you haven't helped yet, please do, and consider helping me with a gift of $5.00.
The biggest help is when you use any of these links when you get anything, regardless of the country in which you live. It costs you nothing, and is this site's, and thus my family's, biggest source of support. eBay is always a gamble, but all the other places always have the best prices and service, which is why I've used them since before this website existed. I recommend them all personally.
Thanks for reading!
Ken
Home Donate New Search Gallery How-To Books Links Workshops About Contact