Minolta MD 35mm f/1.8 Test Review
© 2005 KenRockwell.com about these reviews


You can look for it used here.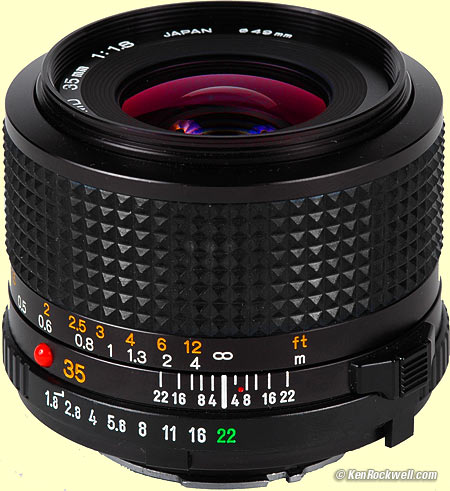 Minolta MD 35mm f/1.8
INTRODUCTION
This is a swell little manual focus lens from the 1990s.
It's very, very good, although hard to find.
SPECIFICATIONS
It has 8 multicoated elements in 6 groups.
It extends 1.9" (48mm) from the camera lens flange and is 2.5" (64mm) around.
It's pretty light: just 8.5 oz. (240g).
Full click stops are at f/1.8, f/2.8, f/16 and f/22. Half stop clicks are from f/2.8 through f/16. This is weird, but typical for Minolta.
It has a 49mm filter thread.
Focus is to 1' or 0.3m.
The aperture ring is plastic. The rest, includig the filter ring, is all metal. All markings are engraved, including the information on the front ring.
The hood is a complex spring loaded thing that clips on a ridge in the metal lens barrel. I never use it. It clips on forward, or reverses for storage. It's plastic and the markingas are painted on. The 49mm marking on the hood is to help you find the right filter. Nothing about the hood has a 49mm thread.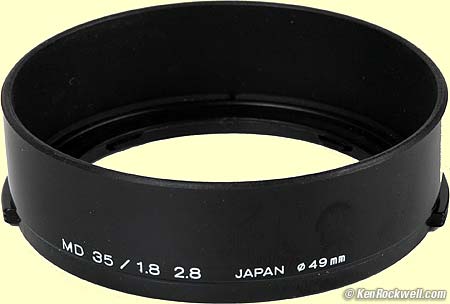 Snap-on hood
PERFORMANCE
There is little barrel distortion, much better than the Nikkor 35mm f/1.4.
It's very sharp at all apertures.
Color balance is neutral.
RECOMMENDATIONS
This is an excellent and compact lens. Go get one if you can find it. I have not tried the older versions with the 55mm filter thread.
You can look for it used here.