Long Exposures with iPhone
Handheld time exposures!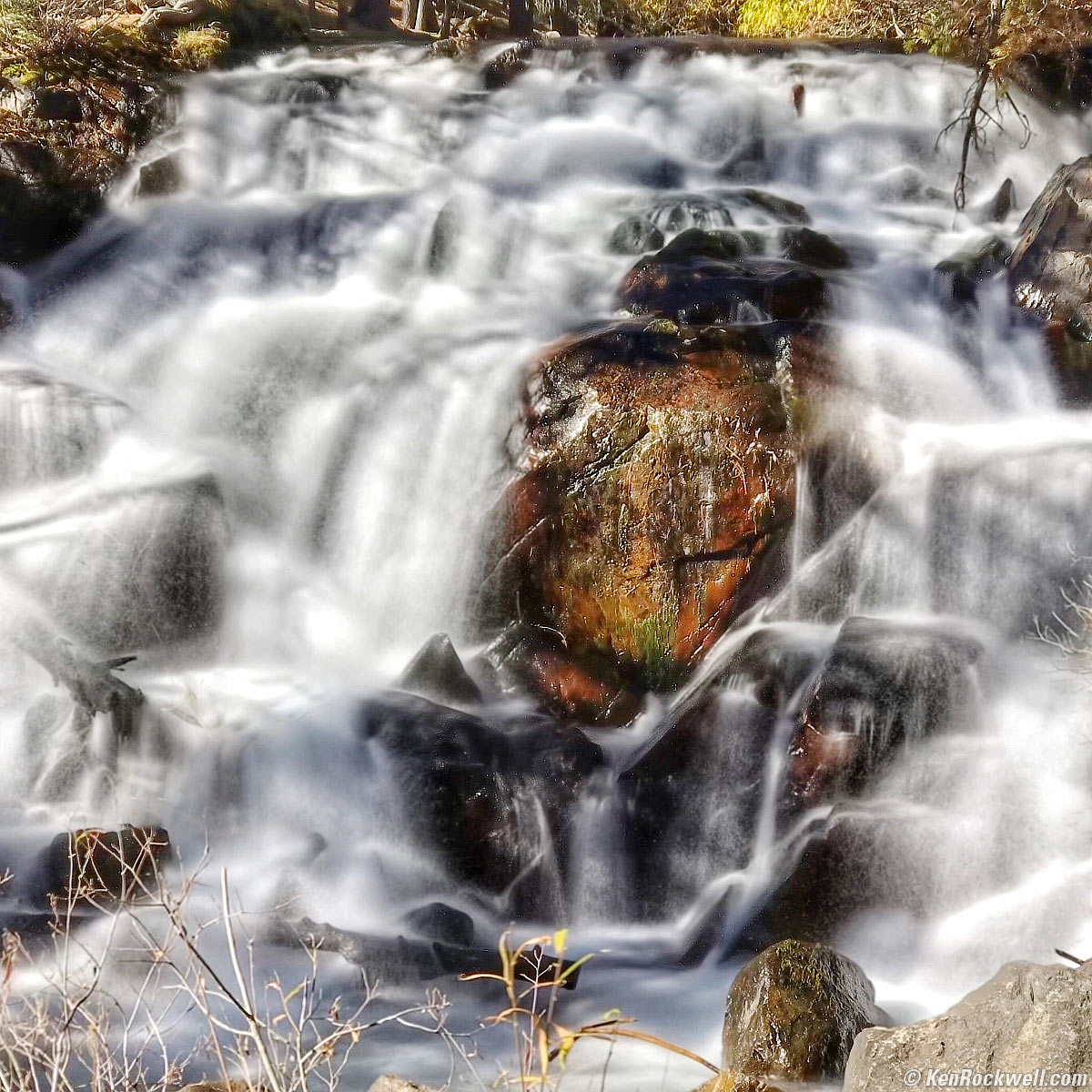 Lee Vining Falls, 11 AM, 24 October 2017. 2½ second time exposure, hand-held. bigger.
This ad-free website's biggest source of support is when you use any of these links to my personally-approved sources when you get anything, regardless of the country in which you live. Use the same approved sources I use myself for the best prices, service, return policies and selection. Thanks for helping me help you! Ken.
November 2017 Apple Reviews All Reviews
Long 2½ second time exposures are easy to do and can be done hand-held with iPhones that can do Live Photos, but the process is well hidden. I've tried this on iPhone 6S Plus, iPhone 7 Plus and iPhone X, and should also work on iPhone 8 plus and others running iOS 11 and newer. It won't work on the non-plus iPhone 6 or older iPhones.
First you shoot a Live Photo, and then play it back and swipe up to find the option to create the time exposure after you shot it. Crazy!
1.) Be sure you have the LIVE PHOTO mode active. The weird circular "Live Photo" icon should be yellow as seen here; if not, tap it to activate: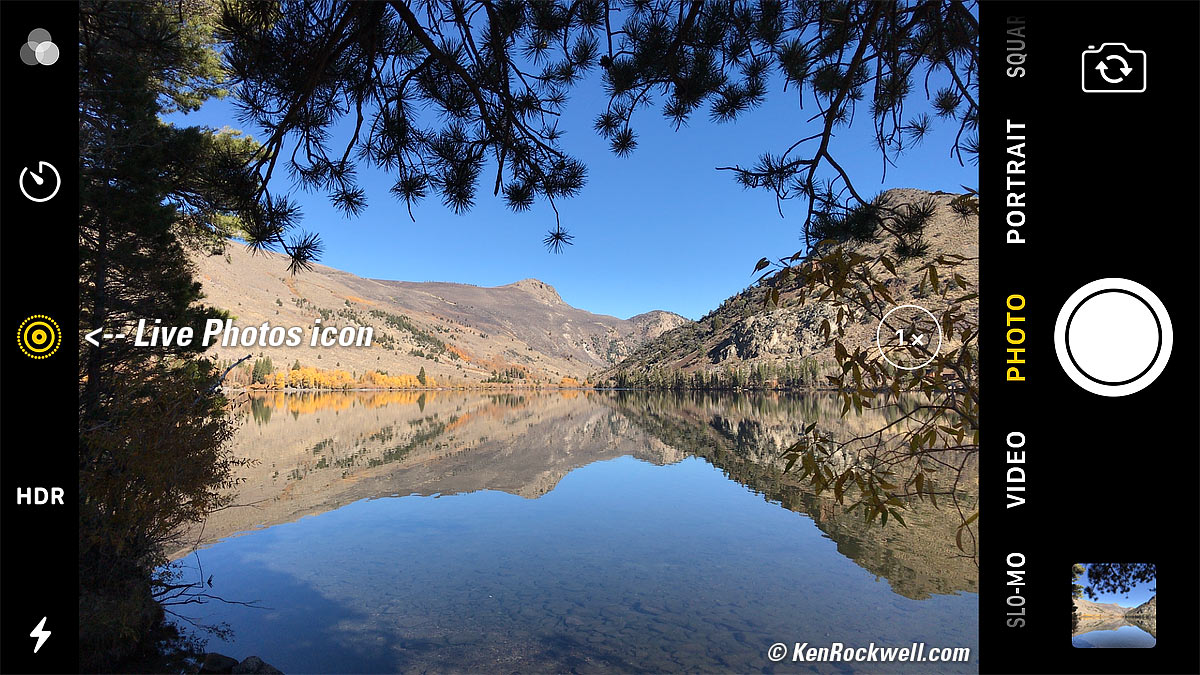 The Live Photos icon. Yellow means ready to shoot. bigger.
2.) Shoot your photo. Be sure to hold your iPhone steady from before you take the picture, and hold it steady as long as the LIVE icon shows at the top, which stays lit for the two seconds it takes the time exposure.
The iPhone's optical and electronic video image stabilization systems will compensate for most motion from hand-holding and give super-sharp results. DSLR systems don't have the electronic stabilization ability of the iPhone, so they can't do this and require you use a tripod, ha!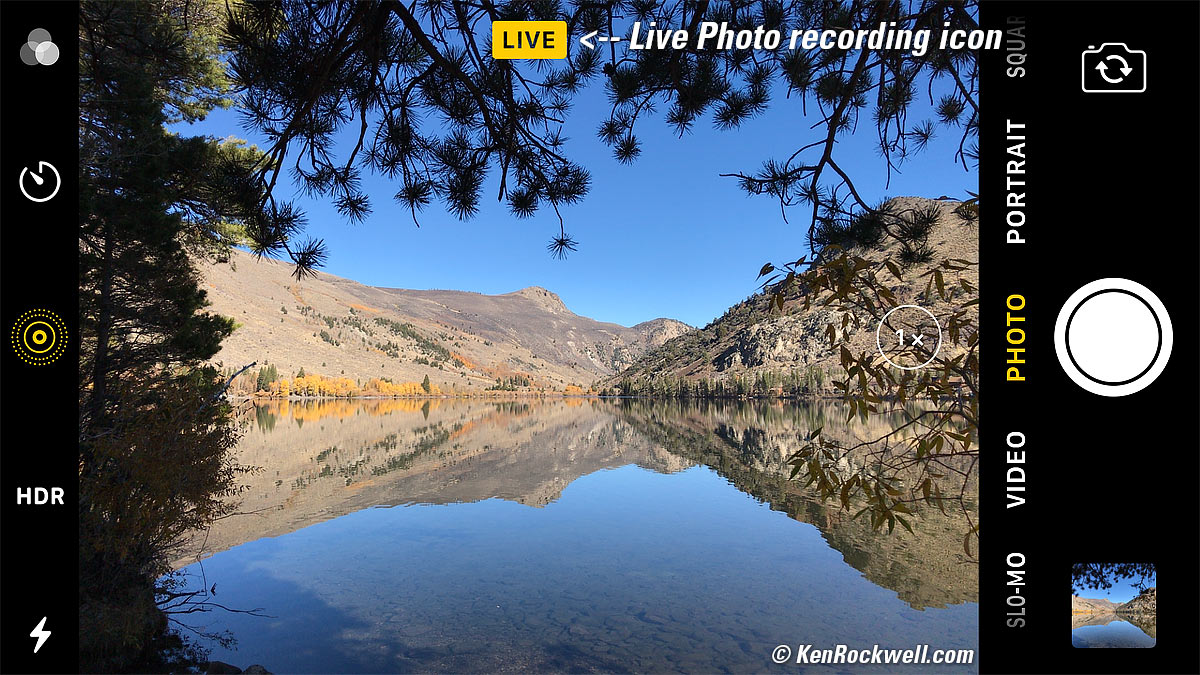 The iPhone is recording a Live Photo (or Time Exposure) while this LIVE icon is lit. It also is recording for about a half second before you take the picture. bigger.
3.) Here's the trick: play the image you just shot, and swipe up to see this new set of options: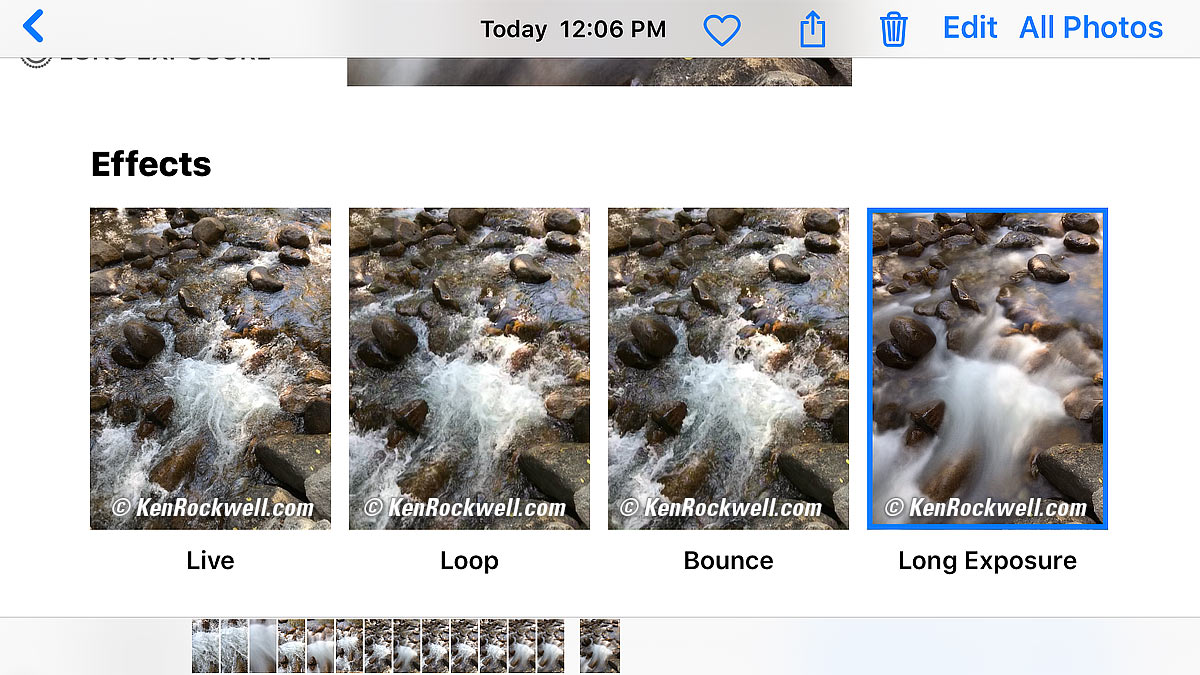 Select "Long Exposure," your iPhone processes the data and saves an image that is a genuine 2½ second time exposure. bigger.
The iPhone's fantastic video stabilization corrects normal hand motion, so you don't need a tripod.
Since the iPhone is doing this magic by taking a high-resolution still photo and mixing it with a 2½ second simultaneous video capture, it can do this just as well with a still HDR image, which it also captures automatically when needed — as it did for this waterfall image with bright water against black shadows. Try doing that on your DSLR this fast!
© Ken Rockwell. All rights reserved. Tous droits réservés. Alle Rechte vorbehalten.
Help Me Help You
I support my growing family through this website, as crazy as it might seem.

The biggest help is when you use any of these links when you get anything. It costs you nothing, and is this site's, and thus my family's, biggest source of support. These places always have the best prices and service, which is why I've used them since before this website existed. I recommend them all personally.

If you find this page as helpful as a book you might have had to buy or a workshop you may have had to take, feel free to help me continue helping everyone.

If you've gotten your gear through one of my links or helped otherwise, you're family. It's great people like you who allow me to keep adding to this site full-time. Thanks!

If you haven't helped yet, please do, and consider helping me with a gift of $5.00.

As this page is copyrighted and formally registered, it is unlawful to make copies, especially in the form of printouts for personal use. If you wish to make a printout for personal use, you are granted one-time permission only if you PayPal me $5.00 per printout or part thereof. Thank you!

Thanks for reading!

Mr. & Mrs. Ken Rockwell, Ryan and Katie.