Home Donate New Search Gallery Reviews How-To Books Links Workshops About Contact
Nikon D1
World's First Practical DSLR
2.6 MP DX, 4.5 FPS, 2" LCD, 1/16,000 shutter, 1/500 sync, $4,999 (1999-2001)
© 2012 KenRockwell.com. All rights reserved.

Nikon D1(about $75 used) and 35mm f/1.8 DX. enlarge. This free website's biggest source of support is when you use these links, especially this link directly to them at eBay (see How to Win at eBay), when you get anything, regardless of the country in which you live. Thanks! Ken.
April 2012 More Nikon Reviews Nikon Lenses All Reviews
Adorama pays top dollar for your used gear, especially this original Nikon D1.
NEW: High-ISO Comparisons of the Nikon D1, D3 (D700), D4, D800, D7000 and Canon 5D, 5D Mark II, 5D Mark III and Fuji X-Pro1 and X100 06 April 2012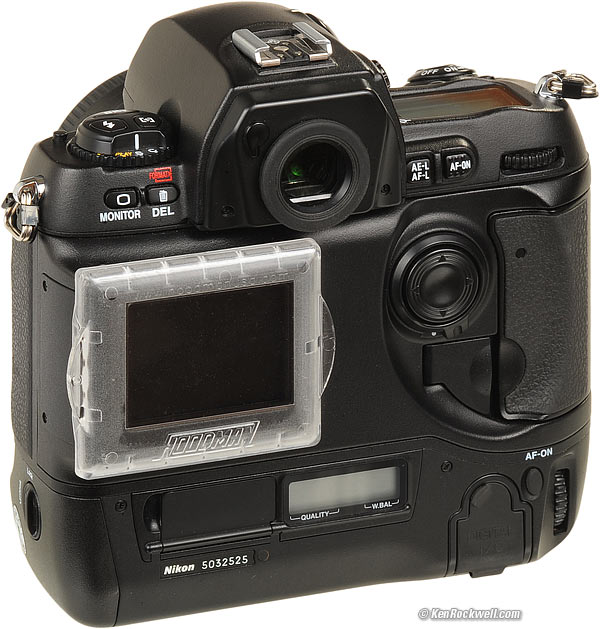 Back, Nikon D1. enlarge.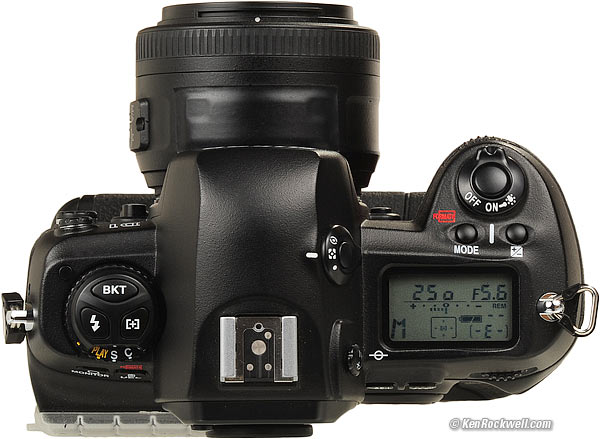 Nikon D1 and 35mm f/1.8 DX. enlarge.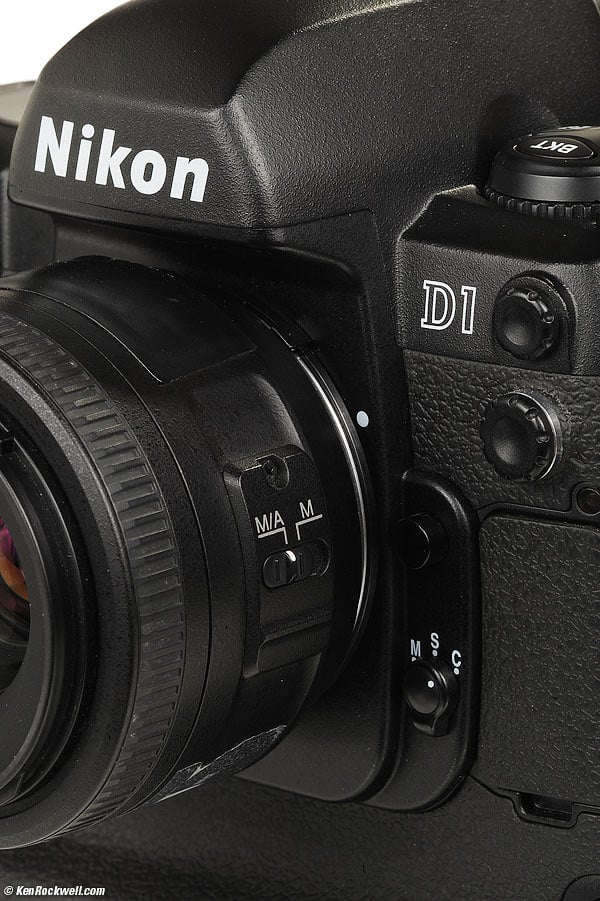 Nikon D1 and 35mm f/1.8 DX.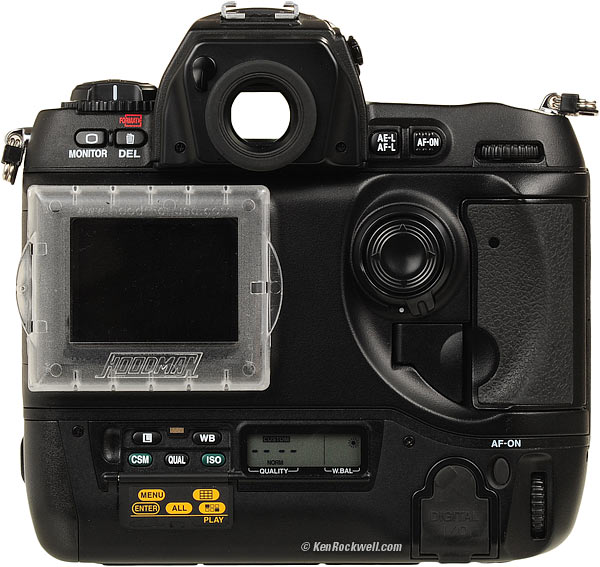 Nikon D1 and 35mm f/1.8 DX. enlarge.
15 February 1999
Nikon announced it was working on "a new professional class, high-quality digital Single Lens Reflex Camera."
15 June 1999
Nikon announces the D1, the world's first practical DSLR. It is the first practical DSLR because it's the first DSLR with good enough image quality for print (2.7 MP), fast enough (4.5 FPS) and priced low enough ($5,000) and functional enough to be sensible to use daily as a primary camera. It's also the first DSLR made with Nikon electronics in a Nikon body, by Nikon.
It replaced film at forward-looking newspapers.
Forget about it today, regardless of price. For the same price you can get the greatly improved D1H or D1X, neither of which are worthwhile today either. The D1 series is confined to the dumpster of history (and collectors) because its battery system is a pain, and its menu structure requires interpreting numerical custom functions. It requires a cheat sheet to decipher.
Flash exposure performance is awful.
Get one only as a landmark camera to collect. The D1 is the landmark. The D1 is the camera that replaced film at newspapers.
The D1 is unique in having a 1/16,000 top shutter speed, since its shutter is also electronic. That's how it gets a 1/500 sync speed. If you use the PC sync terminal or a non-dedicated flash so the D1 doesn't know you've got a flash attached; sync goes all the way to 1/16,000!
Lens Compatibility
Works with all AF, AF-D, AF-I, AF-S, FX, DX and G lenses, as well as all AI and AI-s manual focus lenses. In other words, works with everything.
Meters fine with manual lenses, but center-weighted metering only.
ISO
200, 400, 800 and 1,600.
Power
EN-EL4 Ni-MH battery.
I bought this Ni-MH EN-EL4 battery and it works great.
MH-16 charger. Plugs into battery. with a cord.
Help me help you top
I support my growing family through this website, as crazy as it might seem.
The biggest help is when you use any of these links to Adorama, Amazon, eBay, Ritz, Calumet, J&R and ScanCafe when you get anything, regardless of the country in which you live. It costs you nothing, and is this site's, and thus my family's, biggest source of support. These places have the best prices and service, which is why I've used them since before this website existed. I recommend them all personally.
If you find this page as helpful as a book you might have had to buy or a workshop you may have had to take, feel free to help me continue helping everyone.
If you've gotten your gear through one of my links or helped otherwise, you're family. It's great people like you who allow me to keep adding to this site full-time. Thanks!
If you haven't helped yet, please do, and consider helping me with a gift of $5.00.
As this page is copyrighted and formally registered, it is unlawful to make copies, especially in the form of printouts for personal use. If you wish to make a printout for personal use, you are granted one-time permission only if you PayPal me $5.00 per printout or part thereof. Thank you!
Thanks for reading!
Mr. & Mrs. Ken Rockwell, Ryan and Katie.
Home Donate New Search Gallery Reviews How-To Books Links Workshops About Contact