Home Donate New Search Gallery How-To Books Links Workshops About Contact
LEICA M6 and M6 TTL
(1984-2002)
© KenRockwell.com. All rights reserved.
Intro Specs Performance Usage Recommendations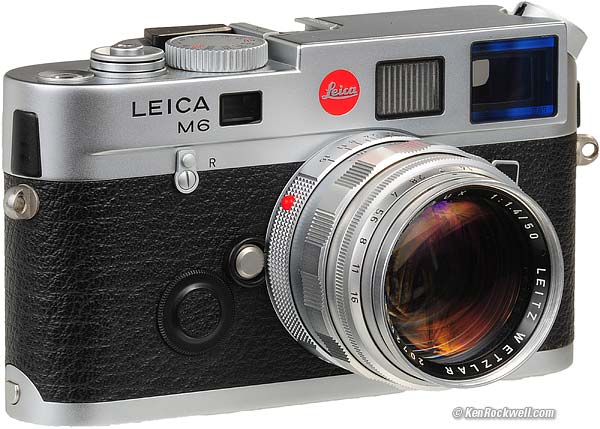 LEICA M6 TTL 0.85 (21.5 oz/608g wet, about $1,000 - $1,800) with LEICA SUMMILUX 50mm f/1.4. expand. I'd get it from these links to them at eBay (how to win at eBay), at Amazon or at Adorama. It helps me keep adding reviews of old equipment like this when you use these links to get yours, thanks! Ken.
December 2009 More Leica Reviews Leica Lenses
Leica Viewfinder Magnifications
Sample Images from California's Gold Country April 2010
Introduction top
Intro Specs Performance Usage Recommendations
The LEICA M6 and M6 TTL are Leica's most advanced mechanical rangefinder cameras, and superb cameras by any gauge.
They are a bargain used today, since most Leica users prefer to pay more for the newer electronic cameras like the M9 and M7. If you pay attention, you can squeeze into an M6 for just under four figures, which is as cheap as used LEICA M bodies go, and the M6 is an extremely functional camera.
You can pay more for the new mechanical LEICA MP, but it is more primitive than either the M6 or the M6 TTL. The MP is a religious item introduced to address the needs of fundamentalist LEICA followers. These reactionaries know that any innovation developed after the lifetime of The Prophet is the mark of Satan, and must be expunged. For instance, the MP has no rewind crank, just a knob, and no TTL flash metering. Even the older LEICA M6 is more advanced than the new MP, with a better film winding lever, too. Rumor has it that the next version of the MP will eliminate the TTL meter and replace the flashy film advance lever with a traditional knurled knob, but let's get back to the superior LEICA M6 and M6 TTL.
Both the LEICA M6 and LEICA M6 TTL offer through-the-lens (TTL) manual light metering with over/under LEDs in the finder and a quiet, rubberized mechanical shutter. You adjust the lens or shutter until the LEDs balance, and you've got perfect exposure without the fuss of an external meter, or worrying about filter factors.
Both the LEICA M6 and M6 TTL have hot shoes for flash.
Today's M7 is an electronic version of the M6 TTL. The M7 is not a reliable camera, with its flaky electronics often causing problems. The M6 is entirely mechanical and reliable. The only electronics in the M6 are for the meter, and they don't fail.
M6 (1984-1998) versus M6 TTL (1998-2002)
The M6 (1984-1998) has only two simple > < LED arrows in its finder for the meter. There is TTL ambient light metering, but no TTL flash control, no flash-ready bolt in the finder, and no central "OK" LED.
The newer M6 TTL (1998-2002) added TTL flash and a bigger, better shutter dial, and that's about it. For serious photographers, either are spectacular cameras.
Subject to the differences between rangefinder and SLR cameras, the LEICA M6 works just like a Nikon FM, and the LEICA M6 TTL is similar to the NIKON FM2, minus the fast shutter speeds.
The M6 and M6 TTL are in a completely different world from the Nikon SLRs. They feel completely different: you can flick the buttery-smooth Leica shutter dial with utter confidence with just a fingertip, while the Nikons require a very strong push, or two fingers.
The M6 has a tiny shutter dial that is hard to turn while you're looking through the camera, and it turns in the wrong direction with respect to the meter arrows.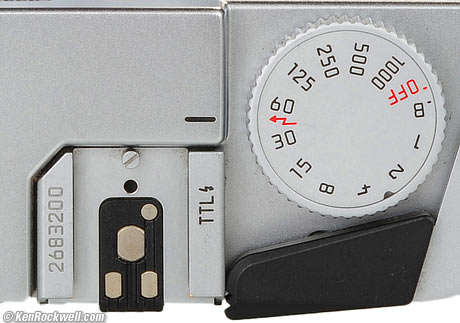 LEICA M6 TTL.
The newer M6 TTL (1998-2002) adds TTL off-the-film flash exposure control, a bigger, easier to use shutter speed dial, and has a total of four LEDs in its finder: three for the meter (> o <) and one for the flash bolt. For 1998, four LEDs was hot stuff at Leica. Why? because the LEICA is all about concentrating on your subject, not fiddling with a camera.
The M6 and M6 TTL look exactly the same, except if you look carefully at the top.
The TTL version says TTL (bolt) on the hot shoe, meaning TTL flash. (the earlier M6 has TTL ambient light metering, but not TTL flash). The M6 TTL has four contacts in the middle of its hot shoe for TTL flash, while the M6 has only one center contact.
The shutter speed dial is correct on the M6 TTL as shown. It's full-sized, easy to turn with your finger as you look through the camera, and turns in the correct direction as suggested by the meter LEDs.
The earlier M6 has a smaller shutter dial left over from the days of Leicas that used clip-on external meters. Those dials were small, never having been intended for direct control, since the clip-on meters provided a full-size knob which was coupled to the vestigial tit of the camera's own shutter dial.
Leica photographers don't use on-camera flash. The camera's shoe is for attaching 21mm finders. Therefore the only real difference between the M6 and the M6 TTL is the more practical shutter dial of the M6 TTL. If you're on a budget, get the M6. If you deserve the best, you'll appreciate the much more comfortable dial of the M6 TTL.
To quote Leica on the new dial of the M6 TTL: "The shutter speed dial is ergonomically perfect: it is easy to use and can be operated with the camera held to one eye. It is simultaneously well protected to prevent it from accidental motion."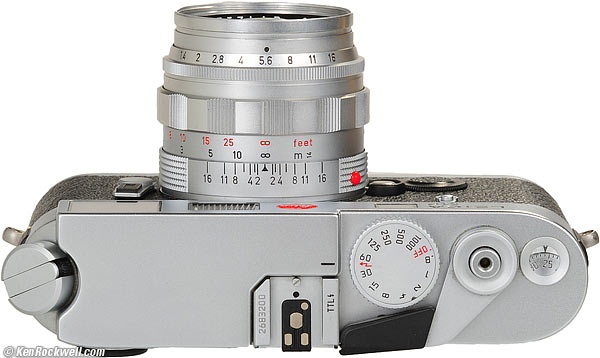 Top, Leica M6 TTL. expand.
Compatibility top
The LEICA M6 and M6 TTL are completely compatible with all LEICA M lenses ever made, and with a simple adapter, even with Leica screw-mount lenses made since 1930.
The only gotchas are the usual: it won't meter with HOLOGON 15mm f8, SUPER-ANGULON 21mm f/4 or f/3.4, or the ELMARIT-M 28mm f/2.8 up to serial number 2314921. These lenses focus and work fine, but you'll need a hand-held light meter.
Collapsible lenses and lenses with finder optics for the M3 also work fine.
The only gotcha I've found is that the close-range attachment for the close-range 50mm f/2 SUMMICRON won't attach fully to the newer M6 TTL. The close-range SUMMICRON works great in the normal range, but the close-range finder attachment has a rear pin meant to prevent people from removing the lens with the close-range attachment attached. This prevents attaching the attachment to the M6 TTL because the top plate of the M6 TTL is a few millimeters taller than the M6. Thus the little pin gets in the way, preventing the close-focus attachment from sliding all the way home on the M6 TTL. It works fine on the M6.
The M6 TTL manual suggests setting the close-focusing SUMMICRON to infinity during fitting and removal; just don't bother shooting closer than 1 meter.
Versions top
Leica only made the M6 or the M6 TTL at any one time.
For either, you usually had your choice of black or silver chrome. The M6 also came in fake titanium around 1996.
There were a few M6 made with 0.85x finders in 1998.
The M6 TTL came in black or silver, and came in 0.72x (standard), optional 0.85x, and later optional 0.58x finder magnifications.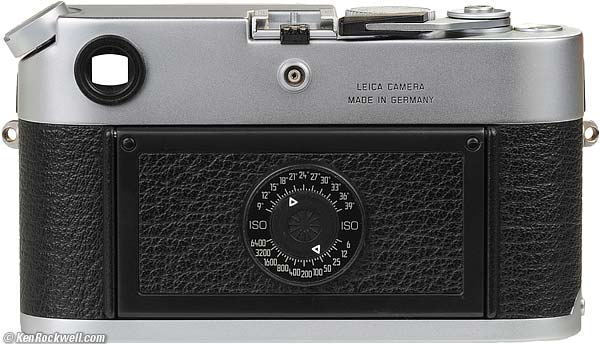 Back, LEICA M6 TTL. expand.
LEICA M6 Embarrassing Versions top
If the choices of colors and finder magnifications wasn't enough, Leica made more nutty commemorative versions of the M6 and M6 TTL than any other LEICA.
This dishonor weighs more heavily on the M6 and M6 TTL than other models because the M6 and M6 TTL were made for more years in Leica's dark period than any other models.
A few of these versions are the:
1989
150 Jahre Photographie Edition (pimply leather on platinum with 50/1.4), 250 sets.
1992
Christopher Columbus/Discovery of America Edition (mottled green on silver with 50/2), 200 pieces.
1993
LHSA 25th Anniversary Edition (black on silver with silver 35, 50 and 90mm SUMMICRONs), 151 sets.
LHSA 0.85 Edition, black on black.
1993
Rooster Edition (black on silver with 50/2), 300 sets.
1994
M6J Edition, which tries to pretend it's an M3. (black on silver with 50/2.8).
1995
Danish Royal Wedding Edition (pimply black on silver with 35/2), 200 sets.
1996
Partner-Action Deutschland Edition (black on black with 35/1.4 ASPH), 500 sets.
1996
Anton Bruckner Edition (blue iguana on platinum with collapsible 50/2.8), 200 sets.
1996
Ein Stuck Edition (black on black with 35/1.4 ASPH), 996 sets.
1998
50 Jahre Jaguar XK Edition (green Connolly leather on silver with silver 50/2.8 lens also marked "50 years Jaguar XK"), 50 pieces.
2000
Millennium Edition (black on black paint, with 35/2 and 50/1.4 in black paint), 2000 sets.
Millennium Edition (green on green, 0.85x), 300 bodies.
Dragon 2000 Edition (black on black, 0.85x), 500 bodies.
2001
Titanium, came with a nice titanium-painted 35mm SUMMILUX.
2002
End of the M6 TTL Editions Edition (thank God!):
999 pieces: 333 in 0.58, and 666 to the Devil in 0.85x.
Specifications top
Intro Specs Performance Usage Recommendations
Finder
Standard 0.72x
Combined 28mm & 90mm, 35mm & 135mm and 50mm & 75mm frames.
Optional 0.58x
Deletes 135mm frame.
For 135mm, use the 135mm f/2.8, whose auxiliary finder optics (eyes) magnifies the image for use with the automatically selected 90mm frame.
Optional 0.85x (Recommended)
Deletes mostly unusable 28mm frame.
As actually tested, has far more real-world accuracy with all lenses than the 0.72x finders.
Shutter
Rubberized cloth, horizontal focal plane.
1,000 - 1 second and Bulb.
Full-stop clicks, also a click for the 1/50 flash sync speed.
Intermediate speeds work fine, except between 1/8 - 1/15 and between 1/30-1/60.
The gotcha to intermediate speeds is that the meter only meters at full-stops and 1/50, so if you set it to an intermediate speed, the meter won't know.
Motor Drive top
Optional LEICA MOTOR M.
The older
LEICA WINDER M
LEICA WINDER M4-P
and
LEICA WINDER M4-2 from serial number 10350
also work.
Remote Release top
Any standard cable release.
Meter top
TTL, reads off a 12mm diameter central white spot on the shutter curtain.
M6 TTL: Reads down to 1 second at up to ISO 400.
M6 TTL: Left LED flashes if under range.
I haven't measured the range for the M6; I'll presume it's similar.
Effective Rangefinder Base Length top
69.25mm physical base.
| | |
| --- | --- |
| Finder | Effective Base Length |
| 0.85x (optional) | 58.9mm |
| 0.72x, standard | 49.9mm |
| 0.58x (optional) | 40.2mm |
Top plate top
0.8mm die-cast zinc.
Bottom plate top
0.8mm drawn sheet brass.
Brass latch.
Batteries and Power top
Type
Two very common A76 or S76 (11.6 x 5.4mm) button cells, also known as D357, 10L14, EPX76, KS76,SR44, 357, and V76PX.
or
One 3V lithium CR 1/3N, also known as DL 1/3N, K58L and 2L76 (11.6 x 10.8mm).
Current Drain, measured
0.0uA at the OFF position.
0.9 uA at idle, meaning any other setting of the shutter dial, regardless of if the film is advanced. This means a new set of cells will last for about 15 years if you leave the camera at other than the OFF position and don't shoot, so I wouldn't worry about it, so long as the shutter button doesn't get knocked in a case and keep waking the meter.
7.7 mA, meter ON. I can't see any difference if one or two LEDs are lit.
Battery Check
Battery low warning: right LED blinks. It also does this if there isn't enough light.
Rated Life
M6 rated for 20 hours running, or 130 rolls of 36 at 15s of metering per frame.
M6 TTL rated 8 hours running, or 80 rolls of 36 at 10s of metering per frame. By my measurements, the M6 TTL also ought to run 20 hours of continuous LED ON time.
Did you catch that? The M6 TTL sucks a lot more power, so Leica hid it by specifying the number of rolls at 10 seconds, instead of 15 seconds, per shot. That's fair, because the M6 TTL also has a 10-second auto turn-off for the meter.
Flash top
Compatible with SCA 3000 flashes used with an SCA 3501 adapter.
LEICA SF20 (14 414), SF 24 or today's SF24D (14 444) and SF-58 (14 488) flashes are optimum.
Any other flash will work, just without TTL on the M6 TTL.
Size top
M6: 138 x 77 x 38mm (WHD).
M6 TTL: 138 x 79.5 x 38mm (WHD).
Weight top
M6
560g, rated.
M6 TTL
21.462 oz. (608.4g), measured with film and batteries.
600g, rated.
Part Numbers top
M6 black chrome: 10 404.
M6 silver chrome: 10 414.
M6 fake titanium: 10 412.
M6 TTL black chrome: 10 433.
M6 TTL silver chrome: 10 434.
M6 TTL black chrome 0.85x: 10 436.
M6 TTL silver chrome 0.85x: 10 466.
M6 TTL black chrome 0.58x: 10 475.
M6 TTL silver chrome 0.58x: 10 474.
Performance top
Intro Specs Performance Usage Recommendations
The M6 and M6 TTL just go. You won't appreciate how simple they are, which lets you concentrate on your picture instead of your camera, until you try one.
At first I thought I'd hate it, since I love automatic exposure and program automation, but for the serious still photography I do of things that hold still, it works great.
I'm not a good enough photographer to shoot things that move, like action, news and sports, with a manual camera like this, but plenty of people are.
Ergonomics
The M6 and M6 TTL feel great. The LEICA M6 and M6 TTL have to be shot to be appreciated. They just go, without all the garbage features of lesser cameras.
Unlike newer cameras like the M7, with their disjointed, multi-push shutter buttons, the trigger pull of the M6 and M6 TTL is smooth and perfect. It's one soft push to fire your shutter, not the constant battle against three different levels of detent on newer cameras.
Film wind is quiet and smooth, too.
The shutter dial is non-rotating, meaning you can't turn it past B to get back to 1/1,000.
The LEICA M6 instruction book is only 44 pages long, and that includes a lot about accessories and how to take great pictures using the meter under all sorts of difficult lighting conditions.
The LEDs are too bright at night. They are blinding. Unlike lesser cameras, like Canon's A-1 of 1978, which are smart enough to dim their LEDs as required based on ambient light, not even the newest M6 TTL is able to dim its LEDs. Thus the darn things scream at you like locomotive headlights as you're trying to shoot.
Oddly, the LEDs move with the frame lines as parallax correction works.
Meter and Exposure top
It's as easy and fast to use the manual meter of the M6 and M6 TTL as it is to shoot with the auto exposure of the M7 and M9.
Why?
Oddly, it turns out that for the careful shooting I do, it's easier to set a manual exposure, compose and shoot, than it is to try to keep a half-press holding the shutter to lock a metered auto exposure as I compose.
Unlike lesser cameras, the manual over and under exposure LEDs vary their brightness relative to one another as the exposure changes. They don't simply flick on and off as do lesser cameras.
The M6 TTL adds a middle "OK" LED, while the M6 makes do with just the two arrows. When their brightness matches, exposure is perfect.
On the other hand, the meter displays don't dim in dim light, so the displays are brighter than I'd like in the dark.
Finder top
The finder is as you'd expect. The 0.85x version is the best finder Leica has made since the M3 of 1954.
To my surprise, not just the focus precision is improved with the 0.85x finder; I find that all the camera and lens incompatibility issues which run rampant with every other finder, including the M3, melt away with the 0.85x finder. With the 0.85x finder, all my lenses focus perfectly, with mo offset.
The M6 and M6 TTL's finder is s not anti-reflection coated as is the finder of the M7 and M9, but so what, the finder of the M3 isn't coated, and the M3's finder is the best finder Leica has ever made.
The rangefinder spot of the M6 and M6 TTL flares because light leaks into it from the frameline illumination window. The M3 is far better. If this bugs you, move your eye a bit, to put a finger over the fresnel window.
Focus top
Rangefinder cameras have a heck of a time staying in alignment, and having good alignment with different samples of longer lenses.
With any rangefinder camera, be it LEICA, Mamiya or Yashica, you have to hand-pick longer lenses and camera bodies that just happen to work well with each other, as they often have focus offsets if you're hoping to shoot wide-open with long lenses.
That said, for whatever reason, the M6 TTL with 0.85x finder shown here has given me the most consistent focus of any Leica I've ever used. I've gotten the same outstanding results from an 0.85x M7, too. Even my 0.91x M3 isn't anywhere near as consistently on-target at the current 0.85x finders.
This 0.85x M6 TTL uncannily seems to give good results with all sorts of different samples of longer lenses which focus very differently on other models of LEICA.
On other LEICAs I have to hand pick which samples of the same lens work well, but on this 0.85x camera, they all do.
In other words, all the lenses I tried worked OK, while these same samples of 90mm and 135mm lenses give all sorts of weirder (worse) results on the M3, M4-P, M7 and M9 I've tried them.
It's as if this M6 TTL has a magic ability to get good focus with anything I've thrown at it. I'm sure it won't stay this magic as I use it more, but it is encouraging.
Here's what I saw:
2010 March 22: Roll 8348, E100VS:
35/1.4 SUMMILUX-M ASPH: OK
35/2 SUMMICRON-M ASPH OK
50/2 SUMMICRON collapsible screw-mount (1957), serie 1,481: OK
50/2 SUMMICRON-M (1996), serie 3,766: OK
90/2.8 ELMARIT-M (2003), serie 3,944: OK
90/2 APO-SUMMICRON-M ASPH: OK
135/4 ELMAR (1961), serie 1,881: OK
135/4 TELE-ELMAR (1971, 39mm filters) serie 2,481: OK
2010 March 23: roll 6101, E100VS
35/2 SUMMICRON (1965), serie 2,099 Germany für M3: OK
35/1.4 SUMMILUX-M ASPH: OK
50/2 SUMMICRON-M (1996), serie 3,766: OK
90/2.8 TELE-ELMARIT-M (1987), serie 3,452, Germany: OK
90/2.8 ELMARIT-M (1999), serie 3,875: OK
90/2.8 ELMARIT-M (2003), serie 3,944: OK
90/2 SUMMICRON (1960), serie 1,740, chrome: maybe a little close
90/2 APO-SUMMICRON-M ASPH: OK
135/4 ELMAR (1961), serie 1,881: OK to far?
135/4 TELE-ELMAR-M (1992), serie 3,596, 46mm filters: OK
135/2.8 ELMARIT (1973), serie 2,849: OK
90/4 MACRO-ELMAR-M pushes a little at close distances.
Flash top
Real LEICA photographers don't use flash.
If you do, the TTL mode of the M6 TTL seems to work fine. Even today's SF24D (14 444) flash is super light weight with batteries, so there's no reason not to get one.
Personally, I prefer the tiny size of Leica's CF Compact Flash flash, which isn't TTL, and works perfectly in the traditional non-TTL auto mode on either the M6 or M6 TTL. The CF flash turns on the in-finder bolt in the M6 TTL just fine.
Film Economy top
Like most thumb-wind 35mm cameras, I get 39 perfect frames on each roll of 36 exposures. I shoot frame 0 and shoot until the end, which is frame 38.
Take that, power-wound Contax G2, which wastes the first two frames and only gives me 37 shots on a roll.
Service and Durability top
The battery cover is a solid-metal screw-in cover. This is a far cry better than the similar-looking, dinky plastic bayonet cover of the M7.
According to renowned independent Leica technician Gus Lazzari, the M6 and M6 TTL are mostly as solid as the M3 inside, meaning that you can't wear them out.
Gus says that they might require cleaning or adjustment now and then, but that you just can't wear them out. He says that the internal adjustments aren't as precise or as elegant as the watchlike innards of the M3, but that everything is still entirely adjustable and serviceable pretty much forever. For instance, the M3 uses fine gears for the roller service adjustments, while the M6 settles for pawls and claws. It's certainly not throw-away, unit-replacement plastic.
Gus says the most common service need is that the curtain travel times get unbalanced, leading to uneven exposures from left-to-right at 1/1,000 or 1/500. These are easy for him to adjust.
The LEICA M6 or M6 TTL should outlast any of us.
Usage top
Intro Specs Performance Usage Recommendations
Basics
See the M6 TTL User's Manual. It also applies to the M6.
Push in the rear dial to set the film speed.
Leica says there's no need to worry about dirt, corrosion or care of the three gold ISO contacts visible when you flip up the film door.
Leica says keep the M6 and M6 TTL in the shade of your body as you change lenses, since direct sunlight could sneak around the shutter curtains and fog film.
Leica also warns not to leave the lens uncapped pointed at the sun, since you'll easily burn the black rubber shutter curtains with an f/1.4 lens wide-open.
The LEICA M6 and M6 TTL are made to be used — a lot. If you just want to look at them, Leica suggests firing the shutter at all the speeds and moving all the camera and lens controls every three months.
Metering top
Unlike most cameras, the shutter works at all intermediate speeds, except between 1/8 - 1/15 and between 1/30-1/60.
The catch is that the meter only reads for the click stops. If you set an intermediate speed, the meter is still reading as if you're at the nearest click.
The 1/50 flash-sync click also meters correctly, so you have that extra metered speed, free.
The light meter has a long integration time constant of about a second. That means it takes about a second for the meter to settle, and that if you try spinning knobs too fast, you'll wind up doing too much work as the arrows finally catch up a second later.
Move the controls slowly, and you'll appreciate how precise you can set the meter because of this. The meter doesn't bounce around, it stays still if you hold the camera reasonably still.
Low-Light Metering top
The meter reads no longer than 1 second. It turns off in Bulb; you can't cheat and read that as if it's at 2 seconds as you can on a Nikon FM.
For longer times, meter at full aperture, and calculate the longer speeds that correlate to the smaller apertures at which you want to shoot in your head. (Sorry, the M6 can't calculate this itself as the clip-on meters can.)
If the light coming through the lens is too dark, the left LED blinks. Open up the lens and recalculate for the smaller aperture, or give up and go to sleep.
The M6 TTL I tested can measure to one second at ISOs as high as ISO 400. It will only meter to 1/2s at ISO 800 and so on.
If you're shooting slower film, you can cheat and set the meter to a higher ISO to read the lower light, and do the math in your head to convert back to your lower ISO.
If you set the M6 or M6 TTL to an ISO 64 times higher than your film, the shutter dial reads the exposure you should use in minutes. For instance, If you set ISO 3,200 for ISO 50 film, now 1/15 means 1/15 of 60 seconds, or 4 seconds.
This lets you read to the equivalent of 8 seconds at ISO 50 at full aperture, and much longer when stopped down later. If you're good with real photography calculations in your head you'll do fine, but if you're a modern-day digital zombie whose brain has been wasted worrying about color profiles and pixels instead, you're out of luck. Sorry; try getting a hand-held exposure meter and use its calculator dial to help you here.
The LEICA M7 or M9 are much better for use at night metering and clocking-off long exposure times. I wouldn't suggest the M6 or M6 TTL as a main camera if you're a night photographer wanting to use the camera's own meter.
Of course the mechanical shutter doesn't even use batteries. If you're a star-trail shooter who needs no meter, the M6 and M6 TTL are fantastic.
Rangefinder top
The rangefinder spot also picks up illumination from the frame line illuminating window, often lowering the rangefinder spot's contrast. It's not as good as the M3 (nothing is).
Move your eye around and you can lessen this.
If this bothers you, hold a finger over the cloudy middle window as you focus, which is the window from which that flare comes.
Flash top
The M6 TTL needs batteries to trigger the flash. Dead batteries = no flash, unlike a Nikon FM.
This is because the M6 TTL won't fire flash above 1/50. If you set a higher shutter speed, no problem: it shoots at the faster speed and doesn't fire your flash. You won't see the flash-ready bolt either if you set a faster speed.
The flash fires at all lower speeds, including Bulb. It does not fire in OFF, although the shutter still opens as if it's set on Bulb.
Recommendations top
Intro Specs Performance Usage Recommendations
Want a great camera to last a lifetime? Consider a LEICA M6 or M6 TTL.
Want the least expensive and practical way into the LEICA system? Get a LEICA M6. It doesn't cost much more than any other inexpensive used LEICA, and with its TTL light meter, is going to be much more fun to shoot than any older external-meter or CdS-cell LEICA. The older models cost about the same. You can get a well used M6 for under $1,000 at this link to them at eBay, if you know how to win on eBay.
If you're a serious shooter, you'll appreciate the much better shutter dial of the M6 TTL, even if you don't need TTL flash. Expect to pay about $1,400 - $1,600 for a nice M6 TTL from dealers like Adorama.
More Information
The LEICA M6 was mentioned as new on the cover of Popular Photography, October 1984.
Help me help you top
I support my growing family through this website, as crazy as it might seem.
The biggest help is when you use any of these links when you get anything, regardless of the country in which you live. It costs you nothing, and is this site's, and thus my family's, biggest source of support. These places have the best prices and service, which is why I've used them since before this website existed. I recommend them all personally.
If you find this page as helpful as a book you might have had to buy or a workshop you may have had to take, feel free to help me continue helping everyone.
If you've gotten your gear through one of my links or helped otherwise, you're family. It's great people like you who allow me to keep adding to this site full-time. Thanks!
If you haven't helped yet, please do, and consider helping me with a gift of $5.00.
As this page is copyrighted and formally registered, it is unlawful to make copies, especially in the form of printouts for personal use. If you wish to make a printout for personal use, you are granted one-time permission only if you PayPal me $5.00 per printout or part thereof. Thank you!
Thanks for reading!
Mr. & Mrs. Ken Rockwell, Ryan and Katie.
Home Donate New Search Gallery Reviews How-To Books Links Workshops About Contact