Home Donate New Search Gallery Reviews How-To Books Links Workshops About Contact
LEICA 35mm f/2
LEITZ SUMMICRON 8 Element (1958-1974)
© 2011 KenRockwell.com. This page best with Corporate S regular and bold activated.
Intro Specs Performance Compared Recommendations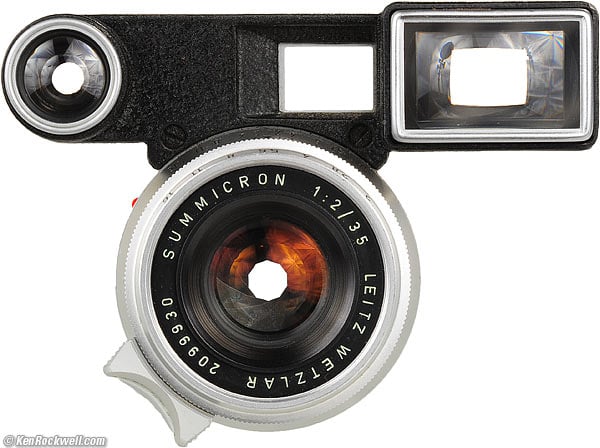 LEITZ LEICA SUMMICRON 35mm f/2 (39mm filters, 8.382 oz./237.7g). enlarge. This sample is an M3 version crafted in 1965. This free website's biggest source of support is when you use these links, especially this link to them at eBay (see How to Win at eBay). It helps me keep adding reviews of this ancient stuff when you get yours through these links, regardless of the country in which you live. Thanks! Ken.
December 2011 LEICA Reviews LEICA Lenses All Reviews
Recommended Lenses LEICA Lens Names How to Afford Anything
LEICA SUMMICRON 35mm Sharpness Comparison 14 January 2011
Sample Images:
Yosemite in Winter February 2011
Yosemite November 2011
and more at Sharpness.
| | |
| --- | --- |
| Optics: | |
| Mechanics: | |
| Ergonomics: | |
| Usefulness: | |
| Availability: | |
| Price | $900 - $3,000 used |
| Overall: | |
Introduction top
Intro Specs Performance Compared Recommendations
This first version of the immortal LEICA SUMMICRON 35mm f/2, made by Ernst Leitz of Wetzlar, Germany, is among the finest 35mm lenses ever made. It is tiny, ultra-sharp, ultra-fast, and has no distortion. It is among my favorite 35mm lenses, especially for use on the world's best 35mm camera, the LEICA M3.
As LEICA advertised at its introduction, it, along with the 50mm f/2 SUMMICRON and 90mm f/2 SUMMICRON, were the most advanced lenses yet created by man. They weren't kidding.
This goofy-looking 50-year-old lens works marvelously well, especially on today's newest LEICA M9.
Finders, Versions and Compatibility
This lens came in several versions, both with the auxiliary finder optimization optics as seen here, and a less expensive version lacking these optics for use on LEICA's cheaper LEICA M2 camera. It came in silver, with the odd black sample here and there.
All versions use the same excellent optics.
1958-1974: Chrome M3 version with special finder optics as shown here: SAMWO or 11 108. (11 104 in black, rare.)
LEICA calls these auxiliary optics a "finder attachment" and laymen call them "goggles." This version works on all LEICA M cameras. It reduces the finder image size and calls-up the 50mm frame lines on every LEICA M, perfect for use with the huge 50mm finder of the LEICA M3, and works just as well with newer cameras, always reducing the finder image to fill the 50mm frame on even the LEICA M9.
Oddly, this is the best version from a usability and compatibly standpoint, yet fickle collectors don't realize this and pay more for the lower-cost version below that lacks these extra optics.
Yes, this goggled version works perfectly on the LEICA M9.
1958-1969: Chrome bayonet M-version lacking optimization optics: SAWOM or 11 308. (11 307 Z in black, rare.)
It was a cost-reduced version designed for use on LEICA's lesser cameras with low-magnification finders, like the LEICA M2 and all of today's wimpy, low-magnification cameras.
Oddly, collectors pay thousands of dollars for these, not realizing that the goggled version above actually works better on today's cameras because it focuses more closely and has a better-sized finder view!
1958-1963: Chrome screw-mount (M39 thread): SAWOO or 11 008. (never came in black.)
This version is for LEICA's traditional screw-mount cameras, like the popular LEICA IIIf. With a simple adapter, it works perfectly on all of LEICA's M-Kameras today.
Collectors also pay thousands of dollars for these, probably for the same reason they pay so much for the discounted non-optimized bayonet version above.
Non-M Compatibility introduction top
All versions of this lens work great on all LEICA M cameras.
If you're lucky enough to score the M3 version with the extra optics, it works great with all LEICA M cameras, but not with non-LEICA cameras, and not with the LEICA CL or Minolta CLE. No, it won't work on those nasty little Voigtländer cameras either. Non-LEICA cameras put their finders in different places, so they don't align with the auxiliary finder optics.
The Zeiss Ikon has its finder and rangefinder close enough so that focus and framing almost work, even if they are far enough off that the view is wishy-washy. I wouldn't advise this.
Fashion Show introduction top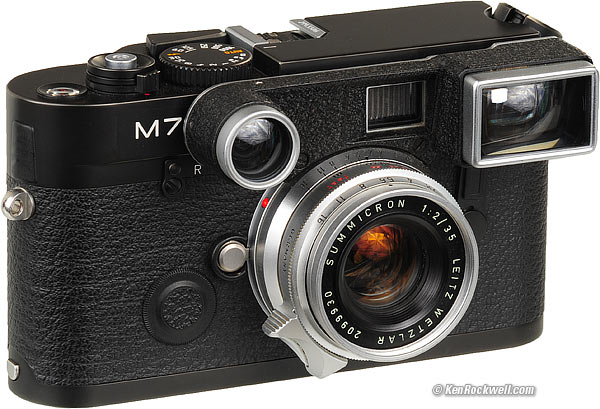 Today's LEICA M7 sporting a LEICA SUMMICRON 35mm f/2 (8-element). enlarge.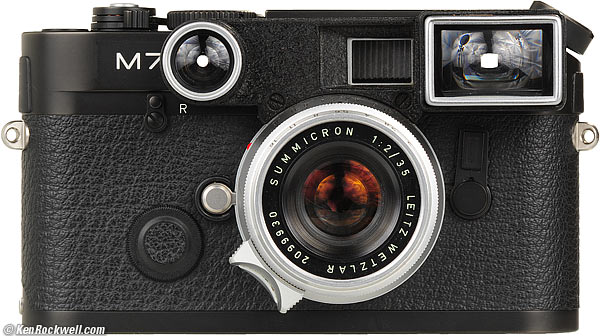 Today's LEICA M7 sporting a LEICA SUMMICRON 35mm f/2 (8-element). enlarge.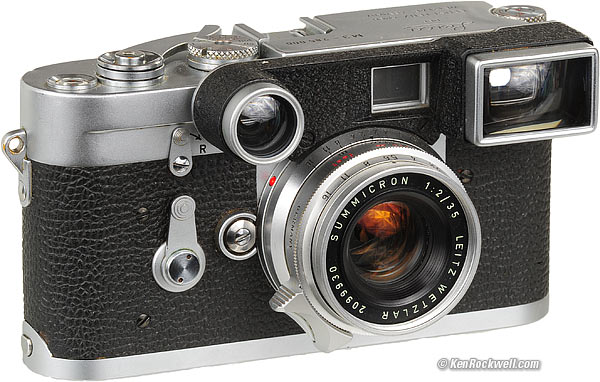 The LEICA M3 mit LEICA SUMMICRON 35mm f/2 (8-element). enlarge.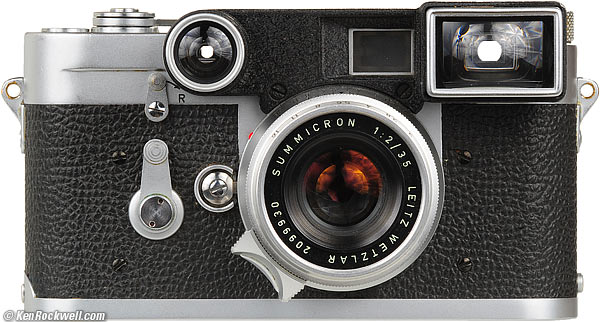 The LEICA M3 mit LEICA SUMMICRON 35mm f/2 (8-element). enlarge.
Specifications top
Intro Specs Performance Compared Recommendations
Name Optics Diaphragm Filter Thread Focus Lock
Close Focus Caps Hoods Size Weight
Name specifications top
LEICA calls this the LEITZ WETZLAR SUMMICRON 35mm f/2.
Optics specifications top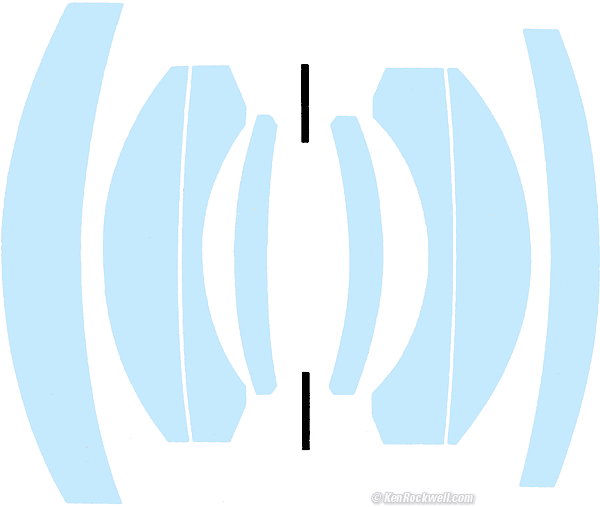 LEICA SUMMICRON 35mm f/2 (8-element) at f/5.6. enlarge.
8 elements in 6 groups.
Augmented classic symmetrical double-Gauss design.
It makes full use of the new rare earth optical glasses, including thorium-free lanthanum glass, specially developed for this lens at LEICA's own research and testing laboratories.
Single-coated in amber.
Diaphragm specifications top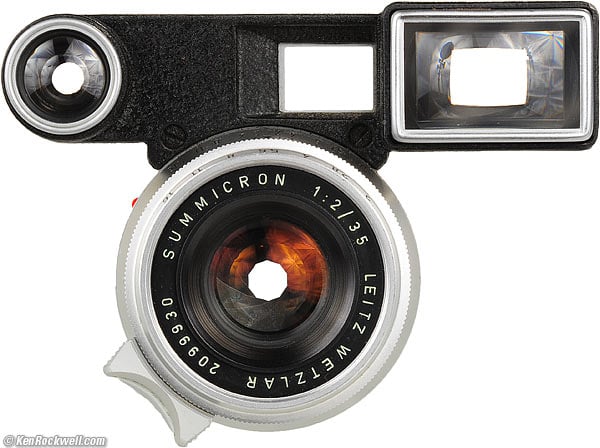 LEICA SUMMICRON 35mm f/2 (8-element) at f/5.6. enlarge.
10 blades.
Stops down to f/16 with full-stop clicks.
Reasonably straight blades except around f/4 and f/5.6, where they scallop-in slightly.
Filter Thread specifications top
39 x 0.5mm, the LEICA standard.
Does not rotate.
Germans call this E39 and 39E, but it's the same standard 39mm (0.50mm pitch) filter that's available everywhere.
Avoid crappy accessories which may be cut at the wrong pitch. Stick with LEICA, B+W and Hoya filters and you'll be fine.
Infinity Focus Lock specifications top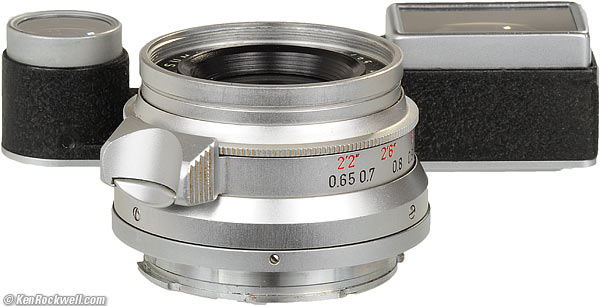 Bottom, LEICA SUMMICRON 35mm f/2 (8-element). enlarge.
The focus locks at infinity. Press the little tab inside the larger focus tab to unlock.
This is a leftover feature from screw-mount lenses, which needed such a lock to allow one to get a good grip to unscrew the lens without damaging the delicate focus helicoid.
Close Focus specifications top
M3 version: 0.65 meters (2' 2" or 26").
M version: 0.7 meters (2' 4" or 28").
Screw Mount version: 1 meter (3' 4" or 40").
Caps specifications top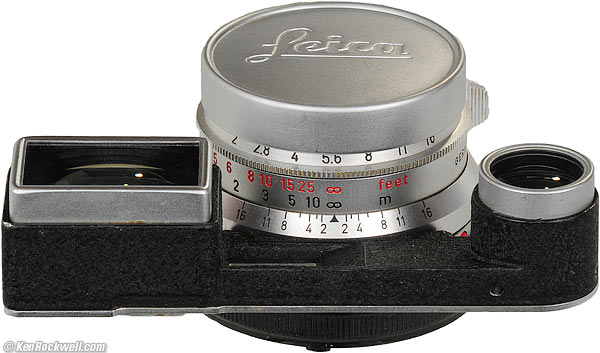 Top, showing focus scale, LEICA SUMMICRON 35mm f/2 (8-element). enlarge.
As shipped, it included a chromed-brass slip-over front cap. It is lined with Hungarian-yak-fur velvet for a smooth, snug fit. It is deep enough to fit well over a 39mm filter.
Any crappy snap-in 39mm front cap also works, albeit not elegantly, including LEICA's current snap-in 14 039 39mm front cap ($30).
The included rear cap was two-piece plastic. This cap, black on the outside and gray on the inside, is shallower than today's caps, and isn't deep enough to work with today's wide lenses like today's 35mm f/2 ASPH, 28mm f/2.8 ASPH and 21mm f/2.8 ASPH.
Today, I use the standard 14 269 rear cap ($27) so it's compatible with my entire system.
When using the 12 585 hood, simply pop a modern 55mm snap-in lens cap into the front of the hood!
Hoods specifications top
The hoods were extra-cost options, part numbers 12 571 J in 1961, and by 1964 it was the 12 585 most often seen with this SUMMICRON.
All LEICA 35mm hoods of all years for every 35mm lens (other than the hoods for the newer f/1.4 ASPHs) work fine. LEICA has used the same front attachment size (A42) and shape from 1958 through today.
The newer 12 504 two-part hood (also accepts series VII filters inside) and 12 452 (black-painted) hoods also work fine.
The newest plastic rectangular 12 524 and current 12 526 hoods for the 35mm f/2 ASPH work fine, but they block part of the finder since LEICA got cheap and didn't cut them out. The only gotchas with the improved 12 524 and 12 526 hoods are that you need to be careful not to knock it too much: this lens doesn't have the raised sections that keep the current rectangular hood from rotating.
Size specifications top
1.117" (28.36mm) extension from flange, 1.391" (35.32mm) overall.
2.008" (51.00mm) maximum diameter, ignoring focus tab and additional optics.
Additional optics make the entire device 3.865" (98.17mm) wide and 2.795" (70.99mm) tall overall.
Weight specifications top
8.380 oz. (237.5g), measured, M3 version with finder optimization optics.
12 585 hood: 0.610 oz. (17.3g).
M3 version with 12 585 hood: 8.990 oz. (254.9g).
Quality specifications top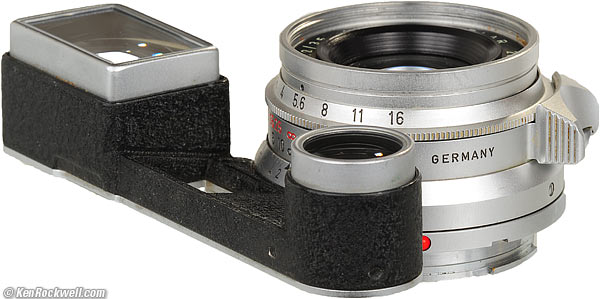 MADE IN GERMANY: LEICA SUMMICRON 35mm f/2 (8-element). enlarge.
This SUMMICRON was made both in the Holy City of Wetzlar, Germany, and just about as many were offshored to Canada.
I've seen versions from 1960-1965 as made in Canada, and versions from 1965 and 1966 MADE IN GERMANY.
I don't know if LEICA brought production home in 1965, or if it made them in both places at the same time. No big deal, it's engraved in big letters on each sample, although people trying to move the offshored versions usually try to cover up CANADA in their photos.
Product Numbers specifications top
M3 lens: SAMWO, later 11 108 (11 104 in black).
M lens, no additional finder optics: SAWOM, later 11 308 (11 307 Z in black).
Screw mount lens (M39): SAWOO, later 11 008.
Lens Hood: IROOA, later 12 571 J (1961), 12 585 (1964-).
Shoe-mount 35mm finder for screw-mount cameras: SBLOO, later 12 010 P.
Price specifications top
| | | | |
| --- | --- | --- | --- |
| | M3 version | M version | Screw-mount (M39) |
| 1959 MSRP* | $1,575 ($207) | $1,300 ($174) | $1,300 ($174) |
| | | | |
| 2011 | | | |
(up through about 1965 the prices included Federal Excise Tax, an unjustified tax left over from WWII that the US government conveniently avoided lifting for as long as it could.)
* Corrected for inflation in 2011 (in period dollars).
Performance top
Intro Specs Performance Compared Recommendations
Overall Aperture Ring Bokeh Color Depth-of-Field
Depth-of-Field Scale Diaphragm Linearity Distortion
Ergonomics Falloff Filters Finder Optics Flare and Ghosts
Focus Framing Lateral Color Mechanics Sharpness Sunstars
Overall performance top
This LEICA Leitz 35mm f/2 feels and works great. It looks awesome as shot on film or on the LEICA M9, and feels so much better than today's dinky lenses.
Aperture Ring performance top
The aperture ring is perfect.
One fingertip is all you need to adjust it by feel.
Bokeh performance top
As with all LEICA 35mm SUMMICRONs, bokeh is mostly poor at the larger apertures.
This isn't very important, because backgrounds never go that far out-of-focus with wide lenses for bokeh to matter much. It's much more important with 90mm lenses.
Color Balance performance top
The amber coatings lead to a slightly more cyan color balance than most other modern LEICA lenses.
I only notice this slight difference when shooting lenses against each other under test conditions; I've never noticed it in actual shooting with one lens at a time.
Lenses were often coated in amber in these days as it optimized lenses for transmission to match the sensitivities of B&W film. When color became more popular in the 1970s, coatings were changed.
Depth-of-Field performance top
Depth-of-field is deep, as you'd expect for a wide lens.
Sharpness falls off very little in the corners at f/2, and in most shooting conditions the defocus from depth-of-field works in concert with this softening to yield an harmonious whole.
Depth-of-Field Scale performance top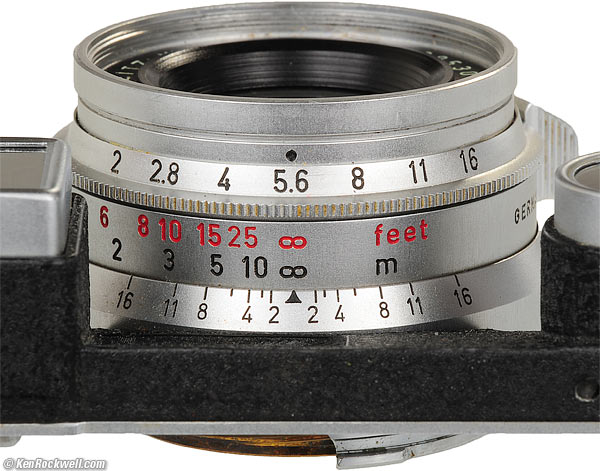 Depth of Field Scale, LEICA SUMMICRON 35mm f/2 (8-element). enlarge.

The depth of field scale is lovely and easy to use for perfect landscape photos.

It's calibrated to the same 1/30mm circle-of-confusion as LEICA's current lenses.

Diaphragm Linearity performance top

The diaphragm is perfectly linear.

Each stop corresponds exactly stop-to-stop as metered in an M9, except of course for the largest stop.

This bodes well for getting precise and accurate exposures with an external meter, which was your only choice back in its day.

Distortion performance top

The LEICA SUMMICRON 35mm f/2 has no visible distortion. Its symmetrical design is much straighter than today's complex ASPH designs.

This invisible distortion can be corrected for more critical use by plugging these figures into Photoshop's lens distortion filter. These aren't facts or specifications, they are the results of my research that requires hours of photography and calculations on the resulting data.
| | |
| --- | --- |
| | Correct with |
| ∞ | +0.6 |
| 10' (3m) | 0.0 |
| 3' (1m) | +0.5 |
© 2011 KenRockwell.com. All rights reserved.
Ergonomics performance top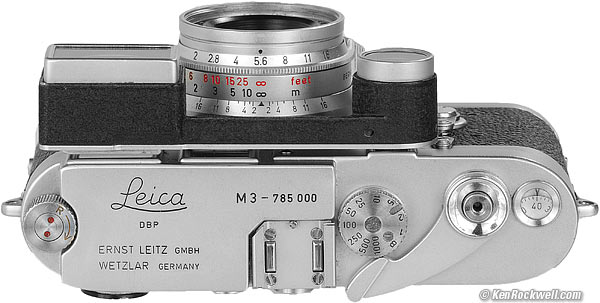 Top view, LEICA M3 with LEICA SUMMICRON 35mm f/2 (8-element). enlarge.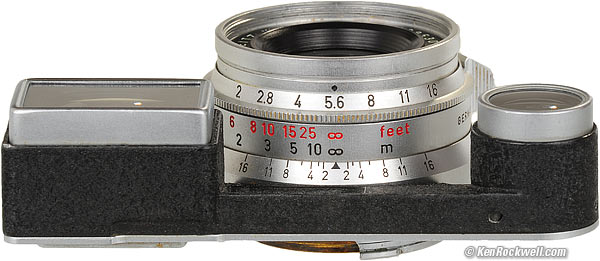 Top view, LEICA SUMMICRON 35mm f/2 (8-element). enlarge.

The aperture flicks with a fingertip, and one finger does the focus. Easy!

This lens is light, and easy to throw in a camera bag or pocket.

Focus is a dream; smooth and slippery even after 45 years in the case of this sample.

LEICA. There is no substitute.

Falloff (darkened corners) performance top

Falloff isn't visible, even at f/2, in actual photos in which you'd use f/2 (see the f/2 sample below).

On film, it's invisible

Here is the worst I can make it look, shooting gray and showing it against gray:

Falloff on M9 at infinity, no lens profile

© 2011 KenRockwell.com. All rights reserved.

Falloff on M9 at infinity, 35/2 M (11310/11311) lens profile

© 2011 KenRockwell.com. All rights reserved.

Filters, use with performance top

Any 39mm filter works great.

There is no vignetting, even with a deep 39mm LEICA rotating polarizer engraved for the 5cm SUMMICRON.

In fact, you can stack a LEICA 50mm polarizer and a B+W 81A MRC, and it works almost perfectly.

Auxiliary Finder Optics performance top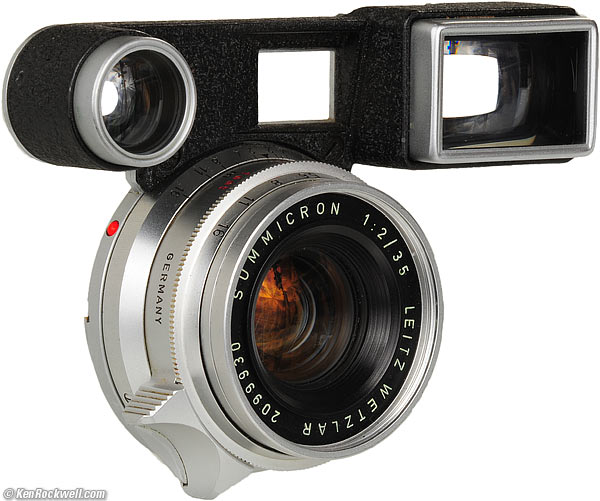 LEICA SUMMICRON 35mm f/2 (8-element). enlarge.
The auxiliary optics help keep fingers off the viewfinder and rangefinder windows.
They block the rewind lever a little bit.
A seat belt can slide between the goggles and the camera body when worn while driving.
They can make the shutter dial of an M7 more difficult to feel; one should be using this lens with a LEICAMETER which provides a huge thumbwheel for setting the shutter speed.
The goggles thankfully cover the LEICA logo on lesser cameras with a dot on front.
As seen through the finder, subject lines are slightly distorted, while the frame lines stay straight.
They have a cast aluminum frame likely to stay aligned forever: they're tough. Don't worry about knocking them.
This lens is short enough not to block any viewfinders.
The finder attachment (goggles) of the M3 version are uncoated glass. Because of the added reflections, the contrast of your finder image is lower. The uncoated finder attachment can also lead to ghost images in the finder, but not the photographic image.
The finder attachment makes the corners of the finder image a little fuzzy, but if you move your eye around, you can sharpen any corner you desire. Of course the on-film image is wonderful.
All said and done, I prefer using the 50mm frame lines on my modern LEICAs (0.72x and 0.85x) with this lens than the 35mm finder on them because I can see my composition better. The 35mm and 28mm frames of the newer cameras are swell for looking at details, but too large to see overall compositional balances as well as I can with the smaller 50mm frame.
Use on the Zeiss Ikon
Use the M version and everything is fine.
The viewfinder and rangefinder are close enough to their positions on LEICA that you can almost shoot the M3 version. The results are great, even if the finder image is weird because you're not looking through the center of the finder attachments!
The rangefinder hole is fine, and the focus surprisingly is perfect, too.
Use on the Minolta CLE
The M version calls up the 28mm frame lines and focuses just fine.
Forget the M3 version. You'll be scale-focusing and using a shoe-mounted finder, even though of course the metering and the results are perfect with the goggled version.
The M3 (goggled) version calls up the 40mm frame lines on the CLE, and the camera's finder view is crooked since the finder is looking through a corner of one of the goggles.
There is no rangefinder focusing with the M3 version since the RF spot is blocked.
Flare and Ghosts performance top
I've never had any problems.
Focus performance top
Focus is a dream. It has the same-shaped focus tab as new LEICA wide and normal lenses, except that the tab is solid metal, not plastic like today's lenses.
The focus ring feels as soft and smooth as any other new LEICA lens, and far better than the Summarit-M series. This is why you buy LEICA: it is the best. The focus tab and feel of this 50-year-old lens feels exactly like a brand-new LEICA lens. Astounding, but expected from LEICA.
There is an infinity lock. As you turn the ring to infinity, it locks. To release, press in the tab as you focus. It works automatically.
Focus is dead-on, as expected for a wide lens. Depth-of-field is so great that the LEICA offers far more focus precision than is needed for a 35mm lens.
Framing performance top
Perfect on M7 at 0.62m.
Likewise, it's always been perfect on the M3 and M9, although I suspect the M9's dinky finder is a little bit overly cautious.
Lateral Color Fringes performance top
I can't see any. Look for yourself at the samples under Sharpness.
Mechanics and Construction performance top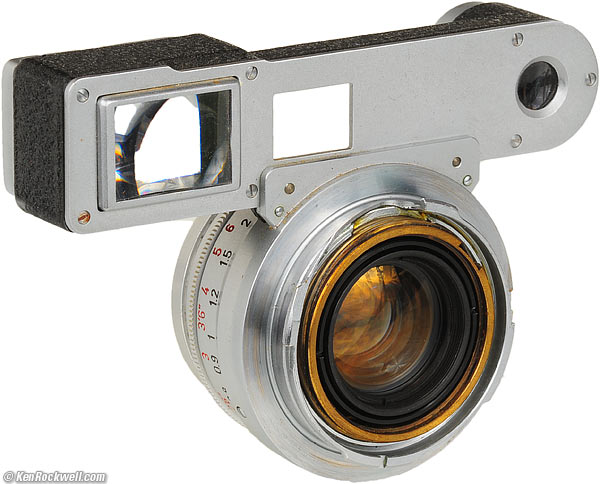 Rear, LEICA 35/2.8 SUMMICRON. enlarge.
Visit the museum of fine machining, and this is what you'll see on display as an example of the best. LEICA has never exceeded itself.
Filter and Hood Mounting Ring
Chromed brass.
Barrel
Chromed brass.
Focus Ring
Chromed brass.
Focus Tab
Metal.
Today's LEICA lens use only cheaper plastic, and have no locks.
Aperture Ring
Chromed brass.
Focus Helicoids
Brass and aluminum.
Other Internals
Metal.
Mount
Chromed brass.
Mounting Index Dot
Red plastic ball.
Markings
Solidly engraved and filled with paint.
Quality
MADE IN GERMANY.
Many samples were offshored to Canada. They are probably identical, but why settle for probably today?
Sharpness performance top
See also LEICA SUMMICRON 35mm Sharpness Comparison and Yosemite in Winter, February 2011.
I first shot this lens before LEICA made digital cameras. The first batch of test slides had me scratching my head. Unlike Oriental lenses, the shots at f/2 were perfectly contrasty, sharp and clear, just like the shots at f/8. I was thinking "You're kidding me!" as I looked at the results.
Today on the M9, it's sharper than anyone needs, and doesn't have any of the distortion of the larger ASPH lenses.
This is a fantastically sharp lens from LEICA's most glorious era, sharper than most of the simpler and less-expensive lenses LEICA has churned-out since this lens' day. Today's ASPH lenses do some things better, like extreme corner sharpness or contrast wide-open, but they also have more distortion and are much heavier.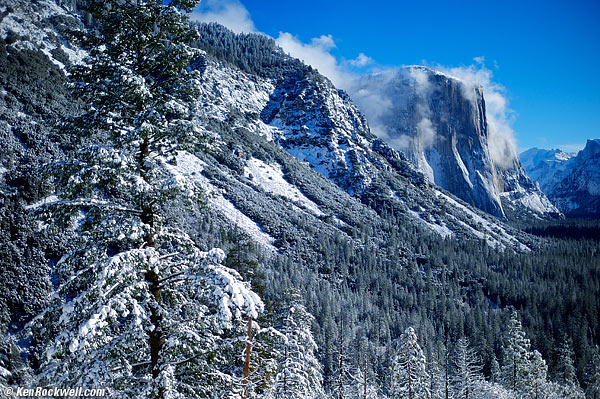 Tunnel View, Yosemite, 2011: 35/2 at f/2 on M9. full-resolution © 10MB JPG from DNG.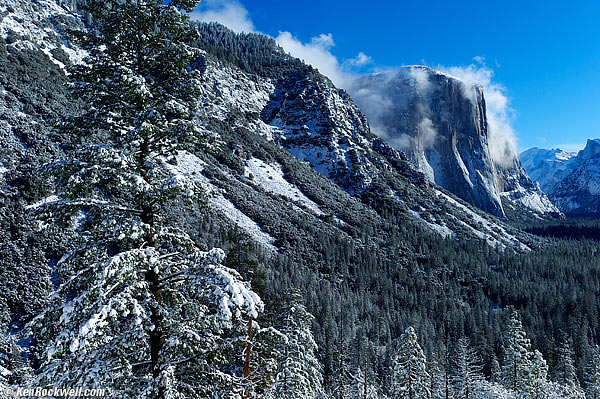 Tunnel View, Yosemite: 35/2 at f/8 on M9. full-resolution © 12MB JPG from DNG.
Just for fun, compare these Yosemite images to the same thing shot with the LEICA SUMMILUX-M 35mm f/1.4 ASPH (floating element). Do you think that this lens is sharper? Don't tell LEICA. They were shot at the same time with the same DNG processing in Apple Aperture 3.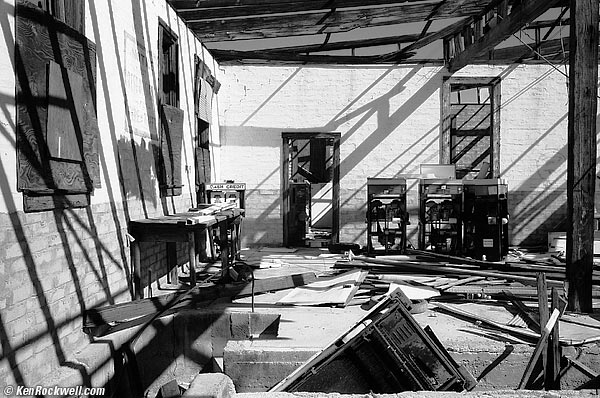 Ludlow, CA, Feb. 2010: 35/2 at f/13.5 on M3. © film scan, 1.8MB JPG.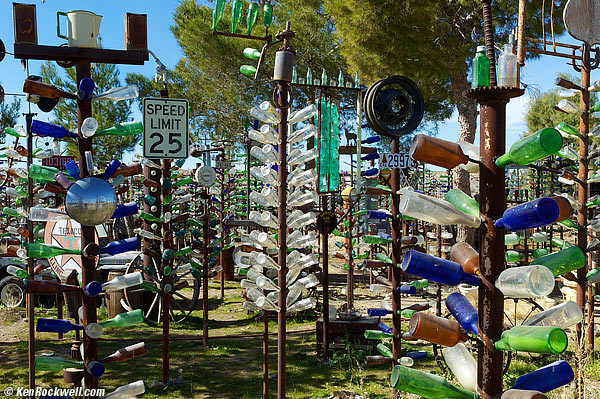 Bottle Trees, Feb. 2011: 35/2 at f/11 on M9. full-resolution © 8MB JPG from DNG.
In the lab, this lens is sharp in the center at every aperture. It has slightly less contrast at f/2, but still sharp.
The newer lenses are more contrasty in the center at f/2, but this original SUMMICRON is sharper once we get to f/2.8 and middle apertures.
This SUMMICRON is sharper in the corners than any of the 1969-1979 SUMMICRON or 1979-1996 SUMMICRON-M.
Sunstars performance top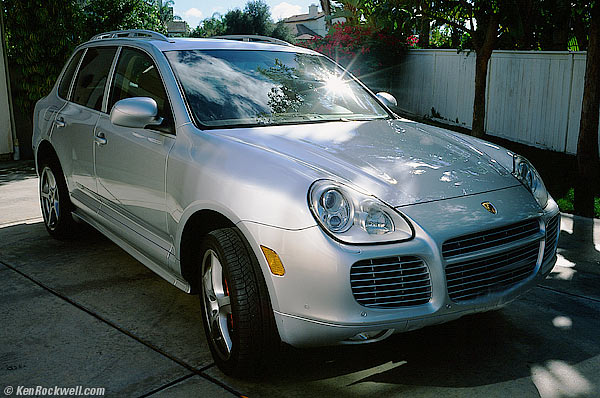 Porsche Cayenne Turbo S. 35mm SUMMICRON at f/9.5 on Velvia 50 in LEICA M3.

The 10-bladed diaphragm begets 10-pointed sunstars from about f/5.6 and smaller.

Compared top

Intro Specs Performance Compared Recommendations

See LEICA SUMMICRON 35mm Sharpness Comparison and see more under Sharpness.

I've been making comparisons throughout this entire review.

Recommendations top

Intro Specs Performance Compared Recommendations

The LEICA SUMMICRON 35mm f/2 (8-element) is an immortal tool for immortal men. It's the best 35mm lens for use with the world's best 35mm camera, the LEICA M3.

For use on expensive and rapidly depreciating digital cameras like 2009's M9, I'd suggest any of the ASPH lenses for their slightly improved corner sharpness.

Honestly, any LEICA SUMMICRON 35mm will make great pictures. 99% of an image comes from the photographer's imagination, not his toys.

This free website's biggest source of support is when you use these links, especially this link to them at eBay (see How to Win at eBay). It helps me keep adding reviews of this ancient stuff when you get yours through these links, regardless of the country in which you live. Thanks! Ken.

Deployment

I use a 39mm 81A B+W brand filter for slide film.

I'd use any 39mm B+W brand yellow filter for B&W film outdoors, or a 39mm LEICA brand 13 131 UV filter indoors — or go commando.

I'd use a 39mm LEICA 13 131 UV filter for color print film or the M9, but why would anyone shoot color print film in a LEICA?

The old M8 needed LEICA 39mm UV/IR filter 13 410 (or a B+W brand 39mm UV/IR filter) to correct a design flaw in the M8's sensor system design.

Help me help you top

I support my growing family through this website, as crazy as it might seem.

The biggest help is when you use any of these links to Adorama, Amazon, eBay, B&H, Ritz, Calumet and J&R and when you get your goodies. It costs you nothing, and is this site's, and thus my family's, biggest source of support. eBay is always a gamble, but all the other places always have the best prices and service, which is why I've used them since before this website existed. I recommend them all personally.

If you find this page as helpful as a book you might have had to buy or a workshop you may have had to take, feel free to help me continue helping everyone.

If you've gotten your gear through one of my links or helped otherwise, you're family. It's great people like you who allow me to keep adding to this site full-time. Thanks!

If you haven't helped yet, please do, and consider helping me with a gift of $5.00.

As this page is copyrighted and formally registered, it is unlawful to make copies, especially in the form of printouts for personal use. If you wish to make a printout for personal use, you are granted one-time permission only if you PayPal me $5.00 per printout or part thereof. Thank you!

Thanks for reading!

Mr. & Mrs. Ken Rockwell, Ryan and Katie.

Home Donate New Search Gallery Reviews How-To Books Links Workshops About Contact