Home Donate New Search Gallery How-To Books Links Workshops About Contact
LEICA 90mm f/2.8
TELE-ELMARIT-M (1974-1990)
© 2009 KenRockwell.com. All rights reserved.
Intro Specs Performance Usage Compared Recommendations
Comparison of LEICA 90mm f/2.8 Lenses More LEICA Reviews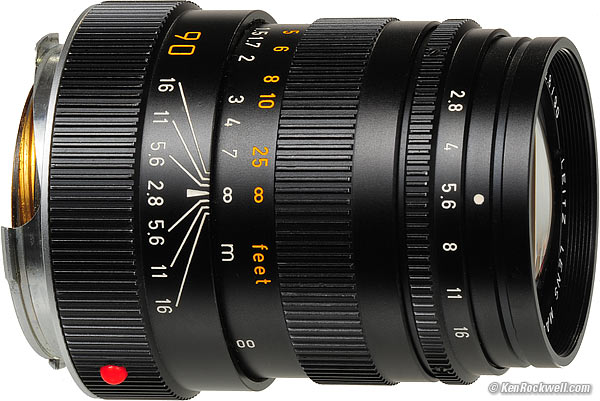 LEICA 90mm f/2.8 TELE-ELMARIT-M (39mm filter, 7.957 oz./225.6g). enlarge. I got this one at this link to it at eBay; Adorama also sells them. It helps me keep adding to this site when you get yours from these links, thanks!
April 2009 LEICA 90mm f/2.8 Lenses Compared
LEICA Camera Reviews LEICA Lens Reviews Recommended Lenses
LEICA Lens Names How to Afford Anything
Sample Photos
Yosemite in Springtime May 2011
Monterey June 2009
Death Valley January 2009
| | |
| --- | --- |
| Optics: | |
| Mechanics: | |
| Ergonomics: | |
| Usefulness: | |
| Availability: | |
| Overall: | |
Ideal Uses
This is the only LEICA tele you might ever need. It's small, sharp, fast, and excellent.
Not for
Today's LEICA Man will demand nothing less than the 90mm f/2 ASPH, but it weighs twice as much and costs ten times as much as this superb 90mm TELE.
Introduction top
Intro Specs Performance Usage Compared Recommendations
The LEICA TELE-ELMARIT-M 90mm f/2.8 is LEICA's purest long lens. It is LEICA's ideal combination of speed, optical quality, small size and light weight. It's smaller than a 77mm lens cap!
Purest means truest to Oskar Barnack's vision for the LEICA. This 90mm TELE breathes life into his vision as one of LEICA's smallest and lightest 90mm lenses ever, as well as being both fast (f/2.8) and of very high optical quality.
LEICA's current 90mm f/2 APO-Summicron-M ASPH is better optically in some ways that few people will ever notice, but it weighs twice as much. Therefore the 90mm APO is untrue to LEICA's vision.
LEICA's current 90/2.5 Summarit-M is much smaller than the 90mm f/2 ASPH, but still bigger and heavier than this f/2.8 TELE. Not only that, but this 90mm tele sells used for about one-third the cost of the new 90mm f/2.5, and is still smaller and lighter. Yes, the current 90mm f/2.5 is optically a bit better wide-open, but this tele is as good for real photography and much better made mechanically.
LEICA's current 90/4 MACRO-ELMAR-M is sharper wide-open, focuses more closely, is 3g lighter and slightly smaller than this f/2.8 TELE-M. It costs a lot more, and is a stop slower. If money is no object, get the MACRO-ELMAR-M instead for travel; it also collapses to become even smaller for carrying.
Germany versus Canada introduction top
Most samples of this 90mm f/2.8 TELE, made from 1974 through 1986, were made in Canada.
LEICA moved production back to the Fatherland in 1987 and made these in Germany from 1987 through 1990.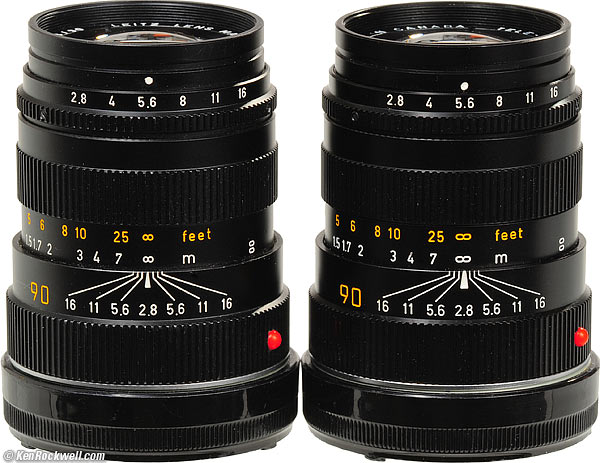 German on left, Canadian on right. enlarge.
The two versions are indistinguishable from each other except for saying "MADE IN CANADA" or "MADE IN GERMANY" on the front ring, or by the higher serial numbers of the German versions.
Canadian versions run about serial numbers 2,585,000 ~ 3,451,999.
German versions run about serial numbers 3,383,000 ~ 3,540,000.
I have compared and shot them directly against each other, and there is no difference whatsoever optically or mechanically. Not only are the images indistinguishable on film, LEICA's quality control is so tight that even the colors of the coatings match perfectly between the two.
Personally I'll always pay a premium for anything MADE IN GERMANY, but if you want a great lens, don't worry about getting the Maple Leaf version, since that's probably all you'll find.
Nomenclature introduction top
"Telephoto" formally means a lens design in which optical tricks are played to keep the lens shorter than its own focal length.
This trick is played with long lenses to keep them small.
Most people, including myself, misuse the scientific meaning of "telephoto" to refer to any long lens, but this is not correct.
Most of LEICA's other 90mm lenses are not of telephoto design. They stick out more than 90mm from the film plane. These lenses are not called "TELE" by LEICA.
This TELE lens is a true telephoto design, which is why it is smaller than the other 90mm lenses.
This TELE is recognized by the "TELE" in its formal name, in addition to the meaningless "ELMARIT," which simply means f/2.8.
Actual Size introduction top
Presuming you have a standard 106 DPI monitor, this is its actual size, which is 2.674" (67.92mm) overall: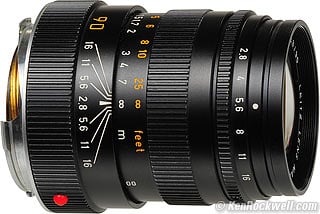 LEICA 90/2.8 TELE, actual size at 106 DPI. enlarge.
The illustrations in this review have been enlarged to fit the page.
History introduction top
See LEICA 90mm f/2.8 Lenses Compared.
Specifications with commentary top
Intro Specs Performance Usage Compared Recommendations
Name Focal Length Angle-of-View Optics Diaphragm
Filter Thread Close Focus Maximum Repro Ratio
Caps Hood Size Weight Introduced Part Numbers Price
Name specifications top
LEICA calls this the LEICA TELE-ELMARIT-M 90mm f/2.8, model number 11 800.
TELE means telephoto, an optical trick that makes long lenses physically shorter than their optical focal length.
ELMARIT means nothing except a LEICA-brand f/2.8 lens.
M means it fits the eternal M series of LEICA rangefinder cameras, as well as the Voigtländer Bessas, Zeiss Ikons and Minolta CLE.
Focal Length specifications top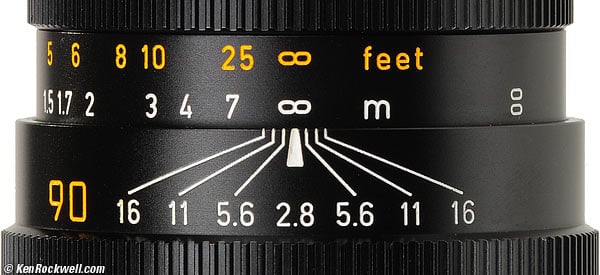 Focus Scale, LEICA 90mm f/2.8 TELE. enlarge.
Actual (design) Focal Length: 90.0mm.
The actual focal length will vary with production tolerances.
To compute the exact actual focal length of your lens, use the two digits shown to the right of the "m" on your focus scale as millimeters and tenths.
For instance, the lens shown here has a mystery number of 00, meaning the real focal length is 90.5mm.
(Equivalent on the LEICA M8 (half-frame) 120mm.)
(Equivalent on the Epson R-D1x (half-frame): 135mm.)
Angle of View (full-frame 35mm) specifications top
27º Diagonal.
23º Horizontal.
15º Vertical.
Optics specifications top
4 elements in 4 groups.
Single coated.
Diaphragm specifications top
10 blades.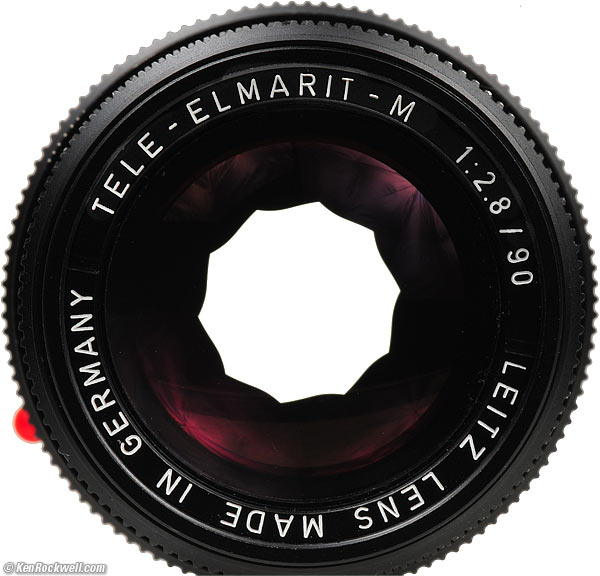 LEICA 90mm f/2.8 TELE-ELMARIT-M at f/5.6. enlarge.
Blades are S-shaped to f/5.6, inwardly curved from f/6.7 ~ f/13, and oddly circular at f/16.
Stops down to f/16 with half-stop clicks.
Filter Thread specifications top
Standard 39mm.
Germans call this E39 and 39E, but it's the same standard 39mm (0.50mm pitch) filter that's been available everywhere for decades and decades.
The 0.5mm thread pitch for 39mm filters hasn't changed since at least the 1940s. The only gotcha is that some crappy off-brands accidentally make 39mm accessories using the incorrect coarser pitch (0.75mm) of larger filters, which of course make them incompatible with standard 39mm lenses and accessories
Stick with Hoya and B+W and you'll have no problems.
If you are crazy, you can use the no-longer available LEICA 11 251 adapter and use unavailable series 5.5 filters instead.
Close Focus specifications top
Marked: 3.5 feet and 1 meter.
Maximum Reproduction Ratio specifications top
1:9.
Caps specifications top
Any 39mm snap-on front cap works great, as well as LEICA's classic felt-lined brass caps. The plastic slip-on A42 cap (14 268) was standard in this lens' day.
LEICA's current part number for the 39mm snap-on is 14 038, which sells for $30.
Not wanting to lose $30 lens caps, I use Adorama's $4.50 39mm caps instead.
In its day, it came with a shallow rear cap. Today, use the standard $27 14 269 rear cap.
Since this lens came with a hood, you didn't get a regular 39mm (E39 or A42) front cap. You instead got a 11 252 cap for the hood.
Hood specifications top
This TELE lens came with a silly rubber hood (11 250) with its own pop-in cap (11 252).
Even if you get one, I'd chuck it since it gets in the way of changing filters. I never use a hood with my lens and it works great.
Size specifications top
Length: 2.412" (61.28mm) extension from flange, measured at infinity. (62mm specified.) 2.674" (67.92mm) overall, measured.
Diameter: 2.025" (51.43mm), measured. 51.5mm, specified.
Weights specifications top
Since I measured these in different months, and the difference is only one unit on my analytical balance and I don't close my windows when I measure them, for all I know these are identical in weight.
Maple-Leaf Version
7.965 oz. (225.77g), measured.
9.220 oz. (261.4g) with caps, hood and 39mm LEICA UVa filter 13 131.
Bundesadler Version
7.960 oz. (225.6g), naked.
LEICA specifies 225g.
Introduced specifications top
1974.
Product Numbers specifications top
Black Lens, complete
11 800.
Includes the boxed lens, rubber hood, caps and paperwork.
Lens Hood (included)
11 250.
Cap for Lens Hood (included)
11 252.
39mm Front Cap (current model)
14 038 ($30 if bought separately).
Rear Cap (current model)
14 269 ($27 if bought separately).
Series 5.5 Filter Adapter (optional for nuts)
11 251.
Price specifications top
2009, March, USA: Sells used for $300 - 600.
In July, 1983 MSRP was $498 and dealer net was $332, or $1,050 and $710 considering inflation in 2009.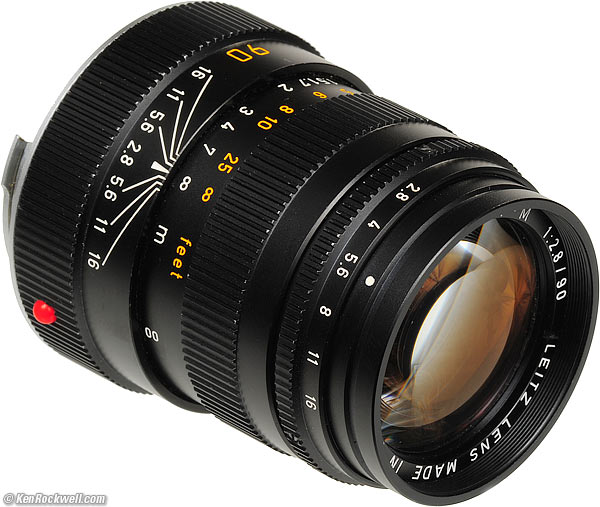 LEICA 90 2.8 TELE. enlarge.
Performance top
Intro Specs Performance Usage Compared Recommendations
Overall Aperture Ring Bokeh Coma Depth-of-Field Scale
Diaphragm Linearity Distortion Ergonomics Falloff Filters
Finder Blockage Focus Lateral Color Mechanics Sharpness
Overall performance top
This LEICA 90mm f/2.8 is sharp and contrasty, even at f/2.8.
It's small, light and handles perfectly, making it LEICA's truest 90mm lens.
Aperture Ring performance top
The aperture ring is perfect, like most current LEICA lenses.
One fingertip is all you need to adjust it by feel.
Bokeh performance top
Bokeh is the character of out-of-focus areas, not simply how far out of focus they are.
The LEICA 90mm f/2.8 TELE has neutral to good bokeh for out-of-focus backgrounds, everywhere in the image, at every aperture.
Coma performance top
This Leitz 90mm f/2.8 TELE-ELMARIT has no coma. Coma is when points of light in the corners grow into weird-shaped blobs.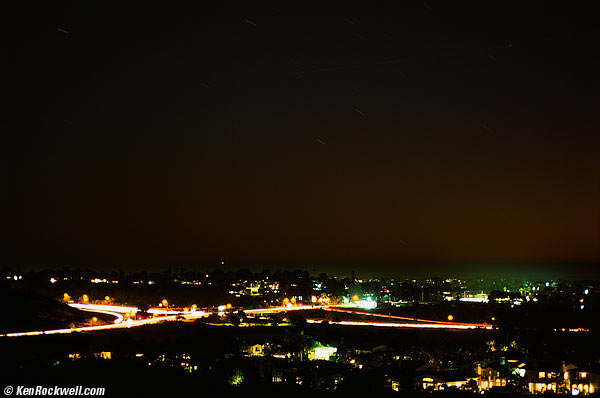 Full image, f/2.8. 90 TELE on Fuji Velvia 50, 128 seconds at f/2.8.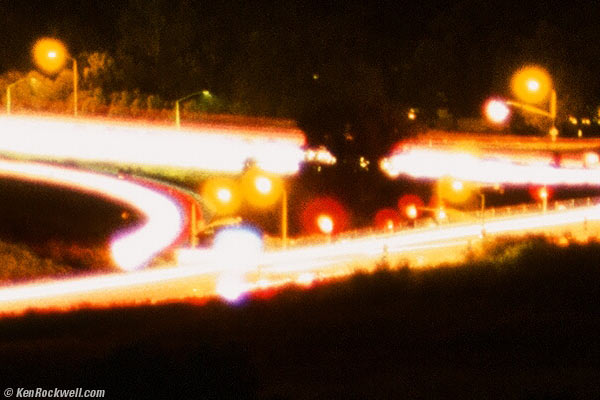 Crop from lower left of above 3600 DPI scan at 100%.
This is a crop from an 0.17" x 0.11" (4.2 x 2.8mm) section of the image. If the entire image was shown at this magnification, it would be a 32" x 48" print!
It may not be quite as sharp, however the coma performance of this old TELE lens is superior to the coma performance of the LEICA 90mm f/2 APO.
Depth-of-Field Scale performance top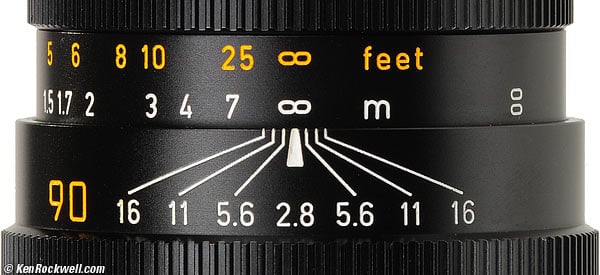 Depth of Field Scale, Enlarged, LEICA 90mm f/2.8 TELE. enlarge more.
The depth of field scale is so tight as to be almost useless.
The 90mm f/2 APO has a far more useful scale, because it's a bigger lens.
This is the price we pay for fast focusing in a tiny lens.
Diaphragm Linearity performance top
My M7 agreed exactly as I tried every half-stop.
This shows a well-made lens.
It's not important when using TTL exposure meters, as with most modern cameras, but is important if you're using an external meter.
Distortion performance top
Distortion is invisible.
For critical use, use these values in Photoshop's Lens Distortion Filter to correct the tiny amount of pincushion (sucking) distortion:
| | |
| --- | --- |
| | 35mm Film |
| ∞ | -1.0 |
| 30' (10m) | -1.2 |
| 10' (3m) | tbd |
| 3' (1m) | tbd |
© 2009 KenRockwell.com. All rights reserved.
Ergonomics performance top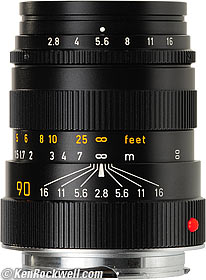 LEICA 90/2.8 TELE, actual size. enlarge.
Ergonomics are perfect, period.
The aperture flicks with a fingertip.
Focus takes two fingers.
Focus is slightly faster than other 90mm lenses. Close-focus comes up with only a 120º rotation of the focus ring.
The grip on the rectangularly-knurled focus and aperture rings is perfect. Grip is great, and never mushy or lumpy like rubber.
This 90mm is small enough that it never even comes close to getting in the way of your viewfinder image.
Falloff (darkened corners) performance top
Falloff is minor at f/2.8, and gone by f/4.
This is as expected for a short tele.
Per LEICA's data (page 68), falloff is 2/3 of a stop at f/2.8 and 1/5 of a stop at f/4.
The falloff is very gradual, and therefore invisible and probably compositionally beneficial. It's not a sudden drop-off as in the 90mm f/4 Elmar-C at f/4.
Filters, use with performance top
Any 39mm filter works great. You can even stack a couple with no problem.
There's no real reason to want to step this lens up to 58mm, unless you just happen to want to use it as part of a larger system for which you're already packing 58mm filters.
The B+W 39mm -> 58mm ring is perfect if you want to do this. If you do, there is very little finder blockage with 58mm filters.
Finder Blockage performance top
Another huge advantage of this tiny lens is that it never comes close to blocking your viewfinder image, even close-up.
On a LEICA M7
None at any distance.
On a LEICA M4-P
None at any distance.
On a LEICA M3
None at any distance.
On a Minolta CLE
None at any distance.
Be careful; your CLE may or may not offer focusing precise, repeatably or accurate enough for your taste with any 90mm f/2.8 lens.
Focus Accuracy performance top
The 90mm TELE focuses accurately on all my cameras. Unlike some lenses, I get the same results on every camera.
On a LEICA M7
Accurate and precise at all distances.
On a LEICA M4-P
Accurate and precise at all distances.
On a LEICA M3
Accurate and precise at all distances.
On a Minolta CLE
Accurate at all distances, but the short-base rangefinder is imprecise, leading to not-always-perfect focus. Shoot a few shots of the same thing, and the shot group is centered at the right distance, but individual shots will vary from frame-to-frame more than the consistent results I get from the grown-up sized LEICAs.
I have not tried it on the Voigtlanders, which all use baby-length rangefinders. I suspect this will lead to imprecise focus, but that's not the lens: it's a limitation of the cameras.
Lateral Color Fringes performance top
None visible, at 40x magnification.
Mechanics and Construction performance top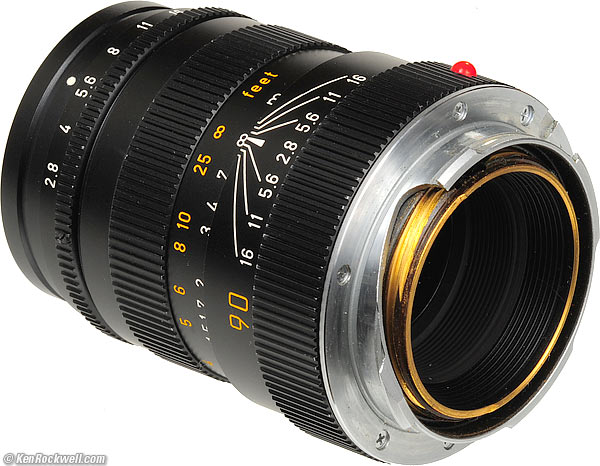 Rear, LEICA 90/2.8 TELE. enlarge.
The LEICA 90mm f/2.8 TELE is made exactly like every other LEICA M lens, which is superbly.
This lens is made to last far beyond any of our life times. This sample is over 20 years old and still works like new. Heck, my 40- and 50-year old LEICA lenses usually still work like new, too.
Hood: Folding rubber over threaded metal ring (not shown).
Barrel: Black anodized aluminum.
Focus Ring: Black anodized aluminum.
Focus Tab: None.
Aperture Ring: Black anodized aluminum.
Focus Helicoids: Brass.
Other Internals: Metal.
Mount: Dull chromed brass.
Mounting Index Dot: Red plastic ball.
Markings: Engraved and filled with paint.
Quality: Most samples made in Canada, newest samples are Made in Germany.
Sharpness performance top
If you're coming from shooting zooms or SLR lenses, you're in for a treat: this tiny TELE lens is better than what you're used to!
You can't check sharpness with color prints. You have to shoot B&W or Fuji Velvia 50 and look at it under high magnification (equivalent to at least 30 x 40" prints) to see anything meaningful. I shoot Velvia 50 and look at it at 40x magnification. I was always amused by LEICAphiles who thought they could see sharpness in 5x7" machine prints — you can't.
This 90/2.8 is always sharp in the center. At f/4 and f/2.8 the corners get a little softer, but no more than a zoom, and the center is still sharp and contrasty.
Compared directly to the world-leading 90mm f/2 APO APSH, it's the same at f/5.6 and smaller, but since the crazy-good 90 APO stays just as sharp, even at f/2, if you're making direct comparison tests, the APO is sharper at f/4 and f/2.8 in the corners.
Your biggest barrier to sharpness isn't your choice of this tele versus the LEICA 90mm f/2 APO, it's the simple fact that half of the camera and lens combinations I've used aren't perfectly adjusted for focus. Half of the time, your camera's rangefinder (or rarely, your lens) will be out of adjustment enough that the focus is off by just enough to rob you of sharpness at the larger apertures.
Before you go whining about a lens, be certain your rangefinder is perfectly adjusted. They drift and need attention from a specialist every few years.
How do you check focus? Go make a bunch of shots at f/2.8 at various distances and check that the resulting images are focused exactly on your intended subject.
Usage top
Intro Specs Performance Usage Compared Recommendations
Focus Film Flatness Optimum Aperture Minolta CLE
This lens is super-easy to use. I don't even know why I bother with this section.
As covered above, the first thing you must do is shoot some film at f/2.8 to confirm that your lens is well matched to your camera's rangefinder.
Take pictures at f/2.8, and be sure the optimum focus falls exactly where you intend, not a few inches ahead or behind.
Even if you've gotten perfect results with a fast 50mm lens, your camera could still be off enough to rob you of the sharpness of which this 90mm lens is capable.
Long lenses are far more demanding of mechanical calibration accuracy than 50mm and shorter lenses.
Be careful: if your film has sat overnight, as you wind to the next frame you may have a slight kink in the film from where it sat on the edge of the spool. This often leads to having a slight lack of flatness for the next frame.
This subtlety happens in most cameras; I haven't specifically seen it in LEICA, but if you're checking focus accuracy, be aware that this can throw a frame off.
LEICA tells us that f/5.6 is optimum, and for all I can see this is true, but it only applies if your subject is completely flat, or entirely at infinity. LEICA doesn't say, but I suspect their figure is for the center, not the edges.
For real photographs, stop down as needed for depth-of-field.
If your subject is flat, it's probably going to be a boring photograph anyway.
For flat or infinity subjects, I find f/5.6 or f/8 is optimum. The corners get softer at f/4 and f/2.8, and diffraction sets in at f/8 and smaller.
Use on the Minolta CLE usage top
Try yours yourself. My 90/2.8 TELE focuses swell on my Minolta CLE.
Be careful: the smaller rangefinder base along with the fact that rangefinder cameras are pushing it for precise focus with long lenses means that you might not always get perfect results shooting at f/2.8. This isn't the lens, its a limitation of rangefinder cameras.
Other 90mm lenses top
Intro Specs Performance Usage Compared Recommendations
See also my Comparison of LEICA 90mm f/2.8 Lenses.
| | | | | | |
| --- | --- | --- | --- | --- | --- |
| | 90/2.8 TELE | | | | 90/2 Summicron-M |
| Produced | 1974-1990 | 1998 - | 2008 - | 1990-2008 | 1980-1998 |
| Optics | 4/4 | 5/5 ASPH | 5/4 | 4/4 | 5/4 |
| Filter thread | 39mm | 55mm | 46mm | 46mm | 49mm, 55mm |
| Length | 61.3mm | 77.3mm | 66.5mm | 75.9mm | 63.7mm, 77mm |
| Weight (actual) | 226g | 475g | 345g | 395g | 410g, 460g |
| Diaphragm Blades | 10 | 11 | 11 | 9 | 11 |
| Minimum Aperture | f/16 | f/16 | f/16 | f/22 | f/16 |
| Made in | Canada, later Germany | Germany | Germany | Germany | Canada |
| Sharpness* | Very Good | Extraordinary | Fantastic | Fantastic | |
| Price (3/09, USA) | ($400 used) | | | $2,000 ($700 used) | ($600 used) |
| Rebate (3/09, USA) | - | $300 | $300 | Maybe $300 | - |
| Net Cost | $400 | $3,200 | $1,300 | $1,700 | $600 |
* Your camera's rangefinder calibration is going to make more of a difference in sharpness than the difference among these lenses. If, and only if, you got a perfectly adjusted system will you be able to notice any differences.
Recommendations top
Intro Specs Performance Usage Compared Recommendations
This, or the more expensive and even smaller 90/4 MACRO-ELMAR-M, is the best tele lens for the LEICA, presuming you're shooting the LEICA as it was intended by its creator.
The only reason to shoot a bigger, heavier or more expensive lens is only if you need a tiny bit more sharpness in the corners at f/4 and f/2.8, or if you need the added speed of f/2.
By comparison, the current 90mm f/2.5 Summarit-M is a bit sharper at f/4, f/2.8 and a third of a stop faster, but it doesn't feel as good in hand for its sloppier construction, and you'll only find it new for at least triple the price of this TELE 90. The 90/2.5 Summarit-M is also bigger, fatter and takes bigger filters.
The recently discontinued (and now classic) 90/2.8 ELMARIT-M has optics as good as the 90mm f/2.5 Summarit-M and 90mm f/2 ASPH, but it takes bigger filters and weighs almost twice what this tele does.
The LEICA man cares not the price. The LEICA man only wants the best, which is the APO-Summicron-M 90mm f/2 ASPH, which costs ten times what this 90mm f/2.8 TELE does. The LEICA Man is not interested in discontinued product, nor the discount f/2.5 Summarit-M.
Deployment
I'd use a 39mm 81A B+W brand filter for slide film.
I'd use any 39mm B+W brand yellow filter for B&W film outdoors, or a 39mm LEICA brand 13 131 UV filter indoors.
I'd use a 39mm LEICA brand 13 131 UV filter for color print film, but why would anyone shoot color print film in a LEICA?
I wouldn't bother with a digital LEICA until they come out with a full-frame body, and even then film is more fun, but that's just me. I'm told digital shooters today need to use a LEICA brand 39mm UV/IR filter 13 410 (or a B+W brand 39mm UV/IR filter) to correct for a design flaw in the M8.2's sensor system design.
More Information:
LEICA's Technical Data (pages 64-71)
PLUG
I support my growing family through this website.
If you find this as helpful as a book you might have had to buy or a workshop you may have had to take, feel free to help me continue helping everyone.
If you've gotten your gear through one of my links or helped otherwise, you're family. It's great people like you who allow me to keep adding to this site full-time. Thanks!
If you haven't helped yet, please do, and consider helping me with a gift of $5.00.
The biggest help is to use these links to Adorama, Amazon, B&H, Calumet, Ritz, J&R and when you get your goodies. It costs you nothing and is a huge help to me. eBay is always a gamble, but all the other places have the best prices and service, which is why I've used them since before this website existed. I recommend them all personally.
Thanks for reading!
Ken
Home Donate New Search Gallery How-To Books Links Workshops About Contact