Home Donate New Search Gallery Reviews How-To Books Links Workshops About Contact
LEICA M typ 240
24 MP full-frame 24x36mm (2012-)
© 2014 KenRockwell.com. All rights reserved.
Intro Sample Images Lenses Specs Performance
Compared Usage Recommendations More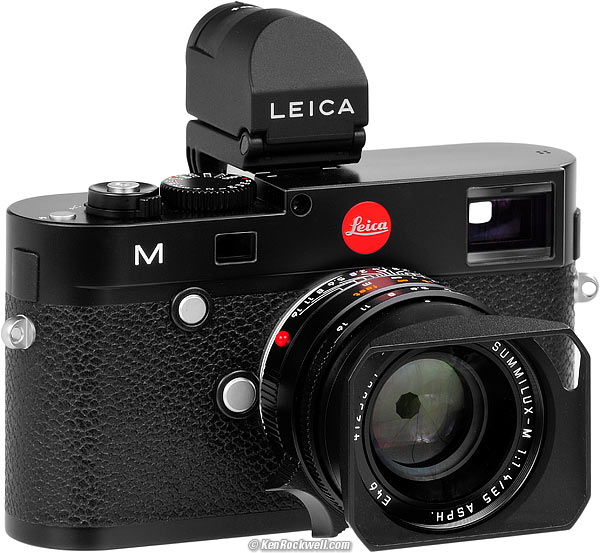 LEICA M typ 240 in black (Verk. Nr. 10770, 24x36mm 24MP sensor, 23.885 oz./677.15 g with battery and card, about $7,000) mit LEICA EVF 2 (1.140 oz./32.35g, about $500, 25.0 oz./709.5g with body) and LEICA SUMMILUX-M 35mm f/1.4 ASPH mit Floating Element. enlarge.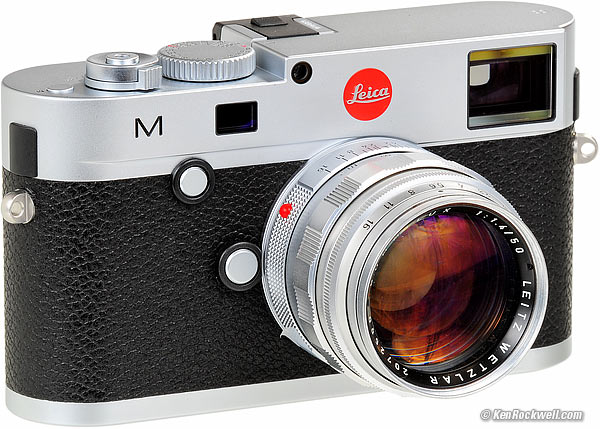 LEICA M typ 240 in silver (Verk. Nr. 10771, about $7,000) mit LEICA SUMMILUX 50mm f/1.4. enlarge.
February 2014 LEICA Reviews LEICA Lenses All Reviews
NEW: Sample Photographs from California's Eastern Sierra 17 January 2014
Canon 5D Mk III vs. LEICA M 240 vs. Sony A7 Image Quality Comparison 19 December 2013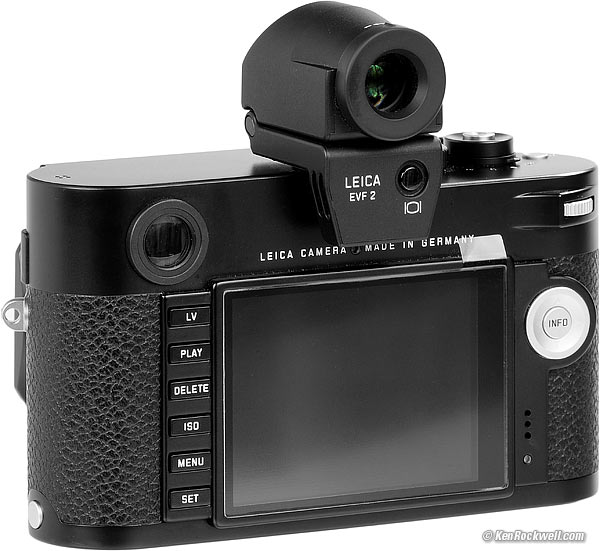 Back, LEICA M240 in black, with LEICA EVF-2 finder. bigger.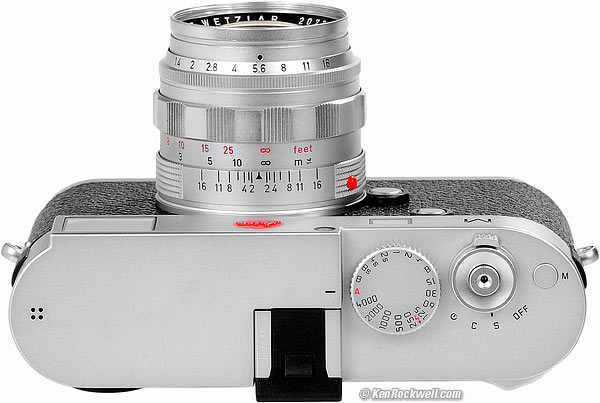 Top, LEICA M240 in silver with LEICA SUMMILUX 50mm f/1.4. bigger.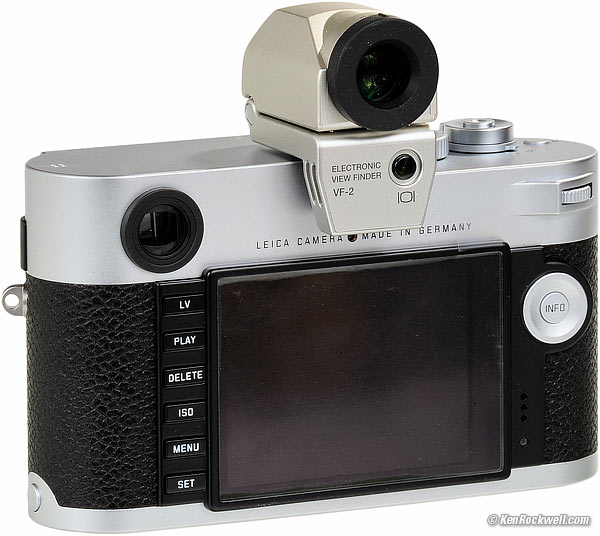 Back, LEICA M typ 240 in silver with Olympus VF-2 Finder (LEICA doesn't offer its finder in black.) bigger.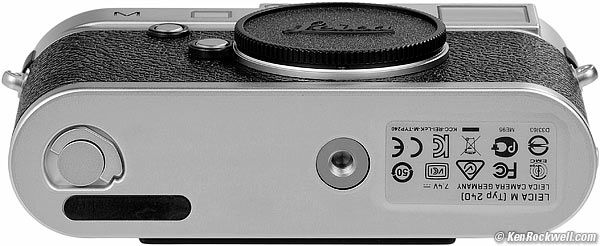 Bottom, LEICA M typ 240 in silver. bigger.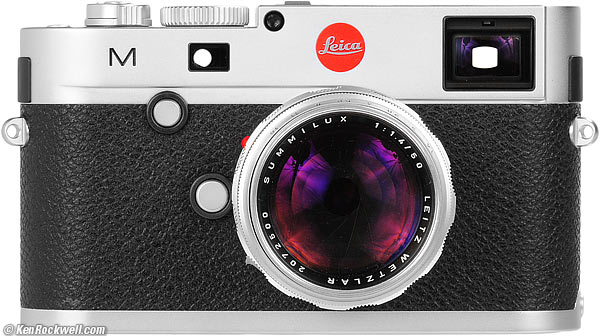 LEICA M 240 in silver mit LEICA SUMMILUX 50mm f/1.4. bigger.
This free website's biggest source of support is when you use any of these links, especially this link directly to it at Adorama in black or in silver, or directly to it at Amazon or at eBay when you get anything, regardless of the country in which you live. It helps me keep adding to this free website when you get yours through those links — but I receive nothing for my efforts if you buy elsewhere. Thanks for your support! Ken.
Sample Image Files top
Intro Sample Images Lenses Specs Performance
Compared Usage Recommendations More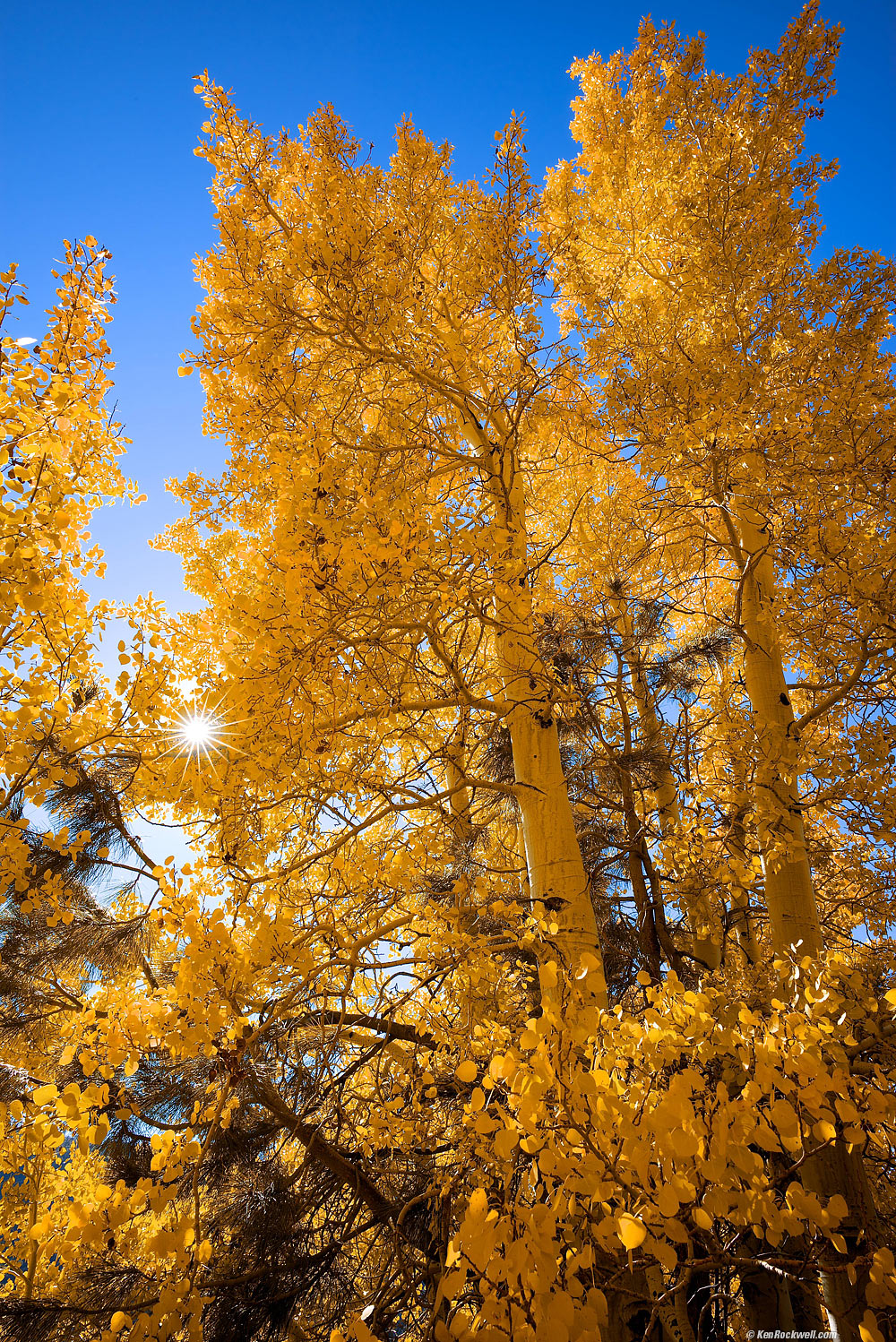 Golden Trees and Sunstar, June Lake Loop, 18 Oktober 2013. Shot as DNG at ISO 200 with LEICA SUPER-ELMAR-M 21mm f/3.4 ASPH at about f/11 at 1/60, processed in Aperture 3 into this full-resolution JPG. bigger or full-resolution JPG.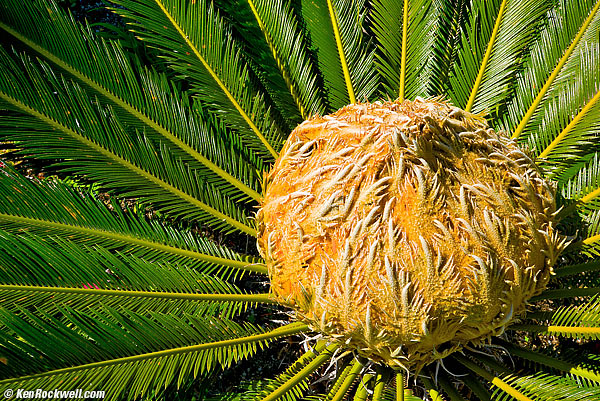 Sago Palm, Oktober 2013. Shot as DNG at ISO 200 with LEICA 40mm f/2 SUMMICRON-C at about f/11 at 1/90, processed in Aperture 3 and Perfectly Clear. Original DNG file. Full-resolution JPG.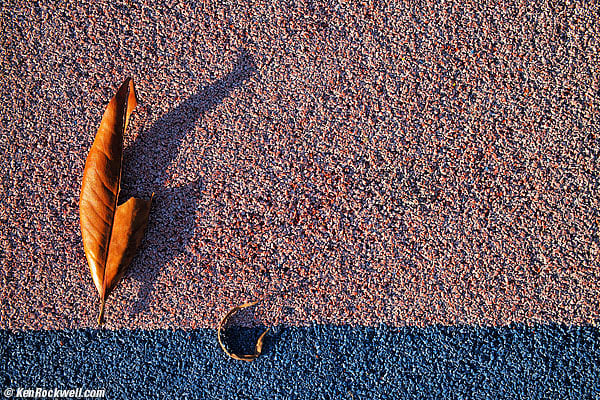 Leaf on Rubber, 20 December 2013. Shot with LEICA M typ 240 at ISO 200 and LEICA SUMMICRON-M 35mm f/2 ASPH at f/8 at 1/180 at ISO 200. 16 MB © Camera-original JPG file.
Introduction top
Intro Sample Images Lenses Specs Performance
Compared Usage Recommendations More
The LEICA M typ. 240 is the world's second full-frame mirrorless camera. It is the successor to the world's first full-frame mirrorless camera, the LEICA M9 of 2009.
The LEICA M typ 240 offers a much quieter shutter than the M9, as well as LEICA's first option for an external electronic viewfinder (EVF), the LEICA EVF-2. The LEICA EVF-2 is simply a rebranded Olympus VF-2 Finder; either work on the M typ 240.
The LEICA M typ 240 is a huge improvement over the M9 if you're shooting JPGs; the M typ 240's JPG colors are swell where the M9's JPG color rendition is hideous. Likewise, the M typ 240's auto white balance works fine, while the M9's AWB does not work and always requires manual setting.
The M typ. 240 makes decent enough color right out of the camera as JPGs, while the only way to get usable color from the M9 was to shoot in DNG and use Aperture.
The M typ 240 also has much better high ISO performance than the M9 — or any LEICA, actually.
That's the good news. The bad news is that DNG image quality from the M typ 240 has highlights with relatively little dynamic range that turn a dirty brownish-red if you attempt to recover extreme highlights. The M9 by comparison has extraordinary highlight dynamic range when shot as DNG.
Shot as JPG, the M typ 240 is superior, but for DNG files with clean extreme highlights, the M9 is superior. The M typ 240 is wonderful so long as you don't let the highlights go too far — but isn't that half the point of shooting DNG?
Sadly the electronic viewfinder (EVF) is a plasticy thing from China, and it doesn't work very well or very reliably. Besides the quiet shutter, the EVF was the main reason to own this over the M9.
The good news is that used with the internal optical finder, the M 240 is fast and quiet, much quieter than the clattery M9 ever was, but used with the EVF, the M 240 becomes almost as slow and clumsy as shooting a 4x5" camera because of all the button pushes it always seem to take to turn it on or off (there is no eye control), and like a 4x5, the results are unfortunately so good that we put up with it. New for LEICA, the M 240 with external finder is an ergonomic nightmare, and like 4x5, the results are worth it for nature and landscape shots.
The menu and playback system is now inferior to the earlier M9. Now we have several different INFO screens through which to cycle to get to what we need, while the M9 was smart enough to show us everything we needed to see with just one INFO screen besides the full image view. The M typ 240 has a bigger rear LCD, but it's harder to see anything because the menus are now grey or red on black, instead of black on white on the M9.
Once you've set the camera and shoot with the optical finder, the M 240 is fast, quiet and sure. Even in the Single shot mode, it rattles off each shot quietly as you press the shutter from the half-press position each time, never having to let up. It's only when I try to read the menus or playback images or use the EVF that I start cursing at my M typ 240 and wish for my Fuji X100S, which is 60 years better designed.
This review is intended for LEICA owners. If you do not already own and shoot the LEICA, you might want to start at the Compared section to get your bearings. The LEICA M typ. 240 is a one-of a kind camera, completely different from any other camera ever made. It is not simply a little of this and a little of that. If you just want great pictures, get a Fuji X100S for people and travel, or a Canon 5D Mark III and some great lenses for ultimate speed, flexibility and image quality. The LEICA is for the man who deserves more than just great pictures.
Good
In spite of all the fun I'll poke at the LEICA M typ 240, the resulting images are so good that it's all worth it. Even if other cameras might work better, no one makes lenses as sharp as LEICA, and if you put LEICA lenses on another camera like the Sony A7, they won't be as sharp. For real-world sharpness, nothing beats a LEICA camera used with LEICA lenses.
The typ 240 is as quiet as a real LEICA, not clattery like the M9.
Real-time through-the-lens viewing, composing and focusing with the electronic finder. For the first time ever in a LEICA or LEICA M we can see what we're actually going to get in our picture, even with ultrawide lenses.
Much, much better color rendition than the M9 when shot as JPG.
Much, much better auto white balance. For the first time in a digital LEICA as of firmware version 2 of October 2013, auto WB works fine.
Four settable presets recall everything about the camera. I use these to recall my settings for family versus nature photos, and also to recall my non-coded lenses.
The tripod socket is now part of the body, not simply attached to the removable sheet-metal bottom cover as it's been for almost 100 years. The bottom cover is still there, now with a hole to get to the tripod socket, just as Nikon's rangefinder cameras with removable bottoms have had since the 1940s. After over 60 years, LEICA finally catches up to Nikon.
LEICAs have the best shutter dials in the world. Why can't anyone else copy something so simple and obvious as the LEICA's big solid metal engraved dial, and copy its deeper detent at A so we can find it by feel, as we can on the M typ 240?
Pretty decent battery life for a mirrorless camera, about 500 shots per charge.
The M 240 is vastly improved at high ISOs over the M9, which started to look ratty at ISO 1,600. The M typ. 240 is still clean and smooth at ISO 3,200: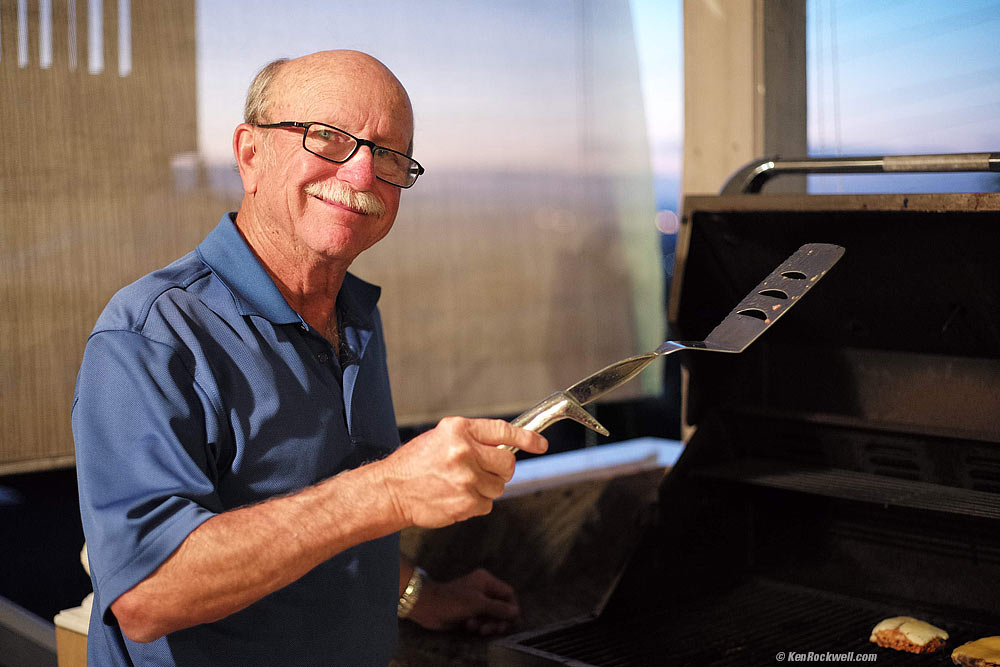 Pops Grilling, 12 Oktober 2013. (2013 LEICA M typ. 240, 1987 LEICA SUMMICRON-M 50mm f/2, Auto ISO 3,200, 1/45 at f/2, auto white balance.) bigger or camera-original JPG.
Bad
The electronic finder is the main difference between the M typ 240 and the M9 other than the quieter shutter, but the EVF isn't very good and is made in China out of plastic, which is clearly unacceptable. We own LEICA to own the best; not to have more disposable plastic junk in our homes.
No eye control for the finder. It wastes time having to press buttons to turn the rear LCD and EVF on and off.
The electronic finder works for shooting and for playback, but inexcusably not for setting menus. It does not always mirror what would be on the rear LCD; you have to take your eye away from the EVF to set anything visible on the rear LCD.
Like older electronic finders from other makers, the image in the EVF is always delayed. It's much more delayed than in the FUJI X100S, for instance, so it's not useful for action. Modern EVFs on other cameras are almost real-time, while this EVF is always delayed by a small fraction of a second.
The electronic finder goes black in very dark light; you can't shoot night shots with it because it's not sensitive enough to light!
It's much better than the M9, but its firmware still doesn't always run flawlessly. It's not uncommon for the M 240 to ignore a direct command from a Zoom or Play button push now and then. I have had it crash, demanding a battery pull-out to reset.
Response to most button pushes takes too darn long. It's slower than most mirrorless cameras. The M 240 is fine while shooting with the optical finder, but everything else takes a moment too long.
Shot in RAW DNG, highlights don't have that much headroom, and turn reddish-pink just before they wash out. Ahem, this means that highlights I could rescue in M9 DNGs won't be from the M typ 240.
It's too big and too heavy. At 710 grams with finder (over a pound and a half), it's heavier than LEICA's failed M5, which was the heaviest proper LEICA ever made. The M 240 is so heavy that it's not exactly comfortable carrying over the shoulder with LEICA's standard strap. Even a 1986 Minolta MAXXUM 7000 AF SLR with the extra 4-AA battery pack and data back weighs less, with batteries and film!
The LEICA IIIf only weighs 430 g, for instance, while the other LEICA M models made from 1953-today weigh about 600 grams. The M 240 is too heavy to want to carry it all day like a real rangefinder camera.
No second card slot
Only one SD card slot, making it dangerous choice for professional work because it can't shoot backed-up to two cards at once. One error on one card (or a photographer goof), and you could lose the whole job. Sure, shoot a serious job on the M typ 240, but one false move and it could all be gone forever. Feeling lucky?
Shooting on one-card-only makes backup far more difficult; you can't safely format the card until you've transferred the files to your computer AND backed them up to a second physical location. With dual cards, once you've downloaded a card to your computer, you can format it and safely go about your next business with everything on both the second card in your camera as well as in your computer — two copies in different physical locations — just not possible with the one-slot M typ 240.
Fluff
Too many buttons and too many modes. A first for LEICA, there is now garbage in the way so that I often will find myself pushing buttons just trying to get it to go.
Video with mono sound.
Missing
No viewfinder preview lever. The M-E lacks this, too. If you need a preview lever on a digital LEICA, you need an M9.
No focal plane indicator.
Live View or EVF only magnify the center of the image; you can't magnify for focus anywhere else.
The EVF can't see any of the menus; you have to take the M typ 240 away from your eye and look at the rear LCD instead.
There is an electronic level, but it's only visible on the rear LCD (not the EVF), and only if you do MENU > Horizon, which is about 2/3 of the way down
No grid display.
We can't code three uncoded lenses to the mechanical feeler. For uncoded lenses, we still have to set them manually in the menus. Ideally, I could code the camera to my favorite uncoded 35mm, 50mm and 90mm lenses, but no.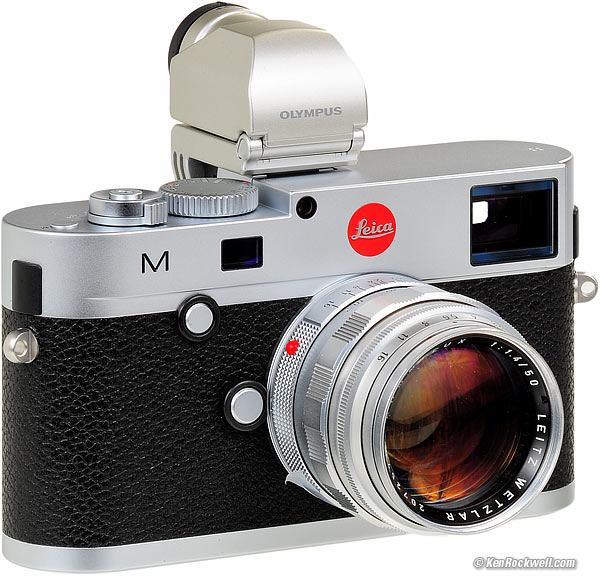 LEICA M240 in silver with LEICA SUMMILUX 50mm f/1.4 and Olympus VF-2 Finder (LEICA doesn't offer its finder in black.) bigger.
Lenses top
Intro Sample Images Lenses Specs Performance
Compared Usage Recommendations More
Lens Compatibility Lens Suggestions
All coded LEICA M lenses work great.
These are the lenses with the black and white paint dots on the mounting flange. If you've got these dots, you're good.
Most LEICA M lenses, coded or not, made since 1953 work great.
With few exceptions. almost all LEICA M lenses ever made still work great.
For instance, you can use the 40mm SUMMICRON-C, and for the first time since the CLE you can get the correct field of view in the EVF!
Mechanical problems
The M 240 has some mechanical defects which interfere with some older lenses.
The M lenses which LEICA says are not compatible for mechanical reasons are the 15mm Hologon, 50mm SUMMICRON with close-range attachment, 90mm f/2 ELMAR collapsible, and some Canadian versions of the 35mm f/1.4 SUMMILUX-M.
Specifically and sadly, a defect in the mechanical design of the M 240 prevents the 50mm SUMMICRON with close-range attachment from focusing farther than 15 meters, and a defect in the design of the top plate prevents the attachment of the close-focus device. This lens does work magnificently on the M 240, but only from 1 to 15 meters.
Collapsible M lenses
LEICA says don't dare collapse collapsible lenses into the M 240, but I tried, and the collapsible 50mm SUMMICRON and 50mm SUMMITAR collapse fine into my M 240. I can't vouch that yours won't distroy your M 240, so be very careful.
Ultrawide M Lenses
The 21mm f/4 SUPER-ANGULON doesn't work well because a limitation in the design of the sensor of the M 240 make it unable to record the rays at the left and right sides of the image properly, so they turn too magenta.
Used in Advanced meter mode, this old favorite does meter and give Live View focusing!
Only a short-sighted fool uses discount lenses on an M 240, but if you're such a fool, the Voigtländer 21mm f/4 works quite well with the 21/2.8 11134 manual lens selection. The Voigtländer 15mm f/3.5 doesn't work well with any profile; the sides are strongly violet-magenta tinted.
M Lenses with additional viewfinder optics ("goggles")

Lenses with additional viewfinder optimization optics found on some 35mm and the 135mm f/2.8 lenses work fine, except that the M 240's ambient light sensor is in the wrong place, so it's partially covered by these additional optics, which means that the finder frames and shutter speed readout may not always be as bright as you'd like.
Screw-mount lenses don't work properly.
Screw-mount lenses used with a LEICA adapter are not seen by the M 240. The M 240 thinks there is no lens attached, and won't work in Live View.
You can shoot with an adapted screw-mount lens, but you lose live view, advanced metering and through the lens composition and focusing. You'll only be able to shoot as you did with every other LEICA camera made for nearly the past 100 years.
The M 240 puts its lens-sensors in the wrong place where LEICA's screw-mount adapters don't have metal, so the M 240 thinks that there is no lens attached. With no lens, the M 240 won't open it's shutter to go into Live View mode, and you'll see an ominous NO LENS DETECTED indication on the LCD.
This is the same regardless of the setting of the Lens Detection menu.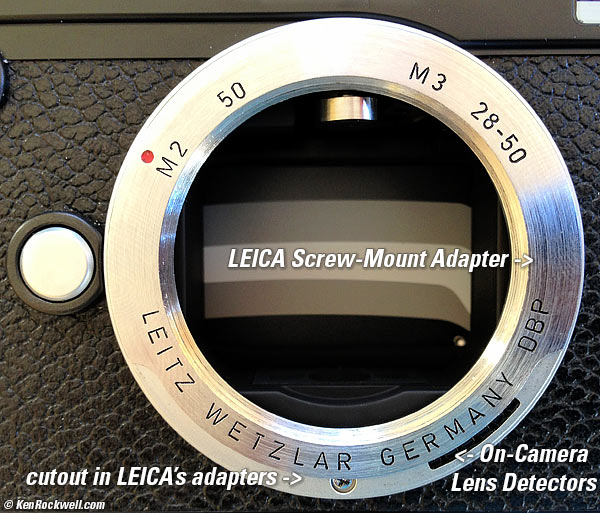 Screw-mount lens adapter on LEICA M 240. bigger.
You could try to cover the lens detectors, or just shoot your screw mount lenses on a real LEICA as intended.
I have not tried mud-brand adapters, they might not have this cut-out to clear the infinity focus locks of LEICA's screwmount lenses and therefor might allow EVF and Live View shooting with screwmount lenses.
Other Brand Lenses
Don't use anything other than LEICA lenses if you demand top quality images.
LEICA cameras aren't that great; the reason we use them is becaise we want to use LEICA M lenses, which are extraordinary.
The dumbest of all possible worlds is to use a so-so body like the M 240 with off-brand lenses!
Only use LEICA lenses. Only a fool uses discount lenses like Voigtländer on an M 240. Like any other work fine art, LEICA lenses only go up in value over time, while other brands of lenses as well as the M 240 itself only go down in value over time.
If you can afford an M 240 and entertain its depreciation of a few thousand dollars over the next few years, it would be foolish to use it with anything other than the finest lenses, without which you'll only get half the quality for which you paid — and you'll lose money on the deal!
Specifically, for ultrawide I use the current LEICA SUPER-ELMAR-M 21mm f/3.4 ASPH. Use it with the EVF for perfect framing, something you can't get with an optical finder.
For general use and especially low light, I use the LEICA SUMMILUX-M 35mm f/1.4 ASPH with floating elements. It's small, light, and the world's best 35mm lens for any use.
With its electronic finder, this is the first LEICA since the CL and CLE that can work well for shooting with the 40mm f/2 SUMMICRON-C, which is LEICA's smallest and lightest M lens. Sadly, the main advantage of that lens is light weight, which is cancelled by the added weight of the M 240.
For a 50mm lens, the 50mm SUMMICRON is much sharper than the 50mm SUMMILUX ASPH for nature and landscape shots. Get the SUMMILUX for people photos. Even though the SUMMILUX isn't as good for landscapes, its bokeh is fantastic and leads to much less distracting backgrounds.
For a 50mm SUMMICRON, I prefer the 1979-1994 version with a focus tab and clip-on hood, which is the lightest 50mm SUMMICRON ever made, as well as the fastest handling. The newer 1994-2013 version has the same fantastic optics, but with a dopey foreskin style built-in hood that always pulls itself back into the lens. I'd also ignore the $8,000 APO-SUMMICRON which has the same silly hood. Any 50mm SUMMICRON ever since the 1950s has always defined the state-of-the-art in normal lenses. Any SUMMICRON will be sharper than most photographers. No one actually shoots with the NOCTILUX, it's only for show.
For a tele, I usually use my MACRO-ELMAR 90mm f/4. The ELMARIT-M 90mm f/2.8 is excellent, but much bigger. The APO-SUMMICRON-M 90mm f/2 ASPH is also spectacular, but bigger and will require the EVF for accurate focus at f/2. If you have good light, the f/4 lens is as sharp as these others, collapses and is half the weight.
More at LEICA Lenses and at Best LEICA Lenses.
Specifications top
Intro Sample Images Lenses Specs Performance
Compared Usage Recommendations More
Finder
Optical
0.68x magnification.
Red or white LED frameline illumination.
Electronic (EVF)
LCD.
Made in China.
Sensor
24 MP.
No anti-alias filter.
No sensor cleaner; spit on your shirt tail and go for it.
Made in Belgium.
DSP
Maestro processor.
Programed by LEICA.
Rear LCD
Auto brightness control.
Continuously changes as light changes.
Power and Battery
7.4 V, 1,800 mAh Lithium-ion battery.
Rated and gives about 500 shots per charge.
Camera's battery meters oddly reads in 5% intervals.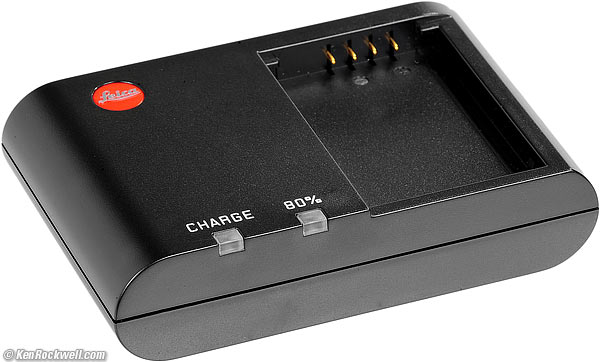 LEICA M 240 battery charger.
Additional 12VDC input so you can charge directly in your yacht or limousine: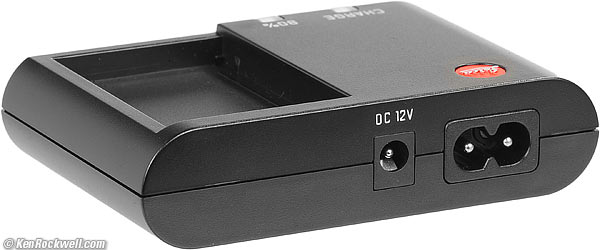 Top, LEICA M 240 battery charger.
LEICA M 240 battery charger. bigger.
Size
139 x 42 x 80mm.
5.47 x 1.65 x 3.14"
Weight (actual measured weights)
M240 body, black: 23.885 oz. (677.15 g) actual measured weight, with battery and card.
M240 body, silver: 24.093 oz. (683.0 g) actual measured weight, with battery and card.
LEICA EVF 2 finder: 1.140 oz. (32.35 g) actual measured weight.
Black body with LEICA EVF 2: 25.027 oz. (709.5 g) actual measured weight.
Olympus VF-2 Finder: 1.125 oz. (31.9 g), actual measured weight.
Silver body with Olympus VF-2 Finder: 25.220 oz. (714.9 g), actual measured weight.
Battery only: 3.290 oz. (93.3g), included with body weights above.
LEICA rates it as 23.9 oz. (680g).
Quality
Camera marked MADE IN GERMANY.
Sensor: Made in Belgium.
Many internal subassemblies sourced from Portugal.
EVF 2 electronic finder: Made in CHINA, ahem.
Battery Charger: Made in CHINA.
Battery marked Leica Camera Korea.
Announced
Photokina, September 2012.
Available
There were very, very few available in 2012 and 2013.
I ordered mine in the beginning, and didn't get it until December of 2013!
They were not found in stock until about February 2014.
Price, USA
September 2012 - February 2014:
Black body (Verk. Nr. 10770): about $7,000.
Silver body (Verk. Nr. 10771): about $7,000.
Boxes
The LEICA M typ 240 is packed for people who will never use it.
You will receive yours enrobed in an hygienic outer box:
LEICA M typ 240 hygienic outer box.

The hygienic outer box ensures that no one touches the inner silver box of your new LEICA M typ 240 except for you.
If a dealer opens one to show you, or attempts to sell you one without the hygienic outer box, do not purchase that sample; it has been soiled and it is no longer new. Go elsewhare; this is why I only buy online.
Inside the hygienic cover box is the main box: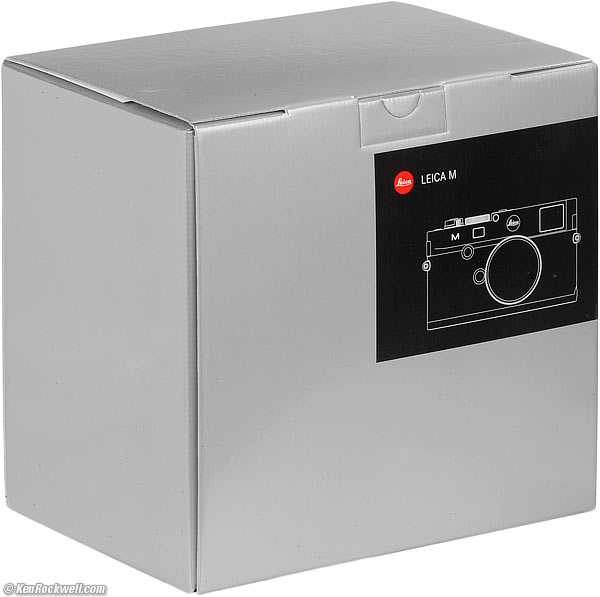 LEICA M typ 240 silver box.
Inside this silver box is the compartmented jewelry box: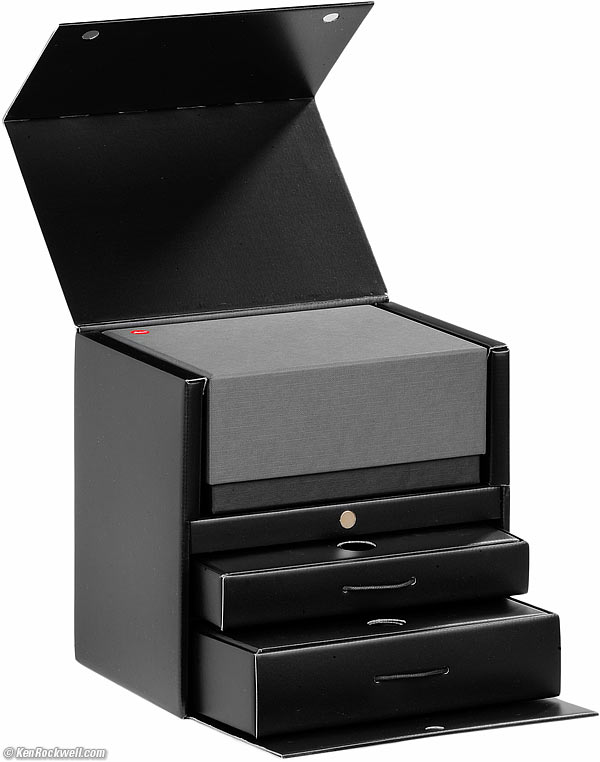 LEICA M typ 240 inner compartmental jewelry box. bigger.
The camera is in the top gray section. The accessories are in the drawers below.
As if this isn't foolish enough, most items inside this lady's makeup kit are wrapped in branded LEICA drawstring sacks thusly: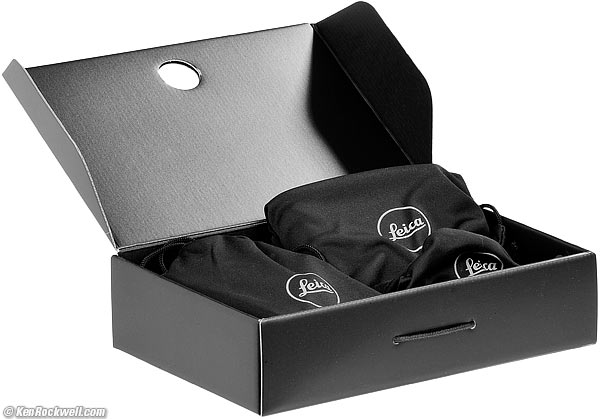 LEICA M typ 240 box sacks. bigger.
Performance top
Intro Sample Images Lenses Specs Performance
Compared Usage Recommendations More
Overall
The LEICA M typ 240 can make extraordinary images, but it's slower and clumsier than other modern cameras. If you're willing to put in the effort, the results are worth it.
The M typ 240 is marvelous for nature and landscape photography because of its relativelt small size and weight and spectacular technical quality. The EVF allows precise composition, especially with ultrawide lenses, a first in any real LEICA.
With about an 8-frame buffer, I can shoot as fast as I want, and the M typ 240 never burps or freezes as will the M9.
Sadly the EVF is too slow and balky for use for people and action photos. For people and action, use the optical finder as you always have. While it's not as sharp with LEICA's wide lenses, the Sony A7 is much faster and a more intelligent choice for use with LEICA lenses for people and action shots because you can see and manually focus well everywhere in the frame. You can't focus as well with the M typ 240 or its pokey EVF.
There was no Fuji X100 when the LEICA M9 came out. The M9 was awesome in its day, but now with the X100 and X100S out, when my M typ 240 finally arrived, I had to laugh; the Fujis are much, much better cameras in every way.
This review is using firmware version 2.0.0.11, which significantly improves auto white balance over earlier versions.
Finders
Optical
The optical finder is a greatly downgraded version of what was in the LEICA M3 of 1954. The M typ 240's finder is smaller, only 0.68x magnification versus the almost life-size 0.91x magnification of the M3. It seems more accurate than the finder of the M9; but remember that primitive optical finders like those in LEICAs cannot compensate for different magnifications at different distances, so you'll get more in your image at long distances and less at close distances. SLR finders, the EVF and the Contax G system can compensate for this, but not the LEICA, where we presume the LEICA shooter is familiar enough with his instrument to know from experience what he'll actually get compared to what he sees in the optical finder.
The optical finder only has framelines for 28mm, 35mm, 50mm, 75mm, 90mm and 135mm lenses. For other lenses you'll need an accessory optical finder or the EVF. The optical finder can't optimize its magnification for each lens as does an SLR or the Contax G system, so the 90mm and 135mm frames are tiny, and the 35mm and 28mm frames are probably invisible to eyeglass wearers.
A first on any production LEICA are framelines that are illuminated not through a window on the front of the camera, but instead are lit by an internal red or white LED. You may choose the color in a menu. These LEDs do not flicker as dimmed.
The LEDs turn off with the camera. This is good because it will force you to turn on the camera instead of getting ready to shoot and missing the shot.
There is no lens preview button; you only get the frames appropriate for the lens mounted.
Sadly, the framelines are still as poorly done as they have been done since the M4P added the sixth frameline in 1980. The frames are usually not actual frames, but only bits and pieces of a frame, and there are always two sets of frames shown at the same time, often with another unrelated frame inside of your active shooting frame. I had hoped with the LEDs that LEICA would have figured out how to get complete frames and not light up any spurious ones inside your image as they did 60 years ago on the LEICA M3, but no. There is no communication between the 6-bit code reader and the framelines; they are still read mechanically from the lens mount exactly as they were in 1954.
Except for the framelines, the only other thing in the finder is a 1970s-style LED display at the bottom for shutter speed, as well as a flash bolt and three for the manual exposure > o < display. Sadly the LED display is actually inside the active framelines for the 35mm and 28mm lenses. On turn-on, the finder LED will show the ISO (a leftover feature from the M7), but the finder LED will never show the ISO as you're trying to set it — you have to look at the rear LCD!
Sadly the optical finder still suffers from another vexing problem it's had since 1954: if you use any shoe-mounted finder, your nose will probably poke into the optical finder's eyepiece and cover it with grease for the next time you look through it. Yes, LEICAs have only shallow eyepiece guards, and half the time you go to use your optical finder, it's smudged-over with nose grease.
EVF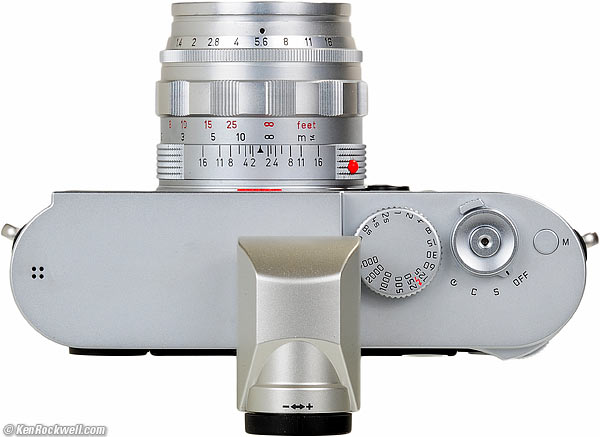 Top, LEICA M240 in silver with LEICA SUMMILUX 50mm f/1.4 and Olympus VF-2 Finder (LEICA doesn't offer its finder in black.) bigger.
The made-in-China EVF is a letdown, and maybe a bit of a dealbreaker. The LEICA EVF-2 and Olympus VF-2 are the same finders.
The EVF is the key new feature of the M 240. Even if we ignore the fact that it's a rebranded, offshored Olympus finder, it is poor by modern standards. The LCD's pixels are just coarse enough to be barely visible. The finder's black level isn't very black. Blacks in the finder never get completely black, only dark gray.
There is a brightness control for the EVF, and it can be fooled. It usually works well, and especially well indoors.
In very dim light outdoors at night, the M typ 240 doesn't have enough live sensitivity for the EVF to display the image well; most of the image goes black if you're trying to shoot at night. The photos themselves come out fine, and display well on playback — you just can't use the EVF well to see what you're doing. It's fine in any light indoors, but for use outdoors at night, forget it.
The EVF doesn't cover 100% of the as-shot image. It only sees about 97%; there is slightly more in the as-shot image than comes up while framing through the EVF.
What is good about the EVF is that it's backlight doesn't flicker as dimmed, and the fact that you really are seeing through-the-lens at the sensor for the first time in almost 100 years of LEICA history, so we finally can frame our ultrawide photos precisely. This has always been the weak point of rangefinder cameras, and also now that we can focus silly things like f/0.95 and telephoto lenses accurately, and that we can see exactly what's in our background when snapping portraits with long lenses.
The backlight doesn't flicker, but its image can flicker occasionally while shooting under fluorescent lights in live view.
Also good is that any exposure compensation setting is visible as you're shooting.
Good also is that text in the EVF is displayed with LEICA's cool LG1050 font, not a generic font. You can press the INFO button for more information including a live monochrome histogram in the EVF, but those displays block much of the image. The aperture is never displayed in the finder, the LEICA shooter just knows based on feel.
The EVF has no lock on it as does the Olympus EVF3, but it's stiff enough that it's not going to fall out.
Bad is that the diopter adjustment has no lock or clicks. It changes anytime it's rotated, which it does by itself because it pokes so far behind the camera.
Nice is that the EVF swivels up, but really bad is that it pokes out so far that it often suffers from priapism and pops up by itself as you're carrying it.
Live View on the rear LCD
You're kidding, right? My iPhone 5S has a bigger, sharper, brighter screen.
If I'm going to shoot at arm's length, I use my iPhone. With the LEICA, you also have to focus at arm's length, unlike with the autofocus iPhone. Bonne chance!
Focus
Optical Finder Focus
The rangefinder spot works very well, as well as on the M3 and with much less flare when shot into harsh light than other recent cameras like the M7.
EVF Focus
The EVF is poor for focusing. It's not sharp enough to let us see and focus all by itself.
You can set the M typ 240 to magnify the image and/or add peaking lines as you turn the focus ring, but it takes a moment for that display to appear, even if you use the clever option that automatically calls it up as you turn the focus ring. It seems fast enough playing with it in a friends parlour, but actually try to catch anything moving and you'll discover in the moment it takes to call-up the focus magnifier or the peaking lines, the moment is gone and the photo is lost forever. If you're shooting anything alive, it's too slow to catch up. Use the optical finder for focus.
The peaking display isn't always on; it needs to come up in a "focus assist" mode called up as needed, and when it calls up, either via the button on the front or automatically, it takes a moment too long to appear. In that moment, you can miss your photo. By comparison, the Sony A7's focus aids are always active. Too bad the A7 isn't as sharp as the M typ 240!
Even if all you want is focus peaking on the full unmagnified image, after you wait a fraction of a second for it to appear, there is a dark band across the top of the frame suggesting you may magnify the image. This means that you can't see the entire frame as focusing, and you can't see the focus peaking while seeing the whole frame. This doesn't matter if you don't actually shoot your camera, but for people photos, forget it — use the optical rangefinder instead
Focus magnification only works from the center. You can't magnify the sides or other parts of the image.
Even for still subjects, the EVF is poor compared to Live View in other cameras because it only shows dead center when magnified. You cannot magnify other areas!
Pick up a Sony A7 and the difference is like night and day; you can focus well with the Sony in any mode and in any part of the image all in real time, while the M typ 240 is too slow and silly. Saying the M typ 240 can focus well via the EVF is charity.
Rear LCD Focus
You've got to be kidding; you can't see much of anything on the rear LCD. Everything I said about the EVF above applies, but the rear LCD is much smaller than the EVF unless you view it from only three inches away.
The peaking display is usually too subtle to be seen on the rear LCD, and good luck not dropping the M typ 240 if trying to hold it and focus at the same time at arm's length.
Ergonomics
Setup
The advance mode lever concentric with the shutter button is excellent. It's much stiffer to get to ST (self timer) so you won't go there by accident. Setting S or C modes is easy, but sadly so is setting the OFF mode; there is no lock getting in or out of any mode so half the time your M typ 240 will be OFF, missing your shot.
Setting the metering system is done in different places in different menus! (see Usage.)
Great news is that the A (Auto exposure) mode has a deeper detent on the shutter dial so it's easy to set by feel.
The M typ 240 is a slow camera. Unlike an SLR, it takes a moment too long for it to wake up so it will respond to button pushes. You have to hold the shutter button for a moment to wake it up before it will respond to the other buttons, for instance. It seems like it doesn't always wake up; sometimes it will just sit there and blink its red LED at you instead of responding immediately as would a DSLR. What happens is that it blinks the red LED at you as it's waking up, and thus ignores you until it's good and ready after the blinking. Something as simple as hitting PLAY or MENU now becomes a three step process: Tap shutter or turn power off and ON, wait for blinking to stop on back of camera, then press PLAY, MENU or etc.
Menu settings are often illegible red on black. The LEICA M9's smaller screen is usually far more legible due to its better choice of colors.
ISO setting has lost a dimension: the M9 offered us a screen with all ISOs displayed from which we could quickly select any up-down or left-right, while the M typ 240 offers the usual single list.
Overall
Except for optical finder shooting which works great, the M typ 240 is never just ready like a DSLR. To do or see anything on the LCD or EVF, you have to tap the shutter and wait a moment to wake the camera, and only then go about your business.
The shutter button has detents, not a smooth push-in like a LEICA M3.
The shutter button has a little mechanical play left and right; it's not as solid and precise as the shutter button of a LEICA M3, or even using the volume buttons to shoot an iPhone 5S.
There's too much going on with all the buttons and menus. What we need is mixed in with all that we don't. The menu control system is obtuse, and now also hard to read, often with red or gray text on black.
There are too many identical buttons along the left. You can't read them in the dark, and there are too many to identify by feel. Unlike my cell phones from over 20 years ago, these buttons are unlit. Bonne chance!
Even if you can read the buttons, they don't always do what you'd think.
There's no center push on the top right rear dial; you have to hit the SET button on the lower left (not the central INFO button) with a second hand to take action on anything selected.
There's no second (front) command dial.
Buttons, like INFO, do different things in different modes.
Rear Dial
The big rear rotary dial of the M9 was moved to the top rear of the M 240. No longer can you spin it around and around with a fingertip, you now have to move your finger back and forth to keep moving it.
None of these dials has a center push for OK; you have to press the SET button over on the left side!
Optical Finder Shooting
Once set-up, shooting with the optical finder is fast, quiet and direct. Bravo.
EVF Shooting
As covered above under Finders, EVF shooting is a pain.
Playback
Sadly, trying to playback, setting menus or using the EVF isn't very good. These aspects give the M typ 240 the worst ergonomics of any LEICA yet. It's not always responsive to button pushes; you have to tap the shutter to wake the camera first, and when it does respond, it takes too long to respond. Life waits for no one; with the M typ 240, I always have to tap the shutter and wait too many moments for the rest of the camera to wake up if I need to set something.
Image Quality
Overall
Image quality is why we put of with the M typ 240's weirdnesses. Overall, image quality is spectacular.
I prefer the colors from Nikon, iPhone and Canon for nature and landscapes, and from Fuji for people pictures, and the LEICA falls someplace in the middle. The LEICA isn't optimum for any of these, and works well for all of them. Every camera brand has its own look, and you have to shoot the one that gives you the look you demand. This is all art and you have to follow your heart: there is no absolute right or wrong.
When set to lower resolutions, JPG images are as super-sharp as they should be. This is much better than Nikon DSLRs. The JPGs are also very sharp at 24MP; there's no need for DNG unless you want to play with the tones or colors.
Dynamic range isn't that great, either in JPG or DNG.
With an unfiltered sensor, you can get moiré when photographing fabrics, screens or other repeating fine patterns.
Shutter Vibration
With a 50mm lens, I'll get slightly blurry shots at huge magnification at 1/45 of a second. I usually can get better results on other cameras; I'm unsure if this is just dumb luck or if the detented trigger pull of the M typo 240 is leading to more camera shake.
High ISOs
High ISOs look better than on any LEICA ever, even better than real 35mm LEICAs.
LEICA shooters know how to shoot, so even ISO 3,200 is unnecessary.
Meter and Exposure
Meter Patterns
The Center weighted meter works as great as always, but to set it you need to set it on both the MENU > Light Metering Mode AND SET > Exposure Metering options!
The multisegment meter didn't seem to work that well; whites are often clipped. It also adds significant shutter delay, I can't see any reason I'd use it.
Long Exposures
The LEICAMAN's time is the most valuable thing on the planet. LEICAMEN have no time for long exposures, and thusly the longest Manual exposure time is 8 seconds.
The longest bulb or AUTO exposures are limited for safety and sanity's sake:
| | | |
| --- | --- | --- |
| ISO | Maximum BULB or AUTO exposure time | |
| 200 | 60 seconds | |
| 400 | 32 seconds | |
| 800 | 16 seconds | |
| 1,600 | 8 seconds | |
| 3,200 | 8 seconds | |
| 6,400 | 8 seconds | |
At these long exposure times, it's even worse because the M typ 240 always makes a second dark-frame exposure for the same amount of time, so after waiting around for 60 seconds, you'd have to wait another 60 seconds for the dark frame to expose as well.
Auto ISO
Auto ISO works great.
We can program the minimum speed and maximum ISO.
Better, it's even smart enough to let us set the minimum shutter speed to the reciprocal of the focal length.
Flash
I haven't tried the M typ 240 with flash. The EVF takes the shoe, and there is no built-in flash.
Even if I did pop on a flash, the M typ 240 has only the most primitive TTL control with no auto fill-flash compensation.
Minolta MAXXUM flashes from the 1980s have the same pin-out, but they don't work on the M typ 240.
LCD
The rear LCD is OK, but nowhere near as bright, sharp, smooth and vivid as we take for granted on something as simple as a Nikon D3200.
Playback
If you play images in your LEICA (the LEICA shooter's images are always perfect so we only use our LCD for setting the clock as we jet around the globe), the playback system is the worst yet from LEICA. The M9 set new world standards in playback utility: it needed only one extra INFO screen to show us every piece of data we'd need about an image, as well as show its color histogram and let us zoom-in and show the histogram of just that region. On the M9, just press INFO and you got either the picture or the INFO screen. It was perfect.
For some unknown reason, the M typ 240 now has a total of four playback screens through which you have to click to get wherever you want. LEICA has taken what we needed from the one INFO screen of the M9 and split it among three other screens. The color histogram now has its own screen and you can magnify it to see values for isolated regions, and there is a separate screen to blink highlights and shadows, and another to show text data.
You can't turn off the extra junk INFO screens as you can in most cameras. LEICA had this right in the M9: the one INFO screen in the M9 had the image on the top left with blinking warnings, a histogram in the other corner and the text data on the rest of that screen. It was the best in photography, but not so in the M 240. On the M typ 240, you can reduce, but not zoom-in from the text data screen. (you can on the other three screens.)
There is aliasing when playing images at some sizes; the image isn't always resampled properly.
The playback image is less sharp than the actual recorded image. You'll have to wait until you download your card to see the images in their full LEICA glory.
It's sometimes slow to scroll or zoom.
After sleep, it wakes at last-shot image, not necessarily the last one you were just viewing.
The interface is obtuse. Once you press the DELETE button, how do you delete? How do you stop deleting? How do you move to another image while zoomed?Some of this is covered at Usage.
Movies
Video is OK. The video doesn't offer much if anything in the way of manual adjustments; everything like exposure and white balance seem automatic. They adjust quickly as one goes or pans from one part of a scene to another.
Good is that there is a 640x480 video mode.
Make all the fun you want of a LEICA with a video feature, but as every LEICA shooter knows, the LEICA was born of motion pictures. Saint Oskar Barnack developed the LEICA still camera directly from Ernst Leitz' original professional motion picture exposure proofing cameras, which were small cameras that shot on short ends of motion picture film so a cinematographer could shoot a short piece of film as a test of lighting and exposure. Saint Barnack simply redesigned one of these bodies with a longer fixed lens, focal plane shutter and double-frame (36 x 24 instead of 18x24mm) gate, and thus was created the world's first 35mm still camera, as well as the creation of today's "full frame" 24x36mm image.
If LEICA wants to add video, I won't use it, but it is perfectly acceptable in any LEICA.
Power and Battery
The charger is small and beautiful. Sadly it needs a separate AC power cord, but it also runs directly on 12 volts DC.
The battery is the biggest yet in any LEICA or LEICA M, and it runs well, with about 500 shots on a charge even with my fiddling around.
I'm quite pleased with it.
Oddly the battery meter at INFO reads in intervals of 5%.
Data
Data is handled very well.
Formatted cards are correctly titled as "LEICA M."
You may set a custom file prefix. I set my files to start as "M240" so I know which images I shot on my M typ 240.
JPG files sizes vary with image complexity, which is good.
Oddly, the 3:2 image embedded inside the 4:3 space for it as a thumbnail in JPG files is offset down. If you catalog using embedded thumbnails, it will look a little weird.
DNG file sizes vary as well, with a median size of 29 MB.
When formatting a card, it knows LEICAMEN make no mistakes, so it never wastes his time with an "Are you sure?" screen. If you're new to the LEICA, be careful. Resetting the camera is the same; there is no "Are you sure?" screen, it just does it.
The lens diaphragm has no connection to the camera, so the camera has not the foggiest idea of the lens aperture. The EXIF has a guess at the aperture based on the light difference between what hits the meter in the camera and the external light sensor for the frame lines, but it's only a guess It's a guess at the T stop; if you have filters over the lens, the aperture will read larger based depending on the filter factor.
Likewise, the EXIF will only record the focal length as read from 6-bit code on newer lenses, or whatever you've manually assigned the lens in the menu system. Assign the wrong manual value or forget to change a manual setting when you change a lens, and the EXIF will be wrong.
Clock accuracy is horrible. My silver sample loses 8 seconds per day. My mechanical watches are far better than this!
Build Quality and Reliability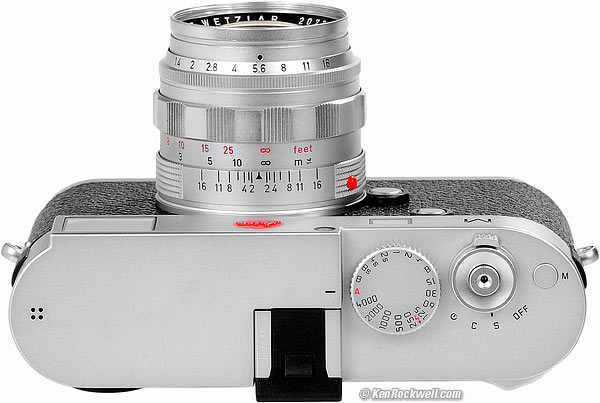 Top, LEICA M240 in silver with LEICA SUMMILUX 50mm f/1.4. bigger.
The silver sample I purchased above has a slightly misaligned advance mode lever or pointer. It doesn't quite point exactly to the ST, C, S or OFF lettering.
My sample also sometimes does screwy things when I turn the rear dial; it will occasionally "bounce" as we say in engineering and make multiple entries when we thought we only wanted one click.
It has crashed only once, requiring the battery to be pulled out to reset.
The black sample I borrowed with a black LEICA EVF 2 finder usually had a scrambled electronic viewfinder display. No worries, the LEICA photographer sees with his mind, vision and imagination, not with his eyes.
Compared top
Intro Sample Images Lenses Specs Performance
Compared Usage Recommendations More
LEICA cameras are incomparable. They are the best, so how can I compare?
Getting back to reality, picking up my Fuji X100S or Sony A7 makes the M typ 240 seem foolish. It's torture working around all the silly things the LEICA M typ 240 makes us do, compared to the far superior EVF focussing and viewing of the A7 or the even more superior combined EVF and optical finder of the X100S. The image quality of the M typ 240 and LEICA lenses makes it worth it for nature and landscape shots, but for people and action, forget it!
The real problem with the M typ 240 is that its images just look so good that it makes us put up with all its foibles. The X100S is unbeaten for people photos, but for nature and landscape, or where I need other lenses, I can't beat the M typ 240's quality.
The A7 focuses much faster with manual lenses than the silly focus aids of the M typ 240, but the A7's images aren't as sharp with the same lenses.
The iPhone 5S shoots faster, has a wider dynamic range and has better colors and auto white balance than the M typ 240.
The M9 used an American Kodak sensor and outsourced the DSP, while the M typ 240 DSP was done in-house with a Belgian sensor.
For shooting JPGs, the M typ 240 looks much, much better.
For shooting DNGs, the M9 has much better highlight dynamic range than the M typ 240.
The M9 also makes ISO and menu setting and playback much faster and easier than the M typ 240. The M9 can get hung-up or crash trying to shoot JPGs in rapid sequence, while the M typ 240 just keeps on shooting well.
The M typ 240 is quiet, while the M9 is loud and loaded with vibration.
The M typ 240 is the fattest LEICA or LEICA M yet, while DSLRs have gotten lighter. The Nikon Df or Canon 6D are now the same weight!
Usage top
Intro Sample Images Lenses Specs Performance
Compared Usage Recommendations More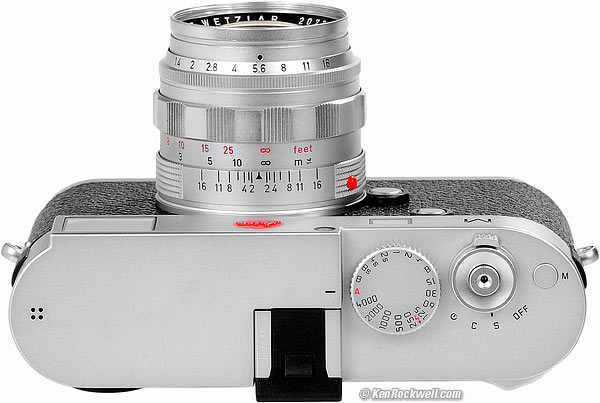 Top, LEICA M240 in silver with LEICA SUMMILUX 50mm f/1.4. bigger.
Battery
The charger slowly blinks green at less than 80%. It blinks green with orange at greater than 80%, and both are solid at 100%.
Metering and Exposure
A half press of the shutter locks Auto Exposure. It only locks the shutter speed, so you may change the aperture on the lens to change the exposure while locked.
If you select anything other than good old-fashioned center-weighted metering, you now have a huge shutter delays so the camera can open up the image sensor and use the video circuits to analyze and make a reading before your shot actually takes. For good performance, use only classic and center-weighted metering, which you have to set in both SET > Exposure Metering> Center Weighted AND in MENU > Light Metering Mode > Classic!
The lens diaphragm is completely manual. If using the EVF, you have to open it by hand, focus, then close it to shooting aperture.
To set ISO, press and hold the ISO button as you spin the rear dial.
For exposure compensation, hold the front button for a moment and then spin the rear dial. You can see it in either finder as you set it.
Forget trying to set exposure compensation. Much faster is to half-press the shutter for AE lock and then open or close the diaphragm as needed.
ISO is shown in the optical finder at power on.
Focus
Use the optical finder for wide or normal lenses. It works fine regardless of aperture.
Use the EVF for fast normal or tele lenses because it's more accurate with these lenses.
To magnify the EVF view, tap the front button. Move the real dial to change magnification.
White Balance
Auto white balance, works great; use it. Just be sure you've got the latest firmware, versions before 2.0 have awful auto white balance.
Electronic Level
The electronic level is only visible on the rear LCD, not the EVF. To call it up, press MENU > Horizon, which is about 2/3 of the way down among the many MENU options.
Video
To record video, press the M button next to the shutter.
Except for file type, it's not programmable.
To play video, press PLAY, then INFO, then SET.
Playback
See the manual and practice to be able to delete what you want without deleting the whole card. Once you press DELETE, it's not obvious what button does what. Hint: press SET when something is highlighted to do it.
To zoom playback, move the rear dial.
To swap playback images while zoomed, hold PLAY and tap the 4-way controller left or right. It's not very quick at first, but as you go back and forth it buffers them so you can go back and forth more quickly among the selected images.
To protect a file from deletion, press the set button during playback. This protects it both on the card and in your computer, but doesn't protect it against erasure when formatted.
INFO
The INFO button gives battery & card information if the camera is awake and idle, otherwise INFO swaps LCD displays.
If the camera is asleep, it ignores you.
Tap the shutter first to wake, then press INFO before anything else to read the battery and card capacities.
Recommendations top
Intro Sample Images Lenses Specs Performance
Compared Usage Recommendations More
Für the LEICA owner (someone who already owns and shoots several bodies and many existing lenses), owning the M typ 240 is obvious. It's faster and quieter than the M9, and its direct from-camera images are superior, and its electronic finder allows us for the first time to shoot everything from macro to ultrawide while seeing through the lens.
If you are not already a LEICA owner, you must know that the LEICA is unique and does not replace any other non-LEICA camera — it enhances it. Don't go selling your Nikons or Canons; a LEICA is a purchase that must be made while retaining your other holdings. Like a Porsche or a vacation home on Italy's Lake Como, no one buys a LEICA because they need it. They own them because they want to.
While the M typ 240 is clumsy compared to anything else, the quality of the images I can make with it make it all worthwhile.
If you're unsure if the M typ 240 is for you, know that if you buy one and don't like it, it can be resold for about what you paid for it, or possibly more depending on whether or not LEICA is shipping them at the moment. If you think you might like one and actually use it with real LEICA lenses and not cheap-out with other brands, go for it.
Is it Worth it?
For normal people just wanting great photos, of course not.
The people who buy LEICAs don't buy them to take pictures any more than those same people buy Ferraris to drive to a job. Ferrari owners have Mercedes if they have to get someplace important, and LEICA owners hire photographers or art buyers to get the photos and images they want.
The M typ 240 is mostly a plaything for the well-off; will it be another camera or another Rolex today, sir? No one buys a Rolex to tell time; there are plenty of watches like the Casio Atomic G-Shock that are far more durable, more accurate, easier to read and more reliable than a Rolex. Likewise the LEICAMAN doesn't buy a LEICA to take pictures. If you have to ask the price or "if it's worth it," the answer is no.
$7,000 only gets you an M typ 240 body. By the time you get a few basic LEICA lenses, you're at $20,000.
You can't cheap out and get Voigtländer lenses. They aren't good enough to get you the image quality for which you bought a LEICA in the first place.
See also Is It Worth It?
Flash
I use the LEICA SF-24D when I use flash with a LEICA. It's tiny and powerful.
If you've found all the time, effort and expense I put into researching and sharing all this, This free website's biggest source of support is when you use any of these links, especially this link directly to it at Adorama in black or in silver, or directly to it at Amazon or at eBay when you get anything, regardless of the country in which you live. It helps me keep adding to this free website when you get yours through those links — but I receive nothing for my efforts if you buy elsewhere.
Thanks for your support!
Ken.
More Information top
Intro Sample Images Lenses Specs Performance
Compared Usage Recommendations More
Help me help you top
I support my growing family through this website, as crazy as it might seem.
The biggest help is when you use any of these links when you get anything, regardless of the country in which you live. It costs you nothing, and is this site's, and thus my family's, biggest source of support. These places have the best prices and service, which is why I've used them since before this website existed. I recommend them all personally.
If you find this page as helpful as a book you might have had to buy or a workshop you may have had to take, feel free to help me continue helping everyone.
If you've gotten your gear through one of my links or helped otherwise, you're family. It's great people like you who allow me to keep adding to this site full-time. Thanks!
If you haven't helped yet, please do, and consider helping me with a gift of $5.00.
As this page is copyrighted and formally registered, it is unlawful to make copies, especially in the form of printouts for personal use. If you wish to make a printout for personal use, you are granted one-time permission only if you PayPal me $5.00 per printout or part thereof. Thank you!
Thanks for reading!
Mr. & Mrs. Ken Rockwell, Ryan and Katie.
Home Donate New Search Gallery Reviews How-To Books Links Workshops About Contact