Home Donate New Search Gallery Reviews How-To Books Links Workshops About Contact
LEICA M 240
24 MP full-frame (2012-)
© 2013 KenRockwell.com. All rights reserved.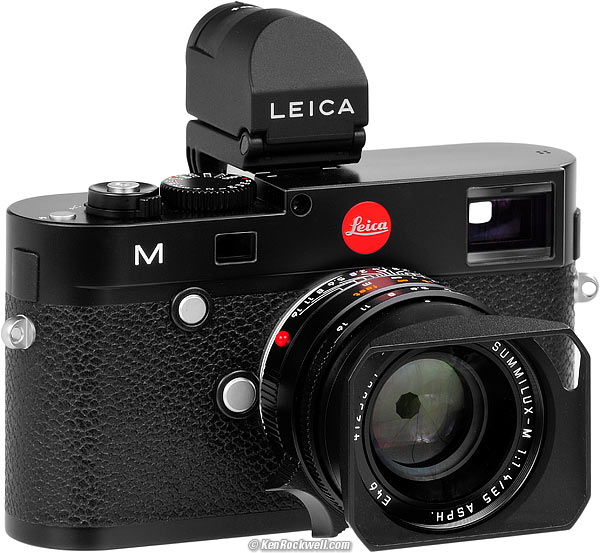 LEICA M typ 240 (24x36mm 24MP sensor, 23.885 oz./677.15 g with battery and card, about $7,000 in black (Verk. Nr. 10770) or $7,000 in silver (Verk. Nr. 10771) mit LEICA EVF 2 (1.140 oz./32.35g, about $500) und LEICA SUMMILUX-M 35mm f/1.4 ASPH mit Floating Element. enlarge.
November 2013 LEICA Reviews LEICA Lenses All Reviews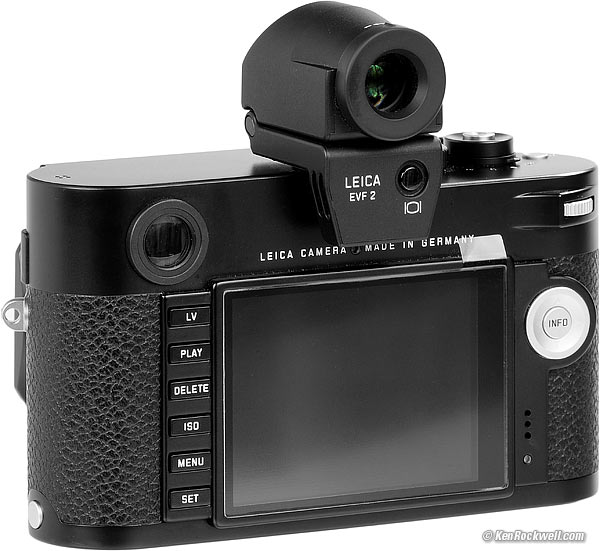 Back, LEICA M240. bigger.
How to get one: LEICA can't make enough of these, so you'll either have to order and wait (I waited about a year), or overpay at eBay (see How to Win at eBay) to get one today.
This free website's biggest source of support is when you use any of these links, especially this link directly to it at Adorama in black or in silver, or directly to it at Amazon or at eBay when you get anything, regardless of the country in which you live. It helps me keep adding to this free website when you get yours through those links — but I receive nothing for my efforts if you buy elsewhere. Thanks for your support! Ken.
Sample Image File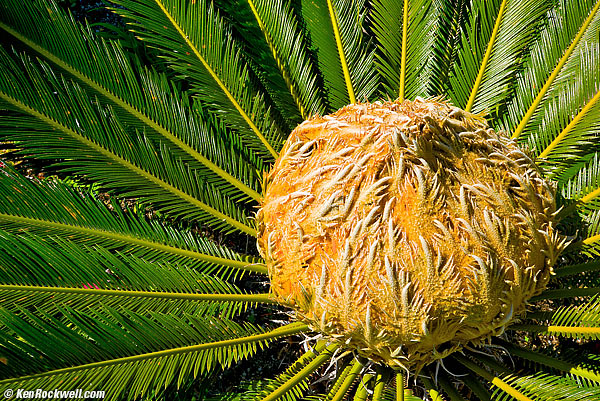 Sago Palm. Shot as DNG at ISO 200 with LEICA 40mm f/2 SUMMICRON-C at about f/11 at 1/90, processed in Aperture 3 and Perfectly Clear. Original DNG file. Full-resolution JPG.

Introduction top
Intro Specs Performance Compared Usage Recommendations More
The LEICA M typ. 240 is a huge improvement over the LEICA M9 (and M-E) because the LEICA M has a much quieter shutter, and for the first time, lets us view through the lens as we compose and focus.
More important, the pictures are much better than from the LEICA M9. The LEICA M typ. 240's colors are far, far better than the ghastly colors produced by the M9. The M typ. 240 makes decent enough color right out of the camera as JPGs, while the only way to get usable color from the M9 was to shoot in DNG and use Aperture.
This review is intended for LEICA owners. If you do not already own and shoot the LEICA, you might want to start at the Compared section to get your bearings. The LEICA M typ. 240 is a one-of a kind camera, completely different from any other camera ever made. It is not simply a little of this and a little of that.
Good
As quiet as a real LEICA, not clattery like the M9.
Real-time through-the-lens viewing, composing and focusing with the electronic finder. For the first time ever in a LEICA or LEICA M we can see what we're actually going to get in our picture, even with ultrawide lenses.
Much, much better color rendition than the M9.
Much, much better auto white balance. For the first time in a digital LEICA as of firmware version 2 of October 2013, auto WB works fine.
Four settable presets recall everything about the camera. I use these to recall my settings for family versus nature photos, and also to recall my non-coded lenses.
The tripod mount is now part of the body, not simply attached to the removable sheet-metal bottom cover as it's been for almost 100 years. The bottom cover is still there, now with a hole to get to the tripod socket.
Pretty decent battery life for a mirrorless camera, about 500 shots per charge.
Much less buggy than the M9. My M 240 hasn't crashed on me yet.
The M 240 is vastly improved at high ISOs over the M9, which started to look ratty at ISO 1,600. The M typ. 240 is still clean and smooth at ISO 3,200: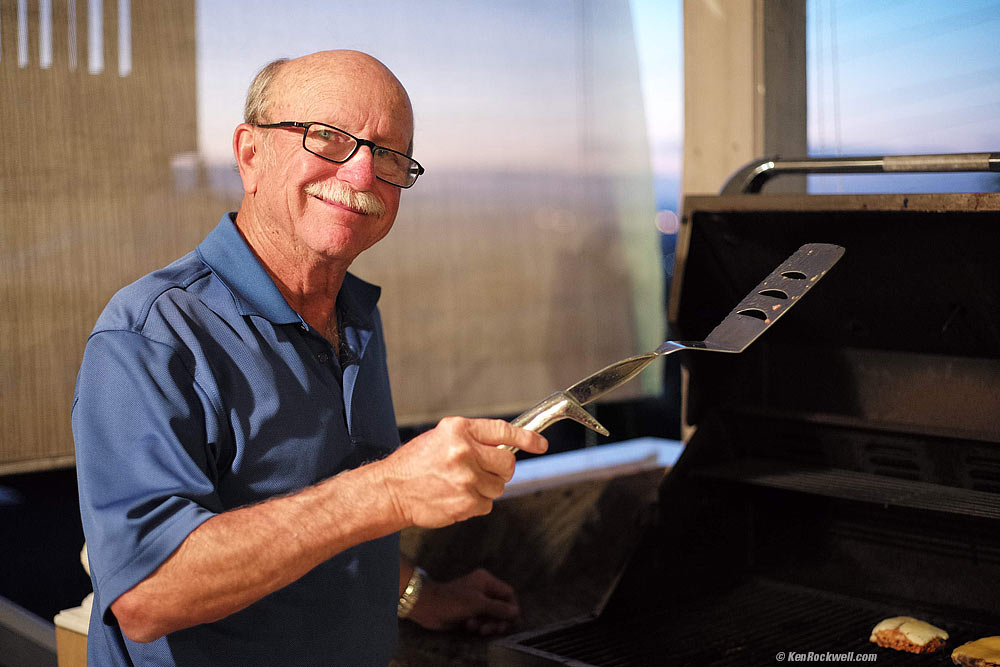 Pops Grilling. (2013 LEICA M typ. 240, 1987 LEICA SUMMICRON-M 50mm f/2, Auto ISO 3,200, 1/45 at f/2, auto white balance.) bigger or camera-original JPG.
Bad
The electronic finder is the main difference between the M typ 240 and the M9, but the EVF is made in China out of plastic, which is clearly unacceptable. We own LEICA to own the best; not to have more disposable plastic junk in our homes.
No eye control for the finder. It wastes time having to press buttons to turn the rear LCD and EVF on and off.
The electronic finder works for shooting and for playback, but inexcusably not for setting menus. It does not always mirror what would be on the rear LCD; you have to take your eye away from the EVF to set anything visible on the rear LCD.
Like older electronic finders from other makers, the image in the EVF is always delayed. It's much more delayed than in the FUJI X100S, for instance, so its not useful for action. Modern EVFs on other cameras are almost real-time, while this EVF is always delayed by a small fraction of a second.
It's much better than the M9, but its firmware still doesn't always run flawlessly. It's not uncommon for the M 240 to ignore a direct command from a Zoom or Play button push now and then.
Response to most button pushes is not instantaneous. It's like using some common mirrorless camera; most control inputs take a moment or more to react. It's fine while shooting with the optical finder, but everything else takes a moment.
Shot in RAW DNG, highlights don't have that much headroom, and turn reddish-pink just before they wash out. Ahem, this means that highlights I could rescue in M9 DNGs won't be from the M typ 240.
It's too big and too heavy. At 710 grams with finder (over a pound and a half), it's heavier than LEICA's failed M5, which was the heaviest proper LEICA ever made.
The LEICA IIIf only weighs 430 g, for instance, while the other LEICA M models made from 1953-today weigh about 600 grams.
No second card slot
Only one SD card slot, making it dangerous choice for professional work because it can't shoot backed-up to two cards at once. One error on one card (or a photographer goof), and you could lose the whole job. Sure, shoot a serious job on the M typ 240, but one false move and it could all be gone forever. Feeling lucky?
Shooting on one-card-only makes backup far more difficult; you can't safely format the card until you've transferred the files to your computer AND backed them up to a second physical location. With dual cards, once you've downloaded a card to your computer, you can format it and safely go about your next business with everything on both the second card in your camera as well as in your computer — two copies in different physical locations — just not possible with the one-slot M typ 240.
Fluff
Too many buttons and too many modes. A first for LEICA, there is now some garbage in the way so that I often will find myself pushing buttons just trying to get it to go.
Video with mono sound.
Missing
No viewfinder preview lever.
The M-E lacks this, too. If you need a preview lever on a digital LEICA, you need an M9.
Specifications top
Intro Specs Performance Compared Usage Recommendations More
Lens Compatibility
All "coded" LEICA M lenses work great.
Most LEICA M lenses, coded or not, made since 1953 work great.
Mechanical problems
The M lenses which LEICA says are not compatible for mechanical reasons are the 15mm Hologon, 50mm SUMMICRON with close-range attachment, 90mm f/2 ELMAR collapsible, some Canadian versions of the 35mm SUMMILUX-M.
Sadly, a defect in the mechanical design of the M 240 prevents the 50mm SUMMICRON with close-range attachment from focusing farther than 15 meters, and a defect in the design of the top plate prevents the attachment of the close-focus device. This magnificent lens does work from 1 to 15 meters.
Collapsible M lenses
LEICA says don't dare collapse collapsible lenses into the M 240, but I tried, and the collapsible 50mm SUMMICRON and 50mm SUMMITAR collapse just fine.
Ultrawide M Lenses
For optical reasons, the 21mm f/4 SUPER-ANGULON doesn't work well because the sensor of the M 240 can't record the rays at the left and right sides of the image properly, so they turn too magenta. Used in Advanced meter mode, this old favorite does meter and give Live View focusing.
Only a short-sighted fool uses discount lenses on an M 240, but if you're such a fool, the Voigtländer 21mm f/4 works quite well with the 21/2.8 11134 manual lens selection. The 15mm f/3.5 doesn't work well with any profile; the sides are strongly violet-magenta tinted.
M Lenses with additional viewfinder optics ("goggles")

Lenses with additional viewfinder optimization optics found on some 35mm and the 135mm f/2.8 lenses work fine, except that the M 240's ambient light sensor is in the wrong place, so it's partially covered by these additional optics, which means that the finder frames and shutter speed readout may not always be as bright as you'd like.
Screw-mount lenses don't work properly.
Screw-mount lenses used with a LEICA adapter are not seen by the M 240. The M 240 thinks there is no lens attached, and won't work in Live View.
You can shoot with an adapted screw-mount lens, but you lose live view, advanced metering and through the lens composition and focusing. You'll only be able to shoot as you did with every other LEICA camera made for nearly the past 100 years.
The M 240 puts its lens-sensors in the wrong place where LEICA's screw-mount adapters don't have metal, so the M 240 thinks that there is no lens attached. With no lens, the M 240 won't open it's shutter to go into Live View mode, and you'll see an ominous NO LENS DETECTED indication on the LCD.
This is the same regardless of the setting of the Lens Detection menu.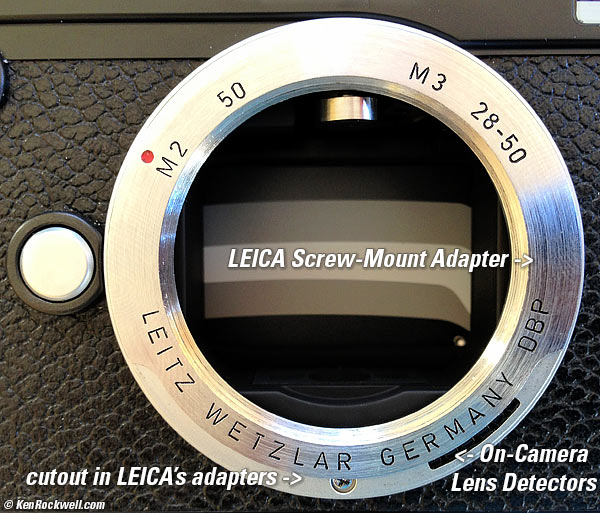 Screw-mount lens adapter on LEICA M 240. bigger.
You could try to cover the lens detectors, or just shoot your screw mount lenses on a real LEICA as intended.
Quality
MADE IN GERMANY.
Battery marked Leica Camera Korea.
EVF 2 electronic finder is MADE IN CHINA, ahem.
Performance top
Intro Specs Performance Compared Usage Recommendations More

15mm lens
49mm
50dr
Goggles - brightness sensor
Sharp playback?
Delay w/o finder
highlight focus peak
AA filter no
DSP internal done
maestro
rear lcd cant see redlines
Too many play info options
Still buggy: won't unmag focus, noise lines go crazy in finder, ignores PLAY or | ( ) | buttons
AUTOFOCUS
Full frame

MANUAL FOCUS
EVF no good daytime
EVF FINDER
Nose grease
Plastic
China
Poor black levels
Brighter at night
More info
Pokes my back
Not sharp enough to focus without mag
Diaphragm stuck stopped down for focus
Lots of delay
No aperture display
Less than 100% coverage
Works great in darkness.
Diopter self adjusts
Flickers with pressed shutter under 60hz lights
OPTICAL FINDER
Dual frames follow mechanics
LED, no flicker
No aperture
Bright lines good
Turn off with camera
No preview button
Dim?
FLASH
No second shoe
SHUTTER
Delayed
Shutter release
Feels Like an iPhone just sloppier
Phantom (extra) and missed shots in C mode
Delayed in menu light metering advanced
8 frame buffer
Recoil

ERGONOMICS
No center push on dial
No second command dial
Buttons, like INFO, do different things in different modes
A is deeper detent
Not always responsive to button pushes focus mag
IMAGE
Sharp at 12mp
Crappy dynamic range
Moiré: 0782 Redwood Motel
METER and EXPOSURE
Light Metering mode (menu) AND exposure metering (set) options.

COLOR

AWB
AUTO ISO
HIGH ISOs

SPEED

NOISE

LCD

PLAYBACK
Zoom histo
Sometimes slow to scroll or zoom
To damn many modes
Won't mag from data page
Irresponsive
Swap while zoomed?
After sleep, wakes at last-shot image, not necessarily the one you were last viewing.
DATA
Cards titled " LEICA M"
Can set "M240" or other file prefixes
Guesses t/stop
Embedded thumbnails offset down
Good jpg coding
reset resets everything - with no "are you sure?"
MOVIES
AUDIO
POWER
Beautiful charger
Slow blinks green <80. Blinks green with orange >80.
Both solid 100
Reads to 5%
85% at 67 shots
80% at 159 shots
50% at 268 shots

MADE IN
Germany
Compared top
Intro Specs Performance Compared Usage Recommendations More

iPhone faster wider dynamic range
Usage top
Intro Specs Performance Compared Usage Recommendations More
Forget compensation, use hold and preview in finder.
Tap front button for mag; hold for comp
Auto white balance, works great; use it.
Recommendations top
Intro Specs Performance Compared Usage Recommendations More

Für the LEICA owner (someone who already owns and shoots several bodies and many existing lenses) , owning the M typ 240 is mandatory if you shoot "digital." Its shutter and charging mechanism are much quieter than the shutter of the M9, alone reason enough to own the typ 240, and its electronic finder is the first LEICA M to have a finder better than the original M3. In many ways the M typ 240 is the best digital LEICA ever made.
If you are not already a LEICA owner, you must know that the LEICA is unique and does not replace any other non-LEICA camera — it enhances it. Don't go selling your Nikons or Canons; a LEICA is a purchase that must be made while retaining your other holdings. Like a Porsche or a vacation home on Lake Como, no one buys a LEICA because they need it. They own them because they want to.
If you've found all the time, effort and expense I put into researching and sharing all this, This free website's biggest source of support is when you use any of these links, especially this link directly to it at Adorama in black or in silver, or directly to it at Amazon or at eBay when you get anything, regardless of the country in which you live. It helps me keep adding to this free website when you get yours through those links — but I receive nothing for my efforts if you buy elsewhere.
Thanks for your support!
Ken.
More Information top
Intro Specs Performance Compared Usage Recommendations More
Help me help you top
I support my growing family through this website, as crazy as it might seem.
The biggest help is when you use any of these links when you get anything, regardless of the country in which you live. It costs you nothing, and is this site's, and thus my family's, biggest source of support. These places have the best prices and service, which is why I've used them since before this website existed. I recommend them all personally.
If you find this page as helpful as a book you might have had to buy or a workshop you may have had to take, feel free to help me continue helping everyone.
If you've gotten your gear through one of my links or helped otherwise, you're family. It's great people like you who allow me to keep adding to this site full-time. Thanks!
If you haven't helped yet, please do, and consider helping me with a gift of $5.00.
As this page is copyrighted and formally registered, it is unlawful to make copies, especially in the form of printouts for personal use. If you wish to make a printout for personal use, you are granted one-time permission only if you PayPal me $5.00 per printout or part thereof. Thank you!
Thanks for reading!
Mr. & Mrs. Ken Rockwell, Ryan and Katie.
Home Donate New Search Gallery Reviews How-To Books Links Workshops About Contact