Home Donate New Search Gallery Reviews How-To Books Links Workshops About Contact
Fuji X-T2
24MP APS-C, 14 FPS, 4K, OLED finder, Flip LCD
Intro Specs   Accessories   USA Version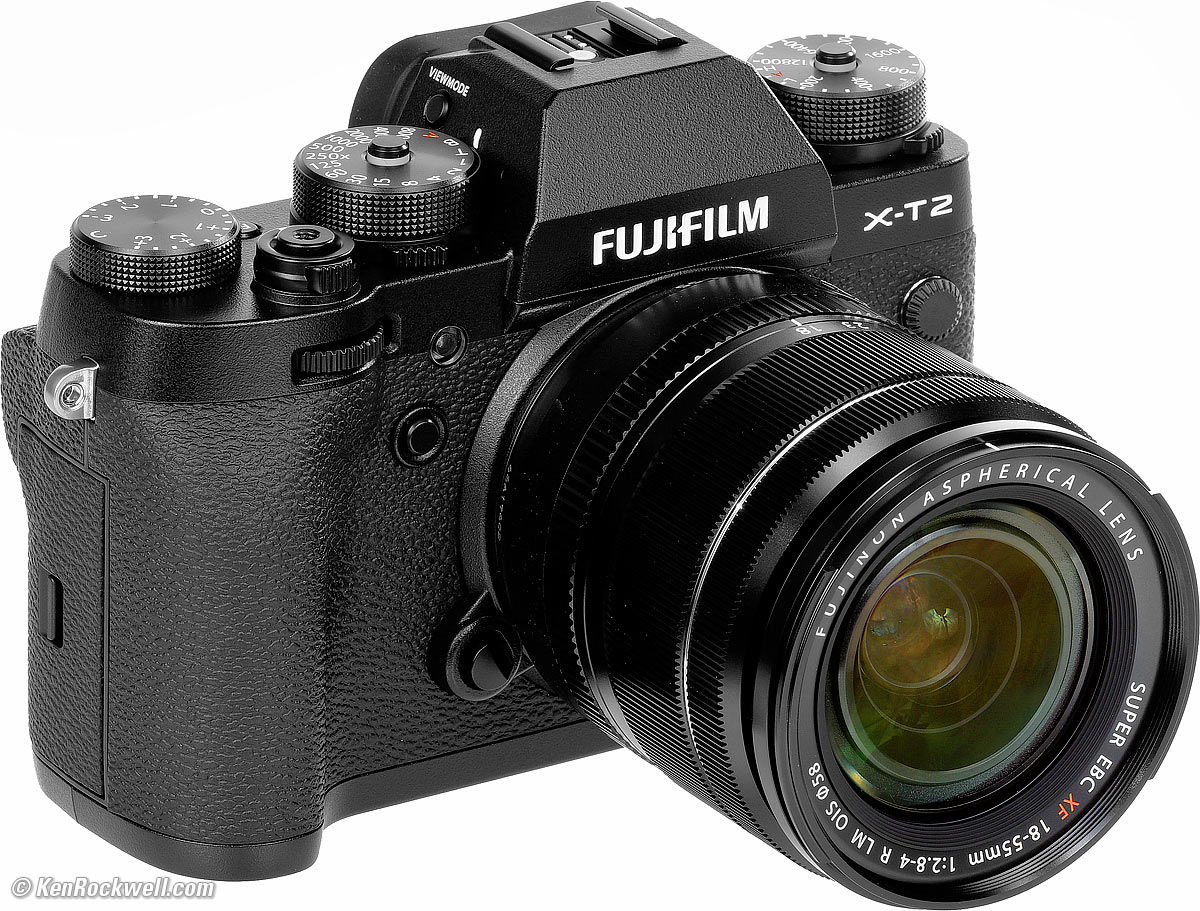 Fuji X-T2 (17.8 oz./503g with battery and card, about $1,599) and 18-55mm. bigger. You can get the body-only at Adorama, at Amazon or at B&H. I got mine as a kit with 18-55mm lens at Adorama, or you also can get the kit at Amazon or at B&H.
This free website's biggest source of support is when you use those or any of these links to approved sources when you get anything, regardless of the country in which you live. It helps me keep adding to this free website when you get anything through these links — but I receive nothing for my efforts if you take the chance of buying elsewhere. Fuji does not seal its boxes, so never buy at retail or any other source not on my personally approved list since you'll have no way of knowing if you're missing accessories or worse. Buy only from the approved sources I use myself for the best prices, service, return policies and selection. Thanks for your support! Ken.
October 2016 Fuji Reviews Fuji Lenses LEICA Reviews All Reviews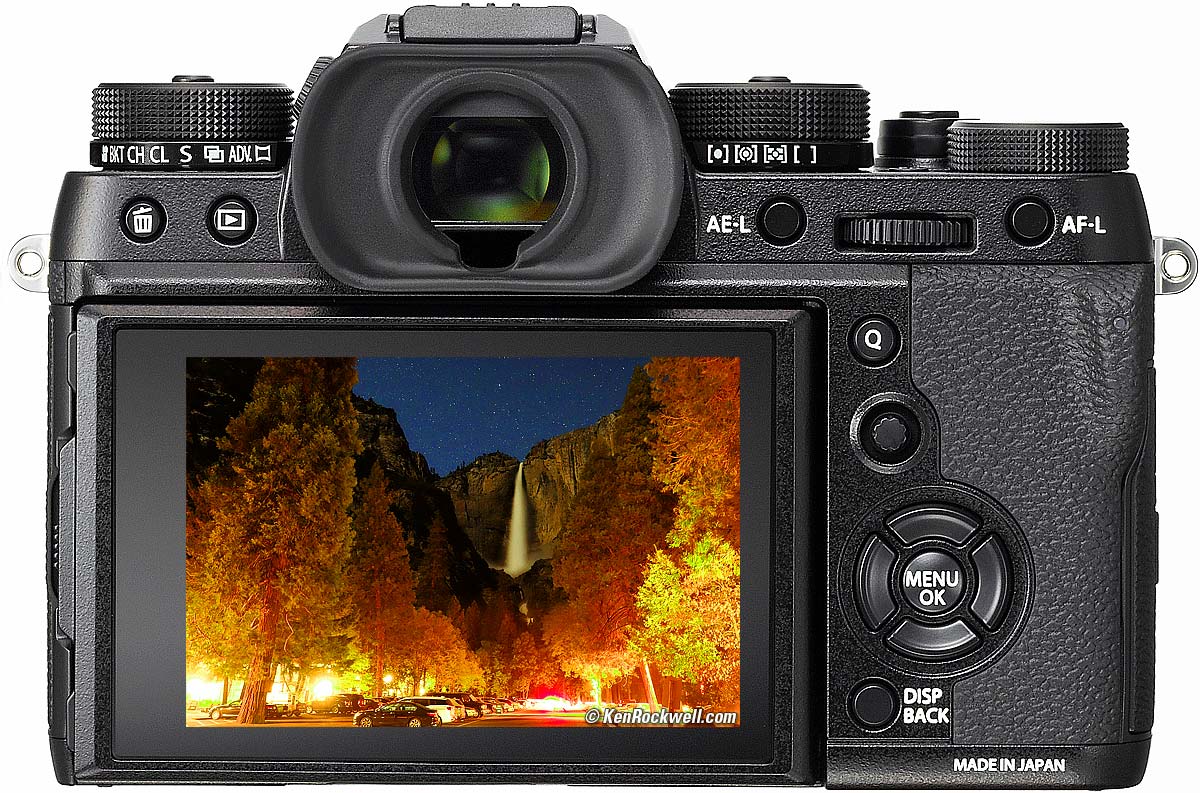 Fuji X-T2. bigger.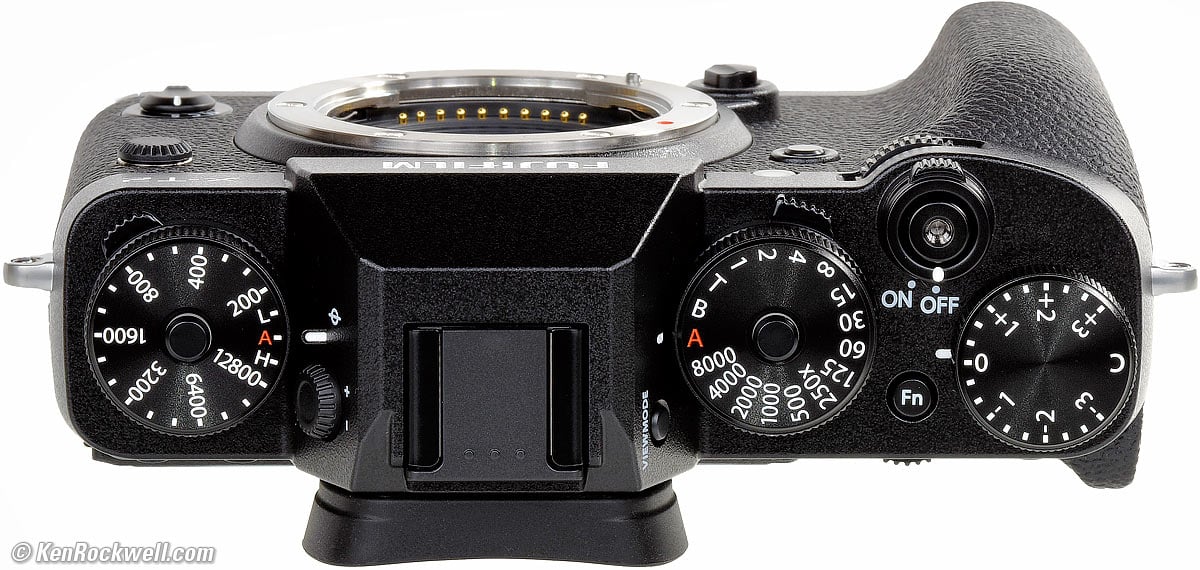 Fuji X-T2. bigger.
Sample Images
Intro Specs   Accessories   USA Version
(more at High ISOs)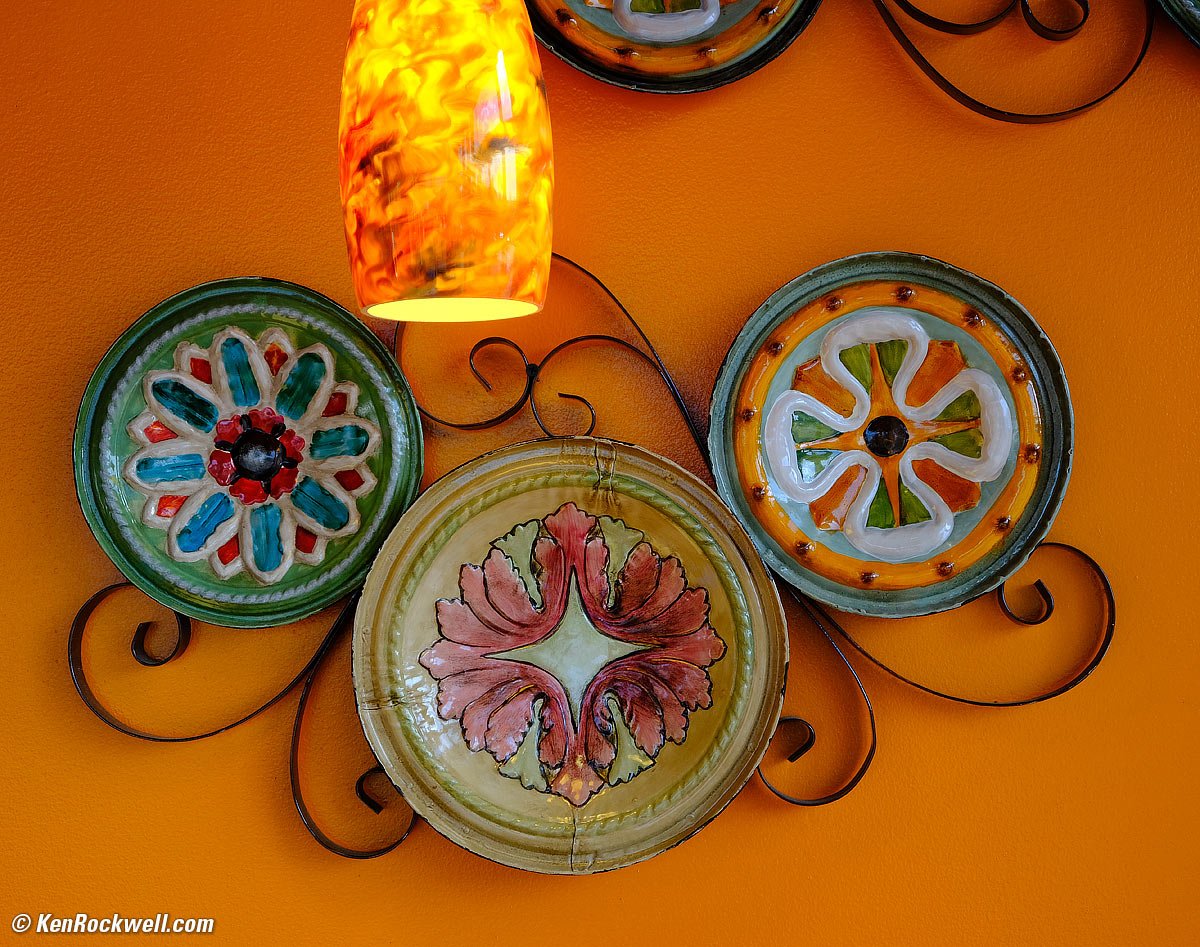 Sunny Orange Plates, 03 October 2016. Fuji X-T2, Fuji 18-55mm f/2.8~4 at 34.3mm, f/5.6 at 1/110 at Auto ISO 400, Velvia mode and +4 color. bigger or full-resolution to explore on your computer (mobile devices rarely display high resolution files properly).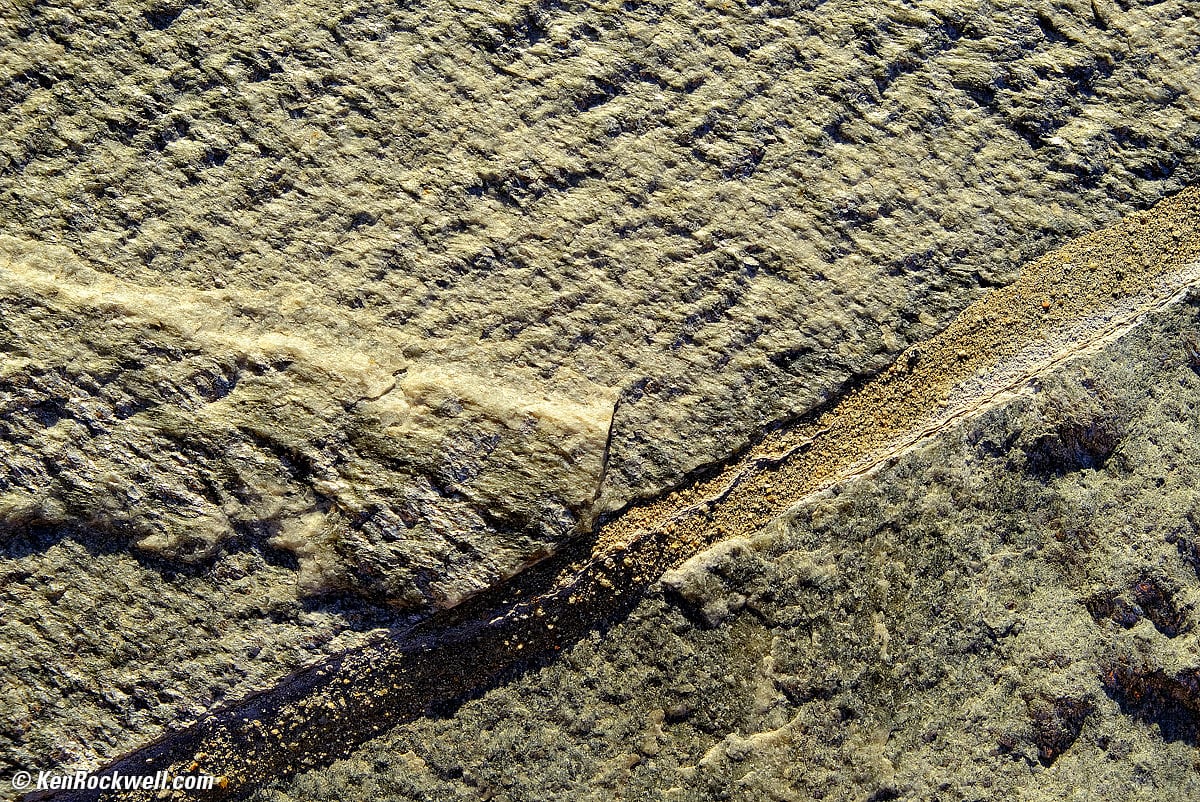 Stone, 01 October 2016. Fuji X-T2, Fuji 18-55mm f/2.8~4 at 55mm, f/5.6 at 1/340 at Auto ISO 200, Velvia mode and +4 color. bigger or full-resolution to explore on your computer (mobile devices rarely display high resolution files properly).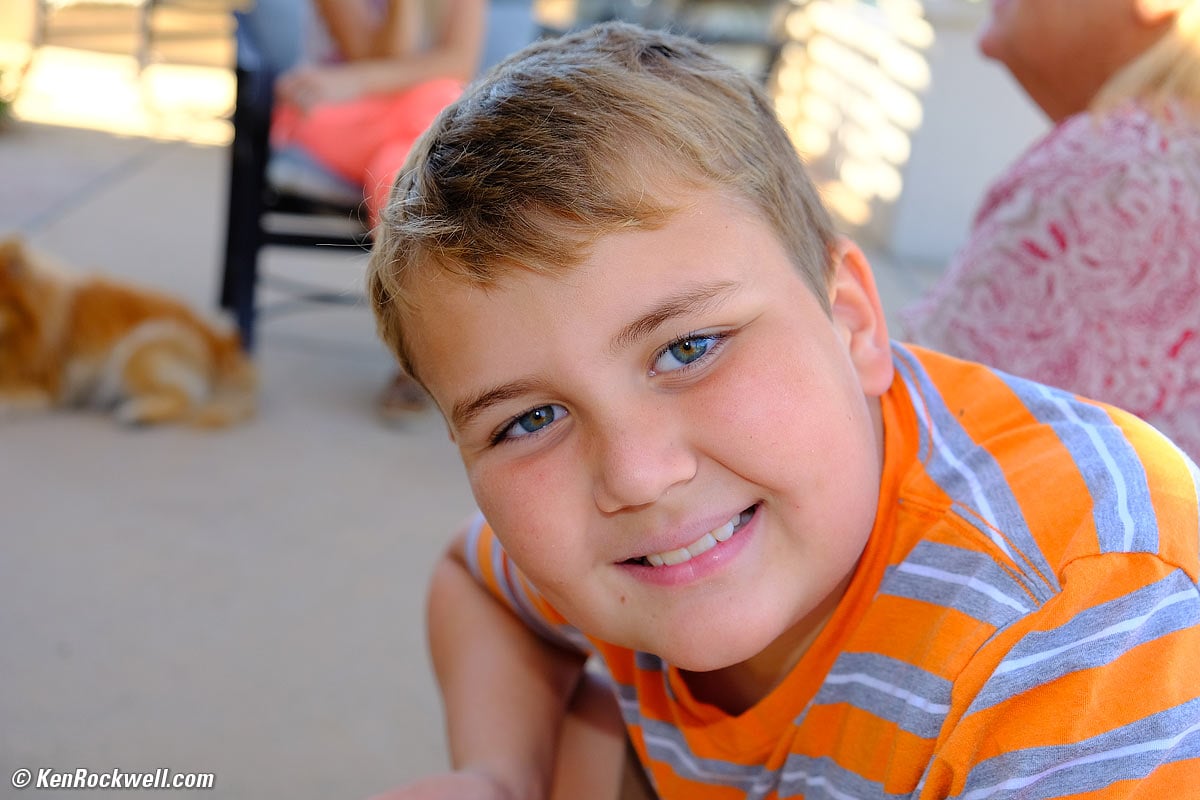 Ryan, 02 October 2016. Fuji X-T2 with included Fuji EF-X8 flash, Velvia mode and +4 color, Fuji 18-55mm f/2.8~4 at 30.2mm, f/4.5 at 1/210 at Auto ISO 200. bigger or © camera-original file to explore on your computer (mobile devices rarely display high resolution files properly).
Introduction top
Intro Specs   Accessories   USA Version
Good Missing Lens Compatibility
The Fujifilm X-T2 feels fantastic in-hand: it's all metal and much better made in Japan than most of the other expensive but all-plastic cameras popular today. Shoot with it, and you'll love how smooth and quiet it is. It is a small, discreet camera. It takes a while to learn because it's menu system is awful — but once you get past that and get it set, it's a joy to shoot.
The Fuji XT-2 adds a few nice touches, like a cable release socket and dual card slots, to the already excellent Fuji X-T1 of 2014. They are both what a Japanese camera should be: tiny, tight, precise, fast, quiet, easy-to-use and extremely well made out of all metal. It's not another offshored-to-China excuse made out of plastic. Sadly it still lacks a built-in flash.
See all those dials? They're real engraved metal. It's trivially easy to set ISO, advance mode, aperture, shutter speed, exposure compensation and even the metering mode directly, because each of these functions has its own dedicated, single-purpose dial — just like a real camera!
This Fuji X-system is the first serious system designed from the ground-up as digital camera system with no ties whatsoever to film. For instance, the lenses are designed knowing they'll be working with a digital system, and the system automatically works in concert with these lenses to correct lateral color, distortion, light falloff and even diffraction all automatically. There's no way to shoot these lenses off the camera to see how they work without correction; they are intended to work with the camera as a complete system.
The XT-2 has a huge, live electronic finder with eye control, about 15 years ahead of LEICA's plastic EVF on the M typ 240.
The X-T2 focuses super fast, and its closed-loop mirrorless autofocus system ensures that focus is dead-nuts perfect every time, especially at f/1.2.
When you use the Fuji, you'll see how they've actually been thinking about how to rethink what a camera should be and add new features that help us get the shot, as opposed to throwing more junk features in our way to help sell more cameras.
The X-T2 has a very different sensor from other brands, and its images look very different. It has no anti-alias filter, so the results can be much sharper than from most other cameras.
The X-T2 just shoots, and the results are always super-sharp and well exposed — better than I get from DSLRs, whose exposure and focus aren't always dead-on as they are with the X-T2.
The X-T2 has a wonderful OLED finder, which also doubles for through-the-finder menu setting and playback.
The Fuji X-T2 is a real camera, made of metal, not plastic, for real photographers.
The X-T2 has shutter and aperture dials. Nikon and Canon don't any more.
The X-T2 has a real exposure compensation dial. LEICA and Nikon don't any more.
The X-T2 has a real ISO dial. LEICA, Canon and Nikon don't any more.
The X-T2 has real exposure mode switches. Nikon and Canon don't any more. Better yet, the Fuji, just like Contax, changes its exposure mode automatically as you turn the shutter and/or aperture rings to A when you want them to set themselves. Set both to A for Professional (formerly Program) exposure mode. Done.
The X-T2 makes movies too. The X-T2 has a built-in manual focus assist loupe.
It drives me nuts shooting a DSLR or LEICA when I can't see my image pop up instantly in the finder after I've shot it — as I do with my X-T2. Yes, there are plenty of plastic consumer Micro 4/3 cameras with LCD finders, but they are not professional grade. Photographers don't do menus. I need a camera with real dials like the X-T2 and fast metal lenses, not a plastic toy.
New since the X-T1
● Two SD card slots; UHS-II compatible.
● Threaded cable release socket.
● Electronic shutter to 1/32,000 (the X-T1 also has this as of its newest firmware)
● 1/250 flash sync.
● Focus point thumb nubbin.
● Runs at 14 FPS with electronic shutter.
● 325 AF points.
● Supposedly brighter OLED finder, otherwise with the same specifications.
● 4K video, 100 MBPS internal, 1.17x sensor crop.
● Flat F-Log gamma option for video.
● Bigger, heavier and more expensive.
Good top
● Fantastic ergonomics optimized for people who know how to shoot; a perfect shooter's camera with all the right knobs in the right places.
● Exceptionally sharp and undistorted images, due to no anti-alias filter on the sensor and super-sharp lenses optimized for the Fuji sensors and the camera's DSP.
● Extremely well built by any standards. Unlike most of the disposable plastic (but expensive) cameras I review today, the X-T2 is all-metal with engraved markings, and so are its lenses. It's better built than anything today from Nikon or Canon, and the same or better as LEICA — for a fraction of the price.
● Claims to be weather sealed.
● Extraordinarily good auto white balance in crummy light, much better than DSLRs.
● Great highlight rendition; the Auto Dynamic Range feature really helps hold the highlights regardless of the conditions.
● Superb color rendition for people, events and portraiture.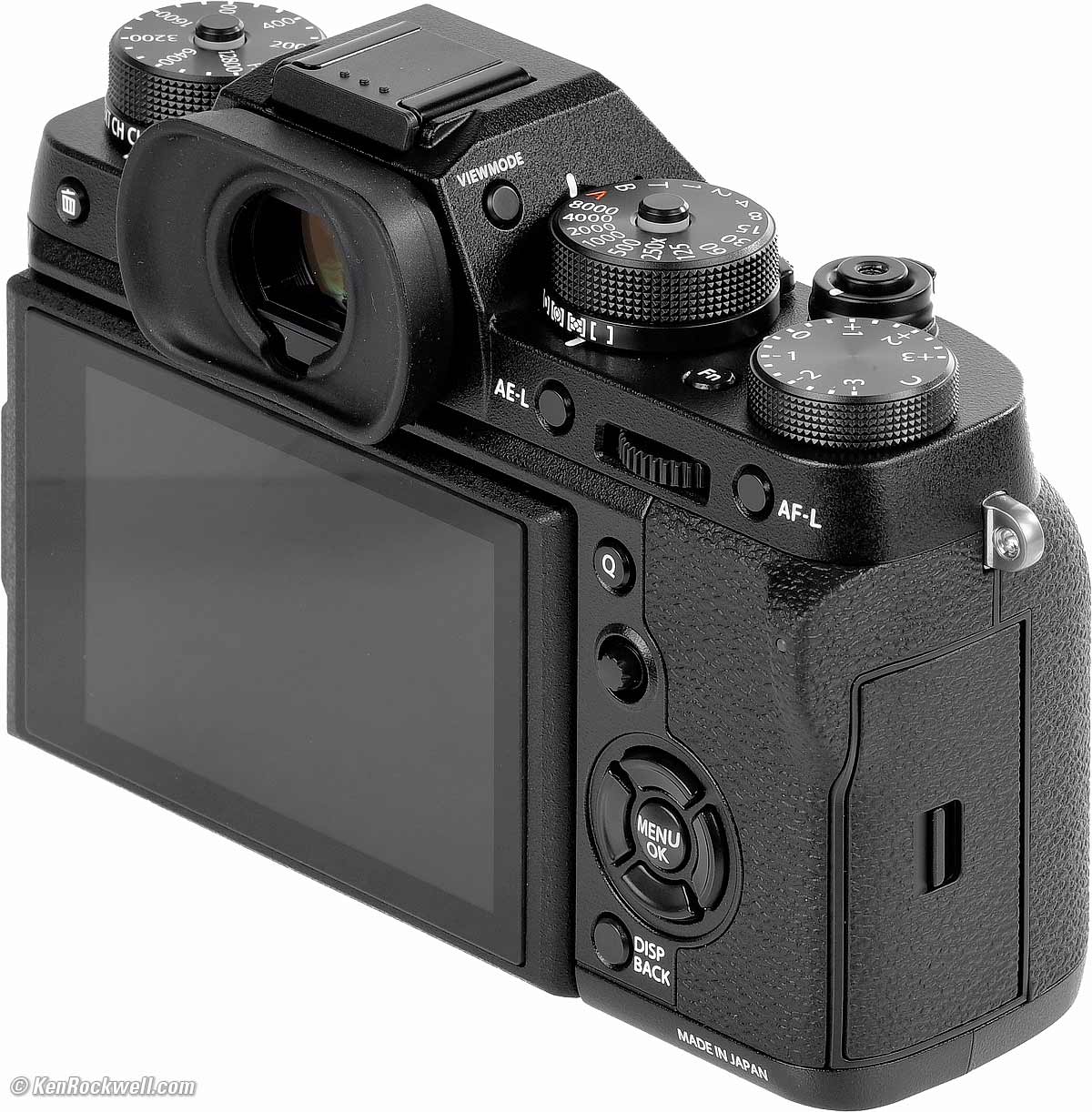 Fuji X-T2. bigger.
Missing top
● The ISO dial is defective in design and is missing one of two H positions. Because of this you have to assign the one H position to be either ISO 25,600 or ISO 51,200 at MENU > WRENCH > BUTTON/DIAL SETTING > ISO DIAL SETING (H) and choose 51,200 or 25,600. If you want to select the other value you have to go remember this setting in the menu system again.
● No built-in flash, but Fuji does include a very weak and tiny shoe-mount flash.
● No optical finder.
● There's no RGB histogram, but the X-T2's fantastic highlight rendition means you don't need to watch for clipping individually in each channel as you do on other cameras. I don't use this on other cameras, but the X-T2's blinking highlight option works just fine instead.
● No GPS.
● No self-timer position on advance mode dial; hidden in the Q screen.
● No Auto LCD brightness control, but the EVF does have auto brightness control.
● Flip LCD screen, but no touch screen.
Lens Compatibility top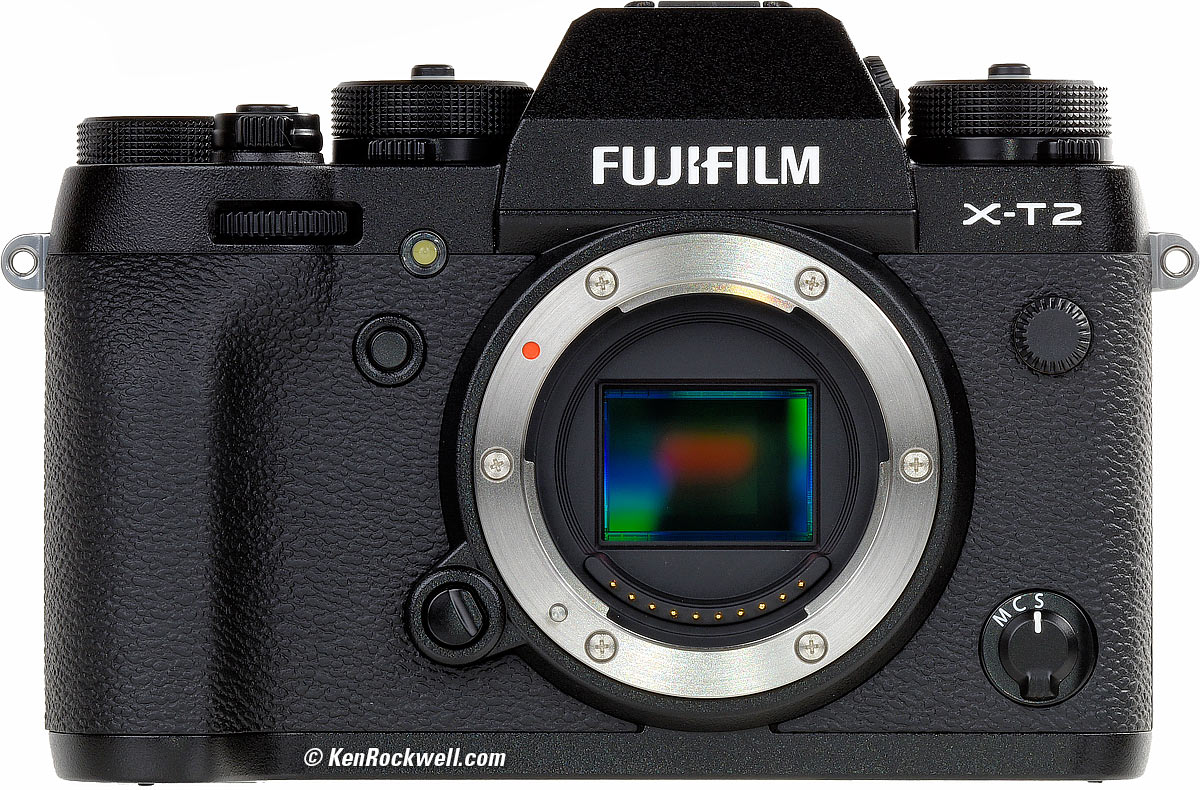 Fuji X-T2. bigger.
The X-T2 uses Fuji's X-mount XF and XC lenses.
The X-T2 can use LEICA and other brands of lenses cave-manually with a Lens Adapter, but don't use anything other than the Fuji XF lenses if you want to get the performance of which this system is capable. Fuji's lenses are optimized to work with the camera's DSP to optimize them.
When used with random lenses on an adapter, the XT2 has manually-set controls to correct distortion, color edge shading and falloff correction. Each corner's color shift set can be set individually for use with lenses like the 12mm Voigtländer, but honestly, you're kidding yourself if using a $30 adapter to use a $500 lens on a $1,600 camera.
If you really want to shoot, use the right lenses. Fuji's lenses are extraordinary; LEICA's are no better optically, and tend to be worse because the camera's DSP can't optimize them further.
Specifications top
Intro Specs   Accessories   USA Version
Lens Mount
Stainless-steel Fuji X-Mount.
Flange focal distance: 17.7mm.
Electronic aperture.
Electronic focus.
Sensor
Unique non-Bayer color array that eliminates the need for an anti-alias filter and yields much sharper images compared to other camera, but limits what software can open the RAF raw files.
23.6 mm x 15.6 mm DX.
"X-Trans CMOS III with primary color filter."
1.5:1 aspect ratio.
24 MP.
6,000 x 4,000 pixels native.
Ultrasonic cleaner.
Image Sizes
L: (3:2) 6,000 x 4,000 / (16:9) 6,000 x 3,376 / (1:1) 4,000 x 4,000.
M: (3:2) 4,240 x 2,832 / (16:9) 4,240 x 2,384 / (1:1) 2,832 x 2,832.
S: (3:2) 3,008 x 2,000 / (16:9) 3,008 x 1,688 / (1:1) 2,000 x 2,000
I love the square crop!
Not only do I love shooting in the square, square icons grow to be much larger than rectangular icons in most image sorting and Finder applications.
Automatic internally-stitched panorama.
ISO
ISO 200 ~ ISO 12,800.
Pull mode to ISO 100, push to ISO 25,600 and 51,200.
AUTO ISO 200 ~ 12,800.
AUTO ISO sets the slowest shutter speed at 1/(equivalent focal length), or 1/50 second with the normal 35mm f/1.4 lens.
Dynamic Range Options
100%, 200%, 400%, or AUTO (100%-200%).
Finders
No Optical viewfinder.
Electronic viewfinder
Eye-control activation.
0.77x magnification with 35mm lens (50mm eq.).
0.48"
2,360,000-dot color OLED. (X-Pro1 is only a 1,440,000-dot color LCD.)
60 FPS; up to 100 FPS in Boost mode.
38º diagonal, 31º horizontal apparent angle. (X-E1 is 25º apparent angle.)
100% coverage.
23 mm eye point.
Autofocus
325 AF points.
TTL off-the-sensor autofocus for zero AF error.
Phase and contrast detection.
AF Illuminator.
Light Meter
TTL.
256-zone matrix, spot or average.
Shutter
Maximum speed with flash (sync): 1/250.
10 s or 2 s self timer (hidden inside the Q button)
Frame Rates
14 FPS with electronic shutter.
11 FPS with VPB-XT2 Battery Grip and mechanical shutter
8 FPS with mechanical shutter.
5 FPS with no finder blackout and AF tracking.
Metal focal-plane
It supposedly allows multiple exposures; I never tried.
1/8,000 ~ 4 seconds in PROGRAM mode; to 30 seconds in other modes.
To one hour in Bulb (B) mode.
Electronic shutter
1/32,768 ~ 30 seconds in all modes; only to 1 second in Bulb.
Flash
Dedicated hot shoe
Up to 300V sync voltage.
PC sync terminal.
1/250 sync.
Included EF-X8 flash
GN 8 meters, 26 feet, at ISO 100. (11 meters, 37 feet, at ISO 200).
Powered by the camera's battery.
1.410 oz. (40.0g) actual measured weight.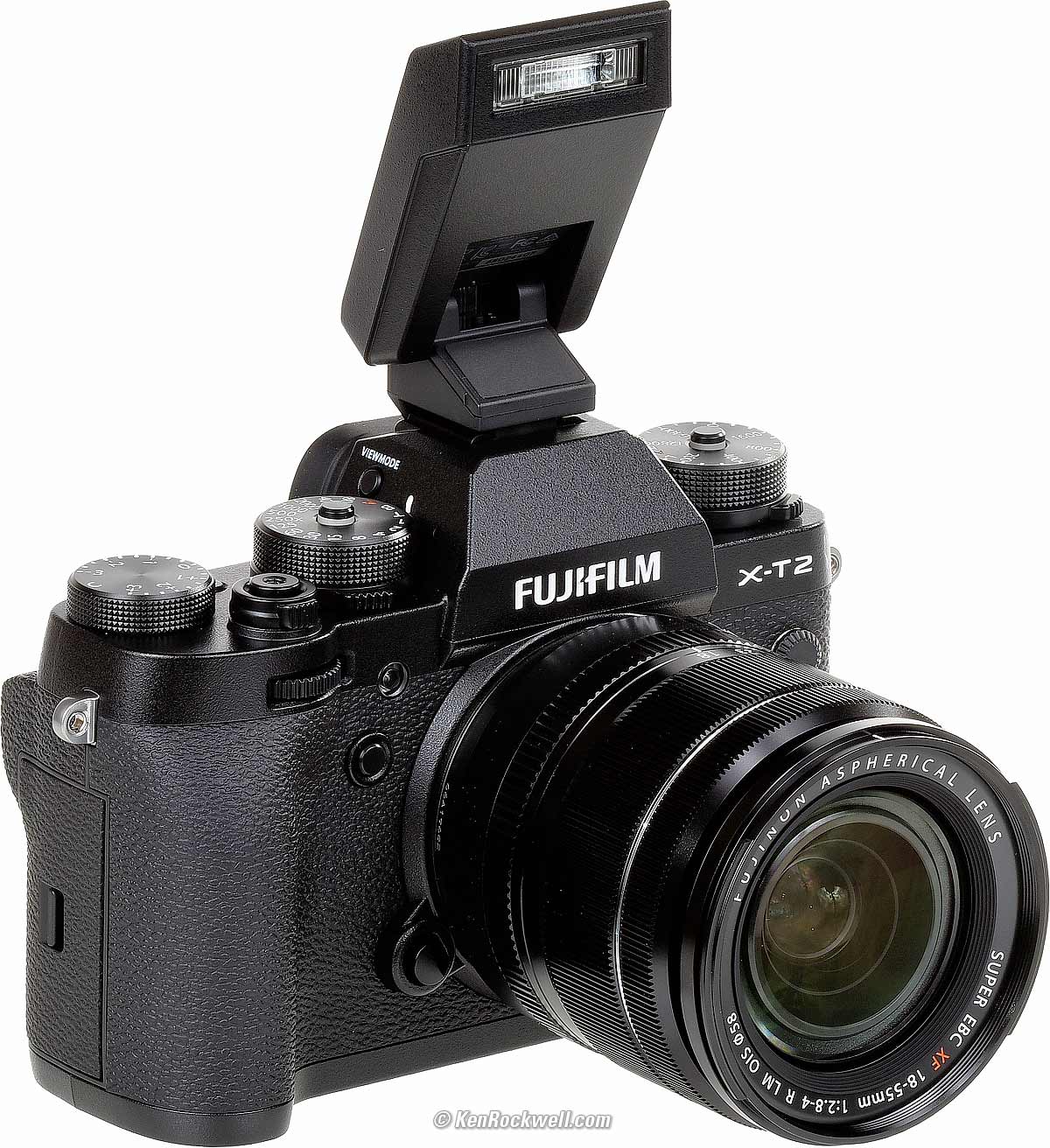 Fuji X-T2 with included EF-X8 flash, ready to fire. bigger.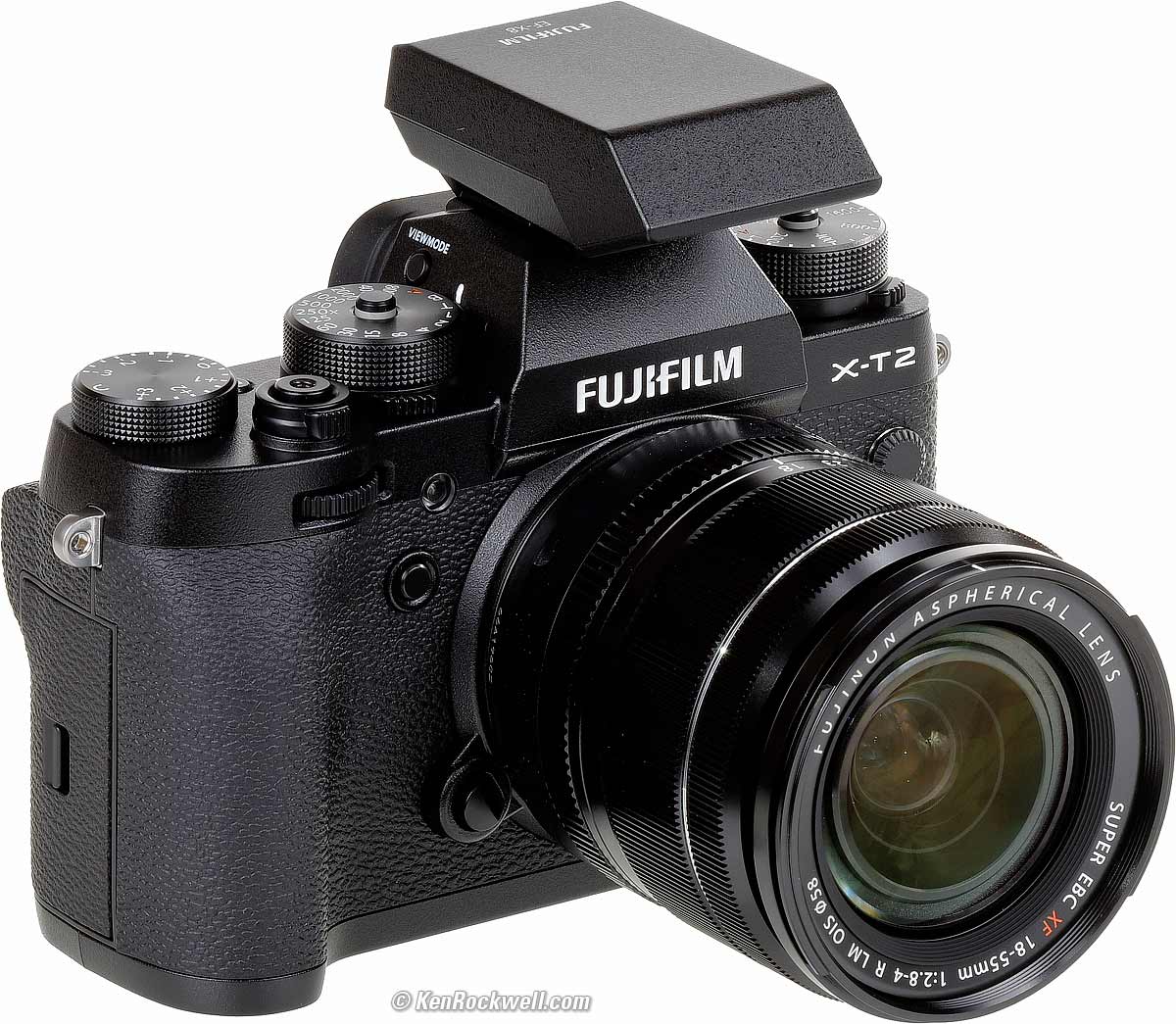 Fuji X-T2 with included EF-X8 flash folded for carrying. bigger.
Audio
Stereo mic.
2.5mm stereo mic input.
Linear PCM stereo.
Video
4K (3,840 x 2,160) @ 29.97p, 25p, 24.00p or 23.976p; 100Mbps up to 10 minutes per take.
1,920 x 1,080 @ 59.94p, 50p, 29.97p, 25p, 24.00p or 23.976p; 100Mbps up to 15 minutes per take.
1,280 x 720 @ 59.94p, 50p, 29.97p, 25p, 24.00p, 23.976p; 50Mbps up to 30 minutes per take.
H.264.
File Formats
Photos
JPEG
RAF raw.
RAF+JPEG
Video
.MOV files.
Connectors & Card Slots
3.5mm mic in.

Micro USB 3.0.

HDMI type D.

2.5mm remote.

(Headphone jack in the VPB-XT2 Battery Grip.)

Two slots.

SD, SDHC or SDXC (UHS-II).
Rear LCD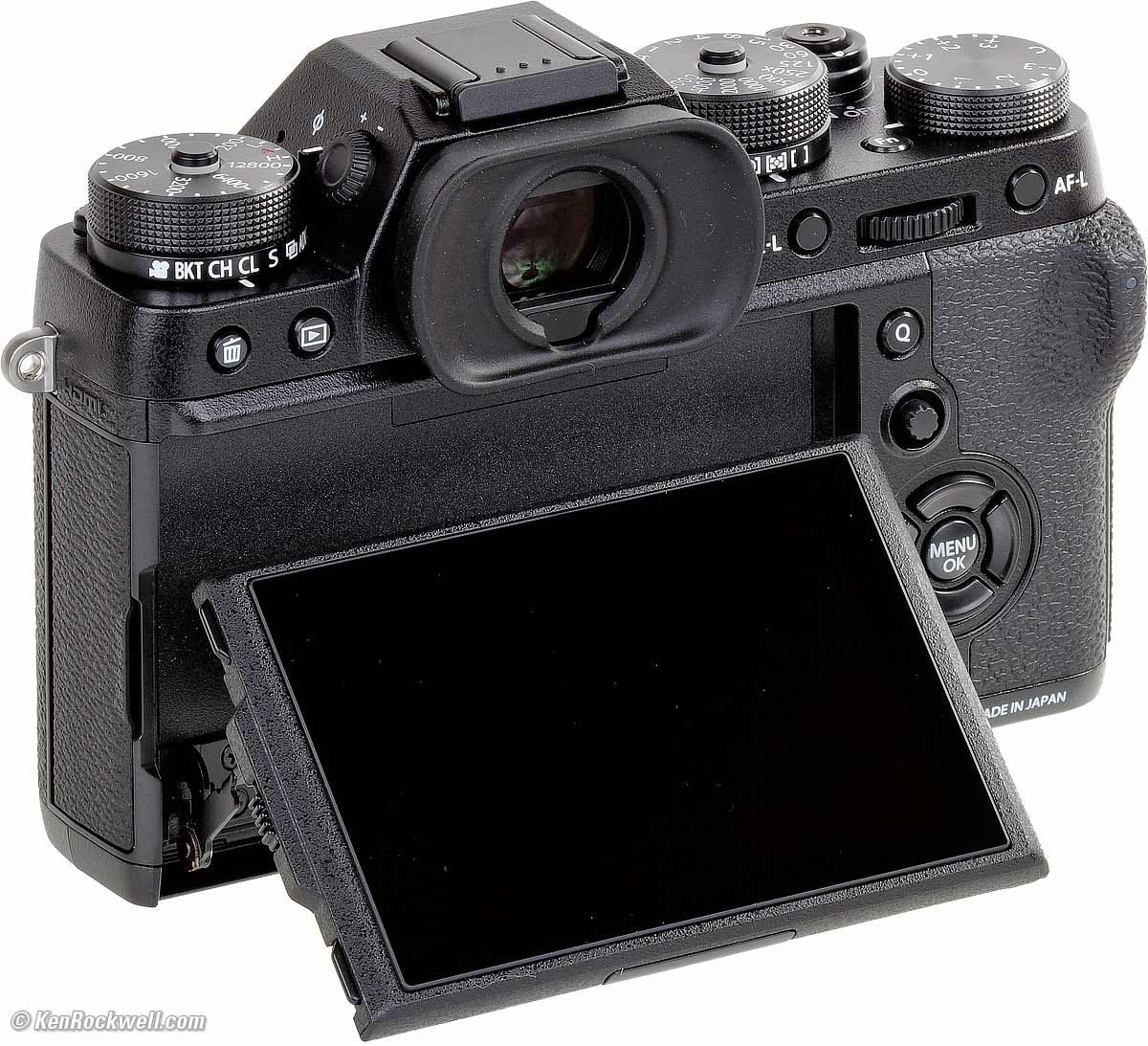 Fuji X-T2 flipping LCD. bigger.
3" LCD.
1,040,000 dots.
100% coverage.
Power
Battery
Fuji NP-W126S. bigger.
New NP-W126S Li-Ion. Same as X100F; newer version of the NP-W126 of the X-Pro1 and X-E1.
Rated 340 shots.
Charger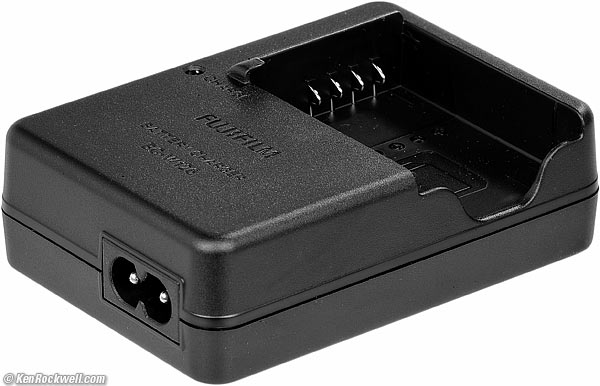 Fuji BC-W126 Charger.
BC-W126 (same as X100F, X-Pro1 and X-E1).
Corded, uses common "∞" shaped plug end.
100~240V, 50-60 Hz.
Made in China by JET.
Rated 13~21 VA input, 8.4VDC 0.6A output.
WiFi
IEEE 802.11b / g / n.
WEP / WPA / WPA2 mixed mode.
Infrastructure mode.
Quality
Die-cast magnesium top and bottom covers.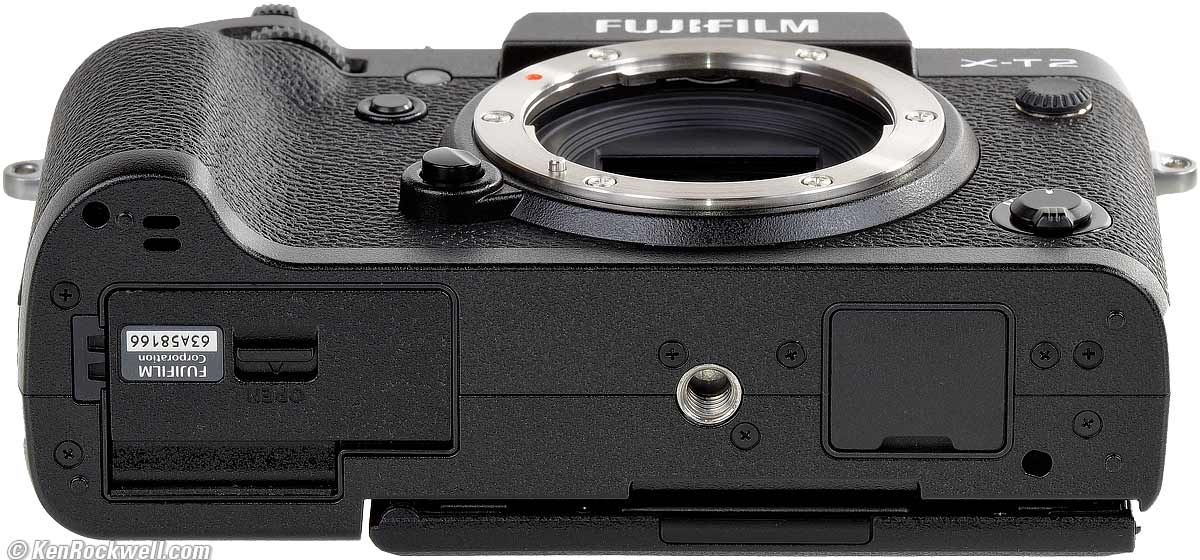 Fuji X-T2. bigger.
Made in Japan — but where does it say that? It says it for show on the bottom left of the back of the camera, while it says that again and hides its various certifications on the back side of the flipping LCD. You have to flip-out the LCD and look at a funny angle to see it all: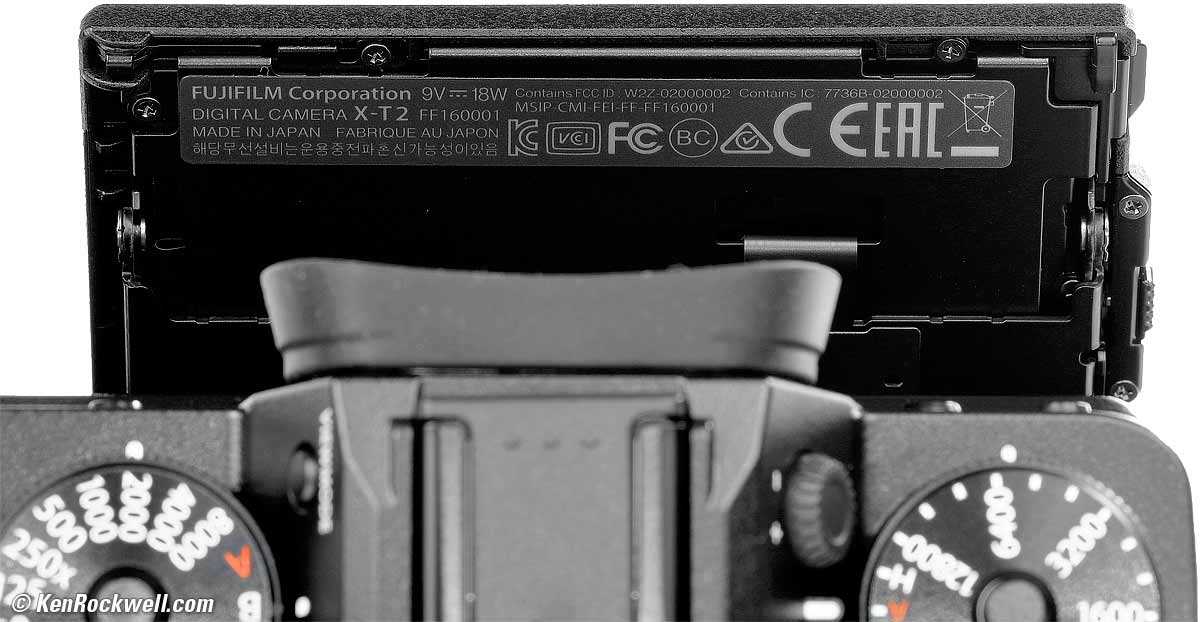 Fuji X-T2, view from top with LCD pulled out. bigger.
Environment
14 ~ 104°F (-10 ~ 40°C).
10 ~ 80% RH, no condensation.
Size
3.61 x 5.22 x 1.94 inches WHD.
91.8 x 132.5 x 49.2 millimeters HWD.
Minimum depth: 1.36 : (34.5 mm).
Weight
X-T2 body with battery and one card: 17.755 oz. (503.4 g) actual measured weight.
Rated 17.9 oz. (507g) with battery and card or 16.1 oz. (457g) stripped naked.
EF-X8 flash: 1.410 oz. (40.0g) actual measured weight.
Colors
Black only as of July 2016.
Includes
X-T2 camera
Li-ion battery NP-W126S
Battery charger BC-W126
Shoe-mount flash unit EF-X8
Shoulder strap
Body cap
Strap clip
Protective cover
Clip attaching tool
Hot shoe cover
Vertical Power Booster Grip connector cover
Sync terminal cover
Owner's manual
Warranty paperwork
Announced
Thursday, 07 July 2016 at 1:30 AM NYC time.
Promised for
September 2016.
Shipping since
September 2016.
Prices, USA top
July ~ October 2016:
X-T2 body only: $1,599.
X-T2 and 18-55mm kit: $1,899.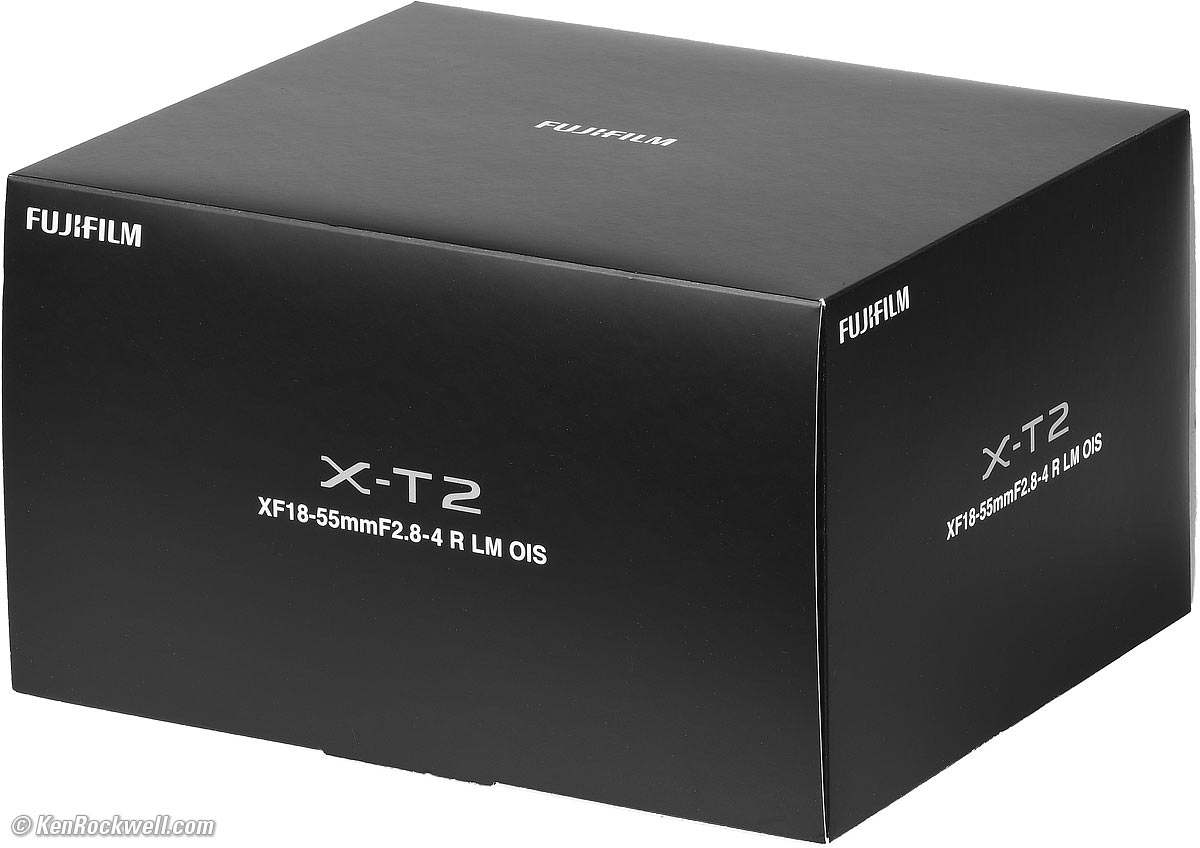 Box, Fuji X-T2 and 18-55mm. bigger.
Optional Accessories top
Intro Specs   Accessories   USA Version
Grips & Power
NEW: Fuji VPB-XT2 Battery Grip, which also has a headphone jack.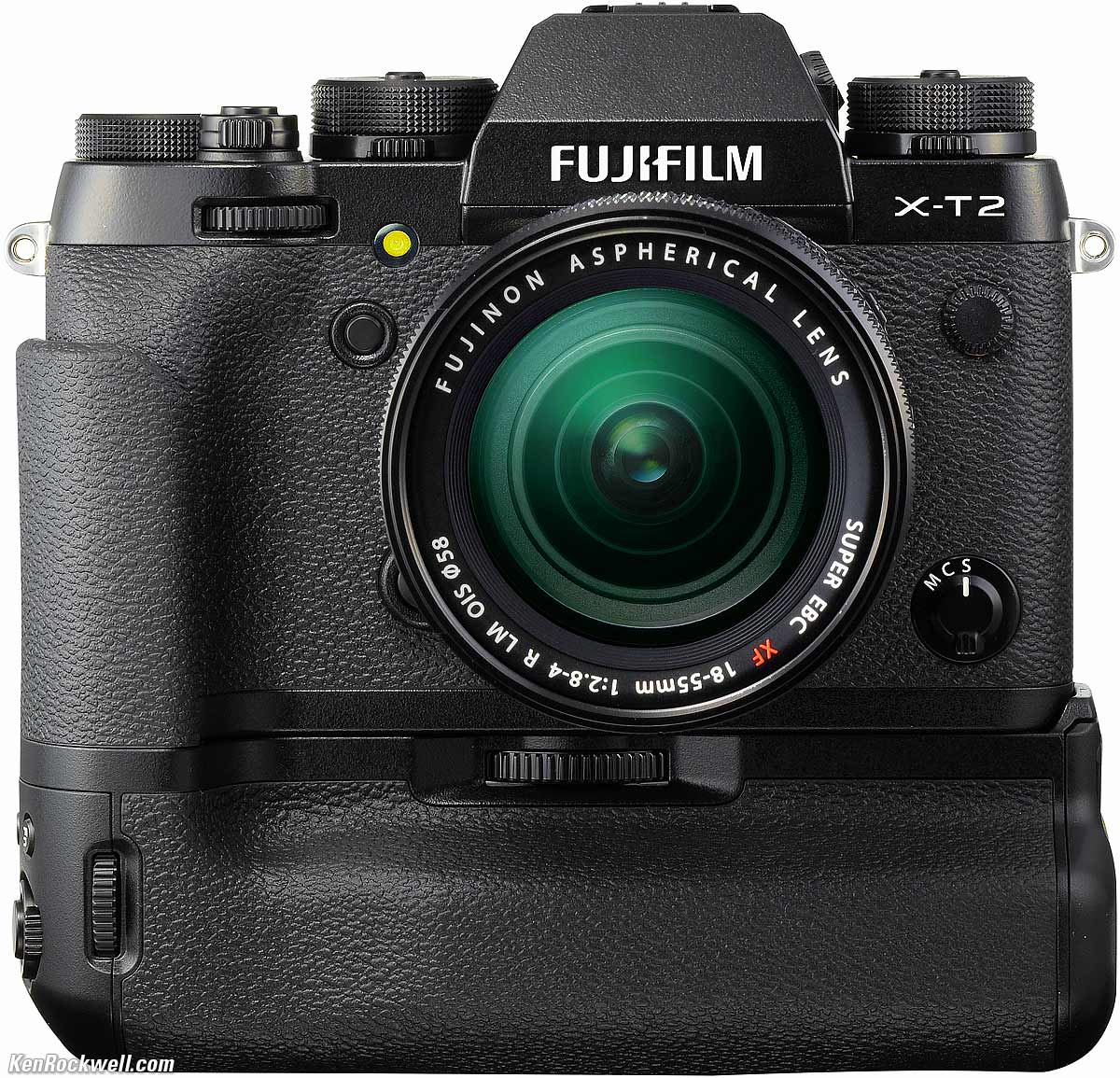 Fuji X-T2, 18-55mm and VPB-XT2 Battery Grip. bigger.
NEW: Fuji EF-BP1 Battery.
NEW: Fuji MHG-XT2 Grip.
NEW: Fuji NP-W126S Battery Included; dissipates heat better.
Flash
NEW: Fuji EF-X500 Flash, also at Adorama.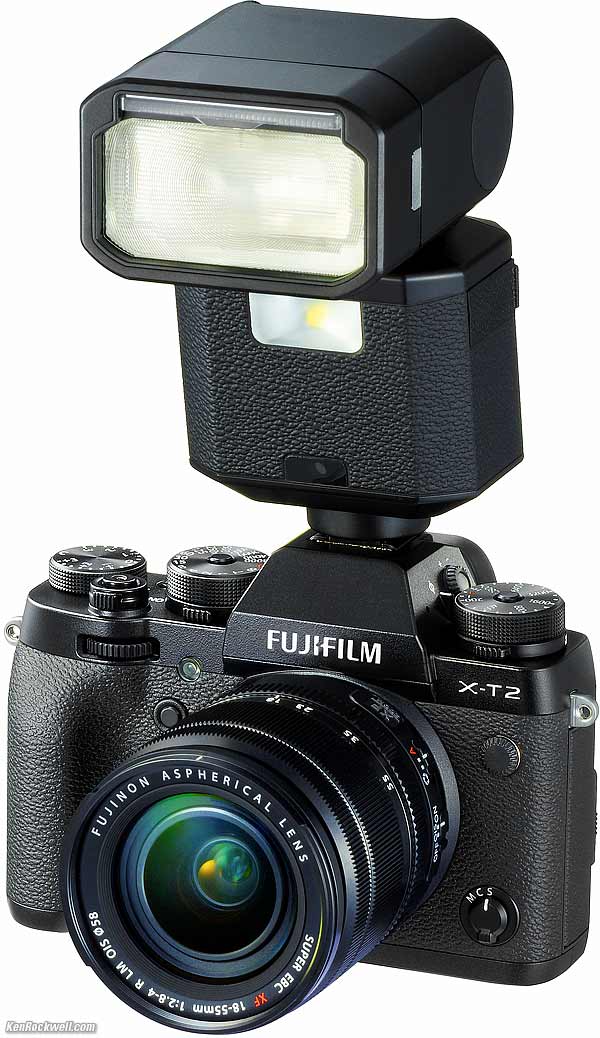 Fuji X-T2, 18-55mm and EF-X500 Flash. bigger.
Also uses the EF-X20, EF-20 and EF-42 flashes, as well as the included EF-X8.
Cases & Covers
NEW: Fuji BLC-XT2 Leather Half Case.
NEW: Fuji CVR-XT2 Cover Kit.
Standard threaded cable releases.
Protective Filters (PRF-39, PRF-52, PRF-58, PRF-62 and PRF-72).
Getting a Legal USA Version (for USA only)
Intro Specs   Accessories   USA Version
The USA version includes two printed manuals, one in English y uno en español.
Packed on top of these must be a USA product registration card. It will refer to the Fuji USA website, FujiFilmUSA.com::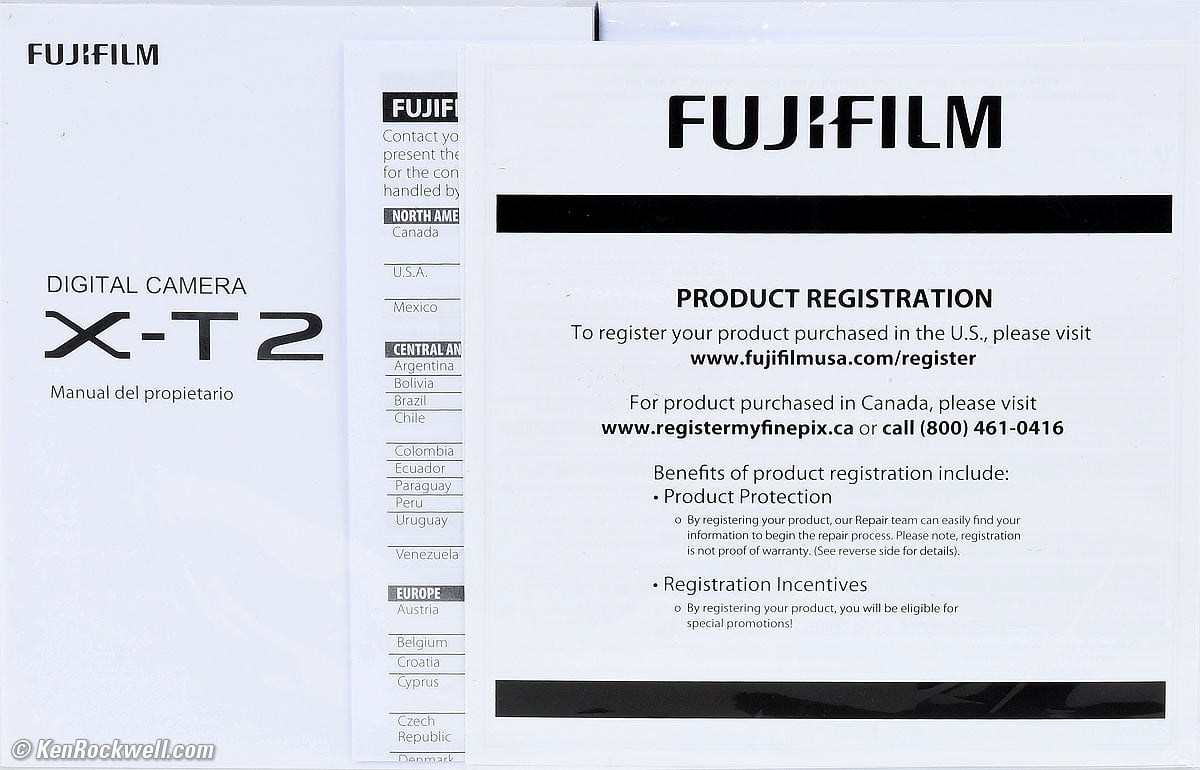 USA product registration. bigger.
If this card isn't on top of your manuals, you got ripped off with a gray market version from another country. This is why I never buy anyplace other than from my personally approved sources. You just can't take the chance of buying elsewhere, especially at any retail store, because non-USA versions have no warranty in the USA, and you won't even be able to get firmware or service for it — even if you're willing to pay out-of-pocket for it when you need it!
If a gray market version saves you $1,000 it may be worth it, but for $200 or less I wouldn't risk having no warranty or support.
Always be sure to check your box while you can still return it, or just don't buy from unapproved sources or at retail so you'll be able to have your camera serviced and get free updated firmware as needed.
Get yours from the same places I do and you won't have a problem, but if you take the risk of getting yours elsewhere, be sure to check everything while you still can return it.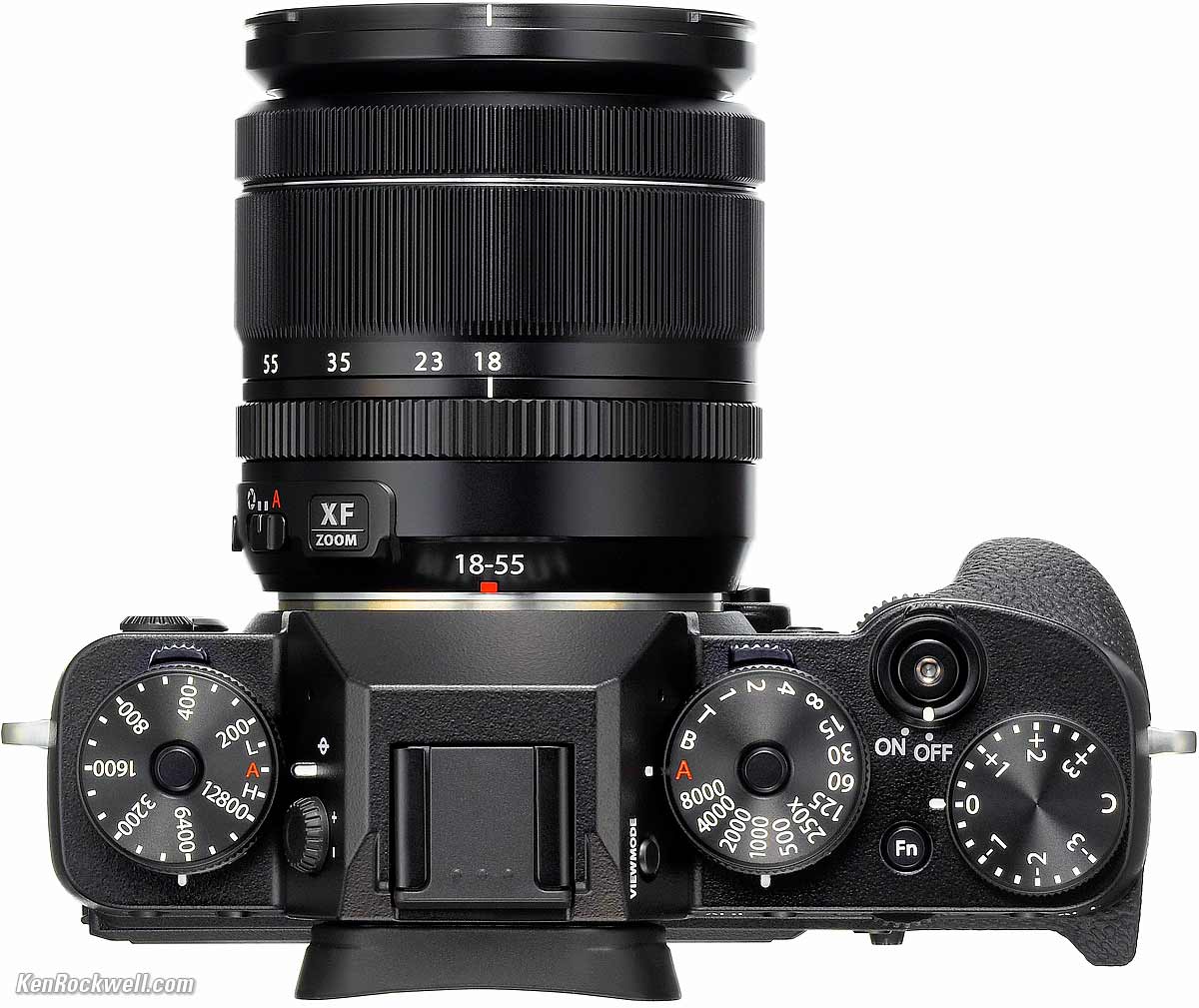 Fuji X-T2 and 18-55mm. bigger.
Performance
Intro Specs   Accessories   USA Version
Ergonomics
The camera's firmware is poorly thought out, making most settings much more cumbersome or impossible to find compared to Nikon or Canon DSLRs. Once you get it set the camera is fine, but finding settings can be impossible when you're trying to shoot. For instance, the FORMAT CARD command is hidden inside the User Settings menu!
Likewise, the flash will only fire in the mechanical shutter mode. If you're in the electronic shutter mode the camera will never tell you why it refuses to let you set the flash to ON. Like a woman, it expects you to know what you're doing wrong with no explanation — it should put up a warning box telling you what's going on, or should automatically revert to the mechanical shutter mode when you try to turn on the flash so you don't lose pictures messing around trying to guess the problem.
The Play button in on the wrong side, so it takes a second hand to use.
The ISO dial seems nice until you try to use it. It is missing the second H setting. The only way to choose between ISO 25,600 and ISO 51,200 is to find out where to assign which of those values applies when you select H. This is a serious design flaw; both settings need to be on the dial.
The ISO and shutter dial lock buttons are weird. They're push-push buttons: each time you push one, it either locks or unlocks. You can't just hold it to unlock and adjust the dial; if locked, you have to press once to unlock, move the dial, and press again to lock.
The Q screen 's COLOR saturation adjustment is backwards; you have to move the rear thumb wheel to the left to increase saturation.
Like all Fuji cameras, once you get familiar with the dopey menu system after a few days of heavy shooting, you get past this and start to appreciate how well laid out the dedicated dials and levers are that let you shoot quickly.
Finder
The finder is an electronic OLED display. It's bright, sharp, clear and colorful.
It has auto brightness control, so it looks great in daylight, while cameras lacking auto brightness control for the EVF like the X-E2 and X-E2s are too dim in daylight.
The finder is big and sharp; much bigger than in the X-E2 and X-E2s.
The graphics are such that the exposure compensation display does not make it clear if you have this set or not; it doesn't get much bigger when set or disappear when unset, so it's ineffective at warning you if you've left the compensation set.
It flickers at a rate high enough that it won't bother most people; this is normal for this kind of display.
High & Low ISO Performance & Sample Image Files
High ISO performance is quite good. Performance doesn't suffer much at very high ISOs.
While other cameras like the Nikon D5 allow setting foolishly high push + ISOs for marketing purposes, those ultra-high ISOs look horrible. In this X-T2, all of the regular ISO settings up to ISO 12,800 look fine. The H settings of ISO 25,600 and ISO 51,200 don't look too bad either if you need them.
As you'll see in the complete images, the pictures look mostly the same at every ISO at normal web and print sizes, and if you crop them to show extremely high magnification (40 x 60" or 100 x 150 cm prints), the highest ISOs get a bit dirtier and loose texture, but still quite acceptable for shooting in pitch black hand-held. (Of course always use the lowest ISOs if you're on a tripod shooting still subjects with all any camera.)
Complete Images
Click any for the camera-original © files to explore on your computer; mobile devices rarely show the full resolution files properly.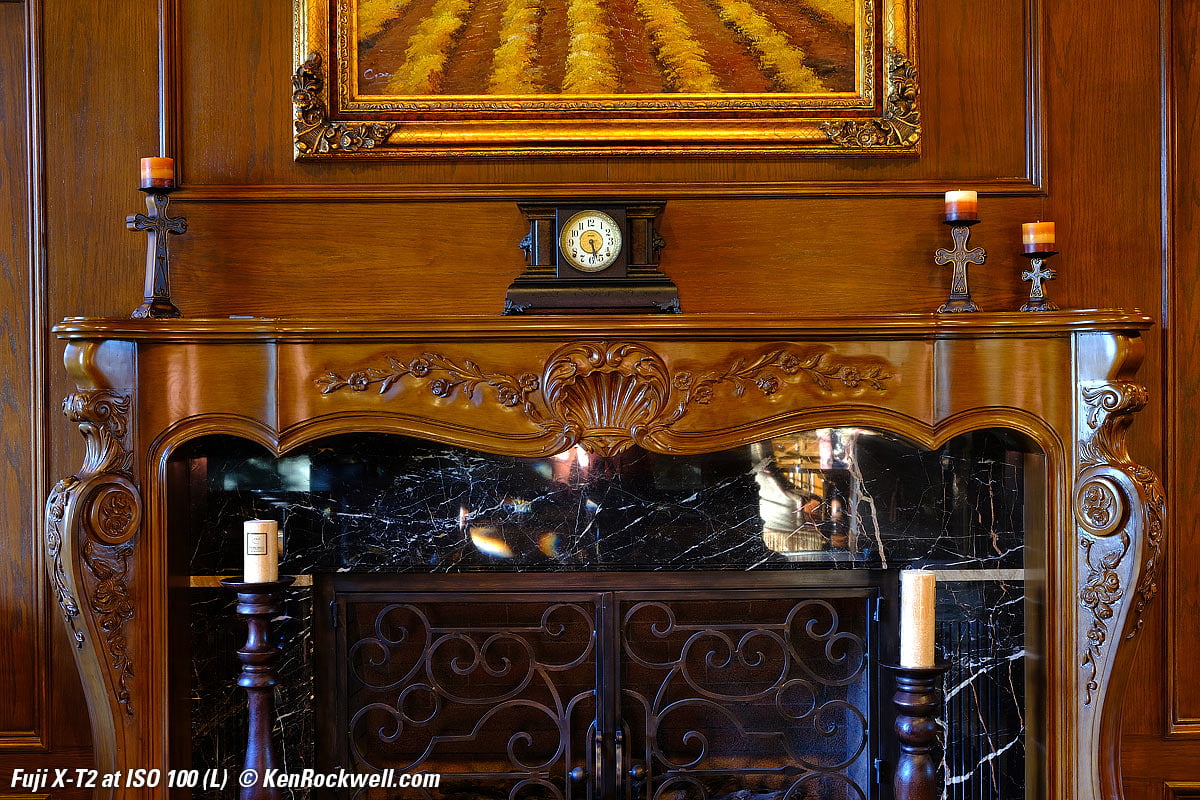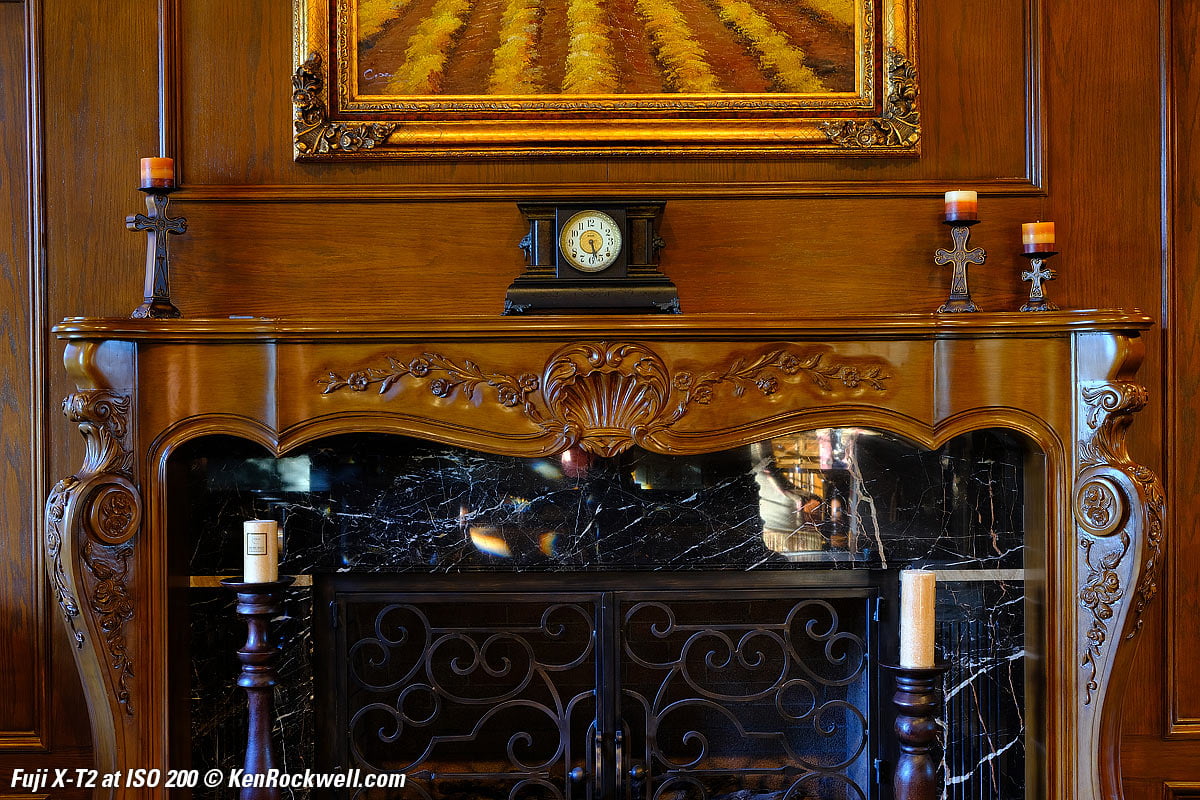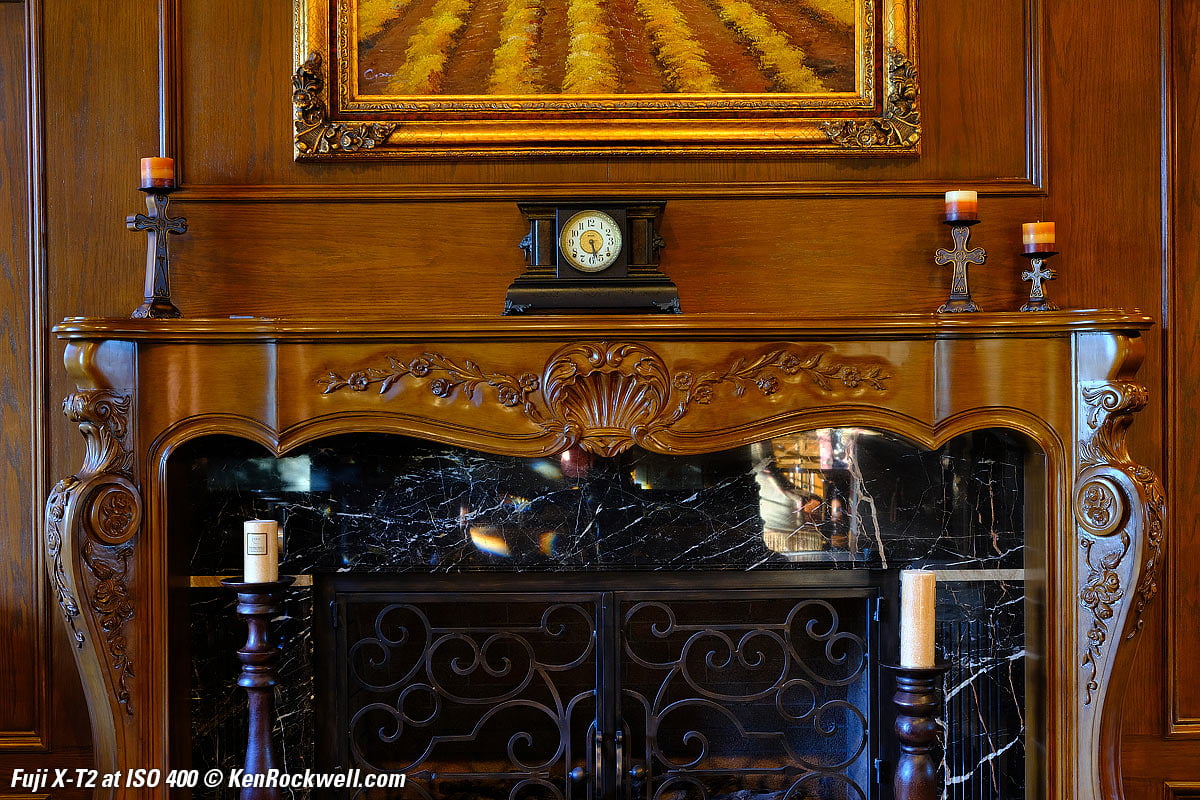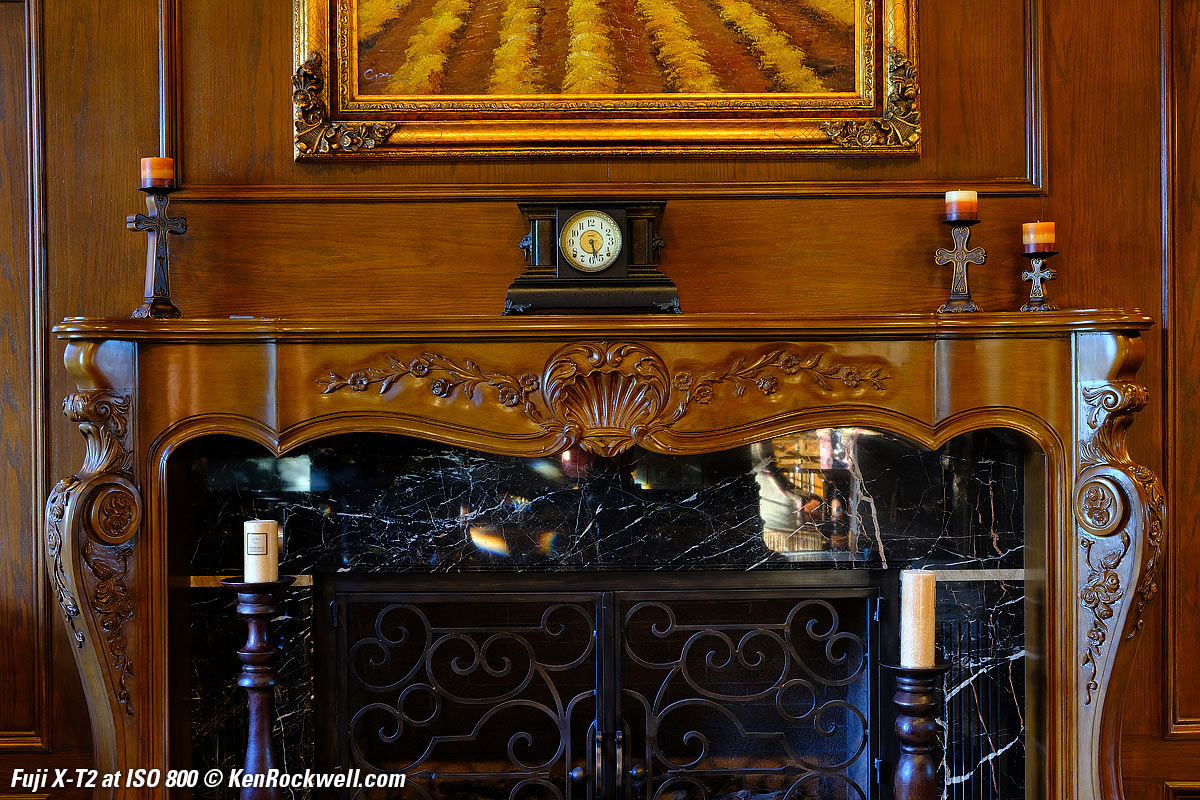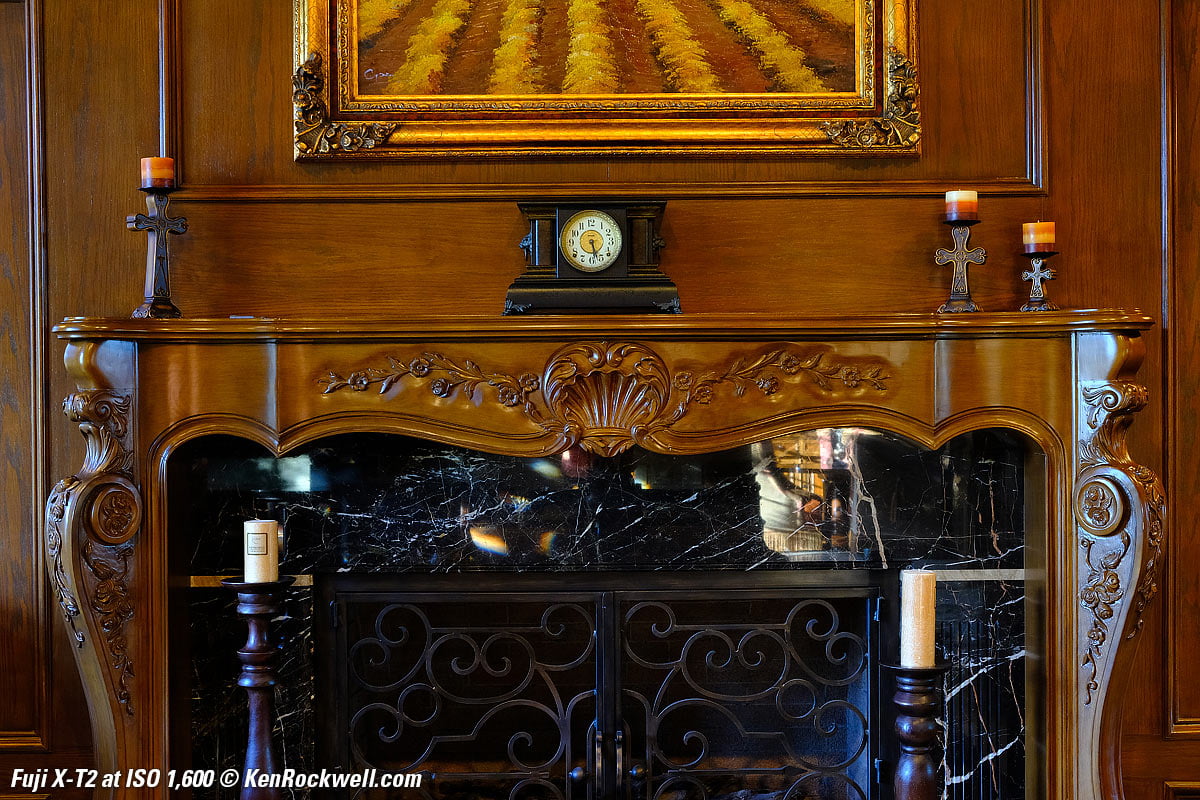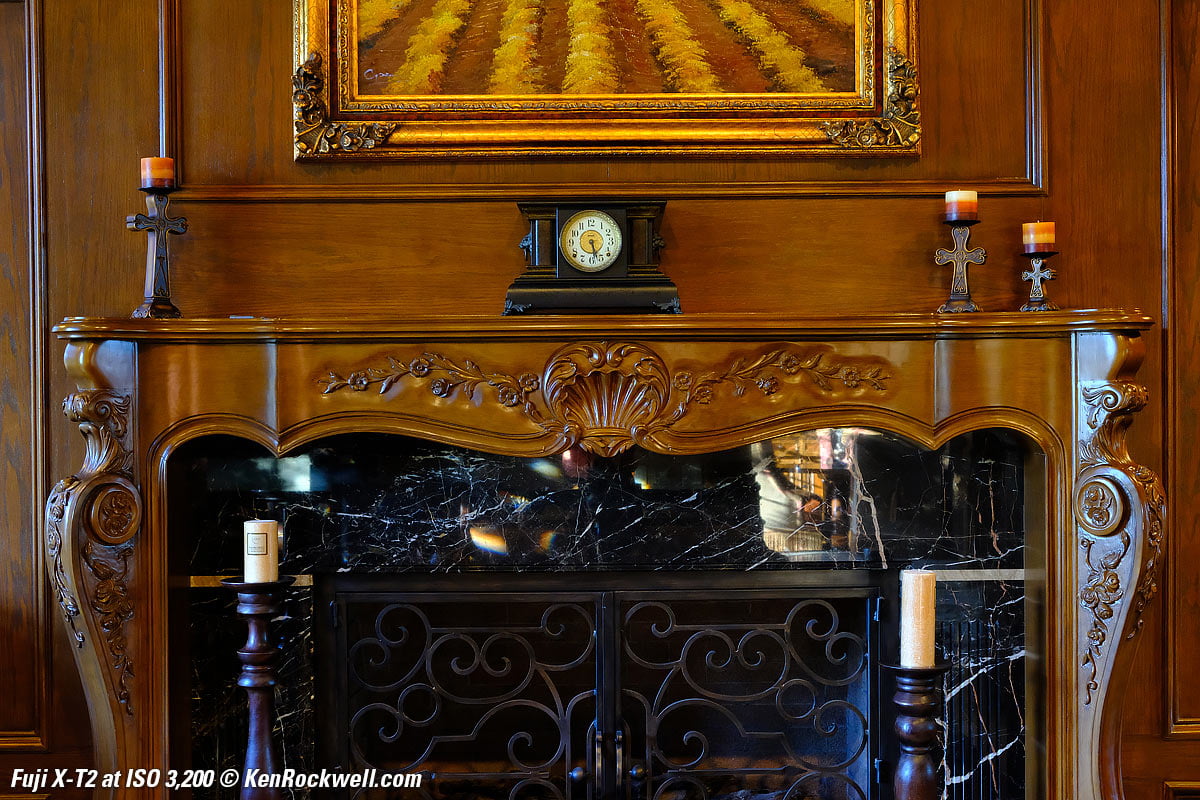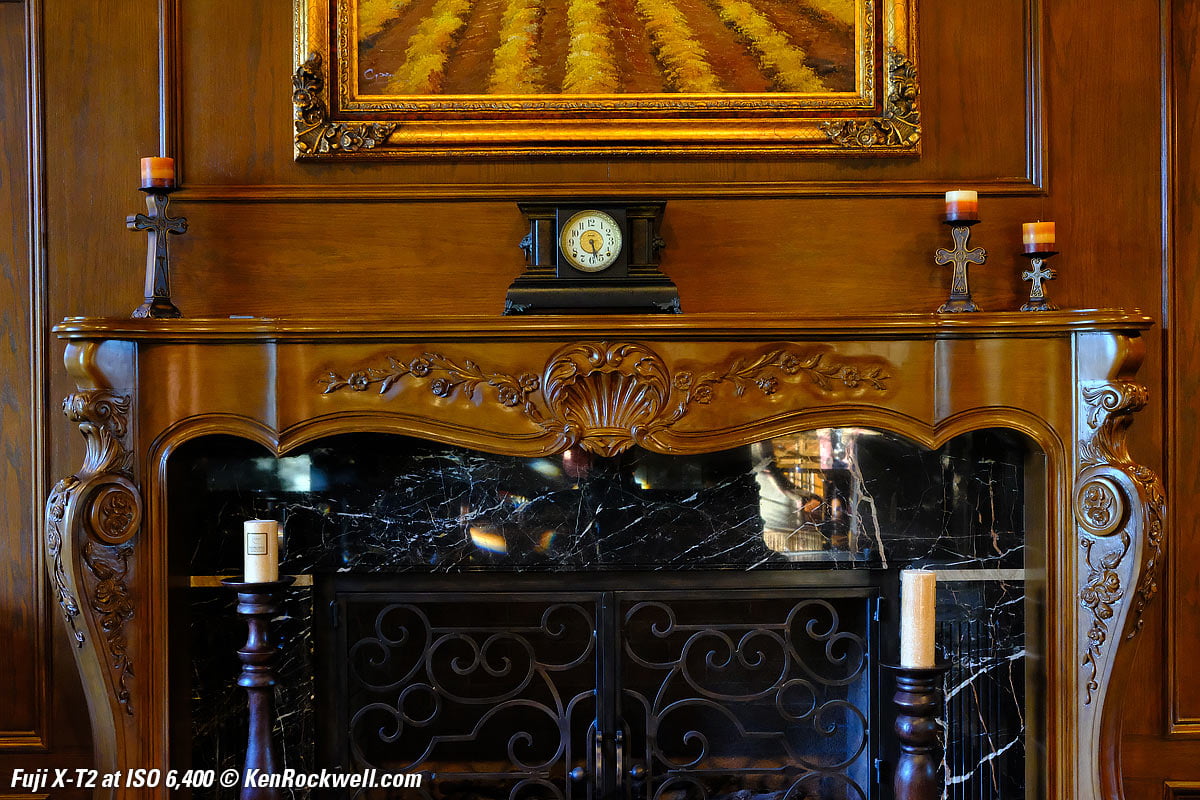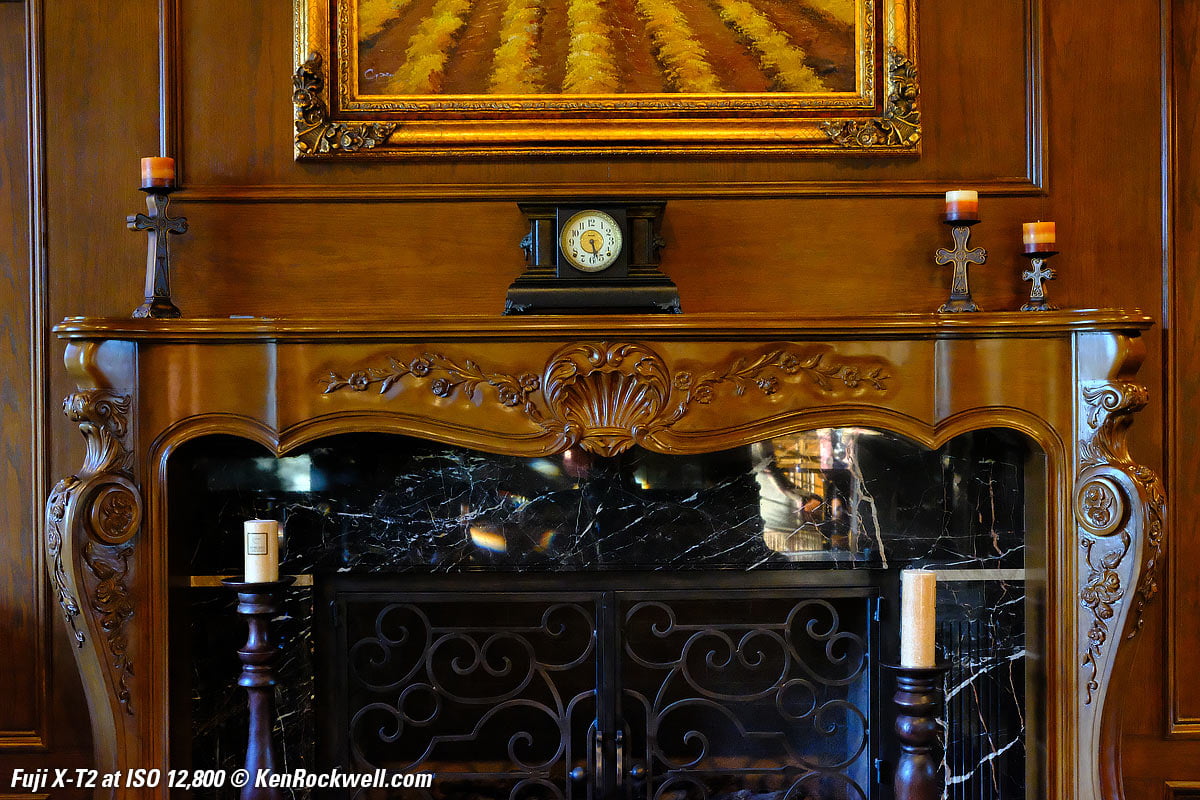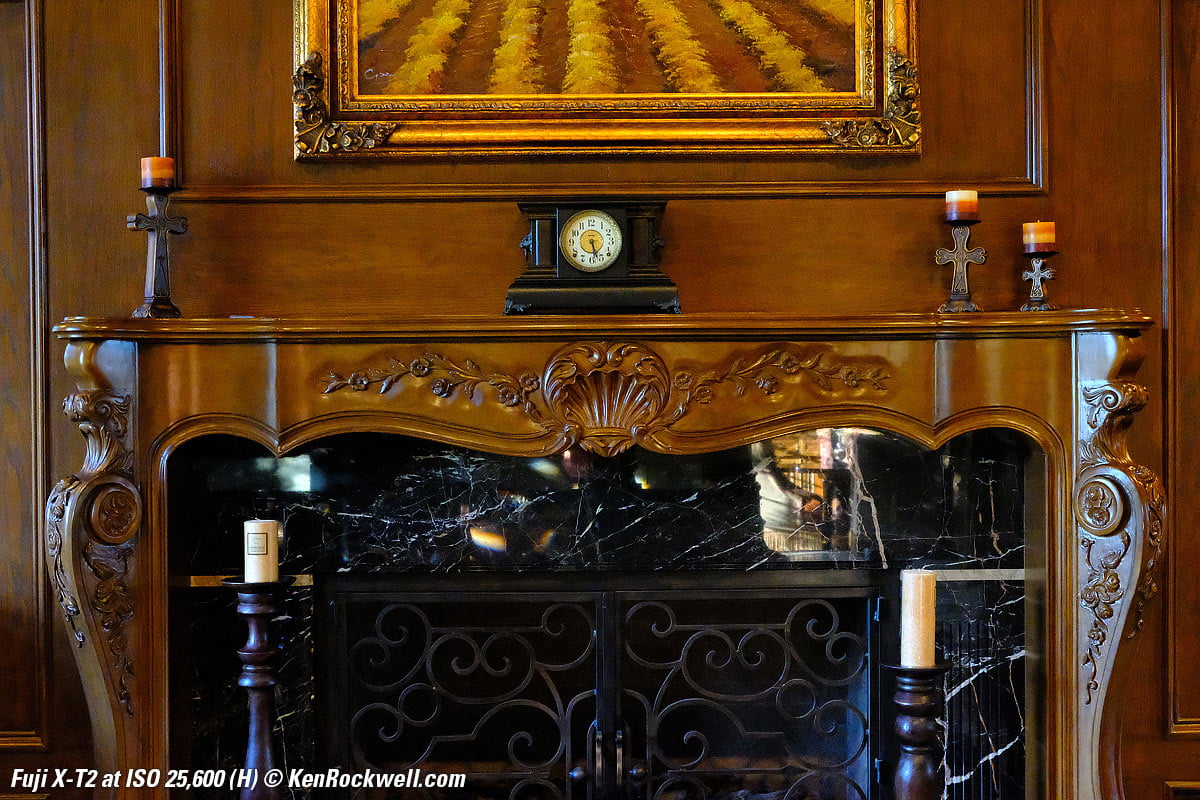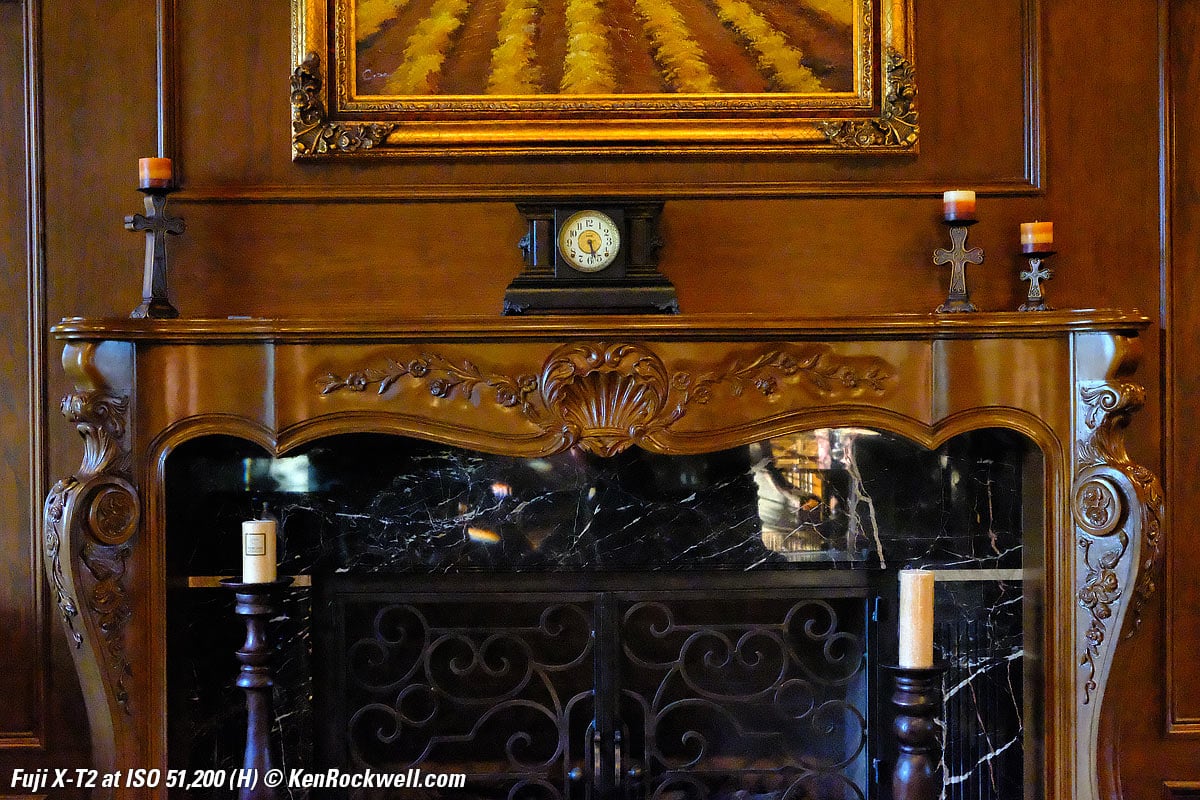 Crops from above
These are 600 x 450 pixel crops from the original images. They will vary in size to fit your browser window; if they are about 6" (15cm) wide on your screen, the complete image would print at 40 x 60" (100 x 150 cm) at this same magnification.
What we lose at high ISOs if you look at the original images and crops below are details and subtle textures. As ISO climbs, we lose grain in the wood, the sparkles in the black grain in the clock base, and everything gets softer. Fireplace bricks inside the grille disappear.
Click any for the same camera-original © files as above to explore on your computer (mobile devices rarely show the full resolution files properly).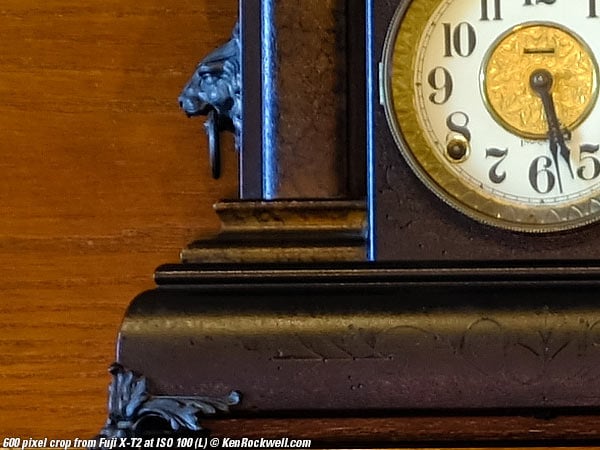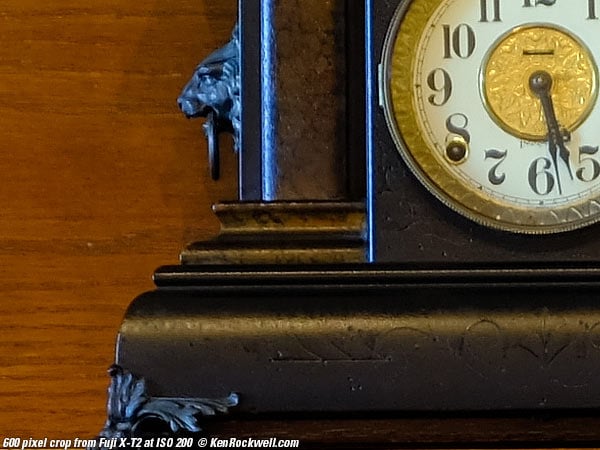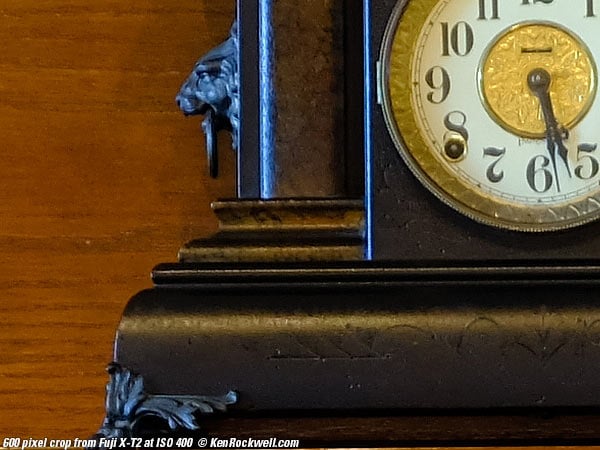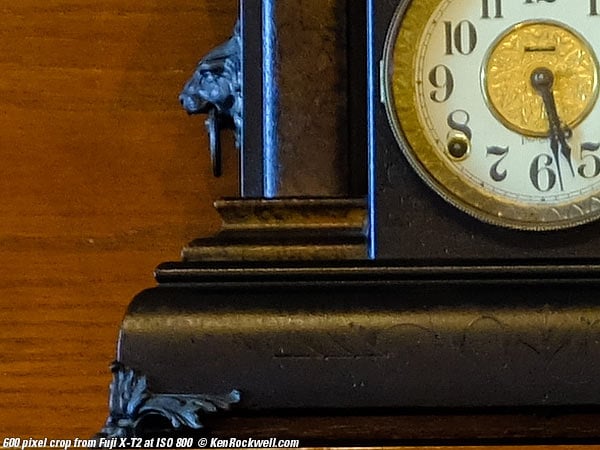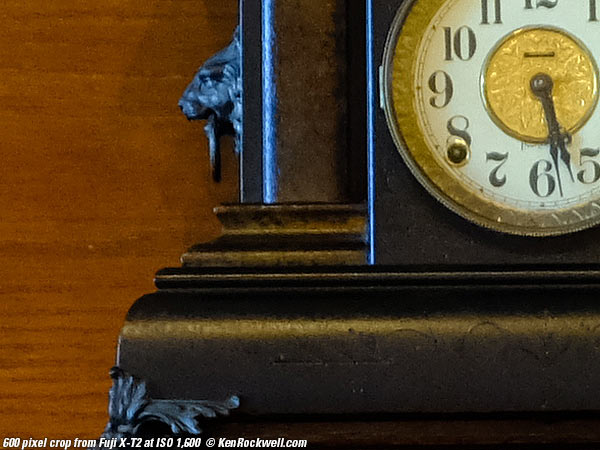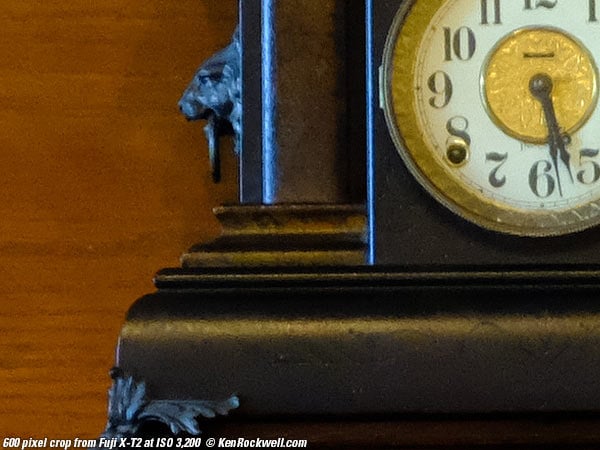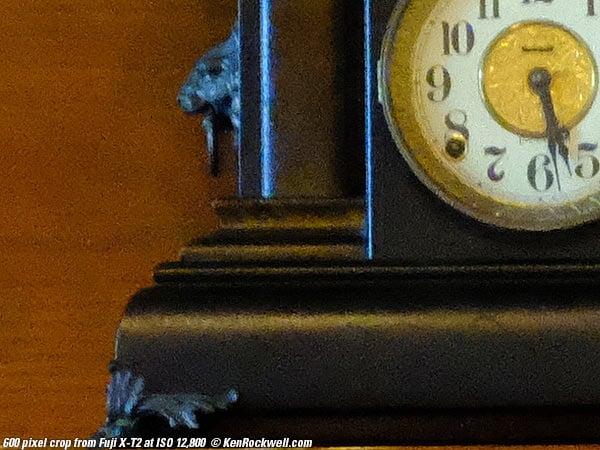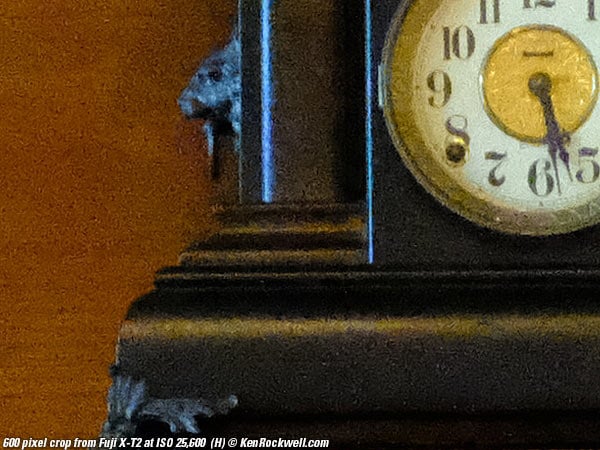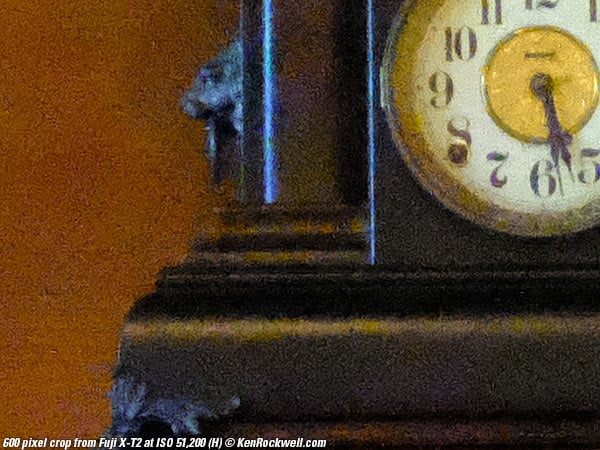 Color Rendition
The Fuji cameras are strongly optimized for photos of people, at which they excel. They get great skin tones in almost any light.
For nature and landscape the colors will be more muted than a Canon or Nikon DSLR set to its maximum saturation, as I do for these photos.
I shoot the Fuji cameras set to +4 for COLOR and also set the VELVIA - VIVID film saturation mode, and the results still aren't as crazily saturated as I prefer from my DSLRs — but most people think I'm crazy for my love of saturated colors.
This is all art and we all want different things, but for nature and landscape I prefer my Nikons and Canons over Fuji, while for people pictures the Fujis are unbeaten.
Data
Cards are not properly formatted; they are left titled as "Untitled" instead of properly titled as something like "FUJI-XT2."
The first folder is titled 100_FUJI.
ISOs read OK in Media Pro up to and including ISO 25,600 OK. ISO 51,200 reads as "ISO-14336."
JPGs are flagged as 72 DPI.
We may set the file name prefixes, however there is no dash (-) available; just capital letters.
Playback
Images are fuzzy for a moment as you select each new image.
There is no diagonal scrolling while zoomed, only up/down or left/right.
Power
Battery life is typical for a mirrorless camera: a few hundred shots per charge.
There is no percentage gauge, just a 5-segment icon.
Compared top
Intro Specs   Accessories   USA Version
Fuji X-T2 versus the X-Pro2
Both use the same 24MP sensor, XF lens mount, slow shutter speed ranges and battery.
The X-Pro2 is the same thing, with an additional optical finder. I'm not a fan of an optical finder for interchangeable lens cameras, so I'd pass on the X-Pro2.
Fuji X-T2 versus the X-E2 and X-E2s
The X-E2 and X-E2s are lighter duty and less expensive than the X-T2, but take exactly the same pictures.

This X-T2 has a much bigger and brighter finder than the X-E2 and X-E2s. While this X-T2 has an auto brightness control for the finder that makes it bright when you're outdoors, the X-E2 and X-E2s do not, and are much dimmer as well as smaller.

The E-E2 and X-E2s have fewer dials, no flip screen, are smaller and lighter and have a built-in flash sorely lacking in the X-T2.

Fuji X-T2 versus the Fuji X100T

The Fuji X100T is functionally about the same as the X-T2, but smaller and lighter with a better (leaf) shutter, a dual optical/electronic finder and fantastic fixed 23mm f/2 ASPH (35mm equiv.) lens.

To be perfectly honest, the only reason to buy the X-T2 is if you need to swap lenses. If you're happy with the one lens of the X100T (I am), there's no need for the X-T2. The X-T2 is for people who want a bigger camera onto which they can attach more lenses.

The leaf shutter of the X100T lets its built-in flash synchronize to about 1/2,000, letting it work great in daylight, while the focal plane shutter of the X-T2 is ten times slower (1/250), so it has much less fill-flash range.

I prefer my X100T to the X-T2, which is bigger, heavier, has no built-in-flash, and has an inferior focal plane and electronic shutter system that gives much poorer flash results than from the X100T. The X100T also costs much less.

Fuji X-T2 versus Sony

The Sonys have better electronic finders and better color rendition (picture quality) for nature and landscape shots. The Fujis are strongly optimized for people and portraits shots.

Fuji X-T2 versus DSLRs

DSLRs are the workhorses of the pro industry. They give the best picture quality, widest range of lenses and fastest operation.

The reason to look at mirrorless cameras is mostly for small size and weight, but this is a big mirrorless camera, bigger than the previous model. Add the ludicrous EF-X500 flash, and it's just as big as a DSLR, but without the image quality and real-world speed.

I prefer a small DSLR like the Nikon D3300 or Canon SL1 to this X-T2, and each weighs and costs less. They don't feel as nice in-hand because they're plastic, but they work at least as well and their images are even better for nature and landscape due to their snappier color rendition.

Fuji goes off about "pro" with this camera, but it's not really. If you want small, consider a small DSLR for the best of all worlds.

While this Fuji's color is all about people, if you also do landscapes and nature, you'll do better with a DSLR.

Usage top

Intro Specs   Accessories   USA Version


The ISO dial is locked when the little center button is down, and unlocked when it's up. You have to press the button in the center of the ISO dial to lock or to unlock it. If you like to leave it locked, then you have to press the button to unlock, make your setting, and press the button again to lock. This is a poor design.

The X-T2 has a crummy menu system, with important things hidden in stupid places. For instance, FORMAT CARD is hidden at MENU > Wrench > User Settings > Format.

To set the ISO for the H setting of the ISO dial, use MENU > WRENCH > BUTTON/DIAL SETTING > ISO DIAL SETING (H) and choose 51,200 or 25,600. Easy, huh?

Multi-zone versus one-point autofocus isn't named that. You have to press MENU > AF MF > AF Mode, then "Wide/Tracking" is multi zone.

You set Face Recognition ON at MENU > AF MF > FACE/EYE DETECTION SETTING > FACE ON/EYE AUTO.

You enable instant manual-focus override at MENU > AF MF > (click down to second page) > AF + MF. Set this ON so turning a lens' focus ring will change focus manually without having to move the switch on the camera.

Be sure you have two cards loaded if you've set the camera to use both cards for backup as I do (MENU > WRENCH > SAVE DATA SETUP > CARD SLOT SETTING (STILL IMAGE)> BACKUP. If you're missing a card in this mode, the camera warns NO CARD and locks up!

Recommendations top

Intro Specs   Accessories   USA Version

The X-T2 is a fraction the price, size and weight of a Canon 5DS R or Nikon D810, and it's a very serious camera. Get one, I did! It's so much better than any of my digital LEICAs.

The Fuji X100T is functionally the same thing with a fixed lens. If you're not wanting to carry a bunch of lenses around, just take your X100T with you instead.

The X-T2 doesn't replace a DSLR for sports and action, it's too slow and clunky by comparison. Mirrorless is inferior to DSLRs for AF speed.

Likewise, for my most serious nature and landscape work, I prefer the color palettes of my Nikon and Canon DSLRs. Fuji's colors are nice, but not professionally competitive against Nikon and Canon for nature, architecture, places and things.

The X-T2 excels for people pictures. If people are your thing, consider a Fuji.

I use the LEICA strap. The plastic gizmos on the LEICA strap that integrate so well with LEICA cameras may mar the X-T2's finish. I use electrical tape to protect my X-T2, more diligent people might use Fuji's provided strap lugs, tools and protectors with other straps instead.

You can get the body-only at Adorama, at Amazon or at B&H. I got mine as a kit with 18-55mm lens at Adorama, or you also can get the kit at Amazon or at B&H.

If you've found the time and expense I've incurred to research and share all this information for free, this website's biggest source of support is when you use those links to it or any of these links to approved sources when you get anything is what helps me keep adding to this free website for everyone's benefit — but I receive nothing for my efforts if you take the chance of buying elsewhere.

Thanks for helping me help you!

Ken.

More Information top

Intro Specs   Accessories   USA Version

Fujifilm's Fuji X-T2 information

Help me help you top

I support my growing family through this website, as crazy as it might seem.

The biggest help is when you use any of these links when you get anything, regardless of the country in which you live. It costs you nothing, and is this site's, and thus my family's, biggest source of support. These places have the best prices and service, which is why I've used them since before this website existed. I recommend them all personally.

If you find this page as helpful as a book you might have had to buy or a workshop you may have had to take, feel free to help me continue helping everyone.

If you've gotten your gear through one of my links or helped otherwise, you're family. It's great people like you who allow me to keep adding to this site full-time. Thanks!

If you haven't helped yet, please do, and consider helping me with a gift of $5.00.

As this page is copyrighted and formally registered, it is unlawful to make copies, especially in the form of printouts for personal use. If you wish to make a printout for personal use, you are granted one-time permission only if you PayPal me $5.00 per printout or part thereof. Thank you!

Thanks for reading!

Mr. & Mrs. Ken Rockwell, Ryan and Katie.

Home Donate New Search Gallery Reviews How-To Books Links Workshops About Contact