Home Donate New Search Gallery Reviews How-To Books Links Workshops About Contact
Canon 320EX
Speedlite Flash (2011-today)
Intro Compatibility Specs Performance
Compared Usage Recommendations More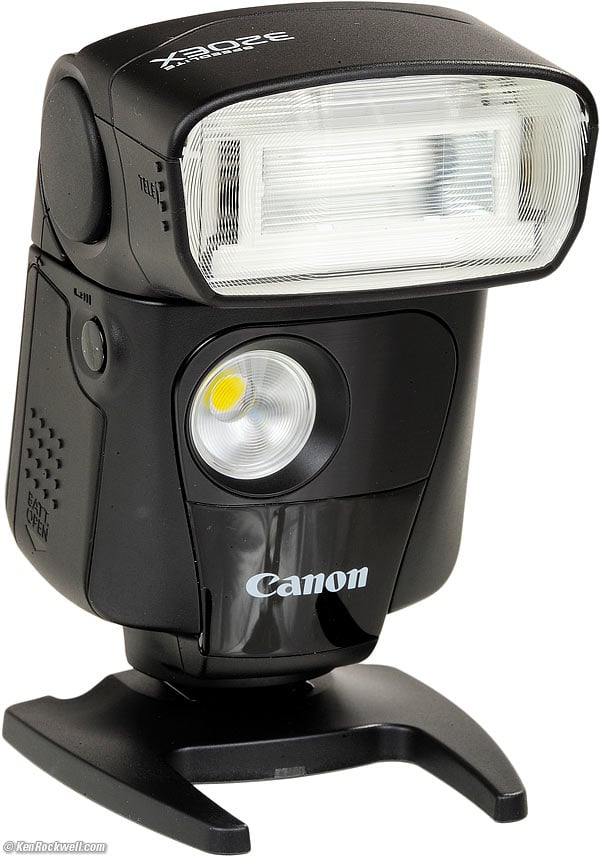 Canon 320EX (13.1 oz./373g with 4-AA eneloop cells, 2.5 second measured recycle time, 24mm or 50mm zoom positions, measured ISO 100 guide number of 20 meters/67 feet at 24mm, 24 meters/80 feet at 50mm, rated guide number 24m/79' at 24mm, 32m/105' at 50mm, works as slave but not commander, about $185 new or about $125 used if you know How to Win at eBay).
I got mine at Adorama; I'd also get it at B&H or at Amazon. This ad-free website's biggest source of support is when you use those or any of these links to approved sources, when you get anything, regardless of the country in which you live. It helps me keep adding to this free website when you get anything through these links — but I receive nothing for my efforts if you take the chance of buying elsewhere. Thanks for helping me help you! Ken.
July 2015 Canon Reviews Canon Flash Canon Lenses All Reviews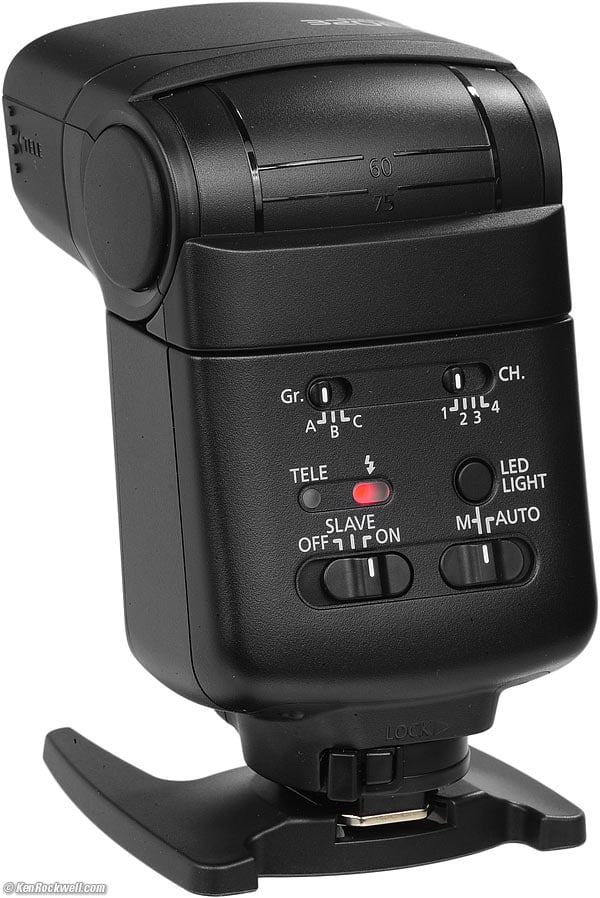 Rear, Canon 320EX.
Introduction top
Intro Compatibility Specs Performance
Compared Usage Recommendations More
The Canon 320EX flash is Canon's best small flash. It has almost as much power and recycles almost as fast as the superb Canon 430EX II, but for less money with less weight. The quality is the same; the 320EX is a first-rate product.
It works as a remote control for many Canon camera's shutters.
It works as a wireless slave, but not as a commander to control other flashes.
It excels because it's loaded with power and recycles silently and almost immediately, even at full power.
The 320EX also excels at ease of use, with a real power switch and dedicated control buttons and switches.
It's missing an infrared AF illuminator, and replaces that with a white LED continuous light for shooting video.
Flash exposure is controlled by the camera. Different flashes will give the same results, with the only difference being if they have enough power and if they are ready to shoot fast enough.
Good
Loads of power.
Fast recycling.
Small size.
Very well built.
Easy-to-use dedicated controls.
Super-fast and silent recycling. You can just keep shooting and the 320EX keeps blasting out the power with no waiting.
Missing
No "test" flash button.
No built-in bounce card.
No "A" mode for use with ancient non-TTL cameras.
No infrared AF illuminator. Unless you disable this in a camera menu, the flash will fire bursts at nearly full power for AF assist, blinding your subjects as it tries to focus. (You can use the LED light for AF assist in Live View.)
No green "Exposure OK" light.
Extra Features
Built in remote release to trigger a camera (if you're not using it as a flash).
Responds to wireless control — but won't work as a commander.
Comes with a little foot to let it sit on a table.
Compatibility top
Intro Compatibility Specs Performance
Compared Usage Recommendations More
The 320EX works on all Canon DSLRs.
It works on all Canon EOS cameras that use E-TTL and E-TTL II exposure systems ("type A cameras"), which means all DSLRs and most recent 35mm EOS cameras like the EOS 3 and EOS 1V.
The 320EX won't work with the oldest 35mm EOS camera like the EOS 650 from 1987 that use the original TTL autoflash system. For these, use an older flash like the 220EX or the fancier 430EX II instead, both of which work flawlessly on all EOS cameras.
Specifications top
Intro Compatibility Specs Performance
Compared Usage Recommendations More
Power Output (rated, ISO 100)
Zoom Setting
Full-frame (APS-C equiv.)

GN,
Meters

GN,
Feet

24mm (15mm)

24

79

50mm (31mm)

32

105
Recycling Time (rated)
2.3 seconds with alkaline cells.
Batteries
4-AA eneloop, Ni-MH, Alkaline or Lithium.
Full-Power Flashes (rated)
180 with alkaline cells.
Zoom Head
24mm or 50mm, manual push-pull.
Bounce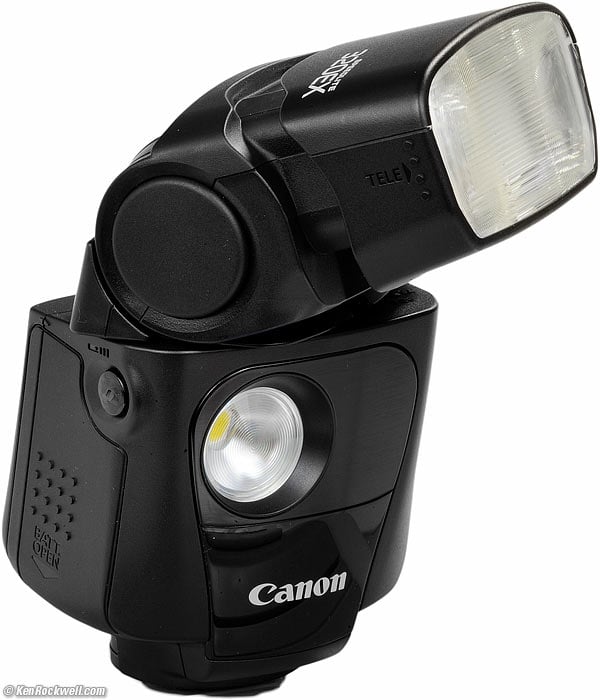 Canon 320EX.
0º to 90º up.
No downward bounce.
-180º left to to +90º right horizontal.
White LED Light
75 lux at 1 meter.
Covers 32mm lens on APS-C and 50mm lens on full-frame.
At ISO 3,200, that means it only is rated to work to a few feet!
AF Illuminator
None, but it will fire the main flash at nearly full power to focus in dim light.
Remote Release
Works with cameras that work with Canon's RC-1, RC-5 or RC-6 remotes.
About 5 meter (15 foot) range.
Wireless Flash Control
Optical pulse transmission system.
Works as slave only.
4 channels (1, 2, 3 and 4).
3 IDs (A, B or C).
Reception angle: ± 45º horizontal, 27º up, 20º down.
Custom Functions
Controlled only from a camera menu; no way to set them on-flash.
Size
2.8 x 4.5 x 3.1 inches, WHD.
70 x 115 x 78.4 millimeters, WHD.
Weight
13.150 oz. (372.7g) actual measured with 4-AA eneloop cells. Alkaline weigh the same, lithium cells weigh less.
9.495 oz. (269.2g) measured, empty.
Canon specifies 9.7 oz. (275g) empty.
Announced
11 February 2011.
Available since
April 2011.
Quality
Flash and stand made in Taiwan.
Case made in China.
Includes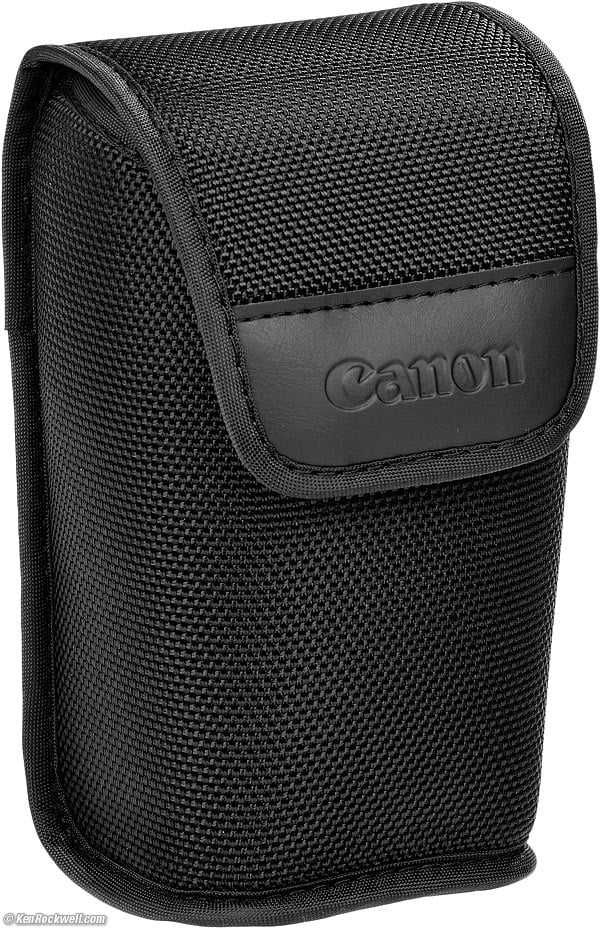 Case, Canon 320EX.
Flash.
Padded nylon velcro-closing case.
Little table stand with a 1/4" 20 thread to mount on a tripod, too.
Price
July 2015: about $220 new (or about $125 used if you know How to Win at eBay).
April 2014: about $185 new (or about $125 used if you know How to Win at eBay).
April 2011: $250 at introduction.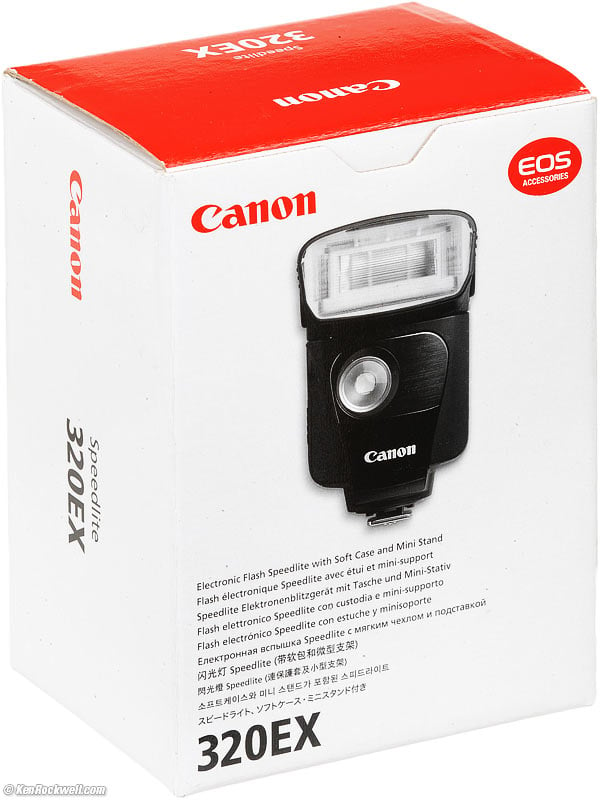 Box, Canon 320EX.
Performance top
Intro Compatibility Specs Performance
Compared Usage Recommendations More
Overall
The 320EX is wonderful. It belts out tons of power and recycles fast enough so it never forces me to wait to take my pictures.
The 320EX is exactly what I need in a small flash. Bravo!
Power (actual measured ISO 100 guide numbers)
Zoom Setting
Full-frame (APS-C equiv.)

GN,
Meters

GN,
Feet

24mm (15mm)

20

67

50mm (31mm)

24

80
It's got loads of power for fill flash photographing my kids at 1/200 at f/16 in daylight.
It makes a slightly audible "tick" when fired.
Recycling
I measure only 2.4 seconds from full-power dump to ready light ON with a set of eneloop cells measuring at 100%.
It charges silently; the inverter runs at a supersonic frequency.
After about 90 seconds it goes into standby, and wakes right up when you tap the shutter and wake up your camera again.
If it's been sleeping a while, it might take as long as 2.4 seconds to recharge again. After sleeping for 10 minutes, it was ready again in 1.6 seconds.
Ergonomics
The power switch is perfect: one finger flip and it's ON or OFF. Done! Just be careful not to get tricked and only slide it to the SLAVE position by accident.
There's no rear LCD because the 320EX doesn't need one, bravo!
The orange TELE light is so close to the READY light that they could be confused with each other.
The zoom head too easily gets knocked-back from the TELE to the WIDE position.
The battery door and markings are excellent. It's easy to open and close and see what batteries go where in the dark.
The buttons are unlit, but the markings are clear.
The 320EX uses Canon's newest locking foot, which even has a lock on the locking lever so it can't get unlocked by accident!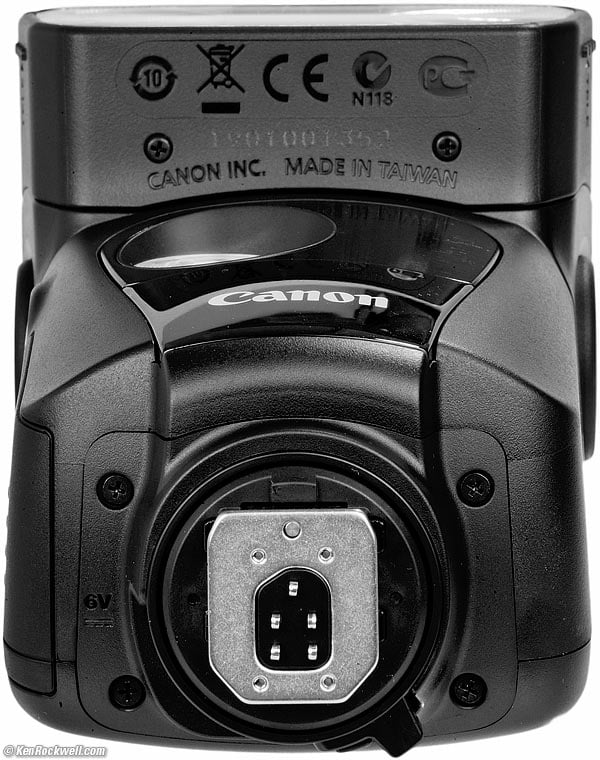 Bottom, Canon 320EX.

White LED Light

The LED is so dim that it's only helpful for photography in pitch black, and then only at close range.

It is very helpful as a flashlight when it's off your camera. I use it to see what's in my bag at night.

Compared top

Intro Compatibility Specs Performance

Compared Usage Recommendations More

600EX-RT

Today's 600EX-RT is a huge, more complicated and more difficult-to-use flash. I don't want one, but if you're the sort of geek who gets excited by being able to update a flash's firmware yourself, it could be for you.

The 600EX is intended for full time pros who want to use a bunch of them as part of a radio controlled setup, not really as a flash you use on top of your camera like the rest.

430EX II

The larger Canon 430EX II has more features and a bit more power and slightly faster recycling time.

The 430EX II is an incredibly great flash, but more than I want to carry all day unless I'm shooting a dedicated event.

The 430EX II also has a motorized zoom head and an infrared AF illuminator

If you want more flash than the 320EX, by all means get the 430EX II. I love the 320EX as a small take everywhere flash.

270EX II

The smaller Canon 270EX II is awful by comparison.

The 270EX II only uses two, not four, AA cells, so it can't recycle quickly enough and often makes me miss photos of my kids as I wait for it to recycle.

220EX (1996-2009)

The old Canon 220EX has less power and doesn't bounce, but does have an infra-red AF illuminator and is a little smaller and recycles very quickly.

Usage top

Intro Compatibility Specs Performance

Compared Usage Recommendations More

Basic TTL Shooting

Just slide it on, flip the lock lever to the right, turn it on, and shoot.

The lock lever locks, too. To remove it, you have to push-in the little unlock pin so you can move the lever to the left to unlock the flash from the shoe.

Everything else is handled automatically. If the flash it too dark or too light, you can change this with your camera's exposure compensation.

"Quick flash"

This means that if your batteries are low and the ready light is blinking but not yet solid, that you may take a picture and so long as you're not too far away it will come out fine.

You'll probably never notice a blinking ready light; you'll only see it with mostly dead batteries if the flash is taking a long time to recycle to fully ready, shown by the steady light.

Zooming

Push or pull the front of the flash forward or back.

The orange TELE light lets you know you're in TELE. If it blinks, that means your lens is wider than 50mm (32mm on APS-C).

Flash Exposure Compensation

Set exposure compensation with the "Bolt +/-" button on your camera.

Sync Modes (Rear, Slow, High Speed etc.)

Set these in your camera, for instance, at MENU > CAMERA ONE DOT > External Speedlite control > on a 5D Mk III.

Flash Exposure Lock

For Flash Exposure lock, for instance if your subject is close and off to the side, put the subject in the middle and press FEL on your camera to lock it.

Manual Flash

Set this in your camera, for instance, at MENU > CAMERA ONE DOT > External Speedlite control > on a 5D Mk III.

You'll have to calculate the exposure manually, use a flash meter, or duh, just look at the playback on the LCD and season to taste.

Test Firing

To test the flash, you'll have to take a picture with your camera.

To test at full power, set it for Manual mode and full power in your camera's menu system.

High Power Loads

If you use loads of power repetitively, the recycle time may be slowed deliberately to let the 320EX cool. I've never had this happen.

LED Light

With the flash's switch set to AUTO, it goes on and off as needed when shooting movies.

In Manual, hold the LED LIGHT button for a few seconds to turn it on or off.

The LED light is so dim I can't see it being of much use.

Wireless Flash

If I want remote flash, I use inexpensive professional studio strobes, not these expensive little battery powered gizmos.

If you do want to fiddle with wireless strobes, you set everything (like repeating strobe or flash ratios or repeating flash) on the master flash on your camera, and all the slaves follow those commands. You can force any given slave to manual at the slave flash.

The 320EX won't work as a master on-camera flash.

Setting this flash to follow as a slave is easy once you get a flash or trigger on your camera that will be the master. Simply slide the 320EX' power switch to SLAVE and slide the Group and Channel switches as needed.

Easy!

Recommendations top

Intro Compatibility Specs Performance

Compared Usage Recommendations More

This 320EX flash is my favorite current small Canon flash. It's loaded with power and recycles very quickly, unlike the slow 270EX II.

I use flash for outdoor fill flash. This 320EX performs wonderfully and it's super-well made and easy to use.

Use eneloop rechargeable batteries. They don't run down when you don't use them, and are loaded with power for fast recycling even if you haven't used your flash in months.

If you've found the time, effort and expense I put into researching and sharing all this for free, my biggest source of support for this ad-free website is when you use these links to it at Adorama, at B&H or at Amazon when you get yours. Using any of these links to approved sources when you get anything, regardless of the country in which you live, is what keeps this site on the air — but I receive nothing for my efforts if you take the chance of buying elsewhere.

Thanks for your support!

Ken.

More Information top

Intro Compatibility Specs Performance

Compared Usage Recommendations More

Canon USA's page on the 320EX.

Canon 320EX Users Manual, original PDF in English, French and Spanish.

© Ken Rockwell. All rights reserved. Tous droits réservés. Alle Rechte vorbehalten.

Help me help you top

I support my growing family through this website, as crazy as it might seem.

The biggest help is when you use any of these links when you get anything, regardless of the country in which you live. It costs you nothing, and is this site's, and thus my family's, biggest source of support. These places have the best prices and service, which is why I've used them since before this website existed. I recommend them all personally.

If you find this page as helpful as a book you might have had to buy or a workshop you may have had to take, feel free to help me continue helping everyone.

If you've gotten your gear through one of my links or helped otherwise, you're family. It's great people like you who allow me to keep adding to this site full-time. Thanks!

If you haven't helped yet, please do, and consider helping me with a gift of $5.00.

As this page is copyrighted and formally registered, it is unlawful to make copies, especially in the form of printouts for personal use. If you wish to make a printout for personal use, you are granted one-time permission only if you PayPal me $5.00 per printout or part thereof. Thank you!

Thanks for reading!

Mr. & Mrs. Ken Rockwell, Ryan and Katie.

Home Donate New Search Gallery Reviews How-To Books Links Workshops About Contact