Home Donate New Search Gallery Reviews How-To Books Links Workshops About Contact
Nikon 28-300mm VR
FX, 35mm & DX. Replaces all Nikon FX lenses!
© 2011 KenRockwell.com. All rights reserved.
Intro Specifications Performance Usage Compared Recommendations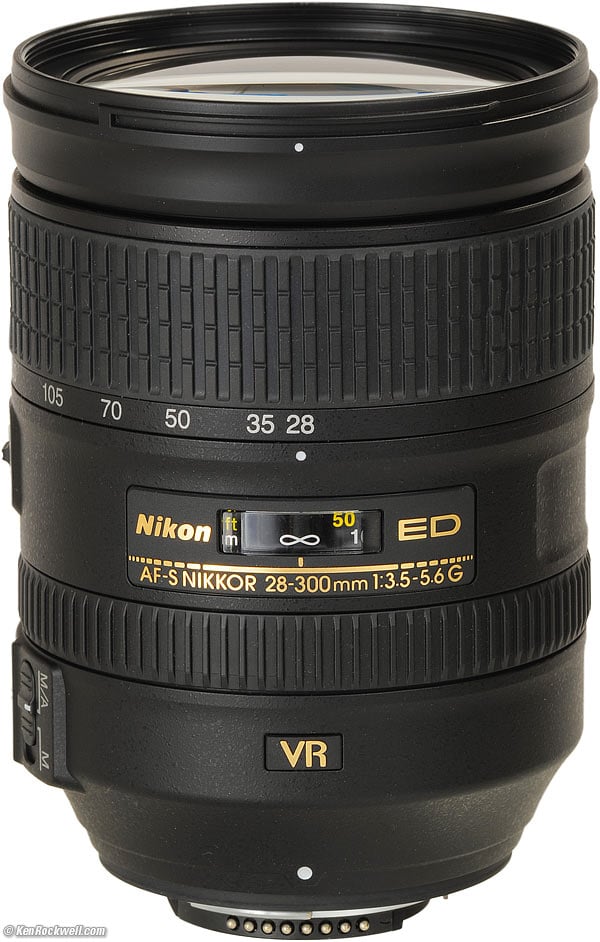 Nikon 28-300mm f/3.5-5.6 VR (77mm filters, 28.1 oz./796g, 1.6'/0.5m close focus, about $960). enlarge. The biggest source of support for this free website is when you use these links, especially this link directly to this lens at Adorama, at Amazon and at Ritz when you get anything, regardless of the country in which you live. I bought mine, as shown and tested here, off the shelf at Adorama. Thank you! Ken.
August 2012 Nikon Reviews Nikon Lenses All Reviews
NEW: Nikon 18-200 vs. 28-300 vs. 18-300 Comparison July 2012
Ideal for: Perfect for use for everything on FX digital and 35mm cameras.
Not for: I wouldn't bother with this on a DX camera. I'd use a DX lens, especially the 18-200mm VR II or 18-300mm VR, instead. For low-light action shots, VR can't help you; shoot a faster fixed lens like the 50mm f/1.4 or 50/1.8 instead.
| | |
| --- | --- |
| Optics: | Super-sharp, but lots of distortion |
| Mechanics: | |
| Ergonomics: | |
| Usefulness: | does everything! |
| Availability: | |
| Overall: | Replaces an entire bag of lenses! |
Sample Images
NEW: Yosemite October 2011
Full-Resolution Sample Images from the Nikon 28-300mm VR in the Eastern Sierra.
Introduction top
Intro Specifications Performance Usage Compared Recommendations
This 28-300mm VR replaces an entire bag of lenses or zooms. No longer do I carry any other lens in this focal length range. This 28-300 really does replace every other wide, normal, tele, macro and zoom. It's Nikon's newest and best. It is superb for photographing anything that holds reasonably still.
Just as the 18-200mm VR saved us from having to carry an entire bag of lenses for DX cameras, the 28-300mm VR again saves us from carrying multiple lenses for our 35mm and FX cameras. There's no longer a need for a camera bag, since we no longer need to haul anything else. If I need an ultrawide, my 16-35mm goes in a pocket.
The 28-300mm VR is super-sharp, easy to zoom and focus with instant manual-focus override, and its vibration reduction really works to allow low-light hand-held shooting at 300mm at 1/4 of a second, presuming you know how to shoot a rifle well. (VR can't stop active subjects, but it does stop hand-held camera shake.)
I shoot it as my only lens on my D800E, F6 or D3 in the field, except for a few situations where I need high speed (f/1.4) for low-light action, or wider angles.
This 28-300 has a lot of distortion, but if you're shooting digital, most newer cameras can correct this automatically. Even macro performance is swell.
The 28-300mm VR is the same thing for film and FX as the 18-200mm VR was for DX: it replaces everything in your bag, as well as your bag. This lens goes wide, it goes super-tele, it's sharp, and it has VR so you actually can use 300mm hand-held, even in dim light, so your tripod can stay home, too. It even replaces your macro lens.
Nikon's new 28-300mm lens is the world's largest-ratio Nikon zoom ever for film or FX cameras. It replaces Nikon's earlier dinky but high-performance 28-200mm G that was discontinued in 2006.
As an FX and 35mm film lens, I am reviewing it as such. It works great on DX cameras, but it's a silly focal length range for them; use the 18-300mm DX VR on DX cameras. This 28-300 works great on DX, just that the 18-300 sells for about the same price and gives you the additional wide range.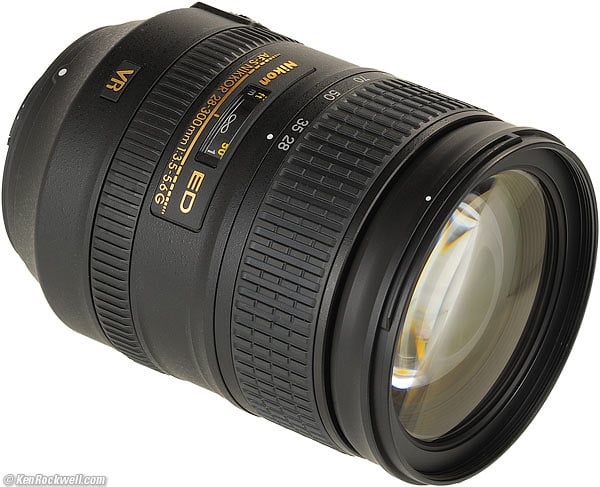 Nikon 28-300mm f/3.5-5.6 VR. enlarge.
Everything works perfectly on every digital Nikon, both FX and DX, and even on Nikon's cheapest digitals like the D40, D40x, D60, D3000, D3100, D3200, D5100 and D5000.
It's also perfect on decent or recent AF film cameras like the F6, F100, F5, N80 and N75.
The incompatibilities for older or cheaper film cameras are that:
1.) It won't autofocus with the cheapest new AF film cameras like the N55, but if you focus manually, everything else works great. Even if you lose autofocus, these cameras have in-finder focus confirmation dots to help you.
2.) Late 1980s ~ early 1990s AF cameras like the N90s, N70 and F4 will focus just fine, but you'll lose VR. You'll have Program and Shutter-priority modes, but lose Manual and Aperture-priority since you have no way to set the aperture on the camera or on the lens.
3.) You're really pushing it with the oldest AF cameras like the N2020, N6006 and N8008. You'll have no AF, confused exposure modes, and no VR. Manual focus is fine, along with electronic focus indications.
4.) Since it has no aperture ring, it's just about useless with manual focus film cameras.
See Nikon Lens Compatibility for details with your camera. Read down the "AF-S, AF-I," "G" and "VR" columns for this lens. You'll get the least of all the features displayed in all columns, since "G" (gelding) is a handicap which removes features.
Specifications top
Intro Specifications Performance Usage Compared Recommendations
Name top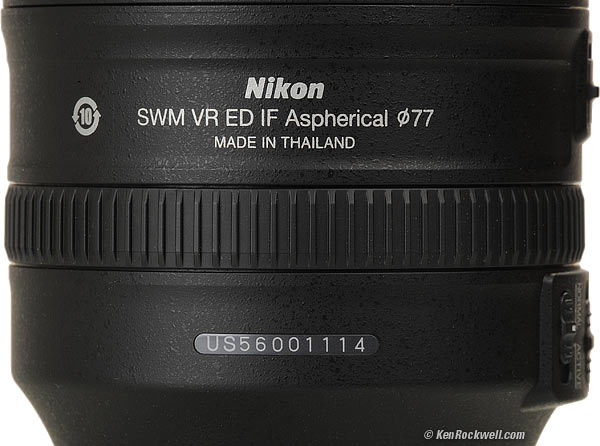 Bottom, Nikon AF-S NIKKOR 28-300mm f/3.5-5.6G ED VR. enlarge.
Nikon calls this the Nikon AF-S NIKKOR 28-300mm f/3.5-5.6G ED VR .
AF-S and SWM: Silent Wave Autofocus Motor.
G: Gelded for cost-reduction and removing compatibility with older cameras.
ED: Magic Extra-low Dispersion Glass.
VR: Vibration Reduction.
Aspherical: Magically shaped elements that give superior performance.
Optics top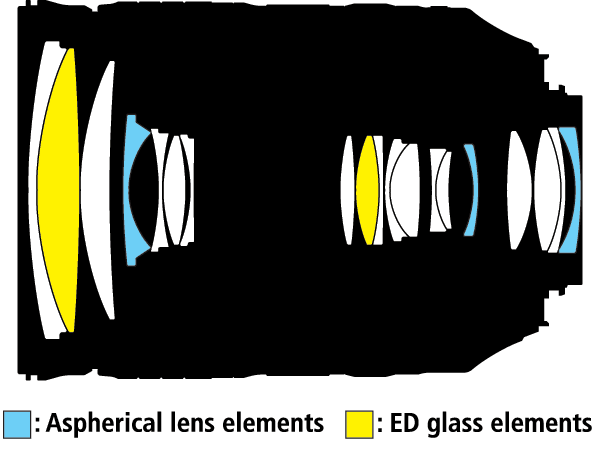 Internal diagram, Nikon 28-300mm f/3.5-5.6 VR. enlarge.
19 elements in 14 groups.
Internal focusing; nothing moves externally as focused.
Three aspherical elements.
Two ED (magic Extra-low Dispersion glass) elements.
Nikon Super Integrated Coating (SIC).
Nikon's claimed MTF curves: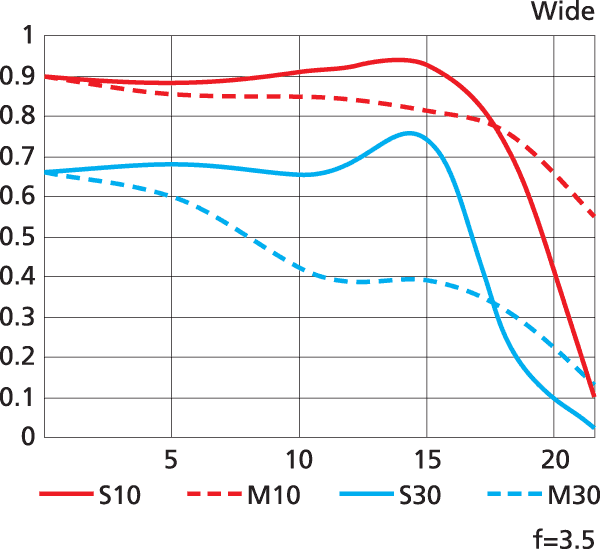 MTF, 28mm.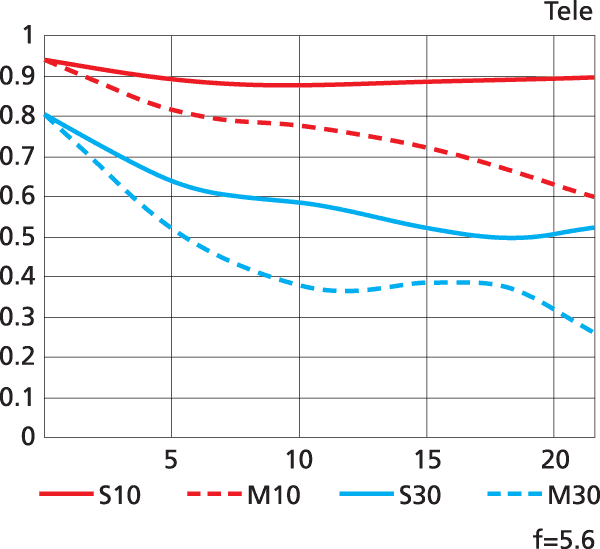 MTF, 300mm.
Diaphragm top
9 rounded blades.
Essentially circular at all settings.
Coverage top
35mm film, FX and DX.
Focal Length top
28-300mm.
When used on a DX camera, it gives angles of view similar to what a 42-450mm lens gives when used on an FX or 35mm camera.
Angle of View top
74° ~ 8.2° on FX and RealRaw.
53° ~ 5.3° on small-format DX.
Close Focus top
1.5 feet (18" or 0.45m), measured, at 300mm.
1.6 feet (19" or 0.50m), specified.
Working Distance top
8.5" (22cm), the distance between the subject and the front of the lens at its closest focus distance at 300mm.
Maximum Reproduction Ratio top
1:3.2.
Hard Infinity Focus Stop? top
No.
You have to let the AF system focus at infinity.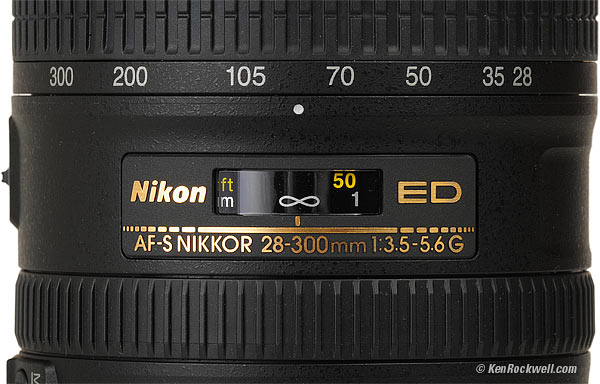 Nikon 28-300mm f/3.5-5.6 VR. enlarge.
Focus Scale top
Yes.
Depth-of-Field Scale top
No.
Infra-Red Focus Index top
No.
Aperture Ring top
No.
Filter Thread top
77mm, plastic.
Does not rotate.
Vibration Reduction (VR) top
VR II.
Claims "up to 4 stops" improvement.
Size top
Nikon specifies 3.26" (83mm) diameter by 4.5" (114.5mm) extension from flange.
Weight top
28.070 ounces (795.8g), measured.
Nikon specifies 28.2 oz. (800g).
Hood top
Plastic bayonet HB-50 hood, included.
Case top
CL-1120 pouch, included.
Included top
77mm snap-on front lens cap LC-77 (Thailand).
LF-1 rear cap (Thailand).
Plastic bayonet hood HB-50.
CL-1120 pouch.
Quality top
Made in Thailand.
Announced top
19 August 2010.
Available top
Shipping since September 2010.
Nikon Product Number top
2191.
Price, USA top
$960, July 2012.
$940, 06 February 2012, the day before the D800 was introduced.
$945, mid-February 2011.
$959, early-February 2011.
$999.95, November 2010.
$1,029.95, September-October 2010.
$1,049.95, August 2010, at introduction.
Packaging top
Gold-colored micro-corrugated cardboard box.
Folded micro-corrugated cardboard inserts.
Lens in serial-numbered plastic bag.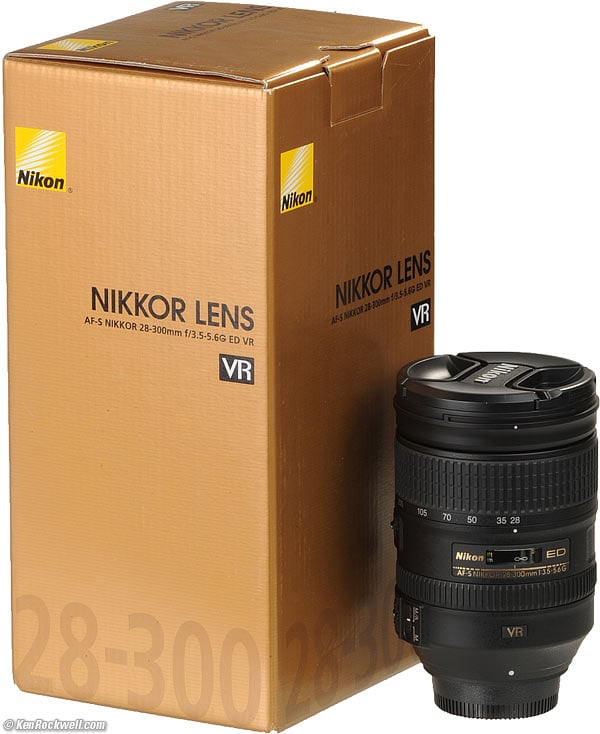 Nikon 28-300mm f/3.5-5.6 VR and its Big Box.
Performance top
Intro Specifications Performance Usage Compared Recommendations
Overall Focus Bokeh Color Coma Distortion
Ergonomics Falloff Filters Focal Lengths, effective
Lateral Color Fringes Macro Maximum Aperture
Mechanics Sharpness Sunstars VR Zooming
Overall performance top
NEW: Yosemite Sample Images October 2011
Photos from the Eastern Sierra, with High-Resolution Sample Images from the Nikon 28-300mm VR.
The Nikon 28-300mm AF-S G ED VR is an excellent lens. It's sharp and does everything.
It has ample distortion, easily corrected in-camera or Photoshop's lens distortion filter.
It handles great, focusing from infinity down to a foot-and-a-half at every focal length with ease.
It looks great shot on FX and DX, and looks spectacular show on 35mm Fuji Velvia 50.
Nikon 28-300mm shot makes USA Today. (larger.)
The shot, captioned "Ashley Force Hood's Mustang is engulfed in a shower of sparks during a blow-up in Friday's qualifying sessions at Maple Grove Raceway," was shot by Brian Link on his D700 and his amazing new 28-300mm. Where did he get his lens? My link to it at Adorama, of course. (Adorama's lenses take better pictures than lenses bought elsewhere.)
I'm sure plenty of other shots have been published in major media from the 28-300; this is the first one where a reader wrote to tell me his shot got printed with this brand-new wonder lens.
Of course the shot is really all due to Brian's ability, great shot! Thanks Brian!
Focus performance top
AF Speed
AF speed is reasonable, but not instant.
It can hang-up or hunt a bit at the longer settings, especially if you're way out of focus. If you are, turn the manual ring to get you in the neighborhood and the AF system will take it from there.
If shooting in the AF-C (continuous) AF mode, it tracks moving kids just fine. Once it gets into the area, AF tracks great, but if you're way off, which can happen because of the huge focus range at 300mm, it can take it a bit to wake up and get in focus.
The AF-S motor isn't completely silent; you may hear some high-pitched whining as it focuses, but your subjects won't.
AF Accuracy
AF is dead-on at every setting.
I couldn't fool it, so I got sharp results in all conditions.
Manual Focus
Manual focus is swell. Just move the little ring with a fingertip at any time; there is no need to fiddle with a switch. This important feature is something often missing on many Canon and cheap-brand ultrazooms from the likes of Tamron and Sigma.
Oddly, it works great at 300mm, at 28mm, and everywhere in between. Large-range zooms usually get too fidgety at the long end or unresponsive at the wide end, but in this case, its geared just right.
M/A - M Switch
Nikon goofed. This switch is supposed to be labeled "A - M."
The "M/A" position means autofocus. It's called "M/A" because you also can focus manually simply by grabbing the focus ring in this position.
Paint over the extra M if you're easily confused.
Zooming after focusing
I'm impressed; my purchased sample does a very good job of holding focus as zoomed.
Bokeh performance top
Bokeh, the character of out of focus backgrounds, not simply how far out of focus they are, looks great!
If you want to lose a background, zoom to 300mm, and have at it.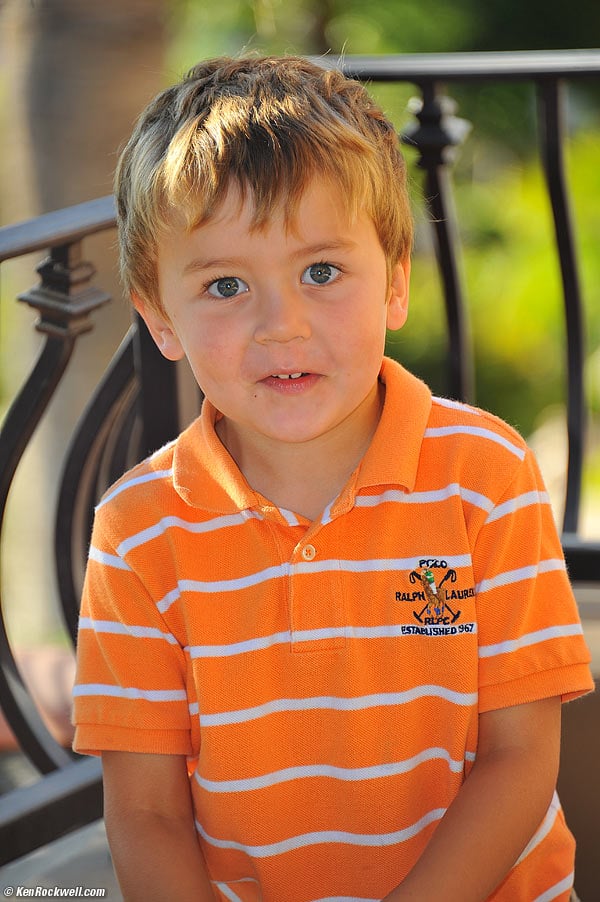 Ryan is not excited by bokeh, 26 September 2010. (Nikon D3, Nikon 28-300mm VR at 300mm and f/5.6, 1/125 hand-held.) original file.
Color Rendition performance top
The color rendition of this 28-300mm VR is the same as my other multicoated NIKKOR lenses.
The colors you get depend on the subjects at which you point it and the film in your camera and Lighting, Picture Controls, White Balance and Exposure, not this lens.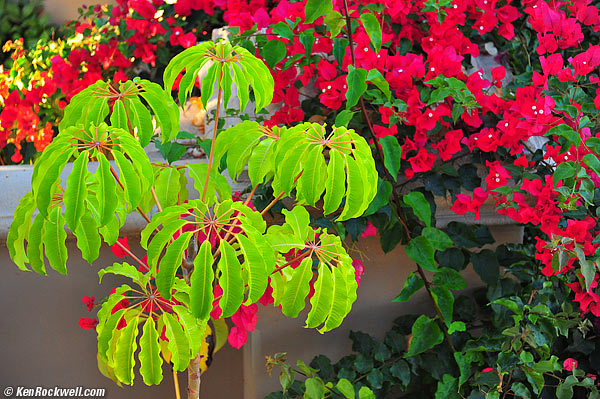 Glowing Plants. (125mm and f/5.6, Nikon D3, auto ISO chose ISO 1,000, VIVID Picture Control and +3 saturation, Auto A3 WB. enlarge.
See more sample images here.
Coma performance top
I don't see any coma.
Coma (saggital coma flare) are weird smeared blobs that can appear around bright points of light in the corners. They happen with fast and wide lenses at large apertures, and don't happen with this lens. Coma goes away in lenses that have it as they are stopped down, and tends not to be seen in slower and tele lenses as we have here.
Distortion performance top
If brick walls are your thing, the Nikon 28-300mm has boatloads of distortion, as expected for any 11:1 zoom priced under $10,000. Distortion is strong barrel at 28mm, none around 32mm to 35mm, strong pincushion midrange and mid-tele, and moderate pincushion at 300mm.
THe good news is that used on recent digital cameras like the D90, D3100, D3200, D5000, D5100, D7000, D4, D800 and D800E, the distortion can be set to correct itself automatically in-camera!
For normal use, it's rarely a problem. Here's a snap at 28mm where its distortion is the worst: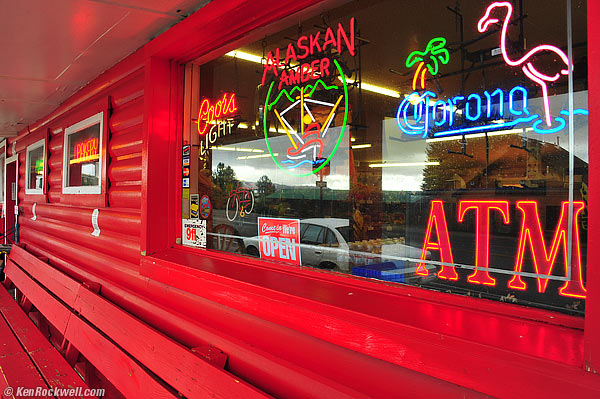 Market. bigger.
See more sample images here.
If its distortion bothers you when shot on older cameras that can't correct this, it's trivial to correct by plugging these figures into Photoshop's lens distortion filter. These aren't facts or specifications, they are the results of my research that requires hours of photography and calculations on the resulting data.
FX and Film
at 3m (10')


28mm

+5.5*

+8.0*

35mm

-1.0*

-1.5

50mm

-4.25

-2.5

70mm

-4.5

-3.0

105mm

-4.0

-2.5

210mm**

-3.0

-2.0

300mm

-3.0

-2.0
© 2010 KenRockwell.com. All rights reserved.
** 200mm on the zoom ring reads 210mm in EXIF, no big deal.
Ergonomics (handling and ease-of-use) performance top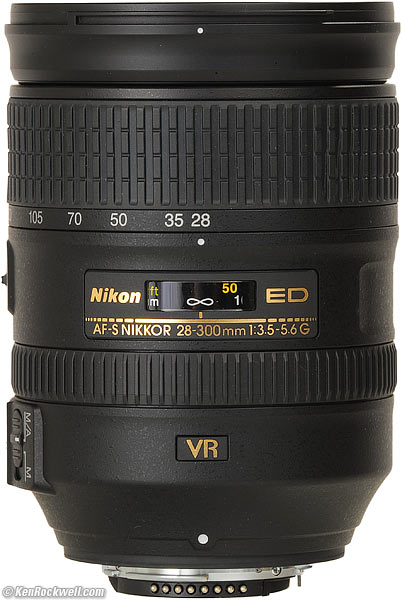 Nikon 28-300mm f/3.5-5.6 VR at 28mm. enlarge.
If you don't mind the hefty size, this 28-300mm is perfect. I wouldn't enjoy traveling with it, and it is perfect for use on a dedicated photo trip. (For travel, a Canon S95 in my pocket is my style, not an FX SLR around my neck.)
Manual focus comes up any any time with a finger on the focus ring. Macro distances are had both automatically, or by focusing closer; there are no macro range switches as there are on the 28-105mm AF-D.
Zooming is appropriately stiff so that there is no creeping. I see no see no need for the zoom lock switch at 28mm.
Falloff (darkened corners) performance top
Falloff on FX isn't a problem; I never notice it shooting wide--open with my D3's Vignette Control set to Normal.
It won't be an issue on DX (see crop factor).
I've exaggerated this by shooting a gray field, turning off Vignette Control and placing these on a gray background, and they still aren't anything visible except wide-open at 28mm and 300mm:
Nikon 28-300mm VR falloff on FX and film at infinity, no correction.
| | | | |
| --- | --- | --- | --- |
| | | f/5.6 | f/8 |
| 28mm | | | |
| 35mm | | | |
| 50mm | | | |
| 70mm | | | |
| 105mm | | | |
| 200mm | maximum is f/5.6 -> | | |
| 300mm | maximum is f/5.6 -> | | |
© 2010 KenRockwell.com. All rights reserved.
See more sample images here.
Filters, use with performance top
There is no problem with vignetting, even with a thick (7.2mm excluding rear threads) rotating polarizer at 28mm. You don't need to spend more for thin filters.
I can get away with two normal filters (9.8mm, excluding threads) at 28mm, if I stop down, but that's pushing it.
The filter ring does not rotate.
Focal Lengths, effective performance top
The effective maximum focal length shortens at distances closer than infinity in order to allow this lens to focus as close as it does. For instance, at ten feet, it's really only a 28-200mm lens.
For distant shots where you really need it (meaning at infinity, not at 20 feet or 6 meters), it really is 300mm.
Conventional 300mm lenses can't actually focus any closer than 1.2 meters (4x the focal length); it's physically impossible. Nikon's real 300mm lenses only focus to 2.2 meters.
In order to allow this lens focus to a foot and a half, if you're zoomed out to 300mm, it doesn't tell you, but it shortens its effective focal length as focuses more closely. The 18-200mm VR and 70-200mm VR II use this trick, too.
This trick is brilliant because you get 300mm where you really need it at infinity, and you also get to focus ridiculously close without having to move any switches or move the zoom ring in the process, as you have to do with Nikon's older lenses like the 28-105mm AF-D.
If you have nothing better to do than compare the angle-of-view at close distances with more conventional lenses, you'll notice that the effective focal length shortens as you focus more closely at 300mm. No big deal, it still shoots tight enough to fill the FX frame with something 3 x 4.5 inches (77x115mm) at the indicated 300mm setting. You can't do this with a real 200mm or 300mm lens! Tight head shots are easy.
Here are my observations, comparing other lenses to the 300mm setting at various distances. The links go to the lenses compared at each focal length. I don't show it here, but yes, the $150 70-300mm G really does go to 300mm at all focus distances, but it only focuses to 5 feet (1.5 meters).
Distance

Effective focal length
at 300mm setting

Infinity

1,200 feet (400m)

100 feet (30m)

50 feet (15m)

12.5 feet (3.8m)

9.3 feet (2.8m)

4.5 feet (1.4m)

3.5 feet

2.25 feet

1.5 feet
So yes, at 1.5 feet, this 28-300mm is really only a 130mm lens. Tough.
Even though the effective focal length withers at close distances, the zoom ring remains at 300mm and the mechanically-encoded EXIF data continues to say 300mm.
Lateral Color Fringes performance top
There are no lateral color fringes on the D3, which corrects them automatically if there are any to correct. If you shoot in the raw and use non-Nikon software, then you may see lateral color.
Macro performance top
Macro works great. It gets to around 1:3, with plenty of working room and great bokeh. See the green background? That's grass.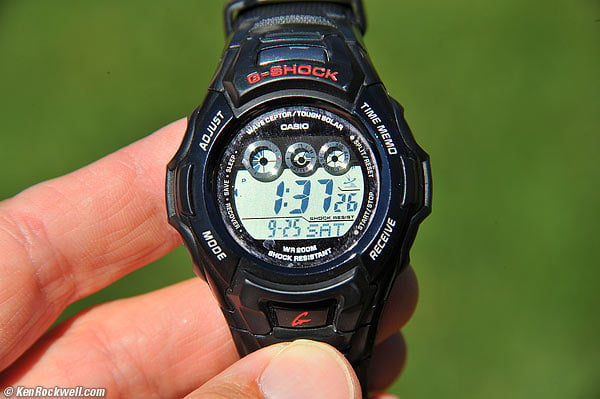 At 300mm at f/11 at 1.5 feet, full FX image.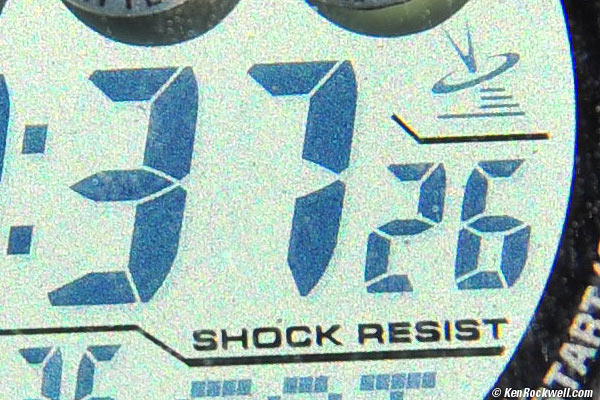 Crop from above 12 MP FX image at 100%.
That's not noise, that's the clearly rendered texture of the Casio's reflective LCD backplate, and depth-of-field is so thin that different layers of the watch are in better and worse focus! The reason START in the lower right of the crop is softer is because it's closer, not because the 28-300mm is any softer.
Let's put this in practical perspective: here's a snap of a ladybug on my hand. All I did was snap a shot of my own hand from arm's length at 300mm: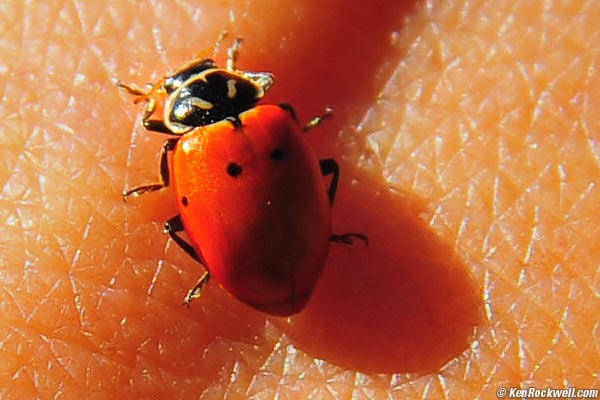 Crop from 12 MP FX image at 100%.
I use Nikon's 200mm f/4 AF-D Micro-NIKKOR for full-time critical studio work, but I'd never bother carrying that lens into the field. When I'm in the field, this 28-300mm is all I need for everything, and then some.
Maximum and Minimum Apertures Performance top
| | | |
| --- | --- | --- |
| | Maximum | Minimum |
| 28mm | f/3.5 | f/22 |
| 35mm | f/3.8 | f/25 |
| 50mm | f/4.5 | f/29 |
| 70mm | f/5 | f/32 |
| 105mm | f/5.3 | f/36 |
| 200mm | f/5.6 | f/36 |
| 300mm | f/5.6 | f/36 |
Mechanics and Construction performance top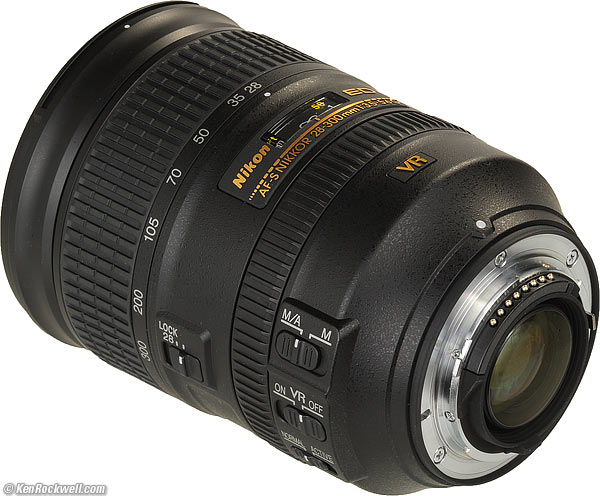 Nikon 28-300mm f/3.5-5.6 VR. enlarge.
The Nikon 28-300mm VR is built the same as most of Nikon's contemporary amateur lenses like the 18-200mm VR, 16-35mm VR and 70-300mm VR.
Barrel Exterior
Plastic.
Filter Threads
Plastic.
Hood
Plastic bayonet.
Zoom Ring
Plastic; rubber covered.
Focus Ring
Grippy plastic.
Depth-of-Field Scale
None.
Internals
Looks like mostly of metal.
Aperture Ring
None.
Mount
Dull-chromed brass.
Markings
Paint.
Identity Plate
Looks like debossed metal, but feels like plastic.
Serial Number
Printed on sticker on bottom of lens.
USA version shown by: "US" prefix to serial number.
Rain seal at mount
Yes.
Noises When Shaken
Mild clunking.
Made in
Sharpness performance top
The Nikon 28-300mm VR is sharp at all settings. I have full-resolution sample images at my Photos from the Eastern Sierra.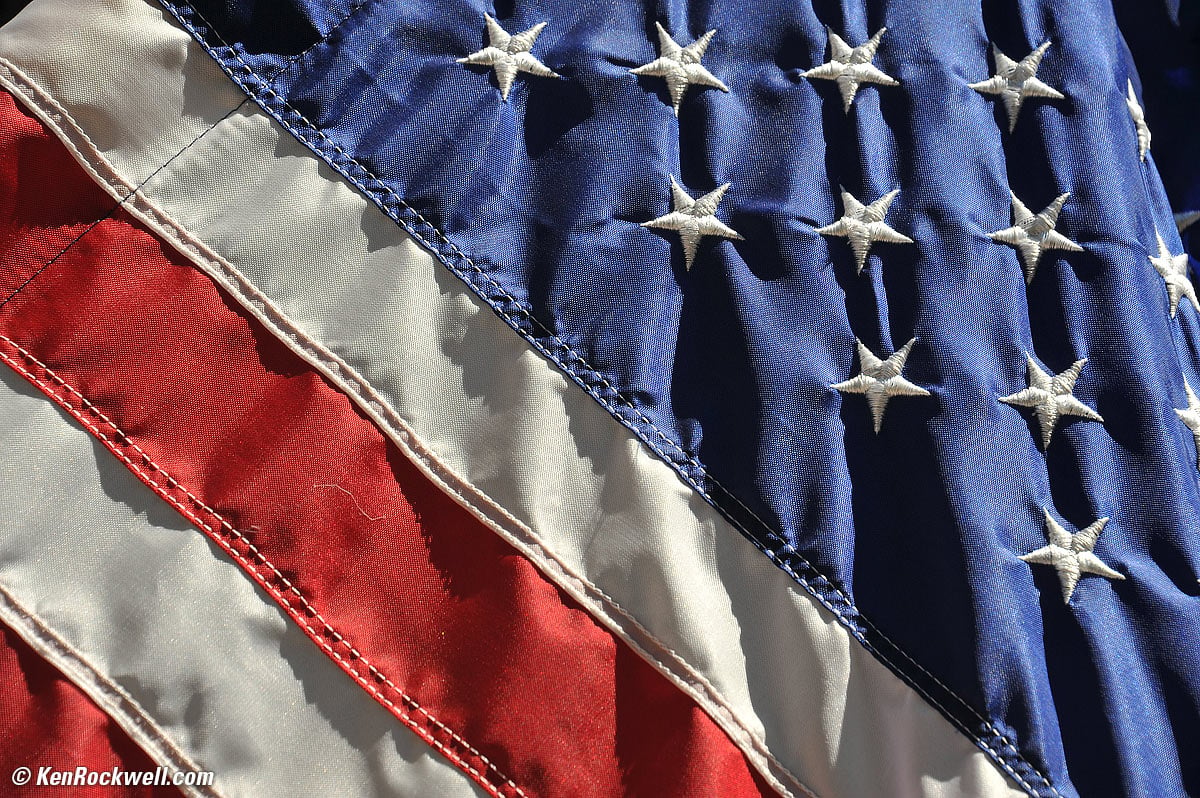 At 200mm setting at f/11 on FX.
Crop from above 12 MP FX image at 100%, shot as BASIC JPG.
It's 2010; lens design software and modern manufacturing techniques are letting Nikon do things it never has before. This 28-300mm VR is about as sharp as Nikon's best of the best from all time.
Here are greatly magnified crops from a 12MP FX D3, each from the side of the image at the largest available full stop of the 28-300mm VR.
In other words, I'm doing everything I can to make the 28-300mm look soft, and then comparing it to the world's best lenses at each focal length, which at the same f/stops, are usually operating at peak performance, not at their weakest as is the slow 28-300mm.
If you think these differences are minor, remember that they are, on a standard 100 DPI computer monitor, equivalent to 43 x 28" (110 x 70cm) prints. Would you really look at prints this big from this close?
To put this magnification in perspective, the synthetic reference vegetation seen in these images is 200 meters (650 feet) away!
If you did look at prints this close, you wouldn't be looking in the corner like this, and if you were, these lenses really would have been shot at f/8 or f/11 in light like this, where these performance differences become even less visible.
Click any of the other lens' images to get to their detailed reviews.
At the 85mm setting, I show this 28-300mm versus the state-of-the-art 85mm f/1.4 AF-S G, and also against the lens I usually use, the 70-300mm VR. The 28-300mm is about as good as state-of-the-art, and the 70-300mm fails. Ha ha!
Where you can see differences, say in the comparison to the state-of-the-art 135mm f/2 DC and 200mm f/4 AF-D Micro-NIKKOR, remember that I'm showing the far edge of the image, where the 28-300mm gets a little softer. If I showed the centers of these images where sharpness actually matters, the differences are again much less.
Sunstars performance top
With its essentially round diaphragm, there are no sunstars, no matter how hard I tried. Oh well.
VR Measurements performance top
VR works great, letting me get perfectly sharp shots at 300mm at 1/30 of a second, hand-held, mostly of the time, and 50% of the time at 1/10 at 300mm. I get usably sharp shots a lot slower than that.
By "sharp shots" I mean perfect tripod-equivalent sharpness when viewed at 100%, as shot on a 12MP FX D3 by me, standing with no support. For most uses, one can use much slower speeds. See Why VR Matters for more.
Percent Perfectly Sharp Shots, VR OFF
| | | | | | | | | | |
| --- | --- | --- | --- | --- | --- | --- | --- | --- | --- |
| | 1 | 1/2 | 1/4 | 1/8 | 1/15 | 1/30 | 1/60 | 1/125 | 1/250 |
| 28mm | 0 | 0 | 50 | 50 | 85 | 100 | 100 | 100 | 100 |
| 50mm | 0 | 0 | 0 | 0 | 10 | 85 | 100 | 100 | 100 |
| 105mm | 0 | 0 | 0 | 0 | 20 | 70 | 85 | 100 | 100 |
| 200mm | 0 | 0 | 0 | 0 | 5 | 15 | 50 | 85 | 100 |
| 300mm | 0 | 0 | 0 | 0 | 0 | 0 | 33 | 60 | 90 |
Percent Perfectly Sharp Shots, VR ON
| | | | | | | | | | |
| --- | --- | --- | --- | --- | --- | --- | --- | --- | --- |
| | 1 | 1/2 | 1/4 | 1/8 | 1/15 | 1/30 | 1/60 | 1/125 | 1/250 |
| 28mm | 15 | 75 | 100 | 100 | 100 | 100 | 100 | 100 | 100 |
| 50mm | 0 | 20 | 85 | 85 | 85 | 100 | 100 | 100 | 100 |
| 105mm | 0 | 0 | 60 | 75 | 85 | 85 | 100 | 100 | 100 |
| 200mm | 0 | 15 | 33 | 33 | 100 | 85 | 85 | 100 | 100 |
| 300mm | 0 | 0 | 0 | 37 | 70 | 85 | 90 | 100 | 100 |
Lowest speeds for perfectly sharp shots 50% of the time
| | | | | |
| --- | --- | --- | --- | --- |
| % Perfectly Sharp Shots | VR OFF | VR ON | Real Stops Improvement | Marketing Stops Improvement |
| 28mm | 1/5.6 | 1/1.4 | 2 | 4.3 |
| 50mm | 1/22 | 1/2.8 | 3 | 4 |
| 105mm | 1/22 | 1/4 | 2.5 | 4.7 |
| 200mm | 1/60 | 1/10 | 2.5 | 4.3 |
| 300mm | 1/100 | 1/10 | 3.3 | 4.9 |
"Real Stops" are how many extra stops I get over shooting without VR. "Marketing stops" is improvement over the old-wives' tale of 1/focal length as a lower speed limit.
Hint: VR improves your hit ratio. It doesn't guarantee that every shot will be sharp. I always shoot at least three-shot bursts at slow speeds so I can pick the sharp shot out of several when shooting handheld at really slow speeds.
Zooming performance top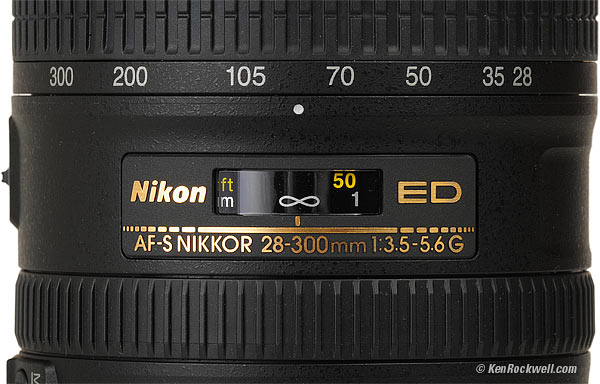 Nikon 28-300mm f/3.5-5.6 VR. enlarge.
Zooming is similar to the 80-400mm VR: firm, and it doesn't creep. I never found any use for the annoying lock at 28mm.
It's reasonably well spaced, with only a little crowding at the wide end.
I'm astounded that focus holds reasonably well if you zoom after focusing, even from a shorter focal length.
It gets twice as long when set to 300mm: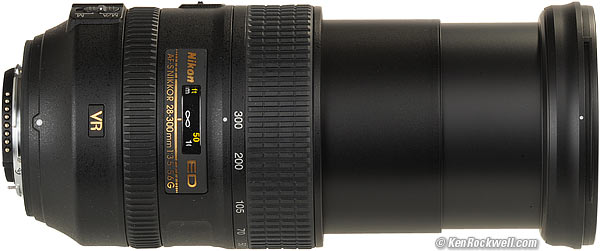 Nikon 28-300mm VR at 300mm. enlarge.
Usage top
Intro Specifications Performance Usage Compared Recommendations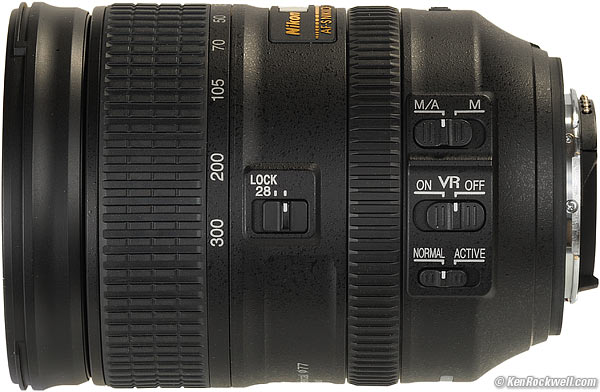 Nikon 28-300mm f/3.5-5.6 VR. enlarge.
It's easy to use:
M/A means autofocus, and you can grab the manual focus ring anytime you like. M simply disables autofocus.
Leave VR ON. Feel free to turn it off on a tripod, but why bother with a tripod with digital? They only make sense for shooting slow film.
Leave VR in NORMAL, unless you're shooting from a moving platform, in which case use ACTIVE.
The LOCK 28 position is used to hold the lens at 28mm. I never use it.
Compared performance top
Intro Specifications Performance Usage Compared Recommendations
I have an exhaustive knock-down, drag-out sharpness comparison above at Sharpness.
Seeing how the brand-new 28-300mm is just about as sharp as a bag full of Nikon's very best, let's see how much weight and money we save by opting only for this 28-300mm VR:
Compared to other do-it-all NIKKORs:
| | | | |
| --- | --- | --- | --- |
| | 28-300mm | | |
| Anni | 2010- | 2005- | 2003-2006 |
| Maximum Aperture | f/3.5-5.6 | f/3.5-5.6 | f/3.5-5.6 |
| FIlter | 77mm | 72mm | 62mm |
| Close Focus | 1.6'/0.5m | 1.6'/0.5m | 1.4'/0.44m |
| Maximum Repro Ratio | 1:3.1 | 1:4.5 | 1:3.2 |
| Optics | excellent | very good | good |
| VR? | Yes | Yes | no |
| Instant manual-focus override? | Yes | Yes | no |
| Diaphragm | 9 | 7 | 7 |
| Weight | 800g | 565g | 362g |
| Price, 8/2010 | | | |
For use on DX, see Nikon 18-200 vs. 28-300 vs. 18-300 for details.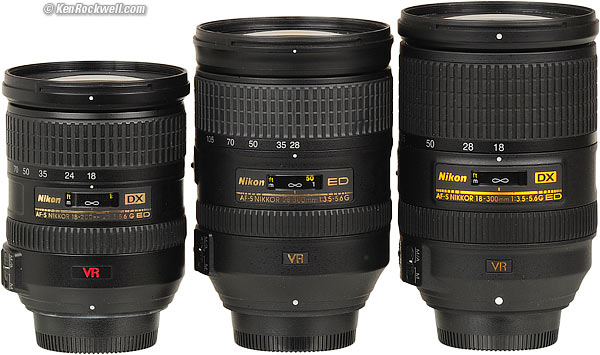 Nikon 18-200 VR DX, 28-300 VR and 18-300 VR DX. bigger.
What about the 24-85mm lenses?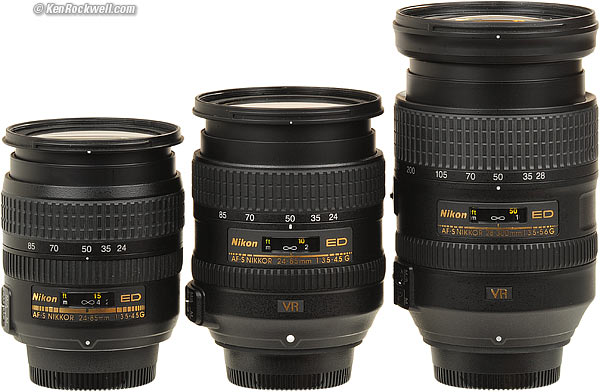 Nikon 24-85mm AF-S G, 24-85mm VR and 28-300mm VR. enlarge.
I'd forget the 24-85mm f/2.8-4 AF-D, sold today and introduced in 2000. It was never very sharp, even on film, even though it has a great 9-bladed diaphragm and works on manual-focus 35mm cameras.
The original 24-85mm AF-S G (2002-2006) is a thoroughly modern lens, with astounding identical optical performance, but lacking VR. It's as sharp as the 24-120 VR and made as well, complete with ED glass and AF-S instant manual-focus overide.
The 28-300mm VR is bigger and heavier but less expensive and just as sharp.
Avoid the earlier 24-120mm f/3.5-5.6 VR, it's a dog optically.
The 16-85mm VR is a great lens, but only for DX, not FX.
Anni

2012-

2002-2006

2000-

2010-

2010-

Filter size

72mm

67mm

72mm

77mm

77mm

AF type

AF-S

AF-S

screw

AF-S

AF-S

Instant manual-focus override?

Yes

Yes

no

Yes

Yes

Close focus

1.25'

0.38m

1.2'

0.38m

0.5'

0.21m

1.3'

0.4m

1.6'

0.5m

Max. repro ratio

1:4.5

1:4.7

1:2

1:4.2

1:3.2

Sharpness

Excellent

fair

Distortion

Heinous

Heinous

Weight

16.2 oz.

460 g

14.5 oz.

412 g

19 oz.

545 g

25.0 oz.

708 g

28.1 oz.

796 g

Price, 7/2012
Recommendations top
Intro Specifications Performance Usage Compared Recommendations
This is the new freedom lens for FX. It does everything, and does all of it, except controlling distortion, very well. If you don't like the distortion, it's trivial to remove in-camera or with Photoshop's Lens Distortion Filter.
Nikon keeps getting better and better at lenses. This 28-300mm is better than even the 18-200mm was five years ago, and seems as good — or better — than everything else.
With the 28-300mm VR, I don't even use the other lenses I sometime carry. Why bother changing lenses, when all I need do is turn the zoom ring?
300mm is never long enough for wildlife. Even 800mm with a teleconverter is never long enough. If you have a 200mm lens and think that the small extra magnification of 300mm will solve all your problems, it won't. For wildlife photography, learning how to get closer to the animals always leads to better pictures than longer lenses.
It's time to Adorama all our other lensesr. Except for some dedicated purposes, like ultrawides or shooting action in dim light where VR can't help, this 28-300mm replaces everything for most shooters.
For DX, the 18-200mm VR or 18-300mm VR make much more sense, since with the 28-300mm, you'll need a DX wide zoom, too, to cover everything. If you are going to carry a Nikon 12-24mm, Tokina 11-16mm or Nikon 10-24mm, then by all means, this 28-300mm VR is superb on a D7000 or any other DX camera.
At 796g (28.1 oz.), it's a big lens. It weighs the same or more than any of Nikon's 180mm f/2.8 AF or 180mm f/2.8 AI-s lenses, which are big lenses. I don't know that I'd look forward to carrying this 28-300mm VR everywhere for travel. For travel, I'd prefer a much lighter lens like a shorter zoom or the discontinued 28-200mm G.
For instance, if I was hiking up Mount Whitney or hitting both rims of the Grand Canyon in a day; I wouldn't bring this. I'd bring either of the 28-70mm AF-D, 28-105mm AF-D, or even the 28-80 AF-G for weight's sake, but if I needed 300mm, then this 28-300mm weighs essentially the same as the 70-300mm VR alone. Let's face it: if you're hiking for miles, you don't need a long lens since you are hiking there eventually.
This lens, like all zooms, is too slow for use in dim light for action. For that, I prefer a fixed 50mm lens, like even Nikon's give-away 50mm f/1.8 AF-D.
This lens does everything; there is no need to add other lenses except for low-light action, or wider angles. The 28-300mm is already a very competent macro lens.
Faster
Consider any fixed 50mm or 85mm lens for use in lower light.
The 24mm f/1.4, 28mm f/1.4 and 35mm f/1.4 are excellent, but more for special purposes. They cost many times what an f/1.8 or f/1.4 50mm or 85mm lens does, and aren't as handy for people photos.
Low-Light Sports and Theatre
Any f/2.8 tele zoom is ideal instead of this slow zoom.
For action, you don't even need VR if buying an older 80-200/2.8. An inexpensive used 80-200/2.8 or 180mm f/2.8 can be had for just a few hundred dollars and is four times as sensitive to light as this effectively f/5.6 28-300mm zoom.
Wider
I would consider a 20mm or 18mm lens, like the 20mm f/2.8 AF-D, 20mm f/2.8 AI-s, 18mm f/3.5 AI-s or 18mm f/2.8 AF-D.
I'd avoid any wide zoom; it's too much overlap resulting in carrying to much just to get the widest end.
Forget 24mm lenses; they are effectively same as the 28mm end of this 28-300mm zoom.
Longer
If you want a longer tele, just get closer for crying out loud!
You'd need a fixed 500mm or 600mm lens for any significant gain over 300mm.
Everything else
Otherwise, this 28-300mm VR does everything else well, especially in good light, or in low light if the subject holds still.
Please, leave the tripod at home. This is why it has VR. Please also resist the temptation to carry more lenses, just take this 28-300 and leave your camera bag home. If you must bring a 20mm or 18mm lens, stick it in your pocket.
Should you dump the rest of your system?
Sure, get rid of the 16-35mm VR, 70-300mm VR and all your other stuff. Keep your 50mm or fast primes, but don't carry them at the same time.
Once liquidated, get a 20/2.8 AF-D (or 18/2.8 AF-D or 15mm f/3.5 AI-s or 14mm f/2.8 AF-D) if you need the widest end. THe 16-35 VR is a great lens, but most of its range is duplicated by the 28-300mm VR, so if you need the wide end, use a much smaller fixed wide lens.
If you have a 14-24mm, it's a beast and sort of defeats the one-lens idea to carry it along with the 28-300, but if you use that range, go ahead and carry it. At least with the 14-24mm you're not duplicating much of the range. 24mm and 28mm are the same thing, so it's silly to carry both lenses when only one that covers 24mm or 28mm is needed.
Deployment
I'd leave either a 77mm Nikon Clear (NC - UV) filter, or a 77mm Hoya Super HMC UV on the lens at all times. I would leave the hood at home.
If I was working in nasty, dirty areas, I'd forget the cap, and use an uncoated 77mm Tiffen UV filter instead. Uncoated filters are much easier to clean, but more prone to ghosting.
For color slides like Velvia 50, I use a 77mm Nikon A2 or 77mm Hoya HMC 81A outdoors.
For B&W film outdoors, I'd use a 77mm Nikon Y48 or O56 filter, or 77mm Hoya HMC K2 or 77mm Hoya HMC Orange.
More Information
Nikon Australia's press release
Help me help you top
I support my growing family through this website, as crazy as it might seem.
The biggest help is when you use any of these links to Adorama, Amazon, B&H, eBay, Ritz, Calumet and J&R and when you get your goodies. It costs you nothing, and is this site's, and thus my family's, biggest source of support. eBay is always a gamble, but all the other places always have the best prices and service, which is why I've used them since before this website existed. I recommend them all personally.
If you find this page as helpful as a book you might have had to buy or a workshop you may have had to take, feel free to help me continue helping everyone.
If you've gotten your gear through one of my links or helped otherwise, you're family. It's great people like you who allow me to keep adding to this site full-time. Thanks!
If you haven't helped yet, please do, and consider helping me with a gift of $5.00.
As this page is copyrighted and formally registered, it is unlawful to make copies, especially in the form of printouts for personal use. If you wish to make a printout for personal use, you are granted one-time permission only if you PayPal me $5.00 per printout or part thereof. Thank you!
Thanks for reading!
Mr. & Mrs. Ken Rockwell, Ryan and Katie.
Home Donate New Search Gallery How-To Books Links Workshops About Contact