Home Donate New Search Gallery Reviews How-To Books Links Workshops About Contact
Nikon D700
12MP FX, 5 FPS (2008-2012)
© 2012 KenRockwell.com. All rights reserved.
Intro Comparisons Lens Compatibility Specifications Accessories Performance Recommendations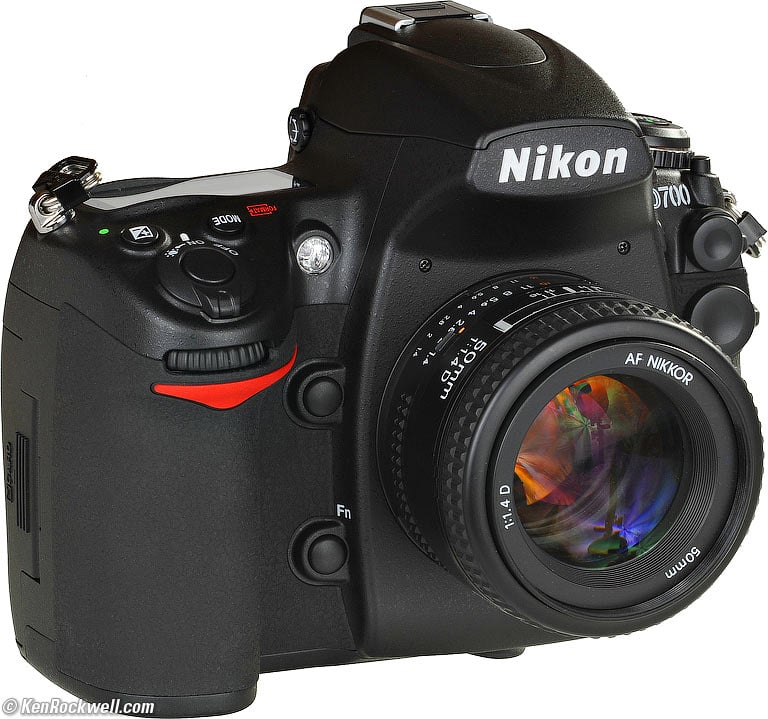 Nikon D700 with 50mm f/1.4 AF-D (FX, 38.3 oz./1,085g with battery and card, about $1,400 used). enlarge. My biggest source of support is when you use any of these links, especially this link directly to them at eBay (see How to Win at eBay) or at Amazon, when you get anything, regardless of the country in which you live. Thanks! Ken.
January 2013, May 2011, August 2008 More Nikon Reviews Nikon Lenses All Reviews
NEW: Nikon D600 versus D700. 15 September 2012
NEW: The new D800 has more pixels and weighs less, but costs a lot more and removed the autofocus controls and dumped them into a menu, and no one can find the D800 anyway, so yes, the D700 is still a great camera as of May 2012.
2012 DSLR Comparison 18 April 2012
High-ISO Sample Images from the Nikon D1, D3 (D700), D4, D800, D7000 and Canon 5D, 5D Mark II, 5D Mark III and Fuji X-Pro1 and X100 06 April 2012
Nikon D7000 Sharpness versus FX 09 November 2010
Nikon D7000, D300, D3 (D700) and Canon 5D Mark II High ISO Comparison 08 November 2010
Nikon D700 versus Canon 5D Mark II 08 June 2010
Package Discounts March 2010
Nikon D700 User's Guide for iPhone and iPod. 21 December 2009
Printable PDF version of my Nikon D700 User's Guide (fee required) 19 February 2009
Nikon D700 User's Guide, Interactive Online Version
Introduction top
Intro Comparisons Lens Compatibility Specifications Accessories Performance Recommendations
January 2013 update: The D700 has been replaced by the D800. I don't like the D800 or D600 as much as the D700. The D700 gives better colors to my eyes without the green and yellow shifts of Nikon's 2012 models, and has much better external AF Mode and AF Area Mode controls. These AF controls have been removed and replaced with electronic simulations in the newest cameras.
The rest of this review is from before the introduction of the D800. Read accordingly.
The Nikon D700 is Nikon's, and the world's, best serious digital camera. The old professional D3 costs more and runs faster for sports, but the D700 is newer, smarter, smaller and lighter.
The D700 has image quality indistinguishable from the klunky old D3, both in terms of sharpness and at high ISOs. The D700 has the same superb 3" LCD, but handles even better than the old D3 better due to a new INFO button and smarter firmware. I own a D3, and I prefer the D700 except that the D700 lacks the 5:4 crop mode I often use (most people don't care).
Even at $8,000, the overpriced D3X isn't an improvement over the D3. Sorry rich people. The D3X is the same as the D3, except that it only has the same frame rate as the D700 (maybe even a little slower), and the D3X lacks the high ISO performance of either the D3 or D700.
Unless you're a full-time sports, news or action pro, the D700 replaces the D3 for studio, wedding, portrait, nature and landscape pros, as well as all advanced amateur photographers. (I'm a very strict grader for what defines a pro; everyone else is amateur.)
Forget the D3X, unless you're printing everything at 20 x 30" (50 x 75cm) and up, since the D3X is a hair slower than the D700, and has nowhere near the high ISO performance. I've made great 20 x 30" prints from a D40; pixels aren't worth what they used to be.
The Canon 5D Mark II costs a little more, and the choice between the two is easy. The 5D Mark II is the best thing Canon makes, but the D700 is better for almost everything.
The D700 wins for just about everything, especially action and taking pictures of your friends, family and kids. The D700 has superior autofocus performance over the Canon 5D Mark II. The 5D Mark II's AF system is inferior for photographing moving kids in dim light. All my D700 shots made with a 50mm f/1.4 indoors are just about perfect, most of my 5D Mark II shots made with a 50/1.4 USM just can't nail the focus because the 5D Mark II lacks the face recognition of the D700. The D700 magically focuses on a moving kid's nearest eye, while the 5D Mark II usually mis-focusses on his shirt, sleeve or background. At f/2, depth of field is so narrow that most of my 5D Mark II photos are useless for moving kids. Who needs 21MP if they're out of focus?
If you have incredible Canon lenses and regularly make prints many yards (meters) wide, the Canon 5D Mark II has more pixels, but the AF and ergonomic (handling, speed and comfort) performance of the D700 is superior. The 5D Mark II is mostly plastic, while the D700 is mostly metal. The D700 is sculpted to feel great in your hands all day, while my hands start to hurt fast holding the less well designed 5D Mark II. Nikon shooters can't believe that when you take a picture on the 5D Mark II, that you can't zoom or look at any other pictures until you use your other hand to press the play button manually!
Get the 5D Mark II if you're photographing things that hold still or pose for you AND you need to print them Bismarck sized, otherwise, get the D700.
I average 5,000 shots every month on my D3. When I got a D700, there wasn't much difference. The D700 has exactly the same image quality, and handles just a little bit better. I can't say anything better about the D700 than that. The D700 is a D3 with a smaller battery (unless you add the grip) and a cheaper finder screen system, and that's it. The D700 even has the superior rear thumb control of the D3, not the crappy single-piece thing from the D300.
The D700 is a mostly improved version last year's $5,000 camera, for just $3,000. If you want to read all the good things I think about the D700, read my D3 review in its entirety, and read this review simply for what differs between the two.
The thing I missed most in the D700 is the option to shoot in the professional 4:5 aspect ratio, which fits more of my subjects better than the outdated 2:3 aspect ratio of 35mm film and most DSLRs. On my D3, I program the FUNC button to let me chose my framing with one finger without having to take my eye from the finder.
To make up for it, the D700 adds an AUTO option to the Auto Dynamic Range mode, which will probably give the D700 slightly better image quality in difficult light with less twiddling (I leave my D3 set at Normal, since it has no AUTO setting), and more importantly, the D700 added a much needed way to get to my color saturation and contrast Picture Control settings, as well as a way to display the huge INFO panel on the 3" LCD, each with just one tap of one finger on my shooting hand. On the D700, I can get to all the menus with just one hand.
Which is better? If I didn't use the 4:5 mode so often and have a personal issue with the obstructive black AF sensor markers and too-small exposure compensation marks in the D700's finder, it's obvious that the D700 is better so long as you're not shooting action at 9FPS.
The D700 uses the same image sensor and has exactly the same image quality as the D3, even at ISO 3,200.
The D700 has some subtle, but critical firmware improvements which make it far easier and faster to use than the D3. I can shoot the D700 with one hand, but need to two hands to set Picture Controls and get to the menus in the D3. See my D700 User's Guide for details. In the D700, I can program the FUNC button to call up my Picture Controls, program the power button to call up the rear INFO display, and another tap of the INFO button gets me to other frequently used menu settings. The D3 lacks these options, so it takes a second hand on the MENU button to do all this. Time wasted jacking with more button pushes on the D3 needing an extra hand means missed photos.
The D700 isn't much bigger than the small-format (DX) amateur D300.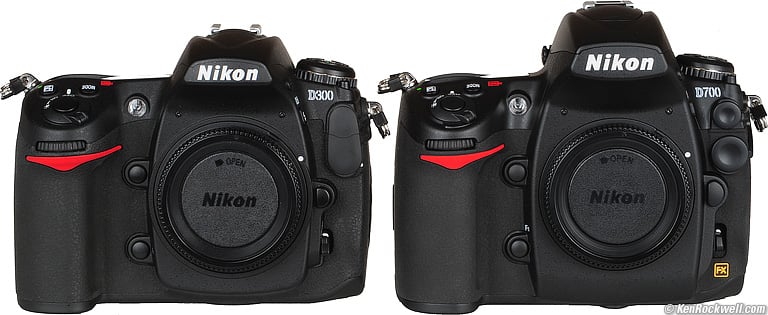 Nikon D300 (left) and Nikon D700 (right). enlarge.
I'm an FX junkie. DX was always OK for snapshots, but you just can't get anything on DX equivalent to 14mm ultra-ultra wide on FX, and if you want to shoot in available light, ISO 6,400 looks great without excuses on the D700 or D3, but not on any DX camera.
For most people, the D300 gives exactly the same results as the D3 or D700, but if you need to shoot in the dark or with ultra-ultra wide lenses, or are simply fed up with the crappy little finders of DX cameras, welcome the D700. Even if the only difference between the D700 and D300 was the finder, the huge finder of the D700 alone is enough to justify the D700 for many people. It would for me, but "Is It Worth It" is different for each of us.
More Pages
Nikon D3, D700 and D300 Sharpness Shootout 14 August 2008
Nikon D3, D700 and D300 ISO 3,200 Shootout 13 August 2008
$1,000 off the Nikon D700 14 August 2008
How to Use the D700 AF System 13 August 2008
Nikon D3 vs. D700 vs. D300 vs. Canon 5D 10 July 2008
Nikon D700 Lens Suggestions 03 July 2008
Cheapskate Lens Suggestions August 2008
Comparisons top
Intro Comparisons Lens Compatibility Specifications Accessories Performance Recommendations
NEW: 2012 DSLR Comparison 18 April 2012
Nikon D700 versus Canon 5D Mark II 08 June 2010
See also my comparison table in my D3, D700, D300 and Canon 5D comparison.
Things missing in the D700 that I use daily in the D3
No professional 5:4 aspect ratio. I use this for most of my vertical shots, and for many of my horizontal shots depending on the subject.
No self-masking finder when selecting DX. The D700 instead has a crappy, thin, easy to ignore rectangle that pops up. Don't shoot DX lenses on a D700: you'll forget and compose for the wrong frame.
The D700 finder doesn't use the red backlit AF sensor areas. Instead of unobtrusive red backlighting, like the D3, the D700 AF sensor areas go annoying black like the D300. In many modes they go away; see D700 AF Settings, but in manual made, the darn things stay up and in your way.
The D700 has no second CF card slot for backup. The D700 would complicate my streamlined file security workflow. Since I'd have no second in-camera backup, I'd not be able to format my CF cards until after I downloaded them and backed up the hard drive to which they were downloaded. Today I can format my shooting card as soon as I've downloaded it, since I always have a backup in-camera. (Never erase files until they are backed up in two different physical locations.)
The D700 lacks the D3's super easy note-taking function: just press the mic button on the D3. The D700 has no audio ability.
The D700 has a crappy flip-flop plastic CF card door, while the D3 has a spring-loaded, rubber-covered alloy door.
That's about it!
Things unique to the D700
"Auto" ADR mode. The D300, D700 and D3 all have selections for OFF, LOW, NORMAL and HIGH. The D700 adds "Auto," which magically selects among them all. It really works.
Ability to program the FUNC button to bring you immediately to your top item in My Menu (CSM f5: Assign FUNC Button > Access top item in My Menu). I set this to Set Picture Control, which lets me select among my various settings of saturation and contrast. This is very important and I wish my D3 did this, because when I photograph things, I use very high saturation, and a second later if I'm photographing a person, I need to set it back to more reasonable colors. If I have the colors set to one or the other, my images are poor and would require post-processing screwing around which would cost me money.
Easy to set the rear LCD to show what's going on, either with the dedicated rear INFO button, or better, by setting a Custom Function (CSM f1) to make the INFO panel appear on the back simply by rotating the power-switch to the illuminator setting. I prefer the more complete INFO display on the large LCD to having some of the information, like ISO and WB, on the second smaller text-only LCD of the D3.
The D700's rear INFO display is superior. It's a masterpiece of interface design that tells me every conceivable option that's set in the camera, all on one screen I can pop on with one touch from my shooting hand.
WB is easier to set than the D3, because it can come up easily on the rear 3" INFO panel and comes up with all the icon in a row on the top LCD. On the D3, the tiny rear LCD has the icons jumbled in no particular order, and it takes a second hand and some logic to get the INFO panel to display on the D3. The D3 takes a moment to display the INFO panel once you figure it out; the D700 does it instantly.
The D700 adds a sensor cleaner lacking in the D3, but present in the D300. UNlike Canon, it only runs when you tell it to so it doesn't slow down your power-on and power-off switching. I don't care, I send my cameras in to the manufacturer one every year or so for cleaning, and FX cameras are much less picky about crud than DX cameras were.
WB is easier to set because you can see it much more easily on either the big rear INFO display (no fiddling required), or the top LCD which has the WB icons in a row. The D3 has the WB icons all jumbled together in no order on the tiny rear LCD, making it slower to get where you need. The D3 requires a second hand to call up the INFO panel.
It's not only smaller, lighter and less expensive than a D3; it's quieter, too.
The Vignette Control defaults to NORMAL.
Things unique to the D700 I don't use
In addition to the electronic level, also in the D3, the D700 has an electronic viewfinder grid lacking in the D3. I prefer the masking finder of the D3 over a selectable grid.
I don't use the built-in flash. When you get your D700 or D3, they work so well in low light, presuming you're using the right lens, that on-camera flash is obsolete. I'd use it for fill, but the ADR works so well I just don't bother. Since it won't bounce, you'd never want to use it as a main source of light (I use my D40 when I want crappy on-camera flash shots).
The D700 has an AF illuminator, but why? It only seems to annoy people; it focuses in the dark just fine. You can turn it off in the menus if you like.
Why you'd want a D300 instead
Besides price, size, and weight, if you're photographing birds or other things to which you can't get close enough, the D300 will pull more details out of the center of a telephoto image than the D700 or D3. The D300 (or even D80) has more resolution per millimeter of its smaller sensor because the same number of pixels are squeezed into a smaller space.
Smaller pixels are bad for low light, but great if you're trying to pull details out of the middle of an image. Of course the best pictures come from getting close enough.
If price, size and weight matter, the D300 doesn't think quite as fast, but does have identical image quality in good light.
That's right: at ISO 200, picture quality of the D300 is is identical to the D3 and D700. The only difference is at higher ISOs like ISO 3,200.
D700 Lens Compatibility top
Intro Comparisons Lens Compatibility Specifications Accessories Performance Recommendations
Thank goodness, the D700 works with every Nikon lens made since 1977.
Every AF, AF-D, AF-I and AF-S lens just works, which is every Nikon AF lens ever made since 1986.
It also meters with AI and AI-s manual focus lenses as does the D3. If you enter the focal length and f/stop, it gives color matrix metering, aperture-priority and manual exposure and correct EXIF data. Whoo hoo, this means you can use the full catalog of manual lenses.
DX lenses work on the D700, but who cares? The D700 is only a 5MP camera with a DX lens, because it only uses the middle of the sensor. It's silly to use DX lenses on the D700; even the D40 has more resolution (6MP) with DX lenses than either the D700 or D3.
See Nikon Lens Compatibility for much more.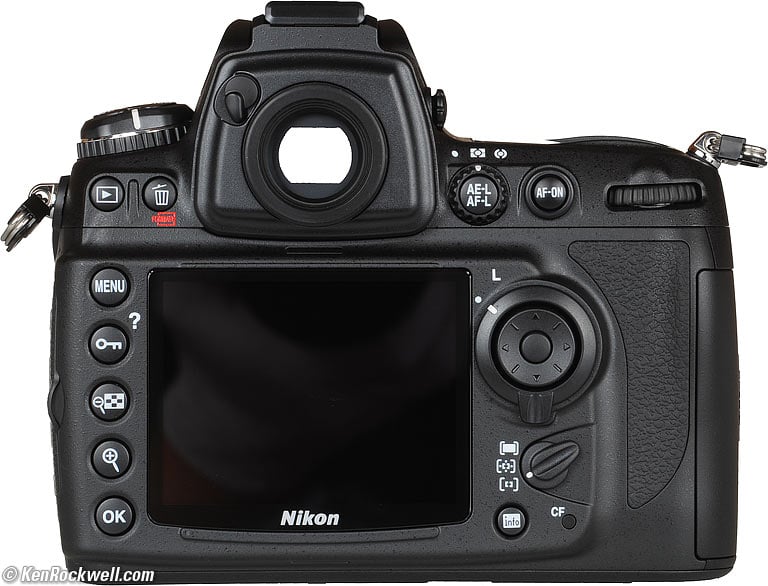 Nikon D700. enlarge.
Specifications top
Intro Comparisons Lens Compatibility Specifications Accessories Performance Recommendations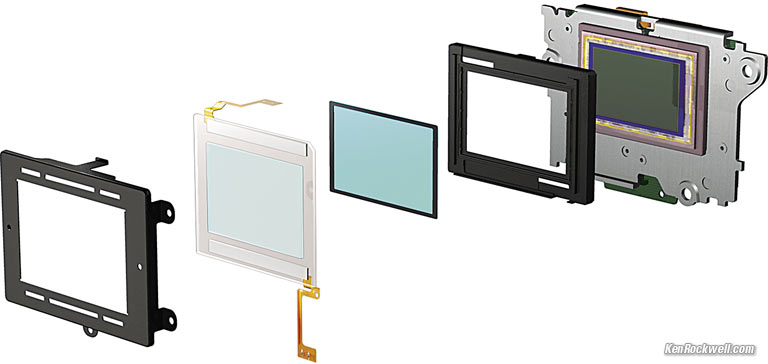 FX sensor and cleaning apparatus.
Finder
Worlds better than any DX camera. 18mm eyepoint. 95% coverage (of full FX frame, not the tiny DX frame), 0.72x with 50mm lens. (D3 is 0.7x and 100% coverage.) Inferior finder for DX lenses; doesn't crop the finder as does the D3.
Electronic Level
Yes, electronic virtual horizon, just like D3.
AF
51 points. CAM3500FX sensor array (same as D3 and D300). Fine-tuning, if you have slight errors with certain lenses.
Shutter
1/8,000 ~ 30 sec, bulb. Carbon fiber and Kevlar, tested to 150,000 cycles.
Flash Sync: 1/250.
Frame Rate
5 FPS.
8 FPS with MB-D10 and EN-EL4 or 8-AA battery.
Built-in Flash
GN 39/12 (Feet/meters at ISO 100). Controls wireless flash.
Sensor
12.1MP CMOS, same as D3. 14-bit linear ADC, 16-bit data pipelines, as the D3. 12-channel parallel readout.
Sensor Size
FX (23.9 x 36mm) and cropped DX, just like D3.
No professional 5:4 mode.
Live View
Two modes.
Resolution
12.1MP in FX, 5MP in DX.
FX: 4,256 x 2,832 (L), 3,184 x 2,120 (M), 2,128 x 1,416 (S).
DX: 2,784 x 1,848 (L), 2,080 x 1,384 (M), 1,392 x 920 (S)
ISO
100~25,600.
Nikon really only wants you using ISO 200~6,400, so lower ISOs are read as gibberish like "Lo-1" and higher ISOs are coded as garbage like "HI+2."
File Formats
JPG, TIF, NEF.
NEF in 12- or 14-bit with no, lossy or lossless compression.
Rear LCD
Exquisite 3," 920,000 pixels. HDMI HD output, but it uses a screwy, non-standard mini HDMI connector.
Storage
Single CF card.
Too bad; I love the in-camera backup of the D3's dual card slots.
Data Communication
USB.
Optional WT-4 wireless and ethernet.
Optional Macho-Man Grip
MB-D10.
Power
EN-EL3e, standard; same as D200, D300, etc.
Size
5.8 x 4.8 x 3.0" (147 x 123 x 77mm).
Weight
35.1 oz. (995g or 2.2 pounds) without battery, card, strap, monitor cover or lens.
38.275 oz (1,085g) with battery and card.
Price (USA):
$1,500 used, 2013 January.
$2,699, May 2011 (rose immediately from $2,399 after the Japanese tsunami closed Nikon's Sendai factory in which these are made.)
$2,399, March 2010.
$2,350, July 2009.
$2,399, December 2008.
$2,999.95 at introduction, August 2008.
Introduced
01 July 2008.
Available Since
Late July 2008.
Replaced by
Nikon D800 in early 2012.
Included Accessories top
Intro Comparisons Lens Compatibility Specifications Accessories Performance Recommendations

Nikon D700 box-end details. enlarge.
Rechargeable Li-ion Battery EN-EL3e
Quick Charger MH-18a
USB Cable UC-E4
Video Cable EG-D100
Camera Strap AN-D700
Body Cap BF-1A
Accessory Shoe Cover BS-1
LCD Monitor Cover BM-9. It looks the same as, but is very slightly different from, the BM-8 of the D300. You can put a BM-8 on the D700, but it falls off after about 15 minutes.
Software CD
Optional Accessories
MB-D10 grip (same as D300)

MB-D10 grip, front.

MB-D10 grip, rear.
The $240 MB-D10 grip uses one EN-EL4a/4/3e rechargeable Li-ion battery, or eight AA batteries.
It has a shutter-release, AF-ON button, multi selector, and main- and sub-command dials.
Using EN-EL4a/4 or eight AA-size batteries, it can shoot at full resolution at 8 fps. So what' the D300 does the same thing and isn't anywhere as fast as the D3.
WT-4/4A Wireless Transmitter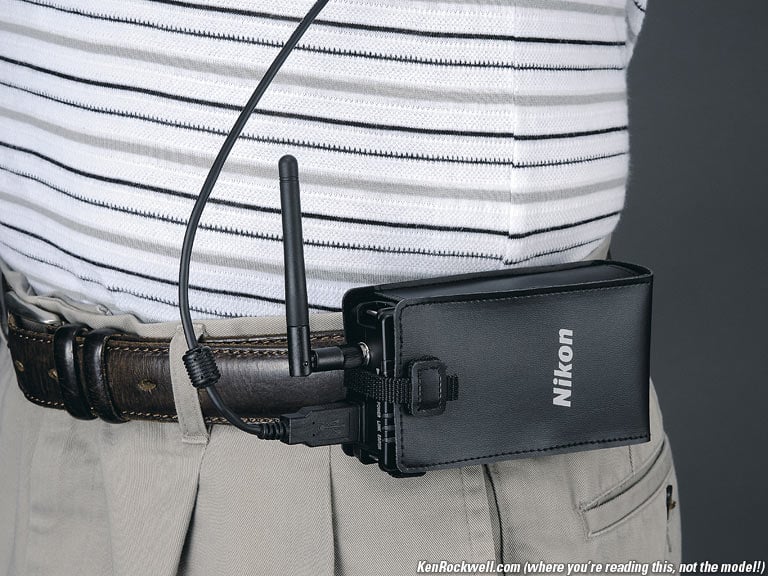 The $700 WT-4/4A provides ethernet (10BASE-T, 100BASE-TX) and WiFi (802.11b/g, 11a) data connections to the D700, D300 and D3.
It looks like something out of the 1970s — it's another piece of junk with a wire to haul around; it isn't integrated in the camera. If you want to connect via ethernet, you plug your ethernet cable into this thing, while its plugged into the camera. Geesh!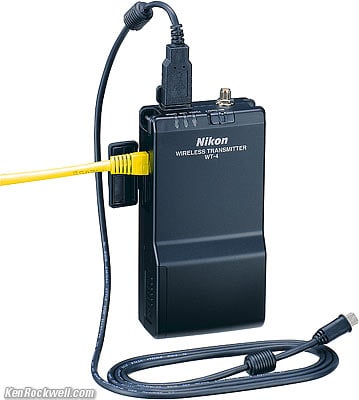 WT-4 for ethernet: camera on one cable and computer on the other not shown!
A PC allows wireless connection of up to five cameras, for display of thumbnail images and downloading of selected images. Using optional Camera Control Pro 2 software (probably as buggy as all the other Nikon software) and the Live View function, you can shoot and view remotely.
EH-5a/EH-5 AC Adapter
DK-17M Magnifying Eyepiece
Optional Software: Image Authentication, Capture NX 2 and Camera Control Pro 2 software.
Cable Releases: Nikon doesn't bother to thread the shutter release button, so you'll have to buy an expensive electronic cable instead of a standard $6 cable release.
You'll need the $55 MC-30, which is just a button on a wire, or the $130 MC-36, which is the timer from a $3 watch on a wire with a couple of buttons.
Since Nikon overprices these, you can buy counterfeits cheap, but honestly, the release you buy today will last you far longer than any digital camera. I still use the one I bought back in the 1990s before the practical DSLR was even invented. These work on just about all motorized Nikon film and digital cameras made since about 1990.
Since Nikon knows you're a big spender with the D700, you'll have to buy the clumsy $175 ML-3 wireless release system if you want the same wireless control you get with the superb pocket-sized $17 ML-L3 wireless cable release that works with the cheaper cameras.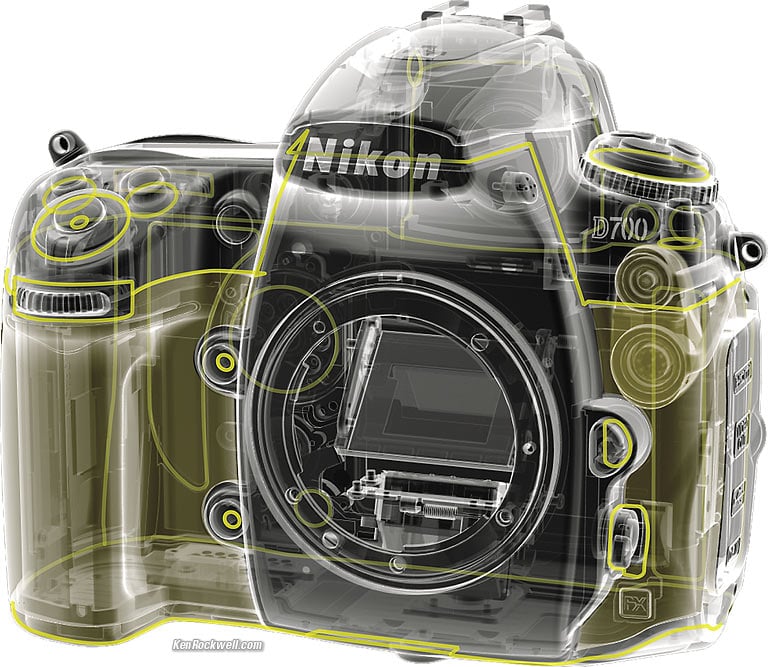 D700 X-ray view. Green spaghetti are dust seals. enlarge.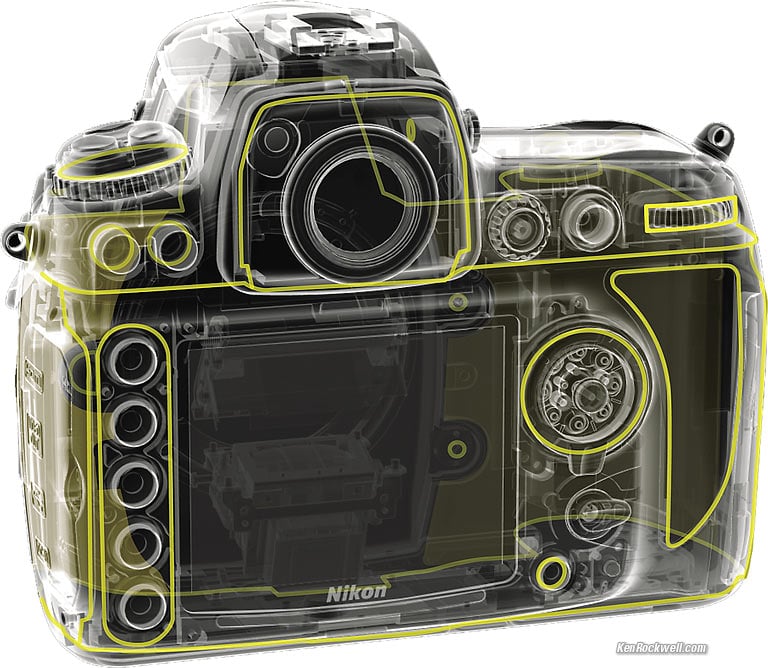 Another D700 X-ray spaghetti-gram, from the rear. enlarge.
Performance top
Intro Comparisons Lens Compatibility Specifications Accessories Performance Recommendations
I've covered most of the performance issues above. Here are more specifics.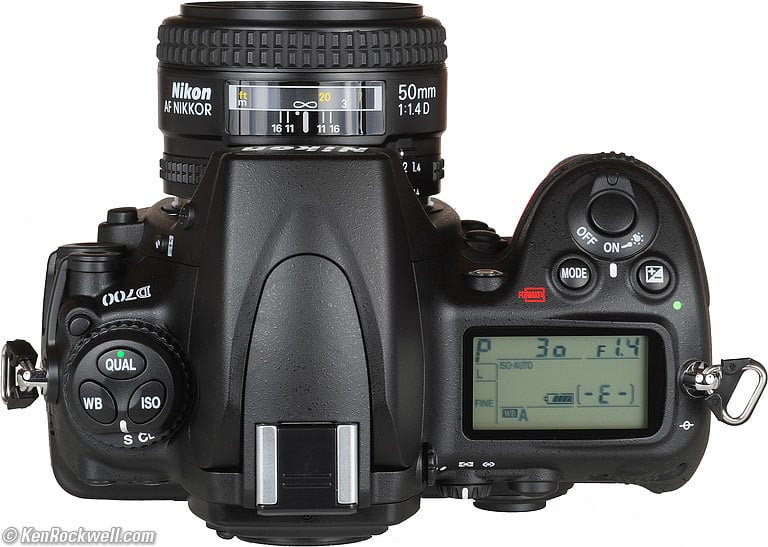 Top, Nikon D700. enlarge.
Ergonomics
A new FUNC Button option lets me get right to the top of My Menu, which also means I now can click left and get anywhere in the menu system, all with just one hand! It's great because tapping that button overrides anything else I'm doing and just gets me there. You have to tap, release, select, then hit OK for the menu action to be accepted. I use this to select among Picture Controls.
The in-finder exposure (and flash exposure) compensation indicators are too small. They sort of work, but appear as an afterthought, unlike the D3, which has them big, clear, easy to read, and impossible to miss. This is a fine point that makes the D700 an amateur camera; I guess Nikon thinks that amateurs don't use exposure compensation often.
In manual focus, the dadblasted black rectangle never goes away.
The rear multi-control is the superior one from the D3, not the sloppy one from the D300.
Beware of the lame finder rectangle with DX lenses. It's easy to forget that the D700 is only using the middle of the finder with DX lenses, compared to the D3 whose finder masking is a work of art.
I suspect this is a design change rather than a bad sample, but the rotary power switch is too stiff trying to turn on the illuminator. My other Nikons, from F100 to D300 to D3, all do it with an easy twist, while my D700 requires an inconvenient and significantly more difficult push to turn it on. Worse, as someone who shoots many different cameras, it's important that they all feel the same. With the D700, when I hit it and nothing happens, I need to remember that "Duh, I'm shooting the D700 so I have to hit it harder."
Defining it as an amateur camera, the D700 beeper defaults to HIGH, unlike a pro camera like the D3 which defaults to OFF.
Picture Quality
For irrelevant geek issues like noise and sharpness, see my ISO 3,200 and Sharpness comparisons.
The pictures are spectacular, at least as good as Nikon's previous best, the D3.
Pictures are identical, however the addition of an AUTO mode to the Adaptive Dynamic Range function means the D700 is more likely in crappy light to get the right results with less piddling.
ADR really works. Leave it on AUTO as I do, and in good light it does nothing. In harsh, crappy light (the sort of crappy light loved by the HDR weirdoes) the D700 does an instant magic HDR transform that simply makes the photo look like it does to our eyes. It's marvelous. It's almost impossible to lose a shadow or blow out a highlight. It just looks great
Picture Controls are identical to the D300 and D3, meaning there are plenty of controls with enough range to let you set the D700 to wild colors, or tone them down for fantastic people shots with great skin tones.
At the same settings, the D700 looks the same as the D3 or D300. Nikon did this deliberately, so the settings I've been using on my D3 look the same as soon as I pick up a D700. Bravo.
For product photos needing accurate colors, I leave it in STANDARD. (For wilder colors, keep reading.)
For people pictures, I use NEUTRAL, +1 Saturation and 5 Sharpening.
For photos of everything else for which I want wild colors, I set it to VIVID, +3 Saturation and 5 Sharpening.
I set the top of My Menu to Set Picture Control, I set the FUNC button to get me to that top item, so with one tap I can select among al these settings as I turn the camera between a setting sun or a person in that light.
Exposure
Perfect, just like most Nikons.
Just like my D3 and D300, in contrasty light outdoors in VIVID Picture Control with the saturation turned to +3, I usually prefer -0.7 compensation.
Flash Exposure
Right on, which is typical for Nikon. Just shoot. Regardless of flash or bounce mode, it just works.
Built-in Flash
The built-in flash works great. Exposure is always right-on.
As a direct on-camera flash that can't bounce, its only real use is for fill in contrasty light. Don't use it to light dim subjects; if you do, you'll get the same crappy results as a direct flash on a disposable camera.
Unless you're trying to shoot action with a slow zoom lens, you don't need flash anymore with the D700. The only use for the built-in is to fill dark shadows in daylight, or as a trigger for other strobes.
I prefer the SB-400 so I can bounce it.
Data
When I pop a CF card from the D700 into my D3, the D3 reads almost everything, but the D3 fails to read the critical image pixel sizes as every camera does of files it recorded itself, and as the D3 and D300 do with each others' files.
Card and Battery Doors
The CF card door is a flimsy thing, but at least Nikon has enlarged the card pop-out button so it's much easier to hit for we Americans.
The flimsy card and battery doors are as bad as the Canon 5D.
Battery Life
On my first charge, I got about 600 shots, which included a lot of fiddling around in the menus.
Forget it. Get the D3 instead.
The electronics of the D700 ought to work perfectly with the PC-E lenses (24mm, 45mm and 85mm).
The gotcha is that the D700's built-in flash pokes out even a little bit farther forward than the flash of the D300. The offset from the center of the lens mount is the same, but the overhang is greater by a fraction of a millimeter with the D700.
Therefore, mechanical interference on the D700 will be at least as much of a problem, and probably more than on the D300.
The D3 has no such problems because it has no built-in flash, so its prism overhangs much less.
See Nikon 24 PC-E compatibility, see the D300's limitations, and subtract from there.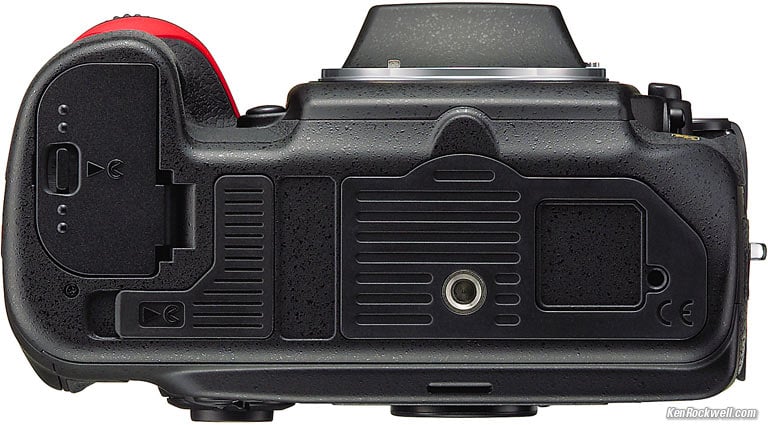 Bottom, Nikon D700.
Suggested D700 Improvements
The real things I need are in "what's missing" above, and in What's missing from the D3. The rest below are piddly things.
1.) I need the meter to be smart enough to incorporate the Picture Control settings in its exposure evaluation. More saturation or more contrast means I need less exposure, which I now have to set manually as exposure compensation depending on my Picture Control setting. For instance, in flat light and in NEUTRAL I shoot normally, but in VIVID with saturation set to +3, I set exposure compensation back to -0.7.
Since I now can have immediate access to Picture Controls via the FUNC button and My Menu, if Nikon can't add feed-forward from the Picture Controls into the Matrix meter, Nikon at least needs to allow the D700 to save and recall exposure compensation settings along with each Picture Control setting. Since the Matrix meter isn't smart enough to incorporate the Picture Control settings, I have to change exposure compensation as another step as I swap among Picture COntrols.
2.) Add a menu to allow programming the function of the INFO button. I program my LCD illuminator. button to call up INFO, so I'd like my INFO button to do something useful, like let me select among Non-CPU Lens Data.
If The D700 has the professional 4:5 aspect ratio, than what I have programmed to the FUNC button would need to go someplace else since I'd use FUNC to select my drops.
3.) The FUNC button still can't be set to do two things as could the FUNC buttons of the D200. The D200 could be set to do one thing when tapped, and another with held and a control knob was spun.
4.) The supplied black Nikon body cap says nothing on the inside. All my other caps say Nikon BF-1A and Made in Japan.
5.) As an amateur camera, the D700 has the idiot beeper (CFN d1) defaulted to ON, while the professional D3 has it OFF.
6.) Bring back the pro trick that holding the "Key/?" button as you turn on the power creates a new folder and saves the new images you make to it. This is extremely handy in cameras that have it because when you load the images into your computer they already will be sorted into folders. I find this extremely helpful, and much faster than creating new folders in the menus.
Recommendations top
Intro Comparisons Lens Compatibility Specifications Accessories Performance Recommendations
Lenses
Forget the kit with the 24-120mm lens. The 24-120 VR is among Nikon's worst lenses ever, and even if you wanted it, you can buy the lens and D700 separately for less than the kit price.
Nikon D700 Lens Suggestions 03 July 2008
Cheapskate Lens Suggestions August 2008
Why to get the D3
If you're a full-time pro shooting sports and action, the D3 is still your camera.
Forget the D3X, which is an overpriced landscape camera. Get back to work, since the next camera you'll need to worry about is the D4, not due until 2011.
Why to get this D700
For everyone else shooting landscapes, portraits, products, and nature, the D700 is the new king. (The D3X is still being boycotted at its $8,000 initial asking (bluff) price. Get a Canon 5D Mark II instead if you need more pixels.)
For shooting concerts and theater, the D700 is better than the D3 because it is quieter. They both have the same fantastic low-light performance. (Of course it's still illegal to use in any acoustic performances.)
Why to get the D300
For most people, the D300 is just as good. The biggest difference is speed for shooting action, and inferior low-light performance.
I bleed for the ultra-ultra wide angles I can't get in DX cameras like the D300, but I'm a weirdo. For most people, DX cameras and the D300 are perfect.
If you can't get close enough, the camera isn't the problem about which you should be worrying. If you want to worry about the camera rather than getting the right lens or getting closer, with the same lens zoomed out to the same maximum focal length, the image from the D300 will be sharper than enlarging a crop from the middle of the larger FX sensor of the D700. If you can zoom longer to get the same framing with the D700, then they match.
For instance, a bird that's too far away shot with a 200mm lens cropped from a D300 will be sharper than the same bird cropped more strongly from a D700, because the pixels of the D300 are closer together. The D300 has 1.5x the resolution per millimeter of image sensor, because the D300's pixels are squeezed closer together than in the D700.
If you have a 300mm lens for a D700, and a 200mm lens for a D300, they each make the same picture. They have the same number of pixels; they are merely bigger and spread further apart on the D700. This makes the D700 much more sensitive to low light, but makes the D300 have more ability to pick out fine details from a tight crop with the same lens.
If you use crappy old lenses, like a 1964 600mm f/5.6, they don't have enough resolution to take full advantage of the D300. If you use crappy lenses, which are few and far between, you will get better results on FX. Mind you, Nikon makes few crappy lenses, and even Nikon's cheapest lenses, like the 18-55mm kit lens, are good enough to get all the resolution out of a D300. Price and age have nothing to do with quality.
More From Nikon: Printed Brochure Sample Images (note: these sample images are made with Nikon's very best $2,000 and up lenses, not the 24-120mm VR.)
Help me help you top
I support my growing family through this website, as crazy as it might seem.
If you find this as helpful as a book you might have had to buy or a workshop you may have had to take, feel free to help me continue helping everyone.
If you've gotten your gear through one of my links or helped otherwise, you're family. It's great people like you who allow me to keep adding to this site full-time. Thanks!
If you haven't helped yet, please do, and consider helping me with a gift of $5.00.
The biggest help is to use these links to Adorama, Amazon, Calumet, Ritz, J&R and when you get your goodies. It costs you nothing and is a huge help to me. eBay is always a gamble, but all the other places have the best prices and service, which is why I've used them since before this website existed. I recommend them all personally.
Thanks for reading!
Ken
Home Donate New Search Gallery How-To Books Links Workshops About Contact