Nikon D3, D700 and D300
ISO 3,200 Comparison
© 2008 KenRockwell.com. All rights reserved.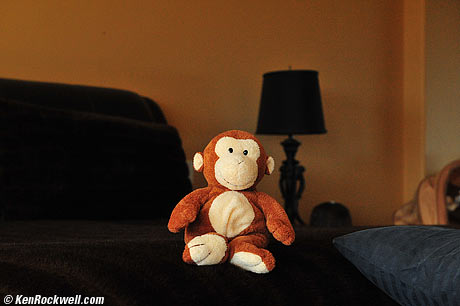 Self Portrait, full guide image. I get my goodies at Ritz, Amazon and Adorama. It helps me keep adding to this site when you get yours through these links, too. Thanks! Ken.
August 2008 More Nikon Reviews
As we say in racing, the BS stops when the green flag drops.
Let's have a race at ISO 3,200 for the techies and see how the Nikon D3, Nikon D700 and Nikon D300 run against each other.
Here are crops from 100% images directly from each camera. This childish self-portrait is actually rather devious. There is fuzzy-faced me, to show how much detail is retained at ISO 3,200 (many cameras cheat by smudging details to hide noise), and the out-of-focus background lets us see the noise and any potential weird tiling, posterization or other uncomfortable artifacts in the dim and dark areas.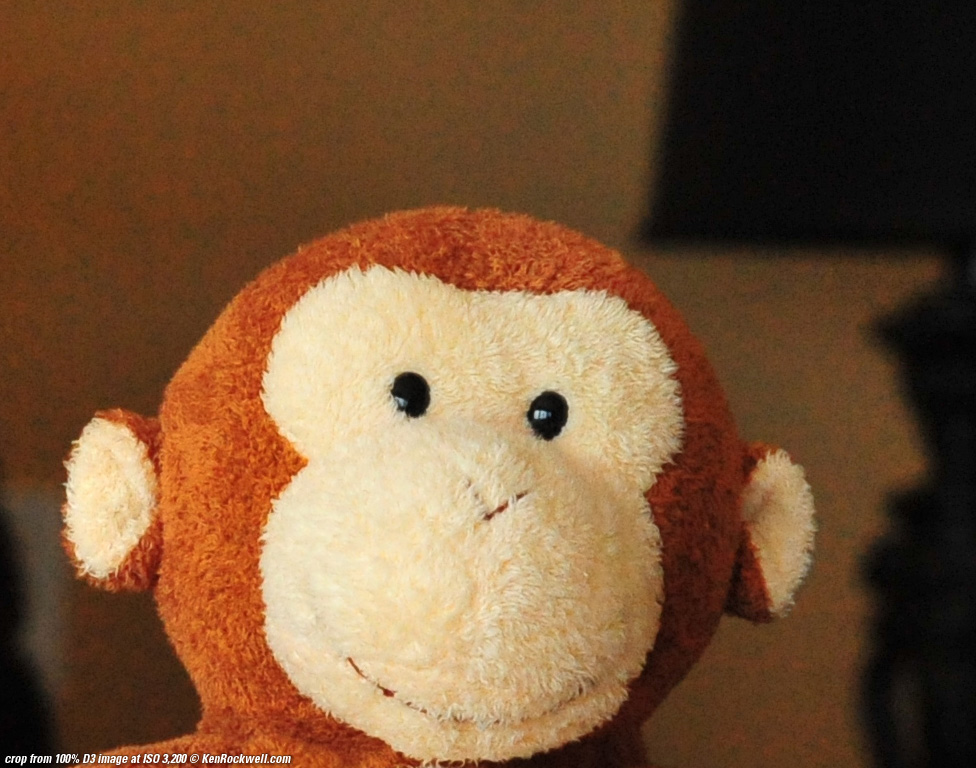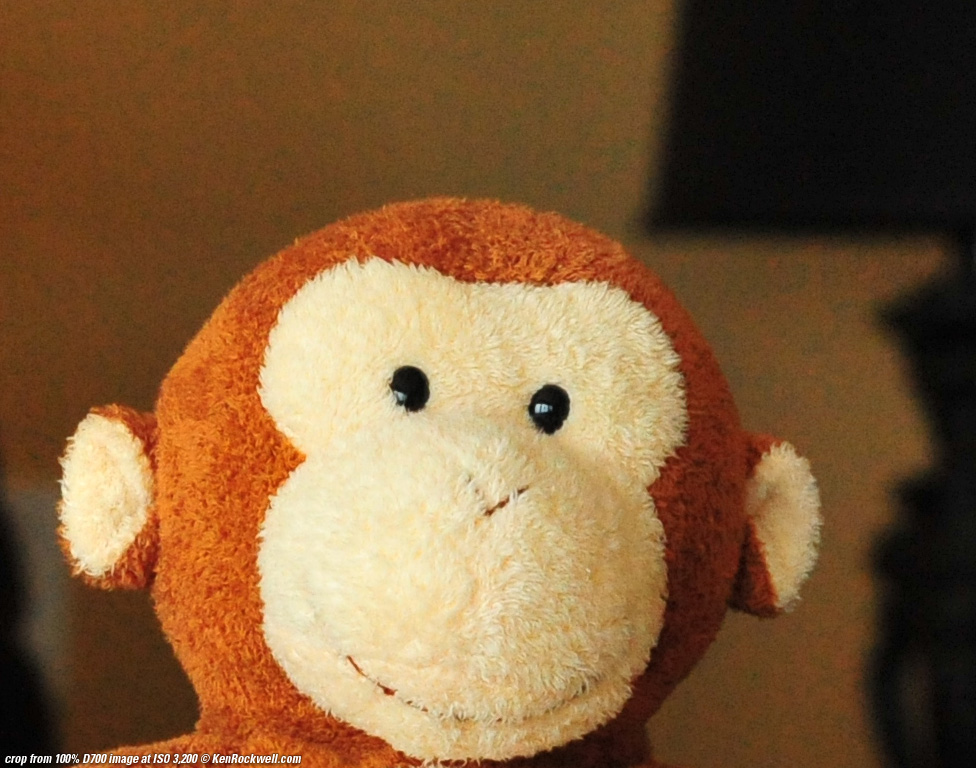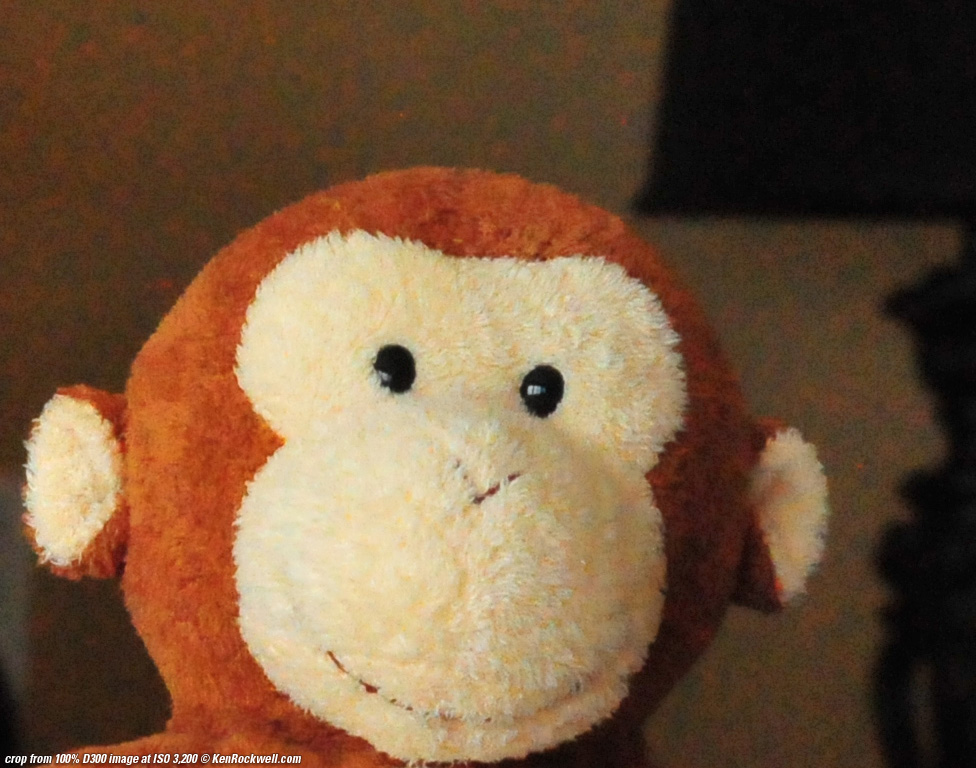 Analysis back to top
As expected, I've confirmed that the D3 and D700 look identical, as expected since they use the same full-frame FX sensor and technology. They have the same noise, and the same excellent level of detail.
Also as expected, the small-format (DX) D300 is inferior. The noise isn't much worse, but what is much worse is that the details are smeared over by the strong noise reduction. Look at the fur. It looks fine in the D300, until you look at the D700 or D3 and see what was smudged over. If you somehow reduced the noise reduction of the D300 to recover the lost detail, you'd have an hellacious amount of noise.
Technik back to top
Tripod. Center post used to collocate front nodal points, since each camera has a different height.
Manual exposure, 1/500 at f/8, ISO 3,200.
Diffuse overcast window light. Daylight WB. Sharpening set to 5, saturation set to +3. ADR set to NORM for D3 and D300, set to AUTO in D700. Please ignore small differences in exposure; you'll always see these between cameras.
Nikon Zoom-NIKKOR 24-70mm f/2.8 AF-S. Set to 70mm for D3 and D700, 47mm for D300 to give the same framing.
PLUG
I support my growing family through this website.
If you find this as helpful as a book you might have had to buy or a workshop you may have had to take, feel free to help me continue helping everyone.
If you've gotten your gear through one of my links or helped otherwise, you're family. It's great people like you who allow me to keep adding to this site full-time. Thanks!
If you haven't helped yet, please do, and consider helping me with a gift of $5.00.
The biggest help is to use these links to Adorama, Amazon, B&H, Ritz, and J&R when you get your goodies. It costs you nothing and is a huge help to me. These places have the best prices and service, which is why I've used them since before this website existed. I recommend them all personally.
Thanks for reading!
Ken