Nikon D40x
© 2007 KenRockwell.com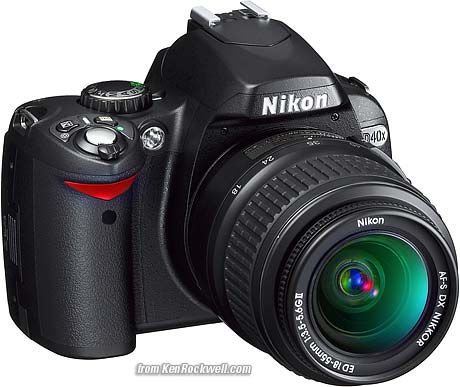 Nikon D40x.
I'd order a D40x here, here or here; but personally I prefer the less expensive D40. You can poke around each of of those links for various kit options. It comes as a body-only (about $535) , or kitted with the excellent 18-55mm lens (about $590), or kitted with both the 18-55mm and new 55-200mm VR lenses (about $805), all of which I suggest if you need lenses. I buy from those people myself so I recommend them, and It helps me keep adding to this site when you get yours from those links, too.
Nikon D40 User's Guide in plain English. It's 99% the same as the D40x.
Top Specs Performance Recommendations
The D40x was announced March 5, 2007 and discontinued in January 2008. It is replaced in 2008 by the almost identical D60.
Save your money and get the D40, which I find to be superior, even for hundreds of dollars less, because the D40 has faster sync speed and double the light sensitivity in normal use (ISO 200 base vs. ISO 100 base.)
. It's the same as the D40 with a few more pixels (the sensor comes from the D80), a slightly faster frame rate, a much slower maximum flash shutter speed (sync) and a whopping 33% price increase.
I had a prototype in my hands Wednesday, March 7th, 2007. Shipping product doesn't arrive until April 2007.
It's great: the same as my D40. I love my D40. I'd much rather have a D40 or D40x over any other DSLR priced under $1,300. Luckily, the D40 and D40x only cost half that.
I'm not that excited about the D40x, because is loses some of the things I love about my D40: it costs $200 more and has a much slower sync speed. I don't care about resolution.
For now, I'd pass on the D40x and get a D40 instead. They are the same camera, and the D40x costs much more for no significant change in quality or performance. My two favorite Nikons are my D40 and my D200; I'd pass on the D40x and D80 to save my money to step up directly to the D200 to see any real improvement.
Of course if there was no D40, I'd get the D40x, and at it's price point I still prefer the D40x over any other DSLR. My concern is that I can get the same thing for $200 less in the D40.
Nikon probably added these needless pixels to the D40x to compete with the Canon Rebel XTi on banner specifications that impress innocent people, but do nothing to improve the pictures or usability. Camera performance has little to nothing to do with megapixels. I also own a Canon Rebel XTi, and I hate using it compared to my D40.
The D40x is 95% the same as the excellent D40, with the following changes:
Bad News:
1.) $200 more expensive than the almost identical D40: $799 vs. $599, or 33%!
If money matters, you should put that $200 towards lenses, like the new Nikon 55-200mm VR or the SB-400, not on the D40x vs. the D40. Bouncing the $129 (list) SB-400 flash makes a huge difference in photo quality indoors, and megapixels don't. I've got a zillion photos of my baby Ryan made with a bounced SB-400, see if you like the quality compared to the quality you get on your current camera with the built-in flash.
2.) Slower default ISO: only ISO 100 compared to D40's ISO 200. This can lead to images blurred from subject or camera motion or reduced depth of field. The higher-speed sensor of the D40 allows the excellent results at ISO 200 while the less sensitive sensor of the D40x requires ISO100 for the same thing.
3.) Slower 1/200 flash sync, down from the excellent 1/500 of the D40. This reduces flash range outdoors, makes it difficult to get sharp flash shots of sports action, and reduces battery life with flash. See Why Sync Speed Matters.
4.) Larger files sizes clog hard drives, memory cards, waste backup CDs, and take more time to transfer, copy, backup and archive. You'll get fewer photos per memory card, which isn't much of an issue today, but waiting for all the other things is.
Good News:
1.) Slightly higher resolution: D40x images are 3,872 pixels wide versus 3,008 pixels wide in the D40.
So what? Like square footage, megapixels is multiplying image height times image width, so this minor increase looks impressive when multiplied out to 10 MP from the D40's 6MP.
This is only significant if you're printing larger than 13 x 19" (30 x 50 cm) and larger, and even then, not very significant. I've seen 4 x 5 foot prints made from the 6MP D50 which looked spectacular; it's all about knowing what you're doing to get a sharp image. See also The Megapixel Myth.
2.) Slightly faster frame rate: 3 FPS vs. 2.5 FPS. If you're shooting sports, I suggest getting a D200 with 5 FPS to see or feel any real difference. I notice no difference between my 2.5 FPS D40 and my 3 FPS D80.
Top Introduction Performance Recommendations
Same size, body, battery and everything as D40. See my D40 Specifications for all the other details. Caution: Nikon refers to many things as "New!" for the D40x, even though they are identical to the D40. New in Nikon's marketing context means not new to the D40x, but less than a year old.
Sensor and Image Sizes: 10MP sensor: 3,872 x 2,592 pixels. Also 2,896 x 1,944 and 1,936 x 1,296 settings.
Frame Rate: 3 FPS, up from 2.5 FPS in the D40.
Buffer: 100 shots continuous, depending on card speed.
ISO 100 - 3,200. Per the laws of physics, a 10MP sensor has to run at lower ISOs for the same performance as a 6MP sensor of the same physical size. Therefore the D40x' ISO range starts at ISO 100, not ISO 200 as the D40. The "wider range of ISOs" touted as a feature is actually a downgrade: the D40 didn't need to go slower than ISO 200 for great results, and at ISO 100 the D40x is more likely to have more blur or shallower depth of field.
Meter: Same hardware as D40, D80 and D50: 420 RGB elements.
Maximum Shutter Speed with Flash (sync speed): Only 1/200, inferior to the 1/500 of the D40. See Why Sync Speed Matters.
LCD: 2.5," 230,000 pixels, presumably the same fantastic one used on the D40, D80 and D200.
Battery: Same 1,000 mAh EN-EL9 as D40, incompatible with other Nikons. Rated 520 shots, up from 470 shot rating of D40. I get about 1,000 shots on a charge with my D40, since I rarely use its flash.
Lens: At least in the USA, it often comes with the excellent 18-55mm II. I love this lens; it's Nikon's best for family and baby photos because it focuses so much closer than any of their other zooms, even the very expensive professional versions like the 17-55mm.
Color: Professional black or possibly gag-me silver. Don't buy silver: those are factory seconds sold overseas. (OK, I'm kidding about being seconds, but silver-painted plastic looks so stupid I wouldn't want anyone to get stuck with one.)
Price: $799.95 camera and lens, $729.95 body only. (The almost identical D40 is only $599 with the same lens.)
Announced: March 5th, 2007
Available: April, 2007
Top Introduction Specs Recommendations
Usability and Dynamic Image Quality
The same as the D40, which is excellent.
Static Image Quality
Only prototypes are available today, so I've got no data for the relatively insignificant but easy to measure and overly discussed issues of resolution and noise. It's meaningless to shoot explicit tests with prototypes because the real ones will be better, so I didn't.
Production models hit in April, 2007. There's no point in testing prototypes, since the production versions fix whatever weak spots might be seen in prototypes.
It's easy to predict; I suspect static quality will be the same as the D200 and D80 which use the same Sony sensors. Often the newer cameras, even when less expensive, are better because Nikon is always learning new tricks to pull cleaner images off any given sensor.
Top Introduction Specs Performance
The D40x is fantastic, but it's not $200 better than the D40 to me.
I'd suggest the regular D40 to save money and work better with fill-flash in daylight due to the faster maximum shutter speed with flash. Megapixels have nothing to do with how a picture looks.
A reader also suggests that she can open D40 raw files in PS CS2, saving her from having to upgrade to PS CS3, required to open newer D40X raw files. I haven't confirmed that; I thought Adobe let one update camera compatibility in all their programs. I shoot JPG which opens on everything.
See also Nikon D40 Lens Recommendations.
PLUG
If you find this as helpful as a book you might have had to buy or a workshop you may have had to take, feel free to help me continue helping everyone.
Thanks for reading!
Ken
Caveat: The all the ads below come from third parties. I don't see them before they appear on your screen. See more at my Buying Advice page. Personally I get my goodies at Ritz, Amazon and Adorama.