Home Donate New Search Gallery How-To Books Links Workshops About Contact
Nikon 12-24mm
DX NIKKOR AF-S (2003-)
© 2006-2012 KenRockwell.com. All rights reserved.
Introduction Specs Performance Recommendations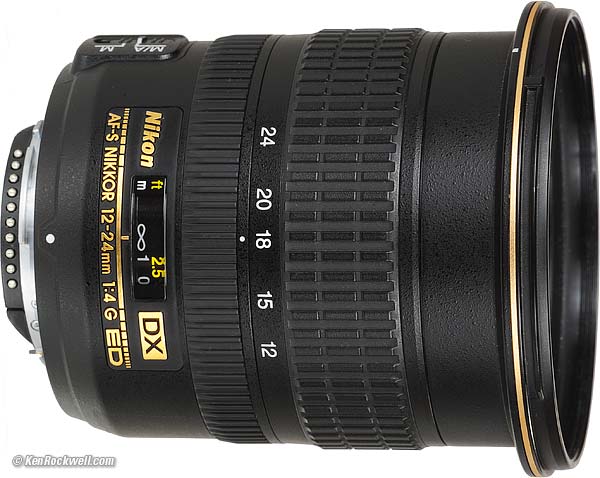 Nikon 12-24mm f/4 AF-S DX (for DX cameras only, 77mm filters, 16.2 oz./461g, about $1,100 new or $500 used). enlarge. I'd get it new at Amazon, or used at eBay (see How to Win at eBay). My biggest source of support is when you use those or any of these links when you get anything, regardless of the country in which you live. Thanks! Ken.
September 2012 Nikon Reviews Nikon Lenses All Reviews
Introduction top
Introduction Specs Performance Recommendations
This review predates the Nikon 10-24mm DX, so read accordingly wherever I make comparisons.
THis 12-24mm is much tougher than the whimpy plastic 10-24mm, which is why this 12-24mm costs more. This 12-24mm is a semi-pro lens, while the 10-24mm is strictly a consumer lens.
---
Along with my Nikon 18-200mm, this is the lens I use most of the time on a DX camera. I love wide angle lenses, and this is the very best available for every Nikon digital SLR, be it a D50, D40, D80, D200, D2Xs. or any of the digital Nikons with lenses that come off.
You can see some examples from just a day's walking around New York City, day and night, here. I don't need a tripod with this lens: digital SLRs look great at higher ISOs and these short focal lengths allow long exposures with sharp results, so all those night shots were shot hand-held while walking around!
See also my complete comparison between all the other brands. There is also a LOT more info about the Nikon 12-24mm there in the comparisons. This page is just a summary.
I consider this focal range as mandatory in any digital lens set. 17 or 18mm lenses are not wide on digital cameras. I usually skip the mid zoom that comes with the camera and bring this and a telephoto zoom anywhere I go, like Maui. You only need two zooms.
This was the first true ultra wide zoom available for any mainstream DSLR. I bought mine in May, 2004. It was announced at PMA in February 2003 and was hard to find for a year. I paid over $1,000 and today it still costs over $900. Ouch.
This special lens has a much shorter range of focal lengths than other wide angle lenses in order to give really wide images on the Nikon digital SLR cameras, as well as Fuji cameras based on the Nikon DX sensor sized cameras.
Don't use it on a film camera or a 24 x 36mm CCD digital camera like the old Kodak 14n. This lens cannot fill the entire frame of a 35mm camera and will give a semicircular image in the middle of the frame of film or big CCD.
Unlike the 17 - 35 or 18 - 35 lenses which are compatible with everything, this lens is only for digital SLRs. Nikon's DX size sensors are perfect; there's no reason to make them the archaic size of the old 35mm film frame.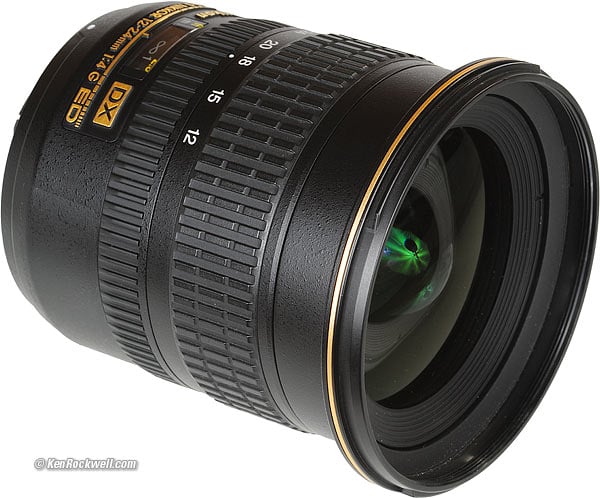 Nikon 12-24mm.
Compared
May 2009: See my Nikon 10-24mm Review, where I go through the latest comparisons.
April 2008: Tokina's 11-16mm f/2.8 may be a better lens. See its review.
If I hadn't already bought and prefer the Nikon and its focusing I'd probably own the Tokina. Today I'm intrigued by the 10mm end of the Sigma. Dead last would be the Tamron, which is a cheap-feeling lens with the smallest zoom range, slowest aperture and highest price of these three. What were they thinking? I'm looking forward to trying the Tokina. All of these three off-brands are half the Nikon's cost at about $500. I doubt there's much optical performance difference between the Nikon and Tokina. The Tokina seems to be metal and the Nikon is good plastic. The Nikon offers much sweeter focusing with no need for switching between manual and AF, but if money is an issue I suggest getting one of these. For my work this focal range is mandatory. Skip the zoom that comes with your camera and get one of these instead.
Today Canon makes a 10 - 22 mm f/3.5-4.5 for Canon cameras. The Canon is the best lens in this range with much less distortion than the Nikon, but doesn't fit my Nikon cameras.
Forget the huge, bulbous and slower Sigma 12 - 24 unless you also want to run it on a film camera. It's a much bigger lens intended for film cameras.
2006: See my complete comparison between all these lenses. There is also a LOT more info about the Nikon 12-24mm there.
Off brands also make similar focal ranges today. Tokina makes a 12-24mm f/4 you can get here, Sigma makes a 10-20 mm f/4-5.6 you can get here and Tamron makes an 11 - 18 mm f/4.5-5.6 you can get here.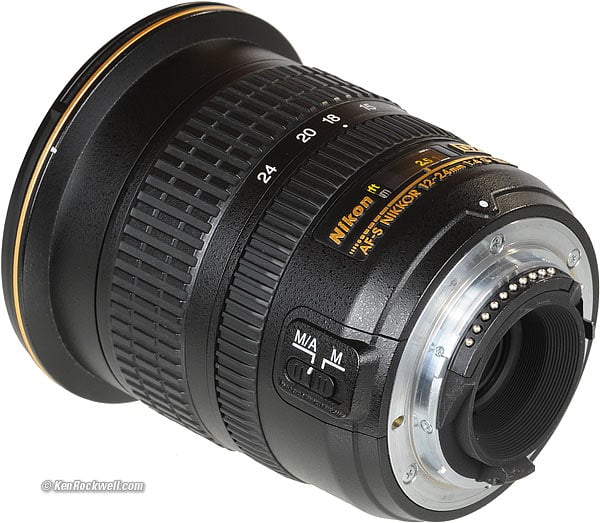 Nikon 12-24mm.
Specifications top
Introduction Specs Performance Recommendations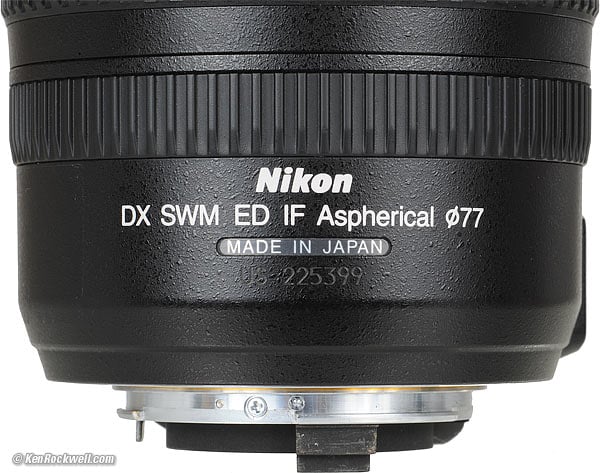 Nikon 12-24mm: Lots to read on its underbelly. "Made in Japan" sticker suggests future versions will come from elsewhere.
Name
Nikon calls this the Nikon 12-24mm f/4G IF-ED AF-S DX Zoom-Nikkor.
AF-s means it focuses silently and you have instant manual override just by grabbing the focus ring.
D means it tells your camera's meter the distance to your subject. This helps a little for flash exposure metering.
DX means it only works on digital cameras. The corners will be black at many focal lengths on a film camera.
ED is special glass used to increase sharpness.
G means it has no aperture ring so it won't work on ancient cameras that require one. Since these old cameras are film cameras it wouldn't matter anyway.
IF is Internal Focusing. The lens focuses with only the slight motion of a few internal elements instead of having to crank the entire lens in and out. This means the front no longer rotates as you focus, making polarizing and grad filter use easy.
M/A (Manual/Automatic) mode means that even while in autofocus you may simply grab the focus ring to make manual focus adjustments. Next time you tap the shutter it returns to AF mode, and next time you grab the ring you're instantly in manual mode. I wish everything on earth worked this well.
SIC is Nikon's latest multicoating to increase light transmission and reduce ghosts.
SWM is a Silent Wave Motor, which is an ultrasonic piezo device similar to Canon's USM. It moves things without making noise. The lens focuses silently, handy for snoop photography and for sensitive pets and wildlife.
I have a page about all this and more here.
Optics
Eleven elements in seven groups. Two of them are ED glass and three are molded aspherics.
Diaphragm
Constant f/4 aperture. Stops down to f/22 with seven curved blades.
Focus
Internal true Silent Wave Motor (SWM) for fast, silent focus. Instant manual override by grabbing the focus ring.
Close Focus
1 foot (0.3 m) marked. It focuses a little closer.
Filter
77mm.
Never moves.
The front elements move inside the lens with zooming while the barrel of the lens stays put.
Hood
HB-23 hood included.
Mine has never been out of the box.
Size
3.2" (82mm) around by 3.5" (90mm) long.
Weight
Mine weighs 16.25 oz (461 g).
Add a standard Hoya HMC 81A filter and mine weighs 17.60 oz (499 g) as I use it.
Add caps and it weighs 18.55 oz (525 g) as carried.
Nikon specifies 17.1 oz (485 g).
Nikon Product Number
2144.
Performance top
Introduction Specs Performance Recommendations
Performance is excellent everywhere. Nikon's MTF data is here.
It happily looks like the same plasticy construction but feels much, much sturdier than my dinky AF-S 24-85mm. The zoom is quite linear and feels very solid. I like this!
AF is as fast as the AF-S 24-85mm. AF speed is rarely an issue in wide lenses.
Distortion
The 12-24mm has complex distortion which will require advanced tools to correct fully.
For partial correction, use these figures in Photoshop CS2's Lens Correction filter.
| | | |
| --- | --- | --- |
| On DX at 10' (3m) | Visible Effects | |
| 12mm | Barrel | +3.0* |
| 15mm | none | 0.0* |
| 18mm | slight pincushion | -1.0* |
| 20mm | minor pincushion | -1.25 |
| 24mm | minor pincushion | -1.25 |
© 2009 KenRockwell.com. All rights reserved.
* Some slight waviness remains.
Visible Effects
12 mm: barrel, strongest at the corners. It's a somewhat complex distortion, so it doesn't correct completely.
13 mm: barrel.
14 mm: most of the field OK, barrel at the corners.
15 mm: almost perfect, some barrel at the far corners.
16 mm: almost perfect. Some almost invisible pincushion.
17 mm: almost perfect. Some almost invisible pincushion.
18 mm: very slight pincushion.
20 mm: slight pincushion.
22 mm: slight pincushion.
24 mm: slight pincushion.
Use between 15 and 18mm when you need very straight lines running along the edges of the frame, otherwise don't worry about it. Only at 12 - 14mm can you really see any barrel distortion if you're a professional brick wall photographer.
Also see the examples under "Use with Flash" below. Watch for the fact that the falloff of the D70's flash makes the lens appear to have more distortion than it really does.
Trick for Photoshop before CS2 :
This is a digital lens so I know anything you do with it is through a computer, so correcting distortion is trivial. PhotoShop CS2 makes it easy (read here how to do it), and it also can be done with a little more work in older versions of Photoshop thusly:
Expand the canvas size by 50%. Then do Filter > Distort > Spherize > -10%. Duh, easy. You may have to play around a bit with the value depending on what you shot. You could also do second order corrections. Likewise, you also could use the free and highly advanced Panorama Tools if the Spherize tool isn't good enough for you.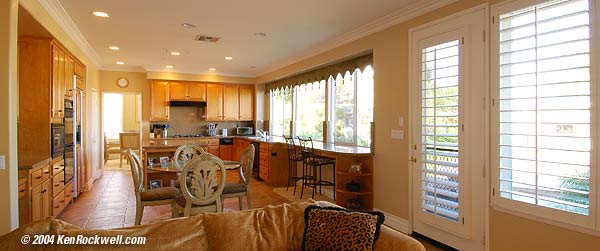 Cropped from middle of image on D70 at 12 mm. Note far edges bow out just a little.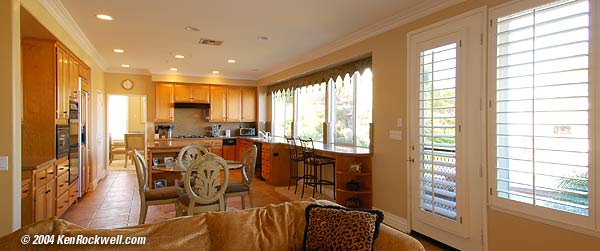 Same file correcting the distortion as above with Photoshop's "Spherize" tool at -10% after increasing canvas size 50%. Note how the vertical lines on extreme left and right are now almost straight, but middle right now curves in a little. A setting of -5 might be just about right, below: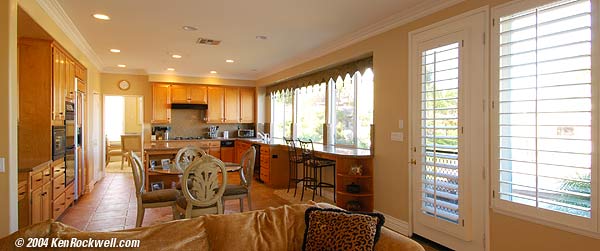 and finally in 2005 here's the same thing with Photoshop CS2's lens distortion fix set to +3.00: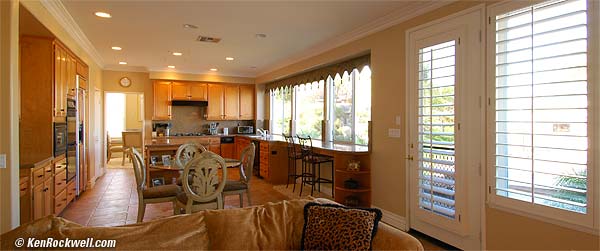 Falloff of Illumination
None.
This is excellent.
There is no light falloff at any setting.
Sharpness
It's great. This is trivial to go test yourself.
At 12mm it gets a tiny bit soft at the very farthest edge, something rarely noticeable unless you shoot test charts all day. Otherwise it's pretty much only limited by diffraction.
It's sharp at all apertures. F/8 is the sharpest. Here's some specifics:
| | | |
| --- | --- | --- |
| 12 mm: | Center | Corner |
| f/4 | Excellent | Excellent |
| f/5.6 | Excellent | Excellent |
| f/8 | Excellent | Excellent |
| f/11 | very good | very good |
| f/16* | softer | softer |
| f/22* | softest | softest |
* Limited by diffraction
I had to go to film to test it further, since film has three times the linear resolution of today's best digital cameras. On film (Velvia) it's sharp and crisp and contrasty at every focal length and aperture. It's as good as my best film lenses. Bravo!
It has far more sharpness than any contemporary digital camera can exploit. Nikon is getting so good at making lenses that there are fewer and fewer flaws to write about making my job here easy.
Maybe when you get a 50 MP DSLR you might start having to worry about sharpness with this lens.
If you're brazen enough to dare use this lens on a film camera you'll see that the lens produces the same image which merely varies in size as the lens is zoomed. The farthest edges of this image circle, beyond the angle seen with a filter, get blurry, but inside of that area everything is great. When used with a filter the area of blurriness is cut off anyway.
Flare and Ghosts
None; excellent. If the sun or other point light source is just outside the image you can get two small yellow dots towards the edge of the photo closest to the light. Use your hand to shield that light and you'll have no problem. I don't know if the hood fixes that. I don't use hoods.
If you use an uncoated non-Nikon brand filter you will get a small ghost near sources of light. When shooting into lights take off the filter or use a multi-coated one.
Coma
I see none even wide open in the corners, excellent.
This lens will cast a shadow visible in the bottom of your photos when used with the built-in flash of the D70 or D100 and when zoomed to about 18mm and wider. Shoot from 20 to 24mm to avoid this shadow. When used purely for fill light as a small percentage of the total light this shadow may not be visible. Examples with the flash as the sole source of light:
| | | |
| --- | --- | --- |
| | | |
| at 12 mm on D70 | at 18 mm on D70 | at 24 mm on D70 |
Use on FX and Film
The Nikon 12-24mm works fabulously well on film cameras so long as you don't zoom wider than 18mm with a Nikon brand filter, or as wide as 16mm with no filter.
Other brands of filters tend to be thicker and will limit this even further.
It vignettes (cuts off the corners) when set wider on FX and film.
Avoid 16mm since the far corners have slightly lower sharpness out that far.
This little lens can get a teeny bit wider than my 17-35mm AF-s, but remember that since is only zooms out to 24 mm it's not really the greatest idea for a zoom.
For less than half the price, the 18-35mm is a much better lens for film.
Avoid polarizers since they usually give bad results with wide angles for other reasons as I explain here, and of course will vignette even more.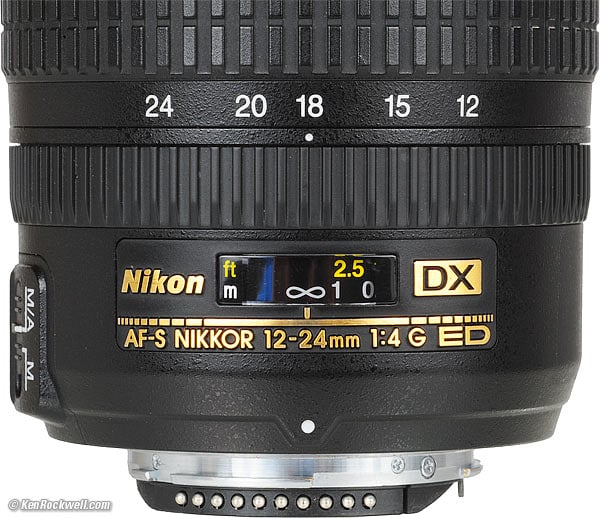 Nikon 12-24mm focus and zoom controls.
Recommendations top
Introduction Specs Performance Recommendations
I love this lens. It's a must-have for every Nikon digital SLR. It cheerfully replaces my boat-anchor 17-35 AFS which will go live with my F100.
I've been expecting Nikon to copy my idea of Digiwide manual-focus prime lenses for digital SLRs, and Nikon finally did it as a zoom. BRAVO!
Popular Photography reviewed this 12-24mm on page 51 of their January 2005 issue.
This 12-24mm and a telephoto or medium zoom are the only lenses you'll need for a DSLR.
Feel free to get the Tokina 12-24mm f/4 if price is an issue. I suspect you'll be very happy with it, too.
I compare these two, as well as the Sigma and Tamron, on my huge Wide Zoom Lens Comparison.
More Information
Here's an interview with Haruo Sato, the designer of the 12 - 24 mm.
See Nikon's press release and earlier development announcement.
PLUG top
I support my growing family through this website.
If you find this as helpful as a book you might have had to buy or a workshop you may have had to take, feel free to help me continue helping everyone.
If you've gotten your gear through one of my links or helped otherwise, you're family. It's great people like you who allow me to keep adding to this site full-time. Thanks!
If you haven't helped yet, please do, and consider helping me with a gift of $5.00.
The biggest help is to use these links to Adorama, Amazon, B&H, Calumet, Ritz and J&R when you get your goodies. It costs you nothing and is a huge help. These places have the best prices and service, which is why I've used them since before this website existed. I recommend them all personally.
Thanks for reading!
Ken
Home Donate New Search Gallery How-To Books Links Workshops About Contact