Home Donate New Search Gallery Reviews How-To Books Links Workshops About Contact
Nikon 80-400mm VR
© 2006-2013 KenRockwell.com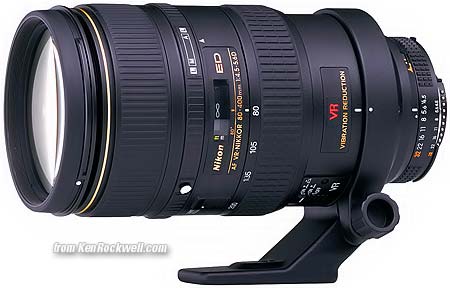 Nikon 80-400mm f/4.5-5.6D VR. (FX, DX and 35mm coverage, 77mm filters, 42.7 oz./1,210g without tripod collar, 7.5'/2.3m close focus, about $1,675 new or about $800 used). My biggest source of support for this free website is when you use any of these links, especially this link directly to it new at Adorama or new at Amazon, or this link directly to them used at eBay (see How to Win at eBay), when you get anything, regardless of the country in which you live. It helps me keep adding to this free website when you get yours through these links — but I receive nothing for my efforts if you buy elsewhere. Thanks for your support! Ken.
NEW: Nikon 80-400mm VR AF-S 05 March 2013. This new AF-S lens adds instant manual-focus override and closer, faster focusing to the original 80-400mm VR lens reviewed here.
Adorama pays top dollar for your used gear, especially this original 80-400mm VR.
August 2009 update: The 80-400mm VR works great on DX, FX and film. The newer, smaller, lighter and much less expensive 70-300mm VR does everything as well or better, but only goes to 300mm, not 400mm. Personally, I prefer the convenience of the 70-300mm over losing just a little bit at the long end.
The rest of this article is from 2006, before the invention of FX or the 70-300mm VR. The 80-400VR is marvelous on FX, just that the 70-300mm VR works as well for a lot less money and weight.
For sharpness comparisons, see:
INTRODUCTION
This lens is a miracle. I bought one in August 2002. It's small, sharp, light and has very little distortion and flare, possibly the only 80-400 zoom on the planet that can do this. Not only this, but the VR feature actually works, allowing you to shoot this long lens handheld in all sorts of light. As I recall the Tokina 80-400 is well made but has a lot of distortion and I have no idea how sharp it is.
See also Why VR Matters.
It weighs less than the Nikkor 80-200 AF-S. Due to that, as well as its great optical quality and freedom from ghosting this VR replaced the 80-200 AF-S in my bag until it was replaced by the 18 - 200 VR in my bag in 2006. I still grab my 80 - 400 for long shots.
Except for the VR feature, this lens is completely compatible with all Nikon cameras of any age from 1959 and newer. You'll need to have a coupling prong added if your camera is a pre-AI camera from 1976 or older.
The VR feature works with the most recent cameras, specifically D80, D200, D2H, D2X, D1/X/H, D100, D70, F5, F100, F80/N80 and the F65/N65. VR doesn't work on the N55, but everything else does. Check your camera's instruction book for details; as Nikon introduces new cameras obviously my lens' instruction book can't update itself.
This lens is perfect for the wander-around-and-see-what-you-find photography I do. It is NOT good for sports or low-light motion photography due to the slow f/stop and slow autofocusing speed. More on that later.
Here's the initial press release from January, 2000. It didn't actually become available until the middle of 2001.
Specifications
Name
Nikon calls this the Nikon ED AF VR Nikkor 80-400mm f/4.5-5.6D.
Optics top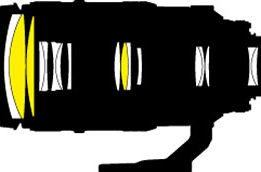 Internal diagram. ED Glass.
17 elements in 11 groups.
3 are of ED glass.
It's multicoated, which Nikon calls Nikon Integrated Coating.
Diaphragm
Great 9-bladed diaphragm. It uses curved blades which provide a pretty much circular opening down to about f/11.
Filter Thread
77mm, the professional standard. The front plastic filter ring does not rotate, ever.
Focus
It is not an AF-S lens, but one of the old-style mechanically focused lenses. It's one of Nikons slowest focusing lenses. You will need to move switches around to go between AF and manual focusing. The Canon 100-400 IS is AF-S style, as is the 70 - 300 VR. AF-S lenses let you grab the focus ring for instant manual focus override.
Close Focus
7.5 feet (2.3m), not that great for most of the focal range covered.
The Canon 100-400 IS focuses closer.
The 70 - 300 VR focuses closer still ( 4.9' (1.5m) and the 18 - 200 VR clostest, at 1.5 feet (0.45m).
Tripod Collar
The tripod collar comes off. I took mine off the moment I got it! I do the nasty and use the camera's tripod socket. The 80 - 400VR's collar is a pain, so it's left at home.
Hood
HB-24 plastic bayonet hood, included with the lens and not needed anyway.
Size
3.6" (91mm) around and 6.7" (170mm) long.
Weight
42.7 oz (1,210g).
47 oz (1,340 g) if you leave the silly tripod collar on.
Nikon Product Number: 1996, in catalog as of spring 2008.
Nikon's data is here.
PERFORMANCE
AF Speed
AF speed is slow. If you want fast AF, get the 18 - 200 VR or 70 - 300 VR.
VR is for fixing hand shake blur during longer exposures, not for stopping action. This lens excels for stills, but for sports you may want the 70 - 300 VR.
With a hot camera like the D2H/X, D1/H/X or F5 it's OK; with an amateur camera like the F100, D100 or slower it can be annoying. The focus shifts as you zoom, so you always need to be sure to refocus after you are done zooming. This is not what you want for tracking action up and down a field.
Even on a pokey camera like my D70 I can track some action, like cars moving at 45MPH.
It is the slowest focusing AF lens ever made by Nikon as far as I know. It only focuses to 100' with one full turn of the AF screw. This is more than twice as slow as the current AF 70-300 f/4-5.6D and more than six times as slow as the recently discontinued AF 70-210/4-5.6D. And you think you're going to shoot sports with this? Nah, this lens is for stabilizing camera shake, NOT subject motion! The 80-400 VR is even slower than the original AF 70-210mm f/4.0 from 1986.
This lens focuses the old-fashioned way: with a motor in the camera and a mechanical linkage that couples the camera to the lens. This is not why it's slow. It's slow because the gearing is designed to be slow.
Depending on the gearing of this conventional AF linkage one either gets blazingly fast AF like the 85/1.8, 35/2.0, 20/2.8 and 70-210/4-5.6D AF lenses, or a pig like this VR lens.
This lens is optimized for handheld photos of still subjects, NOT sports! I do shoot some sports with my D1H camera, but would caution you to check to see that the AF is fast enough to track action for you depending on what you are shooting, especially with anything other than a D1 series or F5.
Nikon salesmen brush this off as "well, its not AF-S," but as you see above plenty of mechanically autofocused lenses are very fast. In this case this lens is just geared very slowly.
The slow AF is OK because the VR lens is not for shooting sports or action anyway. Don't be misled by the illustrations in the sales literature. The point of the VR feature is to be able to shoot still subjects with long exposures without needing a tripod. It is not to be used for shooting things that move quickly requiring fast shutter speeds. For sports you ought to be using a faster lens allowing faster shutter speeds, or if you don't have an f/2.8 super telephoto, faster film.
There is a focus range limiter switch.
There is an updated Auto/Manual focus mode switch which can be moved with one hand and has no lock button (unless you want it locked). This is an improvement over prior Nikkor AF lenses, but still primitive compared to Canon and Nikon AF-S lenses.
Bokeh is neutral at 400mm.
It looks not so great at 200mm.
I have not looked too closely at this, so best to try for yourself.
See also my Bokeh Comparisons page for examples, where it looks great at 135mm.
Distortion
Plug these figures into Photoshop CS2's lens distortion filter to correct the distortion. These aren't facts or specifications, they are the results of my research that requires hours of photography and calculations on the resulting data.
| | | | |
| --- | --- | --- | --- |
| | | | |
| 80mm | +4.0 | +1.49 | +1.49 |
| 105mm | +1.0 | +0.40 | +0.40 |
| 135mm | 0.0 | -0.0 | -0.25 |
| 200mm | -1.45 | -0.5 | -0.5 |
| 300mm | -2.2 | -0.5 | -0.5 |
| 400mm | -2.5 | -1.0 | -0.5 |
© 2007 KenRockwell.com
Construction Quality
It's got a lot of plastic and feels cheaper then the metal Canon 100-400 IS, which is priced the same.
On the other hand, after living with it a bit I realize that this saves weight, which is a Godsend. It's light and has a lot of plastic on the outside, however the quality is very high. This is unlike the expensive Mamiya 7, which is also made of plastic, but cheap and sloppy plastic.
The Nikon 80-400 VR's plastic is top rate. The filter threads are metal, covered in rubber, the best of all worlds..
Of course the mount is metal. I'm unsure about the important internal cams.
Vibration Reduction and Image Stabilization
The VR seems to work very, very well. I got useable but still slightly blurred images at speeds around 1/15 at 400mm!!!
Honestly, VR is just a gamble like anything else. Some images are sharp and some are not. It can't save every image since camera shake is a random function.
Oddly, VR works great from 80 through 300mm, but at 400mm it's still tough to get perfect images at slower speeds. Yes, VR is always better than no VR handheld, but you'll get some duds at every speed. Here's what seem to be safe speeds most of the time for me:
80mm 1/15
150mm 1/30
200mm 1/15
300mm 1/60
400mm 1/250
Innocent people would presume that VR effectiveness would vary directly with focal setting, but reality is always stranger than fiction. The minimum speeds have to do with the exact algorithms and impulse responses used in the lens, and their abilities to correct hand jitters as the balance points of the lens and the magnifications shift with focal length. This is what I found; you will probably see something different since we all hold cameras differently.
It makes slow pans easy. I get a lot of good results easily, although this is not something I do often.
Believe Nikon when they say don't use VR on a tripod. It screws up the image by adding blur! Likewise, if you brace the camera against something also turn the VR off.
VR has a bizarre and understandable side effect. After you make your shot you will often see a different framing in the viewfinder. Since the lens is correcting vibration and wobble as best it can during the making of your image it may try to reset itself for the next shot, thus watch framing while using VR. In real photography this means at 400mm often you will get different results than you think. Thus if you crop tightly watch it, since you may unexpectedly lose edges of the subject in your final image. Try this for yourself.
Flare and Ghosting
I'm amazed. This lens has a staggering SEVENTEEN elements and even with all this glass has no problem with ghosts. Avoid uncoated filters like Tiffen if you are pointing it straight at a light source like the sun, and otherwise it is much better than the 80-200 AF-S which has a real problem with ghosts.
I can have the sun in my image and not have a problem with ghosting. BRAVO!
I leave my hood at home, it doesn't need it.
Sharpness
On film it looks great. On a tripod at f/11 it is as sharp as any other lens I have.
It is great on the digital cameras. It's stellar on my D200, which is a picky camera for lens sharpness.
For hand-held use this is a tricky issue. I'll admit I always shoot this lens at slower shutter speeds than I ought to, and therefore the sharpness is limited by my luck and the vibration reduction. You, too, will have this issue. If you are not getting sharp results remember to shoot at wide apertures (or wide open) and use the fastest shutter speed possible. No lens can eliminate subject motion which often blurs my and your images.
I suspect this is why some people love this lens and others don't. It encourages you to shoot at speeds much slower than you should, in which case subject motion blurs the image which some confuse with lens unsharpness. Also one needs to focus after zooming to get correct focus, more on that later.
Falloff of Illumination
I saw no light falloff on film at full aperture and little edge softening. This is great; shoot at full aperture.
This again is better than my 80-200AF-S even at the same aperture. Most of the 80-200 f/2.8 lenses have falloff even at f/5.6!
Close Focus
It only focuses to 7.5 feet. This drives me nuts having to step away from some subjects. Even the Nikkor AF 70-210/4-5.6D focuses to less than 4' and focuses about five times as fast.
If this is important get the Canon 100-400mm lens instead, or just buy a really good close-up lens like the Canon two-element model 500D, 77mm for about $135 (Yes, use the Canon close-up on the Nikon zoom.).
Due to slop in the factory setting of the back focus, the minimum focus distance varies with focal length setting. At 80mm it focuses to 7' 8," at 400mm it focuses to 7' 5."
Zooming
This is great: all the focal lengths are spread evenly across the zoom ring. You can make precise adjustments at every range. There is no part of the range congested into one side of the zoom ring, like the wide end of the 24-84 AF-S or the long end of the 75-300.
Of course you are moving a lot of glass when you turn this so it requires a firm turn with a strong grip, unlike the almost magic one-finger flipping of the zoom ring possible on lenses like the 70-210 f/4 AF.
Zoom-through focusing
You need to refocus any time you change the zoom setting. Focus does not track.
Due to sloppy setting of the back focus (this is a factory adjustment) the focus shifts while zooming in my sample. You need to focus at the final zoom setting, since the focus shifts with focal length. I'm unsure if all samples are like this.
A different problem is cautioned about in the manual: at low temperatures there may be some mechanical coupling between the zoom and focus rings. Therefore you are cautioned again to focus after zooming. Turning the zoom ring may tweak the focus adjustment.
Just make sure to refocus after any zooming. If you forget this that can also lead to unsharpness.
Focus Accuracy
Focus is always dead on. This is very important.
Focus tracking in C (continuous tracking) focus mode is also great. I can photograph moving objects and the focus is also dead on at full aperture.
Why doesn't it have a modern AF-S motor?
Only the Japanese know, and they're not saying. I'll hypothesize that:
1.) The AF-S structure takes up a lot of space inside the lens. Note that all AF-S and AF-I lenses are fat right down to the lens mount. This is the same place one needs to jam the VR system.
2.) Unlike Canon, Nikon charges big bucks for either system, so would want to charge so much for both that no one would want the thing.
3.) Feature creep. One never introduces a perfect product to start. One introduces a major advance (VR) and then after several years when everyone who wants it has bought it, one introduces something closer to what people really wanted in the first place so again folks need to go out and buy the new lens.
4.) AF speed is designed to be very slow in the VR lens. Therefore adding AF-S and keeping the speed down would tick people off.
I suspect that the reason for the deliberately slow AF speed is because the lens may have varying levels of residual aberration that vary wildly with focal length. The AF system therefore may need this time to get accurate focus through these aberrations.
The huge zoom range also contributes to this: it needs to be much more slow and deliberate at 400mm and therefore the speed at 80mm is still limited by the gearing designed for OK results at 400mm.
The slow AF speed is caused by the deliberately slow gearing of the mechanics, not the lack of AF-S.
Nikon's salespeople in the US often mistakenly blame the slow AF on the lack of AF-S, whereas the AF-S really is only about being quieter and allowing immediate access to manual focus. AF speed of mechanically focused lenses on modern cameras can be just as fast as AF-S, just the the 80-200 2.8 (pod mount) has as much torque reaction during focusing as a car with a big American V-8!
Comparison to Canon 100-400 IS
I have friends who own a total of five of the Canon 100-400s.
The Canon lens costs about the same. It is much more solidly made and therefore heavier. The Canon focuses faster and closer. The Canon lens is equivalent to the Nikon AF-S series and allows immediate manual override; the Nikon 80-400 requires manual fiddling to go from AF to manual focus.
Likewise, the Nikon 80-400 is smaller, lighter and has a wider zoom range. Considering that the whole point of this lens over my 400 f/2.8 AF is portability, the Nikon lens is a winner.
The Canon uses the old-style push-pull zoom system I hate. This Nikon has a zoom ring I prefer.
RECOMMENDATIONS
I love this lens. It is almost always in my bag for film and digital shooting. All you need are this lens and a wide zoom.
This is not a lens for sports or moving subjects, although if you have a top camera like the D1, D2H or F5 it does OK. The slow autofocus is potentially limiting unless you have an F5 or D1 or D2 to track fast moving objects, and the slow f/stop means that you'll have to use slower shutter speeds or faster film to capture things that are in motion. As you know, VR does nothing to stop your subject; it only eliminates the need for a tripod.
This lens is intended for handheld architecture, landscapes, animals chilling and still lifes. It is not for the action you see deceptively portrayed in Nikon's promotional pieces, although for slow pans it is cool.
Read the manual. There are all sorts of tips like what power sequencing to use to get the gyro system to cage properly.
I took off my tripod collar and hood and leave them home in the box.
NO Nikon teleconverters work with this lens, except of course the manual focus ones that throw you back to primitive manual focus with no VR and no matrix metering. You don't want to use the discount ones either; the combination would be too slow for anything. I hear that with the Kenko Pro 300 2X converter you do get VR but the AF is useless of course; try it yourself. Just know that you are asking for trouble at those long focal lengths since the combined maximum aperture is f/11 and you'll wind up with long shutter speeds almost guaranteeing you blurry images. Try it but beware. I wouldn't do it.
If you want to focus more closely with the Nikon 80-400 you may want to try a close-up lens. Canon makes a two-element 77mm close-up lens, model 500D, 77mm for about $135. It will let you focus to about 18." Yes, the 77mm screw-in Canon close-up lens should work fine on the Nikon lens.
More info: see another review written by Steve Danielsson here.
Help me help you top
I support my growing family through this website, as crazy as it might seem.
The biggest help is when you use any of these links when you get anything, regardless of the country in which you live. It costs you nothing, and is this site's, and thus my family's, biggest source of support. These places have the best prices and service, which is why I've used them since before this website existed. I recommend them all personally.
If you find this page as helpful as a book you might have had to buy or a workshop you may have had to take, feel free to help me continue helping everyone.
If you've gotten your gear through one of my links or helped otherwise, you're family. It's great people like you who allow me to keep adding to this site full-time. Thanks!
If you haven't helped yet, please do, and consider helping me with a gift of $5.00.
As this page is copyrighted and formally registered, it is unlawful to make copies, especially in the form of printouts for personal use. If you wish to make a printout for personal use, you are granted one-time permission only if you PayPal me $5.00 per printout or part thereof. Thank you!
Thanks for reading!
Mr. & Mrs. Ken Rockwell, Ryan and Katie.
Home Donate New Search Gallery Reviews How-To Books Links Workshops About Contact