Home Donate New Search Gallery Reviews How-To Books Links Workshops About Contact
Nikon D4
16 MP FX, 10 FPS, $6,000 (2012-2014)
© KenRockwell.com. All rights reserved.
Intro Specs Performance Compared Recommendations More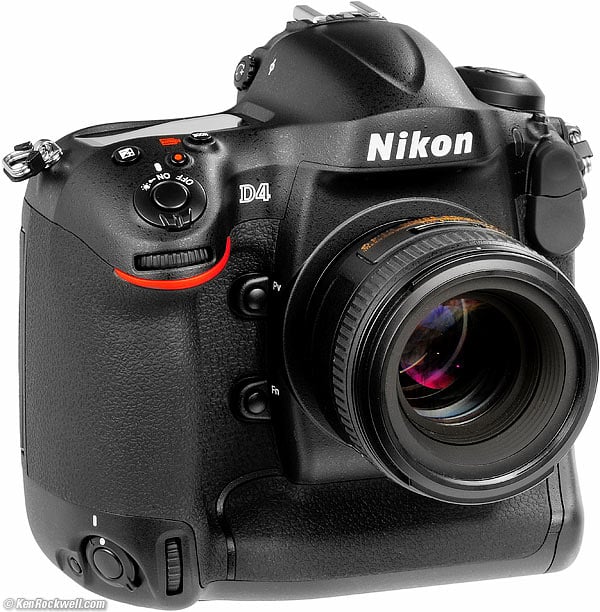 Nikon D4 (47.2 oz./1,337g, with battery and card) with 50mm f/1.4 G. enlarge. I got mine from Adorama, and Amazon is also a great place to order them. This free website's biggest source of support is when you use those these links when you get anything, regardless of the country in which you live. They are impossible to get from stock, so if you need one today, you'll have to pay a scalper over eBay. You have to order yours and be patient as I did.
December 2012 More Nikon Reviews Nikon Lenses All Reviews
NEW: Pro DSLR Comparison 03 February 2016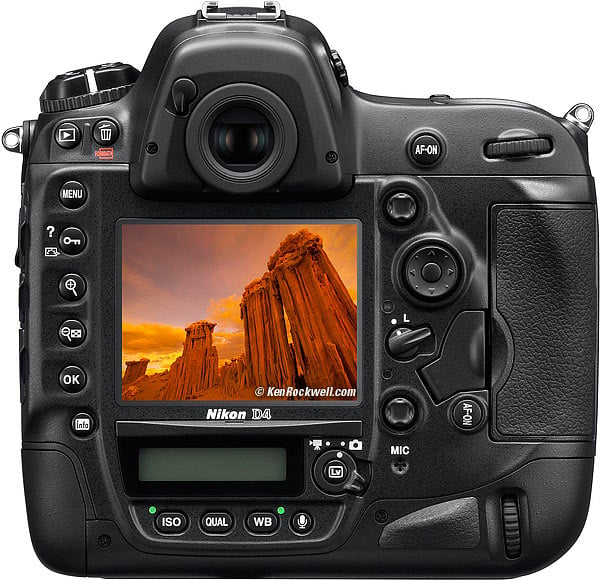 Nikon D4. enlarge.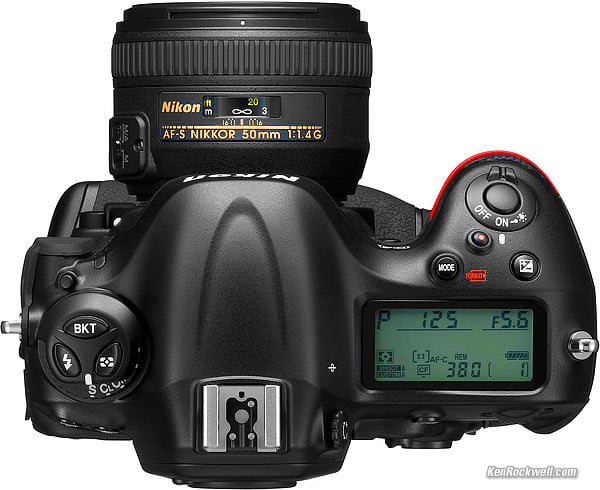 Nikon D4 with 50mm f/1.4. enlarge.
NEW: Nikon D4s. January 2014; makes this old D4 obsolete, so get the Canon 1DX instead; it's a much better camera and the D4S isn't shipping yet.
The D600, D800 and D4 are the same camera inside! 22 October 2012
Nikon D4 versus the world High ISO Comparison
December 2012 Deal: Nikon D4 with Lexar 32GB Pro 1000x CF Card, spare Nikon EN-EL18 Battery, Nikon AN-DC7 Wide Neck Strap, Nikon MC-30 Remote Cord and Mack 3 Year Extended Warranty: $5,996.95, plus 5% rewards.
Introduction top
Intro Specs Performance Compared Recommendations More
The Nikon D4 is Nikon's fastest, tightest professional camera ever made for sports and action photography. It leaves consumer cameras like the D800 and Canon 5D Mark III completely in the dust.
Yes, the Nikon D4 excels at computer hobbyists' technical tests for high ISO noise and resolution as you'd expect, but far more important is how the D4 allows the professional photographer to get in, get the shot and get out long before anyone else knows what happened.
The D4 blazes away at 10 frames per second, with every frame in-focus and perfectly exposed as your subject moves around. The D4's speed is much more than just its 10 frames-per-second specification; it's all the other things like its metering and auto white balance and face-recognition autofocus and focal-length tracking auto-ISO systems that all work twice as hard and fast as other cameras to keep those ten frames per second all looking great. I worry about getting there and pointing the camera in the right direction, and as I preset my D4, it takes care of the rest. (copy my personal NCSETUP9.BIN file to a card, pop it into your D4, then MENU > SETUP > Save/Load Settings > Load Settings > OK and your D4 will match mine — and erase your settings.)
It's not just ten frames; the D4 can keep this up longer than you can, running for up to twenty continuous seconds, making 200 full-resolution images in a burst. The D4 cheerfully rips away at 10 FPS, and hiccups not once writing all this to your card, even if the bursts run a hundred shots. Run just a few seconds at 10 FPS, and you'll be recording dozens and dozens of frames at a time, while the D4 never misses a beat.
I've never had any reason to run more than 9 seconds at a burst, and my D4 calmly just writes 90 frames to my card in the background while I keep on shooting the next burst.
The D4 just shoots and shoots and shoots. It's unstoppable. It grabs ultra-high ISOs automatically as needed if it gets darker without anyone having to stop and set anything (I set my ISO at AUTO ISO, focal-length based auto-control of slowest shutter speed set one click faster than usual for sports).
The D4 feels great; its sculpted body fits a man's hands far better than the plasticy D800, whose grip is just too tiny for comfort.
The D4's viewfinder is years ahead of consumer cameras like the D800 and Canon 5D Mark III; the D4 uses magic auto-dimming LEDs to show the AF areas without covering anything, while the D800 and Canon 5D Mark III use black LCD AF area indicators that cover the subject.
The D4 of course has a built-in vertical grip with two total shutter releases (each with its own separately programmable function button), two sets of command dials, two AF-ON buttons, and two new Canon-inspired thumb controllers.
Even if you don't need the insane frame rate or clairvoyant autofocus system that sets itself, the D4 has more external controls to give portrait, nature and landscape shooters faster access so we can adjust our cameras more quickly.
Forget the D800 if you're a working professional; the 16MP of the D4 is more than enough for anything. I usually set my D4 down to its medium (9MP, 3,696 x 2,456 pixel) resolution anyway to speed up my post processing.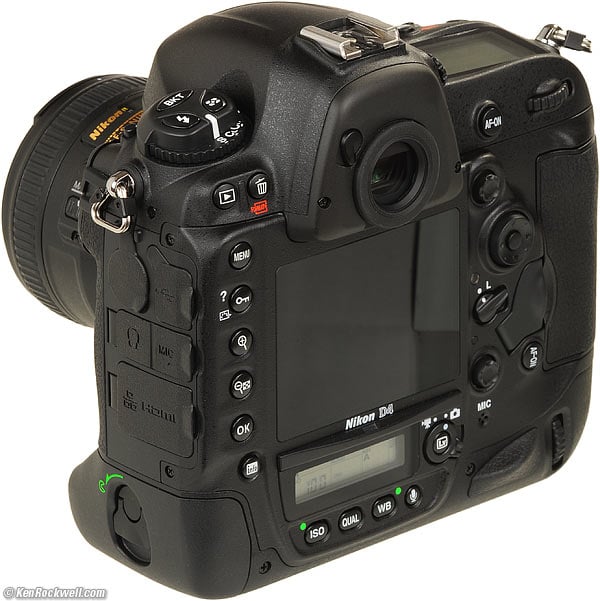 Nikon D4 and 50mm f/1.4 G. enlarge.
New
Most of the rear buttons are now backlit when you flick the power switch. The left row of MENU -> INFO buttons and bottom rear ISO QUAL WB Mic buttons light, as well as the top left three BKT etc. buttons and the index for the advance mode dial, but the AF-ON and top right buttons don't light. The advance mode dial is invisible in the dark; lighting the index mark doesn't help.
The D4 weighs about 3 ounces less than the D3, which is great news. It's a very nice surprise having this big, tough professional camera that doesn't weigh as much as my old D3. I hate carrying my old D3!
I'm a photographer, not a wedding videographer, but the wedding and video guys are loving the new video abilities of the D4.
I always use AUTO ISO, and now the D4 is smart enough to be able to vary its slowest auto-ISO shutter speed with focal length. It's easy to add up to a ±2 stop shift to the set-by-focal-length AUTO ISO lowest speed. I LOVE this!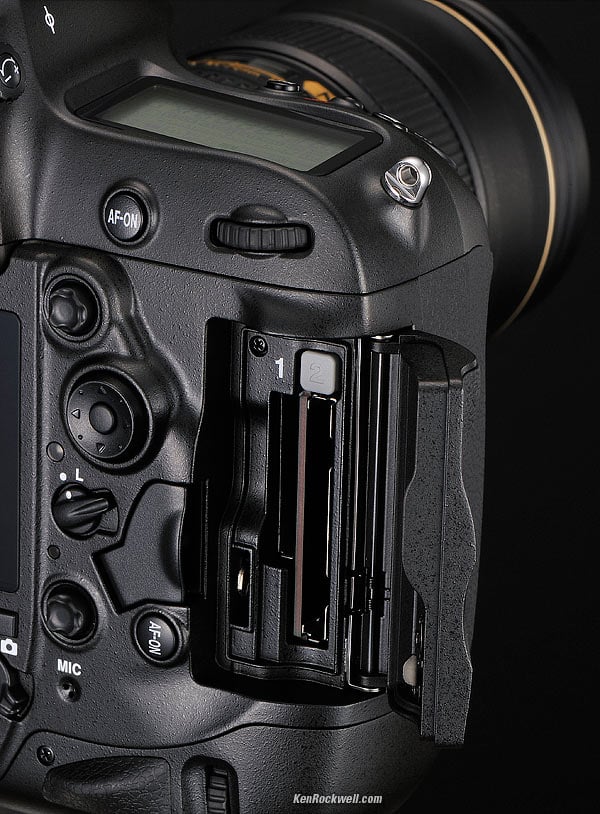 CF and XQD card slots.
The D4 has only one CF card slot, and replaces the second CF slot instead with an XQD slot. I consider this a waste, but since I use my second slot only for backup and my D4 came with a free unannounced Sony 16GB card and reader, I'll call it a draw. (other friends also got free cards and I think they were just for the first batch of D4s, but since they were a freebie, no, I can't guarantee that you'll get anything unannounced for free with your D4.)
Cards still go in backwards: face the card's top label away from the LCD when inserting.
The Nikon D4 offers slightly higher frame rates, slightly higher resolution, an updated AF system that works better with teleconverters, Kelvin white balance settings in 10K increments, a virtual horizon that finally works properly with both roll and pitch, and much higher ISOs than the D3 and D3s, as well as video.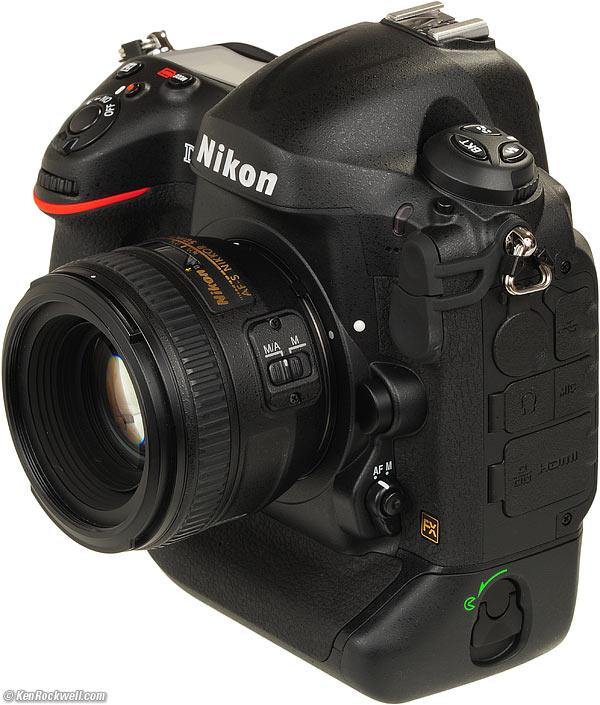 Nikon D4 with 50mm f/1.4. enlarge.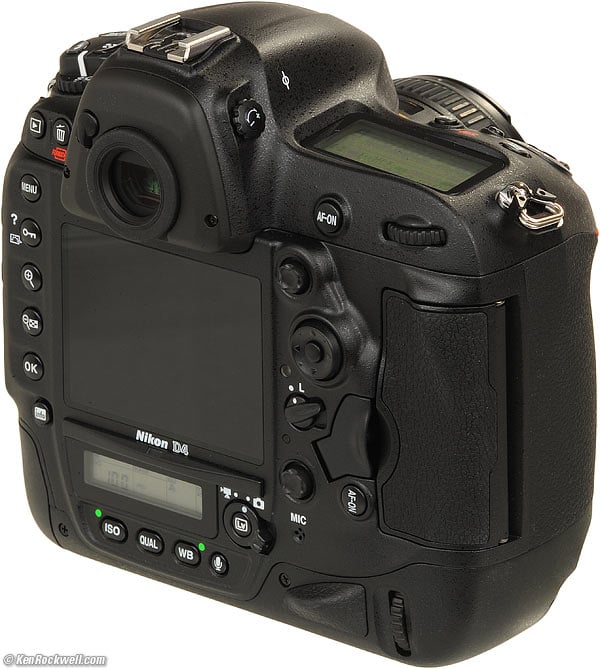 Nikon D4 with 50mm f/1.4. enlarge.
Specifications top
Intro Specs Performance Compared Recommendations More
Sensor
16 MP FX (24 x 36mm) CMOS.
4,928 x 3,280 pixels (16 MP) native LARGE.
3,696 x 2,456 (9 MP) MEDIUM.
2,464 x 1,640 (4 MP) SMALL.
Also crops of 1.2x (20 x 30mm), 1.5x DX (16 x 24mm) and 5:4 professional (24 x 30mm) from the above.
ISO
ISO 100 - 12,800 in in full, half or third stops.
ISO 50 to ISO 204,800 available in stupid modes.
White Balance
Auto (2 types), incandescent, fluorescent (7 types), direct sunlight, flash, cloudy, shade, preset manual (up to 4 different settings can be saved and recalled), 2,500 K to 10,000 K in 10K intervals; all with fine-tuning!
Frame Rates
10 FPS with full metering and autofocus for each frame.
(11 FPS with locked focus and exposure).
AF
CAM3500FX sensor.
51 AF points (15 are cross-type sensors).
Works with auto- and manual-focus lenses f/5.6 and faster.
11 of these sensors will work with lenses as slow as f/8.
AF range is rated down to LV-2 with any lens. (SLR AF systems have never used the full speed of lenses; they look through anulii equivalent to about f/8 regardless of lens speed.)
Finder
100% coverage.
0.7x magnification (50mm at infinity).
18mm eyepoint.
-3 to +1 diopters.
Live-View LCD.
Meter
Nikon invented the Matrix Meter, the color meter and the 3D meter, which is what really matters.
For the first time, Nikon is wasting their time by upping the resolution of the meter sensor for marketing purposes to 91,000 RGB pixels.
It also measures flash at this resolution.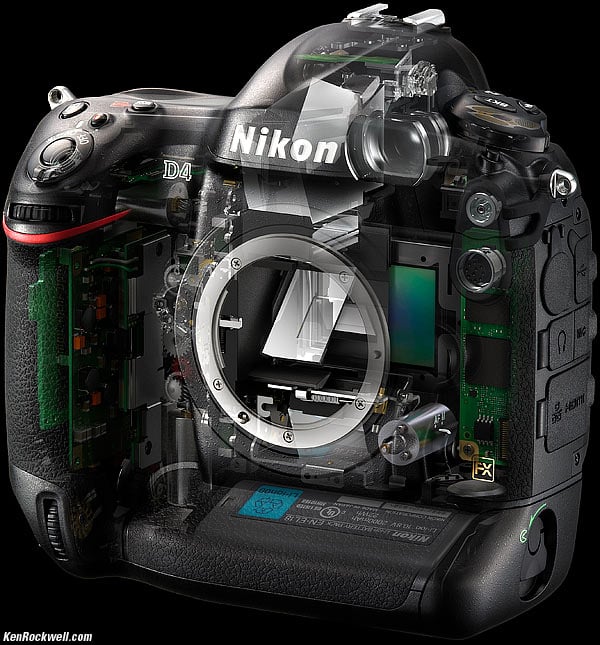 Nikon D4. enlarge.
Shutter
Kevlar/carbon fiber-composite, rated 400,000 shots.
1/8,000 - 30 seconds in full, half or third stops.
Bulb.
X 250 flash sync.
"Silent" mode.
Flash
1/250 flash sync.
i-TTL flash control using the 91,000 pixel RGB sensor with the SB-910, SB-900, SB-800, SB-700, SB-600 and SB-400.
Won't meter flash with other flash guns.
Lens Compatibility
Built-in motor and AI coupling feeler, so all AF lenses work, as well as classic AI, AI-s and AI-P manual-focus lenses all work as well as they do on all of Nikon's better DSLRs.
File Formats
JPG.
NEF 12 or 14 bit, uncompressed, or lossy or lossless compressed.
NEF + JPG.
TIFF.
Video: H.264/MPEG4 stored in .MOV files.
Storage and Data
One CF slot (UDMA 7), and one XQD slot. (NOT two CF slots).
XQD cards are bogus — Lexar doesn't make them, and I don't know about SanDisk. Therefore, the XQD slot is largely useless. I'll only use Lexar and SanDisk cards. Got a XQD reader? I didn't think so.
USB.
HDMI (mini-C).
RJ-45 Ethernet.
Wireless
WT-4 or WT-5A/B/C/D.
Video
All of these variations have two different file size (quality) options:
1,920 × 1,080 (full or cropped) at 29.97p, 25p and 23.976p.
1,280 × 720 at 59.94p, 50p, 29.97p and 25p.
640 × 424 at 29.97p and 25p.
H.264/MPEG4 stored in .MOV files.
24–36,000x time-lapse mode.
Audio
Mono internal mic.
3.5mm jack for external stereo mic, with power.
Auto and manual level control.
Linear PCM recording.
3.5mm stereo output jack.
LCD
3.2" (8cm) LCD.
921,000 dots.
Auto brightness control.
Live View.
Power
EN-EL18 battery.
MH-26 charger.
Optional EH-6b AC adapter and EP-6 connector.
CR1616 lithium coin cell for the clock, rated 2 years. This is new for Nikon; Nikon used to use a more expensive internal, permanent rechargeable battery that never needed to be changed.
Size
6.3 × 6.2 × 3.6 inches.
160 × 156.5 × 90.5 millimeters.
Weight
47.165 oz. (1,337.2 g), actual measured with battery and card and lugs, but no strap or lens.
Nikon specifies 47.3 ounces (1,340 g or 2 pounds, 15.3 oz.) with battery and XQD memory card.
Nikon specifies 41.6 ounces (1,180 g or 2 pounds, 9.6 oz.), stripped naked.
Serial Number
Laser-engraved on plate on bottom.
USA Version
Delineated with a yellow Nikon USA sticker inside battery chamber.
Environmental
0 ~ 40ºC (32 ~ 104ºF), operating.
85% RH or less, non condensing.
Included
D4 body
Rechargeable Li-ion Battery EN-EL18
Battery Charger MH-26
USB Cable UC-E15
Camera Strap AN-DC7
Body Cap BF-1B
Accessory Shoe Cover BS-2
Eyepiece DK-17
Battery Chamber Cover BL-6
USB Cable Clip
ViewNX 2 CD-ROM
Price, USA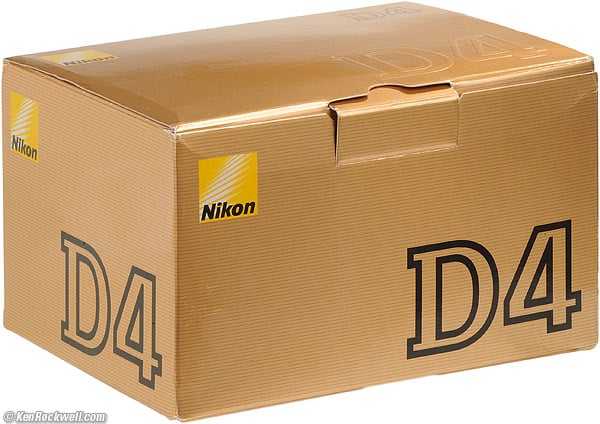 Box, Nikon D4.
January 2012 (introduction): $6,000.
Announced
06 January 2012.
Available
Promised for late February 2012.
The first D4s shipped in March 2012.
As of May 2012, they are still on deep backorder.
You have to order yours and be patient.
Rendered Obsolete
07 January 2014, with the announcement of the upcoiming Nikon D4S.
Performance top
Intro Specs Performance Compared Recommendations More
Overall Resolution Audio Notes High ISOs
Autofocus Finder Metering Ergonomics
The Nikon D4 is for full-time professional news, sports and action photographers. You guys know who you are. The D4 belts out the shots like nothing else if you're a pro, but if you don't know what you're doing, all you'll get are ten off-color, fuzzy and mal-exposed shots per second just like any other camera. If the light looks crappy, the D4 can't do anything more about it than any other camera.
It's easy to let the 10 FPS hum of the D4 lull you into a false sense of confidence; just like a 750 horsepower car, you still have to drive it carefully to avoid crashing. The D4 is invincible, but it's only as good as the man driving it.
In the hands of the pro for whom it's designed, it will crank out more great photos faster than anything. It won't make you a pro if you're not already.
Resolution performance top
16 MP is enough for anything, no news here. Here's a camera-original file at 16 MP, JPG LARGE BASIC: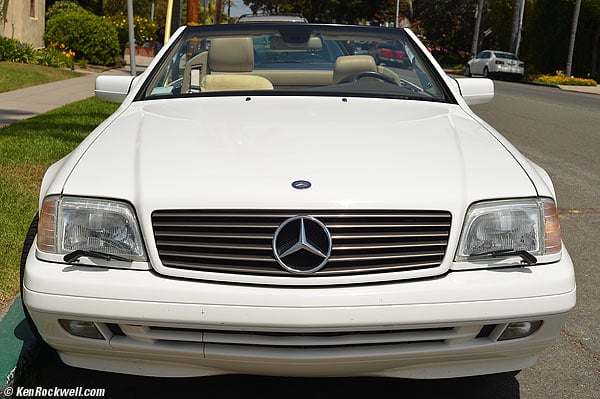 1997 Mercedes SL500. Nikon D4, 50mm f/1.8 AF-D, f/8 at 1/250 at ISO 100. Original © file 2,717,293 bytes.
Only the headlights and The Star are in focus, and so are all the bugs on the bumper. At 16 MP, there's more than enough resolution to keep you spotting for a long time.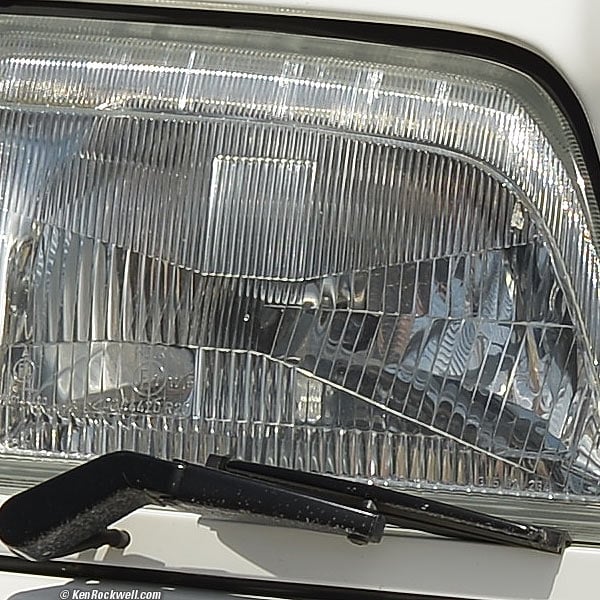 Crop from above image at 100%, shot as a LARGE BASIC JPG, not raw.
On most computer screens, this is a crop from a 50 x 33" (1.5 x 1 meter) print.
NCPS' SSR. Nikon D4, 50mm f/1.8 AF-D, f/8 at 1/250 at ISO 100. Original © file 3,100,725 bytes.
Again, more than enough resolution to keep you spotting bugs and dirt for a long time.
Audio Notes performance top
Who's in that picture? What does the editor need to know about the guy in red? What's each girl's phone number? What's the name of the Maître d'hôtel who let you in? Baby's first cry out of the womb? (OK, baby sound from my D3 in 2008.)
With the D4, just press the MIC button (next to WB on the back), and speak. You can do this with the camera to your eye, quietly and unnoticed.
The D4 records a WAV file with the same prefix as the photo to which it's attached. For the photo above, D4R_0660.JPG, here's the D4R_0660.WAV audio clip.
High ISOs performance top
The D4 works great in low light and at high ISOs. See my High-ISO Sample Images.
Autofocus sees in anything, and the superior finder always lets you see what you're doing without hiding the subject behind AF sensor junk as do the D800 and Canon 5D Mark III. In Auto ISO, the D4 will grab up to whatever highest ISO you've allowed it to use all by itself, and even at ISO 102,400, looks swell: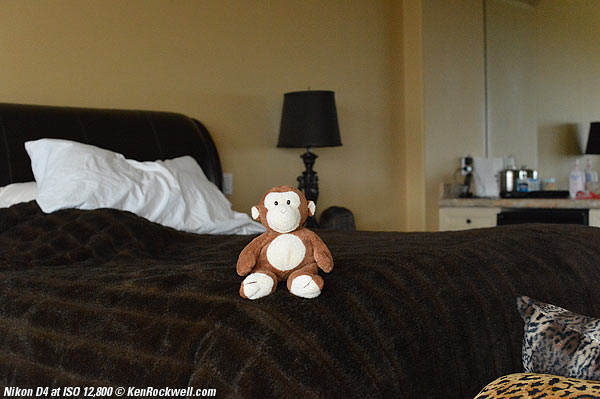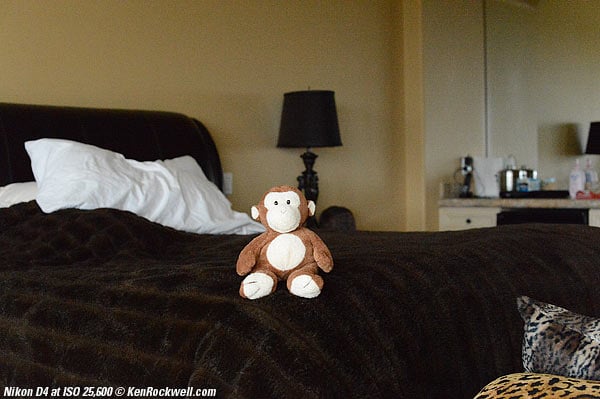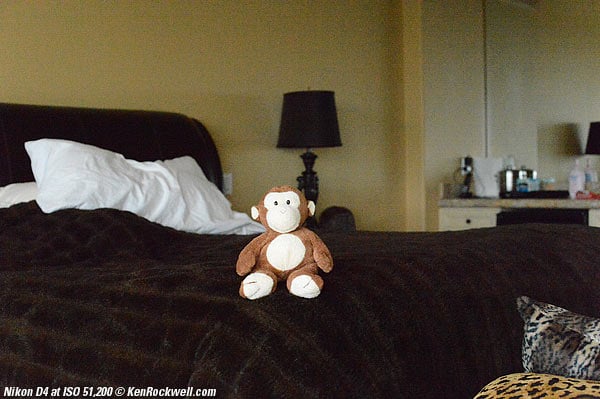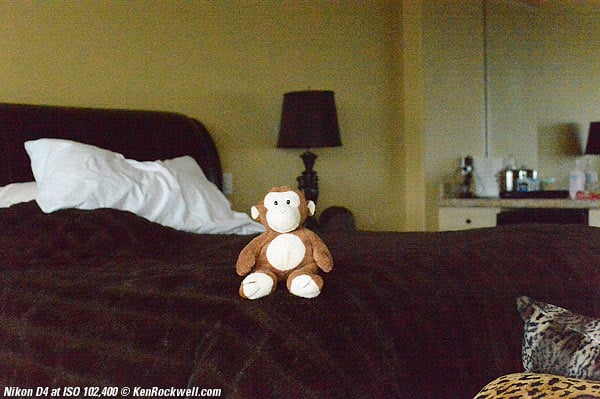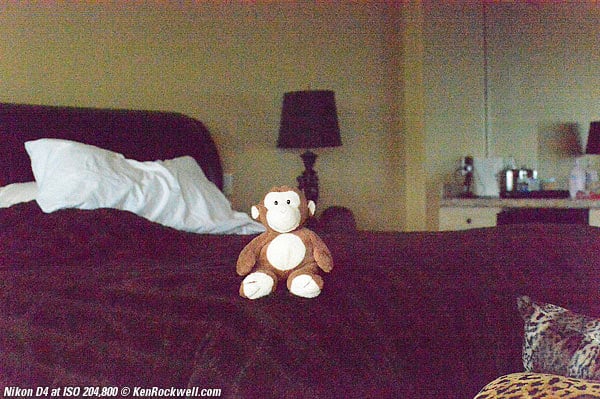 ISO 204,800 is pushing it, but by tweaking a levels adjustment layer in Photoshop, can be made a little better: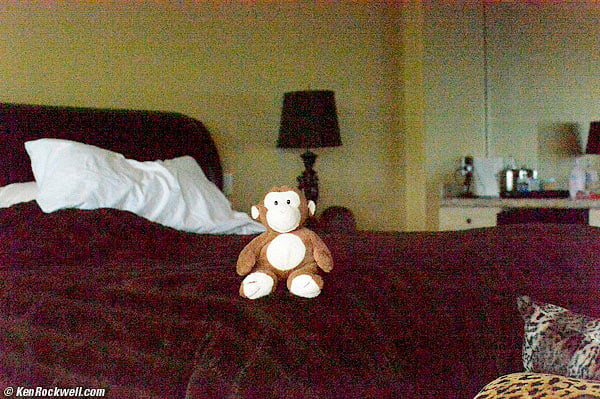 Nikon D4 at ISO 204,800, levels adjusted in Photoshop.
See High-ISO Sample Images for high-magnification crops from these images. These were shot at f/5.6, so only the monkey is in focus.
Autofocus performance top
Nikon ditched most of the external autofocus mode controls in favor of putting video controls there, but the great news is that the D4's autofocus system is so clairvoyant that you rarely need the controls anyway.
I set AFC and AUTO for anything that moves, and my D4 magically ignores distractions, finds the subject's eyes, and always nails perfect focus. It doesn't get any better than this.
As introduced on the D7000, there is now but one AF button, which has to be held while spinning two knobs and looking at an LCD to set what we used to be able to set with two dedicated levers — and no need to look at anything.
I dislike having to take my eyes off my subject to change this. Worse is that we can't delete the options we don't use from the selections (as we can on the Canon 5D Mk III), making it longer to sort through them while we're trying to shoot, but as I said, the D4's AF system is so magically brilliant in just doing what we want it to do all by itself that I'm not really complaining.
For manual focus, there are three " > 0 < " indicators for a precise null.
Finder performance top
The D4's viewfinder is wonderful.
I've already covered its far superior AF area indicators.
The compensation bar graph is also superior. It runs vertically, outside the image on the right, as it should be. This is far better than the dopey little things along the bottom of amateur cameras' finders. The bar appears only when compensation is active, and it indicates in third stops (the D800's finder graph no longer can show third stops!)
The laser-cut matte field ("ground glass") is optimized for lenses of f/2.2 and slower. Lenses faster than f/2.2 won't appear any brighter, and you won't completely see the effects of depth-of-field for apertures larger than f/2.2.
Metering performance top
I find that just like my D800 and D800E, I usually get the best results at -1/3 stop compensation.
No meter is perfect; you have to know how to use it.
The Meter Mode (pattern) switch is gone, which is good, because I've never used these. I've only used Matrix metering since it came out in 1984 on the Nikon FA.
Ergonomics performance top
Just like the D3, the D4 feels great in-hand. It fits just right, far better than the dinky, shrunken plasticy grip of the D800.
I prefer the feel of the D3 in vertical mode, but not enough to worry about it. New in the D4 is a second Function button next to the vertical shutter. It can be programmed separately, so it's like getting another free function button.
Here's the real reason I prefer the D4 to the D800E: the D4 lets me program its otherwise useless Video Rec button by the shutter button to my choice of ISO, Image Area (crop/digital zoom), SHOOT bank, or Shutter/Aperture Lock (CUSTOM SETTING f16). By setting it to SHOOT bank, I can optimize my resolution and color parameters quickly as I snap people or things. On other Nikons except for the D7000, I have to spend at least five clicks to do this. Sadly, the only way to see what you're setting is to stop shooting and look at the top LCD (or wake-up the INFO screen), but it's still much better than the D800E. The bums at Nikon excluded this from the D800's menu system so pros can't cheap-out with the D800.
The worst thing about the D4 is that Nikon put a video record button where the exposure mode button belongs, and moved the exposure mode button out of the way, further to the left of the shutter button. It matches the D800 and D800E, but matches no other Nikon. I never use the video button, and now the mode control is a stretch.
The MIC (note recording) button has been moved so it's now a stretch to reach while shooting. With the D3, it's easy to speak notes as you're shooting quietly, but even with my big hands, a long stretch with the D4.
The Advance Mode dial is the same crummy old one that's been around since the Nikon F5 of 1996, not the better one of the D800 and D800E. Even the D7000 has a more legible advance mode dial.
The Quiet mode isn't any quieter than the regular mode. The Canon 5D Mark III is far quieter and faster in its quiet mode. In its Quiet mode, the D4 merely disconnects the cycle after the shot's taken, and waits with the mirror up and a black finder until you remove your finger from the shutter to let the mirror back down and recharge the shutter. The 5D Mark III or LEICA M9 is far better at being quiet, and so is the D7000's quiet mode.
This said, the D4 is quieter than the D3.
I use my function buttons to select the cropping (Select Image Area), but these are ignored while the shutter is half-pressed.
The two black-and-white control LCDs are backlit with cyan (blue-green) electroluminescent (EL) panels which are far more visible than the crummy green LED side-lighting of the D800 and D800E.
Rear LCD Monitor performance top
First in any Nikon DSLR, the rear LCD isn't very color accurate. It's a hair too yellow-green, exactly like the D800.
Auto LCD brightness control is new, but it works poorly. In Auto, it's too dim indoors.
The rear LCD coverglass is uncoated, making nose marks less obvious.
Power performance top
As expected, the D4 runs for thousands of shots on a charge.
This is over ten times the life of the Nikon D1's battery.
Data performance top
LARGE JPG BASIC files average about 3 MB, as I shoot them set to OPTIMIZE QUALITY.
MEDIUM JPG BASIC files average about 1.5 MB, as I shoot them set to OPTIMIZE QUALITY.
AUTO ISO reads to ISO 12,800 in Phase One Media Pro.
There is still no "_" character selectable for custom prefacing file names. You can set the first three characters as you wish.

Compared top
Intro Specs Performance Compared Recommendations More
The D4 is slightly faster and somewhat lighter than the D3, but the D4 removed most of the external AF controls and instead added video features.
There is no comparison to the amateur D800, D800E and Canon 5D Mark III, which will only become apparent as you draw the D4 and shoot it for yourself in the field. Paper specifications don't show you how the D4 has such a superior finder and AF system, how it feels so much lighter than the D3 and D3s it replaces, how everything just flies at professional speed, how much more legible are the backlit buttons and EL LCD backlights, and the ability to take audio notes about what you're shooting in the first place.
See my 2012 DSLR Comparison Table.
Recommendations top
Intro Specs Performance Compared Recommendations More
If you're a full-time pro, all the the little things about the D4 add up to make getting a couple of D4s a no-brainer. I whine about the loss of most of the external AF controls (buttons and spinning dials do not replace dedicated levers), but the new AF system already knows what I want it to do, so no big deal.
If you're not a full time pro, or the price of a new camera matters, then no, you'll do just fine with a used D3. The D4 won't take pictures any different than a D7000, which has the same resolution; the D4 just does it faster. See Is It Worth It for more.
I don't expect the higher resolution Nikon D4x until late 2013.
If you find the time, expense and effort I expend researching and sharing all this for free, my biggest source of support is when you use these links when you get anything, regardless of the country in which you live. You can order the D4 now at Adorama and at Ritz. Thank you! Ken.
More Information top
Intro Specs Performance Compared Recommendations More
Help me help you top
I support my growing family through this website, as crazy as it might seem.
The biggest help is when you use any of these links to Adorama, Amazon, eBay, Ritz, Calumet, J&R and ScanCafe when you get anything, regardless of the country in which you live. It costs you nothing, and is this site's, and thus my family's, biggest source of support. These places have the best prices and service, which is why I've used them since before this website existed. I recommend them all personally.
If you find this page as helpful as a book you might have had to buy or a workshop you may have had to take, feel free to help me continue helping everyone.
If you've gotten your gear through one of my links or helped otherwise, you're family. It's great people like you who allow me to keep adding to this site full-time. Thanks!
If you haven't helped yet, please do, and consider helping me with a gift of $5.00.
As this page is copyrighted and formally registered, it is unlawful to make copies, especially in the form of printouts for personal use. If you wish to make a printout for personal use, you are granted one-time permission only if you PayPal me $5.00 per printout or part thereof. Thank you!
Thanks for reading!
Mr. & Mrs. Ken Rockwell, Ryan and Katie.
Home Donate New Search Gallery Reviews How-To Books Links Workshops About Contact