Home Donate New Search Gallery Reviews How-To Books Links Workshops About Contact
Nikon D3s
12MP FX, 9 FPS, 720p, $5,200.
© KenRockwell.com. All rights reserved.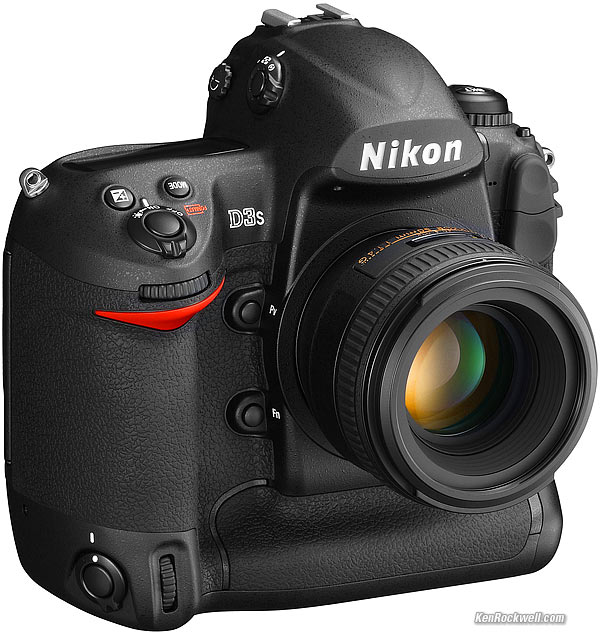 Nikon D3s with Nikon 50mm f/1.4 AF-S (52.6oz/1,492g with battery and cards but no lens, about $3,600 used). enlarge. My biggest source of support is when you use any of these links, especially this link directly to them at eBay (see How to Win at eBay) or at Amazon, when you get anything, regardless of the country in which you live. Thanks! Ken.
14 October 2009 Nikon Reviews Nikon Lenses All Reviews
NEW: Pro DSLR Comparison 03 February 2016
Nikon D810, D800E, D600 and D3 Sharpness Comparison. 30 July 2014
Nikon D7000 Sharpness versus FX 09 November 2010
Nikon D7000, D300, D3 (D700) and Canon 5D Mark II High ISO Comparison 08 November 2010
Package Discounts March 2010
Introduction top
The D3s is mid-model freshening of the two-year-old Nikon D3.
The D3s is the same camera as the D3, with a few new features thrown in to give it a little more catalog life. No big deal, Nikon has been doing this since the 1980s; adding an -s to a model while adding a couple of new things, like the N4004s, F4s, N8008s, N90s and most recently the D300s.
Nikon's pro DSLRs are on a four-year product cycle, so the D3s freshening is right on target, with a Nikon D4 expected in two more years, in summer 2011.
The Nikon D3, and now the D3s, is an absolutely killer camera for shooting sports and action in any light.
It is my first choice for shooting anything that moves.
The D3s adds:
Video (still with no real autofocus or stereo mic).
Sensor cleaner.
8MP, 1.2x crop (20 x 30mm) mode.
Dedicated Live View button.
Dedicated INFO button (on the wrong side of the camera).
Even stupider stupid-high ISOs to ISO 102,400.
Quiet Mode as first seen on the D5000.
$300 higher price.
Wow.
ISO 102,400 sounds nice, until you realize that I can shoot under moonlight — hand-held — at ISO 6,400. I never have any need for ISO 6,400 indoors, much less anything higher. These stupid-high ISOs are gimmicks and look terrible, at least above ISO 12,800. I shoot everything at ISO 200 - 3,200, which is fast enough.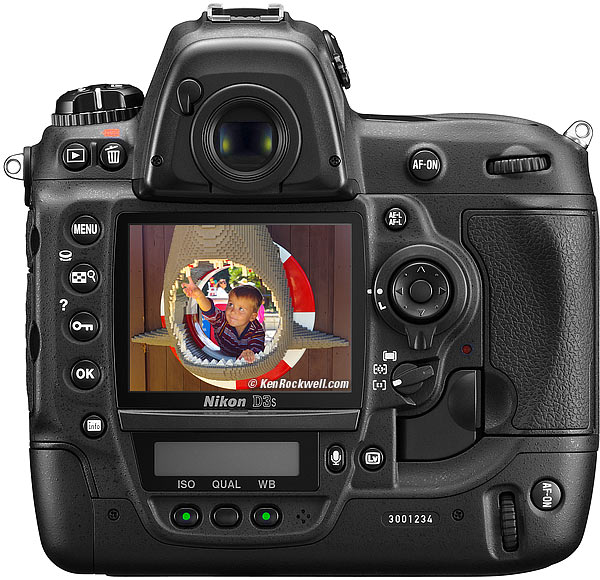 Nikon D3s. enlarge. Note new INFO and [Lv] buttons.
Specifications top
Sensor
12MP FX (24 x 36mm).
4,256 x 2,832 pixels.
Sensor cleaner.
Crop Modes
10MP 4:5 3,552 x 2,832 pixels.
8MP 1.2x 3,552 x 2,368 pixels
5MP DX 2,784 x 1,848 pixels.
ISO
ISO 200 - 12,800.
ISO 100 - 102,400 in a whacky mode. Yes, that's a stupid 102k ISO.
DSP
14-bit ADC.
16-bit DSP.
Electronic lateral color fringe correction (same as D3).
Finder
Same as D3:
0.7x (50mm lens)
100% coverage.
18mm eyepoint.
AF
52 points (same as D3).
Shutter
30s - 1/8,000.
Flash Sync: 1/250.
Tested to 300,000 cycles.
Frame Rate
9 FPS.
(11 FPS in DX with no focus and no metering)
Video
1,280 x 720 p @ 24 fps.
Also non-standard 640 x 424 @ 24 fps and 320 x 216 @ 24 fps.
AVI files holding motion-JPG.
Mono mic (stereo external input jack).
Focus while rolling? No.
LCD
3" diagonal.
921,000 dots
640 x 480 RGB.
Data
Storage
Two CF slots.
Transfer
USB.
Power
EN-EL4a battery (same as D3).
Rated 4,200 images, claimed more than D3.
Size
6.3 x 6.2 x 3.4 in. (159.5 x 157 x 87.5 mm).
Weight
44 oz (1,240 g or 2 lbs. 12 oz) stripped butt-naked without the heavy battery, memory card, lens, cap or strap or even the accessory shoe cover.
This is the same as specified for the D3, which actually weighs 52.630 oz (3 pounds, 4.630 oz. or 1,492.0g) with a battery and CF cards.
Announced
14 October 2009
Available
Late November 2009
Price, USA
About $3,600 used, September 2012.
$5,199.95, March 2010.
$5,199.95 (£4,199.99 inc. VAT, UK), October 2009.
Recommendations top
If you're considering a Nikon D3, pass and get this new D3s.
For $300, I presume a better menu structure similar to the D90, D700 and D300s lets you get into the menu system with one hand, and a sensor cleaner. These are easily worth $300 more when sold new.
I already have a D3. I see no reason to trade it in, unless I shot sports or used it full-time, in which case I would replace it.
See Is it Worth It.
More Information
Nikon, Japan: Product Info Specs Lenses Sample Images
Help me help you top
I support my growing family through this website, as crazy as it might seem.
The biggest help is when you use any of these links when you get anything, regardless of the country in which you live. It costs you nothing, and is this site's, and thus my family's, biggest source of support. These places have the best prices and service, which is why I've used them since before this website existed. I recommend them all personally.
If you find this page as helpful as a book you might have had to buy or a workshop you may have had to take, feel free to help me continue helping everyone.
If you've gotten your gear through one of my links or helped otherwise, you're family. It's great people like you who allow me to keep adding to this site full-time. Thanks!
If you haven't helped yet, please do, and consider helping me with a gift of $5.00.
As this page is copyrighted and formally registered, it is unlawful to make copies, especially in the form of printouts for personal use. If you wish to make a printout for personal use, you are granted one-time permission only if you PayPal me $5.00 per printout or part thereof. Thank you!
Thanks for reading!
Mr. & Mrs. Ken Rockwell, Ryan and Katie.
Home Donate New Search Gallery Reviews How-To Books Links Workshops About Contact