Home Donate New Search Gallery How-To Books Links Workshops About Contact
Nikon D300s
12 MP DX, 7 FPS, 720p/24, $1,799.
© 2009 KenRockwell.com. All rights reserved.
Intro Specs Performance Recommendations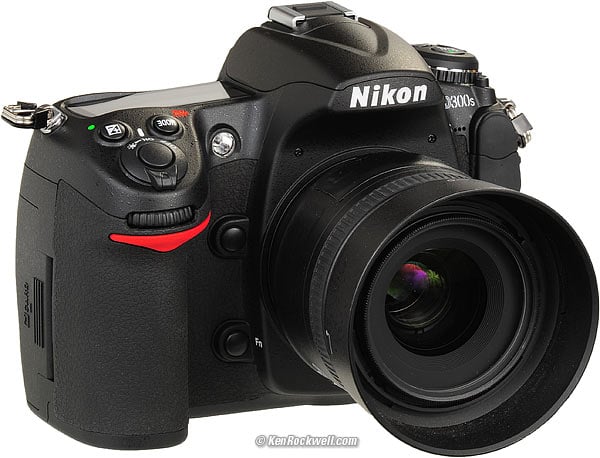 Nikon D300s and 35mm f/1.8 AF-S (32.9oz/930g with battery and card but no lens). enlarge. I'd get it new at Amazon or about $500 used at eBay). enlarge. I'd get it at this link directly to them at eBay (see How to Win at eBay).
30 July 2009 More Nikon Reviews
NEW: Nikon D7000, D300, D3 (D700) and Canon 5D Mark II High ISO Comparison 08 November 2010
Direct Comparison of Canon 5D Mark II, 7D, 5D and Nikon D300 at the Test Range 03 August 2010
Nikon D300s User's Guide iPhone and iPod App.
Package Discounts March 2010
Nikon D300s AF System Settings Guide
Introduction top
Intro Specs Performance Recommendations
The D300s and older D300 are both solid, near-pro level cameras. Either is much tougher than the Canon 5D Mark II.
The D300s is a minor upgrade to the D300, which came out two years before in August 2007.
The D300s adds the same crappy movie mode as the D90 but with a new stereo microphone input (the D300s has only a mono mic built-in), face detection on playback so you can zoom right in on faces, ADR bracketing, and a Live-View virtual horizon so you won't have tilted horizons when shooting in dense fog.
Who cares?
What is important is:
New Dedicated INFO Button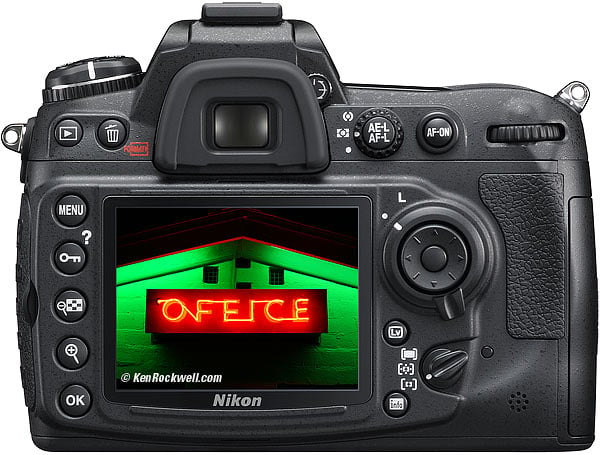 Back, Nikon D300s. enlarge.
The new dedicated, right-handed INFO button brings the D300 up to the same level of usability as the D90.
The dedicated INFO button lets you get to every camera setting and menu item using only your right hand!
This button alone makes the D300s about ten times more valuable than the old D300.
The lack of this button is the main reason, as well as price, that I stopped recommending the old D300 a year ago when the D90 came out.
New Improved Rear Selector
The D300s uses the good rear selector, with the dedicated center button, from the D700 and D3, not the crappy old one-piece thing from the old D300.
New Dedicated Live View Button
If you use Live View (no one I know does), this is very important.
The old D300 needed a bogus position on the rotating advance mode button on the top left of the old D300 to get in and out of this mode.
Now, just tap the Lv button to get in and out of Live View, and while in Live View, tap the center selector button to start and stop movies.
Movies
The Movie mode is still a gimmick, not a camcorder.
There is no decent AF in movie mode, making it useless for things that move.
If you pan left or right, everything jiggles and tilts as if were made of jello.
Quiet Mode
The D300s adds the new quiet mode originally introduced in the D5000. Set it simply on the top dial.
In Quiet Mode, the D300s is much quieter than usual, but not as quiet as the D5000 or the LEICA M7.
In Quiet mode, the D300s is as quiet as the LEICA M9.
In Quiet Mode, the D300s waits to wind (charge the shutter) and flip down the mirror until after you've taken your finger from the shutter release.
I have not compared directly, but the D5000 in Quiet Mode is quieter than the D300s in Quiet Mode because the D5000 does everything in one button press, while the D300s won't advance until you take off your finger, making noise twice as often.
The D5000 quiet mode is useful, but I don't see any point to the D300s' quiet mode that winds up making noise twice as often.
Two Card Slots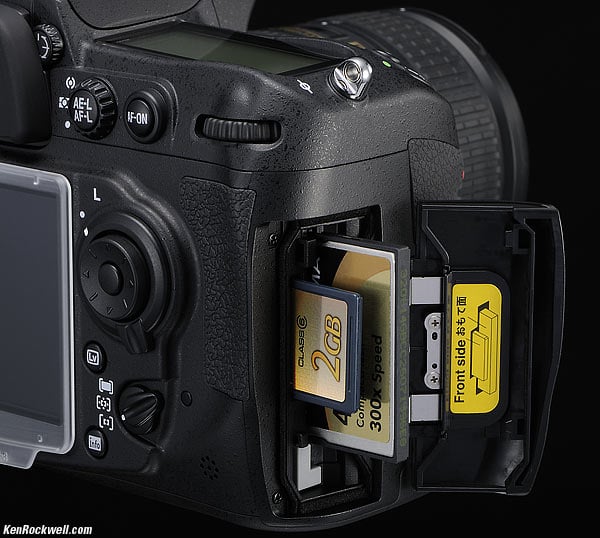 D300s Dual Card Slots. enlarge.
There are two card slots: one SD and one CF.
You can use both at once if you like in various ways, like record different kinds of files on each, and move files around between them.
I prefer the Backup mode, which keeps a safety copy on the other until I can backup the files from the active card offsite.
Of course Overflow mode is also there, in which the D300s moves magically to the next card when the first is full.
AF
Nikon claims faster AF, but I can't feel any difference between the D300s and my old D300.
Sensor Cleaner
Wow. I've never gotten my old D300 dirty enough to worry about it.
What Nikon takes away:
1.) By adding the life-changing dedicated right-hand INFO and Live View buttons, the card door lock goes away, because those buttons took up the spot where the release lever went.
Now the card door is the same slidey, flippy thing as cameras like the D40 and Canon 5D Mark II.
2.) No USB mode selection.
Lens Compatibility
Same as all the other better Nikon DSLRs, it works great with anything made since 1977.
More at Nikon Lens Compatibility.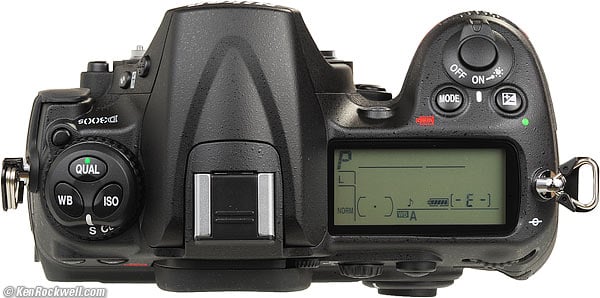 Top, Nikon D300s. enlarge.
Specifications top
Intro Specs Performance Recommendations
Finder
0.53x magnification with standard (for DX) 28mm lens. (0.94x with 50mm tele lens).
Glass pentaprism.
100% coverage.
19.5mm eye relief (eyepoint).
-2 to +1 diopters.
On-demand grid lines, much better than needing to replace a screen a la Canon.
Autofocus
51 points.
The center 15 sensors see detail in any orientation (cross sensors), while the other 36 sensors can only focus on details if they run in the correct direction (Nikon calls these horizontal sensors).
Multi-CAM 3500DX sensor .
Very sensitive as most AF systems, rated down to EV -1.
In Live View Mode, the AF system has another completely separate system that can autofocus directly from the image gathered by the image sensor, as point-and-shoots do.
AF Illuminator: Yes.
Shutter and Advance
Frame Rate
7 FPS as shipped.
8 FPS with MB-D10 grip and any battery other than the standard EN-EL3e battery. For instance, use the EN-EL4a in the grip, which requires the Battery Chamber Cover BL-3.
Note: Like every other camera, this presumes you're not expecting the pictures to be in focus. If you expect the photos to be in focus, the frame rate slows.
Shutter
Fastest speed with flash (sync): 1/250.
30 ~ 1/8,000 and bulb, in full, 1/2 or 1/3 stops.
Cable Release Socket
Nikon standard 10-pin, so budget about $100 for a cable release.
Buffer Depth
100 shots, JPG Large, presuming you're using a good card like the San Disk Extreme IV I use.
Advance
Single; continuous frame rates selectable from 1 FPS to a maximum of 9 FPS depending on power supply. Live View (LV), self-timer (2-20 sec.), and mirror pre-release (Mup) modes.
Shutter Death
Tested (not guaranteed) to 150,000 cycles.
Sensor, Image and Exposure
Sensor
Same as D5000 and D90: 12.3MP DX CMOS, 1.5222x crop factor, 23.6 x 15.8mm. That's 181 pixels per millimeter.
Ultrasonic Sensor Cleaner.
Image Sizes
4,288 x 2,848 (L, native), 3,216 x 2,136 (M), 2,144 x 1,424 (S).
ISO
ISO 200 - 3,200 (ISO 100 through 6,400 if you enable them in a custom function).
The entire range can be set in third, half and full stops.
Metering
1,005 pixel RGB Matrix, center weighted (selectable diameter) and spot. Couples to AI manual focus lenses, and if you enter information about your manual lens, you can get matrix metering with them, too.
White Balance
Auto with 1,005 pixel sensor, seven of the usual presets (each with individual fine-tuning, a huge advantage of Nikon over Canon) and degrees Kelvin. 5 manual gray-card memories. Fluorescent now has seven presets inside it: Sodium-vapor, warm-white, white, cool-white, day white fluorescent, daylight fluorescent (yes, "day white" and "daylight" types; you figure it out), and mercury vapor.
Flash
Built-in Flash
Yes; same GN 40'/12m pop-up as other Nikons.
Rated to cover a 16mm (on DX) lens.
I find that the only coverage issue is if your lens is wide enough to see its shadow below it; even with a 10.5mm fisheye in a typical room I get enough light at the sides since the walls are closer.
Maximum Shutter Speed With Flash
1/250 in normal modes. Trick FP mode for faster speeds with greatly reduced flash efficiency. (see Flash Sync Speeds.) The specs I'm reading are unclear, there is a delicious possibility that standard sync may be 1/320.
Flash Metering
Nikon's superb 1,005 pixel RGB iTTL sensor. Only works with SB-400, SB-600, SB-800 and SB-900; other flashes can't use any TTL mode. Tip: If you have an old Nikon flash like an SB-20 or SB-80DX, use it in its A mode and set the D300 accordingly. It works reasonably well.
Video
720p/24 (1,280 x 720 @ 24fps), non-standard 640 x 424 @ 24fps, non-standard 320 x 216 @ 24fps.
Motion JPG.
Clip length: 5 mins max at 720p; 20 minutes max at 640 or 320.
None of these modes work for broadcast, which is 23.98fps, which is 3:2 pulled down to 59.94 fields per second. 24fps or 60 fields per second is a tad too fast.
Crappy autofocus, which ensures fuzzy video.
One mono mic in-camera.
Stereo external mic input.
Data, Playback, Files and Storage
A/D Conversion
14 bit.
Internal DSP
16 bits.
Formats
Three sizes of JPG, various level of compression.
14-bit and 12-bit NEF raw.
Raw comes in your choice of uncompressed, lossless or lossy compressed files.
Color Playback Histogram
YES.
Live Histogram
No.
Storage
CF and SD card slots.
CF is UDMA (high capacity) rated.
SD is SDHC (high capacity) rated.
You can program them in various ways, for instance, video to one and stills to the other, or JPG images to one and useless raw data to the other.
You can do the usual games like copy and paste between them.
Secret EXIF Text Data
YES, 36 characters added to each file. I use this in all my Nikons to put © KenRockwell.com and my phone in every one of my files automatically as they are created. How to do it
Data Transfer
USB. With optional WT-4: wireless and ethernet.
HDMI Video Output
Type C mini connector
3" LCD Monitor
3-inch LCD with Live View.
Same fantastic LCD as D90, D300, D3 and D3x.
920,000 dots (640 x 480 x 3 [RGB]), quadruple the 320 x 240 x 3 [RGB] = 230,000 dot screens of the D40, D40x, D80, D200, the Canon Rebel XTi, Canon 40D, $4,500 Canon 1D Mk III or $8,000 Canon 1Ds Mk III.
920,000-dot high-resolution, which is a full 307,200 pixels (640 x 480 x 3), which is extremely high linear resolution; more than any other digital camera of which I know except the same screen on the D3. Every other camera is using only a 320 x 240 pixel resolution LCD, and I believe confusing dots with pixels. A pixel is properly three dots. 320 x 240 x 3 = the 230,000 dot/pixel number used in other 3" and 2.5" screens.
Color Playback Histogram
YES.
Live Histogram
no.
Size, Weight, Power and Environmental
Size
5.8 x 4.5 x 2.9" (147 x 114 x 74mm) W x H x D, specified (same as old D300).
Weight
32.880 oz. (932.2g) measured by me with battery, CF card and strap lugs, but no strap, caps or lens..
Nikon rates it at 30 oz (840g) stripped: no battery, no card, no strap, no lens.
This is slightly heavier than the old D300, which was rated at 29.1 oz (825g).
Power
EN-EL3e battery (same as other modern cameras like the D700, D80, D200 etc.).
MB-D10 grip (see below) or optional EH-5a AC Adapter.
Battery Life
Rated 950 shots CIPA .
Environmental Conditions
32 ~ 104ºF (0 ~ 40ºC)
<85% RH (no condensation).
Are they kidding? Nikon is saying that the D300s is not rated to work below freezing. I'm sure it does.
Accessories
Included Accessories (may vary by area)
EN-EL3e battery
MH-18a charger
DK-5 eyepiece cap
DK-23 rubber eyecup
UC-E4 USB Cable
EG-D2 AV Cable
AN-DC4 Strap
BM-8 LCD Condom
BF-1A Body Cap
BS-1 Flash Shoe Cover
Software CD
Expensive Accessories
MB-D10 Grip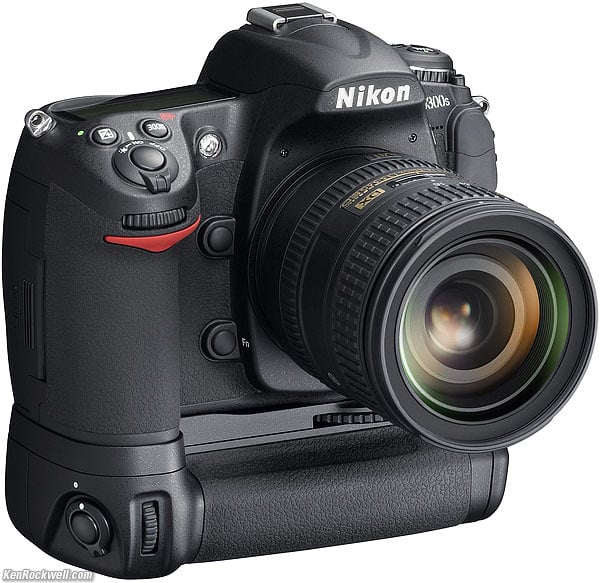 Nikon D300s, 16-85mm VR and MB-D10 Grip. enlarge.
The MB-D10 uses any of AA batteries, the standard EN-EL3e and special EN-EL4a.
With the special EN-EL4a you can get up to 8FPS from the usual 7FPS, but need to buy the Battery Chamber Cover BL-3, too.
The grip uses magnesium covers, just like the D300s body.
GP-1 GPS
WT-4A/B/C/D/E Wireless Transmitter
(letter varies by region)
Price and Availability
Price
About $500 used at eBay, April 2015.
$1,799.95 at introduction, August 2009.
Announcement
30 July 2009.
Available since
Late September 2009.
Performance top
Intro Specs Performance Recommendations
The D300s is the same as the D300. I can't see any differences in performance.
See my D300 Review for all the details.
The menus inside the D300s are more clearly named, but still impossible to find.
Being able to get to INFO via the power switch or a dedicated button, each with my shooting hand, is the biggest reason to get a D300s over a D300.
Forget movies, there is no autofocus, they look jingly if you pan left or right, and manual autofocus by hitting the AF-ON button in movie mode is slower than AF systems were in the 1980s.
Recommendations top
Intro Specs Performance Recommendations
If I shot DX, this is Nikon's best camera ever, along with the much lighter and less expensive D90.
The reason to get a D300s over a D90 is tougher build, and a zillion AF sensors that make selecting AF zones a thing of the past.
If I shot sports, the D3 is a huge step up to professional-level autofocus. I'd skip the D300s.
I wouldn't sell a D300 to get a D300s, but if considering one or the other, I would not buy an old D300. The addition of the dedicated INFO button is a huge practical advantage of the D300s over the D300.
Personally, I prefer full-frame, and would just step right up to the full-frame D700 (only $2,450 as of October 2009) instead of the D300s ($1,800 new as of October 2009).
The reason to go FX is that the viewfinders are huge by comparison. DX camera finders are like peepholes, while FX finders are like life itself.
I wouldn't buy a D300s. If need a camera more serious than the D90, I'd go directly to the D700 instead of the D300s for not much more money, and if I couldn't swing a D700, I'd get the D90 instead and save my money. For sports and action, again the D3 is the step you want to make, not the D300s.
The D300s' technical image quality is indistinguishable from any of the D5000 through the D3 in good light, and at high ISOs, indistinguishable from any of the D5000 through the D90.
The reason to choose one camera over another today is size, weight, features and price, not pixels.
More Information
Nikon's Official Product Info specs lens compatibility image samples
Nikon's Official Printed Brochure
Nikon's Official Press Release
Nikon Australia's Press Release
Help me help you top
I support my growing family through this website, as crazy as it might seem.
If you find this as helpful as a book you might have had to buy or a workshop you may have had to take, feel free to help me continue helping everyone.
If you've gotten your gear through one of my links or helped otherwise, you're family. It's great people like you who allow me to keep adding to this site full-time. Thanks!
If you haven't helped yet, please do, and consider helping me with a gift of $5.00.
The biggest help is to use these links to Adorama, Amazon, Calumet, Ritz and J&R when you get your goodies. It costs you nothing and is a huge help. These places have the best prices and service, which is why I've used them since before this website existed. I recommend them all personally.
Thanks for reading!
Ken
Home Donate New Search Gallery How-To Books Links Workshops About Contact