Home Donate New Search Gallery Reviews How-To Books Links Workshops About Contact
Tokina 100mm f/2.8
AT-X PRO 1:1 Macro (2006- )
© 2010-2015 KenRockwell.com. All rights reserved.
How to Shoot Macro Best Macro Lenses Compared
Intro Specs Performance Usage Compared Recommendations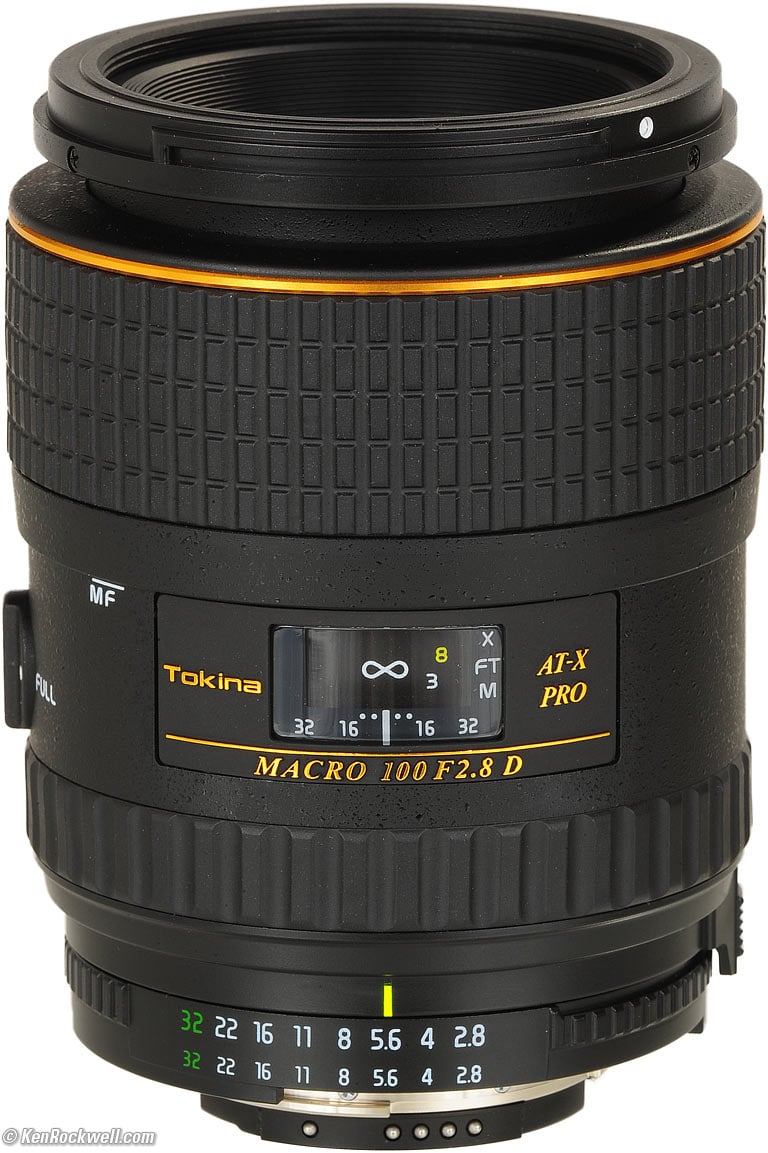 Tokina 100mm f/2.8 (55mm filters, 18.1 oz./513g, 1:1 close focus, about $349). enlarge. The biggest source of support for this free website is when you use these links, especially this link directly to this lens at Adorama in both Nikon or Canon EOS mounts, or at Amazon in Nikon or in Canon EOS mounts or at B&H in all mounts when you get anything, regardless of the country in which you live. Thank you! Ken.
April 2015 More Tokina Reviews All reviews
Nikon Reviews Nikon Lenses Canon Reviews Canon Lenses
Why fixed lenses take better pictures.
| | |
| --- | --- |
| Optics: | |
| Mechanics: | |
| Ergonomics: | |
| Usefulness: | |
| Availability: | |
| Overall: | |
Ideal Uses: Perfect for use on FX digital, DX digital and 35mm both as a dedicated macro lens, and as a general-purpose short, fast tele for everything from sports to portraits and landscapes.
Not for: Won't autofocus with the cheapest D40, D40x, D60, D3000, D3100 or D5000.
Introduction top
Intro Specs Performance Usage Compared Recommendations
Formats and Versions Compatibility
This Tokina 100mm f/2.8 Macro is a fantastic lens.
It's optical performance is as good or better than the best from Nikon and Canon, and this Tokina's ergonomics, due to its unique focus clutch, is also better than any of Nikon's or Canon's 100mm or 105mm macro lenses.
All this, and this Tokina is less than half the price, just as well built, and smaller and lighter than any other 100mm or 105mm AF macro. Go get one!
Formats and Versions intro top
This Tokina 100mm f/2.8 comes in in both Nikon and Canon EOS mounts. I am addressing the Nikon mount version here; you may make the usual extrapolations for Canon.
This is a full-frame (FX) lens. I will be testing it as such, as well as for DX.
This is an FX lens, and works especially well with on FX, 35mm and DX Nikons like the D7000, D700, D3X, D300s and F6. It works fantastically on manual-focus cameras like the F2AS, F3, FE and FA, since it has real manual-focus and aperture rings that work exactly as they should.
It works great on Nikon's latest D600 and D800E.
The Nikon version 100mm f/2.8 AF works great with almost every film and digital Nikon camera made since 1977. You'll need to figure out a way to add a meter coupling prong for use with Nikons made from 1959-1976, if you want meter coupling.
The only incompatibility is that it will not autofocus with the cheapest D40, D40x, D60, D3000, D3100 or D5000, but if you focus manually, everything else works great. These cameras have in-finder focus confirmation dots to help you.
See Nikon Lens Compatibility for details on your camera. Read down the "AF, AF-D (screw)" column for this lens.
Warning: as a non-Nikon lens, there is never any guarantee that this Tokina lens will always work perfectly with every possible camera. I've only used it on the D3 and D7000. There is always the potential for it not to work on some models of camera, today or newer models in the future. This is the one chance you take with non-Nikon lenses.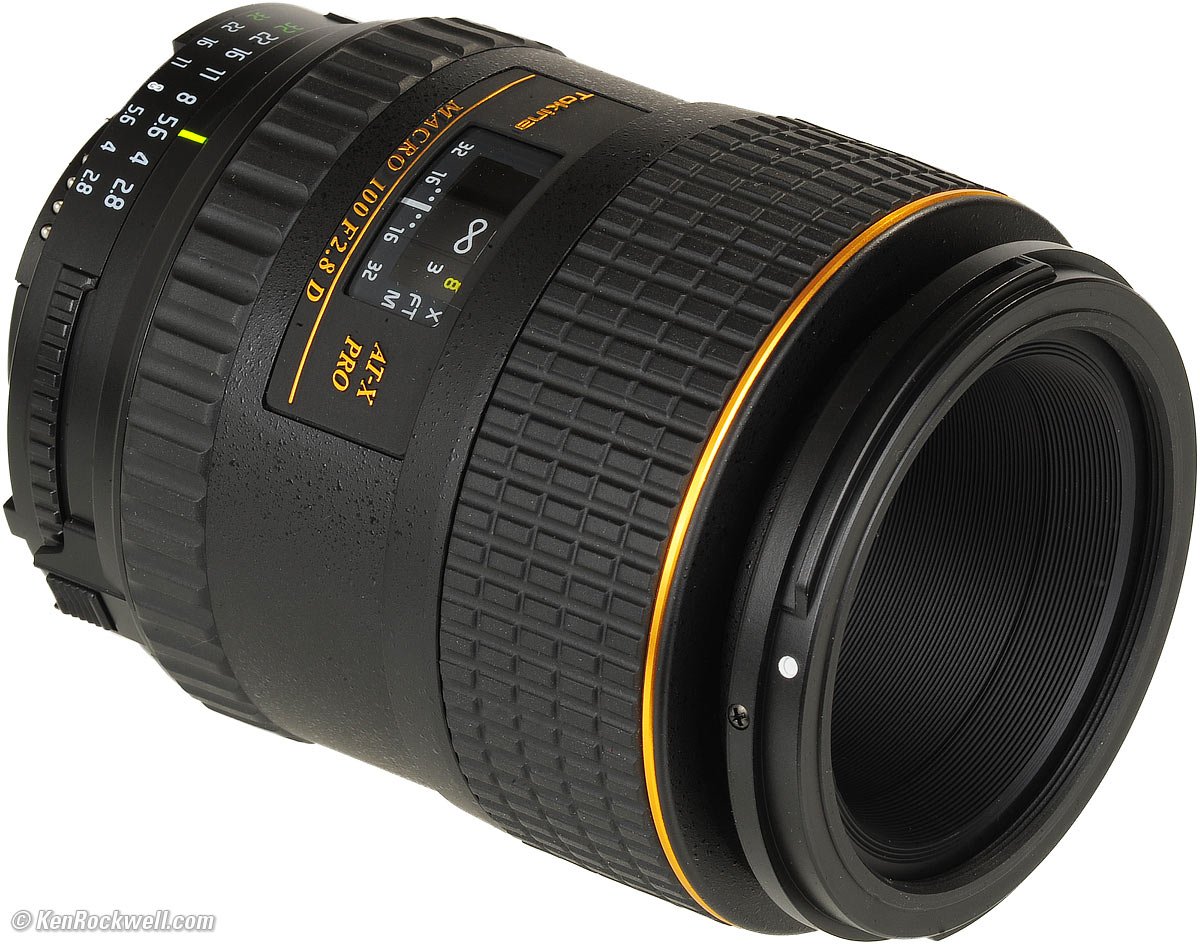 Tokina 100mm f/2.8 AF. enlarge.
Specifications top
Intro Specs Performance Usage Compared Recommendations
Tokina calls this the Tokina AT-X PRO 100mm F2.8 D Macro.
AT-X: Advanced Technology-seX.
PRO: Tokina's designation for its lenses with its brilliant AF-MF focus clutch.
D: The lens tells the camera the distance to the subject, which helps the exposure meter, especially with on-camera flash.
9 elements in 8 groups.
Floating elements for perfect performance as you focus at any distance.
Multicoated.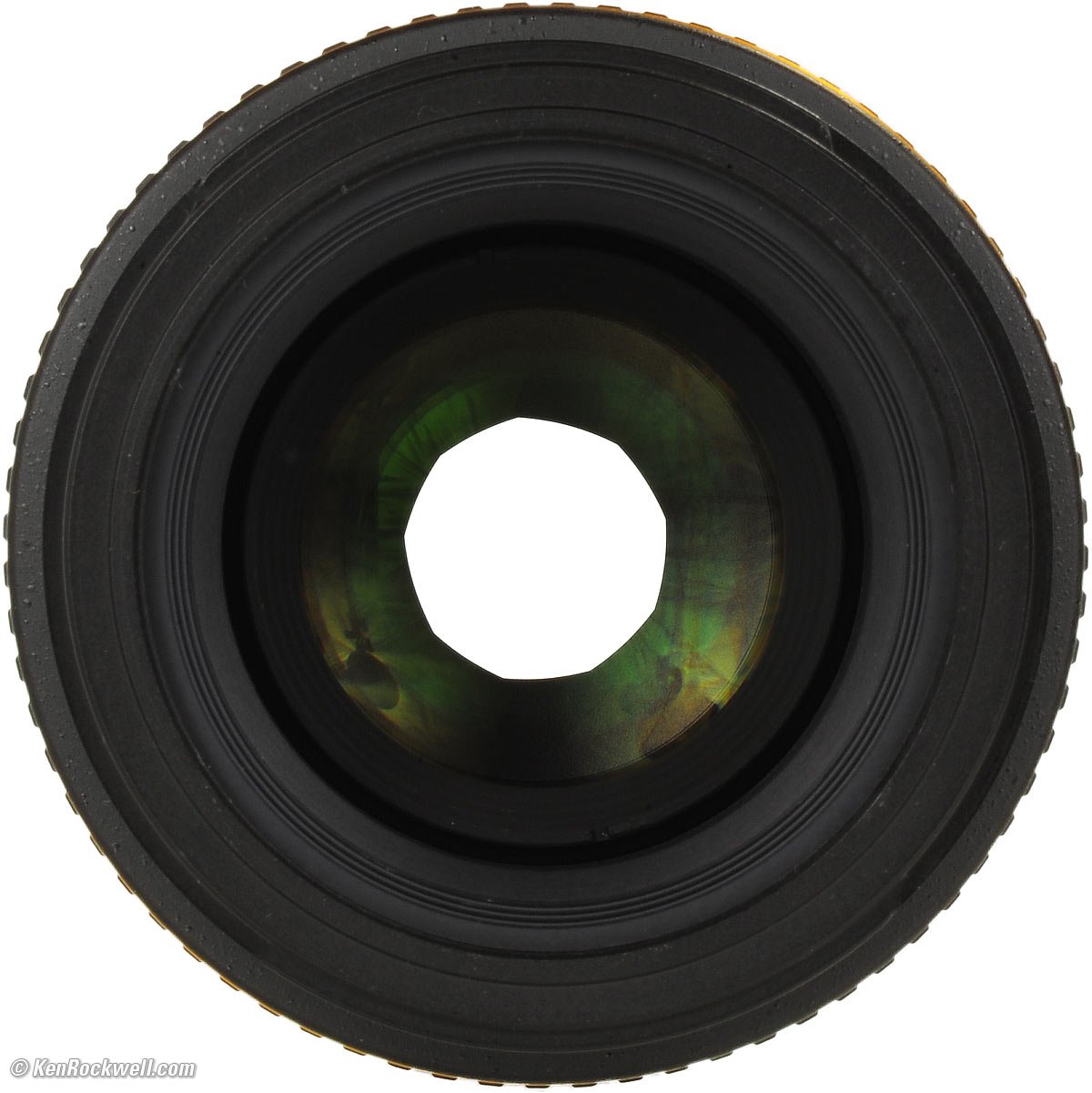 Tokina 100mm f/2.8 at f/5.6. enlarge.
9 blades, mostly straight.
Stops down to f/32 at infinity, f/64 at 1:1.
Plastic aperture ring with full-stop clicks.
Coverage top
Focal Length top
100mm.
When used on a DX camera, it gives angles of view similar to what a 150mm lens gives when used on an FX or 35mm camera.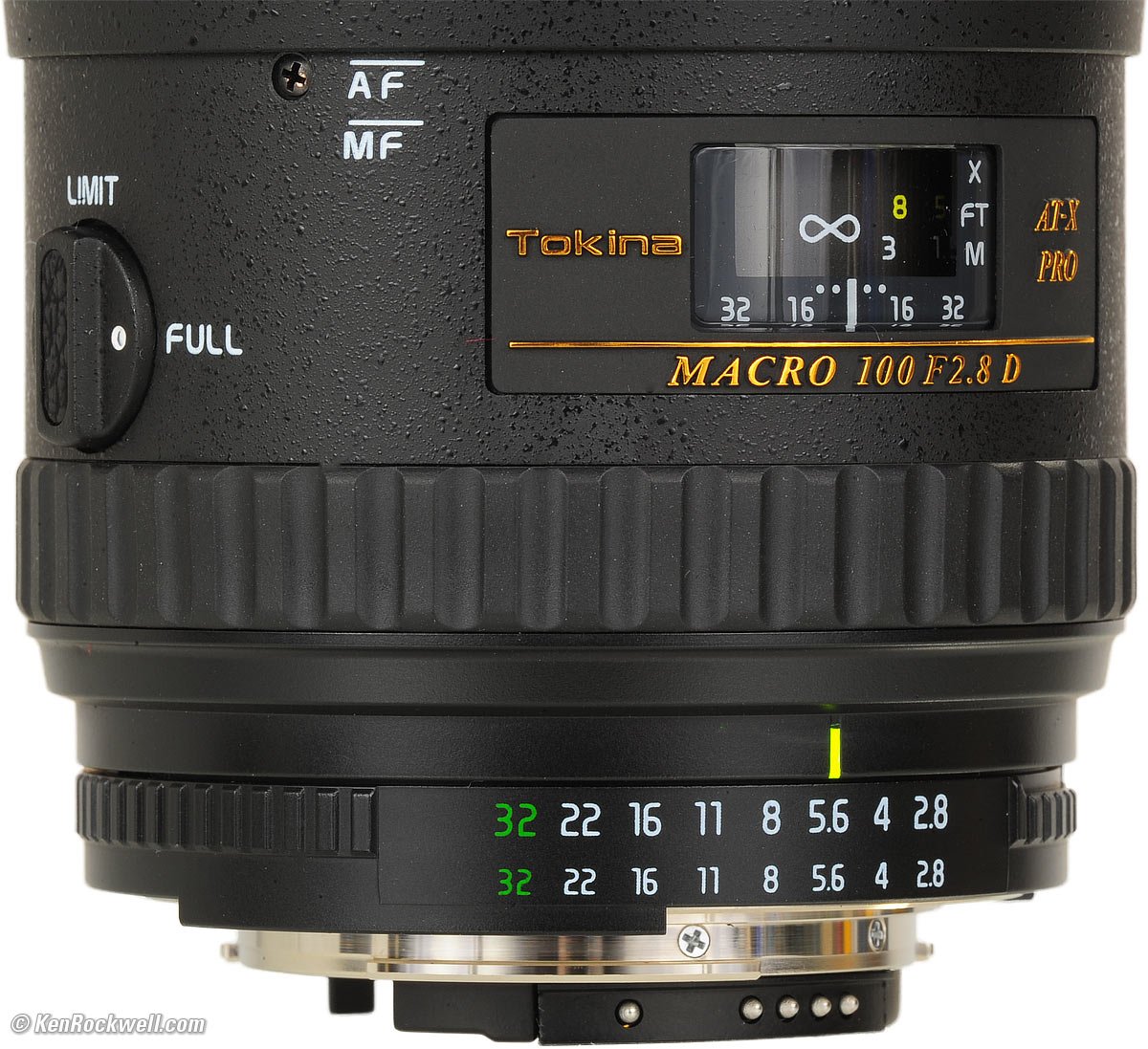 Controls, Tokina 100mm f/2.8. enlarge.
A rotary switch allows you to prevent the Tokina 100 2.8 from focusing through 1:2.
1 foot (0.3m), marked.
4.5" (115mm), measured.
Maximum Reproduction Ratio specs top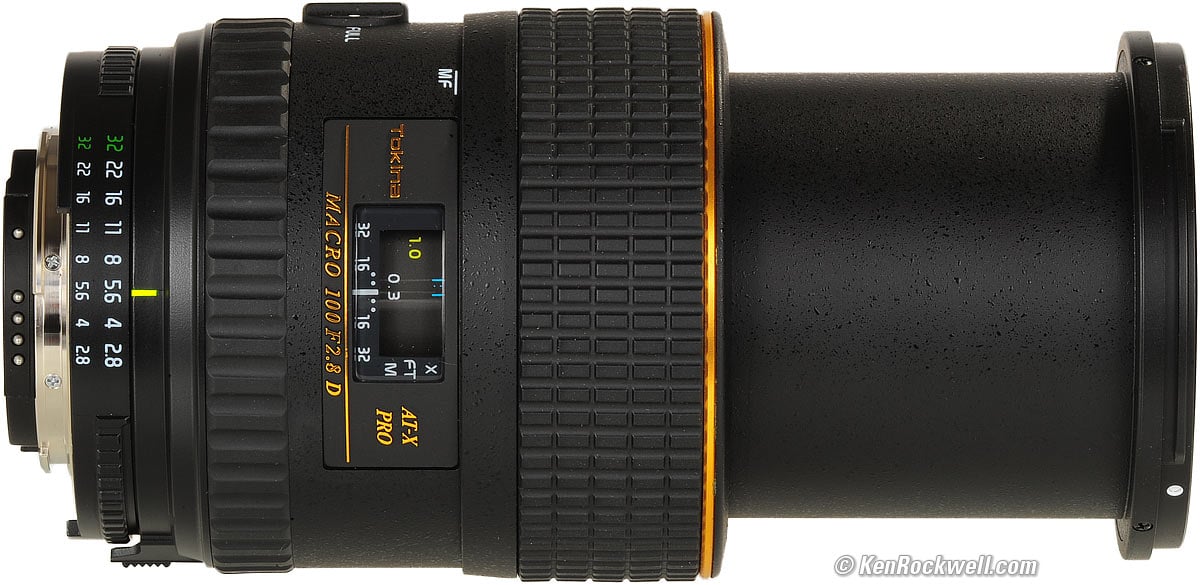 Tokina 100mm f/2.8 at 1:1. enlarge.
1:1, life-size.
As you focus more closely, the inner barrel extends.
Hard Infinity Focus Stop? specs top
No.
It focuses a little past infinity, so you have to let the AF system focus for infinity.
Yes.
Depth-of-Field Scale specs top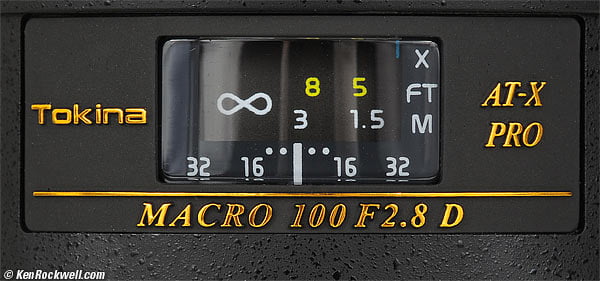 Focus window, Tokina 100 2.8 Macro.
Not really. See the two dots? Those are for f/16 and f/32, so good luck making any use of it. The dots don't mean f/11 and f/8, sorry.
Infra-Red Focus Index specs top
No.
Yes, plastic.
Full-stop clicks.
55mm, plastic.
Does not rotate, but does move in and out as focused.
No.
Tokina specifies 3.74" (95.1mm) long by 2.9" (73mm) diameter.
18.080 oz. (512.6g), measured.
Tokina specifies 19.0 oz. (540g).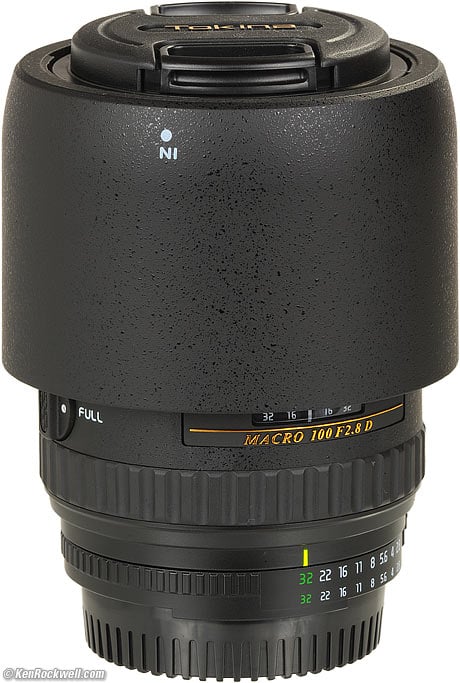 Tokina 100mm f/2.8, capped with reversed hood. bigger.
BH-551 plastic bayonet, included.
None.
Japan.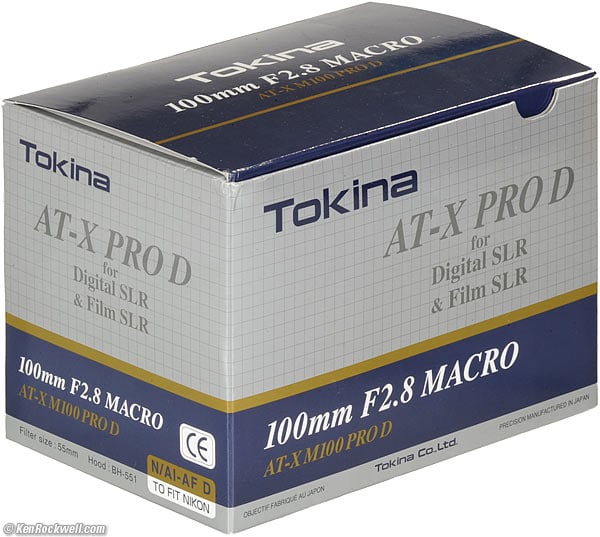 Box, Tokina 100mm f/2.8 Macro.
Single-wall cardboard box, glossy printed.
Folded corrugated cardboard formers inside. Lens in clear plastic bag inside cardboard.
Paperwork on top of cardboard, just under box cover.
2006.
Tokina Product Number specs top
AT-X M100 PRO D
About $349, November 2017.
$379, April 2015~June 2016.
$460, June 2013.
$490, October 2012.
$450, July 2011.
$400, November 2010.
Performance top
Intro Specs Performance Usage Compared Recommendations
Overall Auto and Manual Focus Bokeh Color Coma Distortion
Ergonomics Eyeblow Falloff Filters Focus Breathing
Color Fringes Macro Maximum Aperture Mechanics
Sharpness Spherochromatism Sunstars Survivability
Overall performance top
The Tokina 100mm f/2.8 AF is one of the very best lenses I've ever tested.
Not only are its optics perfect, so are its ergonomics. This FX and DX lens is both sharper and handles better than Nikon's made-in-China, DX-only 85mm f/3.5 VR, which costs more!
This Tokina is a winner, and one of the sharpest lenses I've ever put on any camera, at any distance including infinity.
Auto and Manual Focus performance top
AF Speed
Autofocus is very fast for normal uses. This Tokina focuses much more quickly than Nikon's newest 85mm f/1.4G on an F5, for instance, but the new Nikon 85/1.4 is designed for high-precision more than speed.
In the macro range, use manual focus for your own sanity. Autofocus is reasonably fast, but it's much more sensible to turn the ring yourself than to have your camera hunting all over.
One full turn (two half-turns) of the AF screw pulls focus from infinity down to 7 feet.
AF Accuracy
AF is always consistent. Some cameras may need a little bit of AF fine-tuning. My D3 was best at +7, while my D7000 was best at about +10. Every sample of lens and camera will vary.
Manual Focus
Manual focus is beautiful!
It's smooth and perfectly geared for the best possible combination of speed and precision.
Bokeh performance top
Bokeh varies with distance. Bokeh is mostly wonderful.
Bokeh is the character of out of focus areas, not simply how far out of focus they are.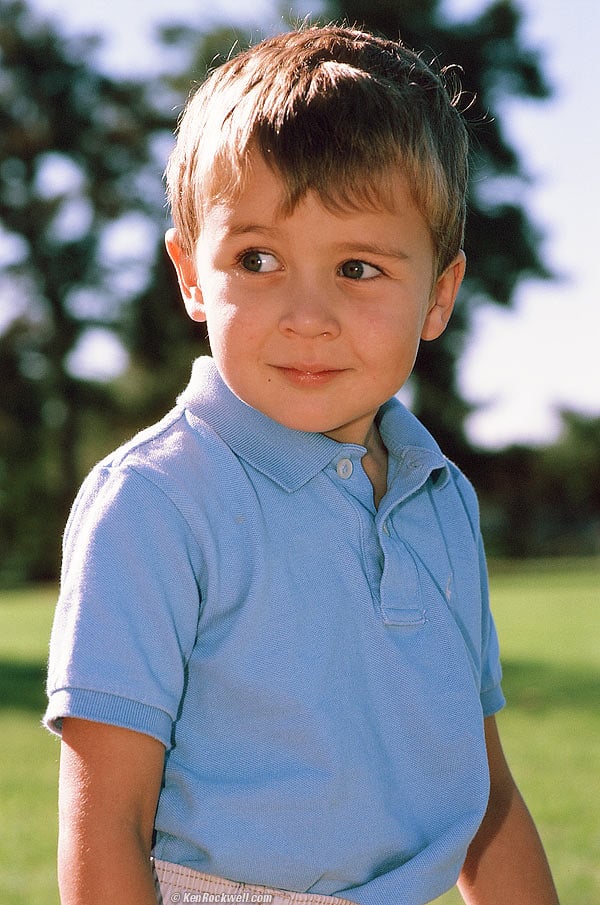 Ryan on 25-year-old Kodachrome 64 in November 2010. Shot on a Nikon F5, Tokina 100mm f/2.8 and SB-600, 1/125 at f/5.6, simple color correction with a curves layer. bigger or Original © Scan. EXIF data, frame 25. Dwayne's process and scan.
Color Rendition performance top
I don't notice any different color rendition from my NIKKOR lenses.
Coma performance top
I see no coma.
Coma would be weird smeared blobs that appear around bright points of light in the corners. See also sagittal coma flare.
Distortion performance top
The Tokina 100mm f/2.8 AF has no visible distortion.
These figures may reduce it even further for critical photogrammetric use by plugging these into Photoshop's lens distortion filter, however, even as of CS5 I don't see that Photoshop can work with figures this low. This lens is too good! These aren't facts or specifications, they are the results of my research that requires hours of photography and calculations on the resulting data.
| | | |
| --- | --- | --- |
| | | |
| ∞ | +0.3 | 0.0 |
| 10' (3m) | +0.25 | 0.0 |
| 1:10 | 0.0 | |
| 1:2 | 0.0 | |
| 1:1 | 0.0 | |
© 2010 KenRockwell.com. All rights reserved.
Ergonomics performance top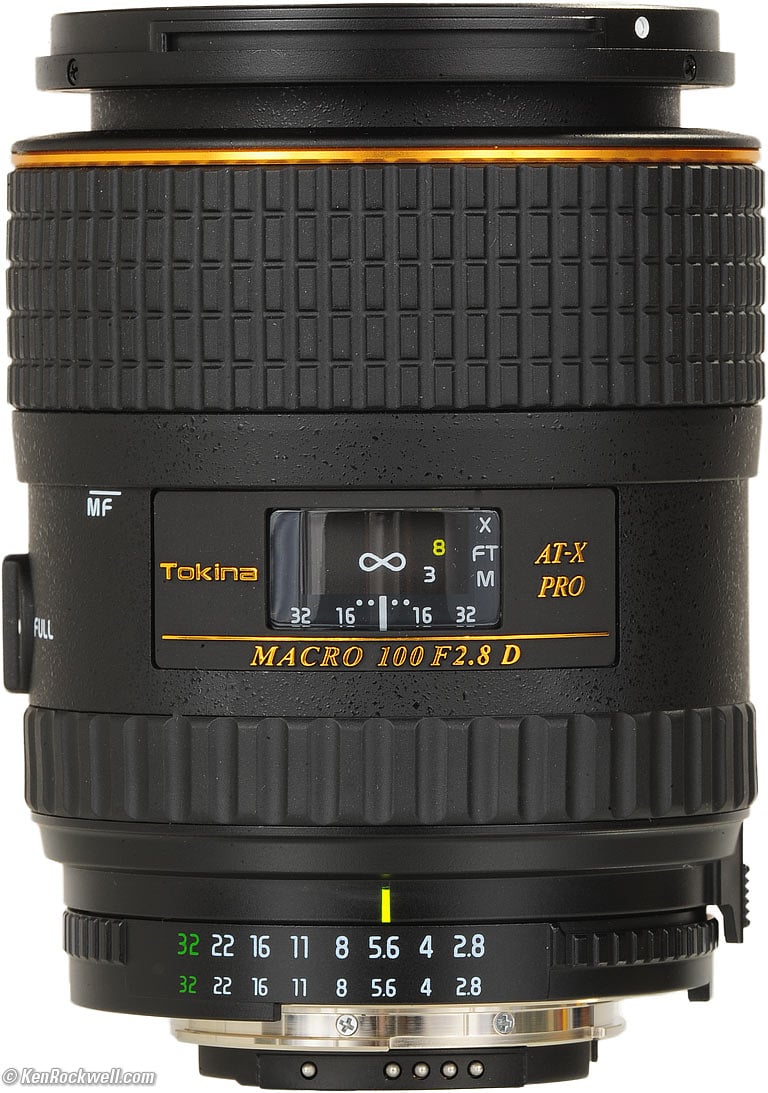 Tokina 100mm f/2.8 AF. enlarge.
Ergonomics are perfect, better than any Nikon AF Micro lens.
In AF, turning the big, fat focus ring does nothing, so you can get a good, solid grip on it without affecting AF. Nothing moves on the barrel as it autofocuses, except for the forebarrel moving in and out.
To get manual focus, simply pull the focus ring towards you, and it clicks into manual focus mode. Now turn the big, silky-smooth rubber-covered metal focus ring for easy manual focus.
Nikon's manual focus 105mm Micros, the 105/4 AI and today's 105/2.8 AI-s are good, but only manual focus. Nikon's 105/4 has a built-in hood.
Nikon's 105mm f/2.8 AF Micro is an ergonomic nightmare: you have to release a lock and rotate a ring to get the manual focus ring to respond.
Nikon's newest made-in-China 105mm VR is also no picnic: if you turn the focus ring by accident, which is easy to do because that's how you hold the lens, you accidentally go into manual focus mode.
By comparison, and all by itself, Tokina's focus clutch mechanism is brilliant. I wish my Nikon lenses were this good.
As if the focusing wasn't enough to make me love this lens, did you notice the rubber ring at the rear of the lens? It doesn't turn: it's the grab ring for mounting and unmounting. Bella!
Eyeblow performance top
As the 100mm f/2.8 AF-S is focused in and out, very little air pumps in and out of the rear of the lens, thus I can't detect any air blowing out of my eyepiece.
Falloff (darkened corners) performance top
Falloff on FX is minimal, much better than NIkon's 105mm f/2.8 VR!
It will be even less of an issue on DX (see crop factor).
I've exaggerated this by shooting a gray field and placing these on a gray background.
Tokina 100mm f/2.8 AF falloff on FX and film, no correction.
| | | | |
| --- | --- | --- | --- |
| | | f/4 | f/5.6 |
| ∞ | | | |
| 1:4 | | | |
| 1:2 | only opens to f/4.2 -> | | |
| 1:1 | | only opens to f/5.6 -> | |
© 2010 KenRockwell.com. All rights reserved.
Filters, Use with performance top
The plastic filter ring never rotates, but it does move in and out with focus.
There is no problem with vignetting, even with stacks of several thick 55mm filters on FX.
On DX, I can't see how you could get any vignetting, even with a dozen stacked 55mm filters.
On Nikon, I'd use a 55->52mm step-down ring for sanity's sake. I also can use several stacked 52mm filters on FX without vignetting.
Good times!
Focus Breathing performance top
Of interest mostly to cinematographers focusing back and forth between two subjects, for instance, a couple having a conversation, the image from the Tokina 100 2.8 macro gets slightly larger as focused more closely.
Lateral Color Fringes performance top
There are no lateral color fringes on the D3 or the D7000, which correct them automatically.
Macro performance top
Macro works great; this is a macro lens.
1:1 means the image is life-sized, or that you can make something just an inch across fill your picture.
Maximum Aperture performance top
As one focuses more closely, the maximum aperture diminishes due to the greater magnification.
Nikon AF cameras calculate all this automatically, but it often will throw off some users who can't understand why they can't get f/2.8 as they focus more closely.
Maximum
Aperture

Minimum
Aperture

∞

f/2.8

f/32

6' (2m)

f/3

f/36

1:10

f/3.2

f/36

1:6

f/3.3

f/40

1:5

f/3.5

f/40

1:3.5

f/3.8

f/45

1:3

f/4

f/45

1:2

f/4.2

f/51

1:1.8

f/4.5

f/51

1:1.5

f/4.8

f/57

1:1.4

f/5

f/57

1:1.2

f/5.3

f/64

1:1

f/5.6

f/64
Mechanics performance top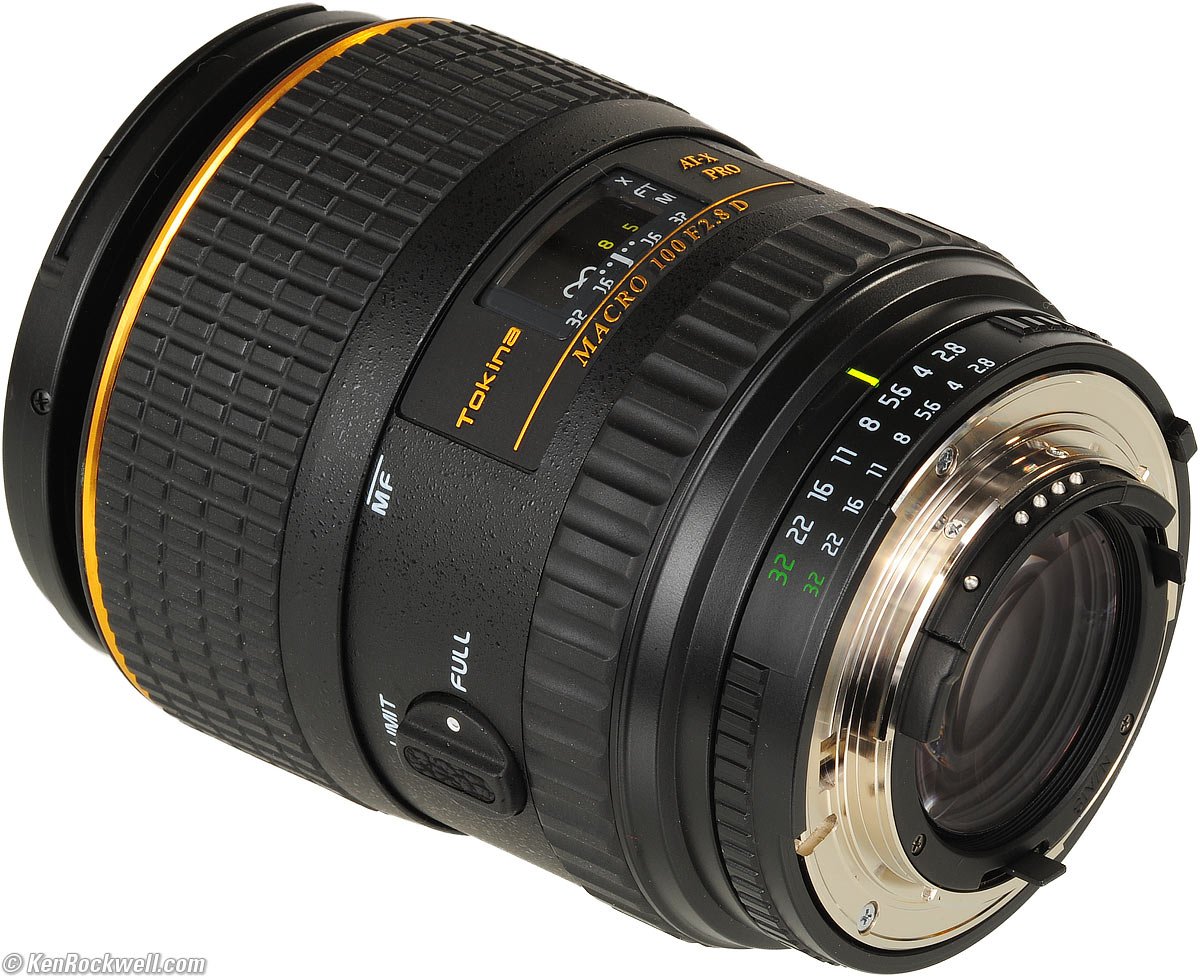 Rear, Tokina 100mm f/2.8 Macro. enlarge.
This Tokina is a tough, well-made lens.
Filter Threads
Plastic.
Hood
Plastic bayonet.
Hood Bayonet
Plastic.
Fore Barrel
Metal.
Focus Ring
Metal; rubber covered.
Focus Limiter Switch
Plastic.
Mid and Aft Barrel Exterior
Plastic.
Internals
Seem like metal and plastic.
Aperture Ring
Plastic with painted numbers.
Mount
Light-gold-colored metal. Mounts almost as well as Nikon's mounts.
Markings
Paint.
Identity Plate
Black and gold debossed plate, with clear plastic window for focus scale.
Serial Number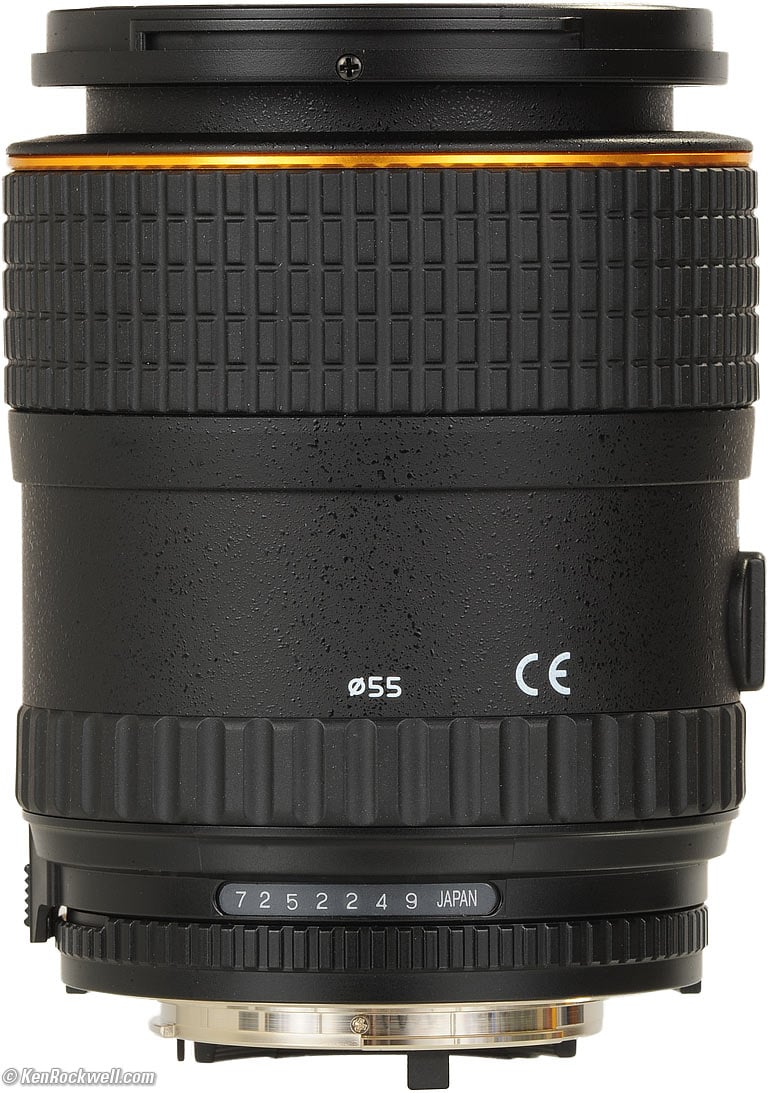 Bottom, Tokina 100mm f/2.8 Macro. enlarge.
Serial number on sticker on bottom rear of barrel
Ass-Gasket (rain seal at mount)
No.
Noises When Shaken
Mild clicking from the diaphragm blades and actuation system.
Made in
Japan.
Sharpness performance top
Warning 1: Image sharpness depends more on you than your lens.
Warning 2: Lens sharpness doesn't mean much to good photographers.
The Tokina 100mm f/2.8 Macro is as sharp as any lens I've ever tested. If you're splitting pixels, it's sharper than Nikon's own 85mm f/3.5 DX VR, which costs more.
It's completely sharp and contrast at every aperture, everywhere in the field of both FX 12MP D3 and DX 16MP D7000. It's as sharp as Nikon's 105mm f/2.8 VR and 105mm f/2.8 AF-D. Any of these three lenses will let you get the best of Nikon's best D3X or D7000.
At the tiniest apertures, of course diffraction limits performance. With a lens this good, f/5.6 is the sharpest aperture, and by f/8, diffraction is already limiting sharpness, presuming you have a perfectly flat and perfectly in-focus subject.
Here's a photo of my neighbor's lawn furniture: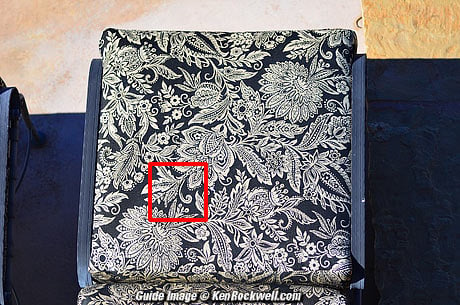 and here's a crop at 100% from a 16MP DX image from a Nikon D7000: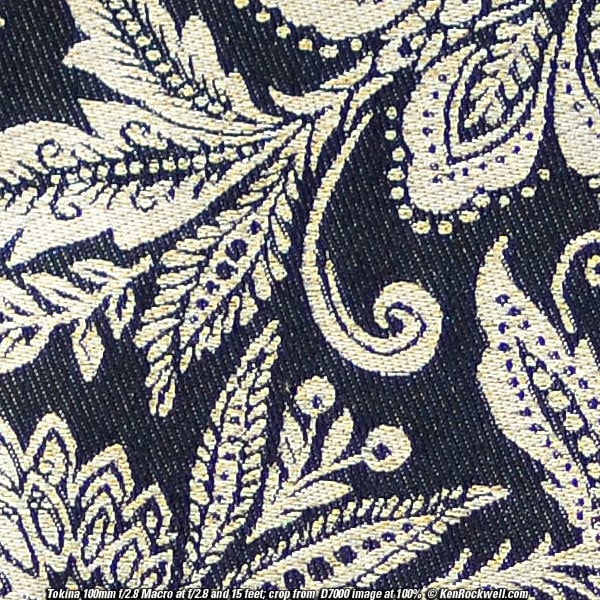 This is shot wide-open at f/2.8!
If you enlarged the entire image at this same scale as seen on a standard (100DPI) monitor, you'd be looking at about a 50 x 33" (125 x 85cm) gallery print.
Here's a macro shot on FX: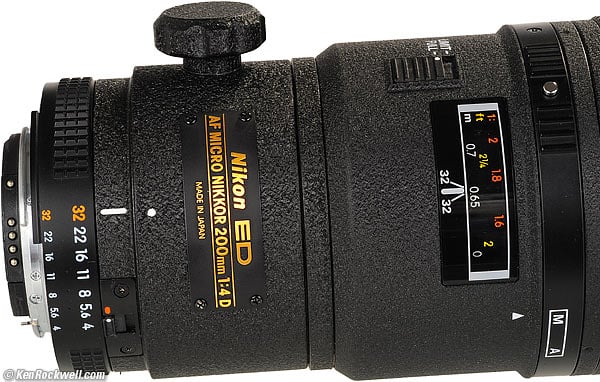 Photograph of Nikon 200mm f/4D AF Micro-NIKKOR. original © 1.3 MB file.
This shot was made at f/25 under studio strobes. Here is the original file.
Why f/25 if sharpness goes down from f/8? Simple: f/8 only counts for flat subjects, as used in meaningless tests. As soon as you add depth, as in a real subject worth photographing, you have to stop down. See Selecting the Sharpest Aperture. For most macro work, f/32 is standard, since nothing real is ever flat enough at close range.
Also, f/25 is what I need with 500 Watt-seconds of Novatron strobe at ISO 200.
Spherochromatism performance top
This Tokina shows just a tiny bit of spherochromatism.
Out-of-focus background highlights can take on slight green color fringes, and foreground highlights can take on very minor magenta color fringes. Laypeople sometimes mistakenly call spherochromatism "color bokeh."
Sunstars performance top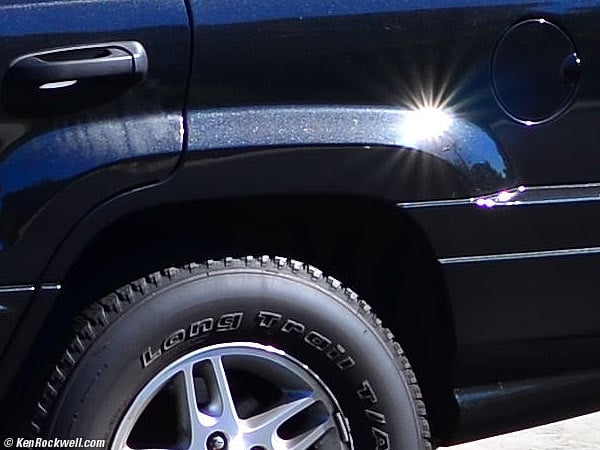 Sunstar, crop from 100% D7000 image at f/8.
With its mostly straight 9-bladed diaphragm, this Tokina 100 2.8 can make great 18 -pointed sunstars on bright points of light.
This is much better than anything from Canon or Nikon.
Nikon uses either 7-blades, or rounds their 9-bladed diaphragms which won't make sunstars.
Canon's uses 8 blades, giving only hokey 8-pointed stars, or 9 rounded blades, which won't do much for sunstars, like Nikon's newest VR lens.
Survivability performance top
The Tokina 100mm f/2.8 Macro seems pretty tough, so long as you don't bash the front of the lens.
If you hit the front of the lens, since it is what has to move in and out precisely as focused, you could damage the focus system.
Usage top
Intro Specs Performance Usage Compared Recommendations
Reverse from a cruise control on a Mercedes, push the focus ring away from you for autofocus, and pull it toward you for manual focus. Leave your camera set to autofocus.
For manual-focus lock, set your camera to manual focus, and push the ring to autofocus. This disconnects the focus ring, so focus stays fixed.
Use the focus limiter all the time, which merely locks-out the range from 1:2 to 1:1, which no one ever uses, but takes up half the length of the focus scale. Few macro shooters every need to get this close, and if you do, turn off the limiter.
There is no need for a hood; the front element is well inset at every focus distance.
The focus limiter prevents the lens from turning past the 1:2 setting halfway along the focus scale. Therefore it either limits focus to go between infinity and 1:2 (0.6 meters), or between 1:2 and 1:1 (0.6 to 0.3 meters).
Compared top
Intro Specs Performance Usage Compared Recommendations
See also Best Macro Lenses Compared.
I compared it directly to the Nikon 85mm f/3.5 DX, and this Tokina is sharper.
Otherwise, all 100mm and 105mm macro lenses are the sharpest and least distorting lenses you can get; I wouldn't sweat any optical differences among these. They are all superb.
If you must split hairs, this Tokina has superior ergonomics to any other autofocus lens here because of its brilliant one-touch focus clutch.
This Tokina has superior optics because it generates superior 18-point sunstars, which these other lenses can't do, or don't do well.
This Tokina is optically superior to Canon and Nikon's offerings because it has much less light falloff.
Tokina
100/2.8

Anno

2006-today

1970-1983

1983-today

1990-2007

2006-today

2000-2009

2009-today

Filter

55mm

52mm

52mm

52mm

62mm

58mm

67mm

Filter

plastic

Metal

Metal

Metal

plastic

plastic

plastic

Length

95.1mm

96mm

83.5mm

104.5mm

116mm

118.2mm

123mm

Barrel

Metal and plastic

Metal

Metal

Plastic and metal

Plastic and metal

plastic

plastic

Weight, g.

513g

500g

510g

562g

752g

584g

623g

Weight, oz.

18.1 oz.

17.6 oz.

18.0 oz.

19.8 oz.

26.6 oz.

20.6 oz.

22.0 oz.

Optics

Ex

Ex

Ex

Ex

Ex

Ex

Ex

Blades

9

7

7

7

9 rounded

8

9 rounded

Falloff
Working Distance

4.5"

11"

9.5"

5.2"

6"

6"

5.2"

Working Distance

115mm

280mm

240mm

133mm

154mm

150mm

133mm

Maximum Repro

1:1

1:2

1:2

1:1

1:1

1:1

1:1

Manual Focus

Push focus ring

Always

Always

Must move switch

Instant override

Instant override

Instant override

Ergonomics

Ex+

Ex

Ex

OK

Ex

Ex

Ex

Price, 11/2010 USA*

$125 used

$150
used
(To get used prices this good, see How to Win at eBay.)
Recommendations top
Intro Specs Performance Usage Compared Recommendations
See also How to Shoot Macro.
This Tokina 100mm f/2.8 AF Macro is a great lens for macro, and especially good for any use as a portrait or telephoto lens. It is probably the best 100mm or 105mm macro there is, and costs half of what other lenses cost.
If you want to shoot dedicated macro, 200mm lenses are better because you get more working distance between your camera and your subject to make lighting, and your subject, more comfortable.
This Tokina's image quality is unsurpassed, and its ergonomics with the push-pull focus clutch are superior to both Canon's and Nikon's own 100mm and 105mm lenses!
I prefer the optics of this Tokina to Nikon and Canon, because this Tokina uses the correct 9-bladed diaphragm, where Nikon uses either only 7 blades, or rounds their 9-blade diaphragms which eliminates sunstars. Canon is completely clueless with their 8-bladed diaphragms, or again attempts to round their 9-bladed diaphragms.
With this Tokina lens, you've got a top-quality lens at a bargain price, and it's built to last. It has the same or better optics than either Canon or Nikon's lenses, and is smaller, lighter, less expensive, and handles better.
VR and IS are merely sales features in macro lenses. They are handy for hand-held available light shooting, but for dedicated macro shooting, we use strobes, so VR and IS are unneeded.
Deployment
I'd use a 55->52mm step-down ring with the Nikon system, or a 55->58mm step-up ring with the Canon system. You want all your lenses to have the same filter size for sanity's sake.
Using an adapter ring has the added benefit of giving us a metal filter thread. Attach the adapter ring, and treat this lens like it's 52mm (Nikon) or 58mm (Canon) forever.
More Information
Help me help you top
I support my growing family through this website, as crazy as it might seem.
The biggest help is when you use any of these links when you get anything, regardless of the country in which you live. It costs you nothing, and is this site's, and thus my family's, biggest source of support. These places have the best prices and service, which is why I've used them since before this website existed. I recommend them all personally.
If you find this page as helpful as a book you might have had to buy or a workshop you may have had to take, feel free to help me continue helping everyone.
If you've gotten your gear through one of my links or helped otherwise, you're family. It's great people like you who allow me to keep adding to this site full-time. Thanks!
If you haven't helped yet, please do, and consider helping me with a gift of $5.00.
As this page is copyrighted and formally registered, it is unlawful to make copies, especially in the form of printouts for personal use. If you wish to make a printout for personal use, you are granted one-time permission only if you PayPal me $5.00 per printout or part thereof. Thank you!
Thanks for reading!
Mr. & Mrs. Ken Rockwell, Ryan and Katie.
Home Donate New Search Gallery Reviews How-To Books Links Workshops About Contact