Home Donate New Search Gallery Reviews How-To Books Links Workshops About Contact
Nikon 55-200mm VR II
AF-S f/4-5.6G ED (2015-)
Sample Images Intro Specs Performance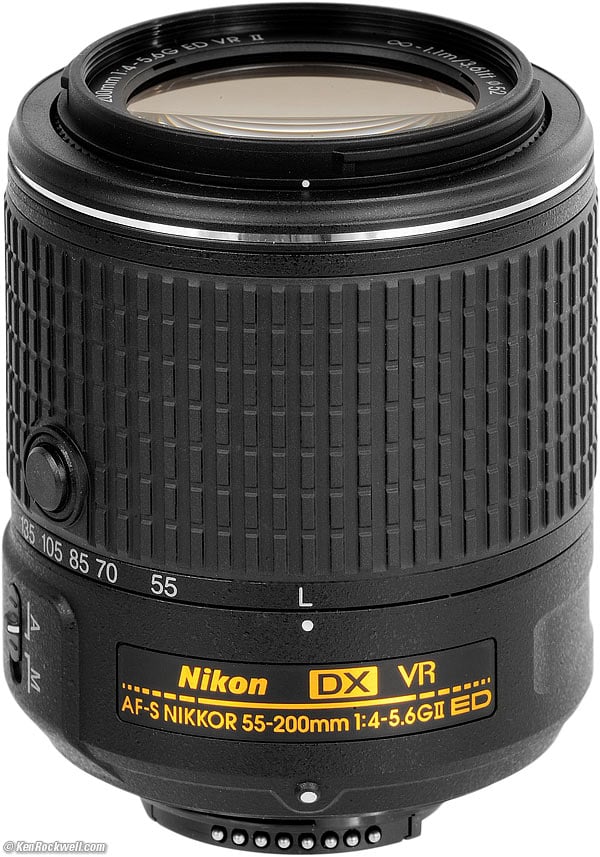 Nikon 55-200mm VR II (shown collapsed (gets longer as zoomed), DX coverage only, 52mm filters, 10.4 oz./296g, 3.6'/1.1m close focus, about $147 new. enlarge.
I got mine at this link to them at Adorama, who also has kits with different free goodies for the same price at that link. I'd also get it at this link to it at Amazon or at B&H Photo-Video or at Crutchfield.
This ad-free website's biggest source of support is when you use any of these links to approved sources when you get anything, regardless of the country in which you live. Nikon does not seal its boxes, so never buy at retail or any source not on my personally approved list since you'll have no way of knowing if you're missing accessories, getting a defective, damaged or used lens, a customer return or if the warranty has already been registered to someone else online! The approved sources I use ship from secure, remote automated warehouses where salespeople or other customers never, ever get to touch your camera, and they have the best prices, selection, service and return policies.
March 2017 Nikon Reviews Nikon Lenses All Reviews
Ideal Uses: Perfect for use on every DX digital Nikon. Great sports, nature and portrait lens; there's no need to pay more.
Not for: FX or 35mm cameras.
Sample Image Files top
Sample Images Intro Specs Performance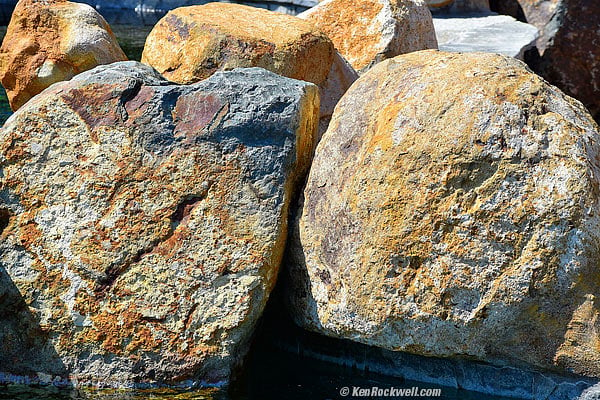 Stone. Nikon D5500, 55-200mm VR II at 95mm, f/5.6 at 1/500. © camera-original file.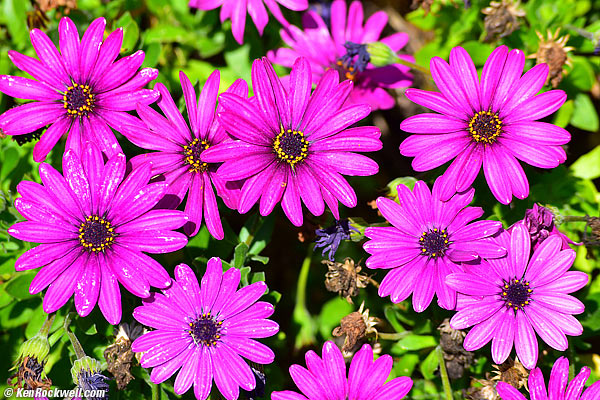 Flowers. Nikon D5500, 55-200mm VR II at 155mm, f/8 at 1/200. © camera-original file. The flowers are not all in focus, only two of them are.
Introduction top
Sample Images Intro Specs Performance
The Nikon 55-200mm DX VR II is a superb lightweight, plastic-mount lens with outstanding performance.
New from the older 55-200mm DX VR is that this new lens collapses when not in use. It weighs 1 ounce (30g) less than the old model. While the focus distance is the same, this lens can make slightly larger images at its closest focus distance than the previous 55-200mm VR.
So long as you're careful not to break the plastic lens mount, this is an extraordinary lens. Even if you break it outside of warranty, it's cheap enough that you can buy another and still be out less money than if you had bought the larger 70-300mm VR.
I own the more expensive alternatives, and I usually use this 55-200mm VR II instead because it's easier to carry and more fun to use.
Sharpness and performance are extraordinary. A lens this inexpensive never used to have the right to be this embarrassingly good. VR (Vibration Reduction or image stabilization) works great; I can shoot at 1/30 at 200mm and get sharp shots without a tripod!
I'm addicted to Vibration Reduction (VR) because it's critical to getting sharp shots with telephoto lenses. VR eliminates camera shake, the biggest reason people get blurry shots with telephoto lenses.
The Nikon 55-200mm VR II is significantly better for hand-held shooting than non-VR tele lenses, including the non-VR 55-200mm, because the VR helps ensure sharp shots that otherwise are often blurred. VR is less important with normal lenses, and very important with telephoto lenses. See Image Stabilization for more.
Unlike most of the alphanumeric gibberish on lenses, VR is really, really important. VR can't stop your kids from moving, but it does a spectacular job of letting me shoot in the dim light I love without a tripod.
The 55-200mm VR II zooms easily and precisely. The zoom range is well spaced, and VR works great. It focuses reasonably quickly, but not as fast as more expensive lenses. This lens should be more than good enough for chasing kids playing sports. The 55-200mm VR II doesn't offer instant manual focus override: you have to move a switch, but for the price, I'm not complaining.
Compatibility back to intro back to top
Everything works perfectly on every DX digital Nikon, and especially on Nikon's cheapest digitals like the D40, D40x, D60, D3000, D3100, D3200, D3300, D5000, D5100, D5200, D5300 and D5500.
It does not work well on FX or film cameras. It usually cuts off the far corners of the image.
See Nikon Lens Compatibility for details with your camera. Read down the "AF-S, AF-I," "G" and "VR" columns for this lens. You'll get the least of all the features displayed in all columns, since "G" (gelding) is a handicap which removes features.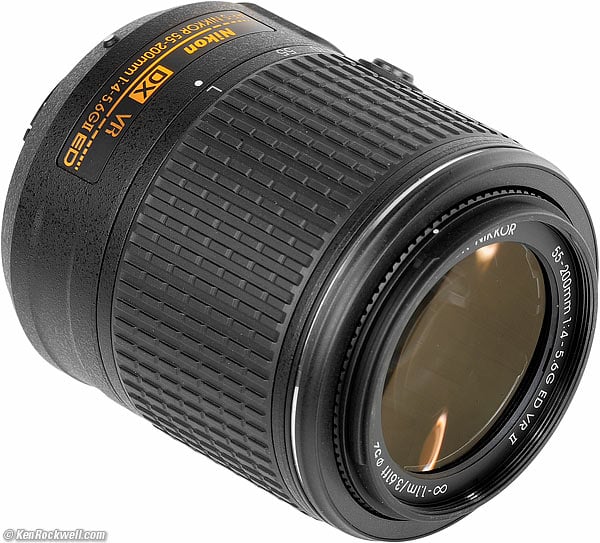 Nikon 55-200mm VR II.
Specifications top
Sample Images Intro Specs Performance
Name top
Nikon calls this the Nikon AF-S DX NIKKOR 55-200mm f/4-5.6G ED VR II.
AF-S: Silent Wave Autofocus Motor.
DX: Works only on DX (small sensor) digital cameras. Won't work well on film or FX cameras.
NIKKOR: Nikon's brand name for all their lenses.
G: Gelded for cost-reduction and removing compatibility with older cameras.
ED: Magic Extra-low Dispersion glass for reduced secondary chromatic aberration.
VR: Vibration Reduction.
II: New version of previous 55-200 VR; this new one collapses for storage.
∅52: 52mm filter thread.
Optics top
Nikon 55-200mm VR II Internal Diagram. ED glass.
13 elements in 9 groups.
One of them is made of magic ED glass.
Diaphragm top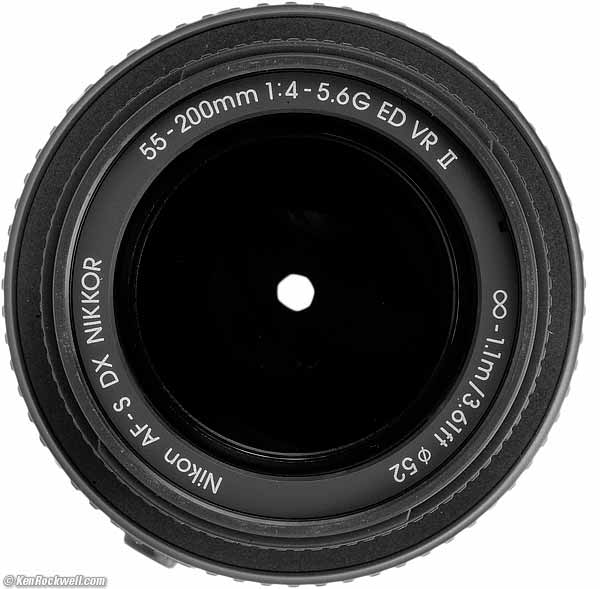 Nikon 55-200mm VR II.
7 rounded blades.
Stops down to f/22 - 32.
Focal Length top
55-200mm.
Used on a digital Nikon it gives angles of view similar to what an 85-300mm lens would give on a 35mm film camera. See also Crop Factor.
Coverage top
DX only.
Will not cover 35mm film or FX; you'll get black cut-off corners.
Angle of View top
28.8° ~ 8° on small-format DX.
Close Focus top
3.6 feet (1.1m).
Maximum Reproduction Ratio top
1:3.7.
Hard Infinity Focus Stop? top
No.
You have to let the AF system focus at infinity.
Focus Scale top
No.
Depth-of-Field Scale top
No.
Infra-Red Focus Index top
No way.
Aperture Ring top
No.
Filter Size top
52mm, which has been Nikon's standard filter size since 1959.
It's also the same size as the excellent 35mm f/1.8 and 18-55mm lenses that are deservingly popular on DX cameras.
Vibration Reduction (VR) top
Claims 4 stops improvement.
Construction top
All plastic mount and barrel; glass optics.
Size top
2.8" diameter x 3.3" long (70.5 x 83 mm)
Weight top
10.450 oz. (296.2g) actual measured weight.
Nikon specifies 10.6 oz. (300g).
Quality top
Made in Thailand.
Nikon Model Number top
20050.
Caps top
Standard excellent Nikon 52mm fron cap.
Crummy clear plastic push-on rear cap, only good for shipping. Nikon doens't include a real rear cap; order a real Nikon rear cap for $4.
Optional Accessories top
Nikon CL-0915 pouch and HB-37 hood.
CL-0915 sack.
HB-37 plastic bayonet hood.
Announced top
Monday, 05 January 2015, 11:59 PM NYC time.
Promised for top
Thursday, 05 February 2015.
Price, USA top
2017 March: $147 new.
2015 November: $347 new; $120 refurbished if avaialble
2015 March: $347.
2015 January: $350.
Box, Nikon 55-200mm VR II.
Performance top
Sample Images Intro Specs Performance
Overall Autofocus Bokeh Color Distortion
Ergonomics Falloff Filters Flare & Ghosts
Focus Breathing Hood Lateral Color Fringes
Macro Maximum Apertures Mechanics
Overall performance top
This is a sharp, featherweight, well performing lens.
Autofocus performance top
AF isn't as fast or as silent as Nikon's pro lenses that sell for ten times as much, but considering how tiny and inexpensive this lens is, it's very good.
AF is smooth and reasonably fast and sure. No AF telephoto can track fast action at only 5 feet away, but at reasonable distances as we see in kids' sports and stage shows, it's swell.
Likewise, when subjects like birds are at reasonable distances, it can track them, too.
Autofocus on still subjects fast and sure.
Manual Focus
Manual focus is geared quickly.
It's fast and easy to focus, but since it moves so fast, more difficult to focus precisely.
Bokeh performance top
Bokeh, the character of out-of-focus backgrounds, not simply how far out of focus they are, is excellent. Backgrounds get soft and go away.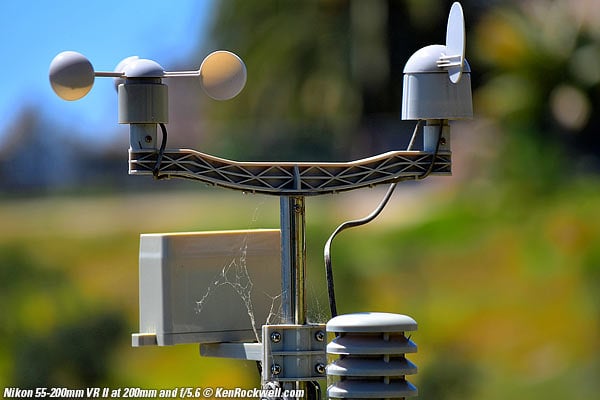 Wide-open at 200mm. © Camera-original file.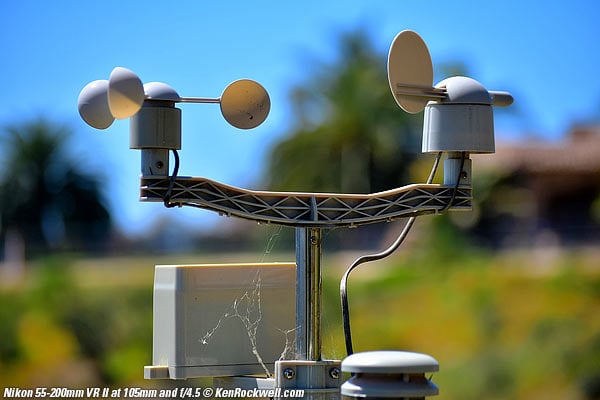 Wide-open at 105mm. © Camera-original file.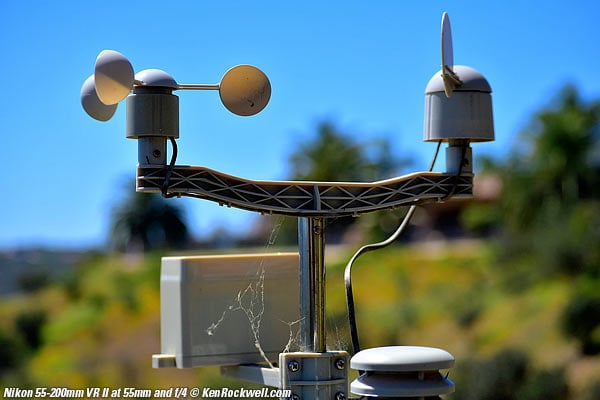 Wide-open at 55mm. © Camera-original file.
Color Rendition performance top
The color rendition of this multicoated Nikon 55-200 DX matches my other modern NIKKORs.
Distortion performance top
The 55-200mm DX VR II has the usual distortion: barrel at 55mm, and pincushion at 200mm.
The good news is that recent digital cameras like the D90, D3100, D3200, D3300, D5000, D5100, D5200, D5300, D5500, D7000, D7100, D7200, D4, D4s, D600, D610, D750, D800, D800E, D810 and Df can be set to correct the distortion automatically in-camera — so long as you have the latest camera firmware installed in your camera. As you'll see, the correction is good enough, but still not perfect.
Use these factors to correct the distortion in Photoshop's lens distortion filter. These aren't facts or specifications, they are the results of my research that requires hours of photography and calculations on the resulting data.
| | | |
| --- | --- | --- |
| at 3m (10 feet) | | |
| 55mm | +2.0 | +1.5 |
| 70mm | ±0.0 | |
| 85mm | -1.0 | +1.0 |
| 105mm | -2.0 | |
| 135mm | -2.0 | ±0.0 |
| 200mm | -1.2 | -0.5 |
© 2015 KenRockwell.com. All rights reserved.
Ergonomics performance top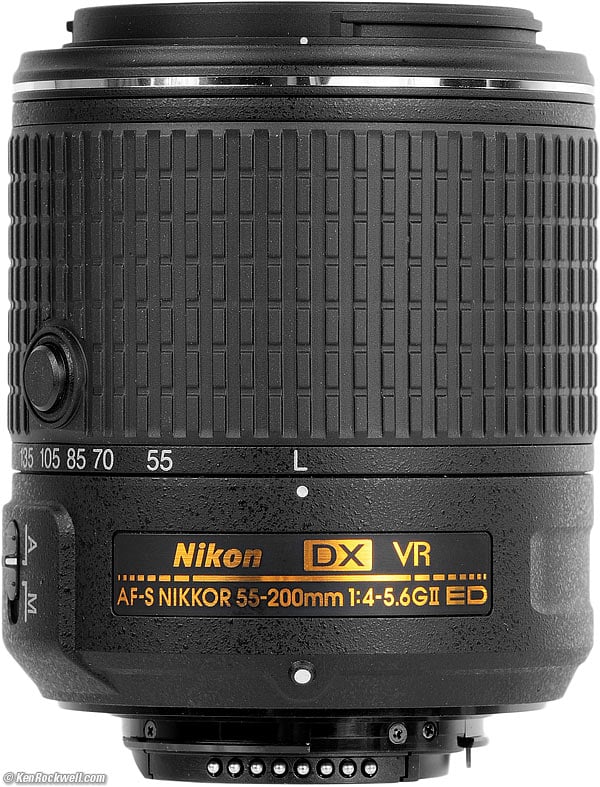 Nikon 55-200mm VR II.
This tiny little lens is easy to handle.
Zooming is a blast, since 3/4 of the lens is all zoom ring.
The only gotcha is that you have to remember to unlock it. Some cameras will only flash an "F - -" in the finder, while others will warn on the rear screen that the lens must be extended.
I love this tiny lens. It pops in a pocket and I'm good to go.
Falloff (darkened corners) performance top
Falloff is invisible at all settings.
I had to exaggerate this by shooting gray targets and showing them against a gray background to make it look this bad:
Nikon 55-200mm VR II I falloff, no vignette correction.
| | | | |
| --- | --- | --- | --- |
| | | f/5.6 | f8 |
| 55mm | | | |
| 105mm | | | |
| 200mm | wide-open is f/5.6 -> | | |
© 2015 KenRockwell.com. All rights reserved.
Filters, Use with performance top
No problems here!
It takes 52mm filters, Nikon's standard since 1959, and you can stack a few of them at any focal length without any vignetting.
There's no need for special thin filters.
Flare and Ghosts performance top
The 55-200 VR II has about the usual amount of flare and ghosts, which means you'll never see any unless you walk out in the noonday sun, hide behind a tree, and let the full blinding disc of the sun shine out, then expose for the tree and see what happens.
Even in this extreme case (I couldn't look through the finder the direct view of the sun was so blinding), there isn't much to see in this worst-case sample. To make it look even worse, I used Perfectly Clear to bring out the detail (flare) in the shadows, heh heh.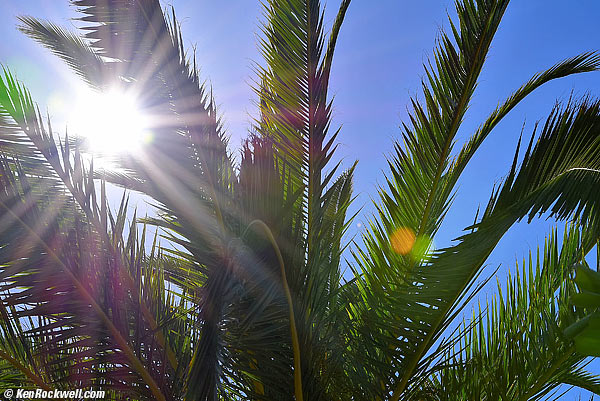 Worst-case flare, 55mm at f/11. bigger.
Focus Breathing performance top
Of interest mostly to cinematographers focusing back and forth between two subjects, the image from the Nikon 55-200mm VR II gets larger as focused more closely.
Hood performance top
The 55-200 is so resistant to flare that I wouldn't bother carrying the hood.
Lateral Color Fringes performance top
As shot on my D5500, there are none. The D5500, like all Nikon DSLRs in recent times, automatically corrects for this if there were any.
Macro performance top
The 55-200 gets super close. It works better than most macro lenses, since you can shoot at 200mm and be able to stand farther back to get a better perspective.
Not only does it get close, but it's sharp, too. It's not quite as sharp as shown at f/5.6; I wanted to show it at its worst. For best macro results, shoot at f/32 (for depth of field) and 200mm and use studio strobes to get enough light to stop motion.
See also How to Shoot Macro.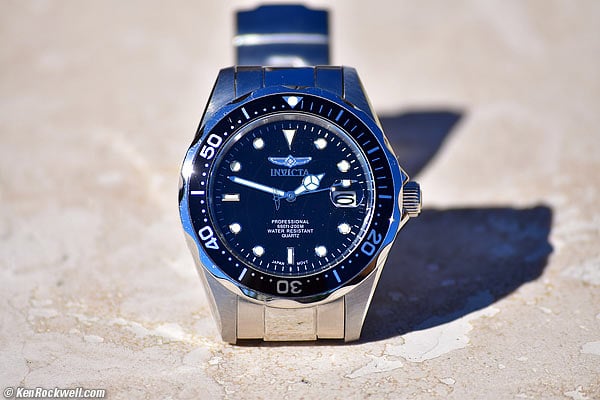 Full image at close-focus distance at 200mm wide-open at f/5.6.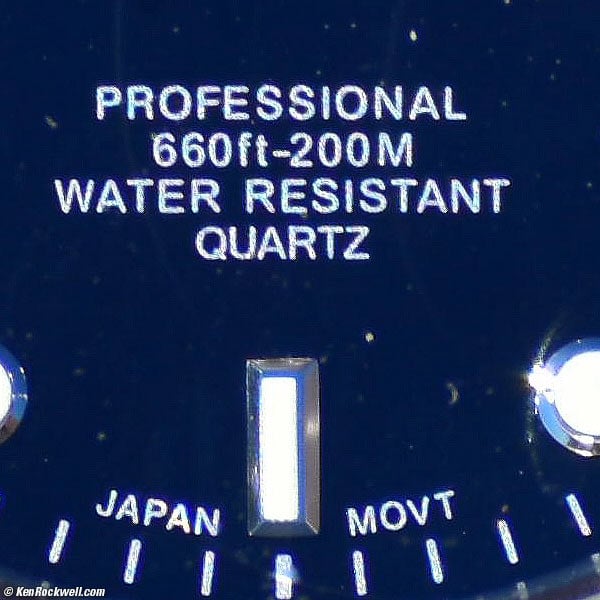 Crop from above image at 100%. If this is 6" (15cm) wide on your screen, the full image would print at 40 x 60" (1 x 1.5 meters)!
Maximum and Minimum Apertures performance top
| | | |
| --- | --- | --- |
| | Maximum | Minimum |
| 55mm | f/4 | f/22 |
| 70mm | f/4.2 | f/25 |
| 85mm | f/4.2 | f/25 |
| 105mm | f/4.5 | f/25 |
| 135mm | f/4.8 | f/29 |
| 200mm | f/5.6 | f/32 |
Mechanics and Construction performance top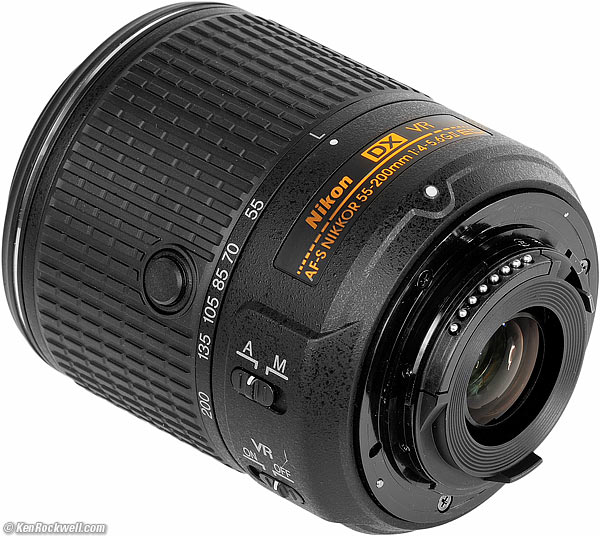 Nikon 55-200mm VR II. enlarge.
The 55-200 DX VR II is all plastic. Except for the electronics and the glass, it's all plastic.
Filter Threads
Plastic.
Hood
Plastic bayonet.
Hood Mount
Plastic.
Focus Ring
Plastic.
Barrel Exterior
Plastic.
Front Barrels
Plastic.
Zoom Ring
Plastic; rubber covered.
Rear Barrel (between mount and zoom ring)
Plastic.
Focus Scale
None.
Depth of Field Scale
None.
Internals
All plastic.
Aperture Ring
None.
Mount
Plastic.
Markings
Paint.
Mounting Index Dot
Raised white-painted spot.
Identity Plate
Gold-look plastic.
Serial Number
Sticker glued into a recess on the bottom of the lens.
Moisture seal at mount
No.
Noises When Shaken
Mild clicking.
Made in
Thailand.
Weaknesses
It's a plastic lens. If it breaks, have Nikon repair it under warranty, and if you break the mount, try to order the part and have someone screw on the new one for you.
Be careful not to bang the lens, in which case you might break off the mount, but I've never broken any of my plastic mount lenses.
Sharpness performance top
Warning 1: Image sharpness depends more on you than your lens.
Warning 2: Lens sharpness doesn't mean much to good photographers.
While amateurs waste time worrying about lens sharpness, pros know that lens sharpness has little to do with making sharp pictures. That said, this lens is always super-sharp in the center and throughout the entire image at 55mm, but at longer focal lengths can get softer on the sides at larger apertures. No worries, center that matters is always super-sharp, and most photos rarely have the sides in focus anyway, so it doesn't matter. It you want something significantly better, you'd have to step up to a $2,500 70-200 VR II, and not only does it cost 8 times as much, it's much heavier, doesn't zoom as wide or focus as close.
As you can see at Sample Images, the 55-200 is more than sharp enough for any legitimate purpose.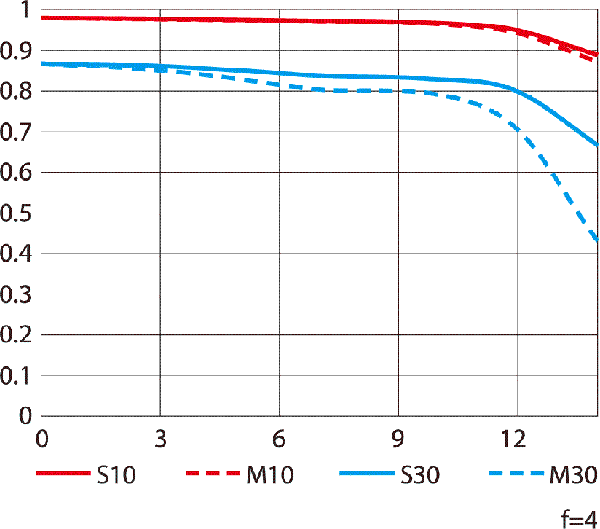 Nikon 55-200mm VR II MTF at 55mm.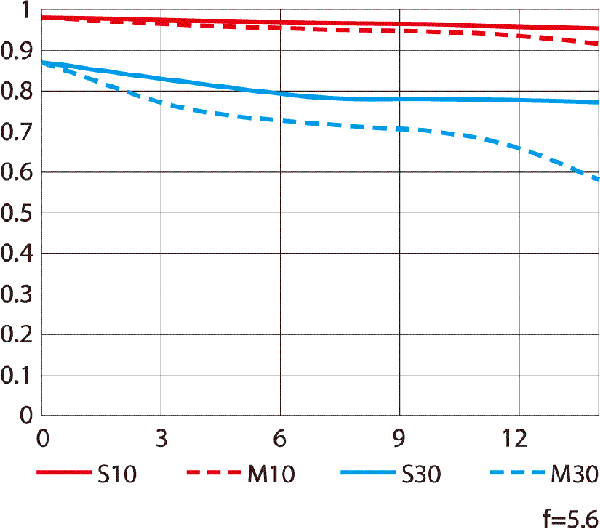 Nikon 55-200mm VR II MTF at 200mm.
Sunstars performance top
With its mostly round 7-bladed diaphragm, the 55-200 doesn't make much in the way of sunstars unless it's stopped way down.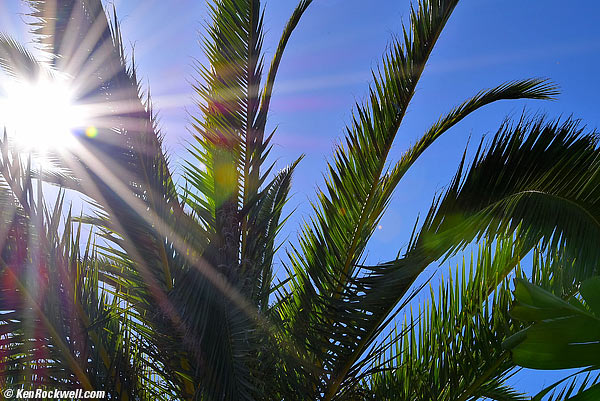 Sunstar, 55mm at f/22. bigger.
Zooming performance top
The 55-200 gets longer as zoomed:
| | |
| --- | --- |
| | |
| At 55mm. | At 200mm |
Usage top
Sample Images Intro Specs Performance
This lens is for DX cameras only. For full frame, the 70-300mm VR is the nearest equivalent
If you see "F - -" flashing in your viewfinder, that means you forgot to extend a collapsed lens.
Press the button on the zoom ring to unlock it so you can move it to or from the collapsed position.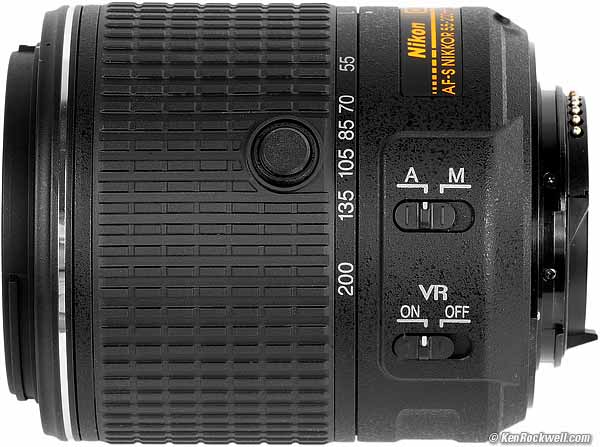 Nikon 55-200mm VR II.
Set the top switch to "A" for autofocus.
If you want to focus by hand, set it to "M" for manual focus and turn the front ring yourself. Look for the big electronic dot at the bottom your viewfinder to tell you when you've got perfect focus.
Leave VR on all the time, unless you're on a tripod.
If you're shooting fast action sequences, you may get faster frame rates if you turn VR OFF. You don't need VR for fast action in good light; you need VR for dim light.
Keep your fingers away from the front focus ring; it moves all by itself as the lens autofocuses and you don't want to interfere with it.
See Nikon AF Settings for specifics on how to set your Nikon camera to track action and sports automatically.
Recommendations top
Sample Images Intro Specs Performance
Buy one! This is a tiny, sharp, great handling and lightweight telephoto for DX cameras. For nature and landscapes, you don't need anything fancier.
For professional sports and action, the $600 70-300mm VR focuses much faster, as does the $2,300 80-400mm VR II and $2,100 70-200mm f/2.8 VR II — but none of them focus as close.
I own most of these lenses, and this 55-200mm DX VR II is what I prefer to take when I'm shooting DX. All those other lenses are much larger full-frame lenses, and I just don't feel like carrying them. The picture results are the same! The real reason to pay more for other lenses is the ability to take physical abuse or to focus ultra-fast for pro sports or to cover full frame.
For DX cameras for portraits, macro, school sports, nature, landscapes and everything else reasonable, this is my top pick.
Deployment top
I'd leave the hood at home.
Nikon doens't include a real rear cap; order a real Nikon rear cap for $4 when you get this lens.
I'd leave either a 52mm Nikon Clear (NC - UV) filter, or a 52mm Hoya Super HMC UV on the lens at all times.
If I was working in nasty, dirty areas, I'd forget the cap, and use an uncoated 52mm Tiffen UV filter instead. Uncoated filters are much easier to clean, but more prone to ghosting, and the laminated Tiffens stay together in one piece even after they've been shattered.
More Information top
Sample Images Intro Specs Performance
Nikon's 55-200mm VR II DX page.
© Ken Rockwell. All rights reserved. Tous droits réservés. Alle Rechte vorbehalten.
Help me help you top
I support my growing family through this website, as crazy as it might seem.
The biggest help is when you use any of these links when you get anything, regardless of the country in which you live. It costs you nothing, and is this site's, and thus my family's, biggest source of support. These places have the best prices and service, which is why I've used them since before this website existed. I recommend them all personally.
If you find this page as helpful as a book you might have had to buy or a workshop you may have had to take, feel free to help me continue helping everyone.
If you've gotten your gear through one of my links or helped otherwise, you're family. It's great people like you who allow me to keep adding to this site full-time. Thanks!
If you haven't helped yet, please do, and consider helping me with a gift of $5.00.
As this page is copyrighted and formally registered, it is unlawful to make copies, especially in the form of printouts for personal use. If you wish to make a printout for personal use, you are granted one-time permission only if you PayPal me $5.00 per printout or part thereof. Thank you!
Thanks for reading!
Mr. & Mrs. Ken Rockwell, Ryan and Katie.
Home Donate New Search Gallery Reviews How-To Books Links Workshops About Contact