I get my goodies at Amazon and Adorama.
It helps me publish this site when you get yours from those links, too.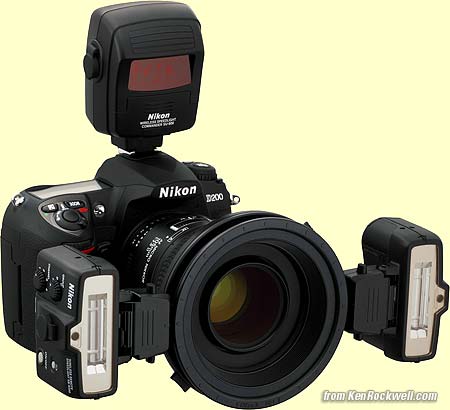 Nikon D200 with 105 mm lens and R1C1 flash system
INTRODUCTION
Macro photography is getting close. Technically macro is defined as photos which are made between 1/10 life size and life size. Normal photography is defined as less than 1/10 life size, and microphotography is defined as greater than life size. Don't worry about this since even these terms are defined differently by different people. For instance, Nikon, who also makes many microscopes, refers to their macro lenses as "micro" lenses.
FORMATS
Macro gets easier as your format gets smaller. It's trivial with point-and-shoot digital cameras, easy with digital and 35 mm SLRs, doable with medium format film cameras and next to impossible with 4 x 5" cameras.
Physics makes this easier as the sensor or film gets smaller. As film gets bigger the depth of field collapses to nothing, and the f/stops are approaching pinholes and eliminating resolution due to diffraction and making lighting impossible.
COMPACT DIGITAL
This is easy. Most point and shoot digital cameras have built-in macro modes which let you get as close as an inch.
These cameras focus most closely at wide, where you usually get a lot of barrel distortion which curves out straight lines along the sides of the image. Try zooming them in a bit towards tele, and expect that they usually can't get quite as close at the tele setting. You have to find the best zoom setting for each camera.
The distortion is usually easy to fix in Photoshop CS2.
DIGITAL SLR and 35 mm SLR
I find these the handiest. The laws of physics are in your favor and the lighting is simple with TTL flash.
Cameras
Anything works fine. You're best off with a camera with TTL flash control, which is just about anything made in the past 20 years.
Lighting
This is easy: use flash! Flash lets you easily shoot at f/32 and stops any action or camera motion. Available light is asking for trouble, since you'll be shooting at large apertures eliminating any of what little depth of field you might have, or will lead you to perilously long exposures at smaller apertures.
Most bug photographers use two flashes mounted on opposite sides of the lens. I use a Lepp Bracket which holds two flashes, one on each side of the camera. This becomes a clumsy contraption with flashes and sync cables.
An elegant solution is Nikon's new R1C1 system shown at the top of the page. It uses special small flashes which screw into the front of your lens. It also eliminates all the wires. I haven't tried this yet since it was just announced. If you do much macro photography it may pay for itself in convenience, light weight and simplicity.
I have not used ring lights. The off-brand one I tried had too little power, and the overall lighting was duller from the complete ring than the two-point lighting from two discrete flashes.
Working Distance
This seems silly but it's very important. You need at least a foot or so between your lens and the subject so you don't block your light or scare your subject. You usually want the longest macro lens you can afford.
If your zoom gets close enough then you're fine.
If you want to get closer you'll be much happier with a real macro lens than using close up rings or close up lenses. This is because macro lenses focus continuously from infinity down to their closest limit. Otherwise you'll always be fiddling with attachments and miss your shots.
Real macro lenses focus down to half life size or life size.
50 - 65 mm macro lenses are the least expensive. They are best for copying documents. They're not the best for living subjests beacuse you usually have to get too close for comfort or lighting. I own two of the Nikon manual focus 55mm f/2.8 AI-s. Today the Nikon 60 mm f/2.8 AF sells for about $350 brand new and is a wonderful choice if it gives you enough working room.
105 mm macro lenses are the most popular. This is because they don't cost that much more than the 50 - 65 mm lenses and offer about twice the working range. I own the Nikon 105mm f/2.8 AF.
200 mm macro lenses are what all bug photographers want, except that they cost about $1,000. The 200 mm lenses usually give the same 1:1 life size magnification, but at a far enough range that you don't scare your subject and have no problems blocking the light.
Zoom Lenses don't get close enough for the full macro range, although many today probably get close enough. The only true macro zoom I've ever seen is Nikon's 70 - 180 mm macro lens. The discontinued 70 - 180 mm is wonderful for photographing living things since you can change your field of view without moving or refocusing.
Macro lenses work great as normal or telephoto lenses. You don't need to buy another regular lens of the same focal length.
Bigger than Life Size
You can add extension tubes or bellows between your lens and camera body. I always focus manually so these extensions being manual focus only is no bother.
Close up lenses don't help that much at life size.
You also can use teleconverters. I often add my TC-200 to my 105 AF Micro if I need it. Of course my TC-200 is manual focus, not a problem since I focus manually in macro anyway. This gets me to twice life size.
Canon makes a very special 65mm f/2.8 closeup-only lens which works between life size and five times life size. You can get it for $830 here. The bug guys love these!
Depth of Field
There is no depth of field at macro distances. Try to orient your subjects so they lie in the plane of focus. For instance, you have to snap butterflies when their wings are lying flat. If you can do this you can get the entire bug sharp, otherwise you get an amateur looking photo.
Aperture
Because there is so little depth of field you need the smallest aperture possible without causing diffraction. I always set my film camera to an effective aperture of f/32. Experiment and see which works best for your setup. Of course you need a lot of light to do this well. For digital you might want to try f/22 or f/16 to reduce diffraction. Try it for yourself and see what works best; it doesn't cost anything to experiment in digital.
These are the effective apertures set on the camera, not marked apertures on an aperture ring. As you focus more closely you lose light up to two stops at life size. Nikon AF cameras calculate this automatically. When I say f/32 on the camera it equates to f/16 on the lens at life size. Just set your modern SLR to f/32 at the camera and don't worry. I have more about this under bellows factors below.
Exposure
I manually set the camera to f/32 for depth of field and set the shutter to the flash sync speed (1/125 to 1/500 depending on your camera) to eliminate ambient light.
I use the TTL flash system to let the flash control itself for perfect exposure as I vary distance.
You also can use manual flash exposure, however as you vary your distance you'll also vary your exposure. You'll quickly find that your distance varies a lot shot-to-shot while hand-held and give up on manual exposure.
Focus
I use manual focus while hand held. Hand motion alone changes camera distance so much and so quickly that it drives any AF system crazy.
I usually focus my lens and then focus the image by moving the camera. This keeps framing constant. Small variations in your position become huge variations in image size, so fixing the focus and moving the camera keeps this stable.
Camera Support
I prefer hand holding, especially if the subject is alive.
Even if the subject is inanimate I prefer hand holding. The flash freezes any motion for perfect sharpness so there's no need for a tripod.
If using a tripod you'll need a geared positional mount like Adorama's here which allows you to shift the entire camera left and right or forward and back to get the precise framing you need. It's almost impossible to lift and move a tripod by the fractions of an inch needed in macro work.
Magnification and Reproduction Ratios
Magnification ratios, the same as reproduction ratios, are the ratio between the size of your subject and the size of the image at the sensor or film. Of course when displayed or printed there is usually even more magnification.
Most macro lenses have the reproduction ratio engraved on the focusing scale. This is handy for forensic and scientific work.
Bellows Factors
In the old days we spent a lot of time worrying about exposure variations as we got closer. This is becasue the lens moves away from the film as you get closer. This reduces the effective aperture. The effective aperture reduces by two stops at life size!
Today the Nikon cameras automatically correct the aperture of the macro lenses to give the same effective f/stop as you get closer. Of course your f/2.8 lens is only an f/5.6 lens at life size, but at f/32 you won't even notice this. Remember macro lenses are only used at full aperture for focusing and framing, not shooting.
MEDIUM FORMAT
Forget rangefinder cameras like my beloved Mamiya 7 and 6. They just don't get close enough.
SLR cameras like the Hasselblad are needed. Not only can you focus close enough and get dedicated macro lenses, the SLR viewing lets you see what you're getting and make exposure measurements through the lens.
SLR cameras with bellows like the Fuji GX680 system and old Rollei SLX are even better because every lens can focus extremely closely.
LARGE FORMAT
Unless you're a professional jewelry photographer you'll probably want to skip this. It is very tedious because you need to calculate your bellows factors manually. See a book like Ansel Adams' "The Camera" or Steve Simmon's "Using the View Camera" for the calculations. I do the calculations once for each lens and mark the factors on a trip of paper. I hold the paper to the camera and read off the correction depending on lens extension. Calumet sells calculator sticks, which are rulers marked with the factors for different lenses. Some calculators are viewed through the ground glass and the factors read off by how many 1 cm graduations they cross. I told you this got complicated!
You'll need a lot of light and will probably need a set of studio strobes like the Novatrons.
RECOMMENDATIONS
Get out and shoot!