Roll mouse over to focus to 1:1.
Just like the Alien, the front of this lens extends with two nested sections. The middle section is metal, and the front section is plastic.
Autofocus
Autofocus is fast and exact.
AF works better than the newest AF-S Micro lenses. Why? Because the 55mm's AF never gets stuck if you're way out of focus. If you need to focus on something at the other end of the focus range, this 55mm AF just autofocuses as it should.
The newest AF-S lenses tend to give up if you're at the wrong end of the focus range, and require you to fiddle with them manually to bring them into better focus before they'll start autofocusing. I'd rather have this old lens than the newest 60mm AF-s for this reason. The 60mm AF-D is fine.
AF Speed
AF is fast!
One full turn (two half-turns) of the AF screw pulls focus from infinity down to 6 feet.
It's virtually instantaneous for normal shooting, and pretty fast even when it needs to rack all the way in or out.
Autofocus Selector Ring
There is a ring on the front of the lens with a dot and an A. "A" is for autofocus. The dot position adds drag to the focus ring for manual focus, for instance, if you are on a copy stand. Otherwise the focus ring has very little drag just like other AF lenses.
To rotate the ring, push it toward the camera and turn. There is no shift forward or backward and no clicking.
The camera will autofocus if set to the dot, but it won't be happy due to the additional drag.
The "A" setting still has plenty of resistance for most manual use anyway. The dot is just additional drag if you really need it manually.
Manual Focus
Manual focus is fine. We were such whiners back in the 1980s. It's a pain to have to move a switch on the camera to get in and out of manual focus, but once I do, it's great to have the focus ring on the front of the lens where I can find it by feel.
Color Rendition back to Performance back to top
The color rendition of this 55mm ADF lens appears to match my other modern Nikkors. I specifically compared it to the 24-70mm AFS, and they match.
Coma back to Performance back to top
There is no coma (saggital coma flare.) The biggest issue in the corners is physical alignment of the focus track to ensure perfect focus across the field.
Distortion back to performance back to top
The 55mm f/2.8 AF has no visible distortion at normal distances. It almost has the tiniest bit of barrel (bulging) distortion at the very closest distances, but its still invisible unless you're dropping straight edges on prints may feet wide.
If you're doing very careful measurement work, you can correct the very little bit of barrel (bulging) distortion by plugging these figures into Photoshop CS2's lens distortion filter. These aren't facts or specifications, they are the results of my research that requires hours of photography and calculations on the resulting data.
| | |
| --- | --- |
| | |
| ∞ | +0.3 |
| 30' (10m) | +0.1 |
| 10' (3m) | +0.1 |
| 4' (1.2m, 1:20) | 0.0 |
| 1:10 (2'/0.7m) | +0.2 |
| 1:5 (1.3'/0.4m) | +0.3 |
| 1:3 (1'/0.3m) | +0.25 |
| 1:2 (10"/0.25m) | +0.5 |
| 1:1.5 (9.3"/0.24m) | +0.45 |
| 1:1 (9"/0.226m) | +0.4 |
© 2010 KenRockwell.com. All rights reserved.
Ergonomics back to performance back to top
The Nikon AF MICRO-NIKKOR feels great in-hand: it's just the right size to hold solidly, and it's front-mounted thin focus ring doesn't interfere with hand-holding.
You must move the camera's switch to go between auto and manual focus.
The A — • ring merely adjusts focus-ring drag, not function.
Falloff (darkened corners) back to performance back to top
For real photos, falloff on FX is minor at f/2.8, and invisible by f/4. It won't be an issue at all on DX (see crop factor).
I've exaggerated this by shooting a gray field and placing these on a gray background.
Nikon 55mm f/2.8 AF falloff on FX and film.
At Infinity
At 1:10
At 1:3
At 1:1
| | |
| --- | --- |
| --- | f/5.3 |
| - - - | |
| | |
| f/5.6 | f/8 |
Ghosts back to Performance back to top
There aren't any ghosts. You'll go blind with the sun in your image or have to do something really stupid to cause any.
There's no need for a hood, because the front element is deeply recessed into the lens' own internal hood system. Adding a hood wouldn't block any more light, but would reduce the working distance.
Lateral Color Fringes back to Performance back to top
There are no lateral color fringes on the D3 or D7000, which would correct them if the lens had any.
Maximum Aperture back to Performance back to top
The maximum aperture is f/2.8 at infinity and reduces to f/5.3 at 1:1. This 55mm lens and all AF and digital cameras are smart enough to compensate for this automatically. You can demonstrate this by setting the Aperture Priority mode to f/2.8 at infinity, and focusing more closely. Watch the aperture indication, and it will change as you focus.
On manual focus cameras using external light meters, you'll have to compensate the exposure manually. TTL meters, even on Nikon's oldest cameras, correct this automatically.
| | |
| --- | --- |
| Infinity | f/2.8 |
| 1:5 | f/2.8 |
| 1:4 ~ 1:3 | f/3.5 |
| 1:2.5 | f/4 |
| 1:2 ~ 1:1.8 | f/4.2 |
| 1:1.7 ~ 1:1.5 | f/4.5 |
| 1:1.4 ~ 1:1.3 | f/4.8 |
| 1:1.2 | f/5 |
| 1:1.1 ~ 1:1 | f/5.3 |
© 2008 KenRockwell.com
Mechanics back to Performance back to top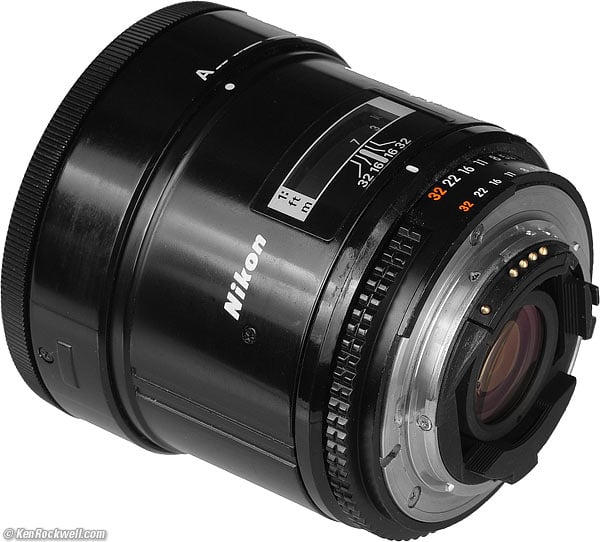 Nikon 55 2.8 AF Micro-NIKKOR. enlarge.
The exterior looks crappy, and the internals are solid. These are good, solid lenses.
Filter Threads
Plastic.
Barrel Exterior
Plastic.
Focus Ring
Ribbed hard plastic.
A — • Ring
Plastic.
Depth-of-Field Scale
Yes, at f/16 and f/32.
Internals
Metal.
Aperture Ring
Plastic, painted numbers.
Focus Geartrain
Metal.
Mount
Dull-chromed brass.
Markings
Paint.
Identity
Painted on barrel.
Serial Number
Laser engraved onto bottom rear of aperture ring.
Ass-Gasket (rain seal at mount)
No.
Noises When Shaken
Sounds like a hardware store during an earthquake.
Made in
Japan.
Sharpness back to Performance back to top
Warning 1: Image sharpness depends more on you than your lens.
Warning 2: Lens sharpness doesn't mean much to good photographers.
With those caveats, the 55mm f/2.8 AF is ridiculously sharp. It's proibably Nikon's sharpest lens, It's so sharp that the photos I made at f/2.8 I thought had to have been made at f/8. It had me double-checking and re-shooting, and yes, it is completely sharp even at f/2.8.
It is so sharp that it is one of the few lenses that can excite aliasing with fabrics on my D3. It can do this at f/2.8!
The biggest limitation to sharpness will be your ability to have it focus properly, and any mechanical misalignment either internal to the lens, or in your setup, that might make the image plane not parallel to the subject plane.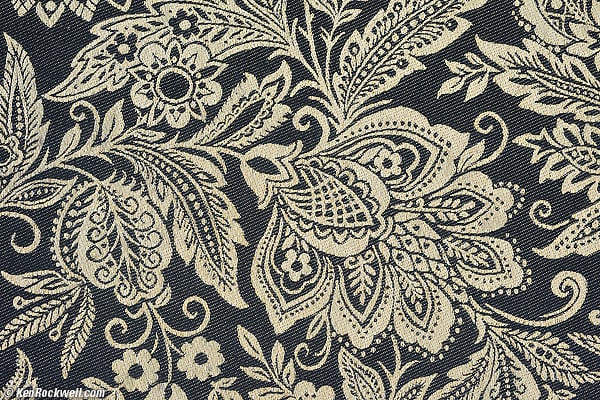 Lawn Furniture Fabric. D800, f/8 at 1/250, ISO 100, VIVID +3 Saturation, sharpness-robbing Auto Distortion Correction OFF, Sharpening set to 6, hand-held. Camera-original © LARGE BASIC Optimum Quality JPG file.
Sharp enough? The corners would have been sharper if my seat cushions were flat, and if I had the camera more properly aligned.
At f/2.8: Sharp and contrasty throughout the entire FX field.
At f/4: Just as sharp.
At f/5.6: Just as sharp. Friends at a division of Kodak that made CCD cameras, who MTF tested the manual focus version 55mm f/2.8, told me that the 55mm is diffraction limited in the center at f/5.6. That means it has almost 300 lines per millimeter of resolution!
At f/8: Just as sharp.
At f/11: Diffraction limits performance slightly.
At f/16: Diffraction limits performance.
At f/22: Diffraction limits performance.
At f/32: Diffraction greatly limits performance.
It's just as sharp edge-to-edge on the 16MP D7000. This lens is the sharpest lens made by Nikon.
Spherochromatism back to performance back to top
The Nikon AF MICRO-NIKKOR has a tiny bit of spherochromatism.
Spherochromatism is when out-of-focus highlights take on slight color fringes. Laypeople sometimes mistakenly call spherochromatism "color bokeh."
If you're really looking closely, out-of-focus background highlights may take on slight green fringes, and foreground out-of-focus highlights may take on slight magenta fringes.
Working Distance back to Performance back to top
At its closest focus distance, there is only 2-1/8" (55mm) of room between the front of the lens and your subject. This makes it very hard to light your subject, unless it's a backlit slide.
This is why 55mm and 60mm lenses are not used for serious macro work. You need enough distance to your subject to avoid getting in the way of your own lighting, which is why serious macro is best done with a 105mm or longer macro lens.
The newer 60mm f/2.8 AF-D is better, with 2-7/8" (73mm) of working distance. The newest 60mm f/2.8 AF-S is worse, with only 1-7/8" (48mm) of clearance.
Compared to other Nikon 55mm and 60mm lenses
back to Performance back to top
See my page of explicit comparisons among the 55mm AF, 60mm AFD and 60mm AFS.
Compared to the 55mm f/2.8 AI-s manual focus, they have the same optics. This AF lens focuses to 1:1 (life size) instead of only 1:2 (half life size) as does the manual focus lens. The manual focus lens feels much, much better if you focus manually.
Recommendations top
Intro Specifications Performance Recommendations
The 55mm f/2.8 AF is an extraordinary lens, but they're not easy to find. That's OK, because the 60mm f/2.8 AF-D is even better, especially with regards to working distance. Since used 55mm f/2.8s aren't inexpensive even when you can find them, I'd just order a 60mm f/2.8 AF-D out of NYC and be done.
Deployment
The front element is set so deeply into the lens that I wouldn't bother with a protective filter.
I also wouldn't bother with a hood, which would only make the working distance problem worse.
Help me help you top
I support my growing family through this website, as crazy as it might seem.
The biggest help is when you use any of these links when you get anything, regardless of the country in which you live. It costs you nothing, and is this site's, and thus my family's, biggest source of support. These places have the best prices and service, which is why I've used them since before this website existed. I recommend them all personally.
If you find this page as helpful as a book you might have had to buy or a workshop you may have had to take, feel free to help me continue helping everyone.
If you've gotten your gear through one of my links or helped otherwise, you're family. It's great people like you who allow me to keep adding to this site full-time. Thanks!
If you haven't helped yet, please do, and consider helping me with a gift of $5.00.
As this page is copyrighted and formally registered, it is unlawful to make copies, especially in the form of printouts for personal use. If you wish to make a printout for personal use, you are granted one-time permission only if you PayPal me $5.00 per printout or part thereof. Thank you!
Thanks for reading!
Mr. & Mrs. Ken Rockwell, Ryan and Katie.
Home Donate New Search Gallery Reviews How-To Books Links Workshops About Contact