Home Donate New Search Gallery Reviews How-To Books Links Workshops About Contact
Nikon D5200
24 MP DX, 5 FPS, 3" Flip LCD, 1080p
© 2013 KenRockwell.com. All rights reserved.
Intro Specs Performance Compared Recommendations More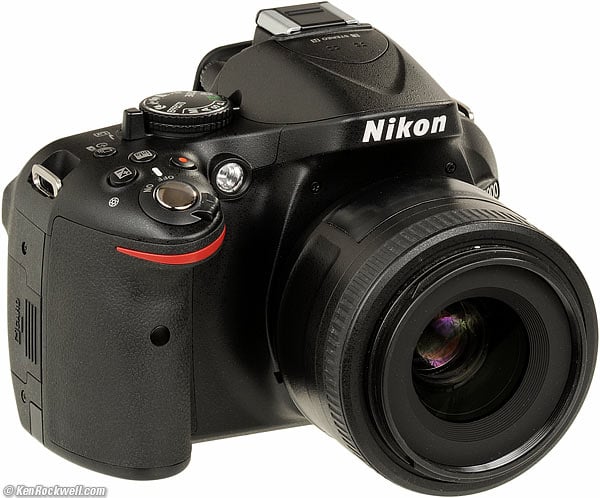 Nikon D5200 and 35mm f/1.8 DX (body weighs 19.6 oz./555 g with battery and card, about $800, or $900 with 18-55mm lens). enlarge. My biggest source of support is when you use any of these links, especially this link directly to it at Adorama or directly to it at Amazon, when you get anything, regardless of the country in which you live. Thank you! Ken.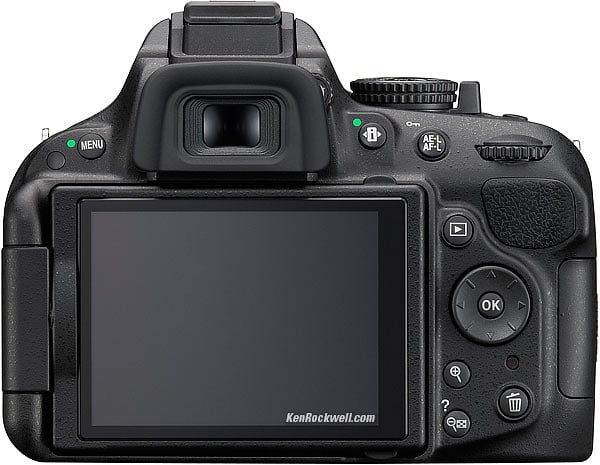 Rear, Nikon D5200. enlarge.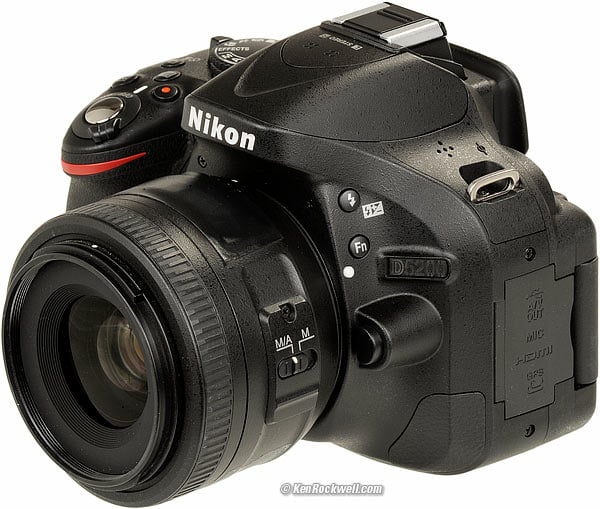 Nikon D5200 and 35mm f/1.8 DX. enlarge.
February 2013 More Nikon Reviews Nikon Lenses All Reviews
NEW: Nikon D5200 Users Guide App.
Nikon D5300 Adds GPS, Wi-Fi and lighter weight than this D5200.
Nikon D5100 (introduced April 2011)
Nikon D5000 (introduced April 2009)
DEAL: Adorama has refurbished Nikon D5100s, which are pretty much the same thing, in-stock both as a kit with 18-55mm VR for just $429 and body-only for a mere $359.
Sample Image Files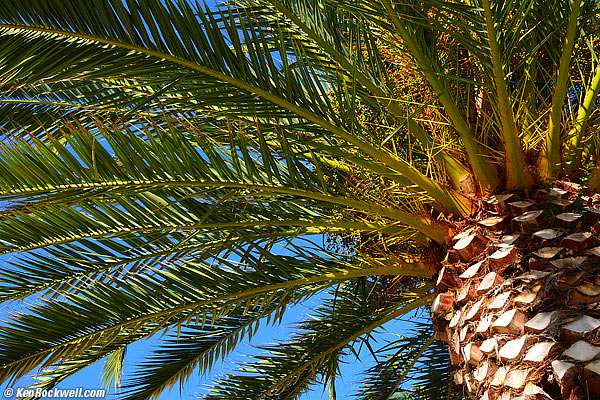 Palm, 28 January 2013. D5200, 35mm f/1.8 DX, ISO 100, f/6.3 at 1/160. Camera-original © 24MP LARGE BASIC JPG image file.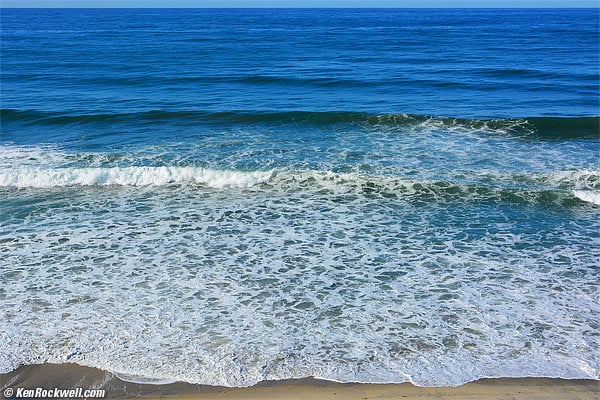 Surf, 28 January 2013. D5200, 35mm f/1.8 DX, ISO 100, f/6.3 at 1/160. Camera-original © 24MP LARGE BASIC JPG image file.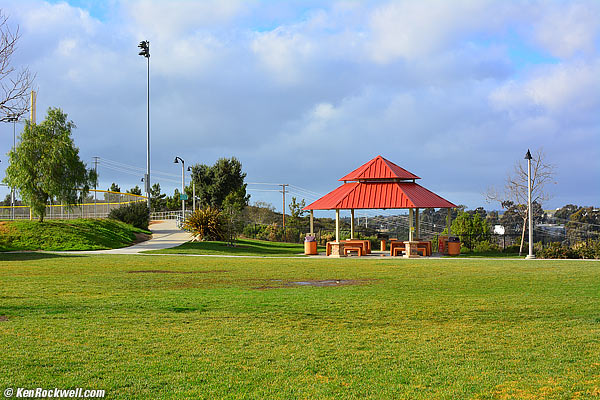 Park, 27 January 2013. D5200, 35mm f/1.8 DX, ISO 100, f/8 at 1/250. Camera-original © 24MP LARGE BASIC JPG image file.
Introduction top
Specs Performance Compared Recommendations More
The Nikon D5200 is Nikon's newest update to their excellent D5100 of 2011 and D5000 of 2009. These are all low-priced, high-performance DSLRs with pivoting LCD screens and Live View for shooting photos and movies while held away from your head.
The newest thing compared to last year's model is that the D5200 essentially has the fancier AF system of the D7000, the image sensor from the D3200, and that the D5200 also comes in brown or red metallic colors for the ladies. None of this is that important; the older models are excellent, too.
Overall, the D5200 makes fantastic quality images and weighs almost nothing, so it's a pleasure to carry it everywhere. Compared to the pro cameras I often haul, the D5200 feels as if it's hollow, which is a very good thing.
The reason you'd want to buy a more expensive model, like my favorite Nikon D7000, is not for picture quality, but because if you really know how to use all the controls and settings as I do, the D5200 demands most of these settings be adjusted in the menu system, requiring you to stop shooting and piddle with the camera at arm's length. By comparison, if you want to adjust the autofocus system of the D7000 from one shot to the next as I do when snapping different kinds of subjects, I can do it with the D7000 held to my eye instead of having to piddle in menus. (Since the D7000 is a higher model but a year or two older than the D5200, the D7000 is discounted to about the same price as the D5200, but its LCD doesn't swivel.)
Therefore, if you just want great photos easily, the D5200 (or D3200, D3100 or D5100) can't be beat. If you are like me and are constantly resetting the camera from shot to shot as conditions change (very few people know how to do any of this), the D5200 is annoying because I constantly have to stop my shooting to do everything in the menu system instead of directly with the buttons of higher-end cameras.
If you're a photo whiz who actually uses all of his camera's settings, consider the D7000 for its more numerous direct control buttons, but if you're like 99% of normal people who have no idea of what all these controls do anyway, by all means don't waste your money for knobs you won't use and just get this D5200.
Lens Compatibility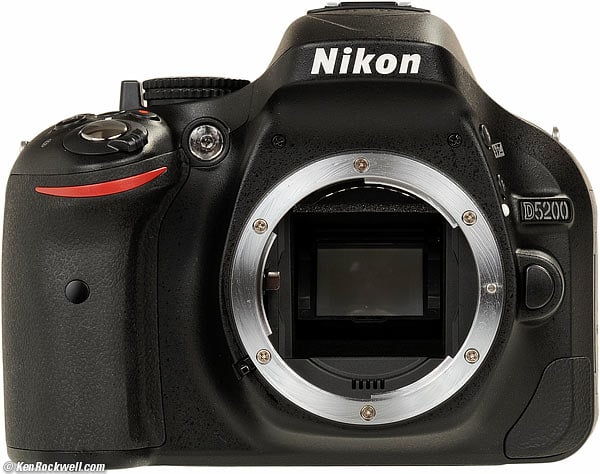 Nikon D5200. enlarge.
Unlike the better DX and FX cameras, the D5200 has no internal autofocus motor, so it will not autofocus with original-style screw-drive AF lenses. With older-style AF lenses it exposes and does everything perfectly, except that you'll have to turn the focus ring manually and look either for a sharp viewfinder image or the electronic focus confirmation dot at the bottom of the finder.
Like the other inexpensive Nikons, like the D5100, D5000, D3100, D3000, D60, D40 and D40x, it works flawlessly with all modern AF-I and AF-S lenses.
It offers no metering with manual-focus lenses, but there are work-arounds like looking at the LCD, using a Gossen Digisix or the free Pocket Light Meter.
In other words, the D5200 works great with all the lenses someone who is going to buy this will buy, and Nikon is not expecting everyone who buys this to have to pay for the additional parts needed by maybe 0.1% of the people like me who want to use this with 20-year old AF lenses just for fun.
See more details at Nikon Lens Compatibility.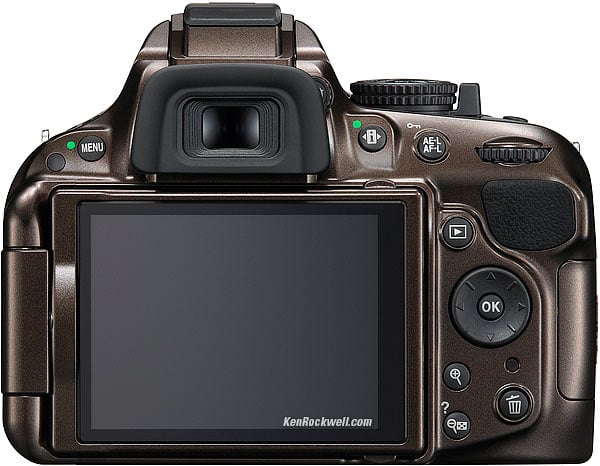 Rear, Brown Nikon D5200.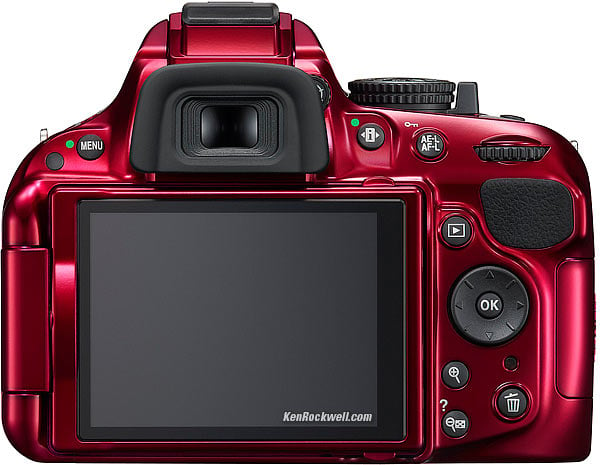 Rear, Red Nikon D5200.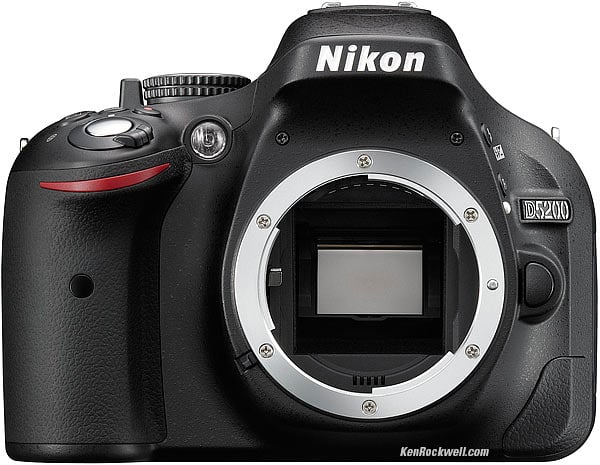 Front, Nikon D5200. enlarge.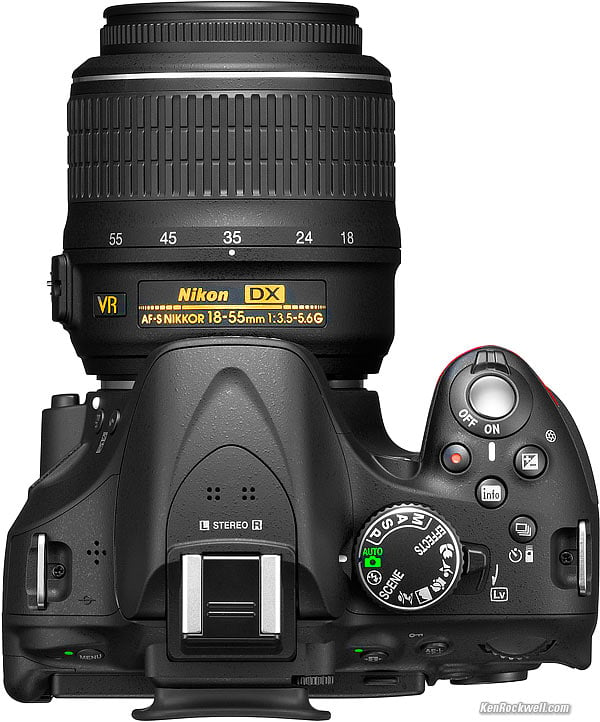 Top, Nikon D5200 and 18-55mm VR. enlarge.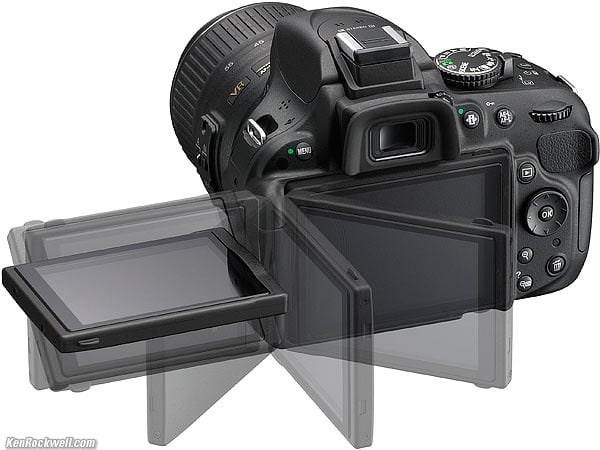 Flippy LCD.
Specifications top
Intro Specs Performance Compared Recommendations More
Finder
95% coverage.
0.44x magnification with standard 28mm lens (0.78x magnification with 50mm telephoto lens).
-1.7 to +0.7 diopters.
17.9mm eyepoint.
Meter
2,016 pixel RGB meter sensor.
3D Color Matrix, center-weighted and spot.
AF
39 points.
Face detection.
Nikon Multi-CAM 4800DX sensor module stolen from the D7000.
AF-S (single). AF-C (continuous), and AF-A (auto).
Single-point AF, Dynamic AF, Auto Area AF.
AF illuminator.
LV -1 to +19.
Shutter
1/4,000 to 30 seconds in 1/3 or 1/2 stops, bulb.
Maximum with flash (sync) 1/200.
Up to 5 FPS.
QUEIT mode selectable in a menu.
Optional Remotes
ML-L3 (get one!)
Wireless remote controller WR-R10.
Remote cord MC-DC2.
Sensor
DX (23.5 x 15.6 mm) CMOS.
Sensor cleaner.
24 MP: 6,000 x 4,000 pixels.
Also 4,496 x 3,000 and 2,992 x 2,000 pixel image sizes.
NEF (raw), JPG, or both.
ISO
Auto, 100 - 6,400 and up to 25,600 in "H" modes.
Flash
i-TTL metering.
Works only with SB-910, SB-900, SB-800, SB-700, SB-600 and SB-400.
1/200 sync.
Built-in Flash
Built-in TTL flash.
Optional manual control in a menu.
Does not work as an i-TTL commander.
Video
1080 24/25/30p.
720 24/25/30p.
Non-standard (cropped) 640x424 25/30p mode.
Up to 30 minutes per take.
H.264/MPEG-4 stored as .MOV files.
Nikon claims Full-Time AF, but I seriously doubt AF works well. it's horrible on the D7000 in video mode.
Stereo mic built in.
LCD
3" swivel.
921,000-dot.
170º viewing.
Storage
SD memory card, one slot.
SDHC-, SDXC- and UHS-I compliant.
Approved brands
Nikon approves only some SanDisk, Lexar, Toshiba and Panasonic cards.
DO NOT tempt fate with crap cards like Kingston, PNY, Sony etc.
Connectors
USB.
Type C mini-HDMI.
NTSC or PAL analog video.
3.5mm stereo audio input.
Power
EN-EL14 rechargeable Li-ion battery (same as D5100, D3100 and P7000).
Battery weight: 1.680 oz. (47.5 g.), measured.
Optional EH-5a AC adapter. (requires EP-5B power connector.)
Environment
0~40ºC (32~104ºF).
Up to 85% RH.
Fluff
GPS terminal for GP-1.
Connector for optional $58 WU-1a wireless adapter.
Size
5.1 x 3.9 x 3.1 inches.
129 x 98 x 78 millimeters.
Weight
Nikon rates the D5200 at 19.6 oz. (555 g) with battery and card.
Nikon rates the D5200 at 17.8 oz. (505 g) stripped naked.
Quality
Bottom, Nikon D5200. bigger.
Made in Thailand.
Nikon Catalog Number
1503 (body-only version).
Included (body-only version)
D5200 Body
BS-1 Hot Shoe Cover
BF-1B Body Cap
DK-5 Eyepiece Cap
DK-20 Rubber Eyecup
AN-DC3 Strap
EN-EL14 Battery
MH-24 charger
UC-E17 USB cable
CP16 Audio video cable
ViewNX 2 CD-ROM (don't waste your time).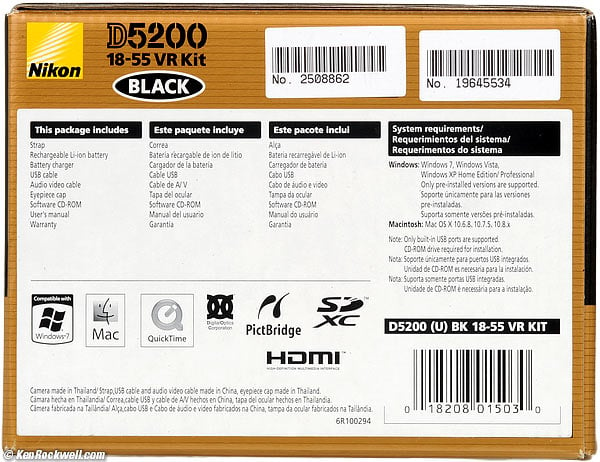 Box End, Nikon D5200 with 18-55mm lens. bigger.
USA Version
If you're in the USA, your box should show a "(U)" above the UPC code, for "USA."
If it says something else and you bought it in the USA, you probably got scammed with a camera intended for a different country.
Announced
06 November 2012 worldwide.
(08 January 2013 in the USA).
Promised for
06 December 2012 worldwide.
Arrived late January 2013 in USA.
Price, USA
2013 January: $799 ($899 w/lens).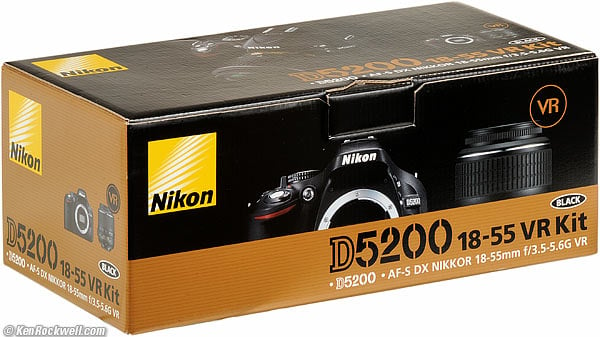 Nikon D5200 Box.
Performance top
Intro Specs Performance Compared Recommendations More
Overall
The D5200 is an excellent camera that weighs next to nothing.
The images are fantastic, with so much resolution that the D5200 can push many lenses to their limits, however for advanced users, the D5200 hides too many adjustments behind a menu system instead of providing real buttons.
Autofocus
The default settings are great: the D5200 figures out what sensors and how to use them, and just focuses.
To set anything about the AF system, you have to revert to the menu system. Even to change from automatic AF area selection to manual selection, you have to set it by pushing buttons and looking at the camera's rear screen.
The all-auto-area AF system seems pretty clever, but it can still get fooled and focus behind the subject.
It's OK in the dark; not instantaneous, but it focuses well. If it's too dark, the AF illuminator helps at closer distances, and further away, it can hang-up if it's too dark for you or I to read a book.
Finder
The finder is small. It uses a mirror, not glass, prism.
You may see ghost reflections in the finder with extremely brilliant points of light, but not to worry, they aren't in your actual image.
Ergonomics
As covered above, the D5200 is super lightweight, but often sentences advanced users to diddling in menus to make basic settings instead of just shooting.
It's great that all the buttons except the MENU button are on the right side, making one-handed shooting and playback easy.
Menu setting requires two hands, and sadly, too much has to be done in the menus.
Shutter
The shutter is a dream. It's smooth, refined and quiet. For use in sensitive areas, the D5200 is much quieter than the bigger and more advanced Nikons.
THe QUEIT [Q] mode isn't useful. It's not much quieter than the regular mode, and the finder goes black after every shot until you take your finger off the shutter release, at which time the D5200 makes more noise again.
If you want other times than 10 second delalys, Nikon hid them at Custom Function C3, where you have your choice of 2s, 5s, 10s or 20 second delays, as well as can set it to your choice of from one to 9 shots when the delay is over.
Exposure
Exposure at the default setting is usually pretty good, regardless of conditions. Nikon has gotten better as each generation comes and goes.
Particularly impressive is how well the D5200 can handle a fast sequence where the light is changing rapidly, like when a birthday cake has its candles blown out: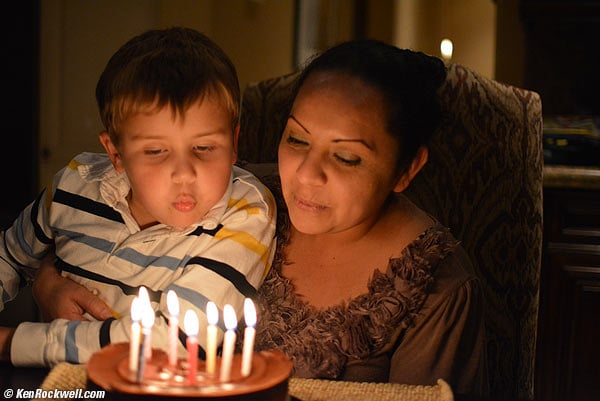 All candles lit. Nikon D5200 with 35mm f/1.8 DX, AUTO ISO 1,800, f/1.8 at 1/125.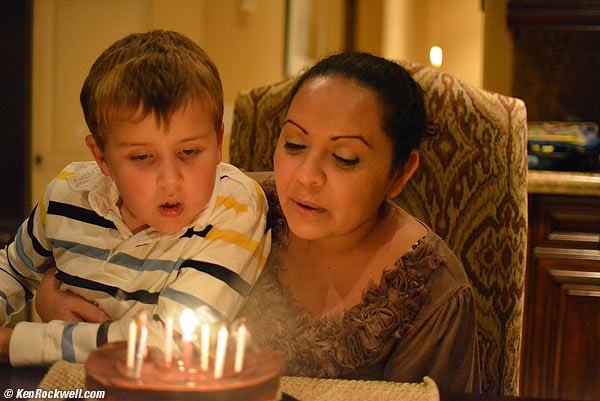 One candle lit. Nikon D5200 with 35mm f/1.8 DX, AUTO ISO 6,400, f/1.8 at 1/100.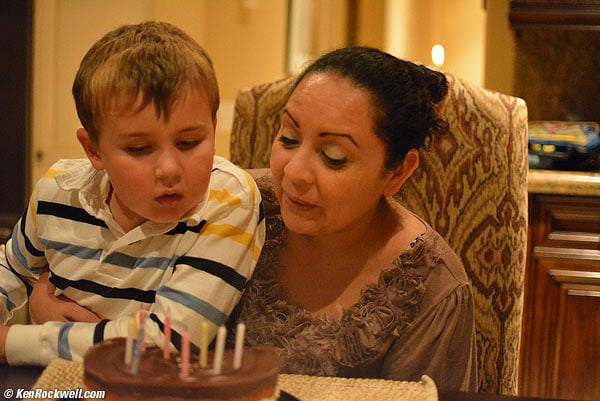 No candles. Nikon D5200 with 35mm f/1.8 DX, AUTO ISO 6,400, f/1.8 at 1/60.
See how the subject is reasonably well exposed, but look at how the background has changed from dark to light as the D5200 automatically changed its exposure and Auto ISO by three stops as the candles extinguished and the light diminished.
Looking at the EXIF data, the time elapsed in this sequence is only one second from start to finish! The D5200 not only exposes well, it exposes well even when conditions are changing faster than the eye can see.
Shot in very dark conditions, like outdoors at night (LV -2), the D5200 also exposes very well, for instance, at 1/6 at f/1.8 at Auto ISO 6400.
Color
Color rendition seems quite good, similar to other Nikon DX cameras at the same settings.
I don't see any of the color bias I sometimes see in Nikon's newest 2012 FX cameras, the D600, D800 and D4, so to my sensitive eyes, the D5200's photos are usually better than those from the more expensive FX cameras!
Auto White Balance
Auto White Balance (AWB) works pretty well.
It works extremely well under bright halogen light, giving perfect results.
Under crappy fluorescent lights, it is usually too green, as are most cameras.
It's about as good as other DSLRs, but not as good as an iPhone 5. So it goes.
High ISOs
High ISOs look great. I see no significant noise at ISO 6,400, which is all I need.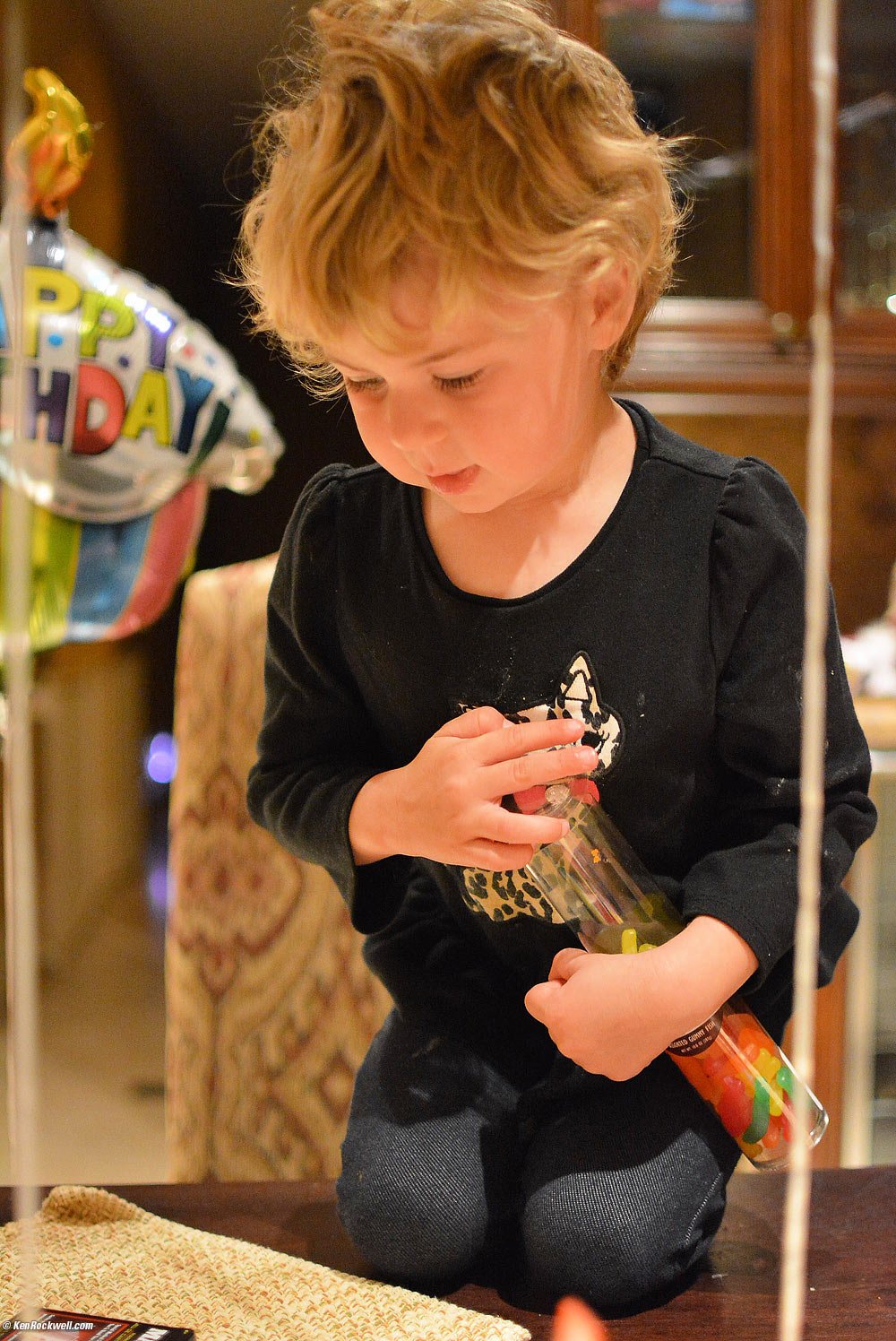 Katie on the table. (Nikon D5200, Nikon 35mm f/1.8 DX, Auto ISO 4,500, f/1.8 at 1/125, Athentech Perfectly Clear plug-in.) Original SMALL BASIC JPG file.
Built-in Flash
THe built-in flash will not operate as a comander to control other flashes. It onyl works in the usual TTL mode as well manually.
The built-in flash is very good. Recycling is reasonably fast and exposure is usually dead-on, as we expect from Nikon.
The preflash is usually visible just after the shutter is pressed, before the mirror flips up.
Auto White Balance shifts to make the images a bit warmer with the built-in flash ON.
Movies
The D5200 is among the first DSLRs with a built-in stereo mic for real stereo sound!
LCD
The LCD is excellent. It has so many pixels that one never sees any of them to make the screen look grainy, and the D5200's LCD's colors match my calibrated 30" Apple Cinema Display.
Power and Battery
As expected, shots-per-charge life is long, much longer than "mirrorless" cameras. It probably runs 1,000 shots per charge; I never ran out a battery!
My only whine about the power system is the very slow blink rate of the charge light while charging. The charger is a small one with a folding plug, at least in my USA model.
Playback
Playback is great, and I can hit the PLAY and ZOOM buttons while shooting with one hand.
I can scroll diagonally, but it's slower than I prefer.
Compared top
Intro Specs Performance Compared Recommendations More
See my Nikon D5000 Series Comparison Table.
Recommendations top
Intro Specs Performance Compared Recommendations More
The Nikon D5200 is a swell little camera, but I wouldn't pay $800 for a D5200 when I can get the pretty much identical Nikon D5100 new or refurbished for about half price as of the beginning of 2013. I don't see anything significant to make it worthwhile to throw more money at the newer D5200 if you can still get the D5100 instead, but if you want the newest, sure, the D5200 is a great camera.
If you're a seasoned photographer who wants more knobs for faster control, go for the far superior D7000 for only about $100 more. If you don't need the flippy screen, the D3200 and D3100 are essentially the same thing for even less money. All will make the same superb photos if you know what you're doing, and if you're not an expert photographer, no camera is going take any better or worse pictures for you. The finer points of camera performance, like the finer points of a Steinway versus a Bösendorfer piano, are only apparent or significant to virtuosi.
Forget the ancient D90, which is a leftover from the previous decade; the D90 trails these new cameras in every respect, but costs about the same.
Here's another hint: the only real reason to pay three times as much for a Full Frame FX D600 is to get a bigger viewfinder, and to have to carry bigger cameras with much bigger lenses. The pictures are the same!
If you've found the time, effort and expense it costs me to share this for free helpful, my biggest source of support is when you use any of these links, especially this link directly to it at Adorama or directly to it at Amazon, when you get anything, regardless of the country in which you live. Thank you! Ken.
Lenses
For the D5200, as with all DX cameras, my favorite lens is the 35mm f/1.8 DX as opposed to the 18-55mm VR kit zoom. I move as I need to to frame the photo, so I'd get the D5200 body-only and the 35mm f/1.8 DX separately.
If you need a telephoto to get closer, I use the 55-200mm VR. The 55-300 VR gets even closer.
More Information top
Intro Specs Performance Compared Recommendations More
Press Release from Nikon, Japan.
Help me help you top
I support my growing family through this website, as crazy as it might seem.
The biggest help is when you use any of these links when you get anything, regardless of the country in which you live. It costs you nothing, and is this site's, and thus my family's, biggest source of support. These places have the best prices and service, which is why I've used them since before this website existed. I recommend them all personally.
If you find this page as helpful as a book you might have had to buy or a workshop you may have had to take, feel free to help me continue helping everyone.
If you've gotten your gear through one of my links or helped otherwise, you're family. It's great people like you who allow me to keep adding to this site full-time. Thanks!
If you haven't helped yet, please do, and consider helping me with a gift of $5.00.
As this page is copyrighted and formally registered, it is unlawful to make copies, especially in the form of printouts for personal use. If you wish to make a printout for personal use, you are granted one-time permission only if you PayPal me $5.00 per printout or part thereof. Thank you!
Thanks for reading!
Mr. & Mrs. Ken Rockwell, Ryan and Katie.
Home Donate New Search Gallery Reviews How-To Books Links Workshops About Contact