Home Donate New Search Gallery Reviews How-To Books Links Workshops About Contact
Nikon 13mm f/5.6
"The Holy Grail;" World's Widest Pro Lens (1976-1998)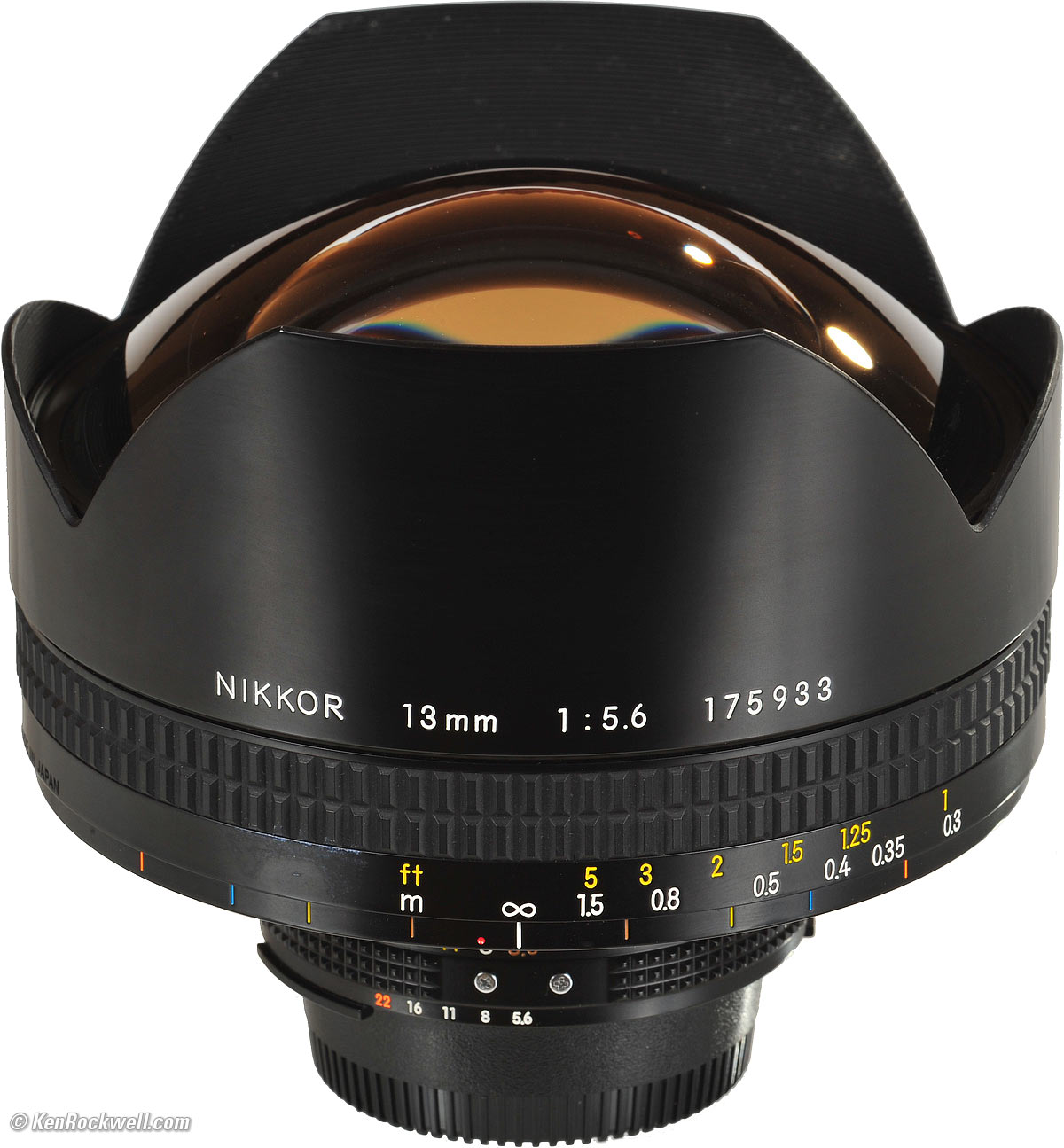 Nikon 13mm f/5.6 AI-s. enlarge. Good luck finding these at Adorama, B&H, or any of the the usual used sources. The only place I've ever seen these offered is at this direct link to search results at eBay and at Amazon. If you find this review helpful, using these links when you get yours is what helps me keep reviewing this old equipment. Thanks! Ken.
December 2008 Nikon Reviews Nikon Lenses All Reviews
| | |
| --- | --- |
| Optics: | Unequalled special-purpose lens |
| Ergonomics: | Like sticking a grapefruit on your camera |
| Usefulness: | |
| Availability: | Forget it |
| Overall: | |
Ideal Uses: Perfect for use on FX digital and film for ultra-ultra wide shots.
Not for: It's a complete waste to use it on a DX camera.
NEW: Ultra-Ultrawides compared 26 March 2015
Nikon Ultra-Ultrawide Lens Comparison 23 December 2008
Introduction top
Intro Specs Performance Usage Recommendations
Compatibility History Production Pricing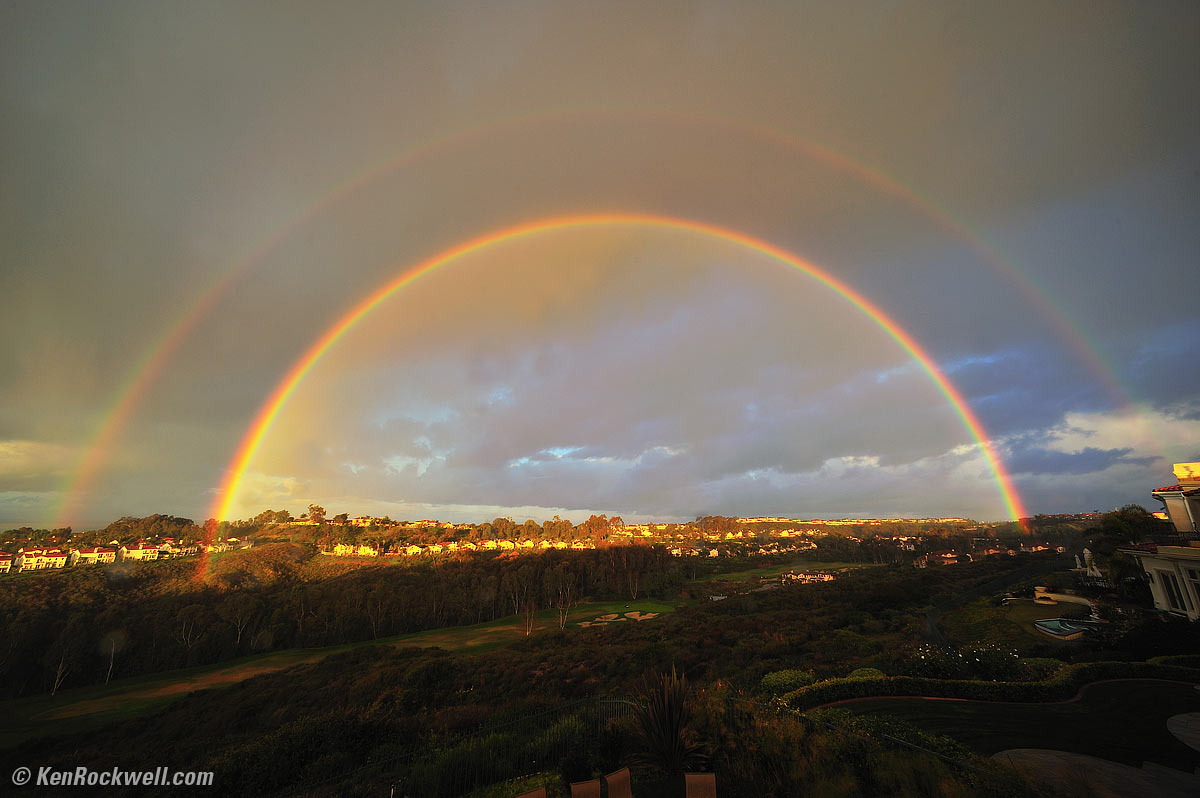 Double Rainbow. Nikon 13mm f/5.6 AI-s shot on a D3. enlarge.
This double rainbow didn't fit into the FX frame with a 14mm lens, and certainly didn't fit into a DX frame with a 10mm lens.
The 13mm is Nikon's greatest lens. It is Nikon's greatest lens because not only is it big and supremely expensive, it is Nikon's, and perhaps photography's, greatest lens because it lets us make photographs we can make no other way.
The Nikon 13mm is the world's widest non-distorting professional SLR lens ever made, by anyone, in any format. It allows us to get closer to our subjects, stretch distances and create images from perspectives otherwise unimaginable.
Forget about ever seeing one; only about 350 were made, and only to special order. That means less than one out of every 100,000 lenses Nikon has ever made is a 13mm. Forget about finding one anyplace other than eBay, where they turn up a couple of times a year in various places around the world.
The creation of each sample of 13mm lens was always met with much fanfare in Japan. Rumor has it that not only was each lens blessed by a Shinto priest, but that domestic (Japanese) customers were invited to their lens' ceremony.
I've wanted one of these 13mm lenses ever since I first read about it in the 1970s.
In the 1980s I made a pilgrimage to Nikon House in Rockefeller Center, New York City, just to see one. Nikon House was a promotional operation that offered free cleanings and showcased all Nikon products. It wasn't a store.
I asked if I could touch one, and I was granted my wish. I wasn't allowed to walk outside to take any pictures, but at least I got to see one. Wow. Think the newest 14-24mm zoom is a pig? This 13mm is 20% heavier and 20% bigger around!
I never saw one again until recently, when by virtue of the fact that the whole world recognizes me via this website, I was invited to Dubai by a collector. This means I've only seen two in over thirty years of looking, and for all I know, the one in Dubai may have been the same sample I saw at Nikon House.
This is why photographers call it the Holy Grail. We know it's out there somewhere, but we doubt we'll ever find it, even if it was shown in every Nikon catalog and brochure for about twenty years. Nikon was always screwing with us by waving this $10,000 lens around every chance they got. You'd never see it at trades shows or in person: it was only seen in the catalogs. It always turned up in every camera brochure, since every camera brochure listed the lenses towards the back of the flyer.
Like the Holy Grail, but unlike many other expensive photo trinkets sought by whack-job collectors, the 13mm has always been an extremely useful lens, even when new. It has always been ridiculously expensive, used or new, precisely because it is so universally useful to creative photographers.
Even if it wasn't so useful and unique, the simple fact that every collector seeks it is another reason its price remains crazy. No Nikon collection is even half complete without at least one of these. Collectors are funny; serious collectors will have at least three of these, one in each version made over the years.
Big, long, telephoto lenses are not great, even though they impress beginners.
Every camera maker: Nikon, Canon, Minolta, Pentax, Zeiss, Leica, the Russians and more, all make big telephotos. So what? Photography is about getting close. Long lenses are for photographers who lack the skills to get close.
Great animal photographers know how to get right up to wild animals; they don't need 400mm lenses. Great sports photographers get themselves invited to the athlete's home or out onto the field; they don't get stuck in a press box a mile away.
Jamming a telescope onto your camera doesn't make it a great lens, and having to shoot from that far away not only makes for uninvolving photos, the intervening air, air currents, heat waves, haze and etc. all add up to weak images. Any amateur astronomer has bigger, longer optics to attach to their cameras than anything made by camera companies.
Wide lenses have never been for "getting it all in." Wide lenses have always been about letting us get closer and creating images with extraordinary power and impact. Ultra-ultra wides are for expanding perspective and expanding depth. Ultra-ultra wides are for creating images that grab the viewer and drag him into the middle of whatever it is that you're photographing. This is so critical that I have an entire article on How to Use Ultrawide Lenses.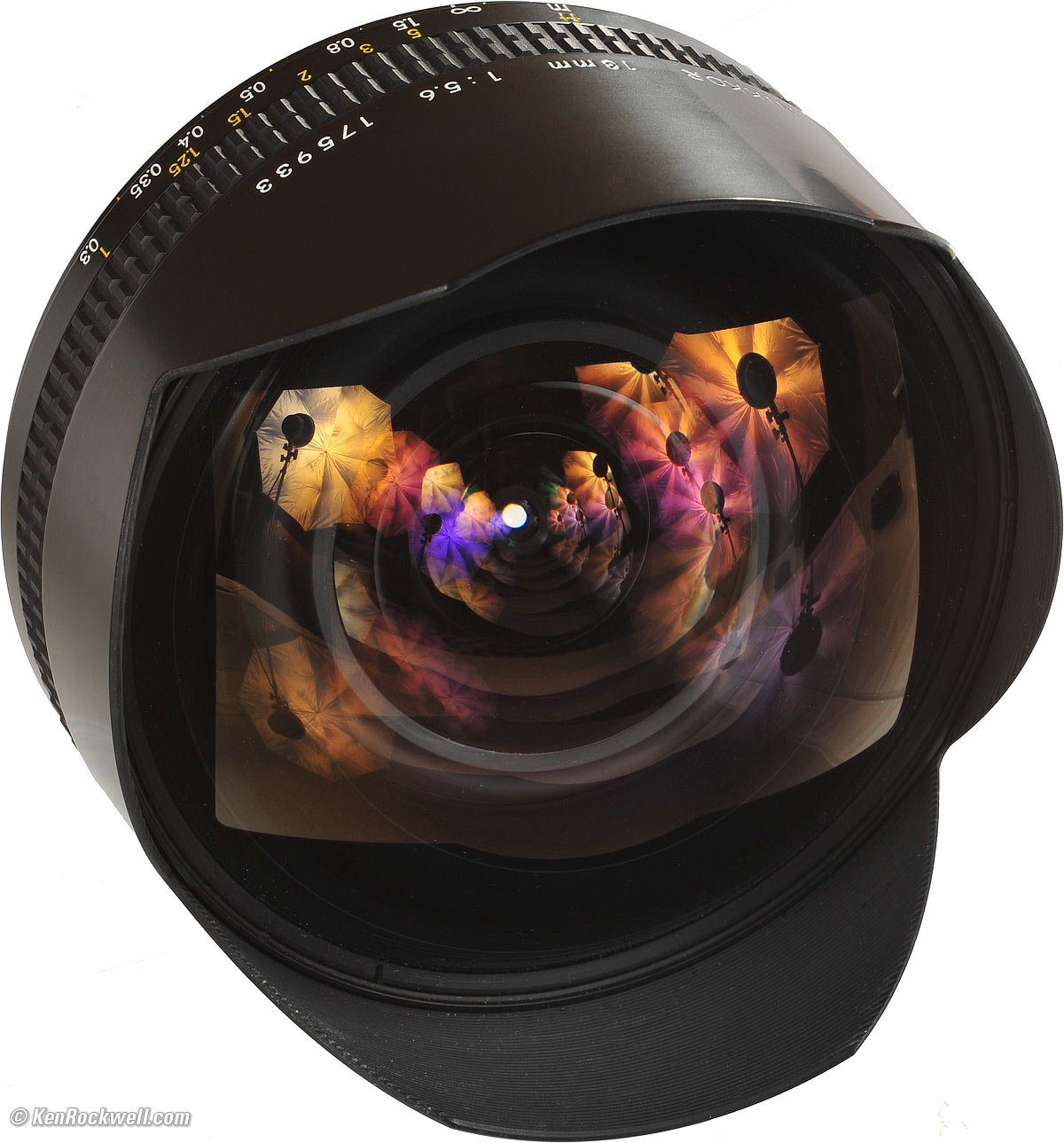 Nikon 13/5.6. enlarge.
Compatibility back to intro back to top
The Nikon 13mm is compatible with every decent Nikon SLR ever made, from the original Nikon F of 1959 through today's D3X, D3 , D700 and F6.
The newest upper-end digital Nikons are fully compatible, and even have this lens programmed into their firmware!
If you have one of the less than 40 non-AI 13mm lenses from 1976-1977, be sure to have it factory upgraded to AI.
On the D3X, D3, D700, D300, F6, D2 and D200, use the "Non-CPU Lens Data" menu option to input 13mm and f/5.6. This gives full matrix metering and EXIF data, and finder read-out of set aperture. It works great in aperture-preferred as well as manual modes on these cameras.
It works perfectly every professional film camera (F, F2, F3, F4, F5, F6), and adds Matrix metering on the FA, F4 and F6, although it won't couple well to the cheaper digital (D80 and below) and cheaper film cameras (N80 and below).
See Nikon Lens Compatibility for details with your camera. Read down the "AI, AI-s" column for this 13mm.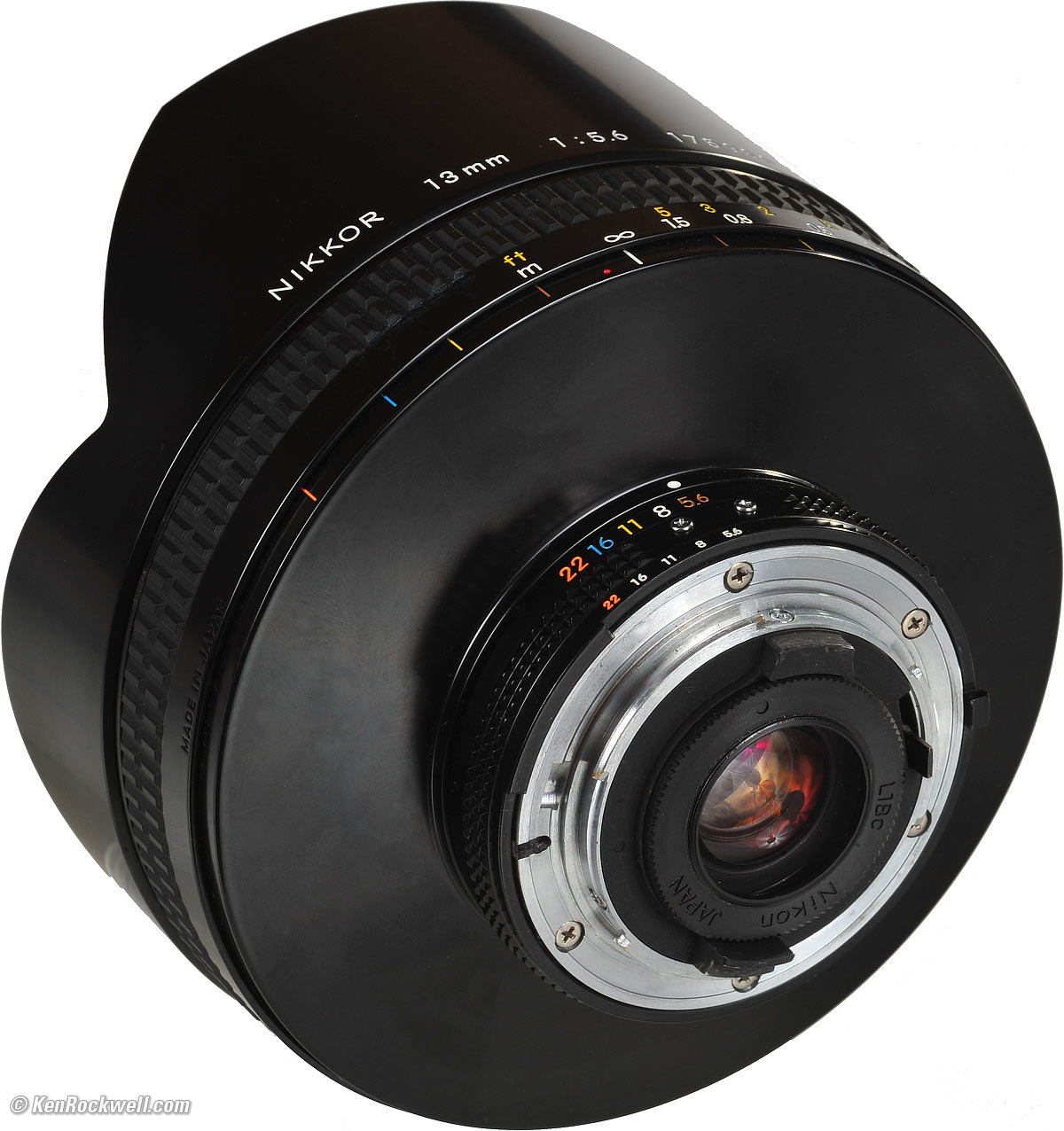 Rear, AI Nikon 13mm f/5.6s. enlarge.
History back to intro back to top
1971: Designed by Ikuo Mori, who applied for a U.S. Patent on 21 March 1972.
1973 April 17th: U.S. Patent 3,728,011 was granted, and the first prototype was made.
1976 March - 1977: The first version of this 13mm lens was released as a non-AI lens. Nikon made only about 40 of these non-AI versions.
1977 June - 1982 March: Updated to AI. Nikon made only about only ten of these AI versions. Of course anyone who owned the non-AI version most likely had it converted to AI by Nikon for $25 back in the 1980s or 1990s.
1982 March - 1998: Nikon updated the 13mm to the latest AI-s version. Nikon made about 300 of this AI-s version.
The sample used for most of these illustrations was made in about July 1984.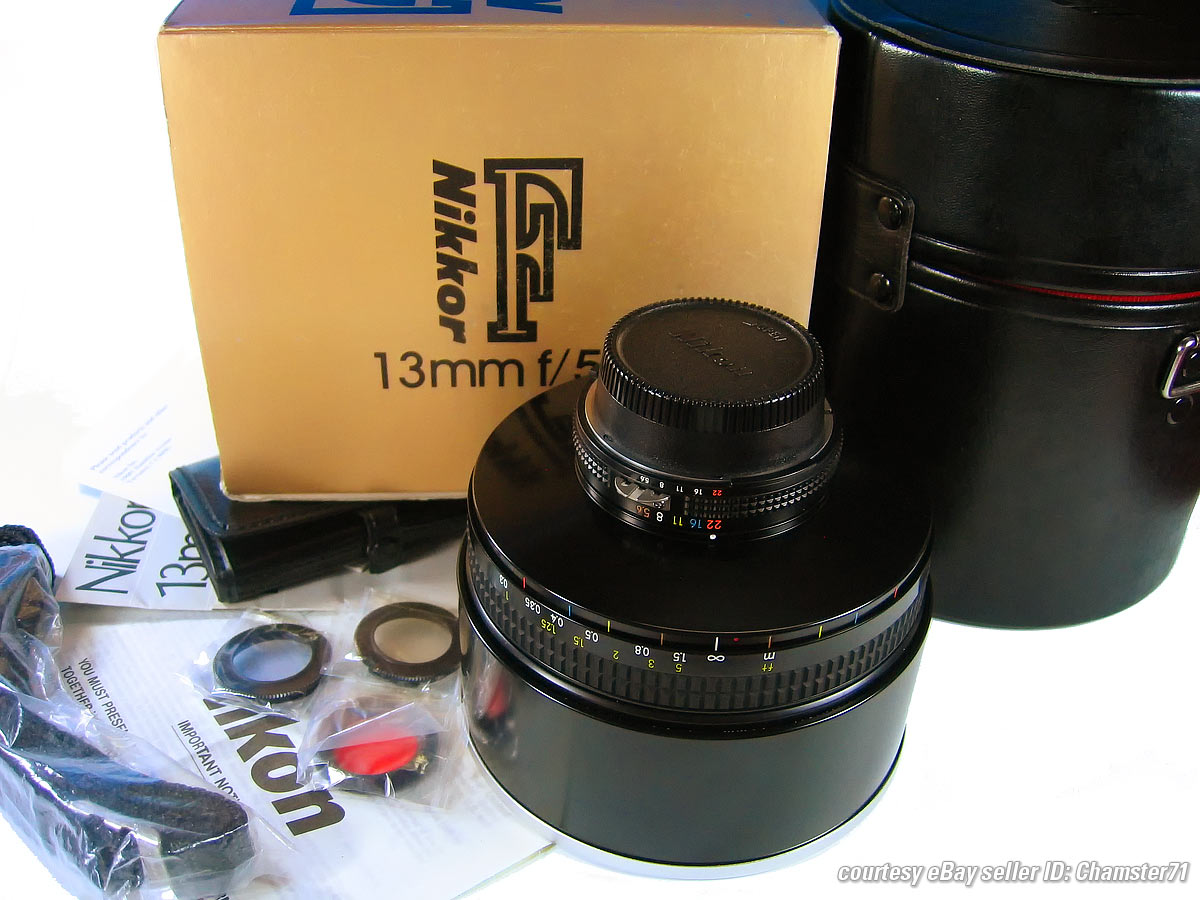 Nikon 13mm, ensemble as shipped. enlarge. This includes the lens and caps, CL-14 case and strap, filters, CA-2 filter case, warranty and instructions. The filters sit in the CA-2 case, the CA-2 case and capped lens fit in the CL-14 case, and the CL-14 case sits in the box and eliminates the need for any sculpted foam. This shot courtesy eBay seller Chamster71.
Pricing back to intro back to top
You don't want to read this part. This was Nikon's most expensive of all its expensive lenses.
Nikon's suggested retail (rip-off) price was $8,229 in 1979, or over $24,000 in today's dollars.
B&H advertised it at $5,569 in January 1987, or over $10,000 in today's money.
The 13mm cost more than the no-longer-made 300mm f/2, which now sells for five-figures used.
The 13mm was double the cost of the 300mm f/2.8 or twelve times the cost of the 16mm fisheye.
If you found one in 2008 when I forst wrote this review, you'd expect to pay a minimum of $5,500 for a beater lens without its case or filters, $10,000 for one in OK shape complete with case, caps and filters, and $20,000 or more for one unused in the box complete with papers.
As of 2016, a freind sold one in nice shape (no box or anything) for $26,000.
As of 2017, expect to pay $25,000 for a well-worn sample, $30,000 or more for one in good shape with case, caps and filters, and $40,000 or more for one still in the box.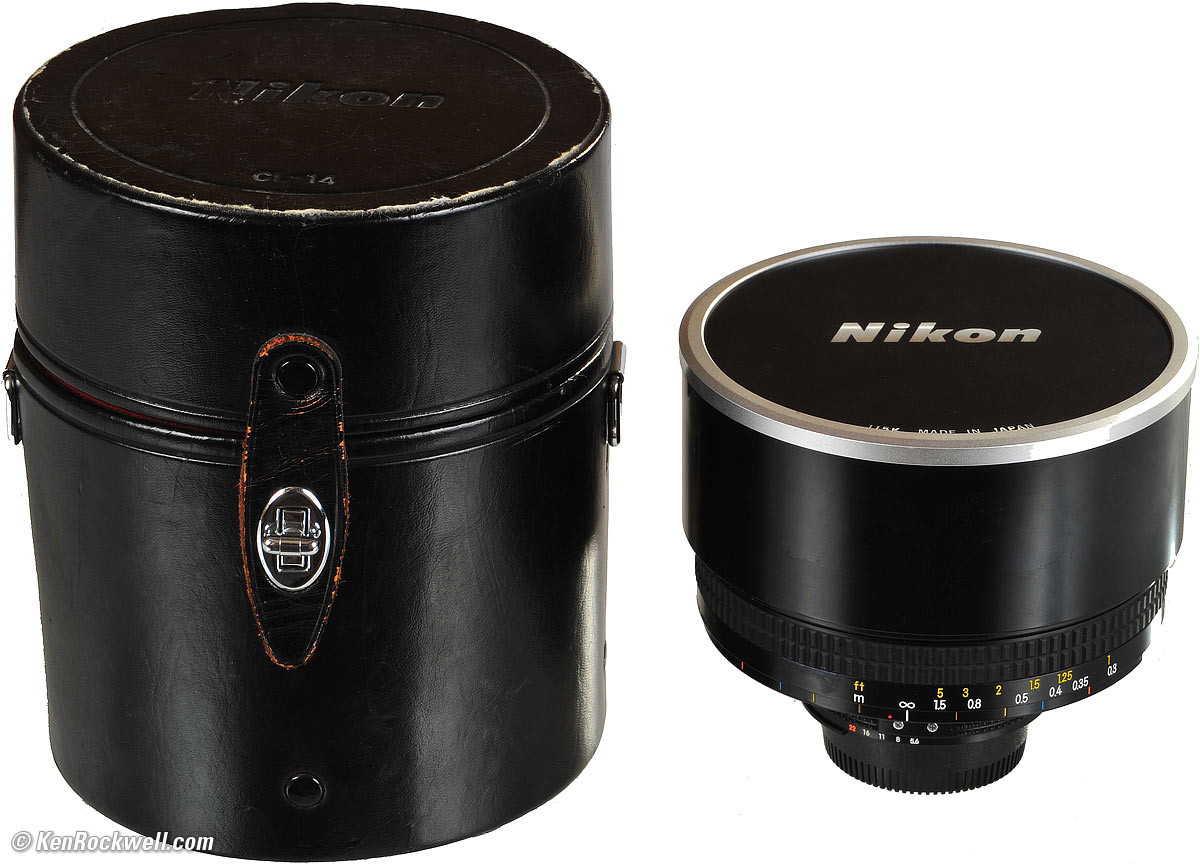 Nikon CL-14 case and capped 13mm f/5.6. enlarge.
Specifications top
Intro Specs Performance Usage Recommendations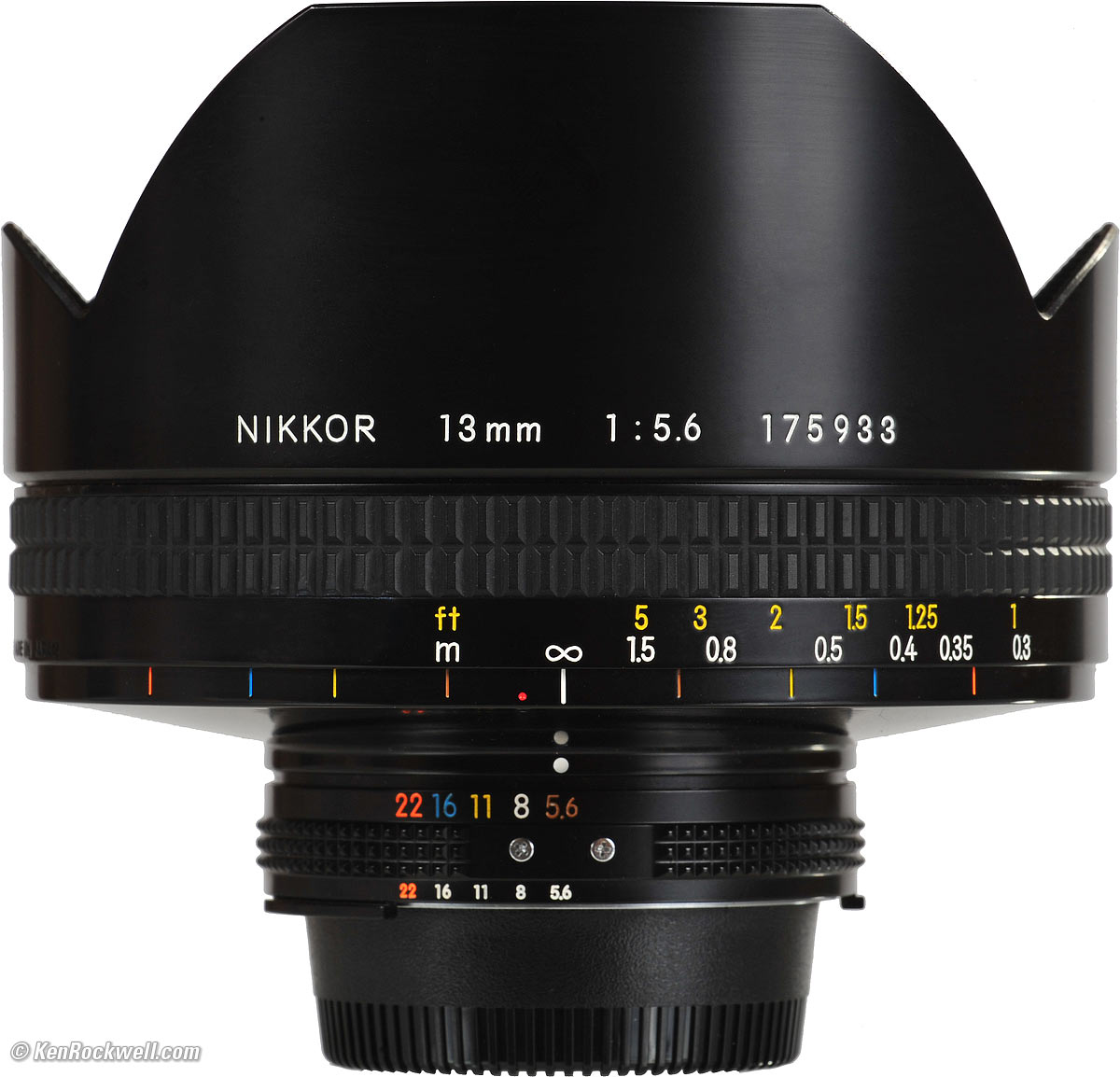 Nikon 13mm. enlarge.
Name back to Specs top
Nikon calls this the Nikon AI Nikkor 13mm f/5.6s.
Actual (Design) Focal Length back to Specs top
13.3mm.
You're not being cheated; Nikon's 50mm lenses are really 51.6mm, for instance.
Used on a DX camera it gives angles of view similar to what a 20mm lens would give on an FX or 35mm film camera. See also Crop Factor.
Angles of View back to Specs top
| | | |
| --- | --- | --- |
| | | |
| Diagonal | 118º | 95º |
| Horizontal | 108º | 84º |
| Vertical | 85º | 63º |
Optics back to Specs top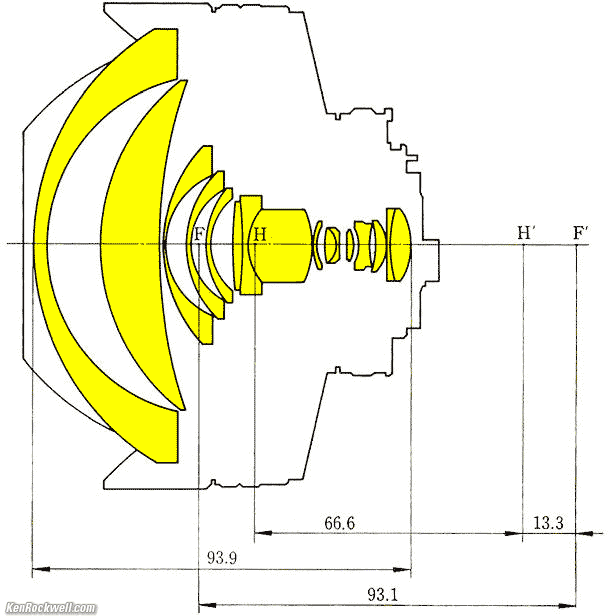 Nikon 13mm f/5.6 Optical Construction.
16 elements in 12 groups.
Nikon Integrated Coating (NIC) Multicoating.
Close-Range Correction (CRC): rear elements are floating.
Diaphragm back to Specs top
7 traditional blades, stopping down to f/22.
Close Focus back to Specs top
1 foot (0.3m).
Depth-of Field Scale back to Specs top
Yes, color coded.
Infra-Red Focus Index back to Specs top
Yes.
Since the depth-of-field is almost unlimited and the offset is only 1/3 of the ay to the f/5.6 mark, you can probably forget about this.
It's easiest to focus by scale, so for IR, set your distance at the red dot instead of the white line.
Filters back to Specs top
The 13mm comes with a set of four rear bayonet filters.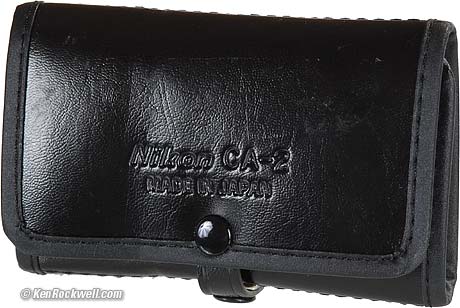 Nikon CA-2 Filter Wallet.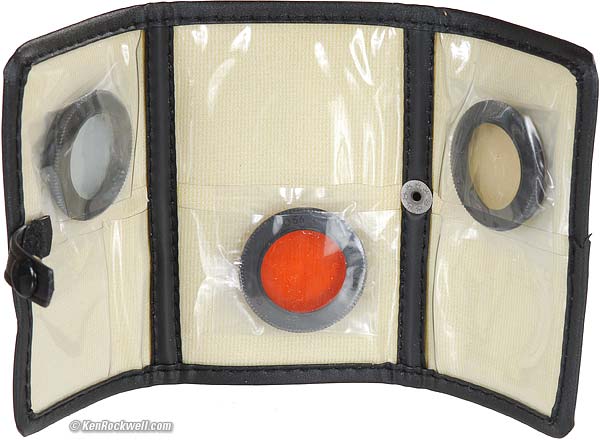 CA-2, open kimono. The L1BC comes attached to the lens.
This 13mm AI-s comes with an L1Bc skylight (Nikon part number 2366) filter on the back of the lens. The B2 cooling, O56 orange and A2 mild warming filters are shipped wrapped in plastic in the CA-2 wallet, which is inside the CL-14 lens case.
The older AI version came with N (clear), Y48 yellow, O56 orange and R60 for B/W film.
This is all fine and dandy, however for digital the best filter is the L37c, Nikon part number 2369. (The L1Bc is very slightly magenta.) For Fuji Velvia 50 and other transparency film, use the A2.
These bayonet filters are standard on Nikons widest lenses, and are used today and included with Nikon's 16mm AF-D fisheye.
Any of these filters are interchangeable for use on any of Nikon's 15mm f/3.5 AI-s and 16mm f/2.8 manual and AF lenses.
Size back to Specs top
3.48 " extension from flange x 4.53" diameter, 3.93" overall (88.5 x 115mm, 100mm overall).
Weight (measured) back to Specs top
Over three pounds as deployed!
Weight with both caps and rear filter, no cases or other filters: 48.110 oz. (1,363.9g).
AI-s lens alone, with rear filter: 43.200 oz. (1,224.7g).
115K cap alone: 4.590 oz. (130.1g).
For just the lens, Nikon specifies 2.6 pounds (42.3 oz., or 1.2 kg or 1,200g) for this AI-s, and 1,240g for the older AI lens.
Caps back to Specs top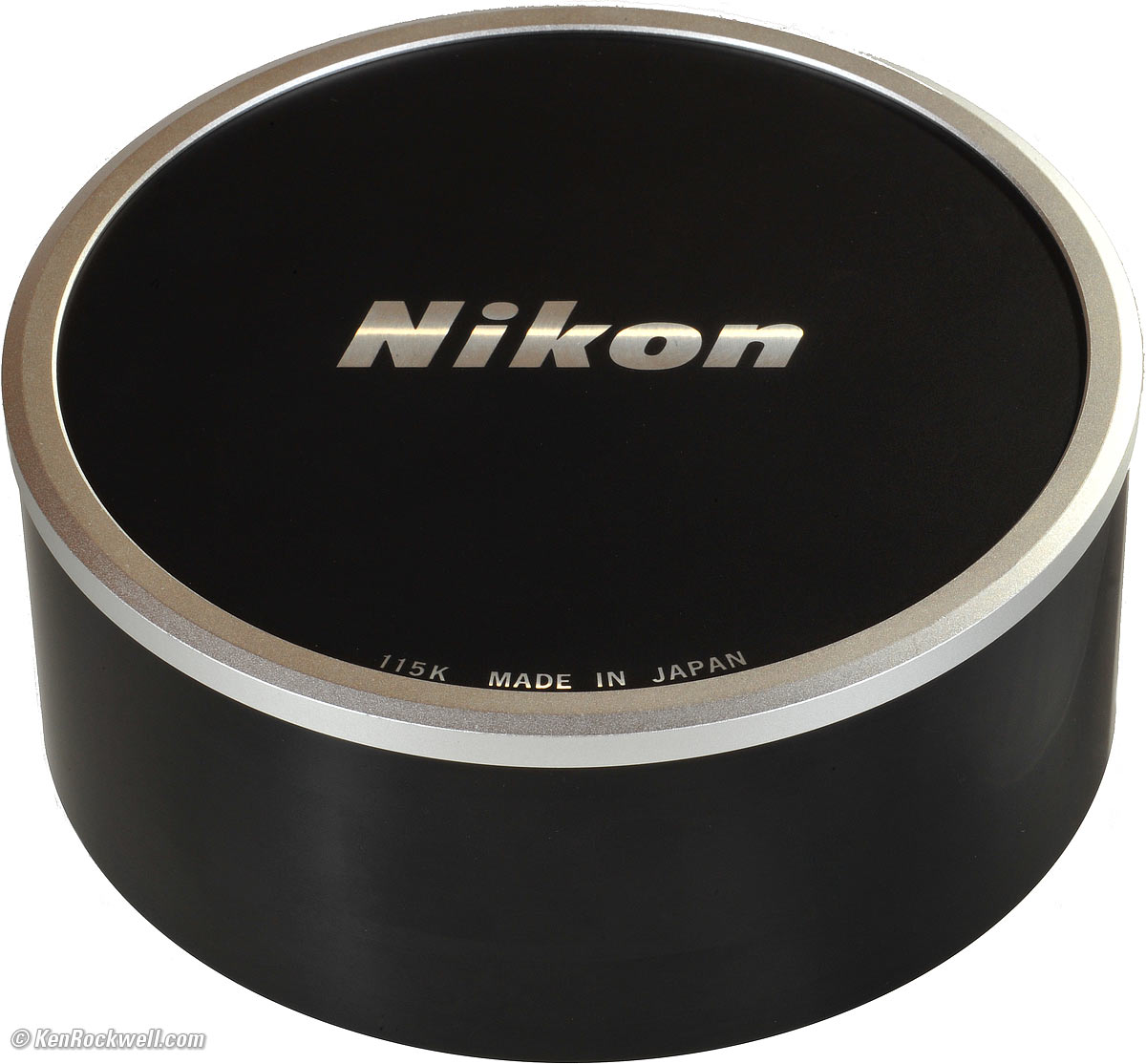 Nikon 115K front slip-on cap. enlarge.
115K felt-lined metal slip-on front cap. It's assembled from several other pieces.
Standard LF-1 rear cap.
Cases back to Specs top
The 13mm comes with two cases.
The lens case is the CL-14, and the CA-2 filter case fits inside a secret compartment in the lid of the larger CL14 lens case.
Both cases are made in Japan.
Hood back to Specs top
None, use your hand or hat as a gobo.
The built-in petals are to protect the glass from damage, not from flare.
Teleconverters back to Specs top
The ultimate in foolishness, Nikon suggests the TC-14A, which makes this into an 18mm f/8, and the TC-200 and TC-201 which makes this a 26mm f/11.
Nikon Product Number back to Specs top
1410.
Included back to Specs top
CL-14 Corinthian Leather case, inside of which sits a small CA-2 filter case with three bayonet filters: A2 warming, B2 cooling and O56 orange. Mounted on the back of the 13mm lens is an L1BC skylight filter.
Performance top
Intro Specs Performance Usage Recommendations
Overall Bokeh Cold Weather Color Coma Distortion
Ergonomics Falloff Filters Focus & Finders Ghosts
Mechanics Sharpness & Lateral Color Sunstars Comparisons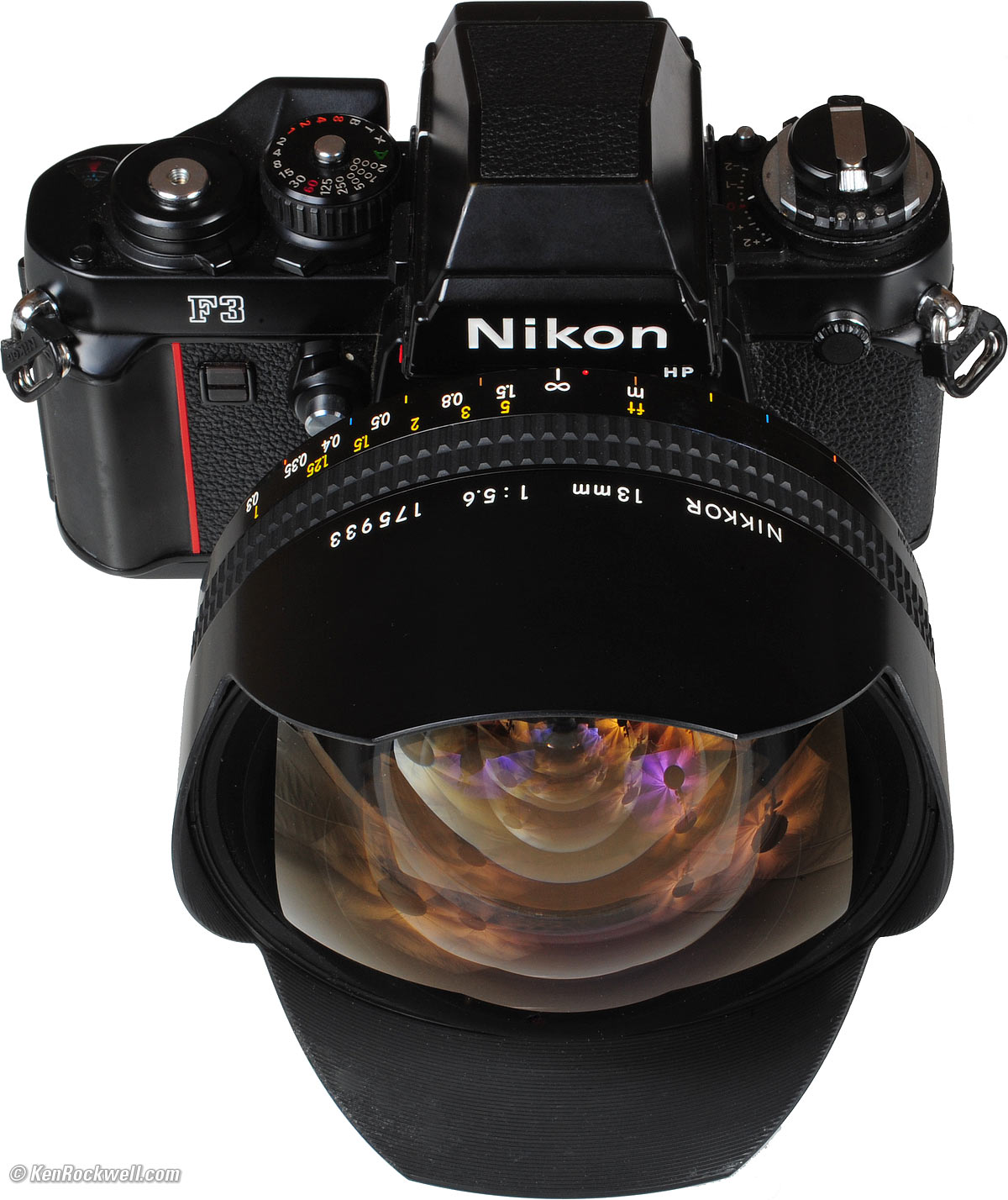 Overall back to Performance top
Just as no man or nation has repeated America's multiple landings of men on the moon, there has never been any lens equal to Nikon's 13mm.
Not only does the 13mm cover a wider undistorted angle than any other professional SLR lens ever made, it does so with much less distortion Nikon's ordinary normal and wide lenses!
It's slow, at f/5.6, however it's unusual in having been designed to perform well at full aperture. Falloff and definition doesn't improve much stopped down; shoot at f/5.6 all the time if you like. Depth-of-field is so great that it's unusual that you'd need to stop down.
The 13mm works great even on the D3X. I'm amazed that even though the 13mm isn't exactly as sharp as a Micro-NIKKOR, that there is still much more detail pulled out of it by the D3X as compared to the D3.
Bokeh back to Performance top
13mm f/5.6 lenses have no bokeh, silly, since you can't get anything out of focus!
Cold Weather back to Performance top
At 40ºF (5ºC), the focus of the 13mm I tried gets stiffer. This is good, because you want the focus to stay where you've set it so it doesn't get knocked and have you shooting at the 1 foot setting all day without realizing it.
Color Balance back to Performance top
Color balance varies from center to edge. This is called peripheral color balance shift and I cover it under Falloff.
Overall, the color balance of the Nikon 13mm matches my other modern and AF lenses.
Coma back to Performance top
The 13mm, with a maximum speed of f/5.6, doesn't have any obvious coma (sagittal coma flare).
Coma is weird smeared blobs that appear around bright points of light in the corners. They happen with fast and wide lenses at large apertures, but since this 13mm is so slow, its not a problem.
Distortion back to Performance top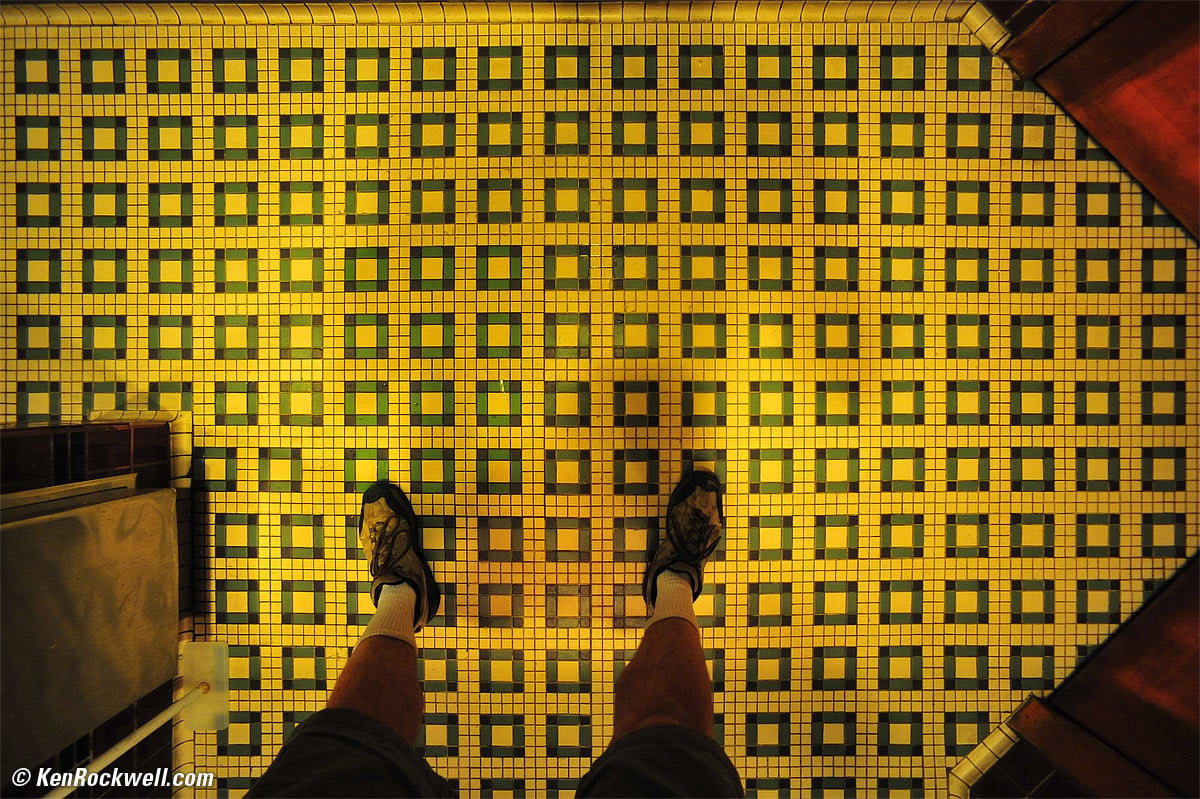 Floor, hand-held. enlarge. Nikon D3, f/5.6 at 1/15, ISO 2,500.
The 13mm f/5.6 has astoundingly little distortion. Most normal and common wide lenses have more! Your biggest issue will be keeping your rig square more than worrying about any curvilinear distortion of the 13mm lens.
This lack of distortion is another reason the 13mm is one of Mankind's crowning technical achievements. Nikon has a hard enough time making a 35mm or 28mm lens without distortion, yet this 13mm has far less. I'm serious: Nikon's newest 50mm f/1.4 AF-S has a zillion times more distortion.; a shot of this closet floor with most lenses would have a big bulge in the center and curved lines at the sides.
There is no significant distortion on FX.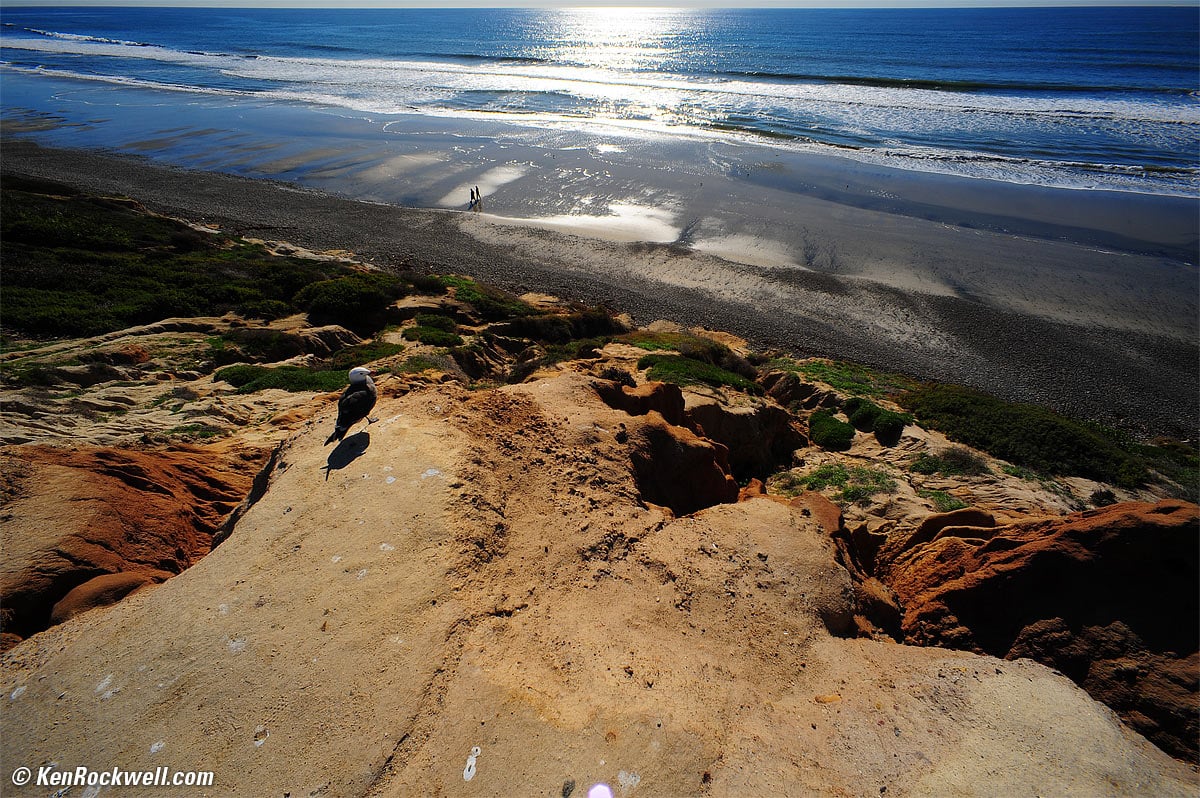 Dubai Coast. enlarge. Nikon D3, f/16 at 1/250, ISO 200.
Try getting the horizon this tight and straight across the top of an image. You can't do it with most lenses, and certainly not zooms.
If you're silly enough to shoot the 13mm on DX where you only use the center of the image, dial +2 into Photoshop CS2's lens distortion filter.
Ergonomics back to Performance top
Shooting with the 13mm is like putting a three-pound (1.5kg) grapefruit on the front of your SLR.
It can be tough to read the aperture scale off the lens when mounted on a camera. It's easy with digital cameras, because the aperture is read electronically in the finder, but with cameras like the FE and F4 which read it from the lens, most people remove the coupling prong to let more light in to the aperture ring.
Focus is weird, but easy. You turn a ring that's five inches (115mm) in diameter!
It's easy to change the apertures with a fingertip while sighting through the finder.
Falloff (dark corners) back to Performance top
Falloff isn't a problem, even wide-open.
Falloff improves a little at f/8, and that's as good as it gets.
The biggest concern is peripheral color balance shift.
Like most ultrawide lenses, the color balance gets cooler as you get to the corners. This is caused by the change in the spectral efficiency of the antireflection coatings at odd angles. The huge angles covered by the 13mm invite this problem.
If you shoot walls with this lens, it will be square, but the color balance shifts!
If you need to correct this, try adjustment layer masks in Photoshop, working on each color channel separately. Add more red to the corners.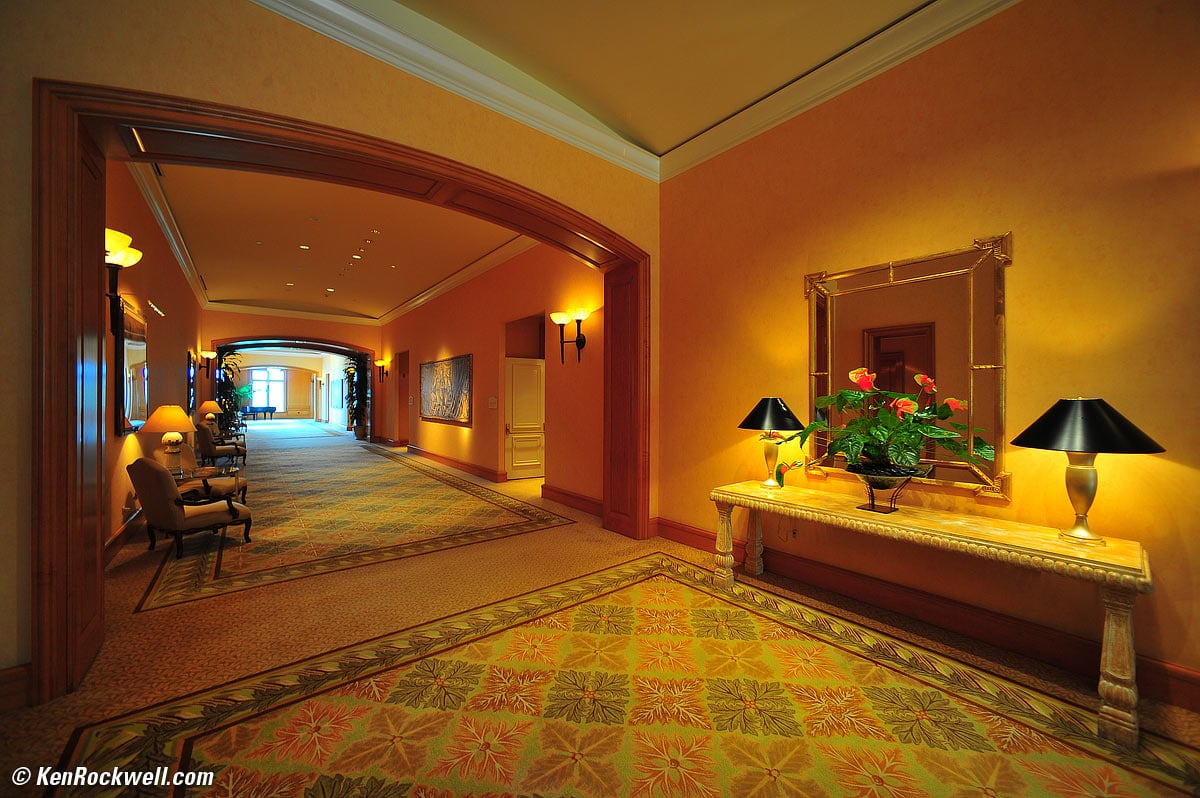 Servants' Day Quarters, Small Private Home, Dubai. enlarge.
Nikon D3, Auto ISO set ISO 360, f/5.6 at 1/8 second, exactly as shot hand-held.
Use with Filters back to Performance top
There are no filters that will fit over the front, and even if you had some custom-made, you wouldn't want to use them because any dirt on them would be in focus in your images.
The 13mm f/5.6 uses rear bayonet filters. It comes included with all that you'll ever likely need.
The A2 is for most shooting with transparency film, if you're like me and prefer warmer images.
The L1BC is for shooting digital, although the L37c (optional) is more neutral.
The B2 is for partial correction shooting film under tungsten light.
The O56 is for black-and-white film.
Other colors have been available, for instance, Y48 yellow and R60 red, but that's about it. There was never an A12 or B8 or B12, as Nikon made in other sizes.
Nikon's 39mm screw-in filters, used at the back of reflex and super-tele lenses, are completely unrelated and incompatible with these smaller bayonet filters, although many people confuse the two.
Focus and Finders back to Performance top
The 13mm f/5.6 performs even better on digital cameras than it ever did on film. This is because its f/5.6 aperture gave a dim and crummy finder image on film cameras, which were optimized for faster lenses.
Forget manual-focus camera focusing aids: your split image will always be black, and the microprisms will usually be dark. Forget it!
Digital cameras have finder screens optimized for today's pathetically slow zooms, which means that they are also optimized for this f/5.6 lens. Not only are the finders brighter, but the electronic focus aids of AF cameras work far better than any of the split-images or microprisms of old.
That's right: this 13mm manual-focus lens is easier and more fun to use on today's cameras like the D3X, D3 and D700 than it ever was on the F, F2 and F3 of its own era.
Since manual focus aids black out on manual-focus film cameras, Nikon suggests avoiding the standard K focus screens as well as the A, L, T and P screens.
Nikon instead suggests the B, E, H2, J or R screens. No compensation is needed with any I've mentioned, except for dialing in -1/2 stop with the H2, on the F2, only.
Since depth of field is almost unlimited, turning the huge focus ring doesn't do much as seen through the finder. It's easy to leave the lens set at 1 foot, shoot all day, and not realize it.
It's much easier and more precise to focus by guessing and setting the distance on the focus scale.
Depth-of field is almost unlimited. At its worst, wide-open and set to infinity, depth of field comes right up to three and a half feet (1m). Focused at 1.5 feet (0.4m) and f/22, you've got everything from infinity down to one foot (0.3m) in focus.
When we say one foot (0.3m), that means from the film plane (the back of the camera), which means 5 inches (13cm) from the front of the lens!
Manual focus has the classic Nikon feel, which is duplicated nowhere.
One light fingertip is all that's required to focus. Thankfully it's a little bit stiffer than most Nikkors, because you're best off setting it to 5 or 10 feet (a couple of meters) and leaving it there all day.
Ghosts back to Performance top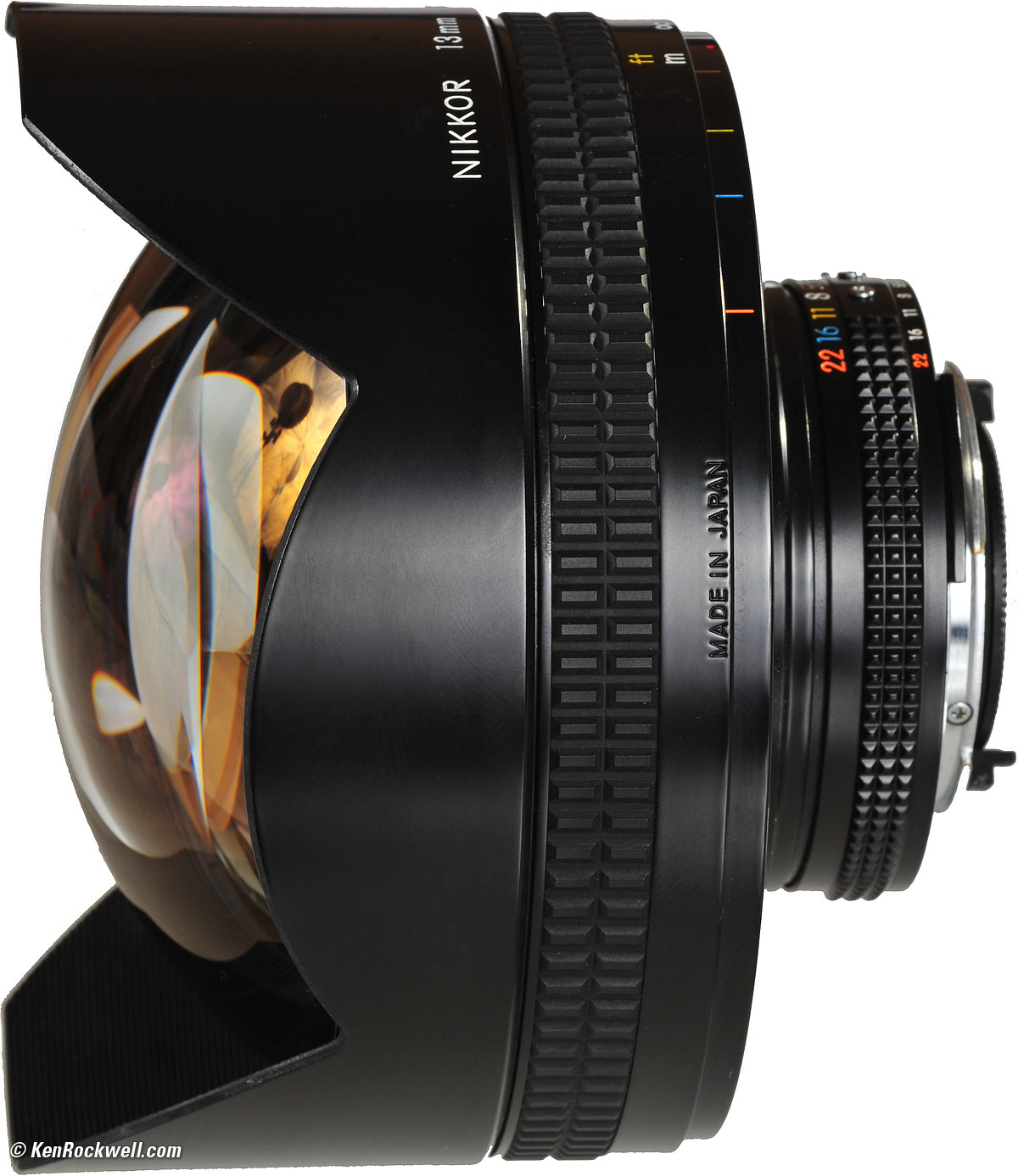 NIKKOR 13mm f/5.6. enlarge.
It has some ghosts when pointed into the sun; a hair less than the 20/4 AI .
There is a bright violet blob or two opposite the sun, if the sun is in the image, or just outside it, and a small pinkish one in the direction of the sun. If the sun's outside the image, block it with your hand. If the sun is in your image, you may have a string of small ghosts towards the center of the image.
Like other Nikkor fishbowl (not fisheye) lenses, the huge bowl catches light from every angle, it bounces around, and comes out in weird places.
If you have a broad expanse of sky, or shoot with an open window to your side just out of the image, you can get a dim blue blob opposite the source of light. As always, shield the 13mm f/5.6 from this and the problem goes away.
Nikon's newer and simpler 15mm f/3.5 AI-s is much worse. The only lens much better is Nikon's newest 14-24mm, however the 14-24mm has much more distortion and won't work on most Nikon cameras made over the years.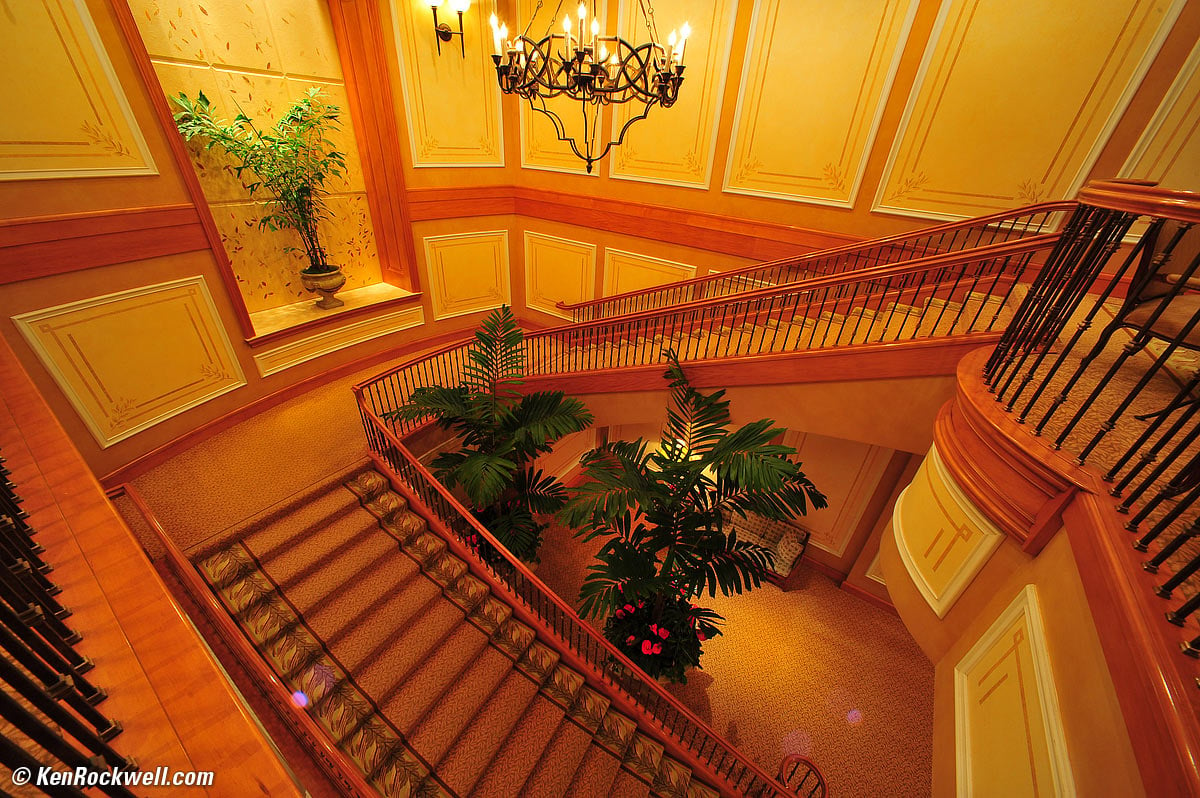 Stairs leading to Servants' Entrance, Small Private Home, Dubai. enlarge.
Nikon D3, Auto ISO set ISO 450, f/11 at 1/2 second, exactly as shot hand-held.
Mechanics and Construction back to Performance top
The NIKKOR 13mm f/5.6s is made as a great lens should be. It is built to the highest mechanical standard I have ever experienced, but so is an inexpensive 50mm f/1.8 NIKKOR AI.
Front Pseudo-Hood: Metal, internally ribbed.
Barrel: Metal.
Focus Ring: Metal, rubber covered.
Aperture Ring: Metal.
Finish: Black enamel over black anodize.
Mount: Dull chromed brass.
Internals: Metal.
Markings: Engraved and filled with paint.
Rear Filter Bayonet: Metal, with metal springs.
Sharpness and Lateral Color Fringes
When American men returned from the moon, did anyone ask care about the cleanliness of their underwear after three weeks in space?
When Nikon creates a lens that can see sideways as clearly as it sees forwards, don't try to compare sharpness to lenses which only see in front of themselves.
If you do, the 13mm isn't as sharp as other lenses. This is why you don't want to use it on a DX camera, for which the Zoom-NIKKOR DX 12-14mm or Tokina 11-16mm is superior. Those little-guy DX lenses can't cover FX, film, or the angles covered by the Nikkor 13mm.
Sure, fisheyes can see sideways, but things on their periphery are squeezed tiny. Objects in the corners of this 13mm are actually enlarged to covering almost three times the area that they would in the center.
The 13mm has enough lateral color that the automatic correction inside Nikon's second generation digital cameras can't always correct it. It's weird, because you'll see some shots are corrected, while otherwise identical shots in a sequence aren't.
On film this is invisible with an 8x loupe, and only starting to become visible with a 22x loupe. It's visible on 3,600 DPI film scans, which are 36x as seen on-screen at 100%.
Even weirder than weird, Nikon's Gen 2 (D3, D700, etc.) cameras are more likely to correct the lateral color at f/5.6 than they are at smaller apertures, so try your system, and don't discount the potential advantages of shooting at f/5.6.
There isn't much variation in sharpness with aperture. Astoundingly, the corners aren't that bad wide-open. f/11 is optimum, but sharpness honestly doesn't vary much. If you're in low light, just shoot wide open.
Sunstars back to Performance top
With its straight 7-bladed diaphragm, the Nikon 13mm makes magnificent Nikon-standard 14-pointed sunstars on bright points of light.
Compared to other Nikon 14mm and 15mm lenses

Nikon 13mm f/5.6, 15mm f/5.6, 15mm f/3.5, 14mm f/2.8 and 14-24mm f/2.8.

Nikon Ultra-Ultra Wide Lenses Compared.

Usage top

Intro Specs Performance Usage Recommendations

See How to Use Ultra-Wideangle Lenses for most of what you need to know.

Specific to the 13mmm f/5.6, it's not critical, but you sometimes may need to shield the lens from broad expanses of open windows or sky from shining into the 13mm from outside the picture area which can lead to big blue blobs on the opposite sides of the photo.

All apertures perform about as well. If you're on a tripod, f/11 is optimum, but hand-held, use f/5.6 indoors. f/5.6 looks better than pushing film or digital a stop to use f/8.

When used on manual cameras where you'd like to be able to read the aperture from the lens's ADR scale in the finder, remove the aperture coupling prong from the f/5.6 position. This prong serves to couple the lens to cameras made before 1977, but blocks light from getting to the aperture ring. The front of the 13mm is so big that we need all the help we can getting light onto the aperture ring so we can read the apertures in the finder on cameras like the FE, FA and F4.

Slow speeds work great hand-held. I get sharp results at least as slow as 1/8 second.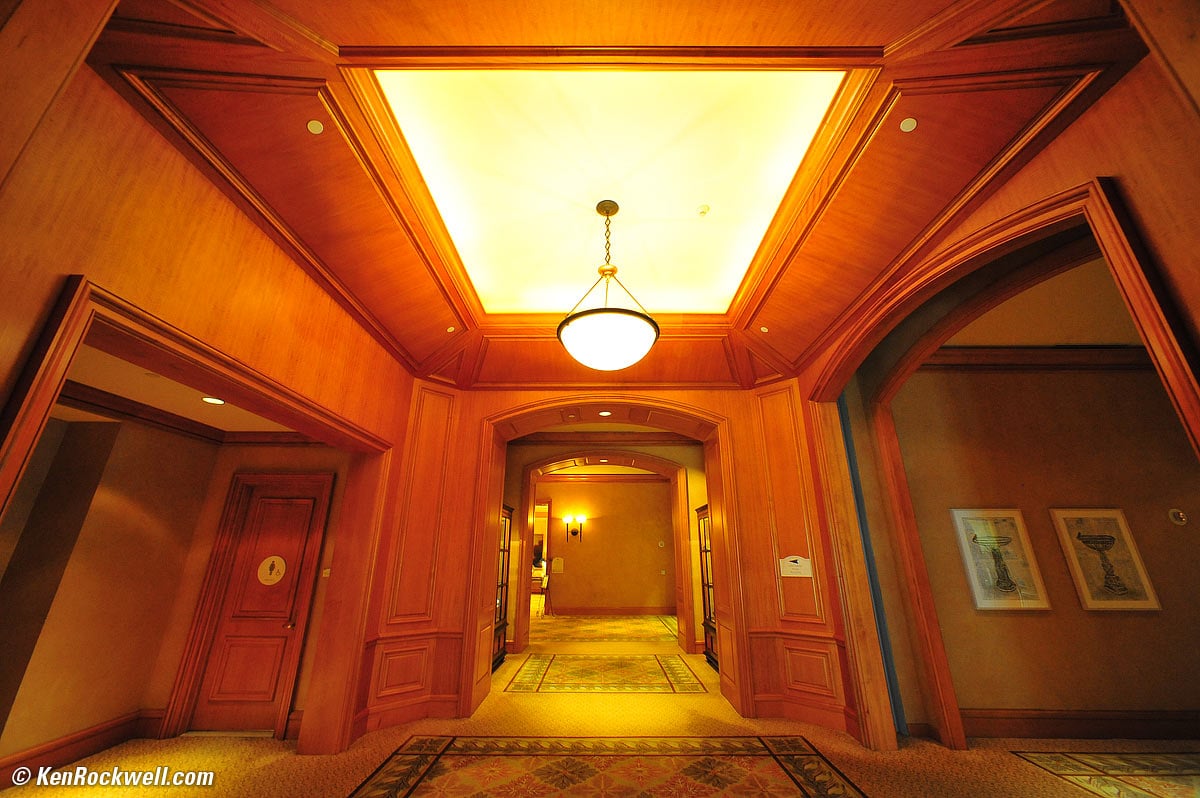 Servant's Entrance, Small Private Residence, Dubai. enlarge.
Nikon D3, Auto ISO at ISO 2,500, f/8 at 1/8 second, exactly as shot hand-held.
Recommendations top
Intro Specs Performance Usage Recommendations
Don't wait up late for one of these.
Even though it has more distortion, I usually would prefer to carry the fixed 14mm f/2.8 for its smaller size and lighter weight.
For FX digital cameras (only), the 14-24mm is sharper than any other ultra-ultra wide, but it's limited to use on digital cameras because it can't accept filters.
While not professional grade, Sigma makes a 12-24mm zoom that's worth a look. It covers FX. I've tried this 12-24mm now and then, and if you get a good sample, it works very well and does about the same thing as the Nikon 13mm.
More Information
Nikon, Japan (Nikon's index of historic articles.)
Acknowledgements: Many thanks to Neptune Photo, who helped me get access to a 13mm for review (they had one on consignment; don't expect to find any more there), and many thanks to a private owner in Dubai who invited me to come evaluate his, and many thanks to avid Nikon collector and eBay seller Chamster71 for providing additional technical information and the image of the boxed, new 13mm f/5.6.
© Ken Rockwell. All rights reserved. Tous droits réservés. Alle Rechte vorbehalten.
Help Me Help You
I support my growing family through this website, as crazy as it might seem.
The biggest help is when you use any of these links when you get anything. It costs you nothing, and is this site's, and thus my family's, biggest source of support. These places always have the best prices and service, which is why I've used them since before this website existed. I recommend them all personally.
If you find this page as helpful as a book you might have had to buy or a workshop you may have had to take, feel free to help me continue helping everyone.
If you've gotten your gear through one of my links or helped otherwise, you're family. It's great people like you who allow me to keep adding to this site full-time. Thanks!
If you haven't helped yet, please do, and consider helping me with a gift of $5.00.
As this page is copyrighted and formally registered, it is unlawful to make copies, especially in the form of printouts for personal use. If you wish to make a printout for personal use, you are granted one-time permission only if you PayPal me $5.00 per printout or part thereof. Thank you!
Thanks for reading!
Mr. & Mrs. Ken Rockwell, Ryan and Katie.