Home Donate Search Gallery How-To Books Links Workshops About Contact
Novemebr 2009's Updates
RSS: live daily
all © 2009 KenRockwell.com. All rights reserved.

30 November 2009, Monday
Ritz Specials
I've not followed this camera, but Ritz has the Nikon P90 on sale just for today, for $299.99. The P90 has a 24x (26 - 624mm!!!) optical zoom and 3" LCD.
Adorama's Cyber Monday Deals
Most online stores have special deals today. Adorama's are here.
Pay special attention to their:
D40 Holiday Kit $439.95
Canon S90 $399.95
Canon G11 $449.95
Canon SD980 (DSLR in your pocket, 24-120mm) $299.95
Canon SD960 (SpyCam, 28-112mm) $249.95
Adorama has the Nikon D700 for $2,399.95, but you have to add it to your cart to see that super-low price.
Many people remember the retail-era phrase "Black Friday," for the day after Thanksgiving when people went out and shopped like crazy the hard way. That day was so busy that it often was the day where stores that had been losing money finally broke even for the year, thus begetting the phrase "black," as in accountant's black ink.
Now that everything non-perishable is bought over the Internet, the biggest sales day online is today, the Monday after Thanksgiving.
Why today? Simple: Monday is always the biggest online day of the week, because it's everyone's first day back to work after the weekend.
Now that everyone read all the sales flyers over the weekend, it is today, Cyber Monday, that everyone is back in their office where they can concentrate and get their online shopping done.
Enjoy!
Canon Classes

Canon is running a mini-conference and series of small workshops in Seattle, Washington, USA.
Canon calls this Canon Live Learning. You can register and get all the details here. These aren't free, but hey, neither are Canon cameras.
Saturday, December 5th, 9AM-6PM: Mini conference, all for $150:
Maximize Your EOS, with Canon Pro Rep Michael Gurley
EOS HD Video Basics, with Canon Explorer of Light Bruce Dorn
EOS Speedlite System Creativity and Techniques, with Canon explorer of Light Bob Davis
Landscape and Nature Photography with EOS, with Natalie Fobes


On Sunday, December 6th, 9AM-5PM: Workshops, each $300:
Creative Lighting with EOS Speedlites Workshop, with Canon Explorer of Light Bob Davis.
Bob Davis is an award-winning photographer for the Chicago Sun-Times and is famous for his celebrity wedding photography. In this small interactive hands-on workshop you'll have the opportunity to learn a variety of flash techniques with Canon's wireless system in a beautiful studio. With models on site, you'll not only come away with a broad knowledge of lighting but with gorgeous prints as well.


Creating HD Video with the Canon EOS System, with Canon Explorer of Light Bruce Dorn.
Respected director and photographer Bruce Dorn will guide a small group of participants through each integral part of the HD video production process. You'll learn the essentials of directing, lighting, camera operation and be introduced to editing. You'll work directly with Bruce to create, direct talent and shoot a short video.
Merry Christmas!
In the spirit of Christmas, let us turn our eyes north to Canada, the home of The North Pole, Santa Claus, reindeer, sleigh bells, and everything Christmas.
What finer way to kick off the merriest season of the year but with a review of a fine Canadian product?
I don't cover beer or hockey gear, so let us look to Leica, who had a factory in Midland, Ontario, Canada from the 1950s through the 1990s. Today it is called ELCAN and still makes advanced optical tools mostly for warfare.
Why did Leica choose Canada as a place to find low-cost skilled labor? Was it their mutual respect for beer? I have no idea, but we do know that this Canadian factory made all Leicas in the 1980s, and made Leica's biggest lenses, like all the 135mm f/2.8 ELMARIT and 50mm f/1 NOCTILUX.
Merry Christmas, eh!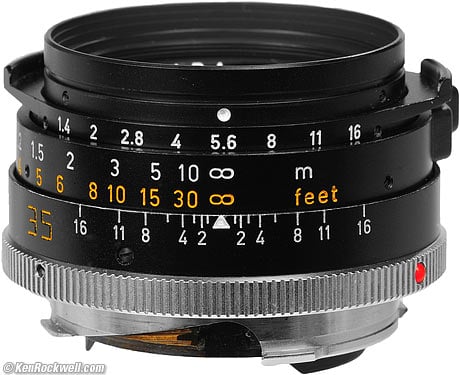 The LEICA SUMMILUX 35mm f/1.4. Sample image.
NEW: LEICA SUMMILUX 35mm f/1.4 Review. Made in Canada, home of Santa Claus!
I've just written the world's largest review of the world's smallest professional f/1.4 lens.
This classic isn't as good at f/1.4 as today's LEICA SUMMILUX 35mm f/1.4 ASPH, but it's half the size and half the price, and at least as good for use at smaller apertures.
For those of you who still think Leica is expensive, this SUMMILUX costs less than the way most of you get 35mm on your Nikons with the popular 24-70 AF-S, and this Leica lens weighs only one-fifth as much, has far less distortion, and allows the equivalent of four times the effective ISO because it's two stops faster than the slow f/2.8 of Nikon's zoom.
This is getting crazy today; look at the two-pound beast so many of us cheerfully lug around all day compared to this tiny old Leica lens: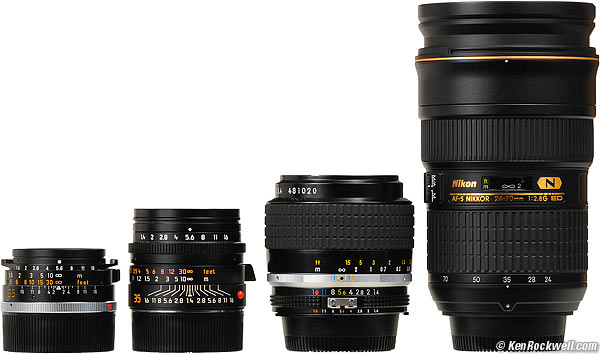 SUMMILUX, SUMMILUX ASPH, 35/1.4 AI-s and 24-70 AFS. bigger.

Leica used to be expensive 10 years ago before the world went nuts, spending thousands of dollars every other year on whatever digital camera-of-the-week came out.

Today, Leica still costs about what it did 10 years ago, while people throw even more money at Nikon and Canon than they ever would have dared 10 years ago.

29 November 2009, Sunday

Bless the Ear Syringe

Three times in the past three weeks I've used a 3 ounce ear syringe to clean dirt from sensors that I couldn't dislodge by blowing, or with my Shop-Vac.

The key is to put the camera and ear bulb on a solid table, open the shutter on Bulb, and then hammer the ear bulb with your fist to get sharp blasts of air.

These sharp blasts dislodged the offending specks.

I'd never, ever touch my sensor. I personally know people who really have destroyed $5,000 cameras when they tried sensor swabs or whatever other Hillbilly junk is out there for do-it-yourselfers. If I can't get it off with a Shop-Vac or blower bulb, I send my camera back to its manufacturer.

If you try touching your sensor with anything, you'll just as likely wind up sending you camera to meet its maker in a different sense.

27 November 2009, Friday

Leica M9 for the Holidays

Well, the used M9 I showed last week on eBay only hit $9,000, but that auction closed on Thanksgiving. I wonder how high this one will go.

Other have sold on eBay for $9,200 and $9,999.

I don't know for how much longer this will hold out, probably through January or February until Leica catches up on their back orders.

If you want one, I wouldn't pay too much over eBay; I'd just order from Adorama or OC Camera at (949) 347-1276 and wait.

I prefer the color rendition I get from my Canon S90, so to each their own, even if price didn't matter.

25 November 2009, Wednesday

D40 HOT DEAL

Adorama has an exclusive special with the Nikon D40 and 18-55mm lens at the lowest price I've ever seen: $439.95.

Even better, that price isn't just for a kit with the 18-55mm lens and camera, it also includes free shipping, a Lexar 4GB Platinum II SD card, and a Nikon SLR gadget bag and a Bob Krist instructional Nikon DVD as well!

The D40 is favorite with sports shooters because of its professional 1/500 standard flash sync, something no other DSLR today does.

As you've heard a hundred times from me, the D40 is my favorite Nikon DSLR. It is super light weight, and the easiest for me to operate since it isn't loaded with all the junk features of other cameras. I use the preset menu options I set some time back in 2006 when I got my D40 and the menu system has only had the few items I use in it, a huge time saver for me.

My D40 is the camera I grab first when my wife says "grab a camera, Ryan is doing something cute!"

While you're there saving all that money over other cameras, I suggest getting an SB-400 miniature external flash ($111.95) and by the way, the Nikon 35mm f/1.8 is in stock at Adorama at $199.95, which I also strongly suggest for low-light no-flash shooting. I suggest the extra flash not for dim light, but for daylight fill. The D40 has its own flash, and the SB-400 flash recycles much faster and saves the battery in the D40.

The greatest tele lens for the D40 is the 55-200mm VR ($224.95) and while not cheap, if you need wider than the 18-55mm kit lens, the 10-24mm ($784.95) is the one to get.

The D40 deal will last as long as Adorama's stock of the kits holds up. Adorama has a reasonable number of these special D40 kits, but no one has many of the 35mm f/1.8 DX lenses.

2010 Workshops and Tours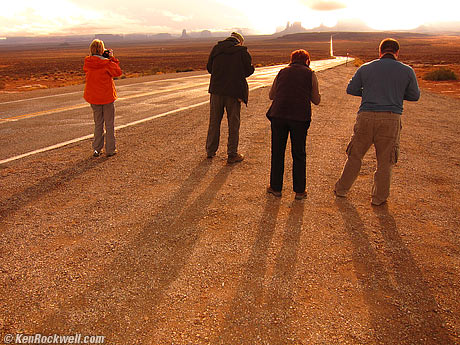 On the Monument Valley Tour, 14 November 2009.
Dave Wyman has just posted his 2010 schedule. I attend and instruct many of these with him, as you'll see in his listings.
These sell out fast, so if you're going to go with us in 2010, don't dawdle.
These are both tours and workshops.
A tour is when a guide takes you to the right spots at just the right time to get great pictures.
A workshop is when you spend most of your time in a motel watching people work on computers.
In our case, we're out shooting all day. Instead of wasting the day indoors talking about color profiles or raw converters, you can get all the hands-on individualized instruction you'd like — or not — while we're all out shooting something worthwhile. This way you can learn what really matters in the best possible place to learn it: while you're still out shooting.
If all you want to do is shoot; great! We're out shooting from dawn to dark, and we don't get up any earlier than we have to to catch the dawn. We've got this down.
We do get together when we get back in the evenings for the occasional short educational talk or review of images, but since we'll be up before dawn shooting the next day, we don't stay up late.
If you want a drinking tour, this isn't it. If you want a shooting tour that gets you the most and best possible images, and/or if you want to learn more about your gear and how to use it well, this is it.
We're happy to teach you anything and everything related to workflow, image preparation and publication, monitor calibration, storage, backup and everything else computer related if you ask, but remember, you'll be spending time actually making pictures on these tours instead of just talking about it.
Professional photographers come on these tours to create the images that they'll sell later, and these same pros keep coming back with Dave.
These tours are so good that I see about 30% of the people are repeat attendees.
On Dave's tours, we come back with a lot of great pictures, and you can learn as much or as little as you'd like to about your camera, composition, lighting, interpolation matrices, RealRaw, White Balance settings, or anything you'd like to know.
If you just want to shoot fantastic subjects in great locations, we won't bug you.
Like all outdoor and scenic photography, we start with a basic itinerary, and optimize it on-the-fly as weather and lighting conditions change. This is how we get to the best locations in the best light.
Since most of any instruction you'd like is one-on-one, these are great for people of any level. Of course many attendees are experts, who spend all their time shooting. The good news is that Dave and I are available to you for whatever you'd like to learn, and I usually do give one short talk about the key fundamentals of composition and how to make strong images that stand out, win contests and catch everyone's eye.
I'm glad Dave and I worked to get this schedule up this soon for the coming year, since some attendees come to these tours lucky enough to have received them as gifts from loved ones.
Bring any kind of camera. Most people shoot Nikon and Canon DSLRs, while others shoot RealRaw. Bring anything you want, but we probably move too fast for most large-format (4x5" and up film) shooters, which is why Dave didn't suggest that. As you can see at the shot above from one of our trips the other week, tripods usually only come out at night, or if you shoot ISO 50 film as I often do. Once we work one location, we're on to the next location.
24 November 2009, Tuesday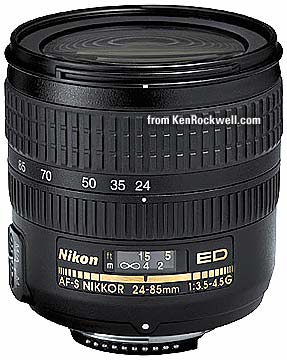 Nikon 24-85mm AF-S
As I was cleaning up to find Goodwill donations for Thanksgiving, my kids scrounged up my forgotten 24-85mm f/3.5-4.5 AF-S, a superb lens for FX, DX and film.
The 24-85mm AF-S came out in 2002 as the new, improved replacement to the old, unsharp, klunky mechanically-focused 24-85mm f/2.8-4 AF-D that came out in 2000.
Since Nikon isn't nature, the best, strongest and most adaptable aren't always the ones to survive: the most profitable are.
Nikon still sells the old, inferior model brand new today for $700. I got my newer, improved AF-S for about $284 back when it came out.
This is too bad. The 24-85 AF-S is lighter, sharper and focuses more closely than the old model still sold today, and the AF-S is also compatible with the D40-D5000 cameras, unlike the old one today.
The new, discontinued AF-S allows instant manual focus override, while the inferior older model still sold today still requires moving the switch on the camera.
Moose also had a great review of the AF-S back when it came out.
Nikon obviously figured out that they weren't making money selling the better lens for less than the old lens, so they discontinued the 24-85mm AF-S so that they can sell us the poorer old 24-85mm AF-D instead.
The 24-85mm AF-S works great on everything from the D40 through D3X and N65 through F6. It's too bad it fell out of the catalog. Its only flaws are some distortion, but unlike on film, that's trivial to correct in Photoshop. On the other hand, the old AF-D lens which is still sold today won't autofocus on any of Nikon's least expensive cameras - whoops!
LEICA M9: Five Figures
As I predicted, the LEICA M9, the world's best digital camera, is worth a lot more than its original asking price of $7,000.
Used ones are going for around $10,000 or more, like this one still available on eBay. Since that auction closes on Thanksgiving when no one will be looking, you might be able to steal it for way under $12,000, if you're lucky. (eBay listings always amuse me: that one claims "condition: new, never opened," yet the guy shows photos of it in his bare hands, not even wearing gloves!)
Much of this is because no one can get an M9; the demand way outstrips Leica's ability to hand-make each one today, and Leica customers want it now; the price is not relevant.
Why would people sell an M9? Do you think it might be because film looks better? The M9 is used by Leica photographers as a preview system for their RealRaw cameras. At $10,000 second-hand, why not pass it on to someone less fortunate for the holidays and get another when the hubbub dies down next year?
Seriously, though, before you start thinking you're going to make a killing reselling it next week for $15,000, remember that as soon as Leica catches up on supply and digital rot starts to set in, its resale value will plummet. Digital cameras, especially Leicas, are for rich people with money to burn, not for speculators. Rangefinder cameras, like Leicas, are completely different from SLRs. Neither replaces the other.
Heck, in the beginning of September when I first heard the rumors, but not the price, I thought for sure the M9 was worth $12,000 - $14,000 because it was at least twice as good as the old M8. I was ecstatic when I heard it was only $7,000, and as the market is showing, $12,000 just might be the price today. At least the new price hasn't started to ratchet up - yet. The dollar is falling against the Euro.
Counter this to the overpriced Nikon D3X. No one wants them at $8,000, and Nikon has all you want, in stock, of course. A new D3X is only worth about $5,100 today, which is why at an asking price of $8,000, they aren't going anywhere.
I'd have bought a D3X to replace my D3 immediately if the price was appropriate, but no one likes getting ripped off at $8,000. The D3X exceeds the D3 in image quality, even at high ISOs. The only disadvantage of the D3X is slower motor rate (AF is just as fast) and $3,000 missing out of your wallet compared to the D3.
23 November 2009, Monday
Software
I've been playing with Phase One One Capture 1 software, and lo and behold, even though it's a serious program intended for full-time studio pros, not schmos like me, it was easy to download, install and figure out. It was also trivial to find the Color Editor and adjust individual color ranges to my taste without affecting other colors.
Yes, P1C1 can let me tweak just my yellows from raw captures, and even already has profiles for the newest cameras like the Canon S90, LEICA M9 and G11.
Now all I need to do is figure out exactly what settings will let me get the M9 to have colors that are as good as I get from Velvia 50, whose chromatic distortions making warm colors warmer is what keeps me coming back to film. Heck, I'd be stoked if I could get the M9 to give colors as good as my D40 or 5D Mk II. I still haven't gotten used to the M9's color rendition, then again, I don't hear any complaints (except from me) from what I cranked out of it back in Yosemite last month.
I also can do selective color adjustments in Photoshop, but I'm too lazy to try. I have no idea if Aperture or Lightroom offers these tools.
21 November 2009, Saturday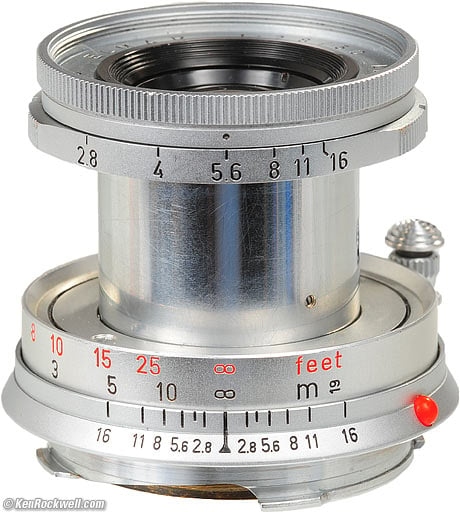 LEICA ELMAR 50mm f/2.8. Sample image.
NEW: LEICA ELMAR 50mm f/2.8 Review.
20 November 2009, Friday
DxO Optics Pro 6
I just got off an illustrated conference call with DxO in Paris.
The new version 6 of Optics Pro is out for WIndows, but the Mac version won't be out until next year.
DxO Optics Pro is software that perfectly and automatically (by reading the EXIF) corrects lens distortion, improves lens sharpness as needed, and does the best job I've ever seen of automatically optimizing highlights and shadows.
Not only does it do a perfect job of correcting the complex distortion of ultra-wide zooms, it creates perfect straightening of fisheye images, regardless of focused distance, and that was even in version 4 that I've been using.
Unlike other shadow and highlight programs (or Photoshop or Lightroom themselves), DxO magically knows how to apply just the right amount of whatever to get my photos to sing, automatically. I last used old version 4 for my photos on Rt 66 back in 2007, and it worked wonders. I pointed DxO to the photos I wanted, it crunched the numbers, and out popped perfected images.
New in version 6 is the ability to remove noise and even push-process images two stops past the highest ISO on your camera. That's right: shoot your D3 at ISO 12,800 in raw, and processed through DxO they showed me it looking better than when processed in ACR or Capture NX.
Even crazier, set your camera, like a Canon G10, to underexpose by using negative exposure compensation, and DxO can push the image a stop or two to get you ISO two to four times the maximum that you thought you had on your camera.
Optics Pro works with both raw and JPG images, but to get the extraordinary noise reduction performance they showed me, it has to do that from raw files.
Of course you can control it manually, but for a guy like me that would rather be shooting than playing on a computer, the fact that DxO can be trusted to do its own thing, and do it extremely well, is a Godsend.
When you buy it. you buy a license to run it on two computers, just like Photoshop.
Dxo Optics pro is compatible with Lightroom 2. It can browse Lightroom catalogs, export back to to lightroom catalogs, and you can call up DxO as an external editor from inside Lightroom by right-clicking and selecting "send to DxO."
Another advantage of DxO over most other software is that it doesn't need to create a duplicate-copy library of all your photos, as Aperture, iPhoto and Lightroom do by default. It it these stupid libraries which cause the compatibility problems where you need to get things in and out of "libraries." With DxO, it works with images as they are stored in my regular file system.
Other software makes duplicates of everything you "import" into them, and with the amount I shoot, I can't afford that. With DxO, you show it what photos you want processed, and it goes to work.
DxO 6 has the ability to split-screen "virtual copies" of different sets of manual corrections. These virtual copies only exist in the software; they don't clog up more hard drive space.
DxO Optics Pro 6 makes it easy to store and recall presets of settings you might like. There is a Presets box near the top right in the Customize tab, and in the other tabs, simply right-click a thumbnail image to use presets.
If you bought Optics Pro v5 since June 2009 you get a free upgrade to v6.
If your copy of v5 is older, you get a 40% discount on the upgrade through 31 December 2009.
If you're new to DxO Optics Pro, there is a 33% discount through 31 December 2009.
So? The Mac version won't be out until 2010. For Mac, as of course I use, the key is to buy or upgrade to version 5 today, and then the upgrade to v6 ought to be free when v6 becomes available for Mac.
19 November 2009, Thursday
Indian Country Tour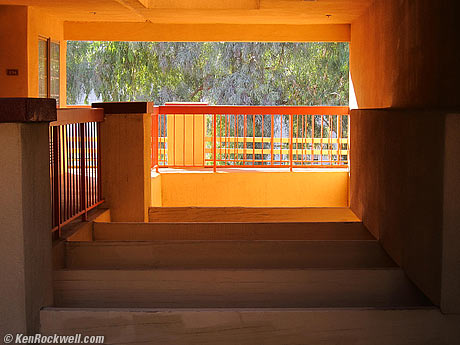 Southwest Sun.
NEW: Indian Country 2009 Gallery.
I just posted snapshots I made last week in Arizona and Utah on Dave Wyman's photo tour.
I'm done with DSLRs for travel. All the posted snaps come from the Canon S90 or G11.
RSS Update
For those of you getting too many updates, you are subscribed to the live RSS feed.
If you don't want 37 updates as I write this all day, you want to subscribe to the daily RSS feed instead.
National Wildlife Federation Photo Contest Winners
The NWF has chosen the winners, which you can see here.
18 November 2009, Wednesday
Voigtländer Update
I don't understand why anyone would cheap-out with Voigtländer lenses on a LEICA M9. Lenses are free compared to the depreciation of an M9, and inferior lenses compromise the M9's quality for which you paid in the first place.
The Voigtländer 12mm, 15mm and 21mm lenses work poorly on the M9. I've tried them. Forget them. Their rear nodal points are so close to the sensor that they have red-tinged left sides and blue-tinged right sides. It's nasty. They work great on film, but forget it with the M9, at least if you care about quality.
The M9 is programmed with profiles to work perfectly with all current Leica ultrawides, so they are not a problem. The M9 has no profiles for lesser-brand lenses.
Honestly, do you have any idea by how many thousands of dollars a year your M9 is depreciating? Do you realize that lenses only go up in value? The silliest thing people do is buy fancy cameras and cheap-out on lenses. Do not buy Voigtländer lenses to save money — it will cost you. Only buy them if they do something Leica can't.
Lets look at the numbers:
LEICA M9: $7,000 new. Used value in 3 years: $2,500. Cost per year: $1,500. (used value in 10 years: $500. Cost per year: $650. Used value today, due to scarcity before everyone gets theirs, is about $9,200.)
Voigtländer 21mm f/4: $400 new. Used value in 3 years: $300. Cost per year: $33, and the cost of inferior images. (used value in 10 years: $500. Cost per year: the world pays you $10/year.)
Leica 21/2.8 ASPH: $4,400 new. Used value in 3 years: $3,200. Cost per year: $400. (used value in 10 years: $5,200. Cost per year: the world pays you $80/year.)
Used Leica 21/2.8 (non-ASPH): $1,500. Used value in 3 years: $1,800. Cost per year: the world pays you $100/year. (used value in 10 years: $2,500. Cost per year: the world keeps paying you $100/year.)
Used Leica lenses are always a bargain for what you get. In fact, they tend to appreciate with time, making them better than free or throwing that money away in the stock market.
If you can afford an M9, you certainly can afford to get decent lenses for it.
Zeiss are excellent. I have not yet tried any auf der M9. My concern will be with sensor interface for the shorter lenses without in-camera profiles.
I do want to look at the newest Zeiss lenses for Canon DSLRs, which might let the Canon 5D Mk II out-do the M9. We'll see; Canon's shortcoming is that their wide zooms are superb for sports, news and action, but fall short for nature and landscape use. That's why people have been adapting Nikon's 14-24mm to Canon.
Go Shoot!
I haven't stopped laughing all day. Check this out:
Sadly, this is all too true. Some of my best shots have been made with cameras that couldn't focus. I simply learned how to compensate for the offset.
It's time to stop worrying about your camera and go shoot. I don't even use DSLRs anymore except in the studio. In the field, I use a point-and-shoot.
I do worry about focus, but only because you people want me to report on it. I've been sending half my Leica lenses out for adjustment to get the focus just right. If you think SLRs are a pain, don't even think about trying to get all your telephotos to focus perfectly on a rangefinder camera.
I have no idea how I to embed video on my site. I wish I knew how to do this for my kid videos!
Phase One
Good news: I researched last week's PODAS workshop, and learned a lot more about Phase One. That blog was put together each night as they were trying to put things to bed, so we'll hold off looking at their photos until they are presented formally.
The great news is that I sniffed around enough to learn that Phase One Capture 1 software not only works with DNG files from the LEICA M9, it already has calibrated profiles for the M9!
Leica used to include this with the old M8, but not with the M9.
I've not gotten the colors I want out of the M9's JPGs or DNGs via CS4's ACR tool. Sure, I get nice pictures, but I still haven't gotten the colors I personally prefer out of it.
Capture One ought to let me create color profiles to distort colors in similar ways to how Velvia 50 makes warm colors warmer without changing the greens or blues, and if I can figure that out, hee hee hee, it ought to be good times.
One fine day I hope to get the time to download it and play with it.
Great Work with the Canon G11
Want to see what a real photographer can do with a Canon G11 point-and-shoot? have a look at Laurence Kim's latest work.
If you know what you're doing, you'll get great shots with anything.
If you don't, your time should be spent in art class, not fiddling with even more complicated cameras, until you can get great results with disposable cameras. I'm serious: if you can get the basics right with a QuickSnap, your work will be spectacular shot on a real camera, and if you can't, a better camera will only make things worse.
Free Workshop
Well, not really.
Check out this video interview with Chase Jarvis for some great tips that help a lot more with making great photos than buying a new camera does.
Chase gets to the really important points several minutes in, after they stop talking about his book or cameras or SanDisk. The important take-away after you strip off all the commercial interests, is that it's critical to do your own work, not try to imitate other people's styles.
You can get Chase's book at Amazon.
17 November 2009, Tuesday
Nikon Short Film Contest
Nikon's having a contest for the best short film of 140 seconds or less. That's quite a long clip; TV commercials are only 29.5 seconds, for instance.
Entry is free, you may send up to five different films, and top prize is $100,000.
Here are the rules.
When I say "film," I mean that Nikon is accepting digital video files of just about any kind (up to 200MB) and that they may have been created on any kind of camera, film, digital, cell phone, or whatever.
That means you can shoot in 35mm 'scope or 65mm on Arri, Panavision, break out the old Mitchell, shoot with your camcorder or cell phone camera, or even try your luck with a DSLR's video mode.
The good news is that Nikon claims it doesn't care how you shoot it, so long as it comes out as a file you can upload.
Good luck! It's all about story telling, not the gear.
LaCie Rules!
I just opened my mail after returning from Indian Country.
Lo and behold, LaCie returned the big, professional 1.5TB external hard drive I had sent to them for repair.
It worked fine, but it made funny noises ever since Ryan pulled it off a counter to fall four feet onto solid concrete.
I called LaCie, wondering if I could send it in for service, hoping maybe replacing just the internal drives would be a cheap way to make it reliable again.
It was still under warranty, so the LaCie guy in Oregon said send it in and they see what they could do. He said don't worry about having dropped it; the technicians won't penalize me unless it's got obvious impact damage.
They sent me email letting me know it was serviced with their compliments.
I opened the box, looking forward to a freshly serviced drive, but no!
Instead they sent me a newer model, just like new complete with all the cords, manuals and power supplies, which I had not sent in with my older drive. What they sent me was marked "refurb," but except for the brown box, looks like new.
Whoo hoo!
It always pays to buy quality. I got lucky this time.
Actually, I had retired this 1.5TB drives as too small. I now use 3TB drives daily for backup. I'll use this 1.5TB drive for utility.
16 November 2009, Monday
Arizona and Utah!
I just got back from a week of shooting everywhere from Monument Valley to Arches National Park to Sedona.
I photographed with the Contax G and 645 systems, shooting Velvia 50 as usual.
For digital, I brought a Canon S90 in my pocket, which worked great! I also made some snaps on the Canon G11 when the S90 batteries started to fade after three days of hard shooting.
It turns out that in spite of all my checklists, Ryan managed to pull out the little bag with all my chargers after I had packed it, so I had my wife FedEx me my little bag of chargers from home.
FedEx is awesome: my chargers really did show up the next morning out in the middle of the Utah desert, about 15 miles out of Moab where we were staying.
No big deal if they didn't arrive. I do my serious work on film, and I had enough batteries with me to run my real cameras through the next decade. It's only the inconsequential digital stuff which needs charging. Real photographers (me, too) don't need no stinking battery chargers or computers when we're out shooting.
Here are some casual drive-by snaps from yesterday, made with the S90. We didn't do much shooting yesterday: driving from Flagstaff to Phoenix and then from Phoenix to San Diego took all day on the road.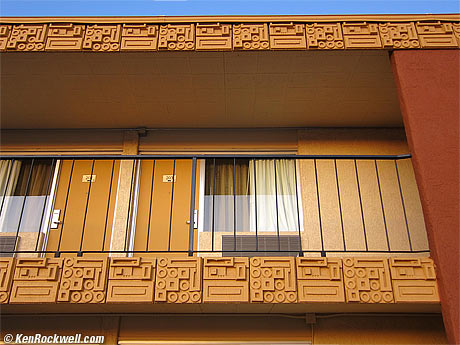 Dawn, King's House Motel, Flagstaff, Arizona. bigger.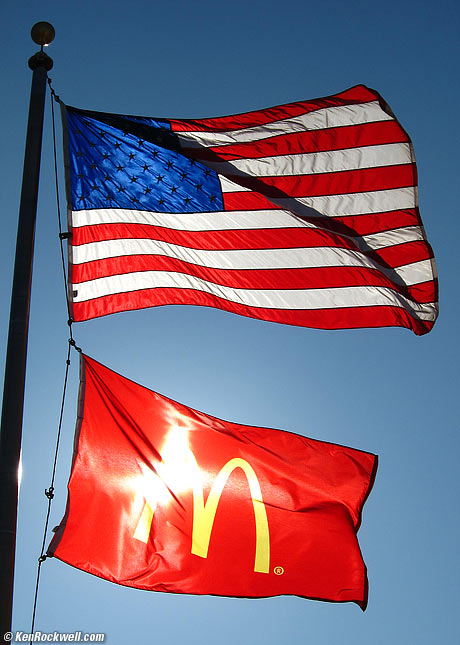 American Flags, Sedona, Arizona. bigger.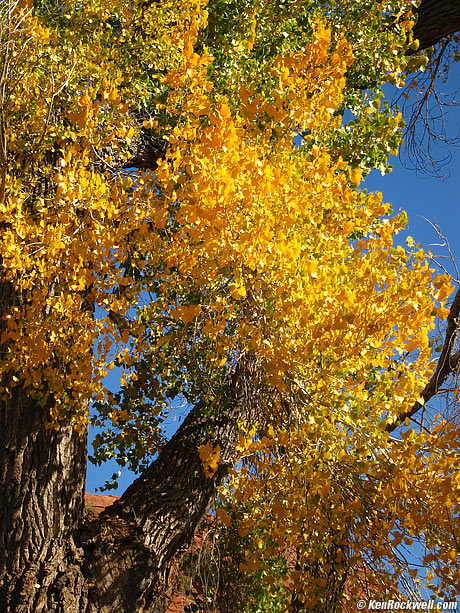 Red Rock Crossing, Sedona, Arizona. bigger.
10 November 2009, Tuesday
I've been having a blast shooting with these two cameras the past few days.
What is striking about each of them is how much better they work at high ISOs than any other camera their size.
Other pocket cameras start looking bad at ISO 400.
These two work swell at ISO 800. When their Auto ISO picks ISO 1,600 when I need it, it still looks about as good as a DSLR.
I haven't started to analyze in depth, and I am very happy that each of these seems to be a step up from everything that came before.
I haven't compared, but I also think that this better high ISO performance is going to translate into much better daylight performance, with the noise reduction having to work much less hard and making my photos look less like cartoons.
Oh yes, as expected, S90 images look just like G11 images. They have the same sensor, and the S90 has a faster lens that lets it run at one stop less ISO in the same light for even better quality than the G11.
Another world-beating feature of the S90 is a secret: if you turn the big ring while setting WB, you get instant access to warm/cool (amber/blue) WB trim. Even LEICA can't do this; it allows me to get the perfect color balance right out of the camera in AWB. Hitting DISP gets you to a screen to do this and set green/magenta balance; the trick is the ring alone will adjust A/B without needing to go deeper. HA!
We'll see, but for starters I'm very impressed that for once it seems that the claimed high ISO improvement is for real.
06 November 2009, Friday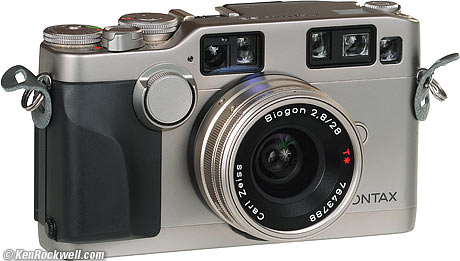 Contax G2 and Zeiss 28mm f/2.8.
NEW: Contax G2 Review. Better than the LEICA M9, for a lot less money! The M9 is the world's best digital camera, but the Contax G2 is about 40 years more advanced.
NEW: Contax G2 Users' Guide. How to use every feature of the G2, which is a lot simpler than I make it seem.
05 November 2009, Thursday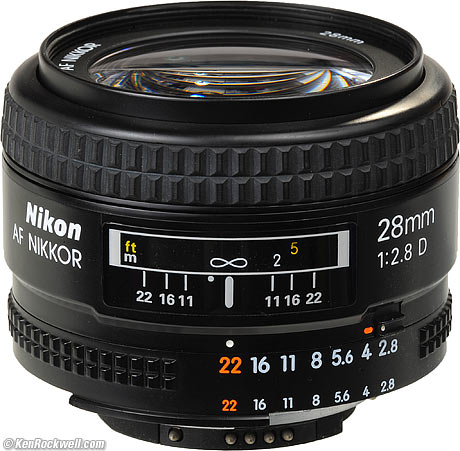 Nikon 28mm f/2.8 AF-D.
NEW: Nikon 28mm f/2.8 AF-D Review. A full review of the current lens, which has been available since 1994.
04 November 2009, Wednesday
NEW: Leica Lens Serial Numbers. It's easy to figure out when your lens was made.
03 November 2009, Tuesday
Film?
As you can see, film looks better, but fewer people shoot it.
Why?
Film is now an alternative medium, just as newspapers are to the Internet, and as TV is to movies.
Even as newer media take over the old, the old still gets better at what it always has done.
For film, film again a serious artists' medium, free from the encumbrances it had back when it was used by snapshooters.
Yes, fewer people shoot film because my mom now shoots digital, but just as many serious photographers shoot it as ever.
The reason the market numbers drop is because the snapshooters are bowing out, not the serious artists.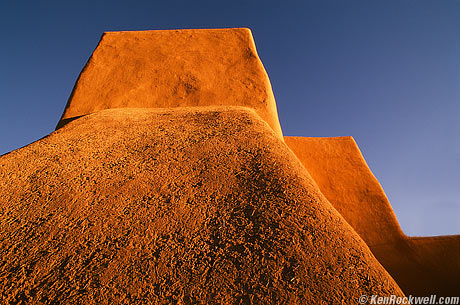 Rancho de Taos.
NEW: Photos from Arizona and New Mexico, November 2008.
Feel the power! This is what I photographed on Fuji Velvia 50 on a Nikon FA. You'll see links to the digital snaps of the same subjects if you want to compare for yourself.
The important part is that these shots are what I got back from the lab with no twiddling, and the images look even better on the actual film than on the cheap scans I present at this gallery.
These shots are almost a year old. I had to get out of my cage and post these before I forgot them all.
02 November 2009, Monday
Yosemite!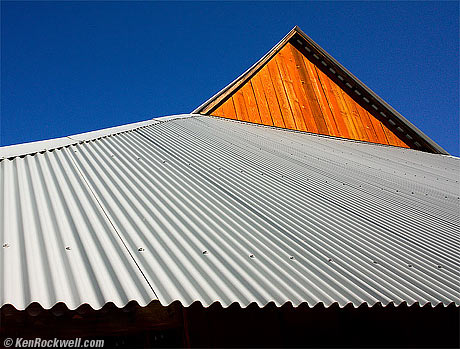 Barn, Yosemite National Park.
NEW: Photos from Yosemite and California's Eastern Sierra, October 2009.
I've presented many of the original JPGs, DNGs, and JPGs derived from DNGs, which means that these are also the highest-resolution complete images ever published on the Internet. Previous science experiments may have allowed people to browse or scroll around larger stitched images, however this is the first time anyone has published complete files from anything with higher-than-DSLR quality.
Have fun!
Canon Photography in the Parks Contest
Even if you missed your chance to enter, you can still vote for your favorite images.
If you do, you can enter to win a free Canon Rebel T1i and 18-55mm IS kit.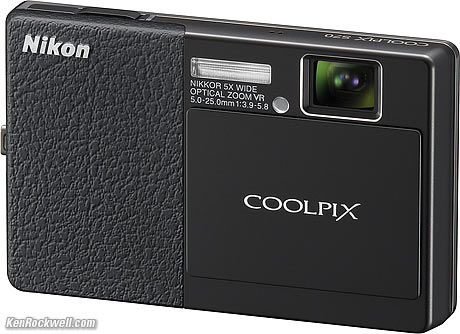 Nikon S70.
NEW: Nikon S70 Review. The Nikon S70 is a huge disappointment. I was expecting a great camera, but it's awful. Oh well.
01 November 2009, Sunday
Standard Time
I just made a point of setting all my cameras back to standard time.
Unlike a clock, if you don't actively reset all your cameras right now, you won't know they are wrong until sometime in February, 2010 when you notice the EXIF is off by an hour.
All Saint's Day & Barnack's 130th Birthday
Today is Oskar Barnack's 130th birthday. Barnack is the martyred spiritual leader of the Leica cult. You'll see his photo in every Leica catalog and PR piece.
I've seen his image in catalogs from at least 1938 through today, just as paintings of Saddam Hussain, Ché and Mao Tse Tung are all over other countries countries in which those martyrs are worshipped. Even weirder is that the iconic photo of Ché you see everywhere was shot on a LEICA.
In any case, it's a bit eerie to have Barnack's birthday fall on All Saints' Day, and Dia de los Muertos, as if the whole world is celebrating his birth.
Respecting the Martyr, I will admit that setting the clock of the LEICA M9 was the easiest of every camera or digital clock I had to reset this morning. All I hit was MENU > ZEIT and go, while my Nikons and Canons required several tries if I didn't hit SET or OK or DONE or whatever in the right sequence.
All this, and I still have my M9's menus in German, and the M9 is still easier to use than anything else in English. Maybe the Martyr was right.
What Was New in:
The end of September, 2008 (Photokina)
The beginning of September, 2008
December 2007: Loads of details about the Nikon D3, D300, 14-24mm and 24-70mm, much of which still isn't on the individual review pages.
November 2007: First hands-on details about the Nikon D3, D300, 14-24mm and 24-70mm, much of which still isn't on the individual review pages.
August 2007 (Loads of new Nikons and Canons)
2006 November - December (includes birth of Ryan Rockwell)
2006 October - November (includes photos from a trip to NY)
Help me help you top
I support my growing family through this website, as crazy as it might seem.
If you find this as helpful as a book you might have had to buy or a workshop you may have had to take, feel free to help me continue helping everyone.
If you've gotten your gear through one of my links or helped otherwise, you're family. It's great people like you who allow me to keep adding to this site full-time. Thanks!
If you haven't helped yet, please do, and consider helping me with a gift of $5.00.
The biggest help is to use these links to Adorama, Amazon, Calumet, Ritz, J&R and when you get your goodies. It costs you nothing and is a huge help to me. eBay is always a gamble, but all the other places have the best prices and service, which is why I've used them since before this website existed. I recommend them all personally.
Thanks for reading!
Ken
Home Donate New Search Gallery How-To Books Links Workshops About Contact