Canon 50D
15 MP, 1.6x sensor, 6 FPS, 3" LCD.
$1,399. October 2008.
© 2008 KenRockwell.com. All rights reserved.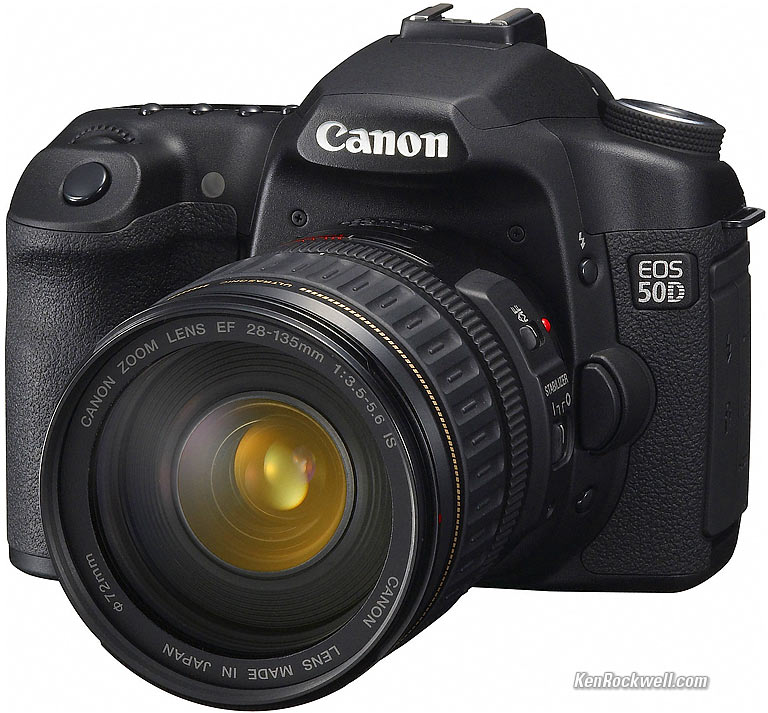 Canon 50D and a 28-135mm IS. enlarge.
I'd get mine at Adorama. It helps me keep adding to this site when you get yours through this links, too. Thanks! Ken.
August 2008 More Canon Reviews
Introduction top
Intro Specs Fluff Recommendations
The EOS 50D was announced on 26 August 2008. It is Canon's latest DSLR for serious amateurs, especially those shooting sports and action on a $1,399 budget. If you're a serious every-weekend sports shooter and have less than $1,600 to spend on a DSLR body, you want the new 50D.
The Canon 50D has an LCD far superior to anything ever unleashed on any Canon SLR. The 50D's LCD is probably on par with the Nikon D300, D700 and D3.
All previous Canon 3" LCDs suck, even on the $8,000 1Ds Mk III, because they have so few pixels that they look coarse and grainy. If all you've ever shot are Canon SLRs, the 50D's LCD alone should be enough reason to dumpster your 40D and order one of these pronto.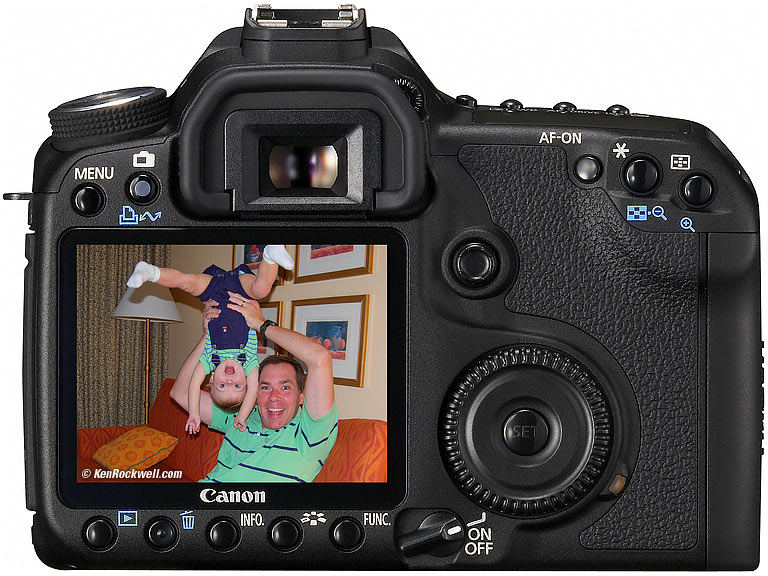 The 50D's LCD is much sharper than the computer screen on which you're seeing this.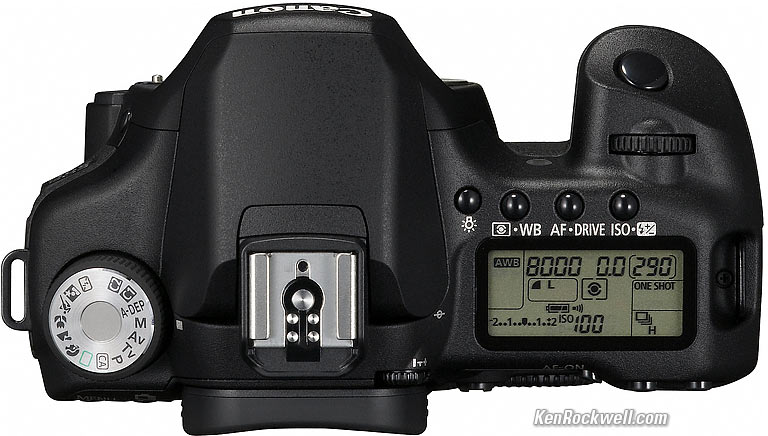 Ouch! Where did they dig up a chrome mode dial? It will be nasty trying to use it in sunlight.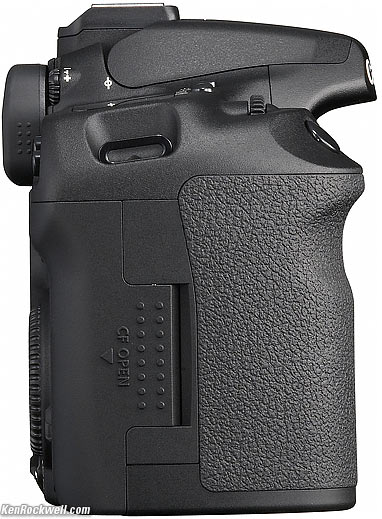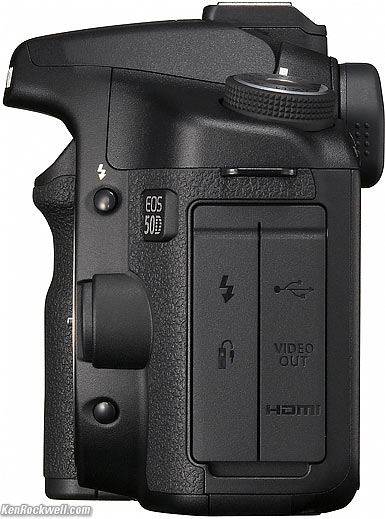 Specifications with commentary top
Intro Specs Fluff Recommendations
AF: Same as the old 40D and 5D of 2005: 9 points. This is the same as the 30D, which is same as 20D of 2004. The only thing new is an AF fine-tune adjustment, which is something that should be left alone unless you are an expert's expert. With all due respect to Canon, Canon's AF systems have always been excellent, and the AF system of the Canon 20D of 2004, which seems to be what's in the 50D, was excellent and better than anything from Nikon up until the Nikon D3 of 2007.
Finder: 0.95x, but that means 0.95x of only the tiny 1.6x size sensor. An 0.7x finder on a full-frame camera would be far bigger.
Sensor: 15.1-megapixel CMOS 1.6x (APS-C). Don't stay up overnight fantasizing over Canon's use of microlenses over each pixel; sensors have done this since the 1980s.
ISO: 100 to 12,800. It really only goes to ISO 3,200 in the usual way. ISO 6,400 and ISO 12,800 should look relatively crappy, so just like Nikon, Canon hides these from casual use by calling them H1 and H2. High ISO noise reduction settings: Standard, Weak. Strong or None. Experiance tells me that the 50D at ISO 3,200 will be clean, but soft, and only worse at higher ISOs. We'll see when I get a sample to confirm. 15MP are just too many pixels to cram onto such a small sensor. If high ISOs are your need, I'd go full-frame.
Frame Rate: 6.3 FPS for bursts of up to 90 Large/Fine JPEGs (16 RAW).
ADCs: 14-bit analog to digital converters.
Firmware Hacks:
Vignette Control (peripheral illumination correction), like the Nikon D3 and D700.
Adaptive Dynamic Range (Auto Lighting Optimizer) to lighten overly dark parts of images. This works while shooting automatically, or can work after the image is shot. Nikon did this last year, and had post-processing like this in the Nikon D40 of 2006.
Text Data: It appears that the 50D now can add text to files directly, as Nikons have done since about 1999. This is how you add your contact and © info to each file as it's shot.
Why am I writing up these features as if they're new? Because they're new for Canon. Nikon's ADR fixed both highlights and shadows, while Canon's PR only mentions fixing shadows. Since the 40D also has highlight improvement, I'll presume that the 50D retains that, and indeed repairs both blown highlights and blocked shadows.
LCD: 3," 640x480 pixels, could be just as sharp as the LCDs Nikon has ben using on the D300, D700 and D3 since 2007.
Video Output: Also has an HDMI output.
Announced: 26 August 2008.
Price: $1,399 USA. $1,599 with the excellent 28-135mm IS lens, which also covers full-frame should you step up to a 1.3x or full-frame camera.
Available: October 2008.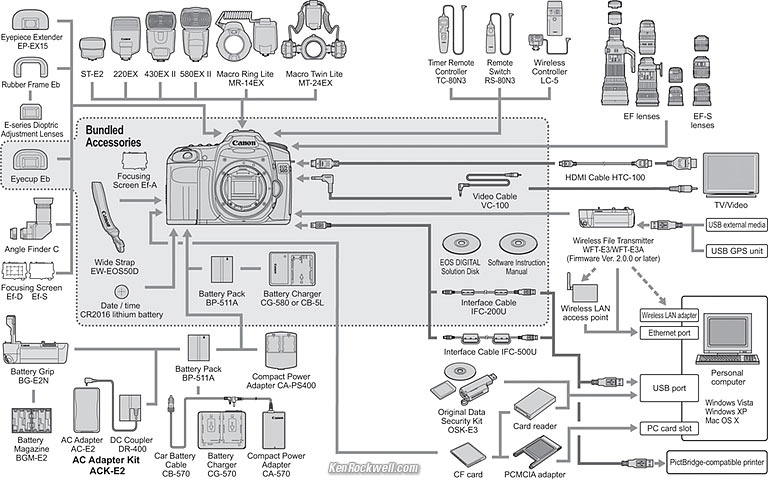 Canon 50D accessory matrix. enlarge.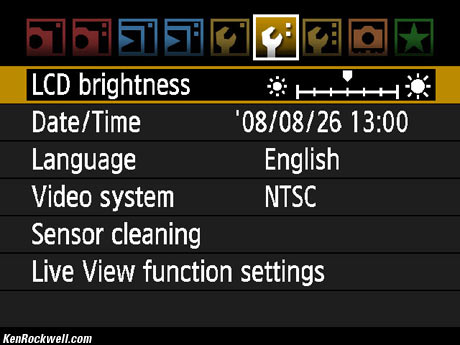 The menus are more colorful. Note how the date is correct today!
Fluff top
Intro Specs Fluff Recommendations
CA Mode
A new "CA" Creative Full Auto setting on the mode dial.
The menu on the back screen spells out options in simple English, saying things like "blur the background" or "lighten or darken the image" instead of the old "apertures" or "Exposure compensation."
In CA mode, one can adjust flash, exposure, blur the background, set the drive mode, and select a picture style directly on the camera's LCD screen.
Live View
For amateurs who think this is a point-and-shoot and use the LCD screen to compose, Canon has added AF to Live View.
It now includes "Quick Mode AF," "Live Mode AF," and "Face Detection Live Mode AF" that detects up to 35 individual forward-looking faces.
Quick Mode AF setting flips the mirror down and carries out regular phase-detection autofocus.
Live Mode AF and Face Detection Live Mode AF use the camera's CMOS image sensor for contrast detection autofocus, just like a point-and-shoot.
Two optional detailed grid displays have been added.
Two Small Raw Formats - who cares?
You'd have to be a real idiot to care about smaller pixel size raw files. These give you lower resolution with larger file sizes than JPG!
Canon calls these dopey things "sRAW," and in the 50D, sRAW1 and sRAW2.
sRAW1 is 7.1 megapixels with a file size that is still at least 75% the size of a bloated regular raw image.
In sRAW2, resolution is piddly 3.8 megapixels, but still half the file size of a huge raw image.
Sadly, Canon lets idiots be idiots and use these settings even in the Basic Zone dummy settings. Back in the good old days, Canon set basic settings so people couldn't screw them up this way.
To keep my hate mail files manageable, I will add that these sRAW formats exist not for photographers, but for computer nerds who prefer jacking around on their computers to getting outdoors and actually photographing. sRAW files are fatter than JPGs, but have even lower resolution.
Ultrasonic Sensor Cleaner
The cleaner runs every time you turn the 50D on or off.
There also is software that works with a blank frame (Dust Delete Data) that is attached to the image file for removal during post processing using Canon's DPP software. As I recall, Canon includes this software with your 50D and doesn't extort you for more money as does Nikon for Nikon Capture software.
The 50D's sensor now has a fluorine coating, which sounds nasty, for better dust resistance. God only knows what will happen when some well-intentioned neophyte tries to clean this with a swab. I've never touched a sensor: I always send my Canons to Canon for cleaning.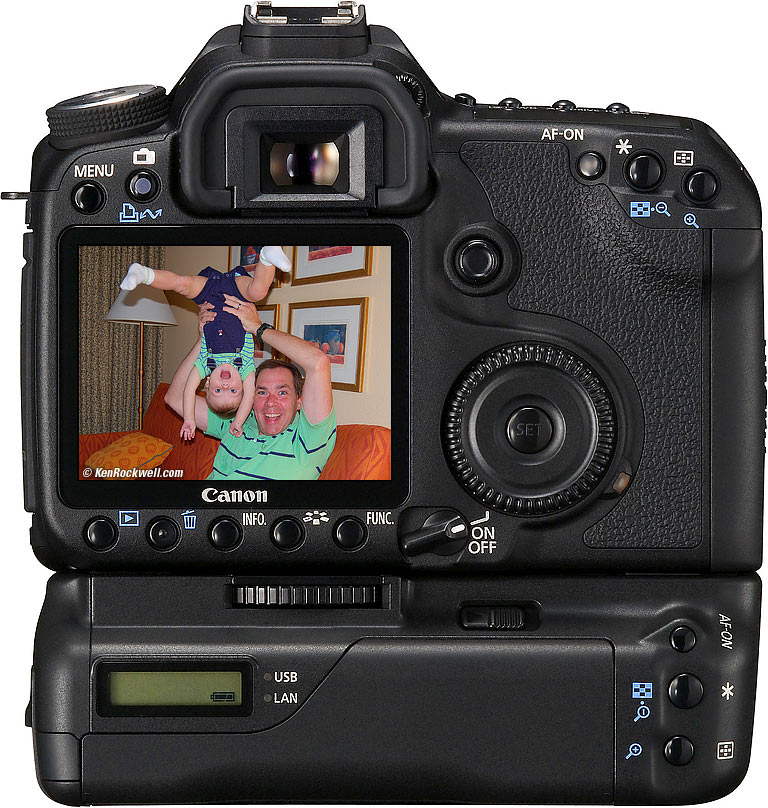 EOS 50D with Grip.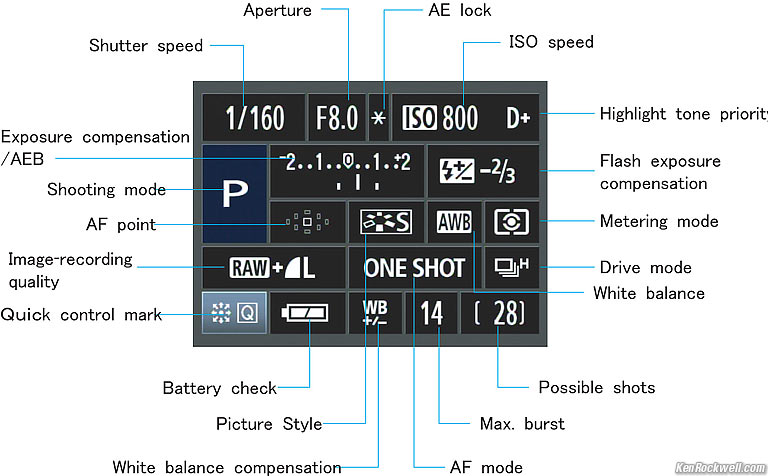 Canon EOS 50D INFO panel as displayed on rear LCD.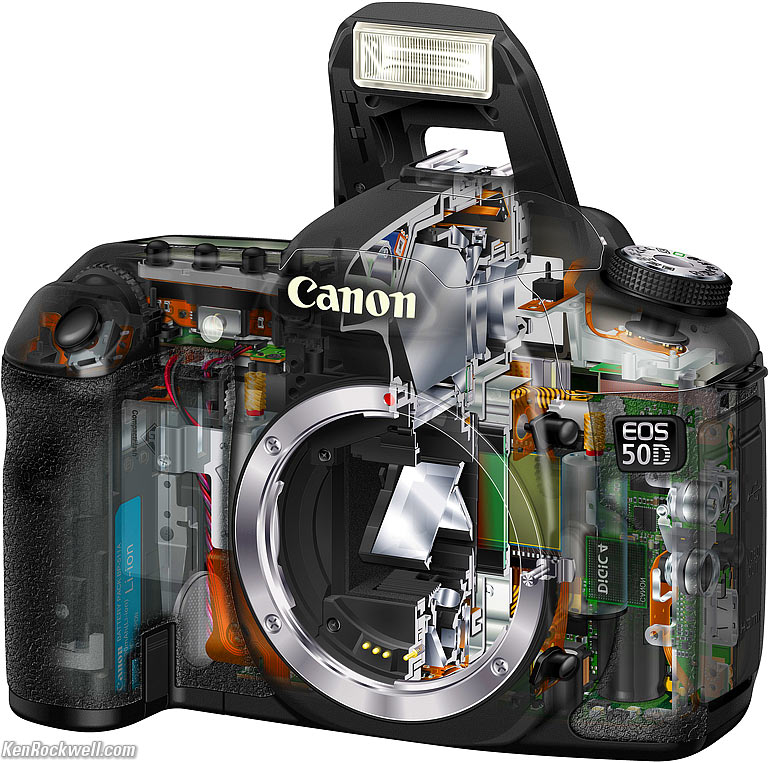 Naked EOS 50D. enlarge.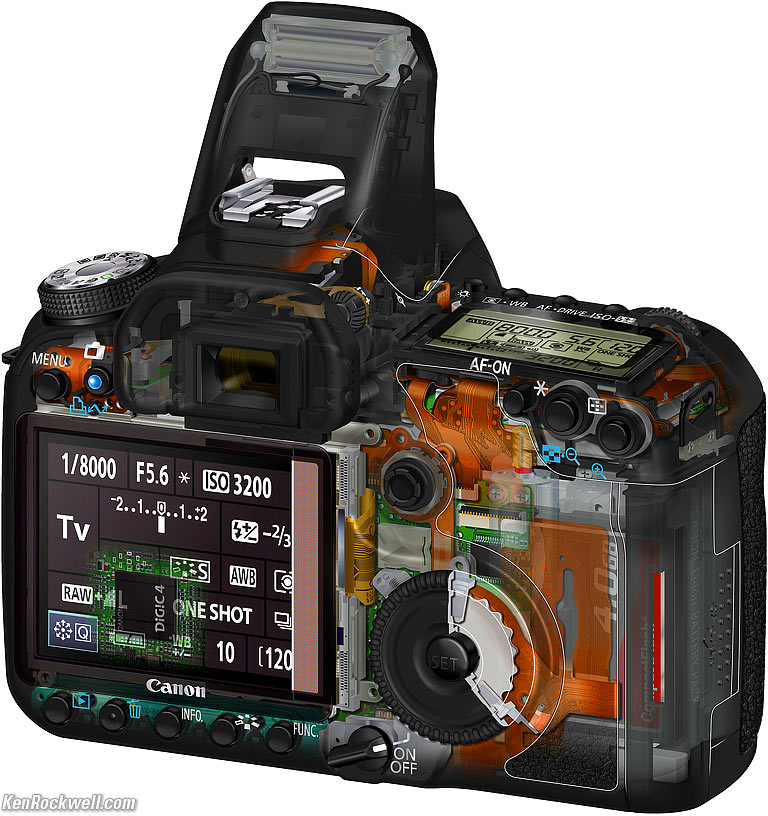 Naked Canon 50D. enlarge
Recommendations top
Intro Specs Fluff Recommendations
The 50D is Canon's newest serious amateur camera.
If I shot Canon and $1,399 was my budget, of course I'd have a 50D. Personally, I'm addicted to ultra-ultra wide lenses which simply don't exist for small-format (1.6x) cameras like this, so I prefer my full-frame Canon 5D.
The 50D is great for sports, with a fast AF system and high frame rate. For landscapes and nature, I'd save for a Canon 5D, which is relatively inexpensive today because the 5D is just about at the end of its product cycle.
I may poke fun of the 50D's "so what" features, which simply are following Nikon from the year before, and the fact that the 50D is still mostly the same 10D/20D/30D/40D we've been seeing for years, but the important thing is that the images that come off these Canon cameras simply look wonderful.
I love the colors that I can get from every one of Canon's cameras, especially since the 5D of 2005 which lets me crank the saturation up to +4. The color pallet of all Canons just looks great.
I'm serious: Have a look at this Route 66 gallery, and realize that these colors are what came directly from my 2005 5D. Ditto for these Death Valley and Eastern Sierra galleries. This is what I got out of the camera, set to +3 or +4 saturation, and the cameras I used didn't have the highlight and shadow processing abilities of the 50D. With Canon, you don't need to waste away in front of your computer trying to jack things around in raw; I get this directly out of the camera in JPG.
I'm amazed at the colors I got right out of the camera from my crappy A70 point and shot back in 2003 in Italy, and even Canon's Rebel XT of 2005 gave absolutely extraordinary colors.
PLUG top
I support my growing family through this website, as crazy as it might seem.
If you find this as helpful as a book you might have had to buy or a workshop you may have had to take, feel free to help me continue helping everyone.
If you've gotten your gear through one of my links or helped otherwise, you're family. It's great people like you who allow me to keep adding to this site full-time. Thanks!
If you haven't helped yet, please do, and consider helping me with a gift of $5.00.
The biggest help is to use the links to Adorama when you get your goodies. It costs you nothing and is a huge help. Adorama has the best prices and service, which is why I've used and recommended Adorama since the 1970s!
Thanks for reading!
Ken
Home Donate New Search Gallery How-To Books Links Workshops About Contact