Home Donate New Search Gallery Reviews How-To Books Links Workshops About Contact
Canon 28-135mm IS
Full-Frame EF (1998-)
© 2012 KenRockwell.com. All rights reserved.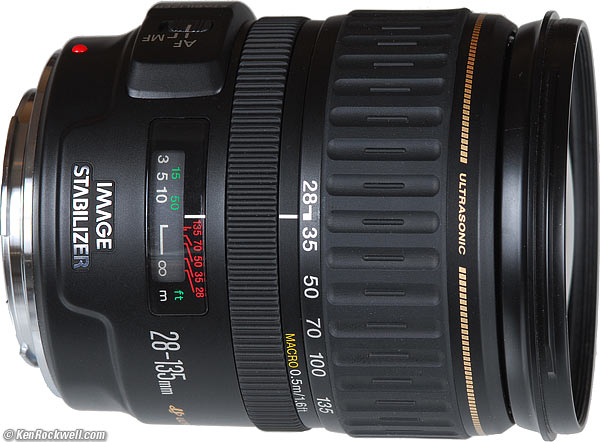 Canon EF 28-135mm f/3.5-5.6 IS USM (72mm filters, 19 oz/540g, 1.6'/0.5m close-focus, about $450). enlarge. This free website's biggest source of support is when you use these links, especially this link to it at Adorama, at Amazon, or this link directly to them at eBay (see How to Win at eBay) when you get anything, regardless of the country in which you live. Thank you! Ken.
April 2012, July 2009 More Canon Reviews Canon Lenses All Reviews
Introduction top
Introduction Specs Performance Usage Recommendations
The Canon 28-135mm f/3.5-5.6 IS is a wonderfully versatile lens.
It's my favorite Canon all-purpose zoom for full-frame digital and 35mm film.
The 28-135 EF IS USM is easy to handle, works great, goes long and wide, has instant manual-focus override and focuses super-close. What more could you want? Image Stabilization? It has that, too!
You can pay almost three times as much for the 24-105mm f/4 L, (about $1,100 versus $450), and I still prefer this 28-135mm because it's lighter and easier to handle. This 28-135mm is easy to focus and zoom, while I found the 24-105mm f/4 L a pain to zoom precisely at the wide end, and the focus ring of this 28-135mm is much better placed. I can focus this 28-135mm with a single fingertip on its rubbery ring, while I need two fingers to turn a larger, less grippy ring on the 24-105mm L. I love using this 28-135mm, while the 24-105mm was a real pain — and heavier.
If you want the highest possible technical image quality, most people are shooting a wide zoom and a tele zoom, and using a fast, fixed midrange lens if at all, not a midrange zoom. Midrange zooms are for fun, and this is the best.
I've coveted this Canon 28-135mm lens ever since it was introduced in February 1998. I would be out shooting with my Nikons and fixed lenses, while my pals would be shooting with their Canon A2Es and these 28-135mm lenses. "Wow," I thought, those Canon shooters have it made: it goes wide, it goes tele, it stabilizes itself so I can throw my tripod out the window, and all I have to do to change the focus manually is flick that little ring.
Back in 1998 all Nikon had were klunky things with limited zoom ranges, the Nikon lenses required moving a switch to get from auto to manual focus and back again, and IS or VR wouldn't be in any Nikkor SLR lens until the next millennium.
Now that I've waited almost 10 years to try one, how good is the Canon 28-135mm IS? Very good; in fact, it's my favorite Canon midrange zoom.
The 28-135mm IS is a great choice for full-frame and film. It's a silly zoom range for 1.6x cameras like the 50D and Rebels, even though Canon often offers it as a kit lens with the 40D and 50D.
The 28-135mm makes optimum use of plastic. It's very lightweight, and used very good and precisely made plastic so that it oozes the feel of quality. It uses metal where it needs to, like the mount.
Compatibility
This Canon EF 28-135mm IS USM is compatible with every autofocus film and digital Canon SLR made since 1987, or every Canon EOS camera ever made, even Canon's first EOS 650 of 1987 though today's 5D Mark II and Rebel T1i.
It certainly works on 1.3x and 1.6x digital cameras, but I won't be addressing those here.
Specifications top
Introduction Specs Performance Usage Recommendations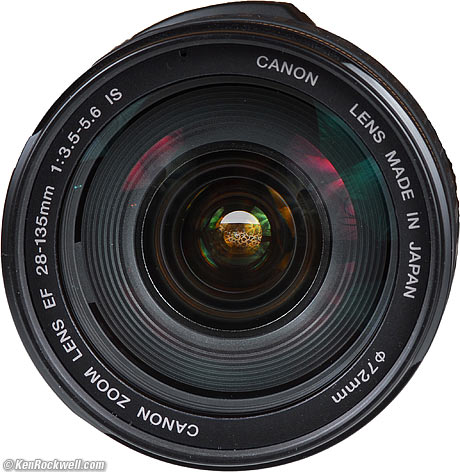 Front, Canon 28-135mm f/3.5-5.6 IS EF USM. enlarge.
Name
Canon calls this the Canon Zoom Lens EF 28-135mm f/3.5-5.6 IS USM.
EF: Electronic Focus. All modern Canon lenses focus with a motor in the lens.
IS: Image Stabilization, which means no tripod needed except at night. See Why IS Matters.
USM: Ultra-Sonic Motor: The focus motor operates silently.
Focal Length
28-135 mm, full-frame.
Used on a 1.3x camera it gives angles of view similar to what a 35-169mm lens would give on a 35mm film camera.
On a 1.6x camera it gives angles of view similar to what a 45-219mm lens would give on a 35mm film camera.
See also Crop Factor.
Optics
16 elements in 12 groups.
One element is molded aspherical glass.
Diaphragm
6 primitive straight blades.
Aperture is always a hexagon.
Stops down to f/22-36.
Filter Thread
72 mm.
Plastic.
Never rotates with focus or zoom, but does move in and out with zoom.
Close Focus
1.6' (0.5m) from the image plane (the back of the camera), marked.
Maximum Reproduction Ratio
1:5.3.
Infrared Focus Indices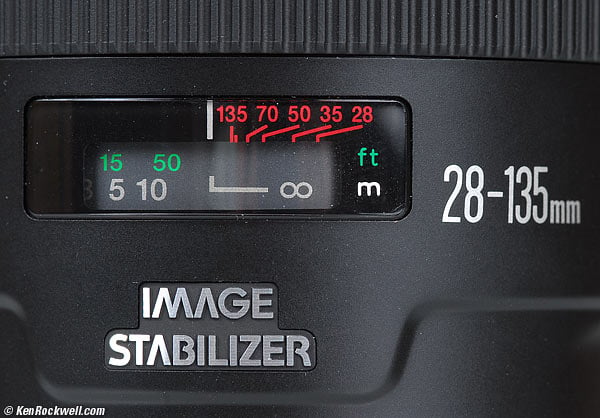 Canon 28-135mm IS IR Focus Indices.
Yes!
Size
3.1" diameter x 3.8" long (78.4 x 96.8mm), rated.
It gets longer when zoomed to longer focal lengths.
Weight
18.950 oz. (537.2 g), measured, naked.
18.9 oz (540g) rated.
Hood
EW-78BII, not included.
Case
LP-1116 pouch, not included
Introduced
February 1998.
Canon Item Code
2562A002.
Price
$450, April 2012.
$410, July 2009.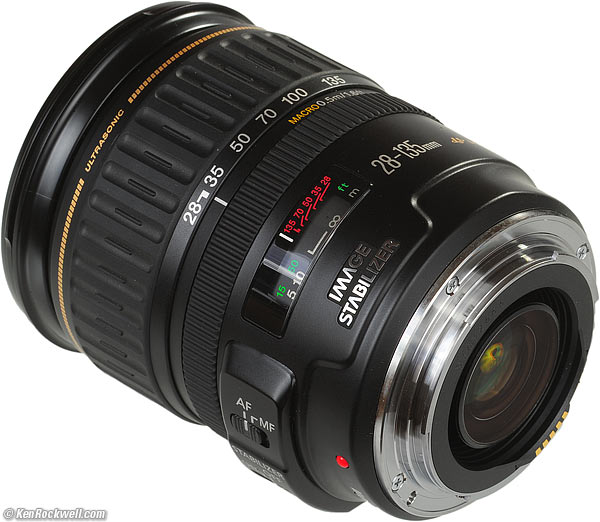 Rear, Canon 28-135mm f/3.5-5.6 IS EF USM. enlarge.
Performance top
Introduction Specs Performance Usage Recommendations
Performance is great.
Pop it on and just shoot all day and night.
Ergonomics are fantastic.
Optics are great, too, although if you're more interested in counting your pixels than taking pictures, the three-times as expensive and no fun to use 24-105mm f/4 L IS can be sharper at some settings. I prefer this 28-135mm IS, but if all you do is look at image files at 200%, you'll want the 24-105mm.
The results on my 5D Mark II are swell. Used properly, it's sharp enough to make use of all that resolution. Yes, if you count pixels the 24-105mm can be sharper in some instances, but I prefer the 28-135mm for its superior size, weight, ergonomics and handling.
Focus
Focus is outstanding in both manual and autofocus modes, as well as how seamlessly one goes between auto and manual modes.
Autofocus
As we expect from Canon, AF is fast and sure on every camera.
It works great on my new 5D Mark II, and it also works perfectly on my 1987 EOS 620.
Manual Focus
Manual focus is another way in which the 28-135mm excels.
Simply move the manual focus ring (the thin one closer to the mount) at any time with a fingertip and you're in manual focus. The focus ring never moves, even in AF, unless you move it yourself.
You never need to move the AF-MF switch unless you want to lock it into manual.
This is much better than the 18-200mm EF-S (for 1.6x cameras only), where the focus ring moves all the time in AF, you have to slide a switch to get from auto to manual, and when you do get to manual, the adjustment is way too touchy.
Manual focus in this 28 135 is easy to use, and when you do use it, it's geared just right so you can use it. It is neither too fast or too slow; it's always just right. It takes about a third of a turn to move it from infinity to the closest focus distance.
Lateral Color Fringes
You may see green-magenta fringes in the corners on full-frame at the ends of the zoom range (28mm and 135mm).
It's not a problem between 50mm and 100mm.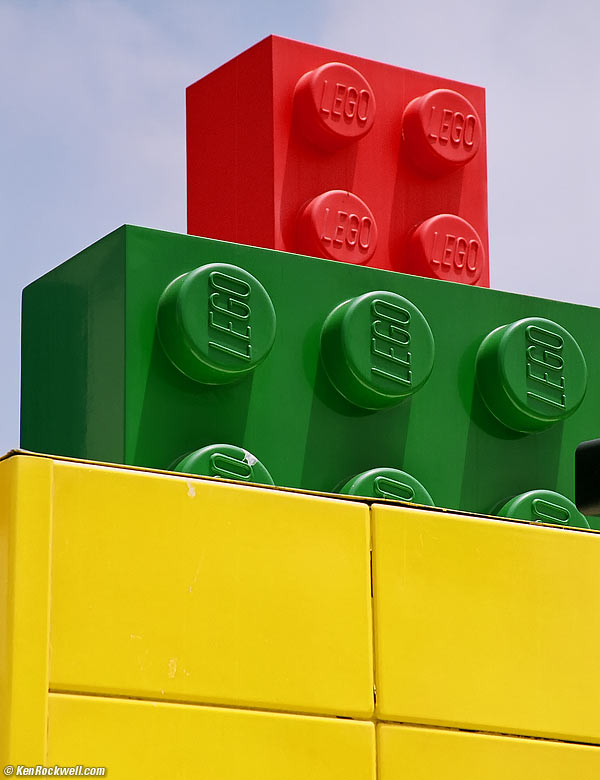 No color fringes here! (but do note finite depth-of-field) enlarge. Shot with Canon EOS 620, Fuji Quality II ISO 100 film (made in Brazil), Canon 28-135mm IS at about 135mm, Costco develop and scan.
It's very well made, with metal where it's needed for durability and lots of plastic where it saves weight.
Exterior: Plastic.
Filter Threads: Plastic.
Focus Ring: Rubbery plastic, which is perfect.
Markings: Paint.
Switches: Plastic.
Internals: Seem like plastic and metal.
Mount: Metal.
Ass-Gasket: No.
Serial Number: Laser-engraved on black plastic inside back of mount.
Noises when shaken: Moderately light clicking. This is normal.
Made in: Japan.
Distortion
Distortion is exactly as I expected: barrel at 28mm, neutral around midrange, and pincushion at 135mm. Like most wide-range zooms, avoid the ends of the zoom range if you have a shot that's sensitive to distortion and you'll be fine.
Its worst barrel distortion is at 70mm, and as you can see below in the example photo under sharpness, still not that bad.
Distortion is about as bad as Canon SLR lenses get, which is to be expected for such a wide range zoom. The only worse lens I can recall using lately is the 24-105mm L at 24mm.
Plug these figures into Photoshop CS2's lens distortion filter to correct the distortion, or see if DxO supports a module for it.
| | | |
| --- | --- | --- |
| | On Full-Frame | |
| 28mm | +3.5* | +3.0 |
| 35mm | +1.0* | +1.0 |
| 50mm | -2.0 | -0.5 |
| 70mm | -3.0 | -1.0 |
| 100mm | -3.0 | -1.0 |
| 135mm | -3.0 | -1.1 |
© 2009 KenRockwell.com. All rights reserved.
* Some waviness remains, if you're looking for it.
Falloff (darker corners)
Falloff isn't a problem.
If you shoot brick walls, you'll see falloff at 28mm at f/3.5. It gets better at f/4 and is gone by f/5.6 at 28mm.
At 50mm and longer, there is isn't any.
This is far superior to Nikon's inferior 24-120mm VR, which even if we forget how soft it is, also has annoying falloff at the 120mm end.
This Canon 28-135 is remarkably free of falloff, and I'm talking for use on full-frame. On smaller 1.3x and 1.6x cameras, it will be even less of an issue (see crop factor).
Filters, use with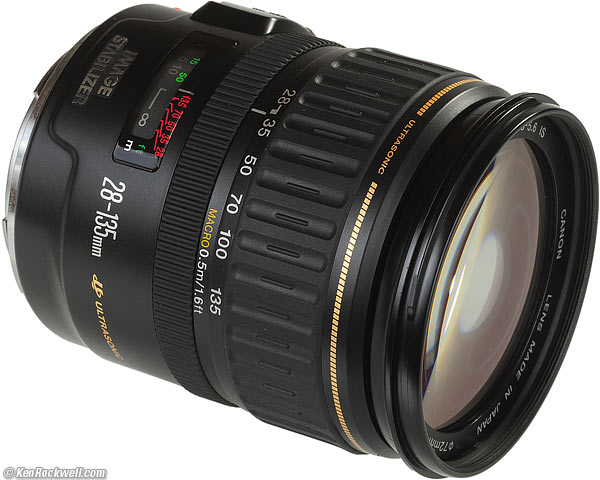 Canon 28-135mm f/3.5-5.6 IS EF USM. enlarge.
I can use any screw-in or rotating screw-in 72mm filter without vignetting on full-frame.
Image Stabilization
IS works great, even on the very first EOS film cameras from over 20 years ago as well as the newest digital SLRs.
IS is supposed to sound like hissing or water running while it's active. This lets you know its working; it's not a defect if it sounds like there is a motor running inside your lens.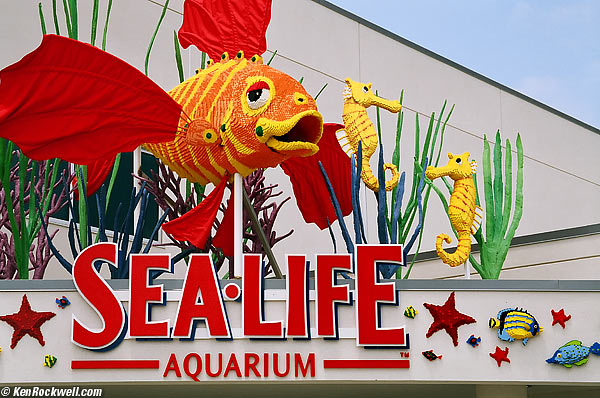 Sea Life Aquarium. enlarge. Shot with Canon EOS 620, Fuji Quality II ISO 100 film (made in Brazil), Canon 28-135mm IS at about 70mm, Costco develop and scan.
Sharpness is fine, even for use on the 5D Mark II. If sharpness is your only concern (it's not mine), pay three times as much for the 24-105mm and lug it around instead.
Your biggest concern with this 28-135 will be the lateral color color fringes at the ends of the zoom range on full-frame, which unlike Nikon, Canon cameras cannot correct, at least as of summer 2009.
The only way to see the sharpness variations I'm discussing below is if you 1.) climb a mountain on 2.) a very clear day and 3.) shoot down so that everything throughout the entire frame is in perfect focus at infinity and 4.) look at the results at 100% or in huge prints from film.
You'll never see things like corner sharpness in normal photos because, unless your subjects are flat and boring, because corners are never in perfect focus anyway. You'll also never see this unless you make huge prints — like 20 x 30."
It's super-sharp at 28mm through about 70-100mm. At 100-135mm, it gets a little softer.
At 28mm, it's a little softer wide open, and it's sharpest at f/5.6. The lateral color is your limitation, not sharpness.
At 50mm, it's sharp even wide-open. It's optimum at f/5.6 in the center and f/8 to f/11 depending on how far you go out to the full-frame corners. There are no lateral color fringes.
At 100mm, it's optimum at f/8 to f/11 and has some lateral color fringes in the corners of full-frame.
It's less sharp at 135mm, if you're counting pixels. It's optimum at f/11 and has strong lateral color fringes in the corners.
Rated MTF
Canon rates it as decent, but not extraordinary. See Canon's MTF curves as printed in Canon EF Lens Work III or at Canon USA.
Zooming
Zooming is excellent; one of the great reasons to get this lens over the 24-105mm L.
It's easy to zoom and change focal lengths quickly, easily and precisely. The wide end is a little closer-together than I'd like, but it's still worlds better than the 24-105mm, which has to cram the 24mm to 35mm range in about 1mm of zoom ring space.
Actual Focal Lengths
Marked focal lengths seem accurate.
As expected, with such a long (135mm) zoom and close focus (1.6 feet/0.5m), the 135mm focal length isn't really 135mm at the close focus distance.
135mm really is 135mm at infinity., and if you compare to a fixed 135mm lens, becomes shorter than 135mm as you get closer.
This is normal. This little optical trick is how Canon and Nikon can design long lenses that focus super-close like this. The 28-135 is 135mm where I need it (distances) and still lets me focus super-close regardless of the zoom setting.
Usage top
Introduction Specs Performance Usage Recommendations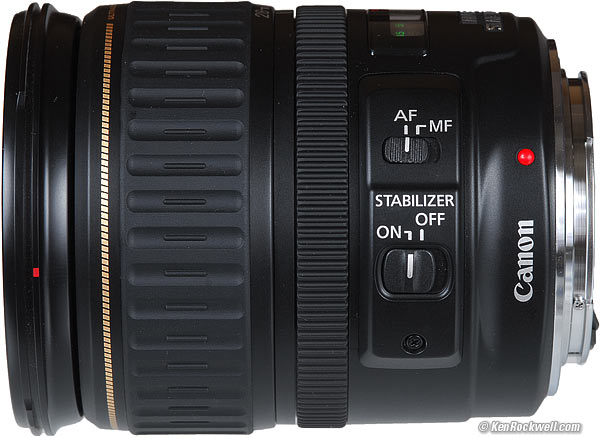 Switches, Canon 28-135. enlarge.
AF - MF Switch
Leave this in AF (autofocus).
To get to manual focus, you never have to move the switch; just move the manual focus ring nearest the switch.
The only reason for the MF (manual focus) position is if you want to lock the lens into manual focus, otherwise it returns to AF as soon as yo tap the shutter button again.
I'd only use the MF position if I was on a tripod and needed to move the tripod between focus and shooting.
Stabilizer Switch
Leave this in ON.
Turn it off only if you're on a tripod.
I have not tried it while shooting from light aircraft or helicopters; try it yourself. It is not designed to work with this much vibration, and it may or may not improve or worsen things. IS is designed to control the small vibrations from your hands; it's not designed for shooting while on horseback or the back of a motorcycle.
Recommendations top
Introduction Specs Performance Usage Recommendations
If you want a midrange zoom for Canon full-frame digital and EOS 35mm film, this is my favorite lens.
This is the lens I take if I need a do-it all lens for all shots in daylight, and still subjects in dim light.
For moving subjects, Image Stabilization doesn't help, and a fast f/1.4 or f/1.8 fixed lens is the best idea.
If I only take one lens and expect to be in dim light, the 50mm f/1.4 USM just as well may be my choice.
Personally I rarely use midrange zooms, and instead bring a wide zoom like the 16-35/2.8 L II or 17-40mm L, and a 70-200 f/4 IS tele zoom. I don't need the range between 35mm and 70mm, and if I do, I use a fixed 50mm lens instead.
Heck, I've become more and more a fan of the fixed 50mm f/1.4, which if you don't mind moving a step or two forward or back, weighs even less and works great in any light, especially with wiggly subjects which IS can't stop.
Deployment
I'd leave a 72mm Hoya Super HMC UV on the lens at all times. I wouldn't bother buying the extra-cost plastic hood.
I was going to use this as part of a larger pro system, I'd attach a 72->77mm step-up-ring to convert this to today's pro standard of 77mm, and use a 77mm Hoya UV filter for protection. This is what I really do; I just put on a step-up ring when I get a lens like this and treat it as if it's a 77mm filter thread len as long as I have it.
I'd pitch the flat Canon cap that came with this lens new, and get a superior "pinch" type Nikon cap in 72mm (or 77mm), too. I'm not kidding: I really do use Nikon caps on my Canon lenses because they are much easier to use in the field.
If I was working in nasty, dirty areas, I'd forget the cap, and use an uncoated 72mm Tiffen UV filter instead (or in 77mm). Uncoated filters are much easier to clean, but more prone to ghosting.
Help me help you top
I support my growing family through this website, as crazy as it might seem.
If you find this as helpful as a book you might have had to buy or a workshop you may have had to take, feel free to help me continue helping everyone.
If you've gotten your gear through one of my links or helped otherwise, you're family. It's great people like you who allow me to keep adding to this site full-time. Thanks!
If you haven't helped yet, please do, and consider helping me with a gift of $5.00.
The biggest help is to use these links to Adorama, Amazon, Calumet, Ritz, J&R and when you get your goodies. It costs you nothing and is a huge help to me. eBay is always a gamble, but all the other places have the best prices and service, which is why I've used them since before this website existed. I recommend them all personally.
The biggest help is to use these links to Adorama, Amazon, Calumet, Ritz and J&R when you get your goodies. It costs you nothing and is a huge help. These places have the best prices and service, which is why I've used them since before this website existed. I recommend them all personally.
Thanks for reading!
Ken
Home Donate New Search Gallery How-To Books Links Workshops About Contact