Home Donate Search Gallery How-To Books Links Workshops About Contact
October 2009's Updates
< Back to Today's News
all © 2009 KenRockwell.com. All rights reserved.

31 October 2009, Halloween
NEW: Leica's Newest Camera versus Leica's Best Camera: the M9 versus the M3.
30 October 2009, Friday
Tenth Anniversary!
Yay! It was October 1999 when I first started this site as a place to share the photos I shot each weekend with my friends.
Yay!
Yosemite!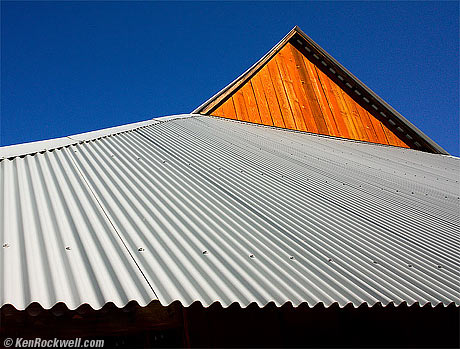 Barn, Yosemite National Park.
NEW: Photos from Yosemite and California's Eastern Sierra, October 2009.
I was away all last week shooting, and busy all this week processing the digital dross to present these photos.
I've presented many of the original JPGs, DNGs, and JPGs derived from DNGs, which means that these are also the highest-resolution complete images ever published on the Internet. Previous science experiments may have allowed people to browse or scroll around larger stitched images, however this is the first time anyone has published complete files from anything with higher-than-DSLR quality.
Have fun!
29 October 2009, Thursday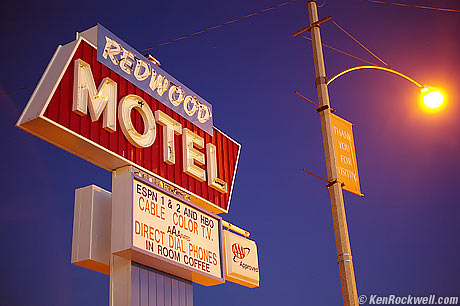 Redwood Motel, 2009 M9, 1970 50mm f/2, ISO 1,600, hand-held at 1/6 second at f/2, Nik Dfine 2.0, 6:40AM, 25ºF (-5ºC). Whew! bigger.
I snapped this on the run as we headed out to Twin Lakes before dawn on Sunday.
NEW: LEICA M9 High ISO Examples
Digital: I don't get you people. I've spent all week deleting 16GB of digital junk (so far) since I got back this week from Yosemite.
My film work was ready to go on Monday, while I'm still working on the digital to make it presentable later this week.
28 October 2009, Wednesday
Wyman goes iPhone!
I'm too cheap to pay for iPhone service, and my iPod Touch has no camera. If it did, I'd probably give up on big cameras.
For instance, Dave Wyman is also now posting his photos made with his iPhone.
For examples of great photos made with the iPhone, see Chase Jarvis' book The Best Camera.
27 October 2009, Tuesday
Update: I added a rollover example to How to Use Grad Filters. Of course I shot it on a rangefinder camera, which work great with grads and polarizers.
Canon S90
I got to play with a production Canon S90 a bit while in Yosemite last week.
Goodness, it's high ISO noise seems the same as the full-frame LEICA M9!
The S90 gets rid of noise by softening the images at higher ISOs, so the M9 has a much higher sharpness and signal-to-noise-ratio, but if you're not looking too closely, the S90 really does give decent images at ISO 800, slightly noisy images at ISO 1,600, and perfectly usable images at ISO 3,200.
S90 example shots at ISO 400, ISO 800, ISO 1,600 and ISO 3,200.
More great news is that the effective noise reduction and softening keeps high ISO JPG Normal file sizes down to only about 1MB at full resolution.
Compare this to a typical pocket digital of a few years ago, like the SD700, which looked awful at ISO 400. The S90 looks better at 3,200 than the SD700 does at ISO 400, or so memory serves me.
I should have an S90 in my hands soon for a more serious review.
Rumor
Is the Nikon D800 the coming 24MP D700x that's due any day now?
Yosemite and the Eastern Sierra
Whoo hoo! I just got back from over a week of shooting.
I dropped my film at NCPS, and I had my film all developed, scanned and backed-up to DVD the same day. I loaded the scans into my Mac, and I'm all done.
I'm still dorking around and backing up all the digital image files. I have no idea how you digital fans put up with all this.
While my digital files are still burning onto DVDs, these images are already on-the-air: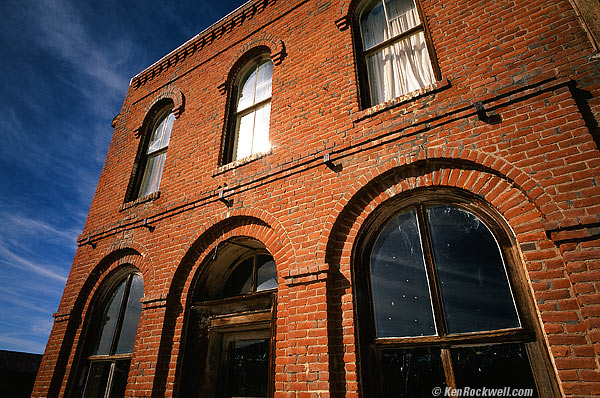 Sun in Window, Bodie, Thursday, 23 October 2009, 11AM.
Shot with a 1955 Leica M3 and 1959 21mm f/4 LEITZ SUPER-ANGULON with B+W 81A filter, f/8 at 1/100 second, Fuji Velvia 50 processed and scanned at NCPS (same-day).
Full-resolution automated film scan (11 MB).
This gear is so old that Bodie wasn't even a state park, interstate highways were just a dream, and the world ran on vacuum tubes.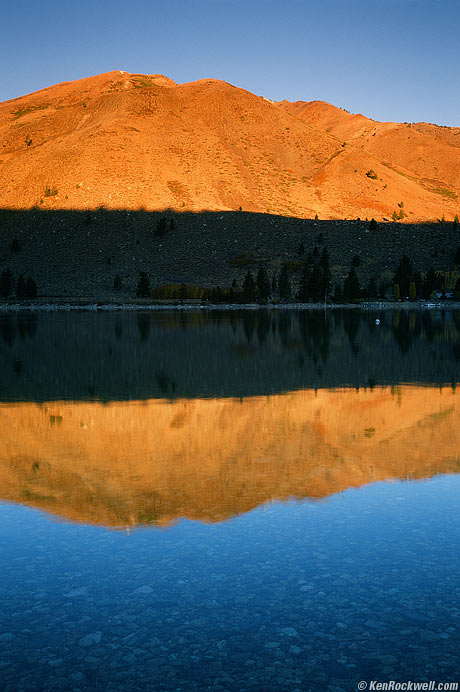 Twin Lakes, Sunday, 25 October 2009, 7:33AM. bigger.
Shot with a 1955 Leica M3 and 1965 LEICA SUMMICRON 35mm f/2 with 39mm B+W 81A filter and 55mm Tiffen ND 0.6 Grad on a step-up ring, f/13.5 at 1/2 second, Fuji Velvia 50 processed and scanned at NCPS (same-day).
I hope when I get 35GB of M9 DNG files dealt with that they look as good as film shot in a 54-year-old camera with 50-year-old lenses.
I've already got this posted, while my laptop is still burning DVDs from all the digital bloat shot with the M9. The M9 does make a great exposure preview system for use with the M3.
These film shots are what I got back from the lab: no tweaking, no cropping, no nothing; just great color.
DX Dream Lens on Sale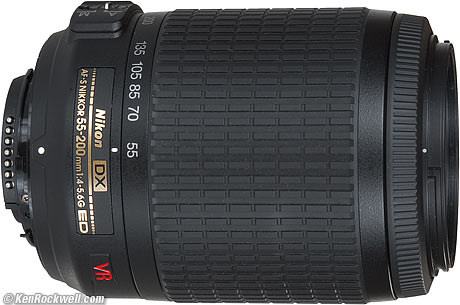 Nikon 55-200mm VR.
The Nikon 55-200mm VR, the tele component of the three-lens DX Dream Team, is available for a whopping $159.95 refurbished from Adorama, while they last.
Would I buy one of these? If $160 was my budget for a tele for a DX camera, definitely!
26 October 2009, Monday
Nikon 28mm f/1.4 AF-D
The world's finest, fastest 28mm SLR lens was Nikon's 28mm f/1.4 AF-D made from 1994 - 2008. Nikon has never made anything similar before or after; this lens' performance is beyond anything else from Nikon, and allows me to shoot hand-held in moonlight on a D3.
Adorama has one in stock, used, at what looks like a good deal less than they sell for over eBay, where they used to run at around $4,000 last I looked into it.
23 October 2009, Friday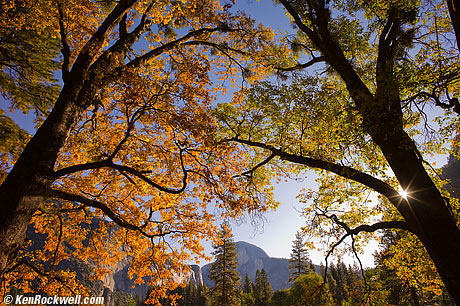 Yosemite Valley, Yosemite National Park. Full-resolution JPG (12MB).
I shot this earlier this week while I was in Yosemite National Park with a LEICA M9, LEICA 21mm f/2.8 ELMARIT-M ASPH, ISO 160, f/8 at 1/180 second, Kelvin WB.
I shot in DNG and opened it in PS CS4 ACR. I opened in as-shot WB, which was about 8,000K, and added about 30% saturation in ACR as I opened it. I added about 100% smart-sharpening at 0.2 pixel radius, and saved-as a JPG at quality = 10.
It turns out that the JPGs out of the M9 are nowhere near as good as the DNGs, unlike Nikon, whose JPGs are as good as you can get from NEF. When I look at the DNGs from the M9, they are a lot better than the JPGs.
This is good stuff. I've never gotten any digital capture this sharp from a lens this wide. 21mm SLR lenses and zooms go softer in the corners, while this 1997 Leica lens just screams by comparison to anything else this wide in digital capture.
Here's the same scene as shot in 2007 as shot on a Canon 5D with 16-35mm f/2.8 L II for comparison. Forget CRW vs JPG vs DNG; look at what the lenses are doing.
21 October 2009, Wednesday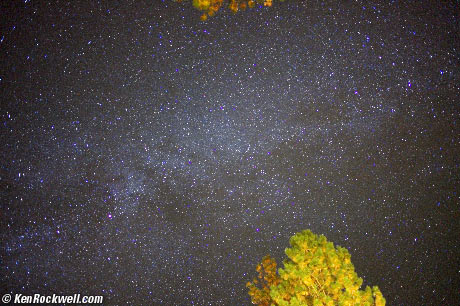 Milky Way. bigger.
Wow, this stuff is easy with an M9: ISO 2,500, 24 seconds at f/1.4. It did the same thing in Auto ISO and Auto: I simply pointed and shot on a tripod.
17 October 2009, Saturday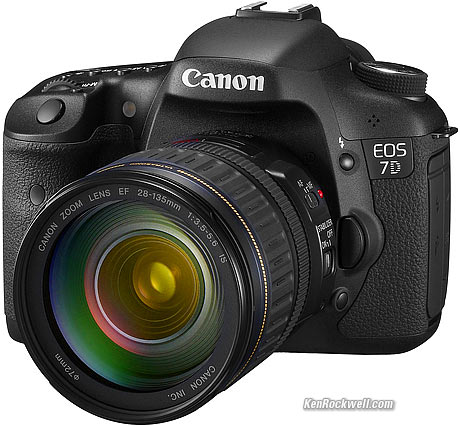 Canon 7D and 28-135mm IS.
NEW: Canon 7D.
16 October 2009, Friday
NEW: Adobe Photoshop CS4 Review. Hardly a review of everything that Photoshop does; this is an analysis of why the upgrade to CS4 made sense for me several months ago.
Observed: Ladies' Handmade Camera Straps. I haven't tried them, and they sure look unique.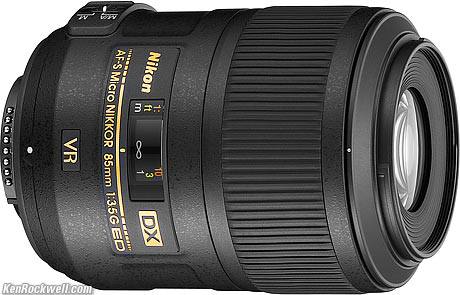 Nikon 85mm f/3.5.
NEW: Nikon 85mm f/3.5 VR DX.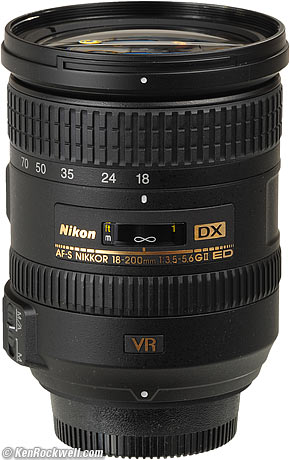 Nikon 18-200mm VR II.
NEW: Nikon 18-200mm VR II Review.
No news is news: I tested this new version, and it really is identical except for the zoom lock. Even the coatings are the same.
15 October 2009, Thursday
DEAL: Adorama gave me a special coupon code to give you folks to get 50% off of any size of their photo books.
I've seen these Adorama photo books: they are very nice because they are real photos on Fuji Crystal Archive laser-exposed, dark-chemically-processed photo paper.
They use a special thin paper so it can be attached back-to-back to the next page to make pages the correct thickness.
Cooler than cool, every page is a centerfold because Adorama uses a special binding process so each spread opens flat. Nothing ever gets caught in the crack, as it does in every other book or magazine printed on ordinary (non-photo) paper.
The code is pxkr50bk and it expires 15 November 2009. Enter it at checkout to get the discount.
NEWS: Ansel Adams Online Photo Contest. Deadline: 15 November 2009.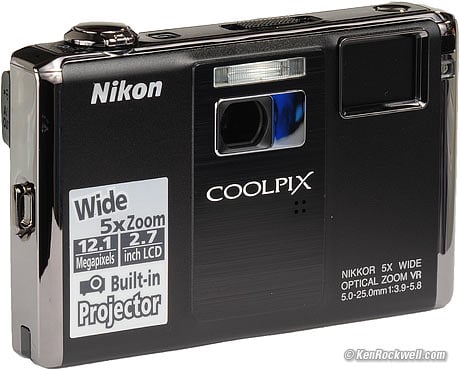 NEW: Nikon S1000PJ Review. A camera with a built-in projector!
14 October 2009, Wednesday
NEW: How Not to Incentivize a Sales Force.
This is a rough article of notes I've made over the years as friends told me about the stupid things sales managers do.
It's more a collection of I-can't-believe-people-are-this-stupid things that I wanted to write down before I forgot them, because any of us who have worked in large field sales organizations have all seen the same things. It's getting worse today.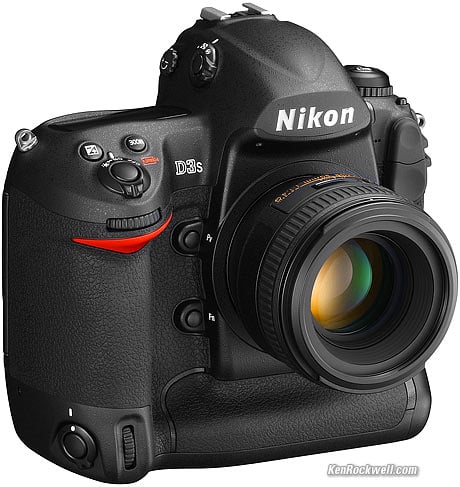 Nikon D3s.
NEW: Nikon D3s.
It's a D3 with 720p video and even nastier pushed ISOs. So?
If getting a D3, get the D3s. If you already have a D3, don't worry.
The D3s has a new dedicated INFO button, but it's on the wrong side of the camera, so I don't see any compelling reason to replace my D3.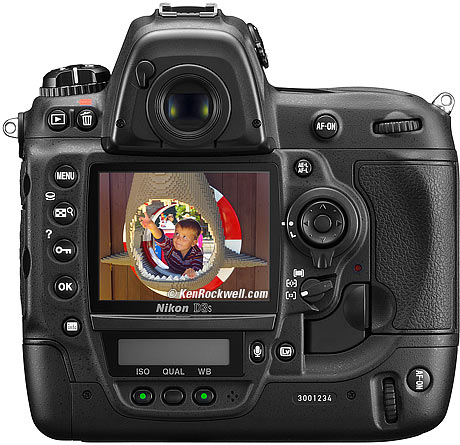 Nikon D3s. enlarge. Note new dedicated INFO and [Lv] buttons.
UPDATE: SD Card Speed Test vs. CF Cards.
I did the same test via the direct SD slot of my new Apple 13" MacBook Pro, and with a fast card I can download three times as fast compared to a USB connection.
13 October 2009, Tuesday
Nikon S1000PJ
I'm playing with the new Nikon S1000PJ point-and-shoot with the built-in projector, and it really works, even on batteries!
No, it's not the brightest, not the most colorful or the sharpest, but the projector certainly does work for showing people what you shot far better than the rear LCD does.
Ritz has them on special for $400, although Ritz doesn't have them in stock yet. Adorama does, but they are $430 just like everyone else.
NEW: Leica or Not?
Do you really need an $11,000 camera to make extraordinary photos?
Cheapskate Caves-in!
Rockwell finally bought a new laptop, from which you're reading this website this morning.
Mind you, my 2003 Apple 12" 800MHz iBook G4 still works great.
The only reason I caved-in and bought a modern laptop is that the iBook was a little too slow for when I hit the road for a week at a time and try to keep the site updated.
Not that I need it, but since the Leica M9 takes only SD cards, the SD card slot of my new Apple 13" MacBook Pro saves me some more cords when traveling.
Darn that digital Leica. I stopped shooting digital in the field, so I no longer bothered bringing a computer and all the crap that goes with it.
Now that the M9 is so compelling, I figured that now would not be a bad time to get a modern laptop.
Hey, one new laptop every six years isn't bad.
Apple makes it trivial to move everything to my new laptop. In fact, my MacBook Pro moved everything from my desktop computer all by itself. All I had to do was plug my laptop into the desktop, and let it transfer everything over exactly as I worked it on my desktop. All my data, files, apps, passwords, all the email I've saved for the past ten years, accounts — everything — is exactly as it is on my main production machine.
The only gotcha is of course I deactivated Photoshop CS2 on my old laptop, an then reactivated it on the new laptop (HELP > TRANSFER).
I was worried that I'd have to reinstall applications, since desktop Mac is still a 2006 Motorola G5 processor on OS 10.4.11, but as Apple always does, everything just works. All my worrying about things not working is still baggage I carry from when I last used windows.
The MacBook Pro's backlight and backlit keyboard adjust automatically with ambient light.
The best new feature is the clever trackpad: two fingers scroll; I no longer have to go find the scroll bar.
It took just a few moments to calibrate the LCD with my Spyder, and holy cow; it's the first LCD I've used that really didn't need to be calibrated. All calibration did was change the brightness (gamma) a little.
When calibrating, be sure ot turn off auto brightness control!
This is great: as I'm sitting here, my wife yells "Katie looks cute; grab the camera!," so I grabbed the D40 with 35/1.8 (not the M9) and made these snaps.
It was trivial to pop the SD card in the MacBook Pro and go, all while I was in the middle of writing a new article: Leica or Not?
Heck, my 13.3" MacBook is screaming through iView cataloging and Photoshop CS4 faster than my Quad 2.5GHz PowerMac G5! I gotta get an Intel Desktop machine now.
Beating it in Photoshop and Dreamweaver, producing stuff, I got a solid 4 hours (4:08) of "Wireless productivity" out of the first charge of my claimed 7-hour battery. We'll see if subsequent charges get anywhere near 7 hours of real work. If all I did was piddle on email and Internet like most people (that's not productivity; that's playing), 7 hours seems reasonable.
The glossy screen can be annoying if I'm sitting with my back to a window, and it collects dust like a magnet.
When it shuts off with a dead battery, it stores it all to the hard drive and turns off, instead of going to sleep as did my 2004 iBook. This lets it recover even years from today, although it takes a moment, unlike the iBook, which recovered instantly, but would dies after a while.
Old machines are great, but the faster my computer, the more I can write.
Slack Attack!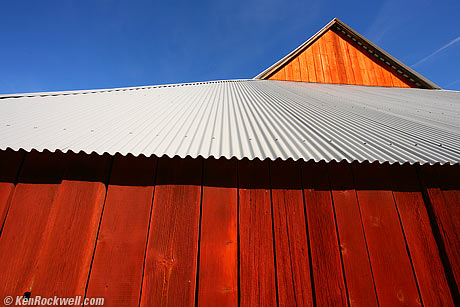 Barn, Yosemite National Park.
NEW: California's Eastern Sierra and Yosemite, October 2008.
Photos from last fall's trips have made it in and out of my various reviews for the past year, but I've been so distracted writing about gear for you people that I hadn't gotten around to publishing my photos from a year ago yet!
Notice that I shot them on three cameras: a point-and-shoot (Canon G10), a real camera (Contax G2 in RealRaw, and a DSLR (Canon 5D).
This is interesting because you can compare the looks I get from digital versus RealRaw. Maybe you'll see how digital looks snappy, but somehow all start looking the same compared to RealRaw. Seen on a light table or projected, RealRaw really comes alive, while digital never gets any better than digital.
Enjoy!
Now maybe I can get to sharing what I shot in New Mexico last November, and Yellowstone, New York City and Point Reyes this August.
12 October 2009, Monday
The Rockwell Challenge Update
I shot all weekend with the LEICA M9's menus set to German (which I do not speak), and it is still so easy that I had no problem setting anything. The LEICA M9 is that well thought out!
I am going to keep the M9 set to German just because I can.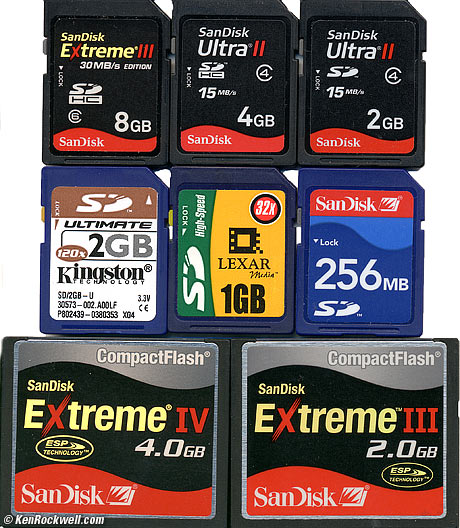 NEW: SD Card Speed Test vs. CF Cards.
I never did like these little things for serious shooting, and now I know why. They download too darn slow.
I pity people shooting a lot of DNG on any of these things. Pro CF cards really are about four times as fast.
10 October 2009, Saturday
The Rockwell Challenge
Reflecting on the ridiculous simplicity of the LEICA M9's menu versus Canon and Nikon who need menus just to manage other menus, I decided to give myself a challenge.
I challenged myself to set the M9's menus to German, and shoot that way.
The only German I know is what I learned by watching Hogan's Heroes.
So far, so good. I expect that I'll find better options in the German menus, and already found one gem.It always confused me that the M9 would make JPG Basic and JPG Fine, but not JPG Normal which is what we'd want.
Lo and behold, in the German menu under Kompression, JPG Basic is labeled JPG Normal. Ja!
Could I do this with a Nikon's menu set to Japanese? Nein! I still can't find things with my Nikon set to Englisch!
09 October 2009, Friday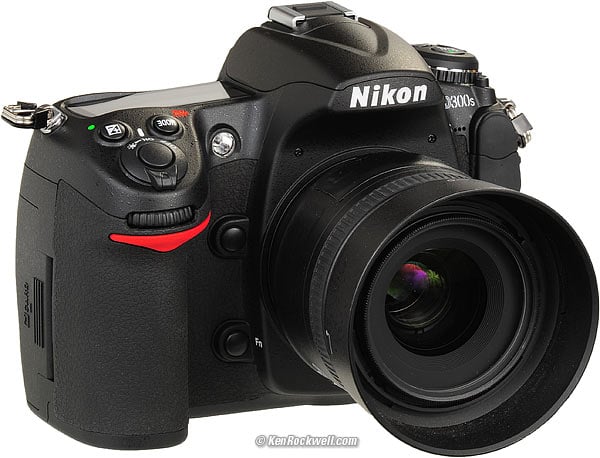 Nikon D300s and 35mm f/1.8.
NEW: Nikon D300s AF System Settings Guide
NEW: Nikon D300s Review
08 October 2009, Thursday
New Images: I added a couple of more images and DNGs to LEICA M9 Example Images I made while running last night's errands. These were all made with inexpensive Leica lenses.
What do you think technically of the M9 and my cheap lens' performance? I'm especially curious of what you think of the DNGs; I don't shoot raw so have no idea is this is good or bad.
07 October 2009, Wednesday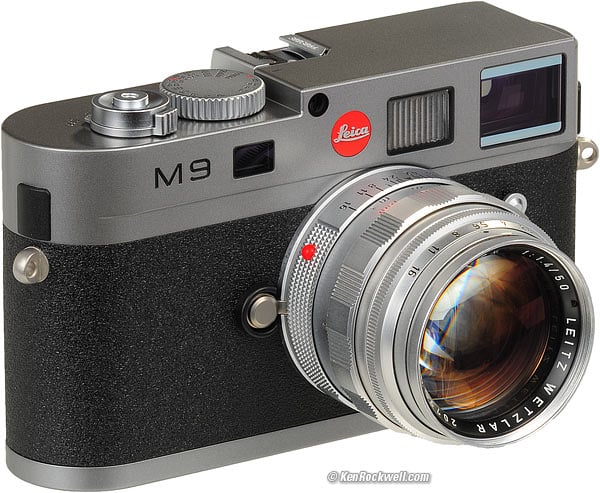 World's Best Digital Camera.
NEW: Leica M9 Full Hands-On User Review.
Now that I've had one a week, I completely rewrote my original report. It's not as funny, but far more informative.
Sorry if it's all I've gone off about the past month, but it's that important. The M9 really does do all the things for which I've been pestering Nikon and Canon these past ten years since the first practical DSLR was announced in 1999.
For instance, the M9 fully addresses 19 of the 22 things that suck about the Canon 5D Mark II. How's that for Leica: they came out of nowhere and fixed the things that Canon has ignored for the past year.
Bravo!
I don't wear no stinking vests!
Check out world-renowned photographer Chris Weeks' video about what he totes.
Note that he 's also already adopted the LEICA M9.
I'm mentioned towards the end, hee hee.
06 October 2009, Tuesday
NEW: Leica M9 Example Images, including DNGs for you hackers.
It's Official: The end of the DSLR's reign for outdoor, nature, interior and landscape photography.
Canon 16-35mm f/2.8 L II, LEICA ELMARIT-M 28mm f/2.8, and Nikon 24-70mm f/2.8, all the same price!
NEW: Canon 5D Mk II, LEICA M9 and Nikon D3 image comparisons.
Does the M9 obliterate the D700 and the 5D Mark II? Yes.
Is the Leica easier to carry? Yes.
Is the Leica far easier to operate, without all the menu crap? YES!
There is no comparison. See the image results for yourself.
05 October 2009, Monday
Who pays Rockwell?
The US FTC just issued guidelines for disclosure for people who get free stuff or paid to write nice things in blogs.
Most of you think I get paid by Nikon, and then you really get confused when I say nice things about someone else, or say bad things about Nikon.
As I keep telling everyone, I don't even get a Christmas card from Nikon. (I do from Canon — but that's it.)
The only free stuff I get is the occasional bag, strap, card or piece of software — from other companies. Nikon, Canon and Leica stink: no freebies. I have to borrow or buy the camera gear for myself.
Want to know my latest freebie? I asked SanDisk for an 4GB Ultra II (15MB/s) SD card to test the LEICA M9 because Leica suggested that that card give the best results. That's not even SanDisk's best card; the one I got sells for a whopping $19.95, and I don't even want it — I buy the faster downloading ones (30MB/s) for myself. Endorsement? HA! It worked the same as all the other cards I tried. Big deal.
I have no idea how to decipher the official guidelines, but since the only free stuff I get is less than you all think I get for free anyway, no problem.
The only problem is how do I get Canon, Nikon and Leica to give me free stuff like you all think I get? That would be nice. heck, I'd settle for a free trip to France. Believe me, I worked in sales for a long time, and any free stuff I can shake out of any company I'll accept with open arms.
The FTC guidelines also cover people who get paid to review stuff. HA! That would be nice.
As you all know, I support myself through the links to places I use to get my own stuff, your generous donations, and some crappy ads that I'm taking off as I edit and create new pages.
This is easy: I just added an FTC disclosure on my ABOUT page, so I think I'm done.
Book reviews below? Sure, if you get them through Amazon it helps supports my family so I can keep doing this site instead of working a real job (which would mean no more website), but the 210 Photographers book? I get nothing if you get one, and heck, my photo is in there and I still get paid nothing. I donated the use of my photo because that book is so awesome and I think everyone deserves their own copy.
Great Photo Book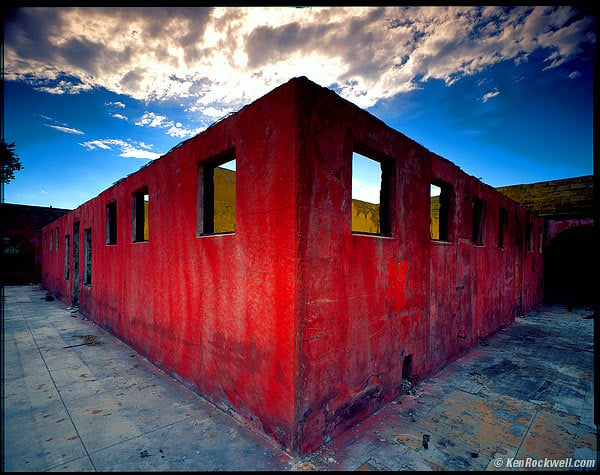 I just got a copy of "210 Photographers," a low-print-run art book designed and printed in Sweden.
It is loaded with nothing but incredible shots! Have a look at its link, where you can get a taste of the quality of the images presented. Its editors did an extremely thorough job of picking photographs that are each extraordinary.
I find this book a huge inspiration. It shows photos which I wish I was good enough to make.
Of course there is one dud in the book, done by some guy named Ken Rockwell of the United States. It's this shot, and it's the dullest in the whole book.
Photo Location Books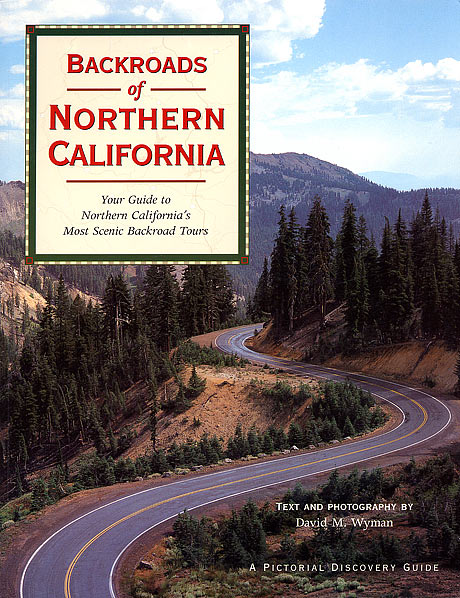 Photographer Dave Wyman's book Backroads of Northern California details just about every scenic back road throughout half of California.
It's loaded with great photography and detailed explanations of what's historic and interesting everywhere. It's not specifically a photography book; it's loaded with great places and details to find great pictures. It also covers the areas around Yosemite, Bodie and San Francisco.
There are more interesting back roads described in this book than I've ever read anywhere else, and I look for these kinds of books.
Dave also wrote Backroads of Southern California: Your Guide to Southern California's Most Scenic Backroad Adventures, which covers the rest of our scenic state.
Great photos
Check out Steve Coleman's nightscapes.
04 October 2009, Sunday
Nikon vs. Canon AF Performance
Nikon: Slower (sometimes) but almost always accurate.
Canon: Always lightning fast, but sometimes misses.
This pretty much sums it up over the past 20 years. Nikon has gotten much faster; the D3 and D3X and D700 are awesome, and still accurate.
Some combos of Canon camera and lens miss a small few percent of the time. By "miss," I mean that the AF OK lights light up as they should, but the camera simply missed focus and was AWOL.
In the worse cases, only about 1 out of 20 shots is bad, and with good combos, no problem. I call these problems out in my Canon lens reviews.
Travel Camera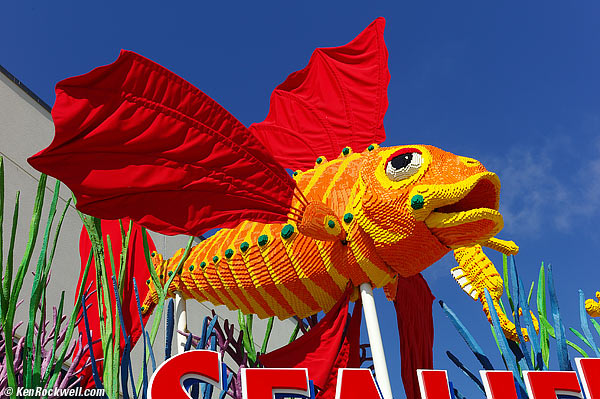 Sea Life Aquarium. original © 5MB JPG file and 18MB DNG.
Here's a snap from a compact camera - the LEICA M9, made with a 39-year-old 50mm f/2 lens. It was at ISO 160 and 1/500, probably around f/8 or f/11, where diffraction sets in.
Have a look at the camera-original JPG, which is a BASIC JPG. Not bad for an old lens in the crappiest file format. I think I had the saturation set to medium-high, and WB was set to cloudy. ( and iPod Touch viewers: that original file is so big that for some reason our 'pods give up and display a mushier-looking version of that file.) The DNG looks even sharper if you care, if you have software to view it.
Look especially closely at the red-blue transitions between the wings and the sky. They are sharp and clean (they are even better in the DNG). The Canon 5D Mark II can't do this: the 5D Mark II's chroma resolution is much less, so red/blue transitions are much softer, even if shot as CR2 raw on the Canon.
Déjà vu!
Wandering around all day running errands with a LEICA M9 around my shoulder, it felt oddly familiar.
Of course it feels like any other LEICA, but shooting digital was weird. Even stranger were strangers remarking that it looks like a film camera, but seems to be digital.
Then I realized it: the M9 weighs only 2.4 oz (69g) more than a Nikon D40 for crying out loud! The plastic Nikon D90 weighs 4.3 oz (120g) more than the M9!
The M9 felt just like my weightless D40 around my neck all day. It was as if it weren't there; I felt no need to take off my camera as I unloaded 200 pounds of stuff from Price Club, for instance. The M9 always feels like it isn't there.
Of course I pack my D40 with the 35mm f/1.8 most of the time, or the 18-55mm kit lens if I'm only going to be in daylight. Lo and behold, the tiny (39mm filter) LEICA 50mm f/2 SUMMICRON weighs the same as either of those plastic Nikon lenses: just 7 oz. (200g) each.
The LEICA 50/2 is a top-flight pro lens, and other Leica lenses don't weigh much more. Most people lug even heavier SLR lenses around instead when they get serious with SLRs.
For instance, the top lens with the M9, the LEICA SUMMILUX 50mm f/1.4 ASPH, weighs but 11.8 oz. (335g), while most serious Nikon DSLR shooters lug the 24-70mm f/2.8 AFS, a pig at 31.8 oz (902g), along with their heavier cameras. Heck, my entire CLE system with three lenses weighs the same as that Nikon lens all by itself!
And there we have it again: the pro-lens outfitted M9 weighs as little as a plastic Nikon D40 and its plastic kit lens.
I still prefer the D40 for autofocus photos of my kids running around, but for serious shots of everything else, the M9 is as trivial to carry everywhere and way outperforms my D3 or the D700. In last week's sharpness comparisons, remember I only used a 45-year old lens on the M9, and used a synthetic 27MP Nikon whose performance is beyond a D3X, and way beyond a D3 or D700.
Not only does it weigh nothing and does its performance excel, it is about ten times faster and easier to operate. I'm as stoked as much about the ease-of-use of the M9 as I am about the Canon AE-! Program; it's all about the experience, not about the brand. When no one can figure out how to take a picture with their camera, it's time for a new kind of camera. Today's DSLRs are way out of control.
Maybe next week if I can get back into Yucca Range I'll throw modern lenses on a 5D Mark II, D3 and M9 and see what happens.
USB Connectors
HA HA! I wanted to try the USB connector in the LEICA M9, and discovered that the tiny little thing is not compatible with the almost-the-same connectors in every GPS, Nikon and Canon.
Everything else uses a mini-B receptacle, but not the Leica. Now I have to go in the studio and shoot macro of a standard connector and of the Leica connector so all can see why the cable you thought might fit won't.
It looks like Leica wants to prevent the possibility of your M9 becoming soiled through contact with ordinary cords that have been used with mere Nikons and Canons, or ordinary consumer electronics equipment.
No big deal; we're all used to pulling off the bottom cover to get our pictures out of LEICAs. That's how you remove the battery to charge to change it.
02 October 2009, Friday
Canon 5D Mark II: I've been having so much fun shooting mine that I forgot to update its review! I just did.
Sharpening
I was talking to a friend who was very impressed with some lens I had used because he saw the photos on my website. He thought it was the lens that made the photos so sharp.
No; it's how I sharpen my images in preparation for publication on the Internet which makes them jump off the page.
See Sharpening details. In Photoshop, use SMART SHARPEN, 141% (or what looks good), 0.2 pixel radius, select LENS BLUR and MORE ACCURATE, and you're there.
On the web, you're only seeing less than one-tenth of all the original pixels. Lens sharpness make no difference on the Internet, but how you prepare your images does.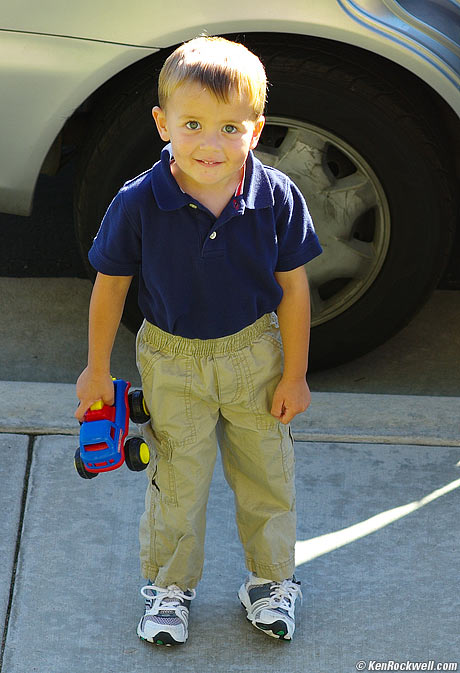 Ryan heads off to school. enlarge.
Golly, I snapped my son on his way out, and I didn't even realize that I used a lens almost as old as I am! I shot this with a135mm f/4 TELE-ELMAR made 1971, on a LEICA M9, shot wide-open at f/4 at 1/180 at ISO 160. I cropped this from about 1/5 of the picture, which originally was a much bigger horizontal with a bunch of people in it.
This LEICA lens only cost me about $300, and I got ripped off. It works great for cheapskates like me; you don't have to spend three grand if you don't want to.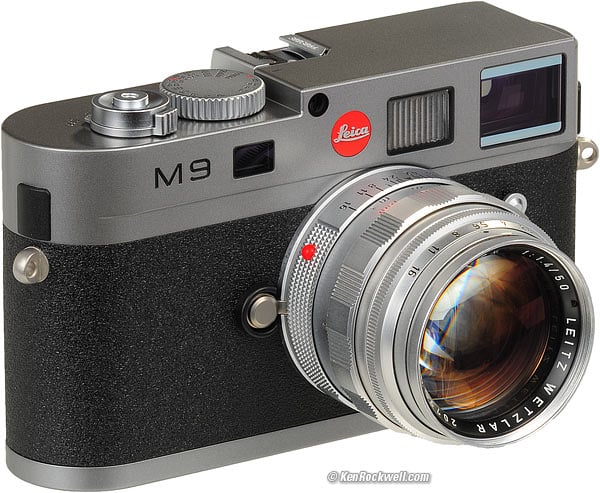 LEICA M9 with 1964 LEICA SUMMILUX 50mm f/1.4.
NEW: LEICA M9 Lens Compatibility. What works and codes and how.
01 October 2009, Thursday
NEW: LEICA M9 versus Nikon D3X versus Canon 5D Mk II Sharpness Comparison.
You gotta love DNG: Playing with the LEICA M9 and its native DNG raw format, it's the only raw format I could come to appreciate.
Why? Because it's as close to a standard raw format as we are going to get.
Because DNG is a standard, I can open the files from my very, very new LEICA M9 on anything that reads raw.
The M9 files open great in Lightroom 2.5, Photoshop CS4, and yes, especially well in Photoshop CS2 from three years ago.
With DNG, you don't have to buy new software to open files from new cameras, and more importantly, I don't have to spend all day looking for software updates to be able to read files.
When you review new cameras all day as I do, I often get cameras in my hands before the software is final, so with other cameras, I often can't open raw files because the cameras are newer than the software updates! Even if an update comes out tomorrow, that doesn't help open a raw file today.
With DNG, I'm good.
0445 local time: I'm awake this morning long before daybreak. I'm pretty excited, because I now have a LEICA M9 in my sticky little hands.
I'm out someplace in Arizona at the secret Yucca Arboreal Test Range and Proving Grounds, a secure, covered military facility with controllable atmosphere and simulated weather conditions. It is used in the design and evaluation of military optics, targeting and vision systems. It also has the ability to reproduce all kinds of heat shimmer, used in development of adaptive and synthetic aperture optical systems that see through obscuring atmospheric phenomenon.
I'm hoping that today will be a clear day (no tests of AO), because it is today that I hope to pit the 18MP LEICA M9 against the 21MP Canon 5D Mk II and the Nikons to see who outresolves whom.
Today we hope to pit Leica of Germany, the inventor of the compact, high quality camera (1913), with its made-in-USA Kodak sensor, against the newcomers from Japan (Canon) and Thailand (Nikon). Kodak invented the practical dry plate in 1880, film a few years later, and the digital camera in 1975. Nikon only started making cameras in the 1940s and Canon didn't make their own lenses until around then either.
Against the innovators we will pit the others who copy the core technology and refine it for consumer use. Have the creators of all the technology we take for granted today come back to forge a new level of excellence? Is it a new era? Sure, Nikon and Canon generally offer more for the money, but with the low price of the M9 compared to the D3X and 1Ds Mk III, the commercial-grade Leica has become very interesting to serious photographic consumers.
It ought to be an interesting day, presuming it's going to be a reasonably clear air day at the range.
Of course I don't need to have a friend sneak me into the range to tell you all that the Leica and its lenses weighs a few tons less than any SLR system. I already know I'd much rather carry the Leica anyplace than an SLR.
What Was New in:
The end of September, 2008 (Photokina)
The beginning of September, 2008
December 2007: Loads of details about the Nikon D3, D300, 14-24mm and 24-70mm, much of which still isn't on the individual review pages.
November 2007: First hands-on details about the Nikon D3, D300, 14-24mm and 24-70mm, much of which still isn't on the individual review pages.
August 2007 (Loads of new Nikons and Canons)
2006 November - December (includes birth of Ryan Rockwell)
2006 October - November (includes photos from a trip to NY)
Help me help you top
I support my growing family through this website, as crazy as it might seem.
If you find this as helpful as a book you might have had to buy or a workshop you may have had to take, feel free to help me continue helping everyone.
If you've gotten your gear through one of my links or helped otherwise, you're family. It's great people like you who allow me to keep adding to this site full-time. Thanks!
If you haven't helped yet, please do, and consider helping me with a gift of $5.00.
The biggest help is to use these links to Adorama, Amazon, Calumet, Ritz, J&R and when you get your goodies. It costs you nothing and is a huge help to me. eBay is always a gamble, but all the other places have the best prices and service, which is why I've used them since before this website existed. I recommend them all personally.
Thanks for reading!
Ken
Home Donate New Search Gallery How-To Books Links Workshops About Contact