Home Donate New Search Gallery Reviews How-To Books Links Workshops About Contact
Canon 7D
1.6x 18MP, 8FPS, 19-Pt AF, HD, $1,565.
© 2015 KenRockwell.com
Intro Specs Performance Compared Usage Recommendations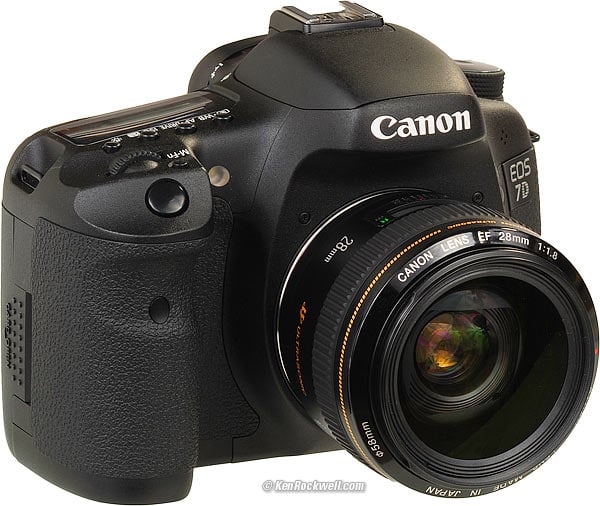 Canon 7D (32.3 oz. /915g with battery and card) with Canon 28mm f/1.8 USM. enlarge. I'd get it at Adorama, B&H or Amazon. It helps me publish this site when you get yours from these links, thanks! Ken.
March 2015 Canon Reviews Canon Lenses All Reviews
NEW: Canon 7D Mk II!
Canon 7D with 28-135 IS for $849.
Canon 7D with 18-135mm IS for $1,099 < recommended.
Canon 7D review and Canon 18-135 IS review, loaded with sample photos.
While the new 7D Mk II defines a new generation of DSLRs for sports and action; the original 7D remains a fantastic camera. Just look at the photos in my review, and the photos I made in Maui with it.
Direct Comparison of Canon 5D Mark II, 7D, 5D and Nikon D300 at the Test Range 03 August 2010
Canon 7D Sample Photos from Maui July 2010
Canon 7D Deals!
Instant rebates of up to $600 through August 2, 2014:.
The key between these deals is that you can get a 2% future rewards card from Adorama or a few acessories, each for the same price.
Canon EOS-7D body
Canon 7D Body: Reg: $1,499.00, Instant rebate: $500.00 = Final price of $999.00 with free US shipping and 2% Adorama rewards.
Canon 7D Body with 16GB Card, Bag and Cleaning Kit: Reg: $1,499.00 Instant rebate: $500.00 = Final price of $999.00 with free US shipping.
Canon 7D with 28-135mm lens
Canon 28-135 IS Review (Full-frame lens with no wide-angle ability on the 7D.)
Canon 7D with 28-135mm IS Full-Frame Lens: Reg: $1,699.00, Instant rebate: $600.00 = Final price of $1,099.00 with free US shipping and 2% Adorama rewards.
Canon 7D with 28-135mm IS full-frame lens and 16 GB Card, Bag, Cleaning Kit and 72 mm UV Filter: Reg: $1,699.00, Instant rebate: $600.00 = Final price of $1,099.00 with free US shipping.
Canon EOS-7D with 18-135mm lens (recommended and as used in this review):
Canon 18-135 IS Review (Lens with wide-angle ability optimized for the 7D.)
Canon 7D and 18-135mm IS Lens: Reg: $1,799.00 Instant rebate: $500.00 = Final price of $1,299.00 with free US shipping and 2% Adorama rewards.
Canon 7D with 18-135mm IS lens, 16GB Card, Bag and Professional Lens Cleaning Kit: Reg: $1,799.00 Instant rebate: $500.00 = Final price of $1,299.00 with free US shipping.
Good
1.) Canon's best ergonomics ever, copied in the 5D Mark III and 6D. The 7D is a joy to shoot and never gets in the way. Images, as expected, look great. If I was in the market for a 1.6x Canon, I'd get the 7D in a heartbeat: it's worlds ahead of the old 50D.
2.) Quick Control Screen makes setting the 7D fast and easy, without menus.
3.) Great LCD.
4.) Three Total Recall camera state memories, recalled instantly with the top dial.
5.) Movies are easy to shoot, much easier than with the 5D Mark II.
6.) Great pictures!
7.) I love the 7D. I'll go into what little I don't like about it in glaring detail below, but know that overall, the 7D is the best camera ever made by Canon, second only to the 5D Mark II, for my sort of shooting. I may make a lot of comparisons to Nikon, however for multipurpose shooting (think family vacations), Nikon's complete lack of any Total Recall camera state memories relegate my Nikons to single-purpose shooting.
Bad
1.) New AF system draws big, black rectangles as each AF sensor goes active — and they never turn off as you're trying to compose! These big, ugly, distracting rectangles don't go away until after you've taken your picture! This makes it difficult to see your subject's expression, or even your subject! (better cameras turn off the AF point indicators after focus locks.)
2.) New 19-sensor AF system is so complex that it doesn't work as well as Canon's classic 9-point system. This is because when you need to change among settings, there are now so many settings that you need to stop what you're doing and click a few buttons to do what you used to be able to do with one finger.
3.) New 2-color metering not as good good as the older monochrome metering system. I bet that Canon will improve this for via free firmware updates as time goes on.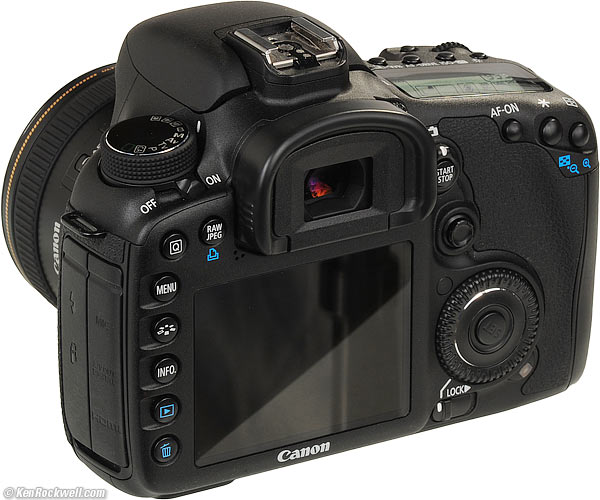 Canon 7D. enlarge.
Introduction top
Intro Specs Performance Compared Usage Recommendations
The Canon 7D is Canon's most advanced camera ever, which makes sense because it's the newest. The 7D is Canon's best-ever mini-format (1.6x) DSLR. It's not the best DSLR because it only has a small (1.6x) sensor, but that's also why it costs a lot less than the full-frame 5D Mark II, which is Canon's best DSLR. (Canon's 1D and 1Ds models cost more and weigh more, but aren't better unless you need speed.)
The Canon 7D especially stands out because it has the best ergonomics ever in any Canon DSLR. It is a completely new design, eclipsing the old Canon 50D, which was basically the same camera as 2003's Canon 10D.
What really stands out about the 7D's handling are its greatly improved power switch. This seems silly, but is actually very important, because never again will you raise a 7D to your eye and miss a picture because your camera turned itself off, or deactivated its rear control dial, as the 5D Mark II and the 50D often do because of their defective power switch designs.
Another high point of the 7D are its magnificent three Total Recall camera-state memories, recalled instantly simply by turning the top dial. This is the same as the 5D Mark II.
Another ergonomic high-point is the "quick control" screen, which allows setting everything about the 7D right on the back of the camera without having to resort to menus or fiddling with the top LCD, again, just like the 5D Mark II. After using the 7D for a week, I thought it was my 5D Mark II.
The 7D's movie mode works great. Canon finally added controls on the back of the 7D so that movies are easy to shoot. This is completely different from the older 5D Mark II which requires a ton of fiddling. The 5D Mark II doesn't have any movie controls on its body, which is largely a carry-over from the original 5D which didn't shoot movies.
Oddly, the 7D weighs 0.3 oz. (7g) more than a full-frame 5D Mark II. Both cameras feel about the same: they feel as if they are half plastic, which they are. You'll never confuse this with a real pro camera like a Nikon D3 or a 1D Mark IV.
More oddly, the things I like the least about the 7D are its biggest selling points to people who haven't actually shot with it. I prefer the autofocus system of older cameras, and I prefer the light metering of older cameras like the 5D Mark II.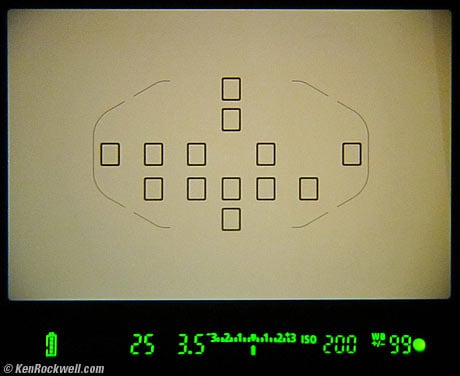 Canon 7D Finder: actual view. bigger.
See those active AF points? They look cute in a sales brochure, but the scary fact is that they stay on and stay there as you're trying to compose! They look really bad if you have an image in the finder you're trying to see, instead of a blank wall as shown above.
If you use just one AF point you'll only have one, but of course it will still be lying right over your subject. A firmware defect prevents these from going away after the focus has been locked. The Canon 5D Mark II blinks these in red, but on the 7D, they are big, black and nasty and don't go away.
I hope Canon will fix this in a future firmware update. I suspect this is done this way so it impresses people playing with the 7D in a store. The real big news about the 7D is the power switch, 3 Total Recall settings, new movie buttons and the Quick Control screen; the new meter and AF system are actually downgrades that just play well in sales brochures.
The Canon 7D is only a 1.6x crop-factor camera, like the 50D and Rebel T1i. Its finder is specified as 100%, but that's 100% of only half the frame covered by full-frame, so it's still a small finder. It's finder is smaller than the finder of the 5D Mark II.
There are two styling faux pas: trashy silver rings around the top mode dial and the rear control dial.
The 7D has the best-yet LCD from Canon. It's the same great LCD as the 5D Mark II, but with far more intelligent auto brightness control. Auto brightness control is useless on the 5D Mark II because it moves up and down as you move the camera, while the 7D fixes brightness when you hit the PLAY button, and keeps it there.
As with all but the smallest SLRs, this is a big camera that gets you noticed. Everywhere I went with the 7D and the 18-135mm lens, people remarked "big camera!" so if you're trying to work unnoticed, try something else.
I shot this 7D and an 18-135mm lens as my only camera and lens for a few weeks in Maui in July 2010. I never missed anything; I had everything I needed for anything, even night shots, without a tripod. My only nigglings are the disturbing AF sensor indicators, the inability to force higher shutter speeds in auto ISO when trying to photograph my kids in dim light, and an AF system that requires too many button pushes to pull it from all-sensors auto to just one AF sensor.
I greatly prefer the 5D Mark II, and oddly its metering and AF system, but it costs much more.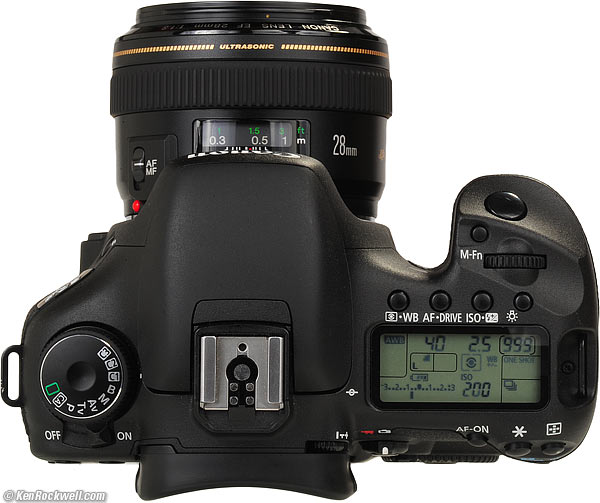 Canon 7D. enlarge.
Specifications top
Intro Specs Performance Compared Usage Recommendations
Body
Magnesium alloy.
AF Points
19.
Dark LCD boxes call out the active ones in the finder.
Light Meter
63 zone, two color (not RGB).
(Better Nikons have used 1,005 segment, three-color meters since the 1990s.)
Sensor
18MP, 1.6x.
5,184 x 3,456 pixels native.
ISO 100 - 6,400.
Up to ISO 12,800 if you enable it.
Auto ISO goes to ISO 3,200
Level
Two-axis.
(Nikon has only one axis at best.)
Movies
Slow autofocus only works when you hold the AF-ON button; forget shooting moving targets.
1920 x 1080 at 29.97p, 23.976p and 25p.
1280 x 720 at 59.94p and 50p.
640 x 480 at 59.94p and 50p.
LCD Monitor
3"
920,000 dots.
Storage
One CF card slot.
Thick enough to take microdrives, too.
Size
5.8 x 4.4 x 2.9 inches (148.2 x 110.7 x 73.5mm) WHD.
Weight
32.280 oz. (915.05g), measured with battery and card.
Canon rates it at 28.9 oz. (820g), stripped without battery, card, lens, strap, caps, or anything.
Power
LP-B6 Battery.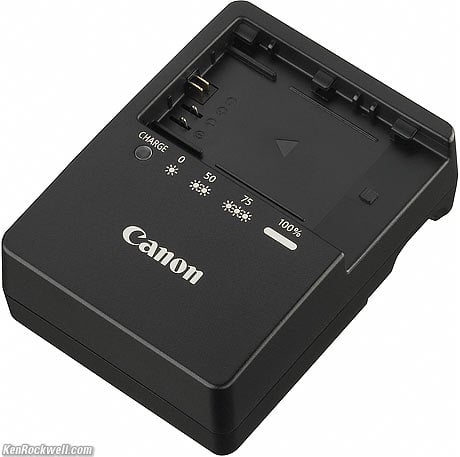 LC-E6 Charger.
LP-E6 7.2V 1.8 Ah Li-Ion rechargeable battery. (same as 5D Mark II, 5D Mark III, 70D etc.)
LC-E6 folding plug 100-240V 50-60 cps charger.
Announced
01 September 2009.
Available
Since October 2009.
Price, USA
$1,599, September 2013.
$1,199, December 2012
$1,565, August 2010
$1,700 at introduction in October 2009.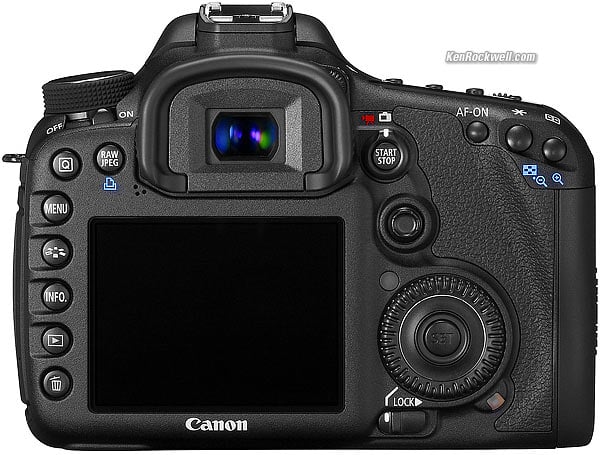 Canon 7D. enlarge.
Performance top
Intro Specs Performance Compared Usage Recommendations
Ergonomics top
Ergonomics are everything. They are the difference between getting a great shot, or missing or botching it due to an incorrect setting made in haste.
Ergonomics are the most important aspect of any camera, and the Canon 7D has the best ergonomics of any Canon camera yet (with the possible exception of the Canon AE-1 Program).
The power switch is the biggest improvement over the older cameras. It's now on the top where it will never get knocked by accident. Likewise, the rear dial lock-out never gets knocked, either, so I never miss pictures because the camera turned itself off or the compensation dial went dead on me, as they do on my 5D Mark II.
Like most Canons, the 7D is designed for baby hands. Everything is just little too small for normal hands.
It feels plasticy. It feels like hard, nasty plastic, with very little grip and no resilience. The 7D feels like a plasticy 5D Mark II, not like a Nikon F5.
The Quick Control Screen is a huge step up from the 50D. I set my SET button to call up the Quick Control Screen; the clever dedicated [ Q ] button is on the wrong side of the camera, requiring a second hand, so who cares?
A new rear RAW JPEG button lets you tap it to get the raw or JPG file you normally wouldn't. Tap it, and your next shot records both file formats.
The 7D is still too stupid to show more than 999 remaining shots on the top LCD, or 9,999 on the rear LCD. Nikons are much smarter; even my D70 from 2004 shows "24.7k" if I have 24,700 shots left, not 999.
The top LCD is totally blank when idle. It shows nothing after the camera goes to sleep in about a minute, not even the frames left. Nikons show the frame count, even with the camera switched off!
The data displayed in the bottom of the finder is the best yet from Canon. It's big and bright, much better than the smaller and dimmer data display of the 5D Mark II.
Unlike Canon's point-and-shoots, the 7D isn't smart enough to create new folders automatically each day. I really wish the Powershot and EOS guys had sake together more often.
See also my entire section on Playback.
Autofocus top
AF is very fast, as are all Canons ever including the very first EOS 650 of 1987. This is why Nikon lost the pro market to Canon in the early 1990s. Canon's limitation is that sometimes its AF system simply misses, even though it thinks it's in focus. I rarely had a problem getting good focus, but as always, this will vary with different lenses.
As explained at the top, the 7D has a serious firmware defect where the selected big, black AF sensor indicators fail to go away after locking focus, meaning that they get in the way of seeing your subject to compose, or to be able to see to snap the picture at the height of the action, or to see when the subject smiles.
If you can get over this graffiti in the finder, the 7D's AF system usually works great, and especially intriguing is how well it works in dim light with slow zoom lenses with no need for an AF illuminator. By "usually," it's fast, but in the auto-sensor-select mode, it usually picks the closest thing, which isn't always your subject. The Nikon D3 is uncanny at finding and focusing on the subjects eyeball, while the 7D just guesses. Worse, instead of the 7D needing just one button to select the AF sensor you want when the auto-select doesn't get you there, you have to use three different controls in exact sequence! ([ + ], M-Fn, then the little thumb controller or control dials.)
The Canon 7D adds the first completely new AF system in Canon's amateur cameras in a very long time, which sounds nice, but it's still not as good as Nikon's 51-point systems in their better cameras. Nikon's better AF sensors don't go black and block your finder, either. The Nikon D300 isn't all that exciting, but the AF system of the Nikon D3 is worlds better than the 7D.
The side AF sensors are less precise than the center sensor, if you're using a lens at least as fast as f/2.8. With a fast lens, like the 50mm f//1.8 II, I get much better results using only the center sensor.
Unlike the Nikon D3, which really uses facial recognition acquired with its full-color three-dimensional 1,005 zone light meter to nail focus right on the closest eye of your subject, the relatively primitive 7D has no such ability. In its auto-AF select mode, the 7D merely focuses on whatever's closest, which may or may not be your subject.
Tracking AF, where the 7D tries to move AF sensors as the subject flies around the finder, is nowhere near as good as Nikon's 51-point color 3D system. The 7D is simply too blind to capture and track subjects across the finder, compared to all the data the Nikon systems use to keep that AF sensor uncannily on your subject as it moves around, or as you change composition.
There is no AF illuminator, and the 7D doesn't need it. Be careful; sometimes the 7D will try to pop off a flash for AF assist unless you disable that in a menu.
If it's very dark, the AF zones will blink in red for a moment as selected, but they also stay black until after you shoot.
I'm not all that impressed with the 7D's AF performance. The ergonomics are worse than older AF systems as in the 5D Mark II, and when shooting action at 8 FPS with an 18-135mm EF-S, I don't see that I got particularly well-tracking autofocus. I prefer the 5D Mark II, sorry.
Image Quality top
Real Image Quality
Images look great, but so do images from the Digital Rebel XTi, which pretty much look the same.
Colors look awesome, which I expected, since the 7D has the same color tweaks (Picture Styles) as every other Canon DSLR today. The Digital Rebel XTi has the same adjustments, and thus pretty much makes the same pictures.
Sadly, unlike the 5D Mark II and all Nikons, you cannot optimize both highlights and shadows at the same time. Auto Lighting Optimizer (automatic shadow tweaking) is on by default, but if you try to activate automatic highlight tweaking (Highlight Tone Priority), the shadow optimization turns off! This is because each of these tends to increase noise, so with such a small sensor, the 7D won't let you use both highlight and shadow optimization at the same time. Oh well, that's another reason I suggest the 5D Mark II instead, which does both at the same time.
All this technical baloney aside, the 7D makes extraordinary images. Its ergonomics allow me to catch anything as I see or imagine it, without missing shots lost to fiddling with other cameras. The 7D has the same fantastic color rendition and adjustment ability as all the other current Canons, meaning that I get better-looking images straight out of the 7D than I can with the hideous color rendition of the far more expensive LEICA M9. The LEICA M9 is technically about ten times sharper (honest), but it doesn't matter if the colors are too ugly to publish, as is the case with images straight from the M9.
The colors of the 7D are wonderful.
Color Rendition
Colors look great, as I expected. It looks the same as my other Canon DSLRs.
Auto White Balance top
AWB works well, as expected.
What's new is that it tends to let warm last-light stay yellow, instead of cooling it.
AWB is superb at keeping subject in the shade looking warm and wonderful. I've never seen another AWB system that does this as well.
Often it won't correct for tungsten indoors, and leave one with almost monochromatic orange images.
Technical Image Quality top
As small-sensor cameras go, it may be the best yet from anyone, but as expected, it's nowhere near as good as a full-frame camera. Sensor size is everything, technically.
See my Image Quality Comparison for details.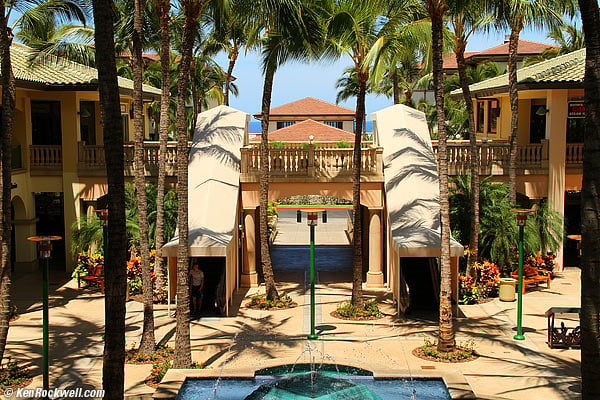 Sample Image: original 5MB JPG from Canon 7D, Canon 18-135mm IS at 33mm and f/10.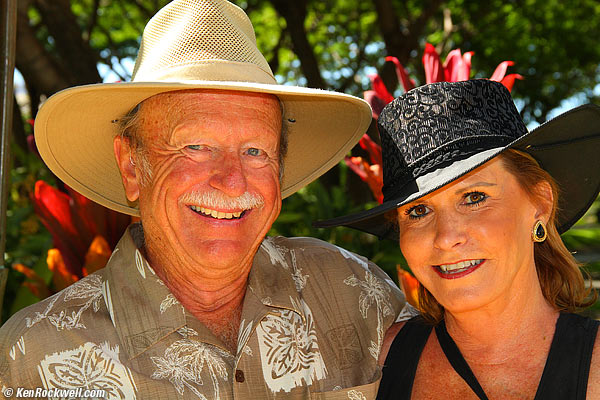 Pops and Noni, Maui. (pop-up flash, 18-135mm at 67mm). original 4MB JPG.
Sample Image: original 6.5MB JPG from Canon 7D, Canon 18-135mm IS at 18mm and f/8.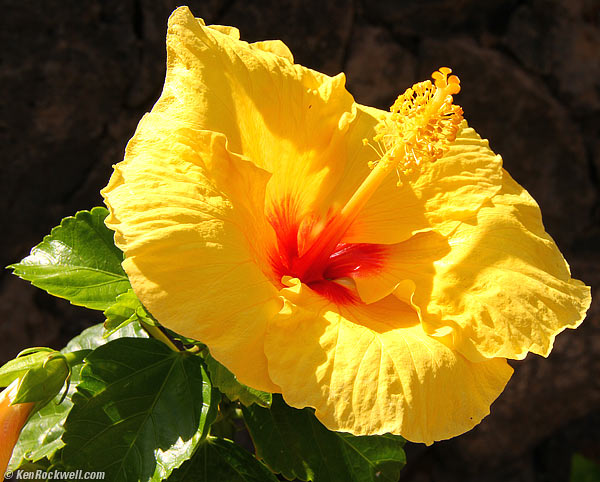 Hibiscus, Maui. (18-135mm at 42mm). bigger.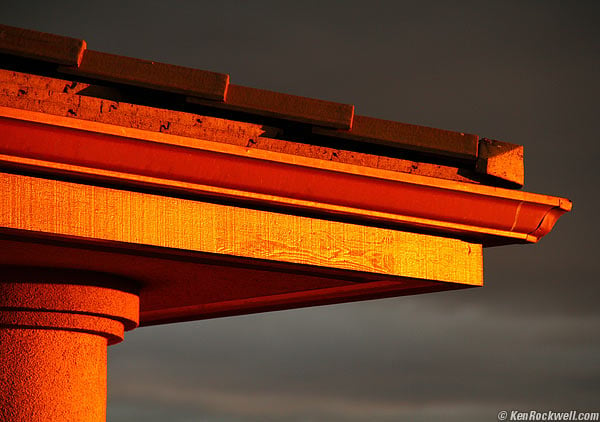 Sample Image: original 3MB JPG from Canon 7D, Canon 18-135mm IS at 135mm and f/5.6.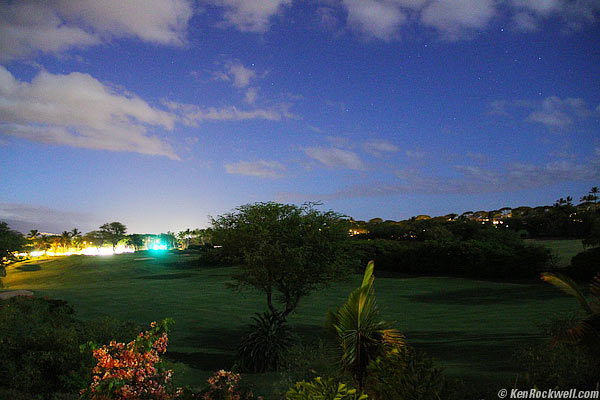 Sample Image: Moonlight, Auto ISO 3,200, Canon 18-135mm IS at 18mm and f/3.5, hand-held at two seconds. bigger. The dots in the sky are stars.
Frame Rate top
LARGE NORMAL JPGs, which is how I set a 7D, write to a Lexar 600x 32GB card as fast as they are shot! Buzz along at 8 FPS, and the red light extinguishes as soon as you take your finger away from the shutter button. The finder's buffer indicator never comes down from 99.
FINE NORMAL JPGs take just an instant longer to write, and the buffer drops to merely 63 shots. You'll never fill up a buffer at 8 FPS in FINE, either.
If shooting in raw, you have a buffer of 15 shots, as shown in the finder. At 8 FPS in raw, you can fill the buffer. It takes 1.5 seconds to write each full-size raw image to a Lexar 600x 32GB card.
The Continuous (fixed at 3 FPS) and Continuous High (fixed at 8 FPS) advance settings are perfect. I set Continuous most of the time, where I get one shot, or more shots if I hold the shutter, and Continuous High for crazy action. This is much better than the single 4.5 FPS setting of the 5D Mark II, which often pulls two shots when I only wanted one.
Light Meter top
The meter is merely OK. It tends to overexpose smaller, lighter subjects if there are large dark areas, and otherwise, the meter is good at paying attention to the intended subject.
Flash metering isn't very good, often overexposing.
Canon poofs about this being the first Canon with a two-color sensitive meter, but it works no better than any other Canon meter, all the rest of which see only in monochrome.
By comparison, most better Nikons have had full-color three-dimensional Matrix meters that actually work since the 1990s. Canon isn't here yet.
Regardless of technology, good metering always comes from your ability to use it properly. Once I learned what this meter did, I got great results knowing to compensate for overexposure in advance.
Flash top
As typical on Canon, flash exposure is unreliable. I get different results for each shot, making it difficult to get good flash exposure.
I greatly prefer my 5D Mark II and 220EX flash over the 7D with either its built-in or the 220EX. I get good results with the 5D Mark II and 220EX.
The popup flash is slow to recycle. If you're shooting anything that breathes, get a 220EX.
The popup flash feels pretty tough. It will take some work to break it. Although brimmed hats will flip it down, it probably won't break if you drop the camera.
Any preflashes from the built-in flash are invisible, much better than Nikon, then again, maybe that's how Nikon gets the correct exposure every time.
Auto ISO top
Auto ISO is not adjustable. You're either in AUTO ISO, or you're not.
Auto ISO is very smart. It pays attention to the zoom setting and the position of a shifted exposure program, but is oddly blind to Image Stabilization being on or off.
Auto ISO is perfect for photographing anything that holds still, as it is designed to let you use the lowest possible ISO, respecting hand-holdable speeds versus focal length.
Sadly, because it is not adjustable (as is Nikon), Auto ISO is useless at normal and wide settings for shooting action, since it doesn't start increasing ISO until the shutter speed has gotten too slow to stop any sort action. At long focal lengths, it will opt for faster shutter speeds.
ISO is displayed clearly in the finder.
Movies top
Movies look great and are sort of easy to shoot, but forget automatic follow-focus.
Like all DSLRs, the 7D can't focus while shooting. If you need spot focus, hold the AF-ON button as you're rolling, however your footage will show the lens wandering in and out around looking for focus.
If you focus while rolling, the 7D's microphone will hear the lens moving, especially if you focus manually, or if the lens has anything other than a silent motor. For instance, the 18-135mm lens has a noisy focus motor.
Power and Batteries top
GREAT!
I get between 1,000 and 2,000 shots per charge.
I get 1,000 shots if I'm using the flash now and then and do a lot of fiddling, and I easily get 2,000 shots if I'm doing a lot of continuous sequence shots without playing back.
If you're a sports shooter, shooting mostly continuous sequences without playing back, you'll probably get thousands of shots on a charge.
If you can run down a battery, the charger is fast, and unlike Nikon, tells you the charge state as it's charging, and its plug folds up, so you don't have to carry a cord.
Bravo!
Data top
JPGs are set to 72 DPI.
The camera's serial number is shared in the EXIF of all image files.
Auto Rotate top
Straight-down shots often are rotated to vertical.
On playback, the 7D ignores its rotation sensor, unlike an iPhone.
Playback top
The 7D's LCD is the best ever from Canon. The new auto-brightness feature is worlds better than on the 5D Mark II, so it's actually very useful. The Auto LCD Brightness holds the value measured at each press of the PLAY button, instead of wandering all over as you move the camera.
The 7D easily plays and zooms files made on other cameras. Not only does playback look great, it even can read half the EXIF data from files shot on Nikons.
The 7D has the same great LCD as the 5D Mark II, with a smarter auto brightness control, but the same firmware defects we expect from Canon:
1.) The worst thing about the 7D, along with its AF sensor indicators crapping-up the finder, is that Canon still holds your playback images and controls hostage. A firmware defect makes your LCD go blank if you tap the ZOOM button or turn the rear dial hoping to select a different image during image review! To get full access to your held-hostage images when the image is playing back during image review (right after shooting), you still have to press PLAY before you get full access. Poo; this means you need a second hand while shooting. Nikon does this much better, giving full access immediately after being shot.
Setting the SET button as a PLAY button so you can hit it with one hand only half works. When the SET button is made a PLAY button, it will start playback, but if you're zoomed, hitting it won't bring it back from the zoomed view; you still have to use your second hand to hit the real PLAY button. Therefore, this trick is useless, and worse, if you set your SET button to be a PLAY button, the 7D now starts playing back for no reason as the SET button gets knocked as you carry the 7D around your neck.
2.) Sadly, only 90% of the LCD is used for playback. Even when zoomed, the top bar of the LCD stays black and shows shooting data, instead of the image as it should (and as do Nikons and LEICAs).
3.) Even though the 7D has a rotation sensor, another firmware defect prevents it from working during playback. Unlike an iPhone or Canon Powershot camera, Canon's DSLRs don't rotate the image as you rotate the camera during playback.
4.) As you scroll around a zoomed image, it takes a moment for the sharp image to fill-in from the first soft image. Nikons do this so much better, and it's been this way for over ten years on Canons. What gives?
5.) Half of the INFO screens on playback are crap. Because of this, I always have to hit the INFO button twice to get to the two screens out of four that I use, and skip over the two that are pointless. LEICA has this down the best: they have only two screens, and tell us more on those two screens than the four pages of fluff from Canon, or even more from Nikon.
6.) When zooming an image, the 7D is too stupid to know to zoom into the area of the AF point that was used. By comparison, Nikons do this, so as you zoom in, you get right to the eyeball automatically without having to scroll around.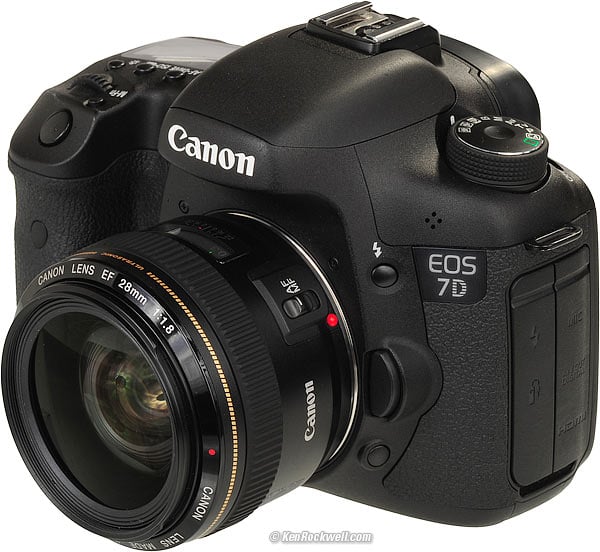 Canon 7D. enlarge.
Compared top
Intro Specs Performance Compared Usage Recommendations
Performance Comparison Table
| | | | | |
| --- | --- | --- | --- | --- |
| | 7D | | | |
| Sensor | small 1.6x | Full-Frame | Full-Frame | small 1.5x |
| Resolution | 18MP | 21MP | 12MP | 12 MP |
| Technical Image Quality | Good | Excellent | Excellent | Good |
| Frame Rate | 8 FPS | 4.5 FPS | 3 FPS | 7-8 FPS |
| Finder Size | Small | Medium | Medium | Small |
| Finder Clarity, AF locked | Poor | Good | Good | Excellent |
| Finder Data Display | Good | Fair | Poor | Excellent |
| Ergonomics | Excellent | Very Good | Poor | Good |
| LCD | Excellent | Excellent | Horrible | Excellent |
| Battery Life, actual shots | 1,000 + | 1,000 + | 1,000 | |
| Toughness | Half plastic | Half plastic | Half plastic | 1/4 plastic |
| Weight, wet | 32.3 oz. | 32 oz. | 31.9 oz. | 32.9 oz. |
| Weight, wet | 915g | 907g | 904g | 930g |
| Made in | Japan | Japan | Japan | Thailand |
| Price, 8/2010 | | | | |
Usage top
Intro Specs Performance Compared Usage Recommendations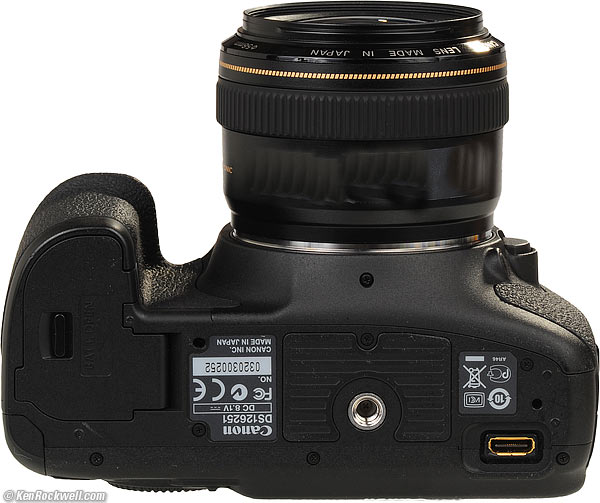 Canon 7D. enlarge.
Recommendations top
Intro Specs Performance Compared Usage Recommendations
The 7D is a spectacular camera for general use, while the 7D Mark II is much, much better for sports.
For nature and landscapes I'd go the extra cost for the 5D Mark II in a heartbeat, but for action in reasonable light, the 7D is an awesome camera.
The 7D is ideal for amateurs shooting sports, who prefer not to have to carry the professional standard, the $5,000, 10 FPS, three-pound Canon 1D Mark IV. The 7D cranks fast, however the big ugly black rectangles of its AF system make it hard to shoot because it's difficult to see around them. The benefits of a real pro camera like the 1D Mark IV are not apparent on paper; you need to go shoot with one.
If sports really are your thing and you can't spring for a 1D Mark IV, you might want to consider a used 1D of some other Mark for about the same price as a 7D.
For professional nature, portraits, landscapes and low-light, the Canon 5D Mark II reigns supreme, with its exquisite technical quality from its huge image sensor, unmatched by the 7D.
The original Canon 5D is also technically superb, but an ergonomic atrocity. I'm unsure which I'd prefer for nature, portraits and landscapes, however, if you can endure the 5D's awful LCD, for less money than the 7D, it makes images at least as good.
The 7D goes to crazy-high ISOs, but like all small-sensor cameras, the images look awful above about ISO 3,200. Technically and for large prints, the Canon 5D Mark II is in a completely different class than the 7D. If you worry about these things, you deserve the 5D Mark II.
If I shot small-frame Canon DSLRs, this is the camera. I prefer full-frame, and I prefer the 5D Mark II, and especially the greater clarity and cleanliness of its images and its AF system, but heck, it costs $1,000 more.
I reviewed a 7D with firmware version 1.1.0. As time goes on, Canon continuously offers free firmware updates, which makes the camera better and better.
More Information
Canon 7D Mode-Dial Lock Modification.
If you want, you can pay Canon $100 to add a lock button in the middle of your mode dial so that the dial doesn't move unintentionally.
Canon 7D versus Barbie Video Camera. Not shown is that with the Barbie Cam, I'll bet you that you can get into places you'd never get with a 7D, thus better video.
Help me help you top
I support my growing family through this website, as crazy as it might seem.
The biggest help is when you use any of these links when you get anything, regardless of the country in which you live. It costs you nothing, and is this site's, and thus my family's, biggest source of support. These places have the best prices and service, which is why I've used them since before this website existed. I recommend them all personally.
If you find this page as helpful as a book you might have had to buy or a workshop you may have had to take, feel free to help me continue helping everyone.
If you've gotten your gear through one of my links or helped otherwise, you're family. It's great people like you who allow me to keep adding to this site full-time. Thanks!
If you haven't helped yet, please do, and consider helping me with a gift of $5.00.
As this page is copyrighted and formally registered, it is unlawful to make copies, especially in the form of printouts for personal use. If you wish to make a printout for personal use, you are granted one-time permission only if you PayPal me $5.00 per printout or part thereof. Thank you!
Thanks for reading!
Mr. & Mrs. Ken Rockwell, Ryan and Katie.
Home Donate New Search Gallery Reviews How-To Books Links Workshops About Contact