Home Donate New Search Gallery How-To Books Links Workshops About Contact
Tech Details: Hawaii
19-29 July 2010
19 20 21 22 23 24 25 26 27 28a 28b 28c 28d 29 July 2010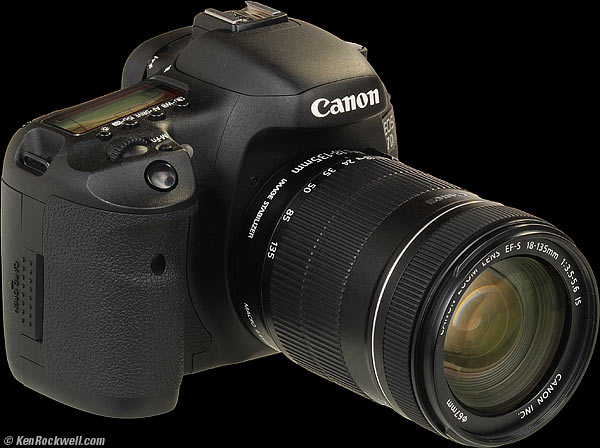 Canon 7D and EF-S 18-135mm IS.
All I brought for two weeks of shooting was a Canon 7D and a Canon 18-135mm EF-s IS lens. I didn't even bother with a case; why would I if I only brought one camera and one lens?
I used one 32GB Lexar 600x CF card, and started a new folder each day.
I set the Canon 7D to Auto ISO, Auto White Balance and Amber 5 (A5) WB SHIFT. Picture Style was left at STANDARD, however saturation was set to +2 (for people) or +3 (for things).
Most of these shots are exactly as they came out of the camera as JPGs. If I played with them, I'll mention it, if not, it's what came out of the camera.
I cataloged everything using my authentic 2006 copy of iView 3.1.3, which is now called Expression Media and sold by Phase One as of 2010.
iView lets me see everything I shot. I used it to select the good shots. I dragged each to Photoshop CS4 from iView. I used a previously saved action to make each image 768 pixels wide, smart sharpen at 141% at 0.2 pixels, and add my © KenRockwell.com bug with its usual exclusive font and the same drop-shadowing I've been using for years. I Saved-for-Web at 51% quality from Photoshop CS4 to make the images you see here.
After the web-ready images were created, I used Macromedia Dreamweaver 8 to make these pages and drop-in the images. (Adobe Dreamweaver CS2 was awful, but CS5 looks swell.)
Because I set my camera to give me exactly the results I want, I didn't have to do any editing or manipulation; I simply used my preset action in Photoshop to make my final web-ready image in one click. What you're seeing is what came out of the camera without having to waste any time correcting anything. The 7D's LCD is phenomenal: what I see on-camera is what I got, so I make my critical color adjustments at the best time to do it: as I'm shooting.
Camera Settings top
All the details are in my Canon 7D User's Guide, which I wrote right after I returned from this Maui trip.
I made great use of the 7D Total Recall memories, which I preset to let me swap among banks of settings for each kind of situation instantly.
19 20 21 22 23 24 25 26 27 28a 28b 28c 28d 29 July 2010
Home Donate New Search Gallery How-To Books Links Workshops About Contact