Home Donate New Search Gallery Reviews How-To Books Links Workshops About Contact
Nikon D7100 Specifications
© 2014 KenRockwell.com. All rights reserved.
Lens Compatibility Specs Remotes Grip Wireless GPS
< < back to Nikon D7100 Review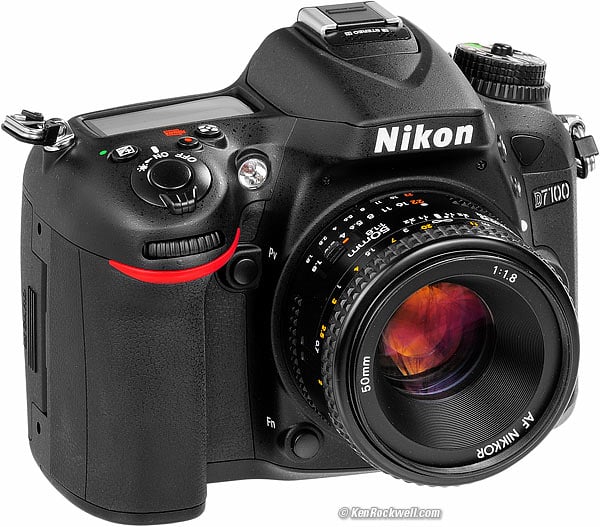 Nikon D7100 (26.8 oz./759g with battery, strap rings and card) and 50mm f/1.8 AF. enlarge. The biggest source of support for this free website is when you use these links, especially these directly to the D7100 at Adorama (either body-only or with 18-105mm VR lens) or at Amazon as a body-only or kit with 18-105mm VR lens, when you get yours. It helps me keep adding to this free website when you get yours through these links — but I receive nothing for my efforts if you buy elsewhere. Thanks for your support! Ken.
Lens Compatibility top
There is a focus motor in the D7100, so it works with every AF lens made since 1986.
Even better, there's an aperture-ring feeler, so it meters with all AI and newer (1977-on) manual-focus lenses. The D7100 also gives full-color Matrix metering and EXIF data with manual-focus lenses if you share the lens' data in a menu. More at Nikon Lens Compatibility.
Manual focus lenses work extraordinarily well, with extraordinarily precise and accurate manual focus, especially for ultra-fast lenses like the 58mm f/1.2 Noct-NIKKOR which tax other camera's more simple focusing systems.
You're always on your own with off-brand lenses like Sigma. Readers tell me that their Sigma 105 Macros don't work on the D7100. Potential incompatibility with future cameras is one of the steep prices one pays for trying to save a few dollars yesterday on a cheap lens. Nikon shares nothing with its competitors about lens compatibility, so if you want to buy a Tamron or Sigma, you're gambling that it will work with tomorrow's camera. Good luck.
Specifications top
Sensor and Image top
24 MP CMOS DX (23.5 x 15.6 mm) image sensor.
6,000 x 4,000 pixels native.
NO ANTI-ALIAS FILTER.
Also 4,494 x 3,000 [M] and 2,992 x 2,000 [S] settings.
Sensor cleaner.
14-bit ADC.
1.3x crop mode
The crazy 1.3x crop mode uses only the central 18 x 12mm of the sensor for 4,800 x 3,200 pixel images. It also also has lower resolution [M] and [S] settings. While rolling video in this crop mode, you can save 16:9 stills from this crop.
ISO
Auto, 100-6,400 in half or third stops.
Also ISO 8,000, ISO 9,000, ISO 10,000, ISO 12,800 and ISO 25,600 as "Hi+" trick modes.
White Balance
Two types of Auto White Balance!
Also Incandescent, Fluorescent (7 types), Direct Sunlight, Flash, Cloudy, Shade,
preset manual (up to 5 values can be stored, yay!), Kelvin (2,500 K to 10,000
K).
All offer fine tuning.
White balance bracketing: 2 to 3 frames in steps of 1, 2 or 3.
In live view only, a new "spot" white balance mode.
Picture Controls
Gen 2: Standard, Neutral, Vivid, Monochrome, Portrait, Landscape; selected Picture Control can be modified.
Adaptive Dynamic-Range Control
Yes, ADR is as expected in Gen 2.
Sets as Auto, Extra High, High, Normal, Low or OFF.
Frame Rates top
6 frames per second.
100 frame buffer.
Picture File Formats top
JPG, the usual three levels of compression.
NEF (raw), lossless compressed or efficiently compressed, 12- or 14- bits.
JPG + NEF.
Video top
Stereo mic, built-in.
1,920 x 1,080 at 59.94i, 50i, 29.94p, 25p or 23.976p.
1,280 x 720 at 50p or 59.94p for slo-mo.
Maximum Recording Time: 30 minutes, or 20 minutes at highest quality setting.
.MOV files holding H.264/MPEG-4 data.
Audio
S-t-e-r-e-O microphone.
Stereo input jack for external microphones (3.5mm).
Linear PCM.
In-Camera Editing
Can clip from the beginning or end of a movie.
AF: 51 Point Field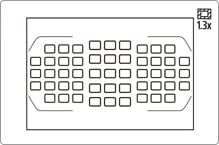 51 points, no real difference from 39 points.
Multi-CAM 3500DX AF module.
Only the 15 central sensors can see horizontal lines ('cross type'), the rest only see vertical lines, just like the single focus sensor of the Nikon SP of 1956.
Only the center sensor can work with lenses as slow as f/8.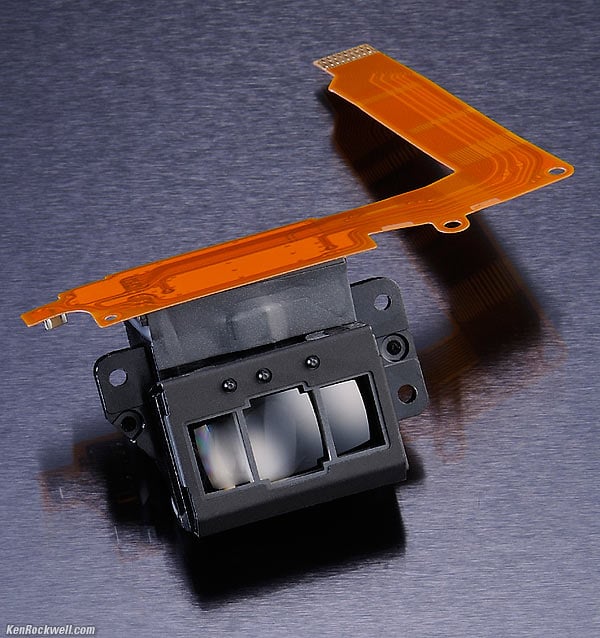 Multi-CAM 3500DX AF Module.
New Multi-CAM 3500DX AF module.
Dynamic or single point AF.
Configurable in combinations of 9, 21 or 51.
3D tracking, which continuously follows moving subjects within the 51 AF points, highlighting the activated AF point in the viewfinder.
Fine-tuning, for the occasional oddball lens.
AF Illuminator.
AF motor in body for use with all AF lenses, as well as AF-I and AF-S.
Finder top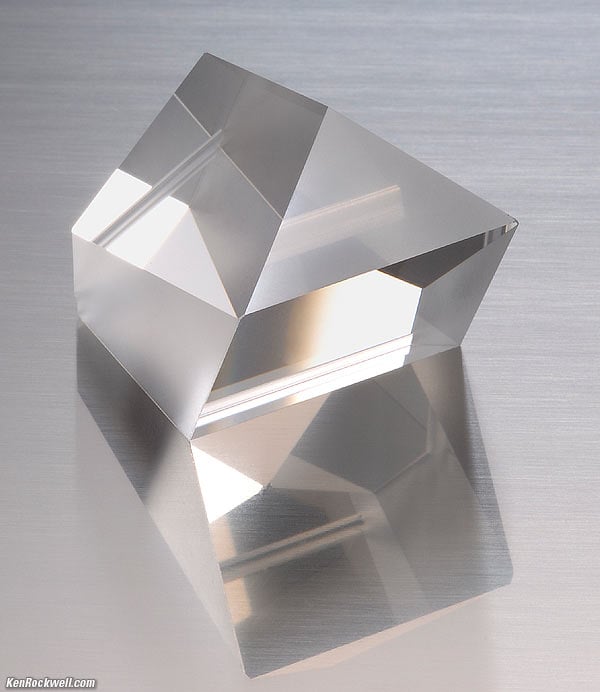 D7100's glass pentaprism.
Glass pentaprism.
100% coverage
0.53x magnification with standard 28mm (for DX) lens. (0.94x with 50mm lens, which is a telephoto on a DX camera.)
19.5mm eyepoint.
-2 to +1 diopters (D7000 is -3 to +1 diopters).
Trade name of screen: "Type B BriteView Clear Matte Mark II." Wow!
Meter top
2,016 pixel RGB 3D Matrix Metering System, center-weighted or spot.
Variable-size center-weighted circle.
Bracketing: 2 to 5 frames at ±1/3, 1/2, 2/3, 1, 2 or 3 stops.
Flash top
Maximum speed with flash (sync speed)
1/250.
Trick FP high-speed sync mode.
Built-in Flash
The built-in flash can be used as a remote commander to control Nikon's better external flashes.
Covers a 16mm DX lens.
GN 12 meters (39 feet).
Hot Shoe
i-TTL system for use with SB-900, SB-800, SB-700, SB-600, or SB-400.
PC (Prontor-Compur) Sync Terminal (for studio strobes)
No, but Nikon will sell you a Sync Terminal Adapter AS-15 to add it.
Heck, I use an old Nikon SB-30 flash on my cameras as a remote trigger for my studio strobes instead of a PC cord.
Shutter top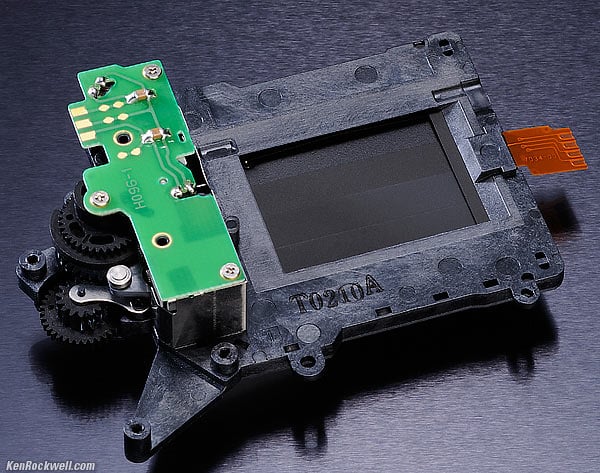 Nikon D7100 Shutter Assembly. enlarge.
Maximum speed with flash (sync speed): 1/250.
1/8,000 to 30 seconds, and Bulb. (30 minutes maximum in Time)
Time, if you buy the excellent $20 ML-L3 infra-red remote.
Single, Continuous High and Low and Quiet advance modes.
"Tested 150,000 cycles"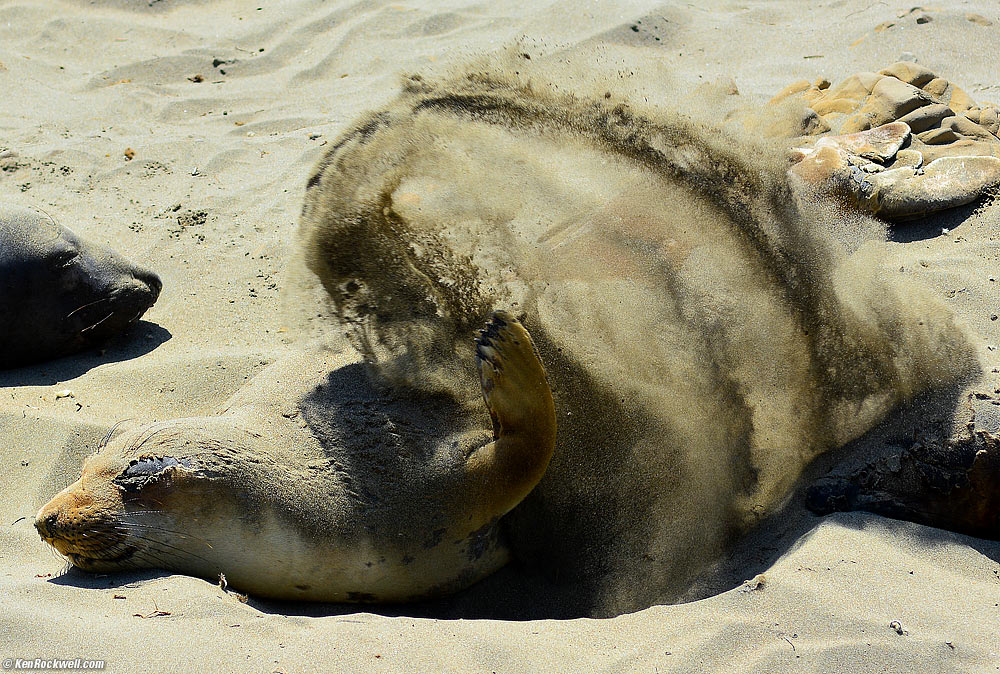 Elephant Seal Flipping Sand, Piedras Blancas, 2:34 PM, 13 April 2013. (2013 Nikon D7100, 1986 Nikon 180mm f/2.8 AF, f/5 at 1/400 at ISO 100, Perfectly Clear.) bigger.
Self-timer
2, 5, 10 or 20 seconds.
1 to 9 exposures each time, delayed by 1/2, 1, 2 or 3 seconds each.
LCD top
3.2"
1,228,800 dots.
Auto brightness control, as well as manual settings.
Data Storage top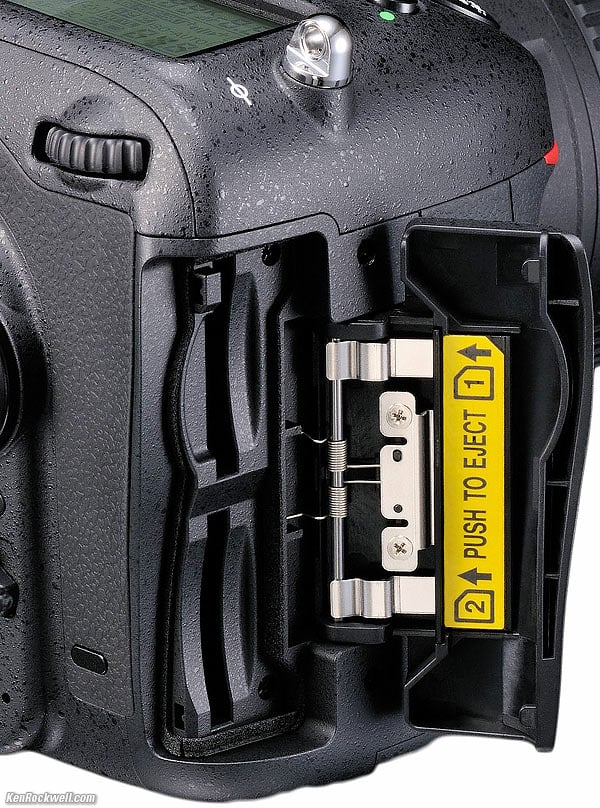 Nikon D7100 dual SD card slots.
Two slots!
SD, SDHC, SDXC and UHS-1 cards, up to at least 64GB, as of late 2010.
Connections top
GPS terminal for GP-1.
Side views, Nikon D7100 (click to enlarge).
Power top
Nikon EN-EL-15 Li-Ion Battery.
EN-EL15 Li-Ion battery, first seen with the D7000, and now also used in the D800, D800E and D600.
Complain that the EN-EL15 is incompatible with the popular EN-EL3e of last generation's cameras, but the new battery lasts forever, so who cares? The EN-EL15 is slightly smaller then the EN-EL3e, and packs 13.3 Watt-hours, compared to the EN-EL3e's 11.1 Watt-hours.
Rated for 950 shots (D7000 rated for 1,050 shots).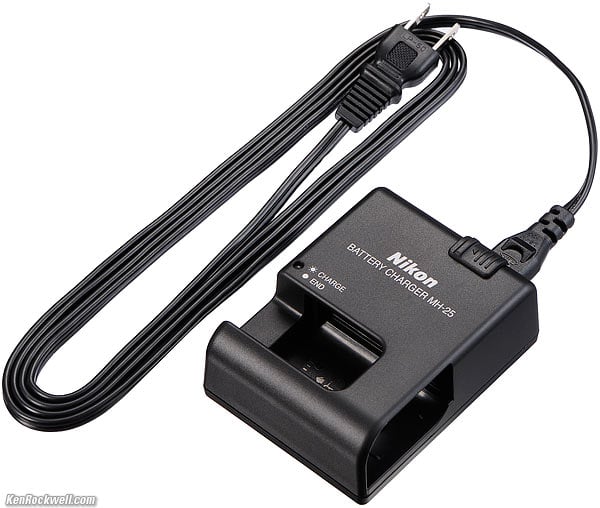 Nikon MH-25 corded charger. enlarge.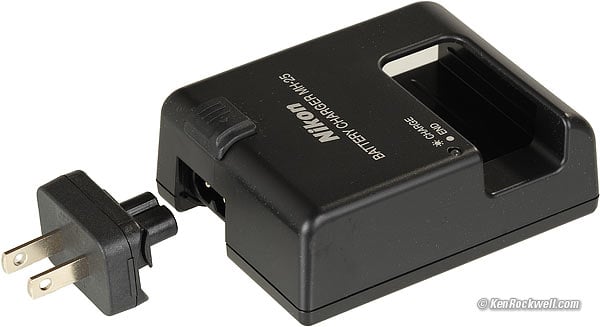 Nikon MH-25 Charger and Stub (USA).
MH-25 battery charger.
In the USA, the charger comes with both a cord and a more portable semi-folding stub.
Optional MB-D11 grip takes the EN-EL15 battery, or 6 AA cells.
Optional AC adapter EH-5a and EP-5 power connector.
Exoskeleton top
Most of the D7100's body is magnesium alloy.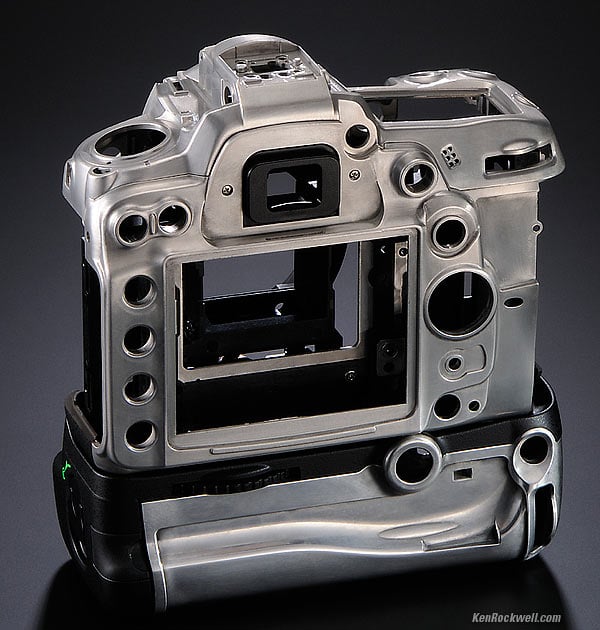 Nikon D7100 and MB-15 Grip Magnesium Cores.
Size top
5.3 × 4.2 × 3.0 inches. (D7000 is 5.2 × 4.1 × 3.0 inches.)
135.5 × 106.5 × 76 millimeters. (D7000 is 132 × 105 × 77 millimeters.)
Weight top
27.295 oz. (773.8g), measured with battery, strap rings and one card.
Nikon specifies 27.5 oz. (780 g) with battery and card, but no caps or straps.
Nikon specifies 23.8 oz. (675 g), stripped naked. (D7000 is 24.3 oz. (690 g), stripped naked.)
Environment top
0 ~ 40ºC (32 ~ 104ºF).
Less than 85% RH, non-condensing.
What's Included
D7100 Camera Body
(18-105mm VR lens if included)
EN-EL15 Rechargeable Li-ion Battery
MH-25 Quick Charger
UC-E17 USB Cable (the D7000 takes the UC-E4)
AN-DC1 Strap
DK-5 Eyepiece Cap
DK-23 Rubber Eyecup (the D7000 takes the DK-21)
BF-1B Body Cap
BS-1 Accessory Shoe Cap
Nikon ViewNX 2 disc.
The D7000 also includes all these same items, and also an analog audio video Cable EG-D2 and LCD Cover BM-11, neither of which ship with the D7100.
Nikon Product Number top
1513, body only.
1515, body with 18-105mm VR.
Announced top
21 February 2013.
Promised for top
March 2013.
Shipping Since top
Mine arrived on 25 March 2013, right on schedule.
Price top
November 2014: $950 body-only or $1,250 with 18-105mm VR lens. $819 refurbished.
March-April 2014: $1,150 body-only or $1,300 with 18-105mm VR lens.
February-October 2013: $1,200 body-only or $1,600 with 18-105mm VR lens.
April 2013: $1,197 body-only or $1,497 with 18-105mm VR lens.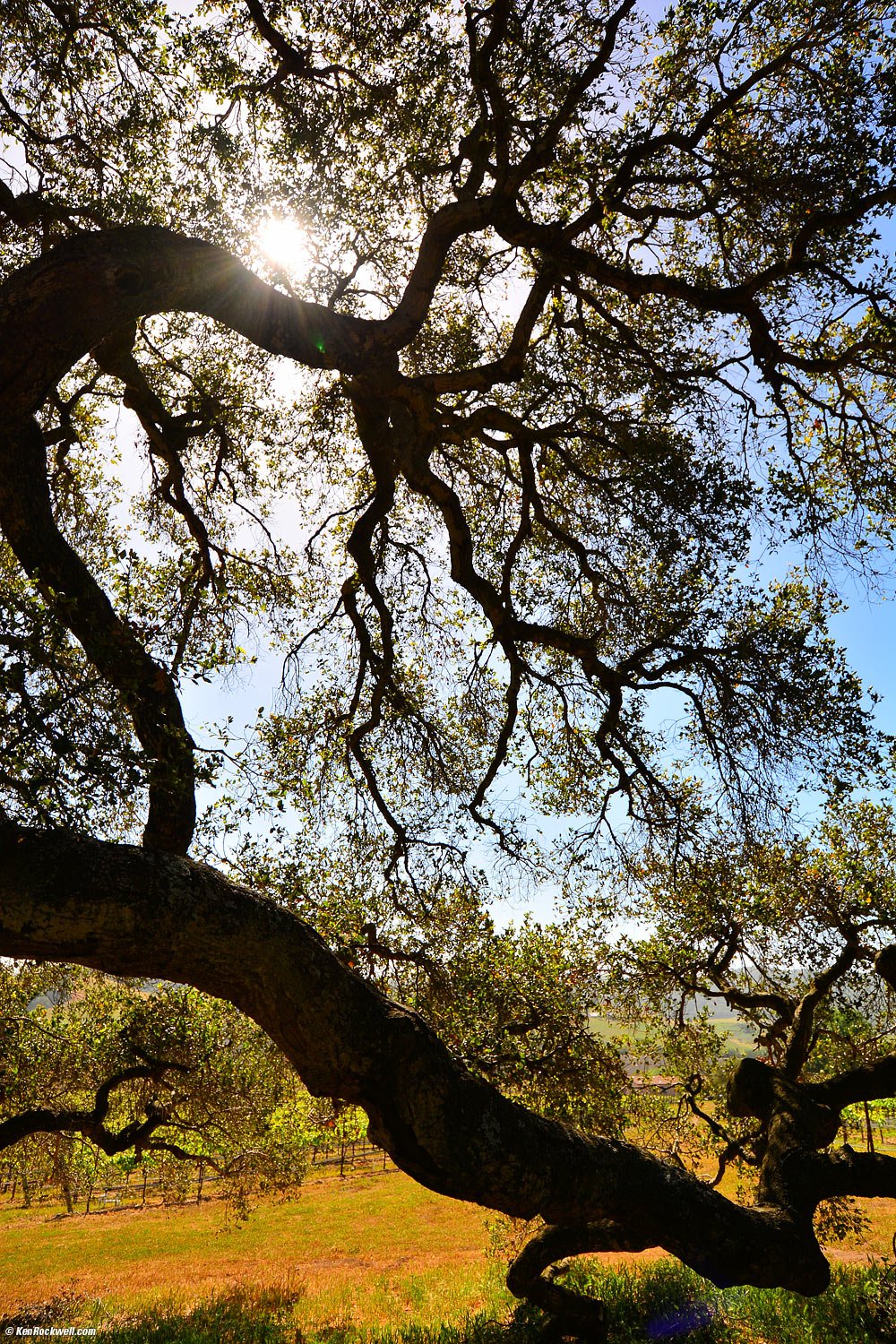 Oaks, Kynsi, San Luis Obispo. 10:31 AM, 14 April 2013. bigger. (2013 Nikon D7100, 2009 Nikon 10-24mm G at 15mm, f/8 at 1/250 at ISO 100, built-in flash fired to no effect, Perfectly Clear.)
Remotes top
ML-L3 Wireless Remote ($18)
Nikon ML-L3 Remote.
The Nikon D7100 uses this tiny $18 infrared remote. It's the best $18 you'll spend with Nikon, because it also works with most of Nikon's other less expensive DSLRs. (Nikon's expensive SLRs only work with the dorky cords, sorry; only the inexpensive ones work with this great wireless remote.)
For instance, the D300s requires you buy a $150 receiver system in order to work with a wireless remote. Otherwise, you have to use an expensive cord.
Wireless remote controller WR-R10 ($100).
Remote cord MC-DC2 ($25).
See also wireless options.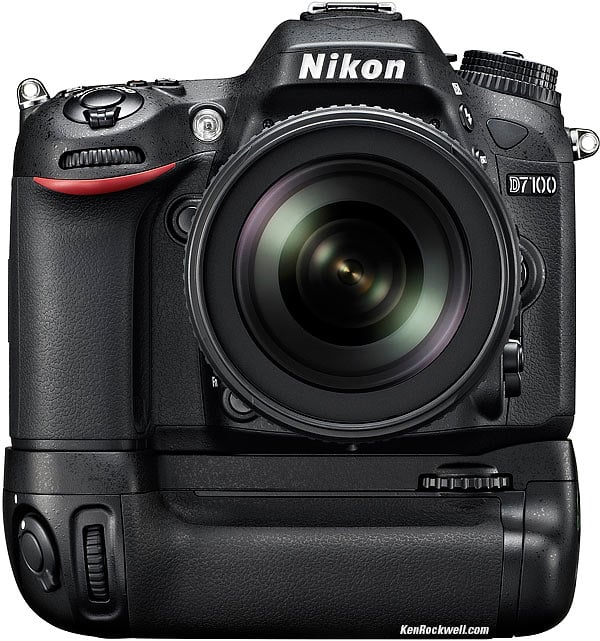 Nikon D7100 with MB-D15 grip. bigger.

The Nikon MB-D15 grip (Nikon part number 27096) has a shutter-release button, AAE/AF lock button, multi thumb selector, and both front and rear command dials for vertical shots.
Also called the "MB-D15 Multi-Power Battery Pack," the MB-D15 can be powered by six AA cells (Alkaline or Ni-MH or Lithium) or the camera's own EN-EL 15 rechargeable Li-ion batteries.
To use with AA cells, use the included MS-D14 AA Battery Holder. (I suspect a typo here and that this may really be the MS-D15 AA.)
To use the EN-EL15 batteries, use the included MS-D14EN Battery Holder. (I suspect a typo here and that this may really be the MS-D15EN.)
If you use an EN-EL-15 in the camera and a second one in the grip, Nikon rates them for a total of 1,900 continuous shots.
Wireless top
The D7100 has no native wireless ability, except for an infrared receiver for the excellent Nikon ML-L3 Remote.
The D7100 has a connector for clunky optional $58 WU-1a Wi-Fi adapter: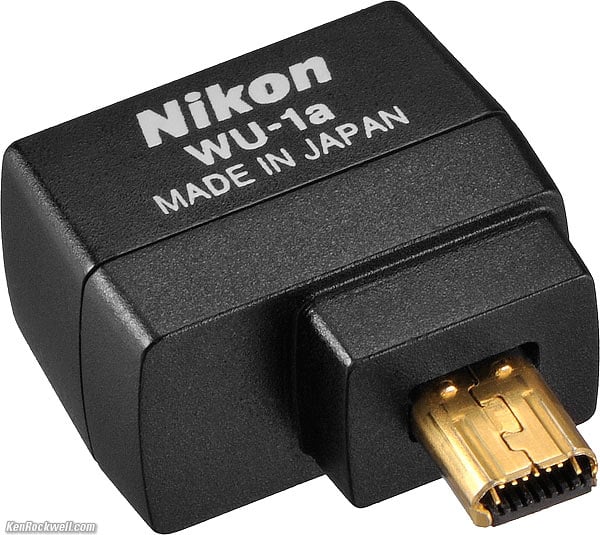 The Wi-Fi adapter doesn't do much by itself; it does a lot when using your iPhone or other doo-dads with various dedicated Nikon apps.
With the D7100, Nikon announced a new optional WR-1 transceiver for radio remote control: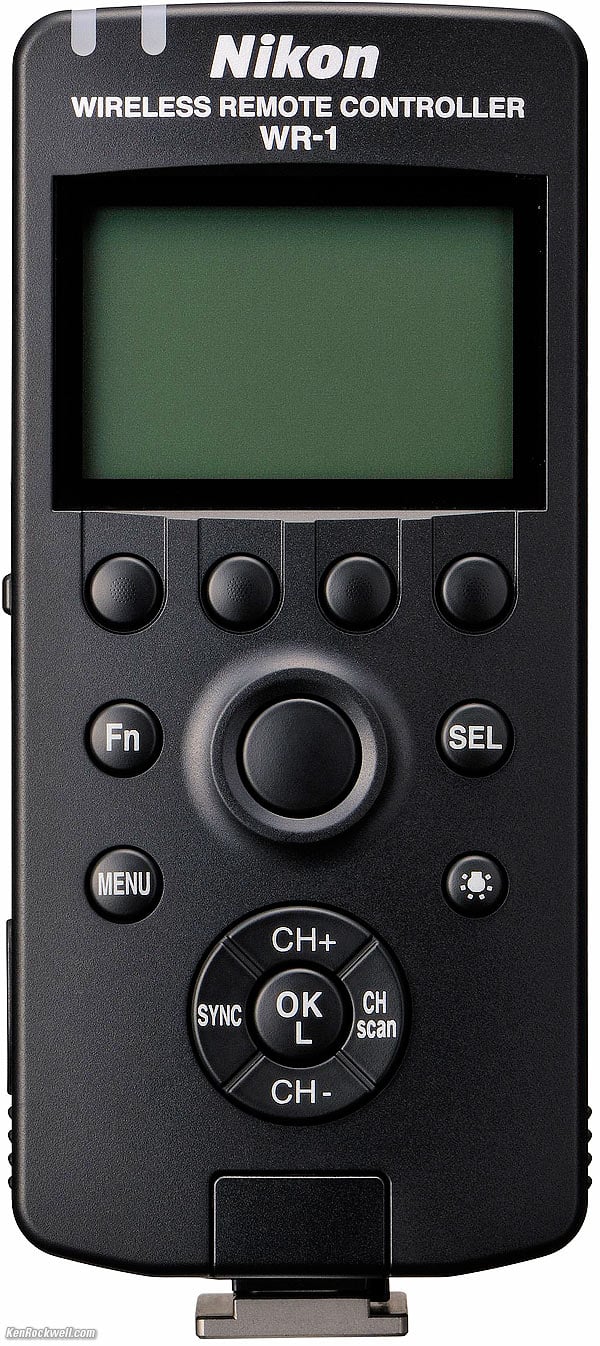 Nikon WR-1 radio remote.
The WR-1 allows radio remote control out to about 100 meters (300 feet) under unusually good conditions outdoors, and much less indoors. Buy a few of these, and you can control quite a few cameras at the same time. I believe you can fire them all at once, or in sequence.
That's the good news. The bad news is that this radio release isn't really wireless; you have to wire it to the D7100: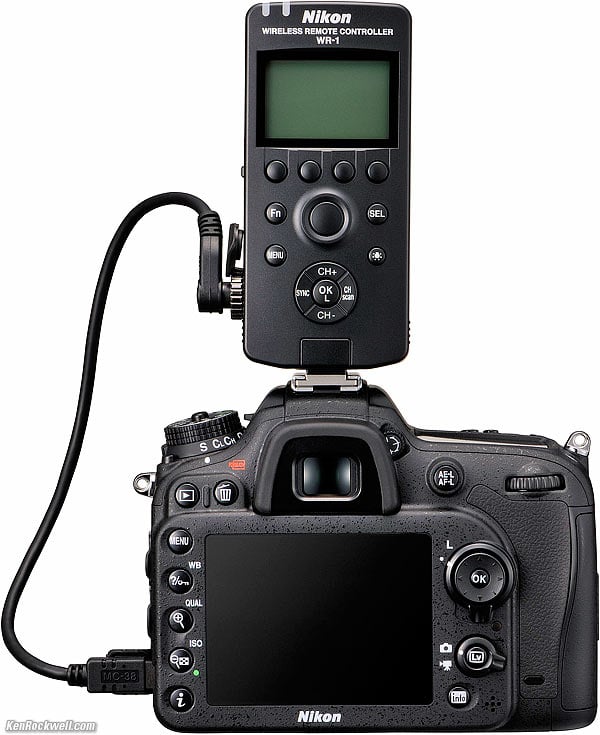 How you connect the WR-1 to the D7100.
You need to buy more than just one to use at your D7100; you still need a second WR-1 in your hand remotely as well as the one on the D7100!
When you do this, you can set and see most of the D7100's settings on the WR-1 in your hand.
GPS top
GPS Unit GPS-1A ($300)
I hear that the D7100 can update its clock automatically via the GPS-1A, too.
< < back to Nikon D7100 Review.
Help me help you top
I support my growing family through this website, as crazy as it might seem.
The biggest help is when you use any of these links when you get anything, regardless of the country in which you live. It costs you nothing, and is this site's, and thus my family's, biggest source of support. These places have the best prices and service, which is why I've used them since before this website existed. I recommend them all personally.
If you find this page as helpful as a book you might have had to buy or a workshop you may have had to take, feel free to help me continue helping everyone.
If you've gotten your gear through one of my links or helped otherwise, you're family. It's great people like you who allow me to keep adding to this site full-time. Thanks!
If you haven't helped yet, please do, and consider helping me with a gift of $5.00.
As this page is copyrighted and formally registered, it is unlawful to make copies, especially in the form of printouts for personal use. If you wish to make a printout for personal use, you are granted one-time permission only if you PayPal me $5.00 per printout or part thereof. Thank you!
Thanks for reading!
Mr. & Mrs. Ken Rockwell, Ryan and Katie.
Home Donate New Search Gallery Reviews How-To Books Links Workshops About Contact