How to Use the Nikon D70s and D70
© 2006 KenRockwell.com
About these reviews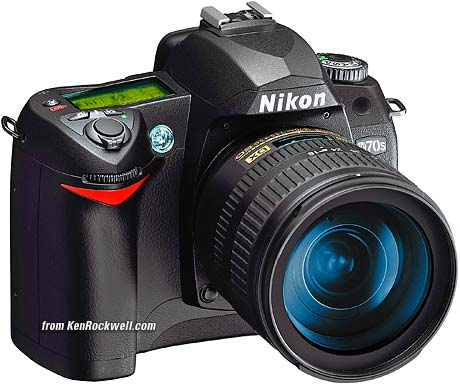 Nikon D70s. I'd get it here in any configuration. I'd also get it here or here (body only), here or here with 18 - 70 lens and here or here with both 18 - 70 and 55 - 200 lenses.
MENUS: PLAYBACK MENU ("[ > ]" icon)
back to top of D70 Users' Guide
back to index of D70 Users' Guide Pages
Press MENU and then select the "[ > ] " (play) icon to get into the play menu.
Delete: This is helpful if you want to delete all images while saving those for which you pressed the "? / Key" button to lock. I don't use this. I do all my editing and selection in my computer and I do my in-camera deletions one-by-one with the trash can key, so I don't use this.
Playback Folder: The camera can record and play back from different folders. I leave this set to ALL. CURRENT ignores photos in different folders. You'd only have different folders on your card if you shot them in a different camera without reformatting ( a bad idea) or played with your camera deliberately to create new folders. This is difficult with the D70 and I cover it later.
Rotate Tall: I set this to NO. If you set this to ON and if you have vertical images and set autorotate to ON, vertical shots will rotate themselves on playback. I prefer to rotate the camera physically on playback. When the camera does this electronically the resulting image is very tiny, since the screen is much less tall than it is wide.
Slide Show: Lets you amaze your friends with an exciting slide show on the tiny screen. I don't bother with this.
Hide Image: This lets you mark images not to play back on the camera, even though they remain on the card. Use this if you get an embarrassing shot of a friend and want to make them believe you deleted it! Move the cursor left and right to select images, tap it up or down to mark as Hide or Unhide, and press enter to save. Now the camera won't play these images, even though it still tallies them in it's counter on the top right that reads "34/284." You can detect a hidden image because this counter will skip.
Print Set: I ignore this. You can mark which images to print, how many of each and if you want data and dates imprinted. I do all this in my computer.
If you find this as helpful as a book you might have had to buy, feel free to help me write more with a donation. Thanks! Ken.
CONTROLS (every button and knob)
MENUS (every menu item in detail)
SHOOTING < < NEXT