Canon SD850
© 2007 KenRockwell.com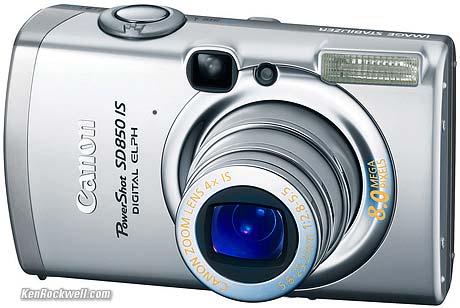 Canon D850 IS. I got this one here, and you can also get it here or here. It helps me keep adding to this site when you get yours from those links, too.
July 2007
Specifications Performance Recommendations
If I was buying another digital camera today, it would be a Canon SD850. I bought last year's model, the Canon SD700, 10 months ago, and if it dies, I'm buying an SD850 to replace it. For a slightly wider lens, the SD800 is also excellent and a top contender; choose how wide or how long you prefer.
I own buckets of pro gear, and when I spent a week in New York in June 2007 to show my new baby around to my side of the family, all I brought was my SD700. I didn't want to carry an SLR. The SD700 and SD850 are that good.
I love these cameras because they fit in my pocket, give great results, last forever on a battery charge, and have image stabilization (IS) which lets me make sharp photos in dim light without a flash or tripod. Image stabilization is critical so I can get natural photos without flash.
The Canon SD850 is the 2007 replacement for my favorite Canon SD700 of 2006 with which I've made over 15,000 photos. The SD850 is almost identical to my SD700, and adds numerous ergonomic firmware tweaks, a more vivid and crisper LCD and a few more pixels, and costs $50 more than the SD700 does today. The image quality is identical. Obviously I'm intimately familiar with the SD700 because I wear it everywhere I go, and have it with me more often than I wear socks. The SD850 is the same, with a few added tweaks.
The SD850's suggested price is $399.99, and it's already selling at $355. This is a deal, considering I was happy to pay over $400 for my SD700 in August of 2006. As of June 2007 the SD700 is still available for about $300. Get either one, they are both fantastic.
The Canon SD850 is called the IXUS 950 IS or IXY DIGITAL 810 IS outside the USA. It's the same camera with different names to discourage dealers from selling cameras through unauthorized channels. I don't know what countries get which designations.
Canon SD850
What's New in the SD850
I live with my SD700 and take it everywhere in my pocket. You can see all about my SD700 at my Canon SD700 Review, and numerous examples of the photos I've made with it all over my baby's website (see the notes below each photo).
I've shot both the SD850 and SD700 at the same subjects to compare them, and the results are indistinguishable. This is uncanny since different cameras rarely match. Often two sample of the same camera won't match, so this is more luck than anything else.
This is what's new and improved over my SD700. The only thing missing or downgraded in the SD850 is that is only shoots at 1.3FPS, not the 2.1FPS of the SD700. I usually use this mode when photographing people to allow me to select the best facial expressions.
1.) Images are almost indistinguishable from the SD700. If I could see a difference, it's a coin flip to which I preferred. Colors and tone were identical, looking at the image files on a calibrated monitor. The cameras' LCDs are very different, but the images are the same.
2.) The SD850's LCD is about as bright, but has far more color saturation than the SD700. I think it looks great, but it's less accurate. Images on the SD850's LCD are more vivid and saturated than the images will appear on a calibrated monitor.
Images scream COLOR! on the SD850's monitor, but you're in for a let down if you expect them to look that way when downloaded.
I always shoot in the Vivid mode on all my Canons (FUNC > click down three to"off" > click left to Vivid). Reds, yellows and magentas scream on the SD850's LCD, but that's not really what's in your file. Be careful.
3.) Tougher, anti-reflection coated LCD. My SD700's LCD was getting scratched when dumped in my pocket naked, so I put a plastic screen protector on it. The SD850's LCD has the same coating as a camera lens, so it is just as sensitive to fingerprints. A cheap microfiber cloth cleans it easily.
4.) Clever extended 5x to 16x optical zoom when shooting at less than maximum resolution. The lens is a 4x zoom, but if you shoot at lower resolution and zoom beyond 4x the SD850 magically crops from the center of the higher resolution sensor. This really works!
I usually set the SD850 at 2,592 x 1,944 resolution to save file space, and it gives me a real equivalent of a 5x optical zoom, with image stabilization. At 640 x 480 it gives the real equivalent of a 16x optical zoom, again with stabilization. "Real Equivalent' means the results look great like a real optical zoom, not soft like digital zooms. This isn't digital interpolation; it's automatic cropping from the center of the sensor's high resolution image.
5.) You may assign the blue printer button to do things like set white balance (WB), shoot a one-click custom manual white-card WB or set exposure compensation while shooting.
The one-click manual WB option is a first for Canon's still cameras and worlds better than any of Canon's multi-thousand dollar SLRs. If you choose, you can set one tap of the blue printer button to set the camera's WB to whatever the center of the image was when you hit the button. I point the SD850 at my white sock or equivalent, and bingo!, perfect manual WB regardless of lighting. That same critical step to getting perfect color takes about ten clicks on my Canon 5D SLR. The SD850, like my other Canons, has a huge range of accommodation and can set WB to just about any weird color of artificial light or deliberate color for deliberate opposite color effects. (set WB pointing at something red gives a nasty cyan look, set WB on something blue for the equivalent of a yellow filter, etc.)
6.) The SD850 shows the selected Auto ISO and exposure settings while shooting and on playback. (The SD700 does neither, making it useless as an external light meter for use with other meterless cameras.)
7.) An "Auto ISO shift" option (Menu > Hammer and Wrench > Auto ISO Shift) lets the SD850 ask you, for each shot in dim light and with one click, if you want to hold the ISO as set, or to let the SD850 crank it up to reduce blur.
If Auto ISO Shift is ON and it's too dark, the printer button blinks in blue. If you hit it, the SD850 will crank up the ISO as far as ISO 800 to get a sharp shot. This works with manual or Auto ISOs. It doesn't work backwards if you're silly enough to shoot ISO 1,600 in daylight.
This is great for those of us who shoot in the dark because it's easy, with no menus, to chose between noise or sharp action for each shot. I set the SD850 to ISO AUTO which lets it choose between ISO 80 and ISO 200 depending on conditions. If I'm in dim light and want up to ISO 800 to stop action, all I need to do is tap the blue button if it blinks. This is better than choosing the Auto ISO HI setting for default use, which would jump to ISO 800 even if the subject and my grip is steady enough to use ISO 200.
8.) More aggressive noise reduction (NR), good for about a stop more than the SD700 but fuzzier. This lets the SD850 crank to ISO 1,600 instead the SD700's ISO 800. NR smudges over most of the the image while leaving edges alone. This leaves leaves edges sharp, but smoothes over delicate textures at the same time as noise. NR isn't a free lunch: it smoothes over fine details and can approach a cartoonish look. If you use external NR software it doesn't matter, since you'll be adding more or less depending on the camera.
It's a coin flip whether you prefer a softer ISO 1,600 image from the SD850 to a sharper ISO 800 image from the SD700. Most people will prefer the SD850 since it's cleaner.
9.) Manually set ISOs read out in iView. My SD700's files never read ISO properly in iView, the software I use for sorting and organizing.
10.) 8MP vs. 6MP, no big deal. I've shot these two cameras together and lined up images next to each other filling my 30" screen and they look the same. See the Megapixel Myth.
11.) Face detection. This identifies faces by drawing moving squares around them as you shoot and claims to optimize the images for them. The SD850 did ID faces with moving boxes, but I didn't see any improvement in difficult lighting over traditional cameras.
12.) Time Lapse Movie Mode: Takes frames at intervals and assembles them into 30fps files. This could be really, really fun and it works. Presuming you have an Apple Mac computer, all of which come with movie editing software, it should trivial to pull a single 640 x 480 frame from the sequence later. For all I know the SD850 probably can do it in-camera, as all my Canon compacts since at least 2003 have been able to edit movies all by themselves.
13.) Sound recorder good for at least two hours. This could be great for espionage (drop it in your pocket or tape it under a desk), but the LCD doesn't shut off as my Casio EX-Z850 does. My Casio EX-Z850 can record for over 24 hours straight if you turn off the LCD to save batteries.
14.) Red-eye repair on playback. I didn't try this since I don't use flash indoors.
15.) Electronic Bokeh manipulation: Called "creative lighting" by Canon, it's a trick mode to turn specular highlights into little shapes. I didn't try this because I couldn't find it in the menu system.
16.) "Touch Icons" (Play > Menu > Play > Wrench > Touch Icons) detects your finger resting on the 4-way rear switch. It shows what you might do if you hit it by showing larger icons on the LCD. This is cute, but I turned it off to keep my LCD unobstructed.
SPECIFICATIONS with comments back to top
Lens: 5.8 - 23.2mm f/2.8 - 5.5 IS. It gives a similar field of view as a 35 - 140mm lens does on a 35mm film camera. Minimum aperture: f/8 at wide, f/16 at tele.
Close Focus: Normal: 1.6 ft. (50cm). Macro mode: 0.79" - 1.6' (2 - 50cm) (wide), 1.3 - 1.6' (40-50cm) (tele)
IMAGE STABILIZATION: Yes!
AF: 9 zone TTL with face detection.
OPTICAL VIEWFINDER: about 80% coverage.
SHUTTER: 1 - 1/1,600. Goes to 15 seconds in a trick manual mode. Electronic and mechanical.
EXPOSURE MODES: Program as well as a slew of preset scene modes. Great Panoramic Stitch Assist mode for use with the included free Canon Photostitch 3.1 software.
SENSOR: Smaller sized 1/2.5" CCD.
IMAGE SIZES: 3,264 x 2,448 pixels native. Also 3,264 x 1,832 (16:9 cropped), 2,592 x 1,944, 2,048 x 1,536, 1,600 x 1,200 and 640 x 480.
JPG DEFAULT DPI: 180 DPI, only significant because I have to set it back to 72 DPI in Photoshop to get my © notice the correct size. Otherwise it's irrelevant unless you're putting text on your images or printing from Photoshop.
FORMATS: JPG, three compression levels. I always use the most compact, "Normal." The middle, default size is called "Fine" and the largest is called "Superfine." File sizes are optimized to each image, so very detailed images may have file sizes triple the file size of a blank, flat sky image. This is good and normal. Small cameras like this have more noise in their sensors than what's picked up in the JPG compression, so I've never seen any difference by using the Fine or Superfine settings.
AUDIO FORMAT: WAVE, as 1.) 60 second "sound memos," 2.) with video, or 3.) as stand-alone sound recorder with files up to two hours long. Easily selectable sample rates of 44.1, 22.05 and 11.025 kSPS for the sound recorder. You get to these oddly in the PLAY menu, not the record function.
VIDEO: 640 x 480, 320 x 240, 160 x 120 at 60, 30 and 15 fps (not all combinations available). Time lapse mode shoots every one or two seconds (your choice) and formats them into a 640x480 @ 15 FPS file. Sequential motion JPEG AVI (not the more efficient MPEG).
ISO: 80, 100, 200, 400, 800 and 1,600. There's also AUTO (up to ISO 200) and AUTO HI (up to ISO 800). Like most compact cameras, the highest ISOs look like crap, but use them if you need to stop action.
WB: Auto, Direct Sun, Cloudy, Tungsten, Fluorescent Warm and Cool, custom manual white or gray card. No shade position, but the custom white card setting is so easy I don't penalize the SD850 as I would other cameras.
FRAME RATE: 1.3 FPS rated, 1.33 FPS measured continuous: no change in focus, exposure or anything between shots. It measure the same at full resolution and 640x480, it slowed to 1.212 FPS at 2,592 pixels. (My SD700 is rated at 2.1 FPS and measures 2.05 FPS.)
METER: Evaluative, center and spot. If it IDs faces, it uses them.
LCD SCREEN: 2.5," 230,000 pixels (SD700 is 173,000 pixels).
PLAYBACK HISTOGRAM: Yes, not very useful black-and-white histogram only (not RGB), and no live shooting histogram.
STORAGE: SD card up to at least 2 GB.
DATA TRANSFER: USB 2.0 high-speed, 480 Mb/s peak.
VIDEO OUT: NTSC or PAL.
MADE IN: Japan.
COLOR: Silver, better than the weird silver-blue of my SD700. I prefer black, but it's not available.
POWER: 3.7V, 1,120 mAh NB-5L Li-ion battery. It must be removed to charge. This is the same battery and charger as the SD700.
SIZE: 3.56 x 2.22 x 1.04" (90.4 x 56.5 x 26.4mm), rated.
WEIGHT: 6.690 oz. (189.6 g), measured with battery and memory card but no strap. Rated 5.82 oz (165g) buck naked: no battery or anything. This is the same rating as the SD700.
Included Accessories:
Lithium Battery Pack NB-5L
Battery Charger CB-2LX
Silly 32MB SD Memory Card SDC-32M
Wrist Strap WS-700
Software CD-ROM
USB Interface Cable IFC-400PCU
AV Cable AVC-DC300
Users Manuals (you may also download them)
OPTIONAL ACCESSORIES:
HF-DC1 Flash. This $100 flash mounts to the side of the SD850 with a piece of rebar. I haven't tried one. It probably allows faster recycling time and greater distances than the built-in. It has it's own manual power switch. It's an optical slave with no direct connection to the camera. It can't be used in the Continuous (1.3 FPS) mode. I'd pass - if more flash than the built-in is important, get a DSLR.
WP-DC15 Underwater housing.
ACK-DC30 AC Adapter, about $45.
INTRODUCED: 07 May, 2007.
AVAILABLE: June, 2007.
PERFORMANCE back to top
GENERAL
I shot dozens of photos alongside my SD700, and for the most part they are indistinguishable. Colors match and they are just as sharp. I'll skip repeating myself, so see my Canon SD700 Review for details.
They have the same lens, although this SD850 appears to have one stop smaller apertures to allow the use of one stop faster ISO in daylight, not that you'd want to.
The only other difference is that the SD850 has more aggressive noise reduction (NR) at high ISOs. Noise reduction doesn't remove noise; it merely smudges it to attempt to hide it while not smudging sharp edges. This leads to cartoon-looking images if overdone. The SD850 appears to have less noise (grain) at ISO 400 and above than the SD700, but the SD700 is sharper at those ISOs due to less NR.
The additional NR of the SD850 lets you use one stop more ISO and have about the same apparent level of noise, but the SD850 is then softer at that higher ISO. Either camera at a lower ISO looks better than either camera at a higher ISO.
If you use additional NR software on your images (nik dFine, Noise Ninja, Grain Surgery, etc), the end results between cameras will be the same since the only difference I could see is that the SD850 uses more NR, or more smudging. If you post-process, you'd simply use more with the SD700 or less with the SD850 for the same result.
It's always best to use the lowest ISO possible, since all NR does is do some clever smudging of the image. NR leaves edges alone, but smudges over the delicate parts of the image along with the noise. Excessive NR is why, to picky observers, images from compact cameras look cartoonish compared to images from film and digital SLRs.
EXPOSURE
Like all my other Canon point-and-shoots, I get the best results setting exposure compensation to -1/3 to -2/3. You do this with the FUNC SET button, click down to +-0, and two to the left to set -1/3 or -2/3. Use whatever looks good to you, and it will vary by your subject. See Modern Exposure.
TRICK: AE Lock is unmarked. Tap the ISO button with the shutter half-pressed for AE Lock. You'll see AEL on the right of the LCD. It stays locked until you tap the ISO button again, without touching the shutter. Be sure the shutter is half pressed, otherwise the ISO button changes ISO.
TRICK: Flash Exposure Lock is also unmarked. It works the same way as AE lock if you have the flash ON. You'll see FEL on the right of the LCD.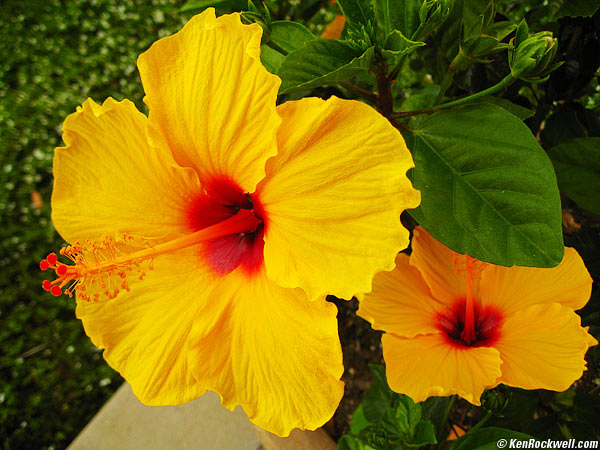 Manual white balance shot off my white sock in shade, macro mode.
Color rendition, or how the camera renders the real world, is everything. We artists spend a lot of time worrying about color. After exposure, color is everything to an image. Sharpness and the rest is irrelevant unless your exposure and colors are dead-on. The colors rendered by the SD850 are identical to my SD700, which I use daily. I love the colors.
I've always preferred the color rendition of my Canon compacts to other brands.
I love vivid colors, so I always set my Canons to their Vivid modes. To do this, press FUNC SET, click down three to "off," and click one to the right to "Vivid." Press FUNC SET again to set it.
The SD850 is no exception. I love the colors.
Color accuracy is irrelevant. Cameras aren't scanners. Cameras are never supposed to duplicate color charts.
FOCUS
AF is fine. It's always fast and accurate.
ZOOM SETTINGS
Compact zoom cameras like the SD850 only zoom in fixed steps. They can't be zoomed to every exact setting, which tends to drive me nuts when trying to frame exactly. Most compact 3x zoom cameras zoom to about 7 different focal lengths and this SD850 with a 4x zoom has 9 settings.
MACRO
It's the same as most compacts: it gets ultra-close (about an inch) at the widest setting, and only to a foot at the tele setting. Here's how close it gets at the widest setting in the macro mode: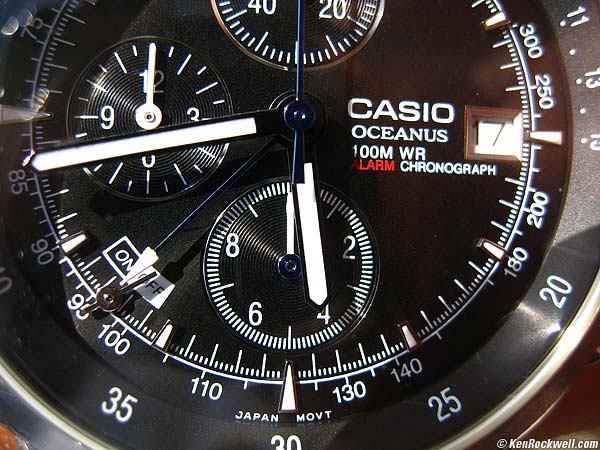 Full image from SD850 at closest macro setting, wide angle.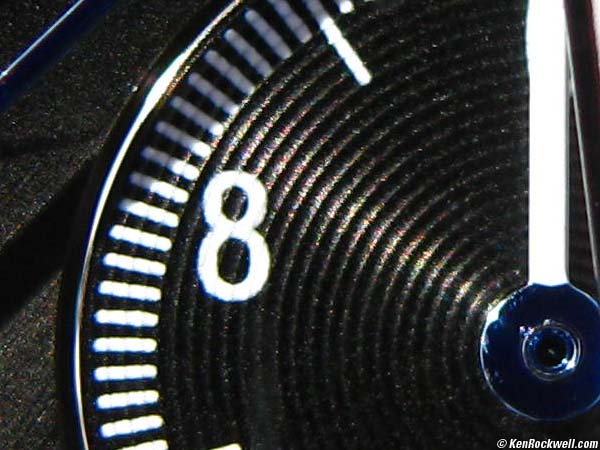 Unsharpened crop from above at 100%.
This is what you'd see if you printed the entire image 33" (1m) wide! It looks great - this has had no sharpening added. The color fringes are artifacts from the curved crystal of my watch.
Caveat
Be sure to take the SD850 out of Macro mode for normal use. If you forget, it won't focus to infinity, especially at telephoto.
DISTORTION
Distortion is the same as my SD700: barrel at wide and non at tele. It's easy to correct in Photoshop CS2's lens distortion filter with the numbers below. I read the actual focal lengths in iView.
| | | |
| --- | --- | --- |
| | 3' (1m) | 20' (6m) |
| 5.8mm wide | +4.5 | +4 |
| 23.2 mm tele | 0 | 0 |
MECHANICS
The case feels like stamped aluminum. The buttons seem like metal, or solid plastic painted to look like metal.
The battery/memory card door is the same superior spring-loaded, stainless-steel-hinged and reinforced door of the SD700. It's much better than the crappy chromed plastic of the Canon SD800.
The USB and video connectors are behind a plastic flip-out cover in an otherwise metal side, just like the SD700 and better than the chromed plastic of the SD800.
The tripod socket seems to be metal, like the SD700.
DATA TRANSFER
It's fast: USB 2.0. Images come flying out of the SD850 as they should.
Like all my Canons, I have to read it through software. It doesn't pop up as an external drive as my Nikons do.
BATTERY LIFE
Canon rates the SD850 the same as the SD700. I never ran the battery down in the SD850; since my SD700 is good for about 1,000 shots on a charge I see no reason that the SD850 is any different. I shoot a lot in the "continuous" shutter mode, which makes many shots without focusing or zooming for each one, and rarely use flash. If you only make one shot everytime you turn on the SD850 or use flash, you'll get fewer shots than I do.
It uses the same battery and charger as my SD700.
RECOMMENDATIONS back to top
I use the older version of the SD850 every day and won't leave home, or even walk around my home, without it. If I needed another camera today I'd buy an SD850 in an instant. Enough said?
If you prefer slightly wider angles or a more accurate LCD, get the Canon SD800. The SD800 is very similar, but with a slightly wider angle lens with a slightly narrower zoom range (3.8x vs. 4x from wide to tele). I love wide angles, but don't find the SD800 that much wider and prefer the mechanical feel of the SD850.
If you do a lot of portraits or prefer the telephoto range, get this SD850.
For continuous frame rates, I've clocked the SD700 at 2.1FPS, the SD800 at 1.6FPS and this SD850 at 1.3FPS.
Canon makes a zillion compacts, and they all are excellent. If you prefer a different model with different features, like a much longer zoom or a lower price, get it. That's why Canon makes so many cameras. I'm a slave to portability and image stabilization, so for me, the Canon SD850 is perfect.
I got this SD850 here, and you can also get it here or here. It helps me keep adding to this site when you get yours from those links, too.
PLUG
If you find this as helpful as a book you might have had to buy or a workshop you may have had to take, feel free to help me continue helping everyone.
It also helps me keep adding to this site when you get your goodies through these links to Ritz, Amazon and Adorama. I use them and recommend them personally .
Thanks!
Ken