Home Donate New Search Gallery Reviews How-To Books Links Workshops About Contact
Canon 6D Users Guide:
My Menu Settings Menu
© 2013 KenRockwell.com. All rights reserved.
< < top of Canon 6D User's Guide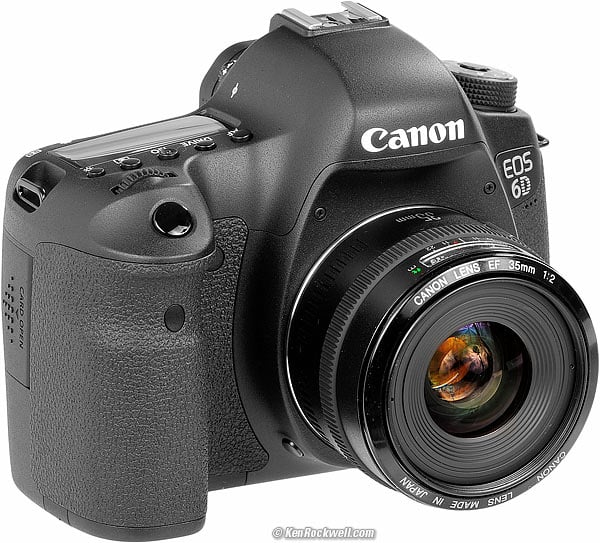 Canon 6D (33.5 oz./950g, about $2,000) and Canon EF 35mm f/2. enlarge. My biggest source of support is when you use any of these links, especially this link directly to it at Adorama (or kit with lens) or directly to it at Amazon (or kit with lens) when you get anything, regardless of the country in which you live. Thank you! Ken.
March 2013 Canon 6D Review Canon Reviews Other reviews
Help me help you top
I support my growing family through this free website, as crazy as it might seem.
The biggest help is when you use any of these links when you get anything, regardless of the country in which you live. It costs you nothing, and is this site's, and thus my family's, biggest source of support. These places have the best prices and service, which is why I've used them long before this website ever existed. I recommend them all personally.
If you find this page as helpful as a book you might have had to buy or a workshop you may have had to take, feel free to help me continue helping everyone.
If you've gotten your gear through one of my links or helped otherwise, you're family. It's great people like you who allow me to keep adding to this site full-time. Thanks!
If you haven't helped yet, please do, and consider helping me with a gift of $5.00.
As this page is copyrighted and formally registered, it is unlawful to make copies, especially in the form of printouts for personal use. If you wish to make a printout for personal use here from your browser, you are granted one-time permission only if you PayPal me $5.00 per printout or part thereof.
Thanks for reading!
Mr. & Mrs. Ken Rockwell, Ryan and Katie.
Free live help top
Want free live phone support? In the USA, call (800) OK-CANON.
My Menu Settings top
This lets us create our own menu with up to six menu or Custom Function items we use often.
I love this; I set it to hold the items I need so I can ignore trying to find them in the other larger menus.
To get to the My Menu menu, press MENU and click right to the last green item along the top.
My Menu Settings top
Register to My Menu
Select an item here, and select it to add to your My Menu menu.
Sort top
This lets us arrange our selections.
Delete item/items top
Once added, here's how we can delete something.
Delete all Items top
Self-explanatory.
Display from My Menu top
If set to ENABLE, your My Menu menu will always be the first thing to pop up when you hit MENU.
I enable this.
That's it! Return to the top of the Canon 6D User's Guide.
Home Donate New Search Gallery Reviews How-To Books Links Workshops About Contact