Home Donate New Search Gallery How-To Books Links Workshops About Contact
New York City
18 August 2009, Tuesday
09 10 11 12 13 14 15 16 17 18 19a 19b 20 August 2009
Photographed entirely with a Canon SD960 IS pocket camera.
Today I hauled back into New York City with Dr. Steve Rockwell for more important meetings.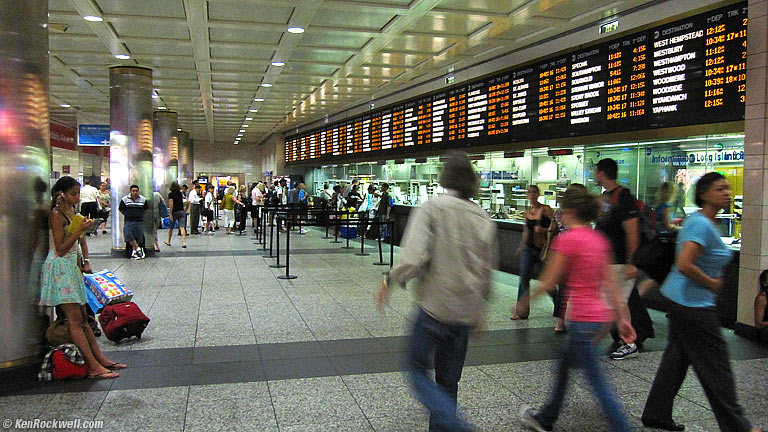 LIRR Windows in Penn Station, 10:34 AM.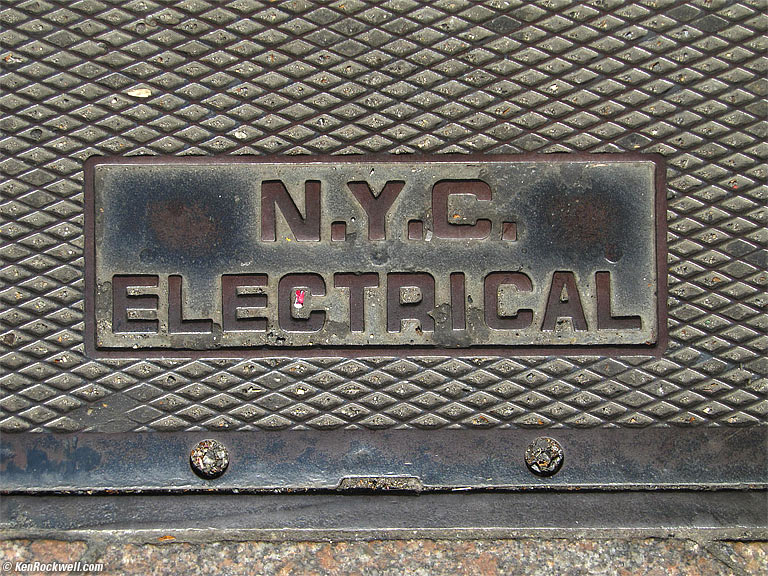 Sidewalk, Midtown, 10:41 AM.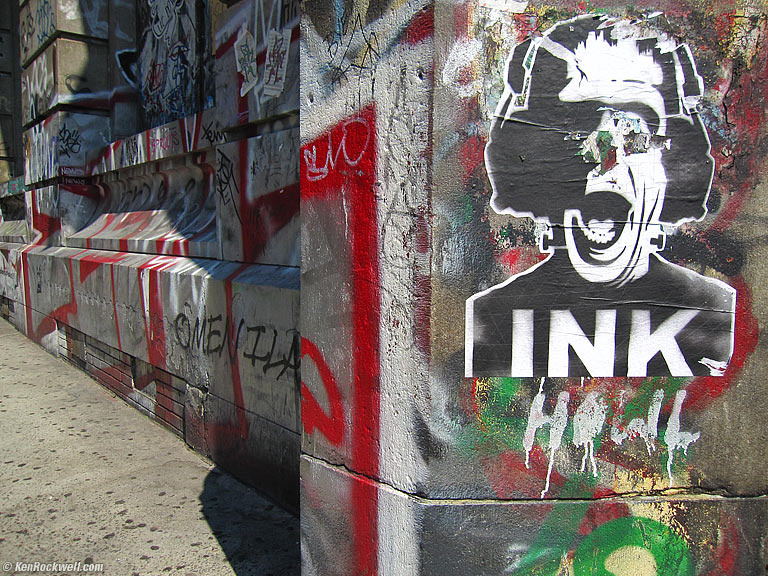 Outside Jay's Place, The Bowery, 11:10 AM.
Jay doesn't really like all this garbage scribbled on his building.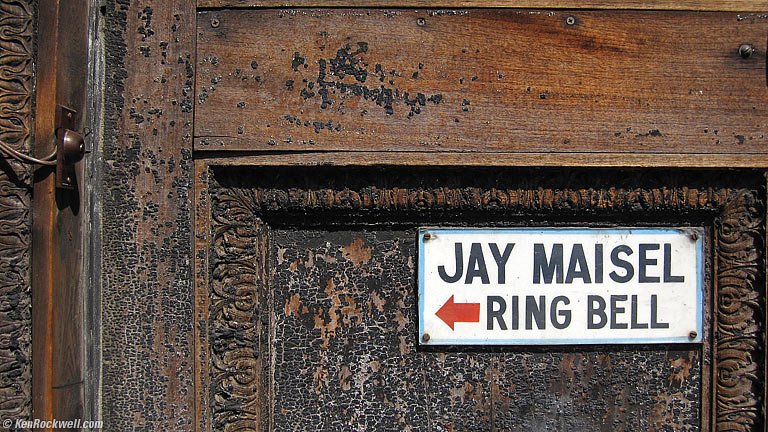 Jay's Place, The Bowery, 11:11 AM.
I received the distinction of an invitation from Jay Maisel to come visit, and so I did, eagerly.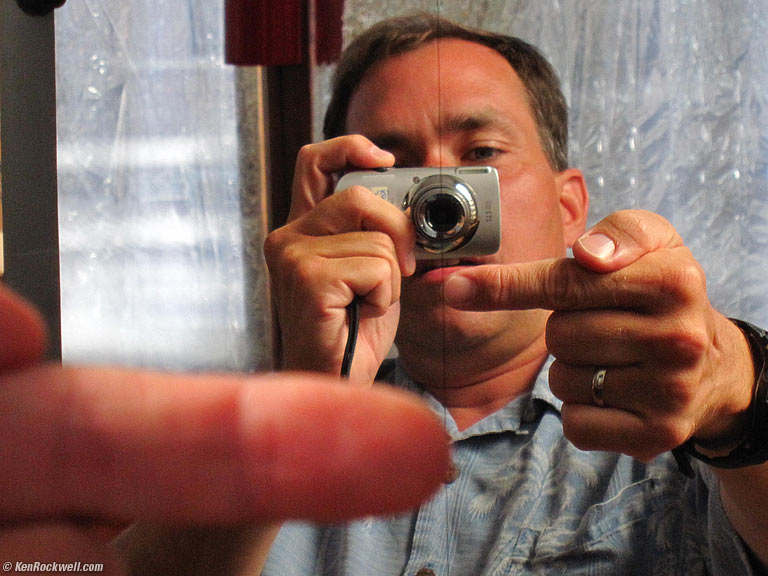 Jay's Magic Mirror, 3:27 PM.
Jay showed us a panoply of interesting things, among them a mirror which shows things as they are, without reversing them. Wow!
After visiting Jay, it was down to J&R. J&R sells cameras (my SB-600 flash came from them), but is best known in New York as the source for recorded music and stereo equipment. Occupying a city block, they sell everything, and not just LPs, speakers, headphones, cameras and TVs.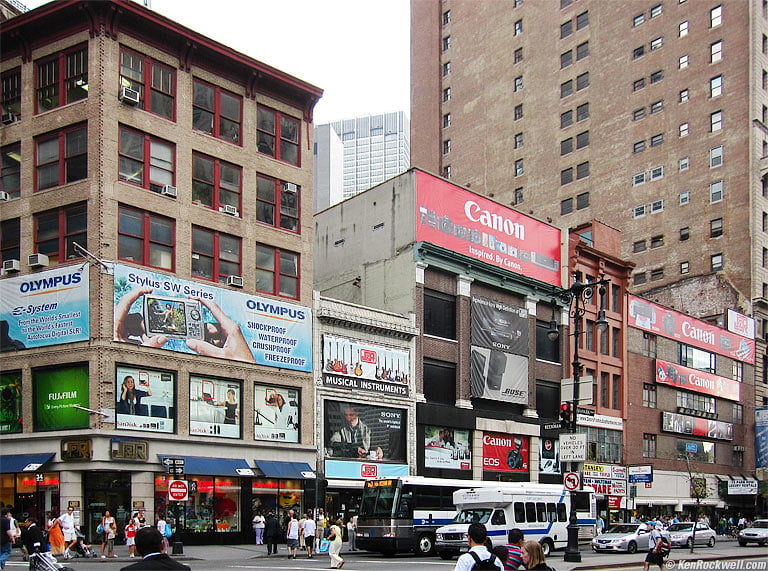 J&R, New York City, 4:40 PM.
I straightened this shot in Photoshop's Lens Distortion FIlter, saving me the trouble of setting up a view camera in the middle of traffic. Roll your mouse over the image to see it as shot.
I met with some folks at J&R, and then headed back out. The light was better as we left: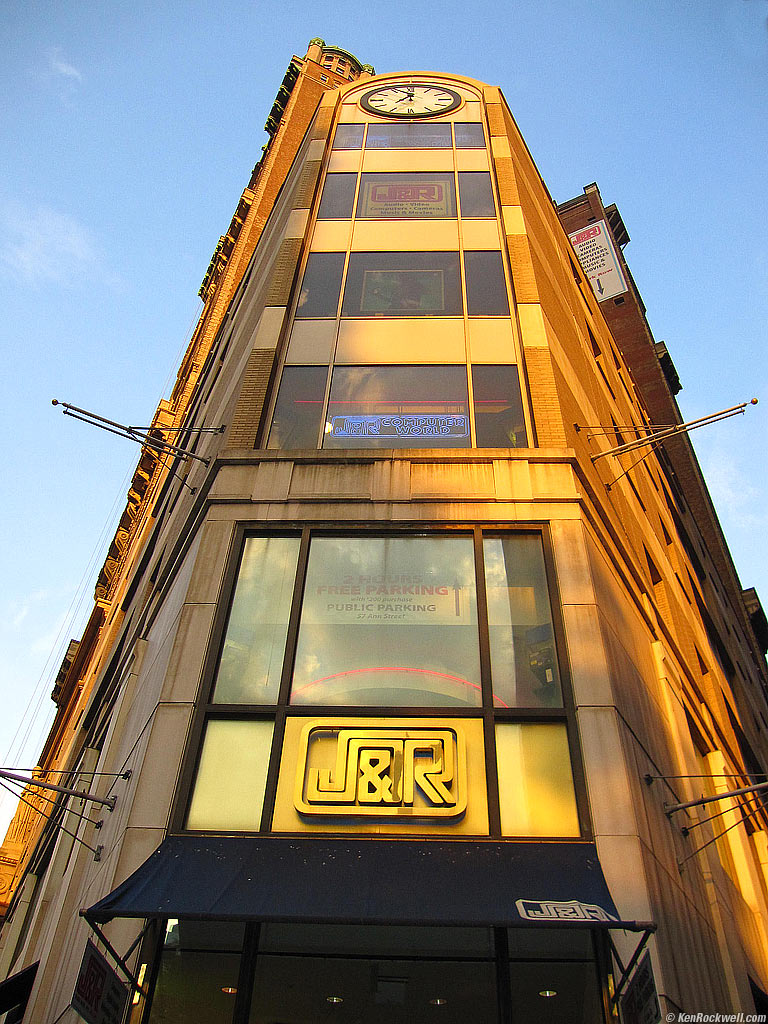 J&R, New York City, 6:52 PM.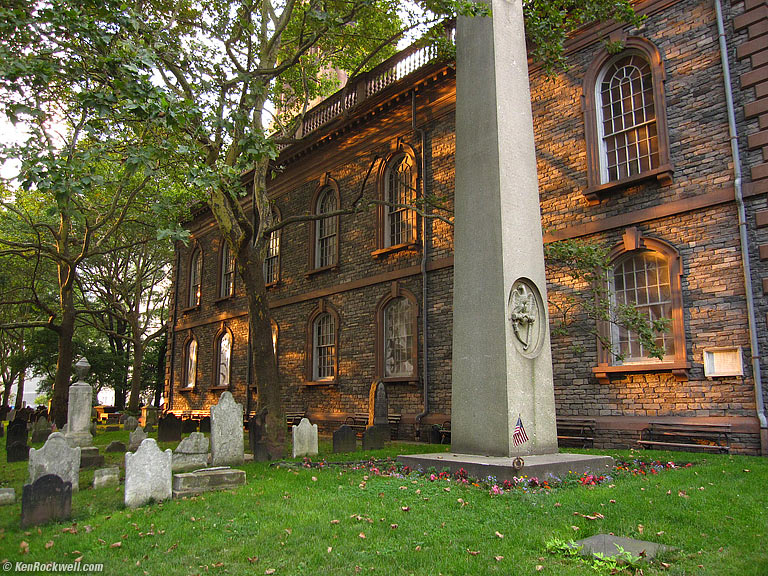 St. Paul's Chapel, the oldest church in New York City (1766). 6:59 PM.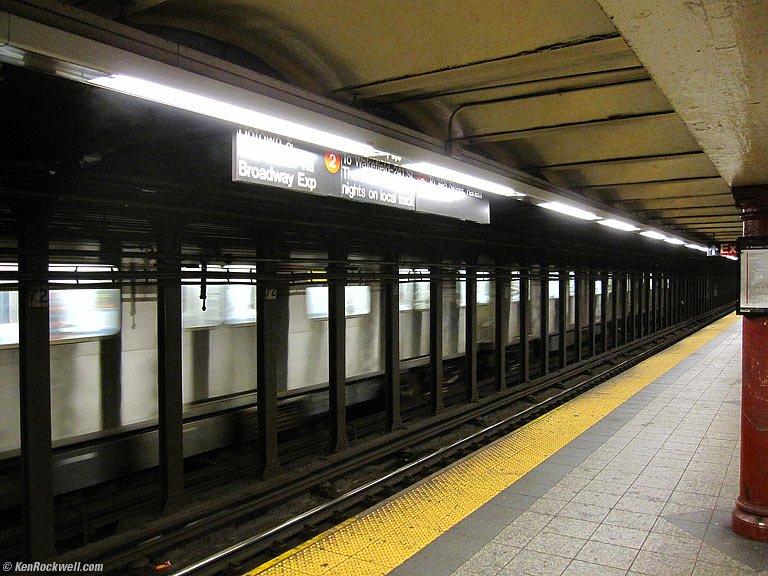 Subway Station, 7:28 PM.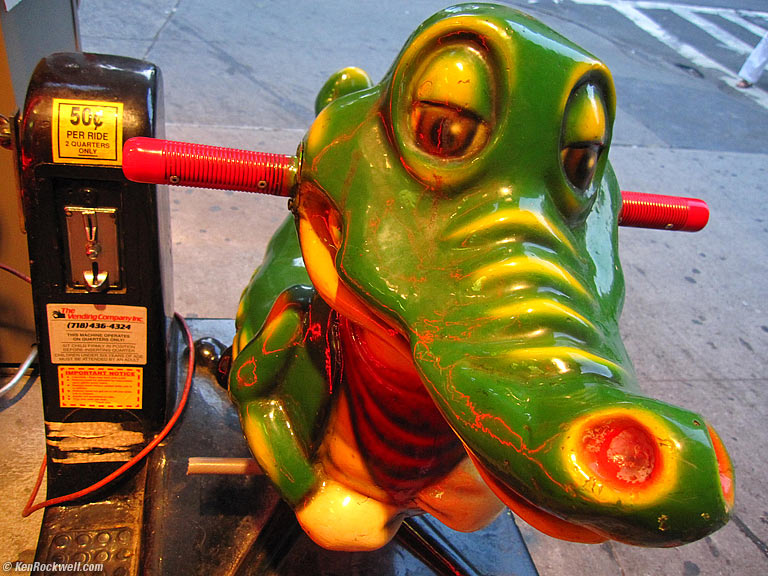 New York City Subway Alligator, 7:32 PM.
We found our way to our hotel for the evening, checked in, and walked across the street to Big Nick's.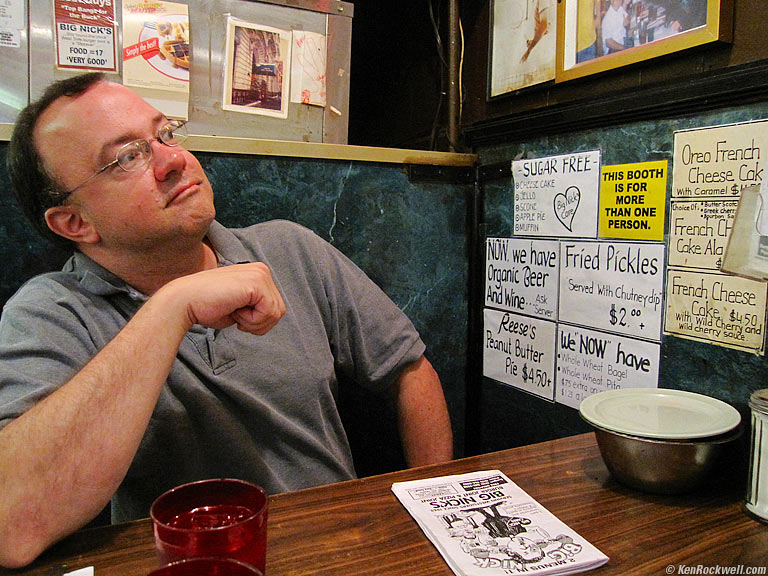 Big Nick's, West Side, 9:15 PM.
Big Nick's has everything.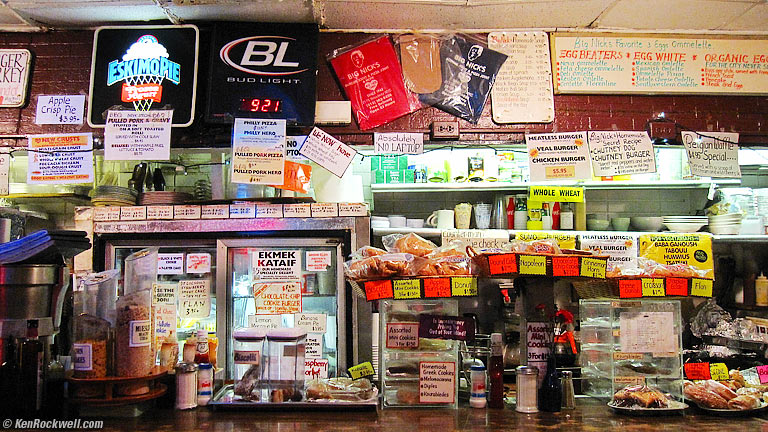 Big Nick's Counter, West Side, 9:22 PM.
As we ate, a storm from Hell arrived and flooded the city. Rain came down in sheets. We waited for it to let up, and it obliged us by getting stronger.
We finally braved running back to our hotel, from whose deck we observed the most calamatacious thunderstorm I've ever seen. Was it God, was it Nature, or was it Tesla?
I made a lot of snaps, all shot with the Canon SD960 IS.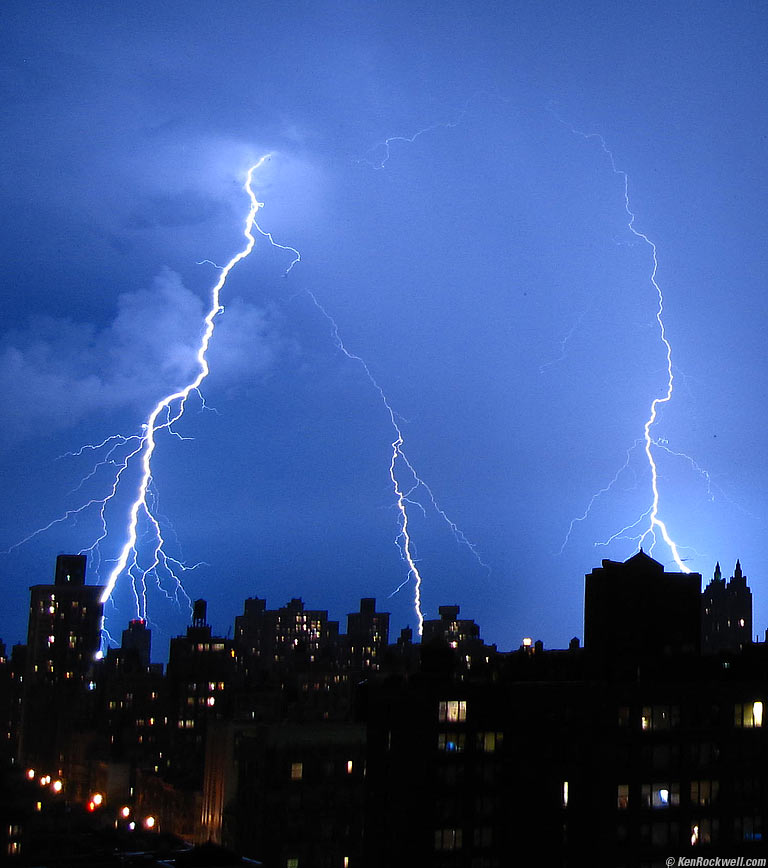 Tesla's Wrath, 10:18 PM.
This was easy to snap with the Canon SD960 IS, or any point-and-shoot. All I did was take it out of Auto ISO and set it to ISO 80 instead. I also selected the continuous shooting mode, so that it keeps shooting as long as I hold down the shutter button. I set exposure compensation back to 0 from my usual default of -2/3.
I left it in Program Auto made and Auto white balance as always.
Doing this, it exposed for a full second for each shot at ISO 80, since it was dark. Auto ISO would have ramped up to highest ISO, resulting in not just grainy images, but shorter exposures that would have missed most of the lighting. Worse, a higher ISO in Auto ISO would have ensured that when lighting did hit, that it would have been completely overexposed.
Since the prevailing light was tungsten, Auto WB chose Tungsten WB, making the lighting look blue, as I wanted.
I pointed the camera in the general direction, and kept the shutter pressed down, captured whatever lighting happened to hit as the shutter was open.
I didn't need no stinking tripod. Even though the exposures were one second long, the lighting is instantaneous, so it, the sky, and the building outlines won't blur. If you look, you will see the building windows are blurry, but so what: it makes it spookier.
Tripods went obsolete with the introduction of IS and the digital camera. Good riddance!
09 10 11 12 13 14 15 16 17 18 19a 19b 20 August 2009
Home Donate New Search Gallery How-To Books Links Workshops About Contact