Nikon D90 User's Guide:
Setup Menu (wrench)
© 2008 KenRockwell.com. All rights reserved.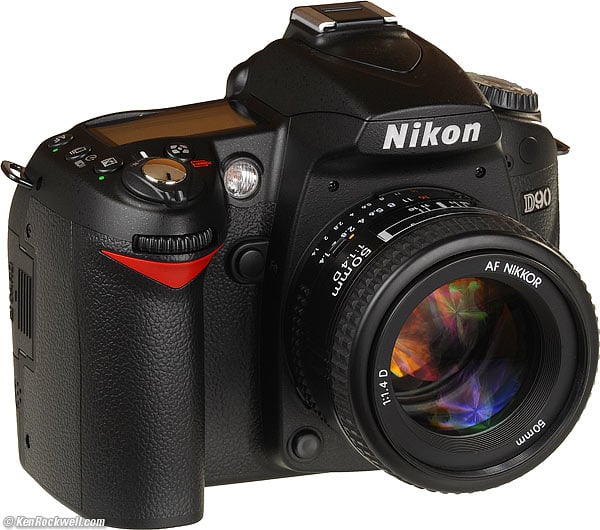 September 2008 Top of D90 Users Guide D90 Review More Nikon Reviews
Want free live phone support? In the USA, call (800) NIKON-UX, 24 hours a day, 365 days a year.
NEW: Nikon D90 iPod and iPhone App.
How to Get Here
Select the Set Up Menu by pressing MENU, moving to the left and then up or down to select the wrench icon. You'll then see SET UP MENU on the color LCD.
What it Sets
This sets the usual housekeeping like rotation, the clock and file numbering.
What I Change
This menu contains the secret message mode I use to encode my © and contact information into every file shot with my D90.
I also read the Battery Info often. You can't change it, just read it.
---
Format memory card top
This duplicates the function of the two red FORMAT buttons.
I format my card every time I put it in my D90, and every time I go out shooting.
It's always best to be using a freshly formatted card.
To be safe, always reformat the card in the D90 after the D90 has been connected to any computer.
Of course formatting completely wipes any photos off your card. Be sure to have these photos transferred and backed up to at least two locations before formatting. See my Field Workflow page for more.
---
LCD Brightness top
This changes the midtones on the LCD. It doesn't appear to change the intensity of the backlight. It seems to be a gamma (contrast) control.
For the adjustment to take effect you must remember to hit OK after making a selection.
I leave mine at 0.
---
Clean image sensor top
This setting runs the self-cleaning function.
it also allows you to set it to run every time the D90 is turned off or on, just like Canon. I wouldn't do this, since it wastes a lot of time.
---
Lock mirror up for cleaning top
This setting is for mechanical cleaning. Don't ever touch the sensor with sensor swabs or any of that crap!
I clean my cameras with a vacuum, and send them in to Nikon after a few years if the dirt gets really bad.
---
Video Mode top
This sets the format of the analog video output.
Use NTSC (525 lines, 59.94Hz) in the Americas and Japan, and PAL (625 lines, 50Hz) in Europe.
This output will always look much worse on a TV or projector than images do on a computer or projected through a computer. Read Why Images Look Awful from the Video Output for more.
---
HDMI top
This sets the format of the HDMI digital TV output. I leave it on Auto, and unlike the crappy analog video output, it looks fantastic on a big HDTV.
---
World Time top
This is where you set the date and time.
There is a nice map for finding time zones. You can swap among time zones without having to reset the seconds, a boon for me who keeps his D90 set to the exact second.
---
Language top
This sets English or other languages.
Set yours to Swedish and see if you can navigate back to English. Fun!
Unfortunately Nikon figured this out, and if you do, the Language option, which before was only listed as Språk in Swedish, also is listed as (Language) in every language mode, even when your best friend has set your D90 to work in Korean.
---
Image Comment top
This lets you add a secret text message into every file. Mine is set to (c) KenRockwell.com with my phone number! You see this text looking at the EXIF data in software on a computer. Sadly Nikon provides no real © symbol.
You set this by going to MENU > Set Up Menu > Image Comment > Input Comment > (add your message like you did on 1970s video games) > Enter. You must hit ENTER or it will forget everything you just did!
To edit or remove a character, select it in the Input Comment screen by holding the checkerboard button and clicking the big thumb selector. Select a new character with the same selector and press the center of the selector to add it. Press the Trash button to delete a character.
When you get your text message spelled out, go to Attach Comment and hit OK so a small checkmark shows. Now go to and select DONE. If you forget to check Attach it won't attach, and if you forget to hit DONE it will also forget everything you just did. Sorry, I don't write the firmware.
It's great having everything you shoot have your contact info embedded. It also allows you to prove ownership in a third-world country when catching a thief with your camera. Help the cop go through the menus and read your personal ID information.
---
Auto Image Rotation top
This sets a flag in vertical images which keys most software to display the image vertically.
It does not actually rotate the images; it just sets a flag. Someday the camera's firmware will work properly and rotate the image itself, but no camera does this yet.
I perform lossless rotation to my images later in iView.
---
Image Dust Off ref Photo top
This is used to take a picture of the dust on your sensor. If you pay Nikon another $100 for Nikon Capture software you can use this to erase the dust more easily from your images shot in raw. You people know who you are. I don't do this!
---
Battery Info top
I use this all the time.
Bat. Meter
The Battery Meter reads the battery charge to the nearest one percent. This is the same battery data shown on the top LCD display, but the top gauge only has 5 bars to read to the nearest 20%.
Pic. Meter
The Picture Meter shows how many images have been shot on this charge.
Charging life
Charging Life shows the battery's health. A new one reads 0 and an almost dead one reads 4.
I've made many tens of thousands of shots on my D300, D80, D200 and D90 which share the same batteries, and my batteries all read "new." The trick is not to run them it the way down before charging. Read Getting Great Battery Life to see how I do it.
---
GPS top
This lets you make the meter stay on all the time if you wish.
If the meter turns off, the D90 needs to resync communication with the GPS each time.
---
Firmware Version top
This lets you confirm if your camera is up-to-date with Nikons' free firmware updates.
As of 24 September 2008, the D90 sitting in front of me reads A 1.00, B 1.00 and L 1.000.
There is always newer firmware; I'm too busy shooting to load it.
---
My D90 User's Guide continues below.
I support my growing family through this website.
This guide is free to read online, but copyrighted and registered. If you haven't helped yet and would like to save or make a printed copy of this article for your camera bag, please send me $5.00 for each complete or partial copy that you print or save, for personal use only. Others charge $29.99 for crappier information, and with your honesty I can continue to offer these guides online for less.
If you bought your D90 by clicking through my links, then you've saved money and also helped me write this guide. Thank you and please enjoy it. It's great people like you, and those who help me otherwise, who allow me to keep adding to this site for everyone's benefit.
The biggest help is to use these links to Adorama, Amazon, B&H, Ritz and J&R when you get your goodies. It costs you nothing and is a huge help to me. These places have the best prices and service, which is why I've used them since before this website existed. I recommend them all personally.
Thanks for reading!
Ken
---
Back to Top of D90 User's Guide or Top of Nikon D90 Review
KNOBS and BUTTONS
MENUS
RETOUCH MENU < < NEXT
Home Donate New Search Gallery How-To Books Links Workshops About Contact