© 2008 KenRockwell.com. All rights reserved.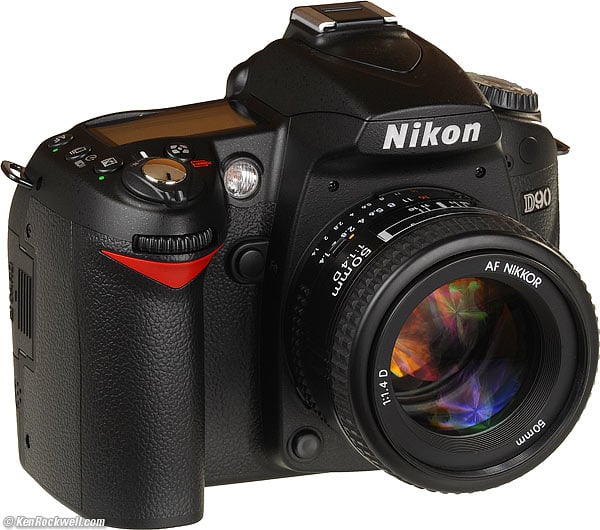 September 2008 Top of D90 Users Guide D90 Review More Nikon Reviews
Want free live phone support? In the USA, call (800) NIKON-UX, 24 hours a day, 365 days a year.
NEW: Nikon D90 iPod and iPhone App.
a1 - a7: Autofocus
How to Get Here
Press MENU, go to the left and select up and down to the pencil icon. You'll then see CUSTOM SETTING MENU on the color LCD. Click down to a AUTOFOCUS and click to the right.
What it Does
It sets many options for the advanced AF system.
What I Change
I leave everything at their defaults, except for changing a1 if I need to.
---
a1 AF Area Mode top
This selects how the D90 uses its 11 AF areas.
See also How to Use the D90 AF System.
Single Point
You pick the point with the Big Thumb Button, and the D90 uses it.
It won't move.
Use this for fixed compositions where you need to focus on something behind a distraction in the foreground, like this shot: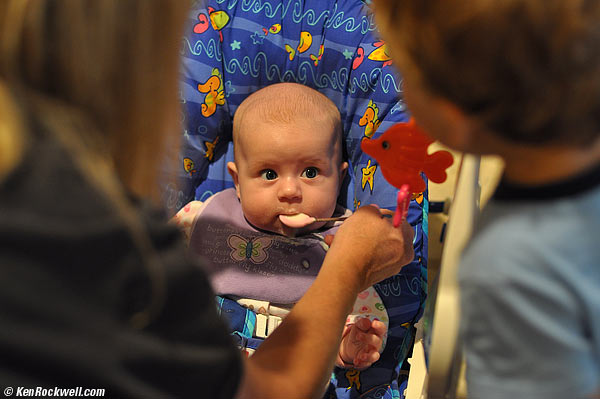 Baby Katie's first real food.
Dynamic area
You pick a point, and the D90 will magically (and secretly) choose others if the subject moves.
This is a more primitive version of 3D tracking, below. I wouldn't use this on the D90; it's here for old-timers.
Auto area (default)
I use this most of the time.
The D90 magically locates your subject and focuses.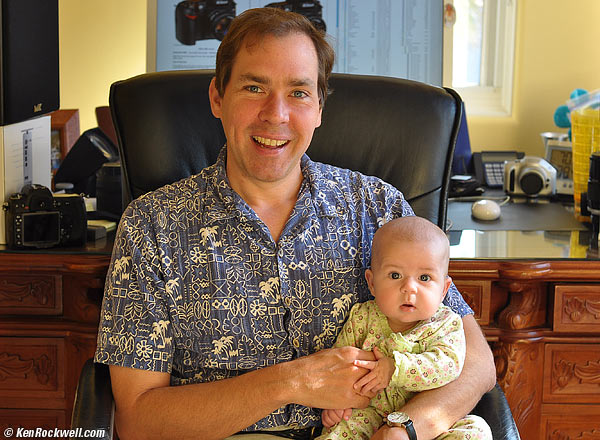 Baby Katie and Dad, photo by mom in default Auto-area AF mode.
3D-tracking
Use this for sports.
You pick an AF area, and the D90 magically tracks it as it moves up, down, left, right and forward and back!
It really works, and you can see the sensor moving around in the finder!
---
a2 Center Focus Point top
This controls the size of the central AF area. This is an homage to Nikon's single-sensor N90s; I don't see this option having much use in the multi-sensor D90.
Normal (Default)
The AF zone is the small area outlined by the sensor in the center of the finder. Use this.
Wide Zone
The central AF zone is much wider. Nikon suggests trying this for a moving subject if the usual modes don't work.
---
a3 Built-in AF-assist illuminator top
This lets you deactivate the annoying AF assist light.
Normally it comes on in the dark to help focus. Turn off the AF assist light if you want to keep a lower profile shooting in restaurants.
---
a4 AF Point Illumination top
This controls when, or if, the AF points light up in the finder.
Auto (Default)
They light up as they need to. I leave it here.
ON
Always on (when the meter is on).
OFF
Always off.
---
a5 Focus point wrap-around top
AF point selection normally stops when you hit the edge of the constellation of AF areas.
No wrap (default)
If you keep pressing the selector to the left it stops at the far left. I prefer it this way.
Wrap
Wrap lets your selection wrap around to the other side of the AF areas!
---
a6 AE-L/AF-L for MB-D80 top
This lets you choose what the AE-L/AF-L button does if you have an MB-D80 grip when shooting vertically.
---
a7 Live View Autofocus top
This tells the D90 how to focus in Live View.
Face Priority
The D90 looks for faces!
Wide Area (default)
Nikon suggests this for shooting hand-held. It looks in wider areas than just the tiny focus points.
Normal Area
The D90 looks only at the small eras of the focus points.
Nikon suggests this for use on a tripod.
---
My D90 User's Guide continues below.
I support my growing family through this website.
This guide is free to read online, but copyrighted and registered. If you haven't helped yet and would like to save or make a printed copy of this article for your camera bag, please send me $5.00 for each complete or partial copy that you print or save, for personal use only. Others charge $29.99 for crappier information, and with your honesty I can continue to offer these guides online for less.
If you bought your D90 by clicking through my links, then you've saved money and also helped me write this guide. Thank you and please enjoy it. It's great people like you, and those who help me otherwise, who allow me to keep adding to this site for everyone's benefit.
The biggest help is to use these links to Adorama, Amazon, B&H, Ritz and J&R when you get your goodies. It costs you nothing and is a huge help to me. These places have the best prices and service, which is why I've used them since before this website existed. I recommend them all personally.
Thanks for reading!
Ken
---
Back to Top of D90 User's Guide or Top of Nikon D90 Review
KNOBS and BUTTONS
MENUS
b Metering/Exposure < < NEXT
Home Donate New Search Gallery How-To Books Links Workshops About Contact