How to Use the Nikon D50
© 2006 KenRockwell.com
About these reviews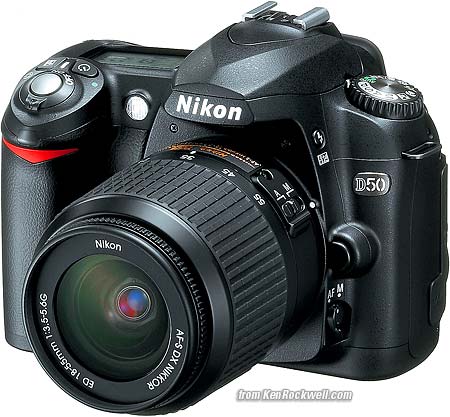 D50 with 18 - 55 mm. I'd get it here or here. enlarge
MENUS: PLAYBACK MENU ("[ > ]" icon) back to top
Press MENU and then select the "[ > ] " (play) icon to get into the play menu.
Delete: This is helpful if you want to delete all images while saving those for which you pressed the "? / Key" button to lock. I don't use this. I do all my editing and selection in my computer and I do my in-camera deletions one-by-one with the trash can key, so I don't use this.
Playback Folder: The camera can record and play back from different folders. I leave this set to ALL. CURRENT ignores photos in different folders. You'd only have different folders on your card if you shot them in a different camera without reformatting ( a bad idea) or played with your camera deliberately to create new folders. This is difficult with the D50 and I cover it later.
Rotate Tall: I set this to NO. If you set this to ON and if you have vertical images and set autorotate to ON, vertical shots will rotate themselves on playback. I prefer to rotate the camera physically on playback. When the camera does this electronically the resulting image is very tiny, since the screen is much less tall than it is wide.
Slide Show: Lets you amaze your friends with an exciting slide show on the tiny screen. I don't bother with this.
Print Set: I ignore this. You can mark which images to print, how many of each and if you want data and dates imprinted. I do all this in my computer.
Small Picture: This is a cute feature makes smaller copies of your images which are perfect for emailing, blogging, or posting on eBay. It saves you from having to do all this in PhotoShop. Choose your size (640 x480, 320 x 240 or 160 x 120) first. 640 x 480 fills a web page while 320 x 240 is perfect for blogging. You mark the image(s) to copy by moving the thumb selector left and right to highlight images, and select or unselect each image by moving the thumb selector up or down. When you press ENTER it will ask you if you want to make so many copies, and if you select YES it will think for a while while it creates all the new little pictures. Each new picture will have a file name starting with SSC (instead of DSC) and will have a new number starting above the last one on the card. Sorry if this is confusing; I didn't design it.
If you find this as helpful as a book you might have had to buy, feel free to help me write more with a donation. Thanks! Ken.
CONTROLS (every button and knob)
MENUS (every menu item in detail)
SHOOTING < < NEXT