Zeiss-branded ZF 50mm f/1.4. Made in Japan by Cosina.
It feels like an off-brand lens from the 1970s, and it sort of is! Cosina made a lot of the off -brand lenses of the 1970s, thus the uncanny similarity.
The Zeiss-branded lens has no rubber focus ring, just ribbed (not knurled) anodized aluminum. It's not even scalloped like the first Nikkors of the 1950s. It's the hardest to focus of any of these. You have to use at least two fingers and grab it. It feels a little uneven as you spin the focus ring. It does not feel anywhere near as precise as any of the manual focus Nikkors.
There's too much drag from grease and friction to allow one-finger focusing as one can do with the Nikkors.
The aperture ring has clicks at half stops. That drive me up the wall! I set aperture by feel, one stop per click. Half stops are terrible: I lose count, and it's confusing when used along with Nikkor lenses with full stop clicks.
It has no good place to grab it for mounting and unmounting.
Here's a look at the depth of field scale. It's less elegant than the Nikkors' color coding.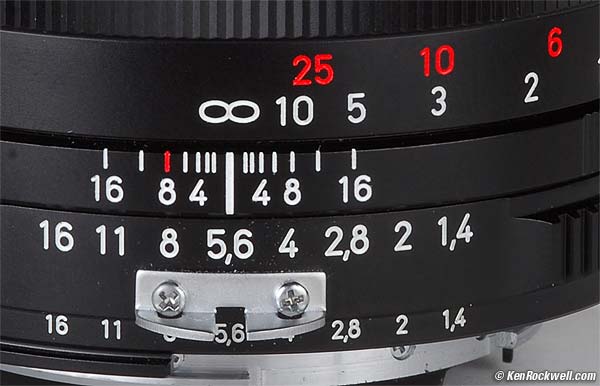 The AI coupling flange seems to be chrome plated. On AI-s Nikkors it's superior stainless steel. The taller screws keep more light from the ADR scale (little f/numbers) than the smaller, staggered screws used by Nikon.
The chrome plating on the brass filter ring is uneven. I've never seen this on any Nikkor.