Home Donate New Search Gallery How-To Books Links Workshops About Contact
Canon 18-200mm IS
© 2009 KenRockwell.com. All rights reserved.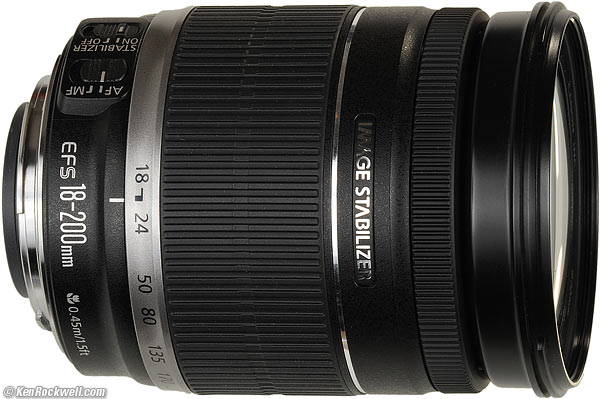 Canon EF-S 18-200m f/3.5-5.6 IS EF-s (1.6x cameras only, $600, 72mm filters, 21.0oz/596g). enlarge. I'd get it at Amazon, Adorama or Ritz. It helps me keep adding to this site when you get yours through these links. Thanks! Ken.
July 2009 More Canon Reviews
Introduction top
Intro Specs Performance Recommendations
This lens does it all for Canon's 1.6x consumer DSLRs. It focuses super fast, zooms from wide-angle to super-telephoto, and gets close enough for macro shots. It could be the only lens you ever need for most Canon DSLRs.
It's a great lens, but has one potentially serious flaw in the AF system for many users.
The Canon 18-200 IS has the old AF system that moves the focus ring as the AF works, so you have to keep your hands off of it as it moves.
Worse, cannot turn this ring for manual focus unless you first move a switch to disengage the AF motor.
This is a serious shortcoming compared to Nikon's 18-200mm VR, on which you the focus ring never turns unless you move it, and which you may move at any time for instant manual override.
On this Canon, the AF mechanism is far more primitive. It's quite a pain to have to stay clear of the focus ring during AF, and have to move a switch to get to manual focus. Poo.
Three years after Nikon's 18-200mm VR, Canon finally has a do-everything lens for its 1.6x consumer DSLRs. With all respect to Canon, Canon has had the world's first 28-135mm IS lens for film and full-frame cameras since the 1990s, for which Nikon had no equivalent until Nikon's crummy 24-120mm VR of 2003.
Compatibility: The EF-S 18-200mm IS only works on Canon small-format 1.6x digital cameras, like all the digital Rebels and 20D, 30D, 40D and 50D. It won't even mount on film, 1.3x or full-frame cameras. It will not mount on the older D30, D60 or 10D either.
Specifications top
Intro Specs Performance Recommendations
Focal Length
18-200mm.
When used on a Canon 1.6x camera, it gives angles-of-view similar to what a 29-320mm lens does when used on a film or full-frame camera.
Optics
16 elements in 12 groups.
2 are of UD (magic) glass and 2 aspherical elements.
5-group helical zoom.
Close Focus
1.5 feet (0.45m).
Maximum Reproduction Ratio
1:4.2.
Diaphragm
Canon claims round.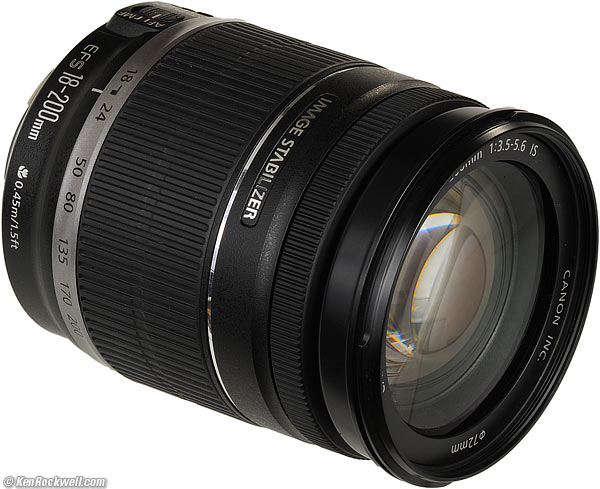 Canon 18-200mm IS. enlarge.
Filter Threads
72mm.
Plastic.
Do not rotate with focus or zoom
Do not move with focus, but do move in and out with zoom.
Size
3.1" (78.6mm) diameter.
4.0" (100.5m) extension from flange, set to 18mm.
6.8" (172.5mm) maximum overall set to 200mm.
Weight:
21.040 oz (596.5g) measured
Canon specifies 21.0 oz. (595g).
Announced
26 August 2008.
Available
October 2008.
Canon Item Code
2752B002.
Price
$600, USA July 2009.
MSRP $699 USA, 89,000 Yen (Japan), at introduction in August 2008.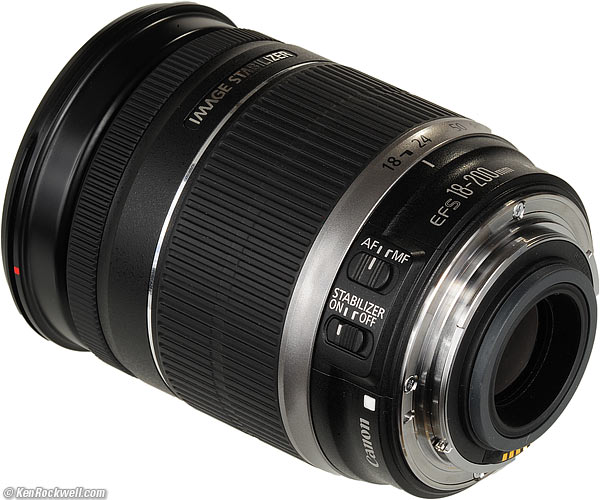 Canon 18-200 IS. enlarge.
Performance top
Intro Specs Performance Recommendations
The Canon 18-200mm IS is a sharp lens with a huge zoom range, super-fast AF and very close macro focusing It has a healthy dose of distortion at some settings as expected, but its only real downfall are the primitive AF mechanics.
Focus
AF is just about instantaneous. it's also very accurate.
Keep your hands off the focus ring, which rotates during AF.
Manual Focus
The focus ring moves fast and easily, but that's the problem. It rotates less than 1/8 of a turn to bring you from infinity to 1.5 feet ((45cm), which makes it nearly imposs9ble to focus precisely at the longer focal lengths.
The 18-200mm IS is optimized for AF, not manual focus.
AF/MF Switching
You have to move a switch — drats!
There is no instant override as on better Canon lenses.
Worse, you need to stay clear of the focus ring in AF mode.
This is the saddest part of this lens. I consider this a serious oversight, especially when the Nikon 18-200mm VR does this all automatically.
The AF system of Canon 18-200mm IS harkens back to Canon's first AF lenses of 1987.
Distortion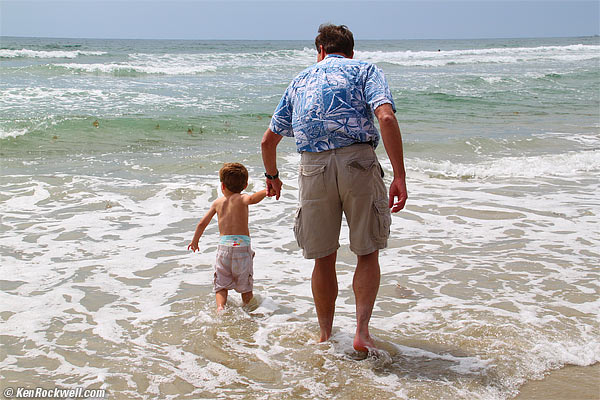 Ryan and Dad at the Beach, 24 June 2009. note curved horizon. enlarge.
(Canon T1i, 18-200mm IS at 35mm.)
Distortion is usually invisible, but if you have a straight line running along an edge, you may see it. The photo above shows it at its worst, and unless you're shooting buildings for a living, not as bad as I make it out to be.
As expected, there is barrel distortion at the wide end, and a lot of pincushion distortion throughout the rest of the range as shown above. The barrel distortion is complex, making it difficult to correct with simple tools.
If you worry, use these values in Photoshop CS2 and newer's Lens Distortion Correction tool.
| | |
| --- | --- |
| | at infinity |
| 18mm | +4.5** |
| 24mm | -1.0 |
| 35mm | -4.0* |
| 50mm | -4.2 |
| 110mm | -3.0 |
| 135mm | -2.0 |
| 200mm | -2.0 |
© 2009 KenRockwell.com. All rights reserved.
* Waviness remains.
** Lots of waviness remains.
Focal Length Encoding
Focal lengths come out on EXIF as close as I can read them off the zoom ring.
Lateral Color Fringes
There are often minor lateral color fringes if you're looking for them.
Nikon has Canon beat here, because Nikon's Gen II cameras automatically correct this and make them a thing of the past, while Canon's cameras, at least up through 2009 as I write this, still can't correct it, and show whatever the lens has in all its gory detail.
Normal people won't see this, but if you worry about this, try a newer Nikon which corrects these automatically.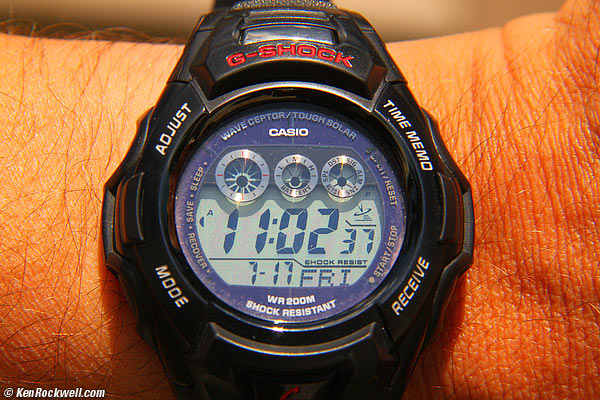 At close focus distance at 55mm.(Rebel T1i at +4 saturation.)
This 18-200mm IS gets so close you won't need a separate macro lens.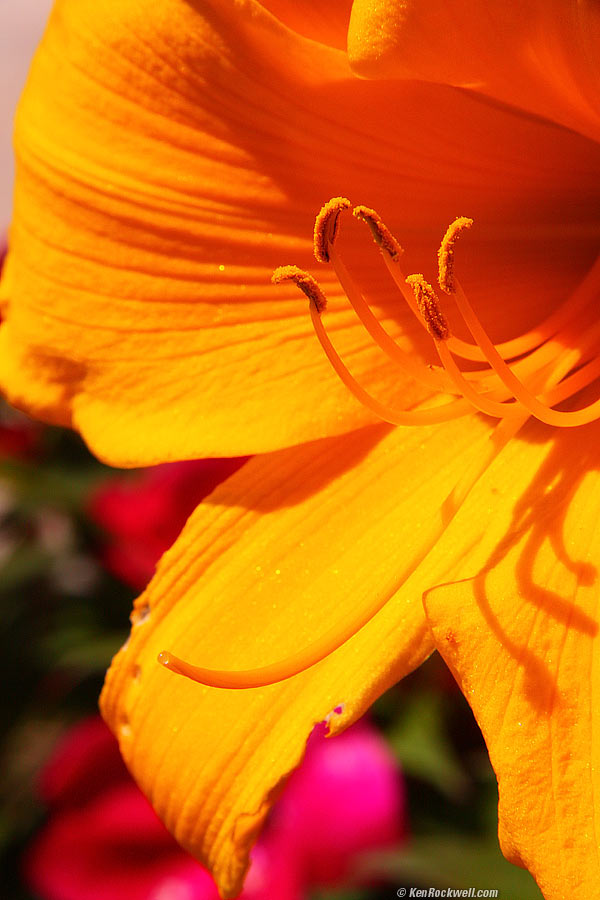 At close focus distance at 200mm. (Rebel T1i at +4 saturation.)
Sharpness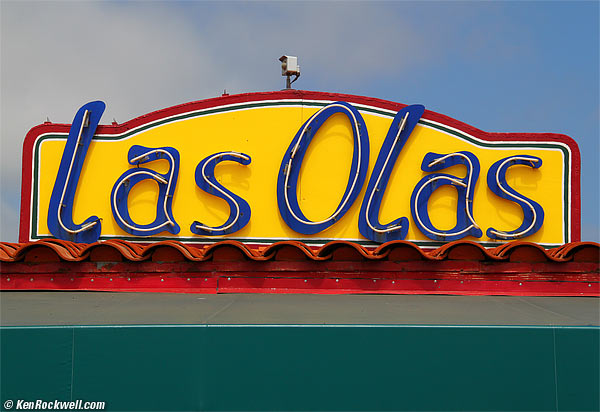 Las Olas, shot at 80mm on a Rebel T1i at ISO 100. enlarge.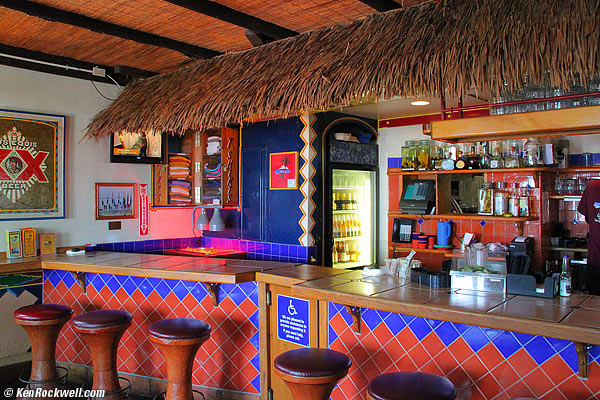 Bar, Las Olas, shot at 18mm and f/5.6 on a Rebel T1i at ISO 3,200. enlarge.
Sharpness is fine.
If you split pixels, not as good as Nikon's 18-200mm VR if you peer at your files at 100%.
If you shoot the Nikon 18-200mm VR on a D5000/D90/D300 and compare it to files shot on a (Rebel T1i and this 18-200mm IS, the Nikon looks worlds better at 100%, but who cares? Only nerds look at images blown up that far.
If you shoot Canon, this is a very useful lens, and it looks great at rational sizes.
Likewise, the extraordinary Canon 70-200mm f/4 L IS will look better if you look at files at 100%, but it costs more, it's bigger and heavier, doesn't focus anywhere near as close, and hardly zooms at all.
Zooming
Zooming is good, which is important for a lens that zooms this far.
There is so much moving around as you zoom that it's more difficult to zoom if you point the lens directly up or down, since you now have to pull half the lens up or down with the zoom ring. If this is difficult for you, point the lens the other way first if it helps you zoom in (pointed down) or zoom out (point it up). It's no problem pointed horizontally.
The range is a bit cramped at the shorter end, making it less easy to set precise framing. It's fine throughout the rest of the range.
The lens will extend when carried on a camera around your neck and it points down. There is a lock to keep the lens set to 18mm, but it's as much trouble to set ad release this lock as it it to have to rack the zoom back in as you bring the camera to your eye.
At infinity, 200mm really is 200mm.
At closer distances, like 20 feet and closer, 200mm isn't really 200mm. At close range, you'll see almost no change as you zoom between 100mm and 200mm.
This is normal for ultra-range zooms that focus as closely as the 18-200mm. Canon and Nikon both play optical tricks to allow long lenses to focus this close. Those tricks are that they reduce the focal length as yo focus more closely, which is how they get these lenses to focus this close. You probably don't realize this, but physics tells us that it is impossible to focus a true 200mm lens any closer than 800mm (0.8 meters or 2.6 feet). This Canon 18-200 focuses to 1.5 feet or 0.45m!
Recommendations top
Intro Specs Performance Recommendations
I've wanted one of these for Canon ever since Nikon came out with theirs in 2005.
Except that I dislike the klunky AF/MF switching and the focus ring trying to turn under my fingers in AF, if I shot Canon, I would have had one of these Canon 18-200mm lenses the day it came out.
It is much heavier than smaller lenses. with more restricted zoom ranges.
When I do shoot Canon, it's full-frame, and this lens doesn't work on full-frame.
Deployment
I'd leave a 72mm Hoya Super HMC UV on the lens at all times. I wouldn't bopther buying the extra-cost plastic hood.
I was going to use this as part of a larger pro system, I'd attach a 72->77mm step-up-ring to convert this to today's pro standard of 77mm, and use a 77mm Hoya UV filter for protection. This is what I really do; I just put on a step-up ring when I get a lens like this and treat it as if it's a 77mm filter thread len as long as I have it.
I'd pitch the flat Canon cap that came with this lens new, and get a superior "pinch" type Nikon cap in 72mm (or 77mm), too. I'm not kidding: I really do use Nikon caps on my Canon lenses because they are much easier to use in the field.
If I was working in nasty, dirty areas, I'd forget the cap, and use an uncoated 72mm Tiffen UV filter instead (or in 77mm). Uncoated filters are much easier to clean, but more prone to ghosting.
Help me help you top
I support my growing family through this website, as crazy as it might seem.
If you find this as helpful as a book you might have had to buy or a workshop you may have had to take, feel free to help me continue helping everyone.
If you've gotten your gear through one of my links or helped otherwise, you're family. It's great people like you who allow me to keep adding to this site full-time. Thanks!
If you haven't helped yet, please do, and consider helping me with a gift of $5.00.
The biggest help is to use these links to Adorama, Amazon, Calumet, Ritz and J&R when you get your goodies. It costs you nothing and is a huge help. These places have the best prices and service, which is why I've used them since before this website existed. I recommend them all personally.
Thanks for reading!
Ken
Home Donate New Search Gallery How-To Books Links Workshops About Contact