This is no big deal, most Canon and other cameras do this. Of course I moved the camera to recompose each shot and enlarged the "wide" one more to have the same height - the "wide" one really just chops off a slice from the top and bottom, which you could do to any image yourself in Photoshop. I'm exaggerating it here.
SPECIFICATIONS with commentary back to top
Specifications Performance Recommendations
Optical Viewfinder: about 80% coverage. I never use this.
Lens: 5.8-23.2mm, f/2.6-5.5. It gives a field of view similar to what a 35-140mm lens does on a 35mm film camera.
AF: 9 zone TTL.
Metering: Evaluative, center and spot. I always use evaluative, the default.
Shutter: At least 1 - 1/1,250 in every mode. At the small aperture it will go to 1/2,000. In manual mode it may be set in 1/3 stops from 15 seconds to top speed.
Long Exposure NR: Automatic if shutter speed is longer than a second, which only happens in manual mode.
Flash Sync: 1/500.
Aperture: Only two, wide open and two stops down with a Waterhouse stop. This is typical for compact cameras: their tiny lenses need such high resolution that smaller apertures would give softer images due to diffraction.
Sensor: Smaller sized 1/2.5" CCD.
ISO: AUTO, 80, 100, 200, 400 and 800.
White Balance: Auto, Direct Sun, Cloudy, Tungsten, Fluorescent, Fluorescent H and Custom white/gray card. No shade position, but the custom white card setting is so easy I don't penalize the A530 I would other cameras.
Image Sizes: 2,592 x 1,944 pixels native. Also 2,592 x 1,456 (16:9 cropped), 2,048 x 1,536, 1,600 x 1,200 and 640 x 480.
File Formats: JPG, three compression levels. File sizes vary wildly with image complexity. I always use the smallest size, "Normal." The middle, default size is called "Fine" and the largest is called "Superfine." File sizes are optimized to each image, so very detailed images may have file sizes triple the file size of a blank, flat sky image. This is good and normal.
Audio Format: WAVE, only as 60 second clips or with video.
Video: 640 x 480 @ 10 FPS, 320 x 240 @ 20 FPS and 160 x 120 15 FPS. Sequential motion JPEG AVI (not the more efficient MPEG).
Frame Rate: 2.1FPS rated, 2.0 FPS measured continuous: no change in focus, exposure or anything between shots.
LCD Monitor: 1.8," 77,000 pixels.
Histogram: Useless B/W-only histograms. (What's a Histogram or Color Histogram?)
Storage: SD card up to at least 2 GB.
Data Transfer: USB 2.0 high-speed, 480 Mb/s peak rated.
Menu Languages: English, German, French, Dutch, Danish, Finnish, Italian, Norwegian, Swedish, Spanish, Simplified/Traditional Chinese, Japanese, Russian, Portuguese, Korean, Greek, Polish, Czech, Hungarian, Turkish, Thai, Arabic
Made in: Malaysia.
Color: Silver painted plastic.
Power: Two AA Batteries, Alkaline or your own rechargeable. You need no wall outlet and no charger; you can be anyplace on earth and find AA batteries. Rated only 90 shots with alkaline (throw-away) batteries, but I get much more. Rated 360 shots with rechargeable Ni-MH. It also has a CR1220 lithium coin cell for clock backup. Mine was dead on arrival; this little cell is there to keep the clock running when you change batteries, not forever when the camera ships out.
Optional Accessories: Canon makes some adaptors and conversion lenses. If you want to swap lenses, I'd suggest skipping this and getting a (much more expensive) SLR camera designed to use special lenses, like the Nikon D50 or Canon Rebel XTi.
Size: 3.56 x 2.52 x 1.70" ( 90.4 x 64.0 x 43.2mm) rated.
Weight: 7.585 oz. (215.0g), measured with Duracell alkaline batteries and memory card but without strap. Rated 6.0 oz (170g) buck naked without batteries or card. It will weigh less with expensive throw-away lithium AA batteries and more with Ni-MH.
Free Live Tech Support: In the USA: (800) OK-CANON.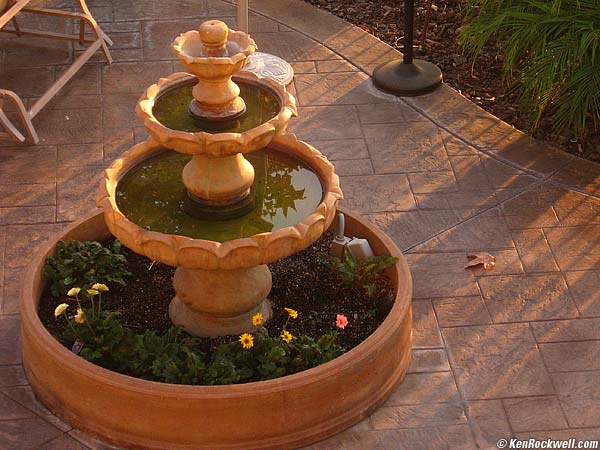 Evening Light. It's a crappy picture, but look at the way it caught the light!
PERFORMANCE back to top
Specifications Performance Recommendations
ERGONOMICS
It handles like most Canons, which is excellent.
It's even got a few more buttons than my tinier SD700, so the A530 actually can handle better than smaller, more expensive cameras! I gave details up at the top under Gimmicks vs. Features.
Optical Viewfinder
I never use these. It's a little peephole which zooms with the lens. It works great; but I prefer the live LCD.
You'll get much longer battery life if you turn off the LCD and use the peephole instead.
LCD Monitor
The LCD monitor is fine. It's accurate enough for me to set exposure and color.
More expensive cameras have bigger screens, but tough, this LCD is fine and much better than the screen I had on my A70 which cost twice as much 3 years ago.
Frame Rate
I measure 2.0 FPS at full resolution.
This is a blind-run mode: the A530 locks exposure and focus while it keeps on cranking.
EXPOSURE
I get the best results setting exposure compensation between 0 and -2/3. You do this with the +/- button (marked with a blue trash can - look closely for the +/- marking). See also Modern Exposure Technique. If anything, it's closer than my other Canons to perfect exposure!
I see no dedicated AE Lock or Flash Exposure lock, as on more expensive cameras.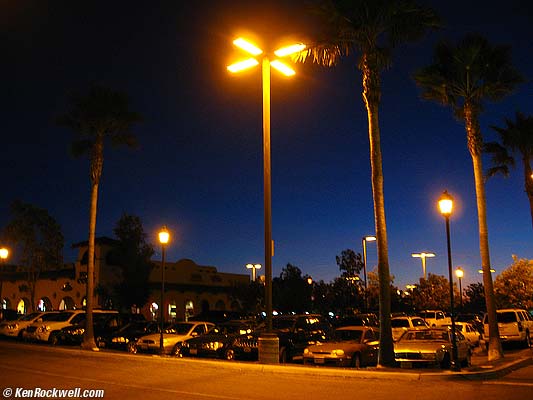 Movie Theater Parking Lot, California, November 13th, 2006.
This is a snap made as the wife and I walked into a theater last night. No setting up, no stopping, no tripods: I just whipped it out of my pocket as the light was right. I know from experience when the sky and the gold street lighting will vibrate against each other like this. This is exactly as it came from the A530 with no playing in Photoshop.
Color rendition, or how the camera renders the real world, is everything. We artists spend a lot of time worrying about it. After exposure, color is everything to an image. Sharpness and the rest is irrelevant unless your exposure and colors are dead-on. I love the color of the
I've always preferred the color rendition of my Canon compacts to other brands.
I love vivid colors, and always set my Canons to their Vivid modes. To do this, press FUNC SET, click down three to off," and click one to the right to "Vivid." Press FUNC SET again to set it.
The A530 is no exception. I love the colors.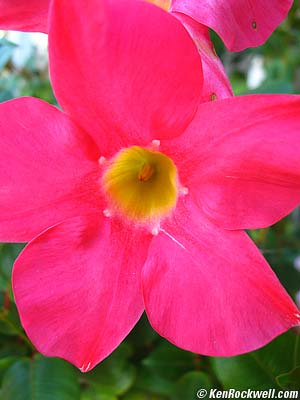 Boring flower shot. Colors as they came from an A530 (macro mode).
Auto WB (AWB)
Excellent! It's so good I have to learn to stop using the custom manual white balance in mixed artificial light. AWB usually woks better, automatically!
Unlike any SLR camera, the auto WB (AWB) of the A530 usually works perfectly under indoor household tungsten and fluorescent lighting.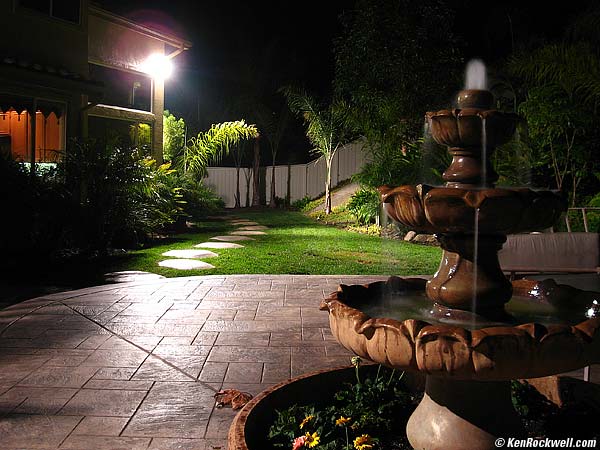 Auto WB under tungsten light (manual exposure, 5 seconds at f/5.6)
This shot is exactly as it came from the A540. Note the lack of ghosts even with the light shining directly into the lens, the great color even in the dark under tungsten light with Auto WB.
Custom Manual WB (Gray Card)
This works great, just as is does on the other Canon compacts.
It's super easy to use - much easier than the Canon SLRs!
It has a huge adjustment range. I can get neutral colors even under high-pressure sodium (HPS) street lights! Those are the ones that look orange-white!
The range is so huge that you can get weird color filter effects by taking a custom WB from a colored object.
The sensor for the custom WB is a small spot. It's easy to set the custom WB from a small point. I often set it from a cloud in the sky, letting in some blue sky for a resultant warming effect. Slicker still, I shoot a custom WB off my white socks!
LENS
Focus
AF is fine. It's always fast and accurate in decent light.
It's poor in very dark light. The AF Illuminator (the annoying orange light that shines when you try to take a picture in very dark light) doesn't help, and I can't get the A530 to focus.
So long as you have enough light for reading or have some bright spots in night scenes you're fine.
If you're in a dark restaurant you'll have problems.
Flare and Ghosts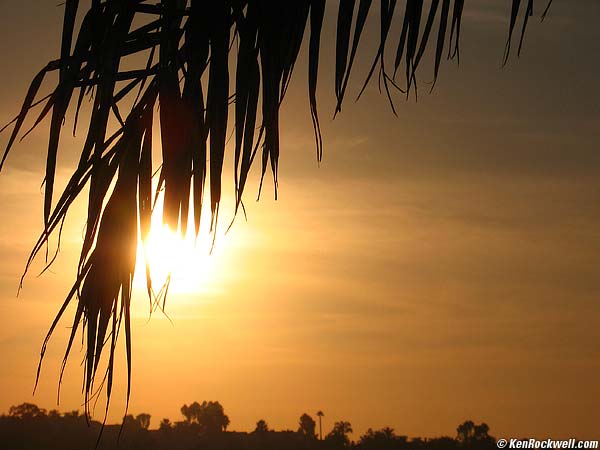 Shot into the California Sun.
The A530 has excellent resistance to flare. I don't see any. No, the photo isn't crooked; the crest of the hill is.
See the night shot above. See the light at the top left? It's shining directly into the lens and it's also the light illuminating the landscape.
Zoom Settings
Compact zoom cameras like the A530 only zoom in fixed steps. They can't be zoomed to every exact setting, which tends to drive me nuts when trying to frame exactly. Most compact 3x zoom cameras zoom to about 7 different focal lengths.
The A530 SD800 can be set to 8 discreet focal lengths. They are 5.8mm, 7.9mm, 9.8mm, 11.8mm, 13.7mm, 15.8mm and 18.4mm and 23.2mm, as read from EXIF data.
The tiny sensor of the A530 has a 6.03x field-of-view factor to make 5.8mm on the A530 give the same angle of view as a 35mm lens does on a 35mm film camera. With that factor, the available focal lengths of the A530 become similar to 35mm, 48mm, 60mm, 72mm, 83mm, 95mm, 111mm and 140mm.
There is a big jump from the widest setting to the next. It feels like it the first time you zoom in a little and you zoom in a lot. At the long end they are very close together. I'd prefer finer spacing at the wide end and coarser spacing at the long end.
Sharpness
It's great in the center and left side, and soft on the right side at the wide end. This isn't a big deal - I have to go out of my way to find subjects that require sharpness in the corners.
These are subjective ratings, E - VG - G - F - P, made at 100% on my LCD monitor. These are tough, since this magnification would print at 18 x 24" (45 x 60 cm) !
Don't worry about differences between adjacent grades. These are subjective and evaluated with the same criteria I use for SLR lenses.
Different samples of cameras will be different. It's normal for compact cameras like this to get soft in the farthest corners or on one side, so don't worry about it.
5.8mm (wide): VG Center, G Sides, F far corners.
7.9mm: VG Center, VG sides, F far corners.
9.8mm: VG center, VG sides, G far corners.
11.8mm: VG center, VG sides, G far corners.
13.7mm: VG center, VG sides, G far corners.
15.8 mm: VG center, G sides, F far corners.
18.4mm: VG center, VG sides, G far corners.
23.2mm: G center, G sides, F far corners.
I'll have no problems making huge prints. If you're not getting sharp results, see How to Get Sharp Images. The biggest issue with these small cameras is the loss from the automatic noise reduction in the firmware.
Aliasing (moiré)
The lens is sharp enough to cause a little moiré in the center if you're not careful. It's not a problem.
Macro
It's the same as most compacts: it gets ultra-close (a couple of inches) at the widest setting, and only to a foot or two at the tele setting. Here's how close it gets at the widest setting in the macro mode: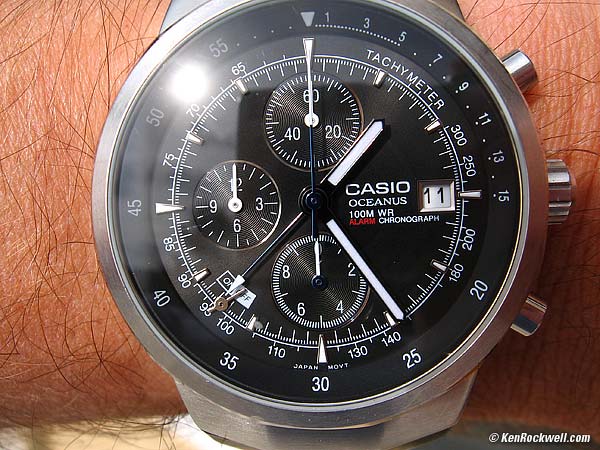 Full image at closest macro setting, wide angle.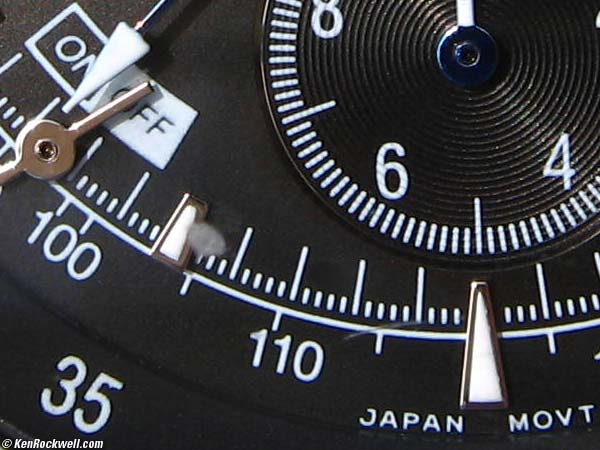 100% crop from above.
This is what you'd see if you printed the entire image 24" (60cm) wide! It looks great - this crop has had no sharpening added.
Caveat
Be sure to take the A530 out of Macro mode for normal use. If you forget, it won't focus to infinity, especially at telephoto.
Distortion
Distortion is about the same as every other compact camera. It's easy to correct completely in Photoshop CS2's lens distortion filter with the numbers below. I read the actual focal lengths in iView. Of course I'm using a $700 program to correct the distortion of a $150 camera, but tough, it's my website so I can do what I want.
5.8mm (wide): Barrel distortion, use +4.25 in CS2's lens distortion filter.
7.9mm: Barrel, use +3.0 in CS2's lens distortion filter.
9.8mm: Barrel, use +2.0 in CS2's lens distortion filter.
15.8mm: Barrel, use +0.5 in CS2's lens distortion filter.
23.2mm: None.
(Use these figures all you want for your own photography, but remember this is all copyright and registered, so you'll need to get permission before using them for any other purpose.)
LCA (Edge Color Fringes)
This isn't a problem with the A530. It's better than the Canon 17-85mm IS lens for Canon's DSLRs!
There aren't any color fringes. This is excellent!
Flash
The flash always takes about 5 seconds to recycle with Alkaline or Ni-MH batteries, even at close distances. At long distances, the flash needs more power, and can take 12 seconds to recharge for the next photo.
This could drive you nuts if you use the flash a lot.
Often the LCD turns off and the camera locks up while the flash recharges. This is normal and you'l see an orange blinking light while this happens.
Exposure and range are fine. Exposure for fill-flash is good.
The only thing I can see missing is the Slow Synchro mode. To shoot with flash and a slow shutter speed you need to use the "night" SCN mode, or the manual exposure mode.
Of course as with every point-and-shoot, red-eye is a problem because the flash is right next to the lens. If flash photos are important, you may want to get an SLR camera like the Nikon D40 or Canoon Rebel XTi instead of any compact camera.
Video
The A530's video performance isn't very good. It only can run at 10 FPS, which means jumpy video, even worse than olde-tyme movies.
It is clear and has sound, so what do you want for $150?
File size is 5.5 MB for a 10s clip at 640 x 480 @ 10 FPS. You can make any length clip for all I know.
I find the Casio cameras much better if you want video, then again, so is any DV camcorder.
Panoramas
The A530, like every Canon compact, has Canon's trick panoramic mode. It's so slick, and comes with the software for free, that I have an entire page about it at Canon Panoramic Photography.
My Colors Mode
I ignore most of these. I prefer the traditional Vivid setting as described above under Color.
I do set the Custom Color mode to + + Saturation, and - - contrast for use in harsh light, since the Vivid mode has the contrast cranked up as well as the saturation.
Color Accent, Color Swap
I ignore these.
MECHANICS
The case is silver-painted plastic. It feels tight and solid. This is a well made camera.
The battery/memory card door is a superior two-step interlocked, spring-loaded, stainless-steel-hinged and reinforced hatch. It's much better than the crappy chromed plastic hinge of the flagship SD800.
The USB and video connectors are behind a soft plastic flip-out cover.
The tripod socket is plastic. It's deep enough to swallow the screw of the plate of my Manfrotto geared head.
DATA
File Size
The largest image size (2,592 x 1,944 pixels) at the highest JPG compression (smallest file size, Normal) averages about 666kB.
Video at 640x480 @ 10 FPS runs 5.5 MB per 10 seconds (550kB per second).
Transfer Speed
It's fast: USB 2.0. Images come flying out of the A530 as they should at about 300 images or 250 MB per minute. No need for a card reader; just plug the camera into your computer.
Like all Canons, it won't show up as a drive. I use the Image Capture utility of my Mac to download the images from the A530.
POWER
Battery Life
I always use the LCD.
I started to get the red flashing LOW BATTERY symbol after about 200 shots with alkaline batteries. Of course I made those 200 shots within a couple of hours, which is the best way to stress alkaline batteries. Alkalines like to take things slower and get plenty of rest between shots.
At about 250 shots the A530 shut off and told me to CHANGE BATTERIES. After I took out the alkalines, they measured 1.35V open circuit.
This is great, since Canon only rates it at 90 shots with alkalines.
Rechargeable Ni-MH will last longer per charge. Ideally the expensive throw-away lithium AA batteries will last the longest, but are expensive.
Like all digital cameras, the A530 has a lot of peak draw. This tires out alkalines, while rechargables and throw-away lithiums love high drains.
With a set of 2,500 mAh (rated and tested) I got 350 shots until I first got the flashing red battery warning.
Some of door springs on some A530s can get in the wrong place and cause a short circuit. See here of the info from Canon on how to check it.
Packaging
Corrugated box, glossy printing with corrugated and thick pulp internal dividers.
The A530 itself is delicately wrapped in an impressive fine white cloth-like envelope which is then placed inside a custom-fit bubble wrap envelope. Canon bestows the same care on it's $8,000 cameras.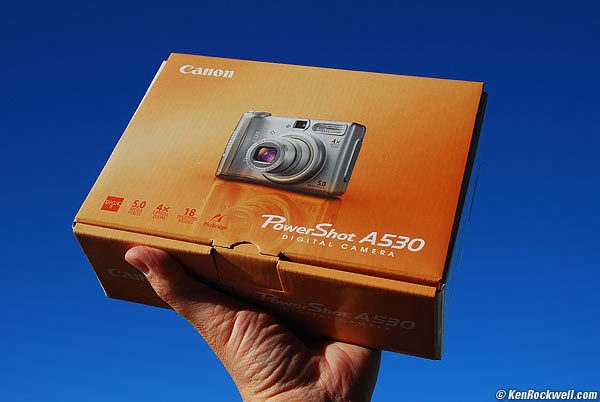 Wow! I shot this on my Nikon D80, which really cranks up the blue and orange.
High ISO Noise and Grain
Caveat
I put this last because most people will never see these speeds. The A530, like most cameras, never gets to these speeds unless you put it there deliberately. Don't worry about these unless you shoot without flash in the dark as I do. Too many chat-room photographers spend all their time worrying about this minor corner of the performance picture.
ISO 80: No visible noise.
ISO 100: Almost no visible noise. You'd have to be looking for it at 100% on your monitor.
ISO 200: A little noise. It's obvious if you're looking for it at 100% on a monitor, but a normal person wouldn't see it or notice it in prints.
ISO 400: Noisy. You'll see it in prints if you're looking for it, but normal people won't complain.
ISO 800: Crappy. Don't use this unless you have to. You can see it even at internet resolution!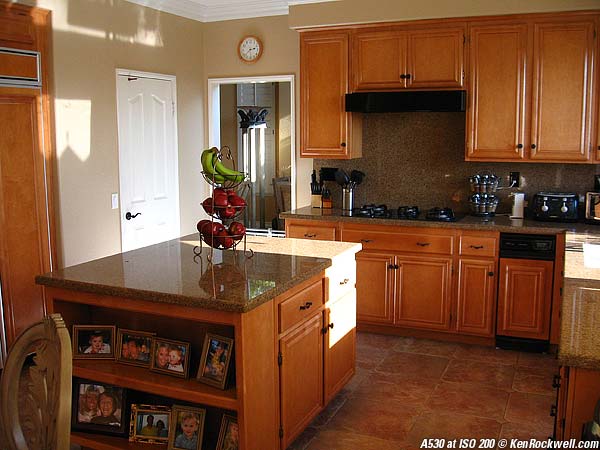 Snapshot at ISO 200. Roll your mouse over to see it at ISO 800.
RECOMMENDATIONS back to top
Specifications Performance Recommendations
Want the least expensive camera that can make great shots under almost any condition, limited almost only by your own skill? This is it!
Tell me this is the only camera I can use for the next year, and I'll come back with great images and no excuses.
Forget the crazy off-brands you may see on shopping channels and God knows where else. This is a Canon, made by the same people out of the same stuff they make their $8,000 cameras and $10,000 lenses. This little camera takes advantage of all they know to make the best possible camera at a fraction of the price of the lens hood alone for my 400mm lens.
Stop worrying, get one of these, and go make some great photos!
You won't get better photos from a more expensive camera.
A more expensive camera can get you smaller size, a bigger screen, a rechargeable battery system, a faster-recycling flash, ability to focus in the dark, image stabilization for photos indoors without flash and many other things, but basic photo quality for 80% of everything you may want to photograph will be the same.
Of course for sports and action you really want a camera with interchangeable lenses, like the Nikon D50. No camera with a non-removable lens, even for six times the price, can track fast action. The A530 works fine for kids and animals sitting down, but not if they're running around.
The A540 is the same as the A530, but with a 2.5" LCD screen, some more exposure modes and 6 instead of 5 Megapixels. It runs about a whopping $175.
Want to know anything more? Ask Canon's free live tech support in the USA: (800) OK-CANON.
Potential Defect
Some samples have a defective spring in the battery door that can short out the batteries. This can set the camera on fire, or run your batteries down very quickly. It's easy to check, see Canon's service advisory.
PLUG
If this just saved you $700 on a camera you didn't need or a book you might have had to buy or a workshop you may have had to take, feel free to help me write more.
Thanks for reading!
Ken