Home Donate New Search Gallery How-To Books Links Workshops About Contact
Tech Details:
San Francisco Area
28 June - 01 July 2009
28 29 30 31 June 2009 Tech Details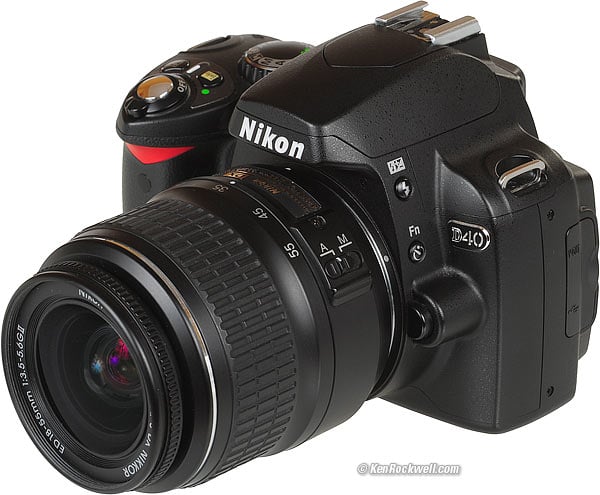 Nikon D40 and 18-55mm DX.
For this trip, I wanted to follow what I preach and bring the lightest possible DSLR and the DX Dream Team of lenses. This lightweight gear is all I need to do anything.
Cameras top
I shot everything on a Nikon D40.
I also borrowed a Canon SD780 to review, keeping it in my pocket for video, or for anything else that caught my eye.
Camera Settings top
Nikon D40
I set my D40 as I explain in my Nikon D40 Users Guide.
As explained in the guide, I set the colors to be vivid by selecting ENHANCED color and Color Mode IIIa.
I set AUTO White Balance and -3 for trim, to make things warmer (more amber).
I always shoot in Professional exposure mode, the "P." Professional mode was originally called "Program" back in the 1970s. While in Professional mode, if I need different shutter speeds or apertures, all I do is flick the rear dial and I get them.
I usually set AUTO ISO for a minimum speed of 1/125, and a maximum ISO of 1,600. I use 1/125 to ensure I can catch baby action clearly.
Canon SD780
I set the colors to VIVID, which you do by pressing FUNC, clicking down to OFF, and one to the right, which selects VIVID.
I usually set exposure compensation (+/-) to -2/3 of a stop, otherwise I find my colors get washed-out.
Lenses top
For lenses, I brought the DX Dream Team, which I detail on that page.
These three lenses, the 10-24mm, 35mm f/1.8 and 55-200mm VR, give me everything I need, in a very lightweight suite of lenses.
Flash
The Nikon SB-400 was always on my D40, whether or not I used it.
I only use flash for fill-flash; I never use it in the dark.
I velcro a slightly orange 1/2 CTO gel to it to make the colors look better. Today I use a 1/4 CTO gel instead. Actually, I have 1/4, 1/2 and full CTO gels on the flash, and move them into place as needed with velcro.
Bags top
I carried the D40 around my neck at all times, and the two unused lenses in a Think Tank Speed Demon around my waist, also at all times.
Cameras do no good if they're left in the van or back at the hotel.
Tripod top
I brought no tripod.
Tripods are usually only useful when shooting film in low light. The VR and the higher ISOs of digital made tripods obsolete years ago.
Publishing top
I selected the less crappy shots, dragged them into Photoshop CS4, did any quick fine-tuning as noted, and hit my pre-recorded Action to resize, sharpen and brand each file for broadcast.
I dropped these files into Dreamweaver 8, and they're on the air here.
28 29 30 31 June 2009 Tech Details
Home Donate New Search Gallery How-To Books Links Workshops About Contact