Home Donate New Search Gallery How-To Books Links Workshops About Contact
Think Tank Speed Demon
Intro Specs Performance Usage Recommendations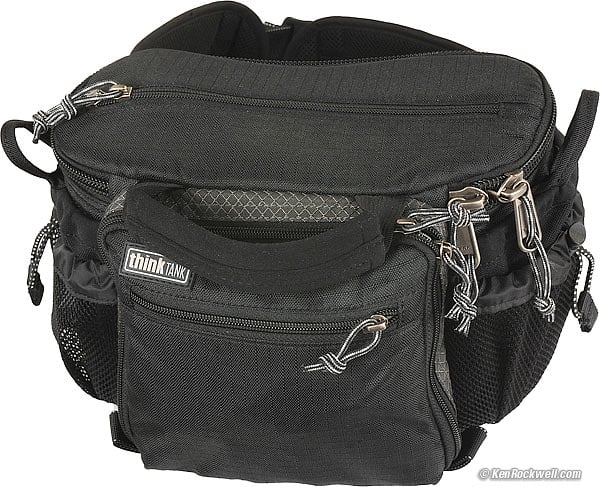 Think Tank Speed Demon. enlarge. You can order it directly from Think Tank or from Adorama. This free website's biggest source of support is when you use those or any of these links when you get anything, regardless of the country in which you live. Thank you! Ken.
June 2016 Think Tank Reviews All Reviews
More about bags The Two-Pocket Shuffle How to Carry Less
June 2011
NEW: Think Tank Speed Demon 2.0
NEW: Think Tank Speed Freak 2.0
NEW: Think Tank Speed Racer 2.0
The world's best waist bags just got better, and we can order them now directly from factory stock at those links.
These new bags are even better than before as they add a gusseted front pocket (it was flat before) and a genuinely smart way to stash the waist belt if you prefer to use the bag with the included shoulder belt instead. The new bags also have nicer zipper pulls, thinner main buckles and straps with metal slip-stoppers, and are made of slightly softer material.
If you already have a previous version, you need not go buy a new one, however, these are now the best there is.
I usually use the original Speed Demon seen here, the smallest of the three, all the time. The larger Speed Freak is fat enough to hold a couple of big 70-200/2.8s, and I have no idea what a gorilla would put in the huge Speed Racer, but I'm sure you guys do.
Introduction top
Intro Specs Performance Usage Recommendations
The Think Tank Speed Demon is the most comfortable bag I've ever used. Its waist belt is unusually large and well designed so that it's comfortable all day long.
As of March 2011, I've been using this bag for two years, and love it. For whatever reason, no matter what I'm shooting where, it always seems to be the right bag for me.
I rarely carry a camera bag, and if I do, it has to be small enough to wear all day and easy to shoot actively from it.
If I can't get gear in and out instantly with my eyes closed, why carry it?
Backpacks won't do — they are OK for carrying too much, but you can't shoot from them. I don't know of any serious photographer who shoots from a backpack.
If I do carry a bag, I prefer waist packs from which I can get everything from the top. I can climb over mud, rusty metal, broken glass, muck and dung, and my gear is right there where I need it. I can get things in and out and nothing falls out on the ground, and I don't have to bend over sideways to get at it.
With a waist pack, I can run for miles and it doesn't get in the way. If I want to bend forwards, all I do is rotate it to my back; otherwise, I keep it in front of me so I can get at it.
I've used Spiratone and Tamrac bags in the past, but they don't make them anymore. So many people who buy new gear have been carrying way too much, and gone to larger bags, that I haven't been able to buy any sane bags for a while.
My pro friends swear by their Think Tank belt systems. They carry more gear than I want to. I want a bag just big enough to hold a camera and a couple of lenses, and that's it. What more would you want to carry around all day?
This new Think Tank bag is great. It's the most comfortable waist pack I've worn, and its size is perfect for all you'd want to carry. No, it won't hold too much, but you people who carry too much are crazy.
It's OK to own every camera, lens and accessory, but never OK to try to carry it all around with you at any one time. All anyone needs is a body (or two) and two zooms, or three fixed lenses.
This Think Tank Speed Demon is perfect. It's just big enough to carry what you should be carrying, and not so big to encourage you to stuff it with junk you won't need. I'm able to carry a rangefinder camera, a few lenses, and even have room for a camcorder I don't need.
It can swallow a D700, D300, Canon 5D Mark II or Nikon F4 easily. A Nikon D3 requires a little muscle on the zipper, so I wouldn't use this for a D3. I show examples with different cameras throughout this review.
You can carry three reasonable sized lenses up to about one Nikon 70-300mm VR if you push the camera to one side, or a Canon 28-135mm IS or 16-35mm L II. It won't hold an f/2.8 tele zoom, but why would you want to carry one all day? I stopped carrying mine in favor of the 70-300mm VR some time ago.
It will not carry a pro SLR and three fat pro lenses — its not wide enough. If you want to lug a pro SLR, you'll only be able to fit smaller lenses.
The Speed Demon is permanently attached to its belt, as I like it. I have not tried other systems where the belt comes off — those would be too confusing for me.
If you like to carry too much stuff, the belt is compatible with everything else from Think Tank, so you can weigh yourself down to look like even more of a geek than I do, if you insist. The more you carry, the stupider you look and the less you shoot.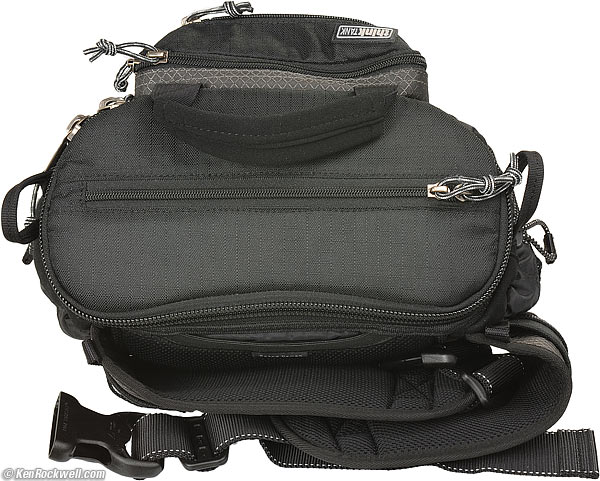 Top of the Think Tank Speed Demon, shooter's-eye view. enlarge.
The zipper on top is only a way to get in through the top; there is no pocket on top.
The front pocket is gusseted. It won't flop open on you.
Specifications with commentary top
Intro Specs Performance Usage Recommendations
Size
It goes around your waist. Its got a long belt, so fat people and Sasquatch are probably accommodated.
I need to figure out how to chop off or tie down the long ends.
Inside, it's about 7" (18cm) deep (top-bottom), 8.5" (22cm) wide by 5" (12cm) from front-to-back.
If you fold down the ears on each side so you can lay a camera across two other lenses, each spot is now 4" (10cm) tall.
A Nikon D3 will barely fit, but not comfortably. Anything smaller is fine.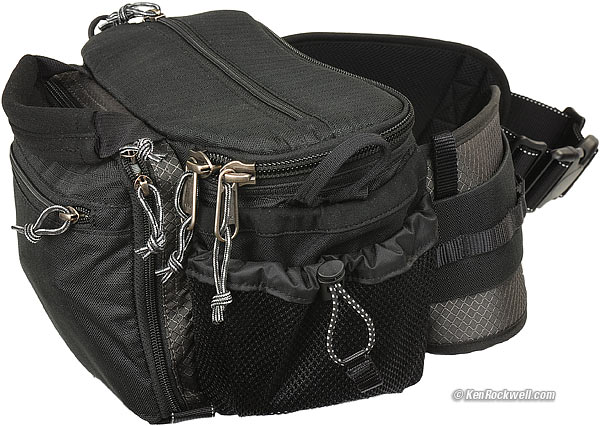 Side, Think Tank Speed Demon. enlarge.
Shoulder Belt
It comes with a great removable padded shoulder belt, which I don't use and have not shown.
Inserts
Everything comes in and out.
There are two big dividers, each with an ear, that divides the big space into three sections, ostensibly for your camera with lens, and another lens (or flash or whatever) on each side.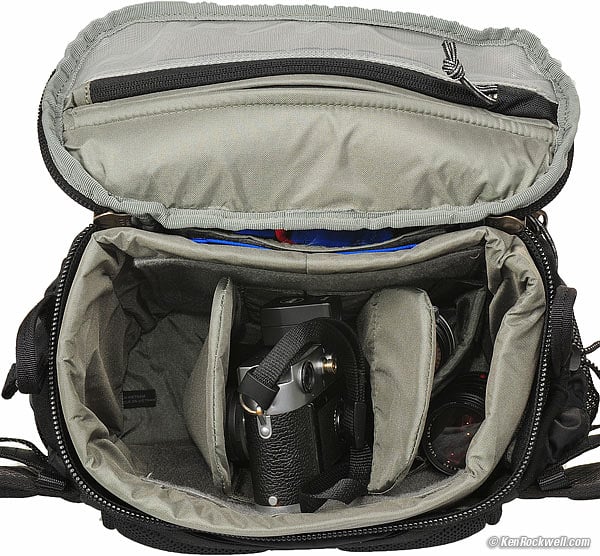 Leica M3, 21mm finder, 21mm f/4 (1959), 50mm f/2 (1955) and 90mm f/2.8 Tele (1987) lenses. enlarge.
There are three much smaller little dividers, too. In the photo above, the two big dividers are there, and one of the little dividers is on the bottom of the right side to separate the two tiny Leica lenses.
If you want, the entire inside comes out! You can remove the entire large padded insert which occupies the entire bag. This gives a little more room and a lot less padding for you tough guys.
Weight
35.540 oz (1,007.5g), or over two pounds, with all dividers present. Now you see why I don't like bags; I have a Minolta CLE system that weighs less than this bag.
This bag is the same weight as any other bag; just that most people don't bother to weigh their bags.
Pockets
Zillions!
There's no pocket on top, but there is a zipper to sneak into the top. I don't know why.
There's a clear pocket inside the top of the inside top flap.
There is no pocket on the top of the bag. The zipper you see on top is a way to get your hand inside the bag while it's closed, not a pocket which which have been nice.
Left and right sides have big, open pockets, and also have a bigger mesh pocket that lies over each side pocket. I use these to store unexposed film on the left and exposed film on the right.
The front has a ton of pockets: there's a slim pocket on the front of the front pocket, and inside the big front pocket, there's a bunch of smaller pockets and sections inside for pens, junk, film, and whatever.
The back (that sits up against you) has two pockets: one you access from the top, and you also can slide something in sideways between that pocket and the waist strap.
There are card (or small filter) pockets between the inner sheath and the front of the bag.
I'm sure there are more pockets; every time I look I find more.
Rain/Dark Ops Cover
There's a tethered, removable black cover for covert operations, ninjas or rain.
I haven't evaluated its reflectivity under IR goggles.
THis cover is attached to the blue tether you see in the seam between top and the rest of the bag.
Filter/Card Case
There's a nifty tethered and removable wallet that has slots for 10 cards, or 10 small (39mm) filters. 46mm filters can fit, but take a strong arm.
Think Tank brilliantly put a way for you to hold your business cards in there, too. Heck, some people pay more for wallets than you and I pay for this entire bag complete with this wallet!
THe wallet comes tethered in the front pocket.
Made in
It's very well made in Vietnam.
Price
It was $95 at Adorama last I checked in April 2009.
March 2011: On Sale, 20% off!
Performance top
Intro Specs Performance Usage Recommendations
Its super-comfortable. My only concerns are that I don't want to chop off the free ends of the belt, but I don't know how to tie them down to keep them out of the way.
There are nice fat things on the waist straps to distribute the load and keep the belt comfy all day.
There is a very handy handle with which you can move the bag around, and even if the bag is open you won't drop your junk on the ground. THe bad news is that the handle is so big and obvious that it's a security risk. Anyone can grab the handle and put you down, fast, if you're not expecting it. If you worry, I'd cut it off, or attach it with Velcro or snaps so it will break away if someone grabs you by it.
The big latch for the belt is poor. Unlike American-made latches on my other bags and hiking gear, the Woo Jin belt latch is difficult to latch, and it's difficult to unlatch. If I cared, I probably could go to REI and find some better latches to thread in.
The waist belt stays as set. To their credit, unlike my other bags, this Think Tank bag is easy to adjust for waist size, and once adjusted, doesn't creep to larger sizes like my other bags. Once set, I forget it and don't need to keep tightening it all day.
The Speed Demon's biggest flaw is that Think Tank forgot a quick-release or Velcro for the top panel! The only way to hold it down is to wind the zipper 300º around the top flap. Whoops! The good news is that the material is perfectly designed so that even unzipped it tends to stay closed, and you can unzip it partway to let it hold partway while you can still get your gear.
A real speed demon would have a fast latch for the top. You can't open the top with one 300º zip; you have to stop and redirect yourself to get around the three sides.
There is a zipper across the middle of the top of the case. I guess they had spare zippers lying around. All it does is let you stick a hand in the top of your closed case. Wow.
It's mostly black, but there are some gray sections on the outside. The zippers aren't black, they are pewter, which can catch the eye of people I'm trying to avoid. For security reasons, I prefer all black on the outside. The Think Tank logo is sewn-on rubber. I haven't tried to cut it off yet, again for security. I need to find out who makes colostomy bags and use one of their logos, or more simply, whatever warning stickers they use on the outside.
All the zippers have great cords running through them as pulls. A reader suggests these untie, and that one ought to melt them together so they stay put.
Usage top
Intro Specs Performance Usage Recommendations
What fits? Let's see.
Not that you'd necessarily want to carry any of these combinations, it's just what I happened to have lying around to try jamming into the Speed Demon to give you an idea of size.
Since we showed a small Leica above, lets start smart with a D40 and get stupider as we go on.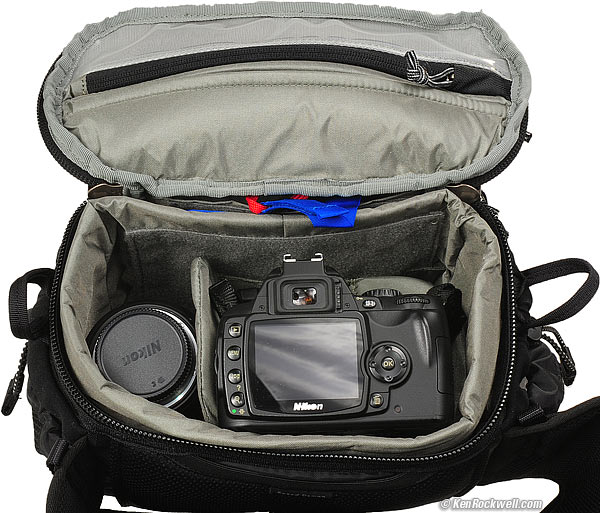 Nikon D40 with 35/1.8 (or 18-55) in the middle, 70-300 VR on the left, and just air on the right. enlarge.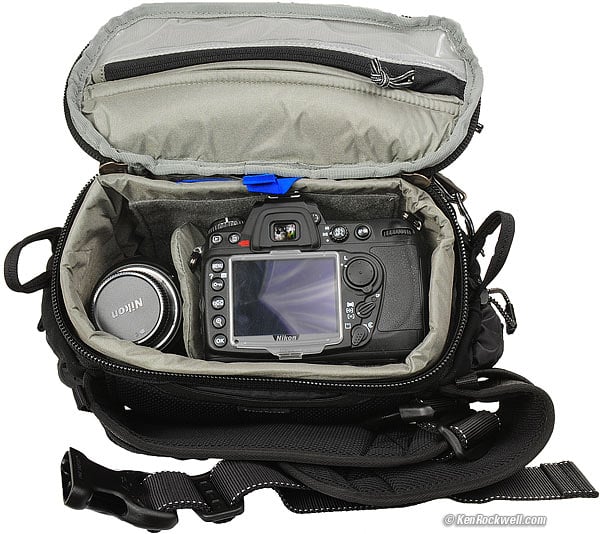 Nikon D300 with 18-200mm VR, 70-300mm VR on left, and an empty pocket on the right for a 35mm f/1.8. enlarge.
Nikon F4 with 17-35mm, 70-300 VR on left, and nothing on right. You'd want to pop a 50mm f/1.4 in the spot on the right for use in low light. enlarge.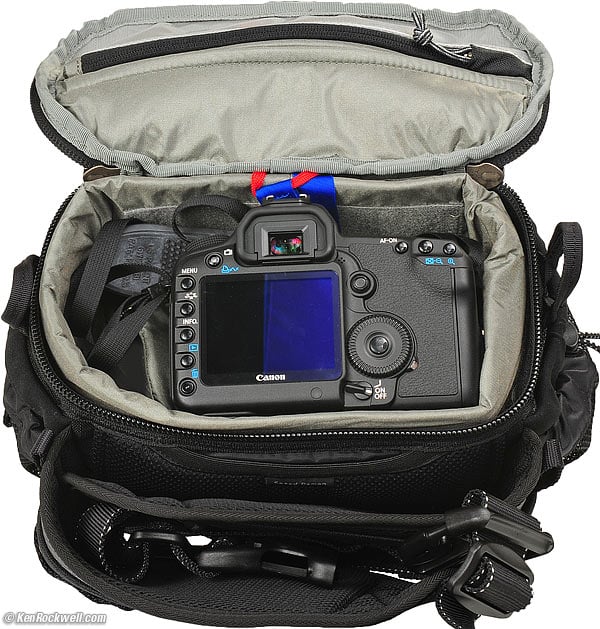 Canon 5D Mk II with 16-35mm f/2.8 L II, 28-135mm IS in the left slot and an EF 50/1.4 USM in the right slot. enlarge.
Recommendations top
Intro Specs Performance Usage Recommendations
I love this bag. We all have our favorites, which is why there are more kinds of bags than cameras.
Forget backpacks. Get a bag like this and you ought to be fine, unless you want to carry something as big as a D3 or a 70-200mm f/2.8 zoom.
You can order it directly from Think Tank or from Adorama. This free website's biggest source of support is when you use those or any of these links when you get anything, regardless of the country in which you live. Thanks!
It's also available as the larger Speed Freak and the largest Speed Racer.
More Info: Think Tank.
Help Me Help You
I support my growing family through this website, as crazy as it might seem.
The biggest help is when you use any of these links when you get anything. It costs you nothing, and is this site's, and thus my family's, biggest source of support. eBay is always a gamble (see How to Win at eBay), but all the other places always have the best prices and service, which is why I've used them since before this website existed. I recommend them all personally.
If you find this page as helpful as a book you might have had to buy or a workshop you may have had to take, feel free to help me continue helping everyone.
If you've gotten your gear through one of my links or helped otherwise, you're family. It's great people like you who allow me to keep adding to this site full-time. Thanks!
If you haven't helped yet, please do, and consider helping me with a gift of $5.00.
As this page is copyrighted and formally registered, it is unlawful to make copies, especially in the form of printouts for personal use. If you wish to make a printout for personal use, you are granted one-time permission only if you PayPal me $5.00 per printout or part thereof. Thank you!
Thanks for reading!
Mr. & Mrs. Ken Rockwell, Ryan and Katie.