Home Donate New Search Gallery Reviews How-To Books Links Workshops About Contact
Sony RX1
Full-Frame Point & Shoot
© 2012 KenRockwell.com. All rights reserved.
Intro Specs Accessories Performance Compared Recommendations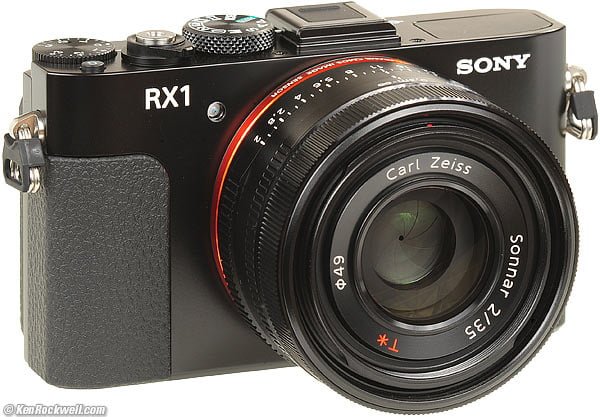 Sony RX1 (24 x 36mm 24MP CMOS sensor, non-removable 35mm f/2 lens, 49mm filters, 16.7 oz./473g, 0.65'/0.2m close focus, about $2,800). enlarge. My biggest source of support is when you use any of these links, especially this link directly to it at Adorama or directly to it at Amazon, when you get anything, regardless of the country in which you live. Thank you! Ken.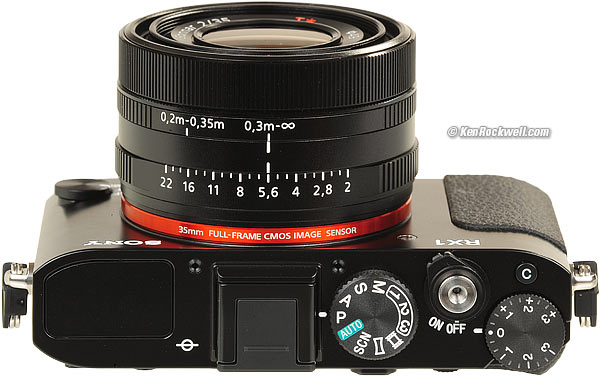 Sony RX1. bigger.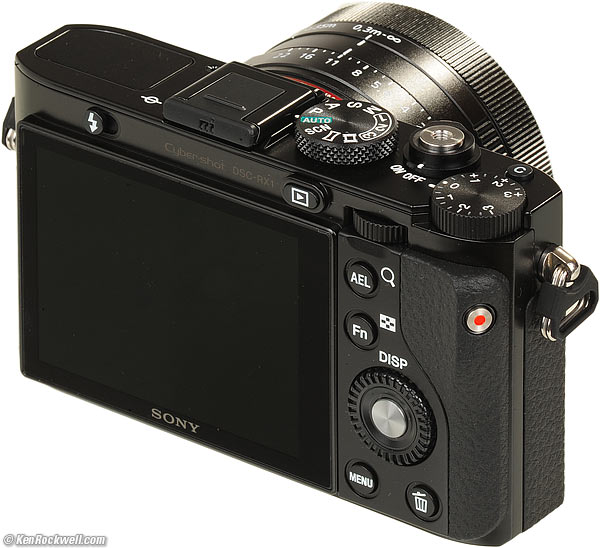 Sony RX1. bigger.
December 2012 Better Pictures Sony reviews Nikon Canon LEICA All
Introduction top
Intro Specs Performance Compared Recommendations
The Sony RX1 is a $2,800 fixed-lens point-and-shoot. Sony priced it at $2,800 because it's the only point-and-shoot with a 24 x 36mm sensor (Barnack or "Full-Frame" size).
Its lens does not zoom, the camera has no image stabilization (except for video, done electronically just like the iPhone), and the lens doesn't come off. I expect Sony will follow-up by the end of 2013 with the same camera with a zoom for less money, and in 2014, offer it with an interchangeable lens mount.
If we ignore the predatory pricing, it's a great little point and shoot. It's well made, with a mostly metal exterior and very little plastic, and focuses fast, shoots fast and has great low-light ability.
The two biggest deal-breakers for me are that color rendition is only second or third tier, and the RX1's exposure automation programming has some major flaws.
Shot in Professional ("P" mode) and Auto ISO, as I and my pro friends always shoot and as I think is the RX1's default, the RX1 does everything it can to shoot everything in most light at 1/80 and f/4.
The RX1 varies its Auto ISO to retain 1/80 at f/4, and if you shoot in A or S modes, also keeps varying the ISO to try to retain the other variable at f/4 or at 1/80.
In other words, instead of using the f/2 ability of this lens, the RX1 will ramp the ISO as far up as it can (like to ISO 25,600 depending on how you set the Auto ISO limit) to keep shooting at f/4 before it starts opening the lens more.
If you try to get smart and shoot in A mode and set f/2, Auto ISO again does everything it can to keep you at 1/80, and not let it go to slower speeds until you've hit the upper preset Auto ISO limit.
There is no way to vary these settings. Auto ISO always uses 1/80 as its minimum shutter speed, so it can't be set to a higher 1/125 as I prefer for family shots, and can't be set down to 1/15 or 1/8 as I'd prefer for other shots. Auto ISO queerly uses f/4 as its maximum aperture before it starts ramping-up ISO.
In other words, as the light gets dimmer than f/4 at 1/80 at ISO 100, ISO starts climbing in Auto ISO until it hits the maximum ISO value you've preset, and only then starts using slower shutter speeds or larger apertures. Since even ISO 25,600 looks pretty good and I set that as the upper Auto ISO value, the RX1 will shoot at 1/80 at f/4 at ISO 25,600 for LV 2, instead of shooting this at 1/30 at f/2 at ISO 2,500 as I'd prefer for posed images, or 1/125 at f/2 at ISO 12,800 for candid people snaps. Maybe there is a way to alter the chosen maximum aperture and slowest shutter speed for Auto ISO, but I never found it.
The only way to take full advantage of what this camera can do technically is to turn off some of the automation, which as pros who have to produce to eat know, makes this camera too slow. Better cameras at lower prices, like the Nikon D600 and Canon 6D, are programmed properly and suffer from none of these problems; they work great as is.
Maybe Sony will add more flexibility in future firmware so we can use all the automation as well as we can in other point-and-shoots, but as it is today, the RX1 is designed to work well for the general public who probably prefer their low-light shots at f/4 because a lot more is in focus so the photo looks sharper, which is OK because the RX1 works great at super-high ISOs, resulting in sharper photos.
Likewise, forcing 1/80 instead of a slower speed in its programs will also ensure less blur in photos made by most consumers.
Sony should have allowed us the flexibility to program these, but as-is, the RX1 can't perform as well (fast) as it could.
The other deal-breaker for me is second-rate color rendition. Sure, colors look fine to 99% of the general public who buy this, but to a Colorist like me for whom color is everything, the colors don't sing anywhere near as well as they do on my Nikons or Canons. In fact, my iPhone 5 even has better color rendition.
I'm an artist. When I speak of color rendition, I'm speaking of how well the camera interprets reality, not laboratory accuracy. Lab accuracy isn't relevant to me — I just need the photos to look great! right out of the camera.
To my taste, when I crank up the saturation ("Vivid"), the RX1 tends to go too yellow-green, which is nasty. In it's "Standard" mode, colors are just boring, and also a bit green-yellow. Sony just doesn't have the secret sauce to make its colors look great as do Nikon, Canon and Apple. (That's OK, LEICA has crappy colors, too.)
The 35mm f/2 lens is sharp, but it has more distortion and lateral chromatic aberration than I'd accept at this price range. Come on, better 35mm f/2 lenses have been around since the 1950s. The good news is that the RX1 can fix it's lens' optical defects all by itself.
The leaf shutter is nearly silent; this is a great camera for quiet use — it's much quieter than any LEICA's focal plane shutter.
Missing
The biggest gotcha is that there is no finder. You need to buy one for $500.
Also, quite vexing is the improper programming of the exposure automation systems, often relegating one to manual controls to get what we want — and I don't have time for that.
Specifications top
Intro Specs Performance Compared Recommendations
Branding
Sony calls this the Cybershot DSC-RX1.
Sony's numbering has made sense for decades: CDP means Compact Disc Player, DSC means digital still camera, etc.
POS (Point-of-Sale) UPC code: 27242 86350.
Lens
35mm f/2.
8 elements in 7 groups.
3 aspherics.
Made in Japan.
Branded "Carl Zeiss Sonnar T*."
49mm metal filter threads.
Diaphragm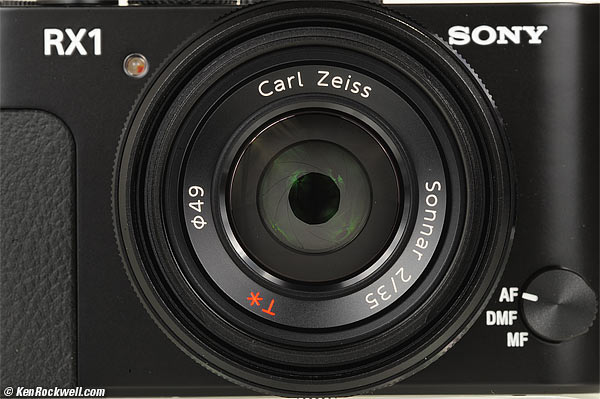 Sony RX1 Zeiss Sonnar 35mm f/2 diaphragm at f/4. bigger.
9-bladed electronic diaphragm.
Close Focus
0.3m (1 foot); 0.2m (0.65 feet) in macro mode.
(Sony claims closer distances, but those are only from the front of the lens, not the image plane, as are the correct specifications above.)
Focal Length
35mm, which since this is a full-frame camera, is also 35mm equivalent.
For video, since the camera only uses a smaller portion of the sensor, the angle of view reduces to increase the apparent focal length to 37mm. If you use image stabilization (only available for movies), the RX1 crops even more, giving what Sony calls a 44mm equivalent.
Sensor top
23.9 x 35.8 mm.
24 MP CMOS
6,000 x 4,000 pixels.
Image sizes
6,000 x 4,000 (L, 24 MP).
3,936 x 2,624 (M, 10MP).
2,640 x1,760 (S, 4.6 MP).
Cropped 16:9 versions: 6,000 x 3,376, 3,936 x 2,216 and 2,640 x 1,488.
Swept Panoramas: 3,872 x 2,160/8,192 x 1,856 / Wide 5,536 x 2,160/12,416 x 1,856.
ISO
ISO 50 - 25,600.
Auto ISO: Minimum ISO settable 100 - 800, maximum ISO 1settable 100 - 25,600. Lowest shutter speed always fixed at 1/80, largest aperture fixed at f/4 (aperture or shutter won't open greater than those until maximum auto ISO reached)
Autofocus top
25 areas on image sensor only; no live optical AF.
Finder top
None, requires extra-cost electronic finder (forget the passive optical finder).
Flash top
Teeny-weeny built-in flash.
Hot Shoe.
Shutter top
Leaf shutter.
Standard threaded cable release socket.
30 seconds to 1/2,000 (up to 1/4,000 at f/5.6 or smaller).
10 s or 2 s self-timer.
Frame Rate top
2.5 FPS.
(Up to 5 FPS free-running without any autofocus.)
Fluff top
Sweep panoramas.
Face detection.
Electronic Image Stabilization only for video. If you use it, it crops from a smaller section of the sensor to allow it some wiggle room (hee hee).
Photo File Formats top
JPG and/or .ARW raw.
Video top
Video File Formats
AVCHD Ver 2.0.
MP4.
Video Rates
AVCHD
28M PS (1920×1080, 60p)
24M FX (1920×1080, 60i)
17M FH (1920×1080, 60i)
24M FX (1920×1080, 24p)
17M FH (1920×1080, 24p)
MP4
12M (1440×1080, 30fps)
3M VGA (640×480, 30fps)
Audio top
Built-in S - t - e - r - e - O mic.
Powered stereo mic input jack.
Mono speaker.
LCD top
3" diagonal.
1,229,000 dots.
4:3 aspect ratio.
Data Storage top
SD, SDHC, SDXC.
Memory Stick Duo.
Data Communication top
Micro HDMI.
Micro USB (the funny extra-flat one).
Power top
NP-BX1 Lithium-Ion.
Rated 270 shots CIPA.
Charges in-camera from USB.
There's no external battery charger provided, however it does come with a folding-USA-plug 100~240V USB power adapter to connect to the camera (made in China).
2W power consumption.
Quality top
Made in Japan, mostly of metal and most markings are engraved.
Various accessories imported from China.
Size top
4.5 x 2.6 x 2.7."
113.3 x 65.4 x 69.6mm.
Weight top
16.680 oz. (472.8g) actual measured with battery and card.
Sony rates it as 17 oz. (482g) with battery and card (16 oz/453g stripped).
Included top
Camera.
Lens cap.
AC-UD11 AC->USB power adapter.
Instructions.
Micro USB cable.
Hot shoe cover.
Cleaning cloth.
Optional Accessories top
Extra NP-BX1 batteries.
Electronic finder (almost mandatory).
Passive optical finder (foolish).
Lens Hood (not needed).
LCD protector (not needed).
Thumb grip (not needed).
Announced top
September 2012.
Shipping Since top
Early December 2012.
Price, USA top
2012: $2,800.
Performance top
Intro Specs Performance Compared Recommendations
Lens
The Japanese Zeiss lens isn't what I'd expect. It's always sharp, but its distortion and lateral color is stronger than I'd expect. Luckily, distortion and lateral color are corrected by the RX1, but not completely.
Since its bokeh is better than the similar LEICA 35mm f/2 and Nikon 35mm f/1.8 rangefinder lenses, and since electronic corrections in the RX1 works OK, I'll call this a good compromise.
Distortion
This lens is a disappointment. Similar compact LEICA 35mm f/2 lenses and Nikon 35mm f/1.8 lenses have been available since the 1950s without distortion, yet this lens always has some distortion.
At the RX1's default setting, the distortion is moderate to strong barrel distortion.
With the RX1's Distortion Correction turned on in a menu, it's invisible, but still has some waviness left for critical use.
Here are the factors I need to minimize it with Photoshop's lens distortion filter:
© 2012 KenRockwell.com. All rights reserved.
* There is always some higher-order waviness left.
Lateral Color Fringes
Sadly, this lens has plenty of lateral color.
Pleasantly the RX1's automatic correction is ON by default, and does a pretty good job of minimizing it - but it is still visible on difficult subjects.
Pooh, I was hoping for better performance. I was expecting this to be as good as rangefinder lenses from LEICA, but no.
Bokeh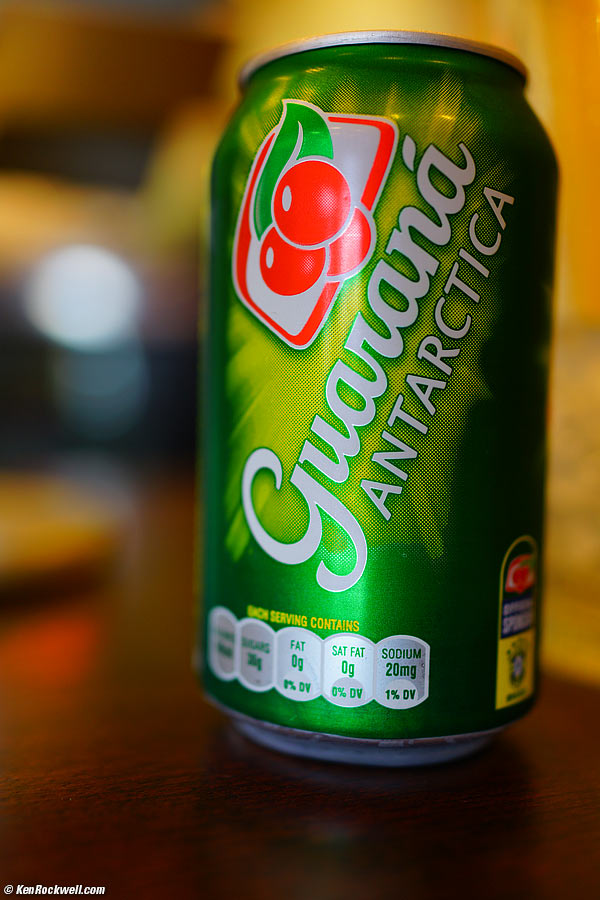 Sony RX1 and Zeiss Sonnar 35mm f/2 at f/2. bigger.
Bokeh is great.
Out-of-focus backgrounds never distract.
Falloff
Falloff might only be visible at f/2 with "shading correction" turned off.
Since this correction in ON by default, falloff is never visible.
I've exaggerated it here by shooting gray and presenting it against gray:
Zeiss Sonnar 35/2 T* at infinity, no correction.
© 2012 KenRockwell.com. All rights reserved.
Zeiss Sonnar 35/2 T* at infinity, with correction (default setting).
© 2012 KenRockwell.com. All rights reserved.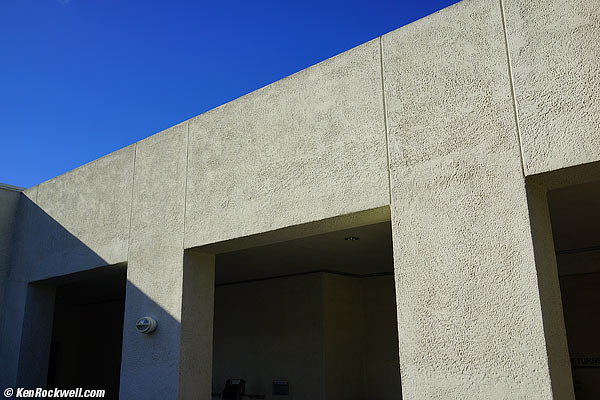 Sony RX1, ISO 100, f/8 at 1/640. Original © file, 7 MB.
Yes, it's sharp edge to edge.
It's so sharp that it varies very little by aperture.
It's just about as sharp at f/2 as is it at middle apertures, and the anti-aliased sensor lacks the resolution to show much dulling from diffraction at f/22.
In other words, aperture has very little to do with lens sharpness, which is excellent performance. I just wish the sensor had no anti-alias filter so we could take better advantage of the lens' sharpness.
Autofocus top
AF is fast and sure, it just goes.
It can be slow and stop to rack all the way in and out trying to find something in dark light, but in decent light, it pops right in.
Manual Focus top
Manual focus isn't fast.
Yes, there is a manual focus ring, but it's not connected to the lens. It's connected to a rotary encoder which feeds an input to the computer which thinks about it, and then sends commands to the lens' motor.
Therefore, the lens doesn't respond that well to turning the ring.
You can get magnification, but not as much as I'd like, and I wasn't able to figure out how to get the magnification to work exactly when I wanted it.
When you do look at the magnified LCD for manual focus, it's at taking, not maximum, aperture.
Macro top
Macro is interesting: there's a great big ring on the front to engage it, and it's simply a a mechanical lens extension. I love it!
Macro doesn't get that close; smaller-format point-and-shoots get much closer.
Here's how close you can get: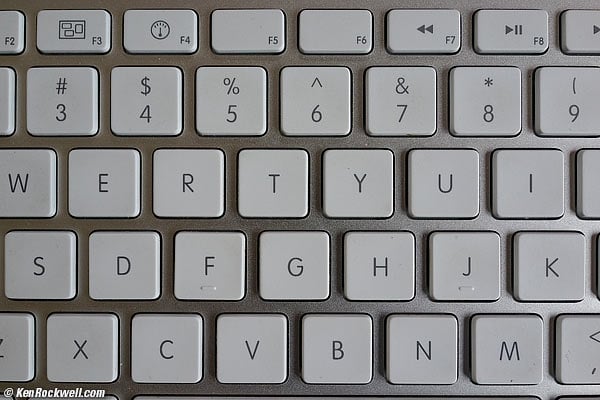 Sony RX1 at closest focus distance (0.2m).
Exposure top
Exposure was usually correct. I didn't need to use exposure compensation.
As covered at the introduction, Program and the Auto modes always aim for 1/80 and f/4 with a vengeance.
Color Rendition top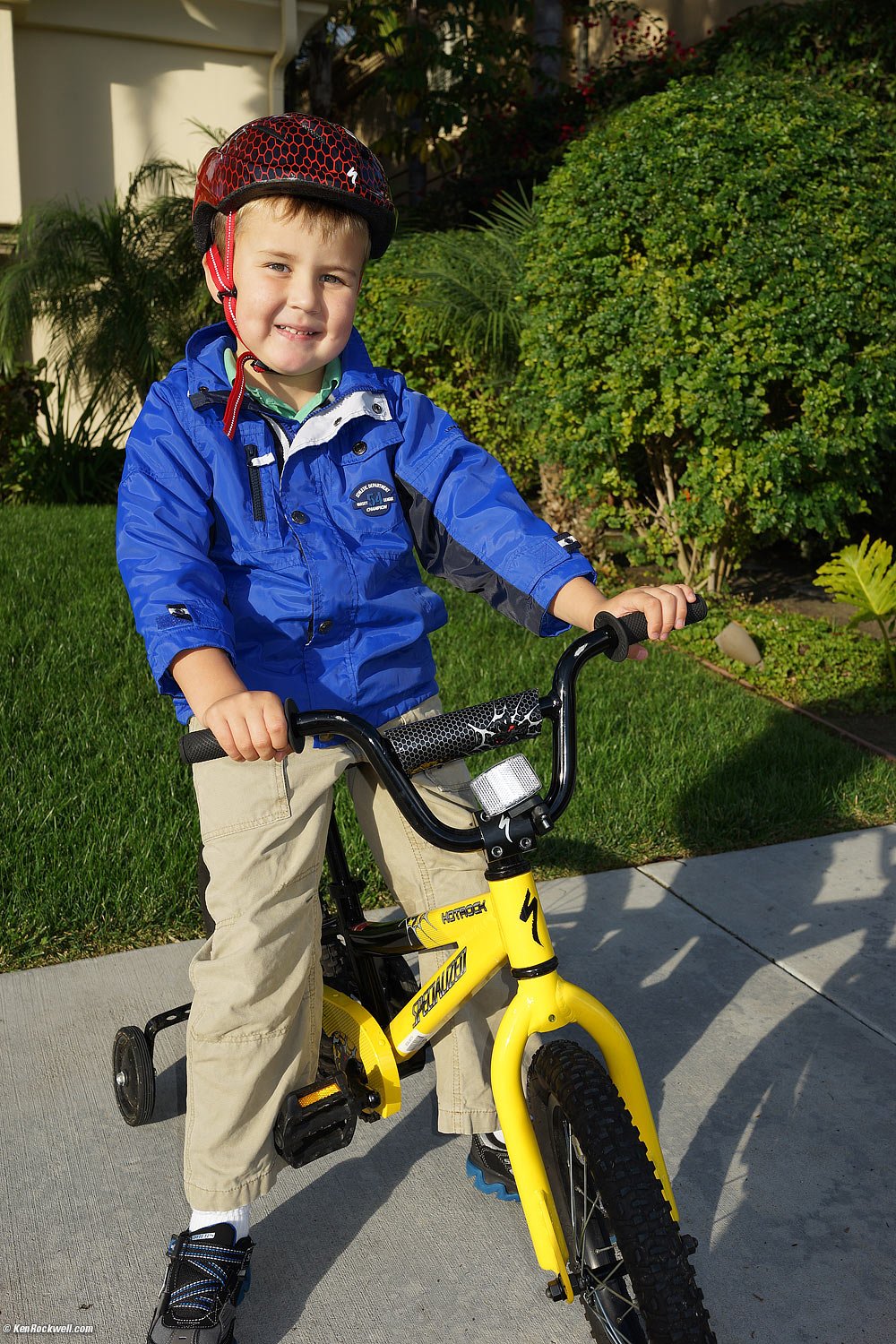 Ryan on his bike before school. (Sony RX1, built-in flash, ISO 100, f/8 at 1/160.) Original 5 MB © file. (Color-corrected version, corrected automatically in Athentech Perfectly Clear.)
Color rendition, as covered at the Introduction, isn't great. It tends towards yellow-green, and the colors just don't render as well as they do on my other brand cameras.
For instance, most would be happy with the snap above, but if I had shot it on my Canon, Nikon or iPhone 5, the colors would be much more as I want them. This snap is a little too yellow-green for me, as are many of the RX1 shots made in good light. Thankfully Athentech Perfectly Clear corrected it easily for publication (see the color-corrected version).
A little too orange or amber is good, but a little too green is death for me.
All brands are different, and tend to be similar within a brand. Sony's still cameras lack the chops of other makers.
Look at the sample under Sharpness; the walls are supposed to be white, and look yellow-green. I haven't found the tweak for WB shift, but even if I did, the color rendition blahs go deeper than just a simple shift.
What is good about color rendition is that auto white balance works very well under crappy florescent light, better than most DSLRs do under this light.
High ISOs top
If the colors aren't great, the rest doesn't matter, but in dim light, colors are far less critical.
High ISOs are awesome, as expected. Here it is at ISO 20,000, hand-held: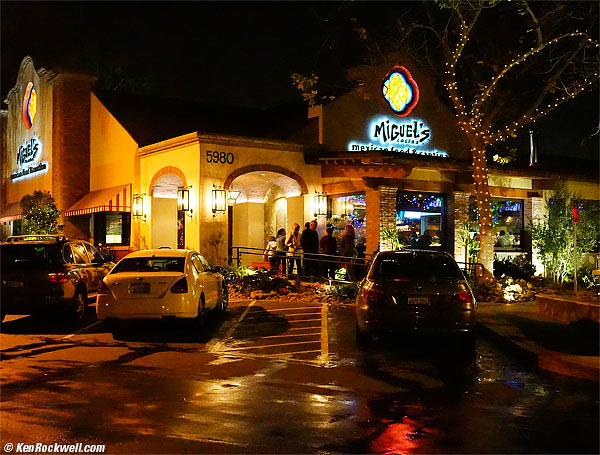 San Antonio, Texas. RX1, Auto ISO 20,000, f/4 at 1/80. original 5 MB © file.
Ergonomics top
Ergonomics are pretty good.
The RX1 feels good and handles well.
The RX1 shoots fast, has a nearly silent shutter, and has a smooth trigger pull.
There are lugs and split rings for straps, not slots as I prefer. I'd rather use the LEICA strap with the RX1, but that would require trying to pry off Sony's split rings first.
There is no deeper detent at zero on the compensation knob, so it's difficult to set to zero by feel.
There's a stupid orange advertising band around the lens which will need to be shoe-polished or taped for concealed use.
I wasn't able to figure out how to set the M1 M2 and M3 positions on the top dial. Too bad, as these are very useful features IF they recall everything about the RX1's settings.
The power switch is very good, copied from the LEICA M7. It doesn't get knocked by accident, and it's easy to set by feel.
We can't easily change aperture with one finger; the ring is too stiff. There's also no ribbing on the bottom and no tabs on the side.
The trigger pull (shutter release feel) is excellent. It's easier to release smoothly than are LEICA's recent shutter releases.
Fuji boxes their expensive cameras better than does Sony.
There is still no shutter speed dial. The Sony RX1's exposure-setting ergonomics are poor compared to a real camera that has a shutter-speed dial and "A" settings on the shutter and aperture dials so we can get the various modes (Contax and Fuji do this much better). The RX1 handles swell for setting P and A modes, but setting the shutter for M and S modes results in more menu fumbling.
When you get bogged down with the menus, like most lesser cameras, there is so much junk that we can't easily find what we need.
The shutter has a standard threaded cable release socket.
With no shutter speed dial, I was never able to find the shutter speed adjustment!
Mechanics top
Most of the RX1, except the card door and focus mode switch, is metal.
Most markings are engraved.
Bravo!
Flash top
The tiny built in flash exposes well outdoors for fill.
Sadly it takes a long time to recycle, missing shots when photographing people.
Indoors, its exposure is poor, as are almost all cameras except the Fuji X100.
Good news is it has its own button to pop it up instantly, and just push it down to turn it off. I wish all cameras worked as well for ON/OFF, although the flash mechanism seems like it will be easy to break.
LCD top
The LCD is sharp and bright.
Its auto brightness control, ON by default, works great.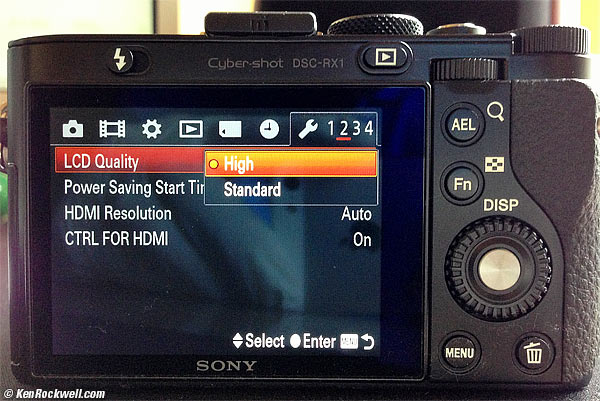 Sony RX1 Quality Setting.
There is a mysterious "LCD Quality" setting.
It has nothing to do with the LCD; it sets the refresh rate of the live view system. Sadly, this is a defect, not a feature.
Default is HIGH, which is about a 60 FPS refresh which gives a very fluid, live and immediate view, and STANDARD is about 24 FPS, which is a little more jerky and delayed.
Better cameras, like most point and shoots, automatically switch to HIGH with the shutter half-pressed, and go back to STANDARD with your finger off the shutter to save battery, and you never have to bother with a menu.
I have no idea why Sony forces this on us. If you choose STANDARD, the rate doesn't go up with your finger on the shutter for better ability to catch action, and in HIGH, the rate never drops to save battery when you're not actually ready to shoot.
Playback top
Playback is relatively poor because it always has a maddening moment of delay after you tap the ZOOM button, and response to scroll commands are also slightly delayed. Consumers might not notice, but if every millisecond counts as it does to me, this isn't as good as other cameras.
Good news is you can zoom in all the way, and swap among images while staying zoomed in.
Bad is that when zoomed, the extraneous crap never seems to go away; there's always some arrows or graphics left on your screen.
Data top
Data is somewhat retarded, as in as if it came from the 1970s and has just never been thought out properly.
Cards are not formatted properly and titled something like SONY_RX1 as they should be, and are instead simply left as NO NAME. Consumers might not mind, but if you're a pro you use all sorts of cameras, and when you get back into the studio you want each card to identify itself and not leave you guessing.
Good is that you can program a new folder to start for each day. Oddly it will name the folder as something half-retarded, like "10121214," for today, 14 December 2012 as I write this, or "10021213" for yesterday, instead of something clearer. The first three digits seem unrelated to the date, and seem to be counting up from 100. I dunno, this it Sony's problem to figure out, not mine.
Good luck finding your files. There are four directories in the root, so you need to select the second one down to get your photos.
Forget trying to find your videos. They are stored in a hidden folder about five levels down:

Location of video (.MTS) files on card.
Better than most Canons, Auto ISO reads properly in Media Pro.
Power top
There is no separate external battery charger. Instead, the battery charges in the camera when you have the camera plugged into USB power.
Sony includes an AC power to USB power doo-dad, and most of us all have these coming out of our ears.
While charging, there is only a tiny yellow charge light near the connector.
There is no "full" light, it just turns off to leave you guessing if it charged, or if it just gave up, or if you lost power.
The USB socket is non-standard. It's a thinner one that doesn't work with most of my cords. Sony includes a cord that does fit.
Power is only rated at 270 shots per charge, which seems accurate. For serious shooting, you'll always need to carry at least one spare NP-BX1 battery, but you can't charge it while you're using the camera.
Compared top
Intro Specs Performance Compared Recommendations
Sony RX1

Interchangeable lenses?

NO

NO

Yes

Yes

Yes

Color Rendition

fair

Excellent for people

Excellent

Good

poor

Shutter Speed Dial?

NO

Yes

NO

NO

Yes

All exposure modes set on dials? (no function buttons needed)

NO

Yes

NO

NO

Yes

Easy AF lock?

NO

Yes

Yes

NO

Yes

Focus speed, bright

Fast

Fast

Fast

Fast

Fast

Focus, indoors

Good enough

Good

Good

Good

Fast

Focus, outdoors night

Can be slow

Can be slow

Good

Good

Fast

LCD

Very good*

Very good*

Excellent

Very good*

Good enough

Auto LCD bright?

Yes

No

No

No

No

Close macro?

NO

Yes

depends on lens

depends on lens

depends on lens

Sony RX1

High ISO performance

Excellent

Excellent

Excellent

Excellent

poor

Center sharpness, f/2

Excellent

Excellent

Good

Excellent

Center sharpness, f/2.8

Excellent

Excellent

Excellent

Excellent

Corner sharpness, f/2

Excellent

Very, very good

Good

Excellent

Corner sharpness, f/8

Excellent

Excellent

Excellent

Excellent

Optical Viewfinder?

NO

Yes

Yes

Yes

Yes

Electronic Viewfinder?

NO ($450 option)

Yes

NO

NO

NO

Flash sync speed

1/2,000?

1/4,000

1/200

1/200

1/180

Built-in flash?

Yes

Yes

NO

Yes

NO

Flash exposure great for all conditions automatically?

NO, good fill performance in dim light requires fiddling

Yes

NO, good fill performance in dim light requires fiddling

NO, good fill performance in dim light requires fiddling

NO, good fill performance in dim light requires fiddling

Built-in flash recycle time

Long

Fast

none

Fast

none

One-button "Dark" mode***

NO

Yes

NO

NO

Yes (turn off flash)

Weight**

16.7 oz.

473 g.

15.5 oz.

440 g.

34.1 oz.

965 g.

37.0 oz

1,080 g.

29.8 oz.

847 g.

Price, 12/2012
Best price, 12/2012
* LCDs use a different aspect ratio than the image, so some of the LCD area is wasted when showing images.
** Actual measured weights with lens, cards and batteries.
*** "Dark" mode turns off flash and AF assist lights and beeps.
Recommendations top
Intro Specs Performance Compared Recommendations
If you want a fun, well-made point and shoot with exceptional high-ISO performance, a super-sharp lens and don't care about the price or actual suitability to real-world photography, the Sony RX1 is superb.
If the price matters to you, forget it. I don't see that this camera is intended to satisfy for decades as is the LEICA. This Sony seems to be a toy to keep adult children happy for several months until the next model comes out; I'm also unhappy with the oddball exposure program programming. I prefer the handling of my Fuji X100 or the colors of the Canon G1 X for a fraction of the price.
Honestly, after reviewing this thing, I picked up my X100 to shoot for the weekend, and the X100 is soooo much better in every significant way! The X100 just goes, especially with its dual optical and electronic finder, brilliant ergonomics and fantastic colors and fill-flash in any light — and not only does Fuji not send me anything for Christmas; they didn't even let me into their press conference at CES last year!
This Sony seems as if it were designed by a newly-arrived product manager (obviously not a professional photographer), and then it's as if this guy decided to select features based on online input from a sea of random, anonymous posters — not by letting a seasoned professional photographer let them know what a camera really needs. The RX1 seems
designed to sell to the masses, not to find its way into a shooter's bag. I mean really, this RX1 is just a catastrophe of design ignorance, with no shutter speed dial or built-in viewfinder, goofy exposure programming, and well, nothing other than pixel count or sensor size to its favor.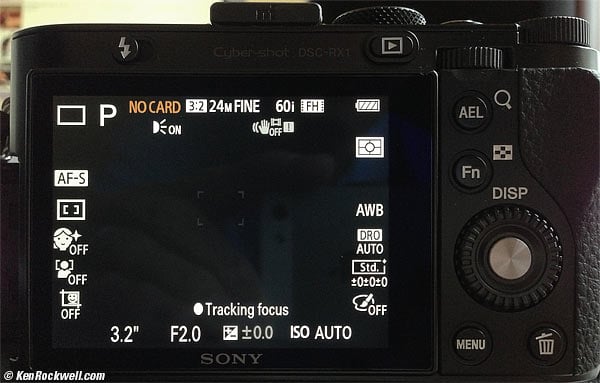 Look at all this on the LCD! People who shoot for a living have no time for this baloney — especially if we can't find the shutter speed adjustment! (in retrospect, it may have been the unmarked upper dial.)
I also wouldn't buy the RX1 because its image quality isn't good enough, specifically, I dislike its color rendition. I'm all about color, so if a camera can't get the colors I demand, the rest doesn't matter. Sure I could try to tweak it in RAW or photoshop, but what I need is more subtle than that, and I doubt that I could get the colors I want even if I tried. Even if I could get my desired color rendition with a little work, why should I bother when either of the Nikon D600 and 35mm f/2 AF-D or Canon 6D and EF 35mm f/2 combinations give far better image quality (color rendition) with the same low-light performance for less money, and handle to full DSLR levels, not merely point-and-shoot levels like the RX1. I love what I can get out of my Nikon and Canon DSLRs, and out of my Canon point-and-shoots. Heck, I have a Canon EOS-M here to review next, and I bet its colors are fantastic.
Call me biased? Of course; I'm biased as to what actually works for me and lets me pump out loads of amazing images. In this party, it's the X100 for compact excellence.
If you've found all the time, effort and expense I put into researching and sharing all this, this free website's biggest source of support is when you use any of these links, especially this link directly to it at Adorama or directly to it at Amazon, when you get anything, regardless of the country in which you live.
Thank you!
Ken.
Help me help you top
I support my growing family through this website, as crazy as it might seem.
The biggest help is when you use any of these links when you get anything, regardless of the country in which you live. It costs you nothing, and is this site's, and thus my family's, biggest source of support. These places have the best prices and service, which is why I've used them since before this website existed. I recommend them all personally.
If you find this page as helpful as a book you might have had to buy or a workshop you may have had to take, feel free to help me continue helping everyone.
If you've gotten your gear through one of my links or helped otherwise, you're family. It's great people like you who allow me to keep adding to this site full-time. Thanks!
If you haven't helped yet, please do, and consider helping me with a gift of $5.00.
As this page is copyrighted and formally registered, it is unlawful to make copies, especially in the form of printouts for personal use. If you wish to make a printout for personal use, you are granted one-time permission only if you PayPal me $5.00 per printout or part thereof. Thank you!
Thanks for reading!
Mr. & Mrs. Ken Rockwell, Ryan and Katie.
Home Donate New Search Gallery Reviews How-To Books Links Workshops About Contact