Mercedes Starfest 2006
© 2006 KenRockwell.com
01 October 2006, Sunday
The trip from San Diego to Las Vegas.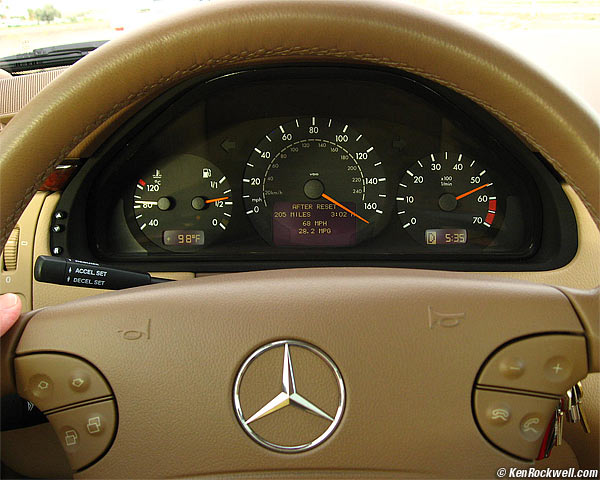 28.2 MPG at speed! See the computer in the middle.
This is why I love V8s. Modern V8s give the same or better efficiency than smaller engines when driven properly. The Mercedes E430 V8 engine has 16 spark plugs. We averaged 28.3 GPS-calibrated MPG at an average speed of 68 MPH (see computer in middle of dash) and the A/C running like crazy, set down to 66F in the 98F heat. We were only up to 28.2 MPG in this shot. Remember that EPA MPG ratings are made with no A/C.
We stopped at a friend's private ranch along the way for this test photo and to test the engine at speed off the public roads. Don't do this in public and don't do it without a rollcage, firesuit and medics standing by!
This speedometer reads about 2.8% low vs. a calibrated GPS, or about 5MPH at this speed. It takes a long way to get an E430 going this fast: 174 MPH. We probably could have broken 175MPH if it was colder or at a lower elevation. My E430 is a lot faster than my 190 Diesel. I never got my 190D above 85MPH.
My car is all stock. I'm surprised it goes this fast since the firmware is supposed to have a speed limiter. I'm astounded at how far the Germans have come. My 455 CID GTO had a tough time getting over 100 MPH. It wasn't stable, it didn't have the gears, and the drum brakes wouldn't stop it if you got there. My ordinary, unaltered, straight-out-of-the-box E430 has the lungs, the power, the gearing, the aerodynamics, the brakes and the stability to do this with ease, quiet and poise, if you have a 5-mile straight.
Just kidding. An E430 doesn't really go this fast, but I did get 28.3 MPG on the trip to Vegas, in 98F temperatures with my A/C set to 66F at an average speed of 68 MPH.
The Parking Structure.
Wow! As I expected, it was an honor and enlightening to park at the secure facility reserved for us.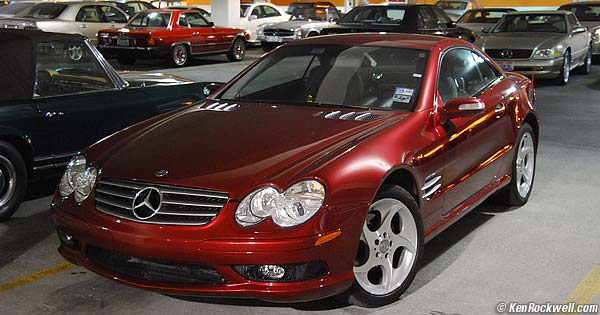 Heaven's Parking Lot.
Where else can you pull into a parking lot full of Mercedes SLs of every vintage? I didn't realize it, but I can see five of them in this shot from at least four generations. Everyone deserves to have an SL.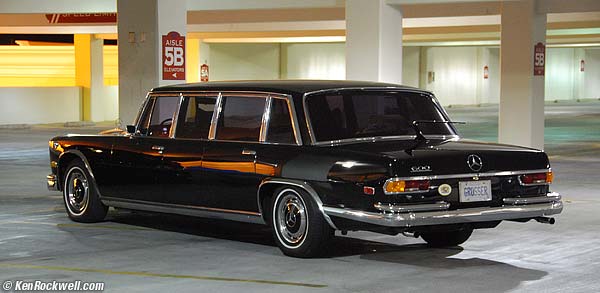 This 1970 Mercedes 600 earned it's own parking level.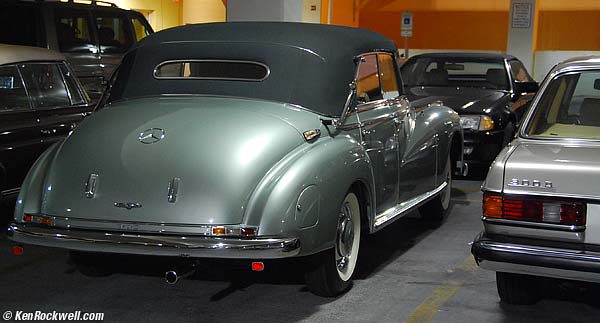 Mercedes 300s.
You want Mercedes 300s? Here's a 300 and a 300D parked next to each other.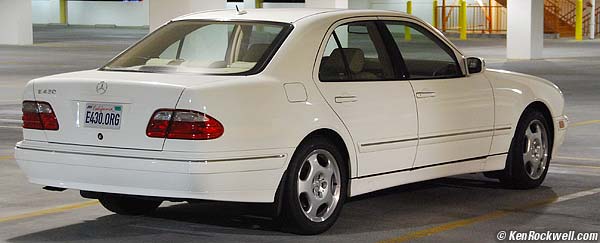 My E430 on its own parking level.
I didn't expect it, but as a member of the automotive press my plain-vanilla E430 was reserved its own level, too.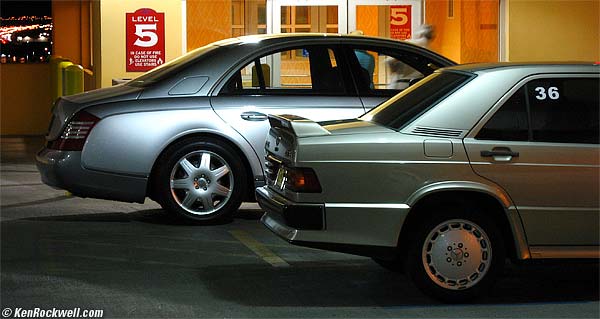 Maybachs and 190E-2.3 16Vs: they all were here!
The Welcome Reception.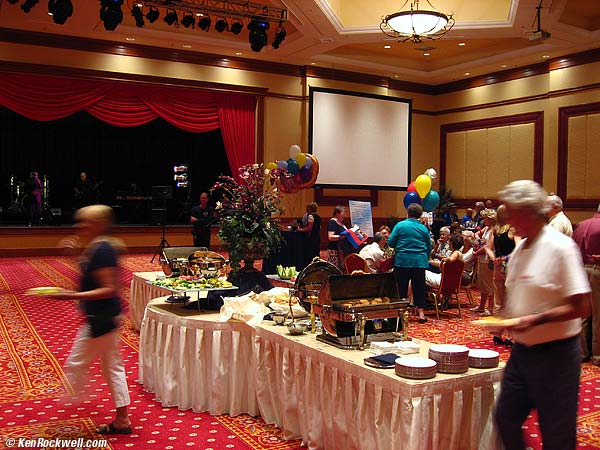 Reception at the South Coast Resort.
I almost forgot: there was an opening reception for us, sponsored by Fletcher Jones Imports.
I also met Thomas Mitchell of Becker (201) 961-1300 ext. 1061310 who pointed out that they can iPod any Mercedes radio, from modern ones to the old tube models. No one else thought this can be done!
Also attending were Dolly Parton, Marilyn Monroe and Reba MacIntyre.
Next: Concours d'Élégance.